1 Comment
Posted: 12/07/2016
Updated: 09/24/2021
Crispy Cinnamon Roasted Chickpeas! A few cans of garbanzo beans later, and I've perfected the crispy secret. Check out my new favorite winter snack!
Jump to Recipe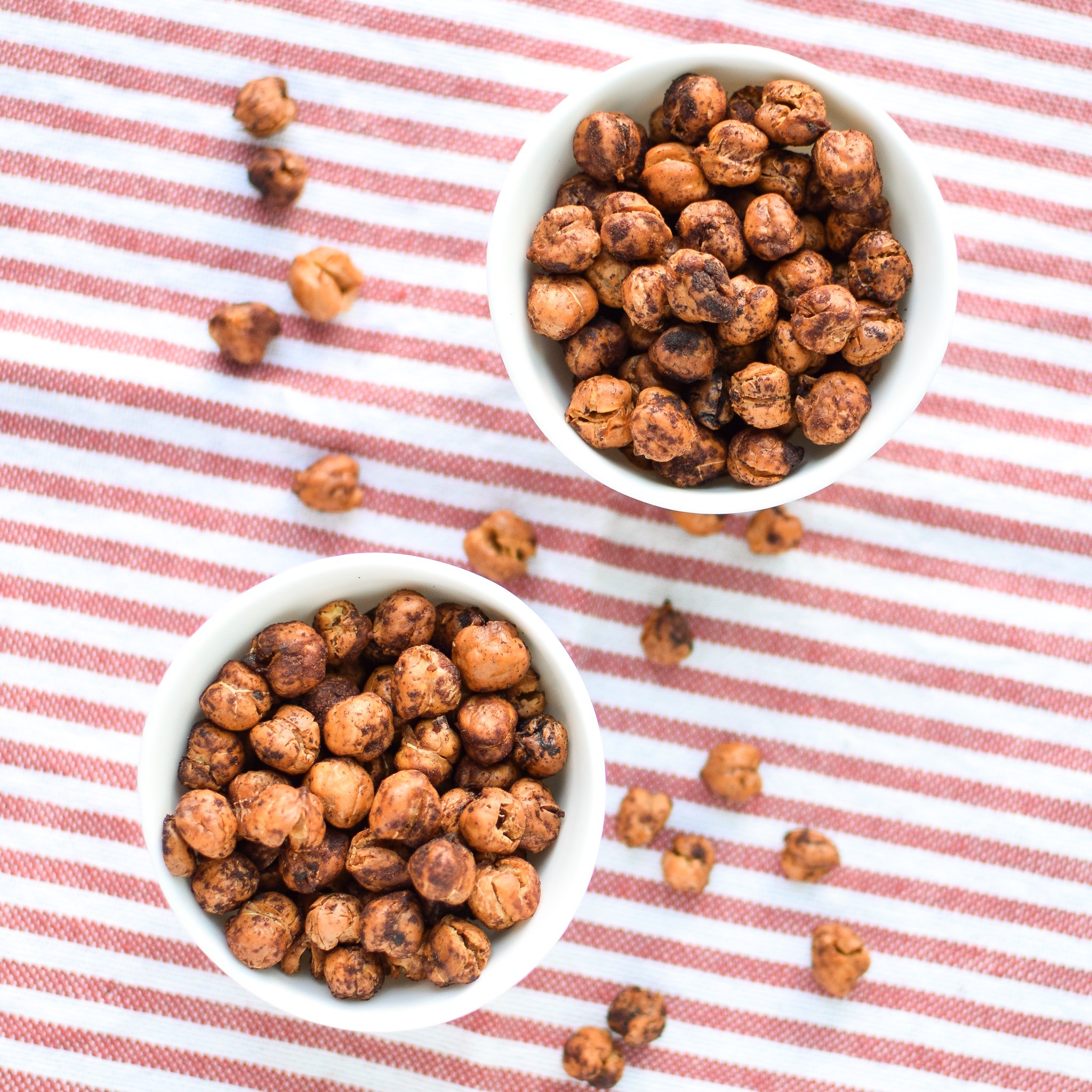 One can of garbanzo beans is all you need, because you probably already have everything else! If you're trying to steer clear of chips and crackers and all that – it's something you should at least try. I've seen this concept around, but what I could not find was the crunchiness everyone claimed they produced. And I really wanted them to be crispy!
Now, I've scoured the internet, tested some batches, and put the best techniques together. I want to share them with you here (and also save all them for myself for the rest of my life by recording them on the Internet). Here's how to get the Crispy Cinnamon Roasted Chickpeas, well, CRISPY.
Keys to the crunch:
After cooking, leave the chickpeas in the oven with the door open while it cools (approximately 30 minutes). – From Sally's Baking Addiction, Roasted Cinnamon Sugar Chickpeas
While not a requirement, peeling the skins from each bean helps let more moisture out while cooking. The skin acts like a, well, skin, and does keep some moisture in the chickpeas. Normally I don't peel every single one, but remove any that come off while patting dry with a paper towel. – From Heartbeet Kitchen, How to Make Crispy Roasted Chickpeas
Roast chickpeas without oil to dry them before flavoring, which allows to peas to begin to crisp without getting greasy. However, after I have partially roasted the chickpeas, I then add a dash of oil and cinnamon so the chickpeas aren't totally oily when being eaten, instead of after they are fully done cooking. – From Melissa Clark, New York Times Cooking, Crunchy Roasted Za'atar Chickpeas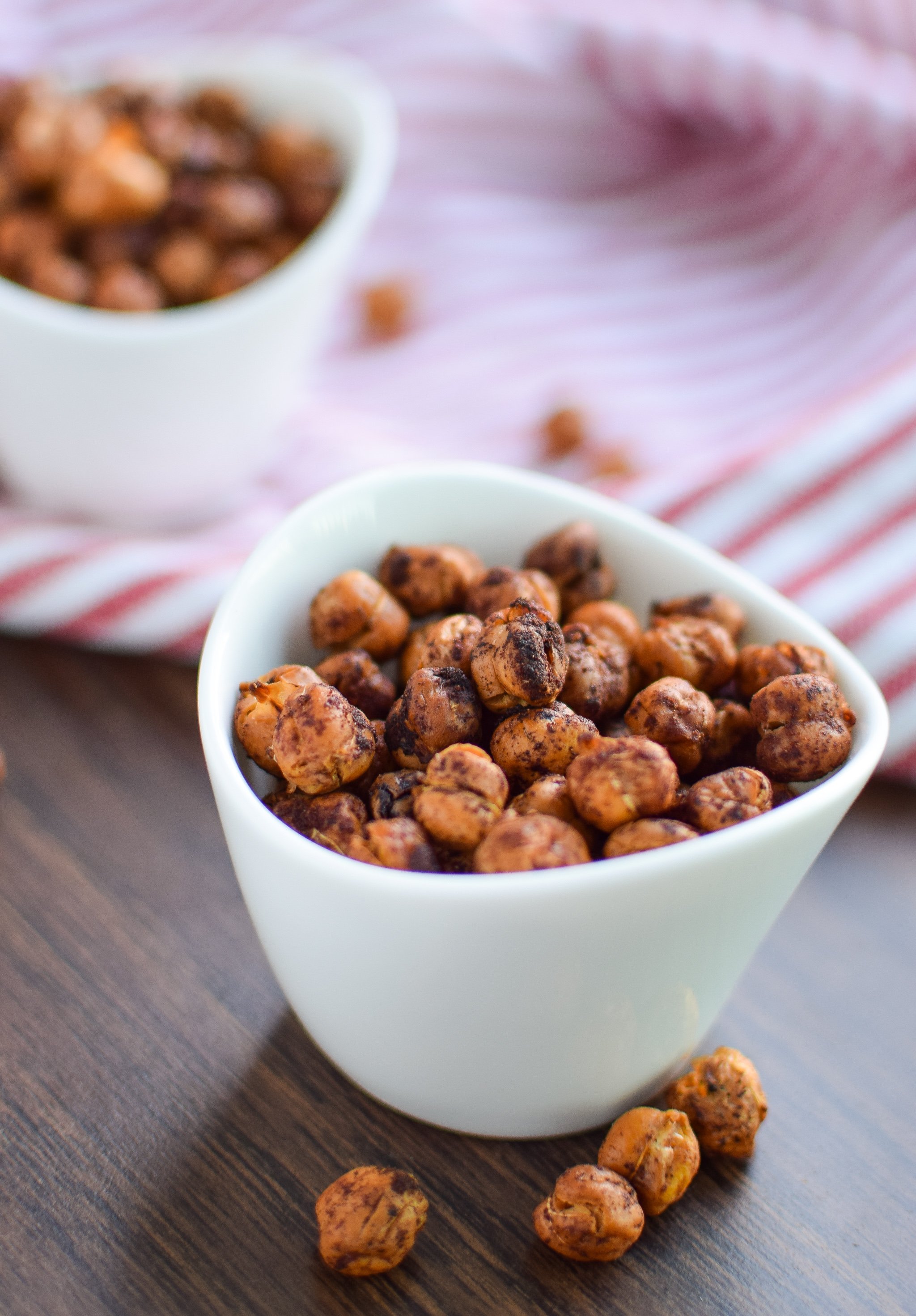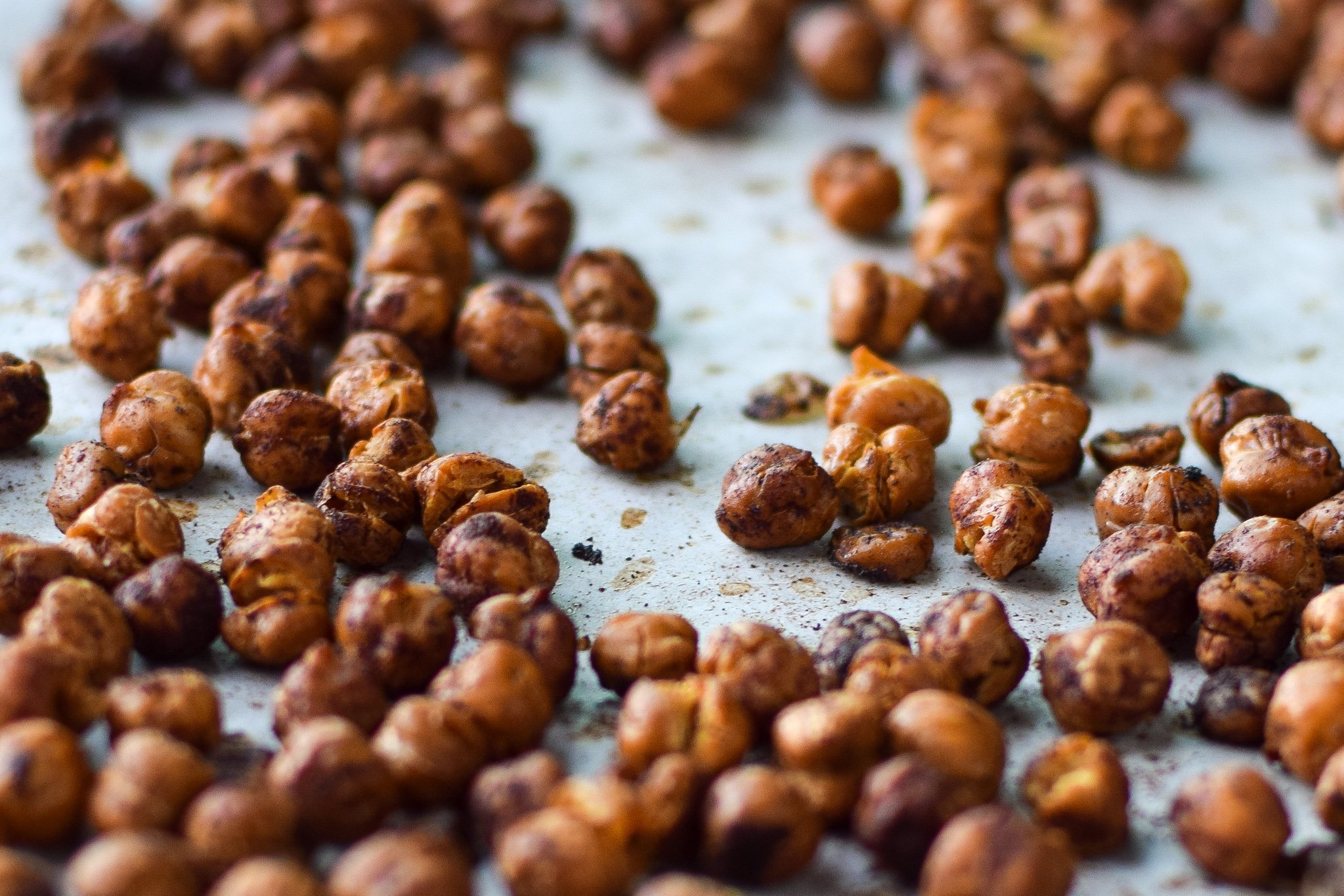 I used to buy these roasted chickpeas made by The Good Bean at Target. They were so tasty and not awful for you. And I'd been thinking of those lately… so, obviously I had to make my own. And buying just a single can of garbanzo beans is pretty cheap for any snack, especially a healthy one. You might even have a can sulking in the back of your pantry, in which case you have NO excuse not to try these.
I've also heard smoked paprika flavored is AMAZING, and I have so many other flavors to try. Play around with the seasonings but not the method!
PS: Your home will smell amazing while roasting with the cinnamon!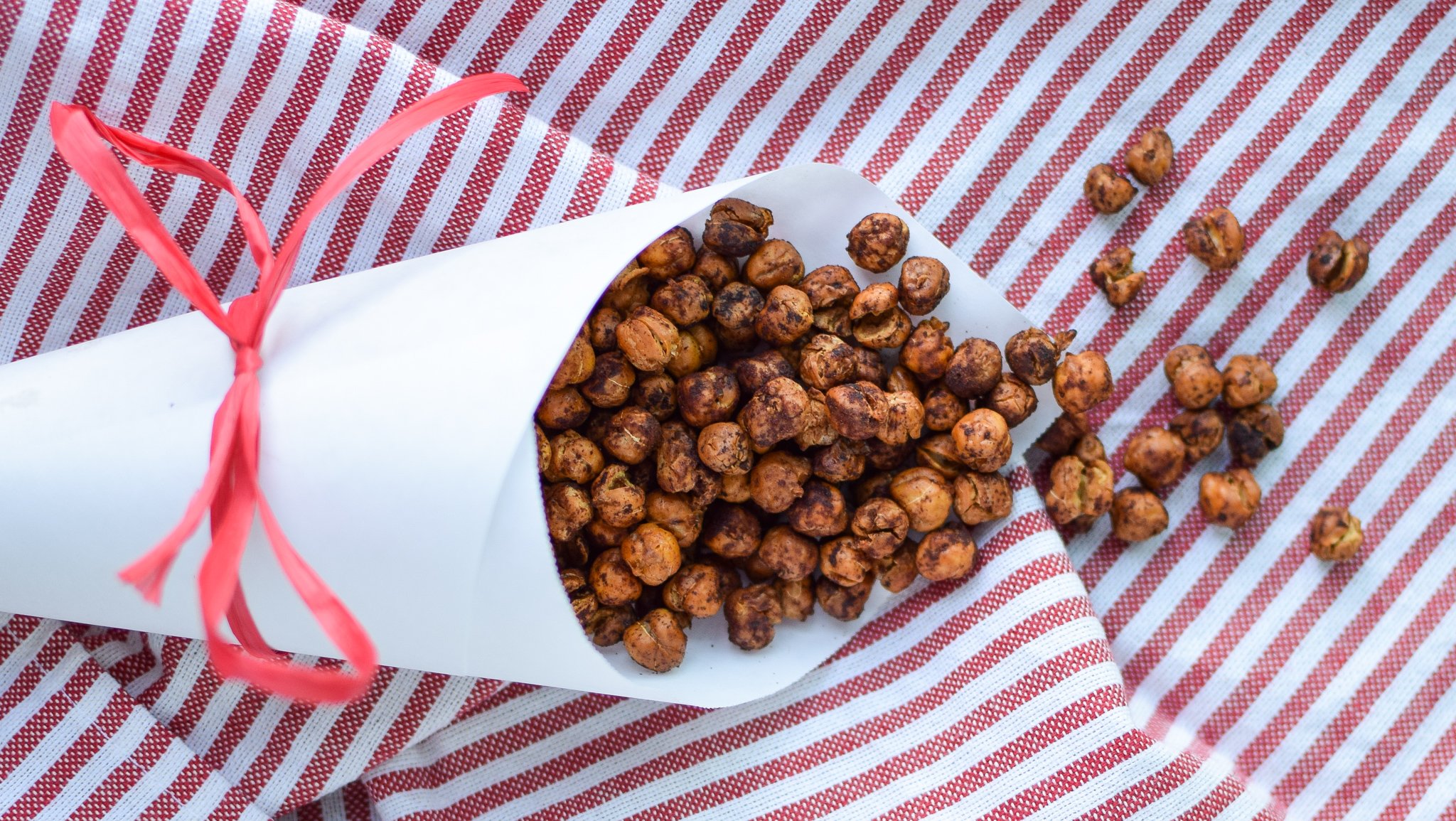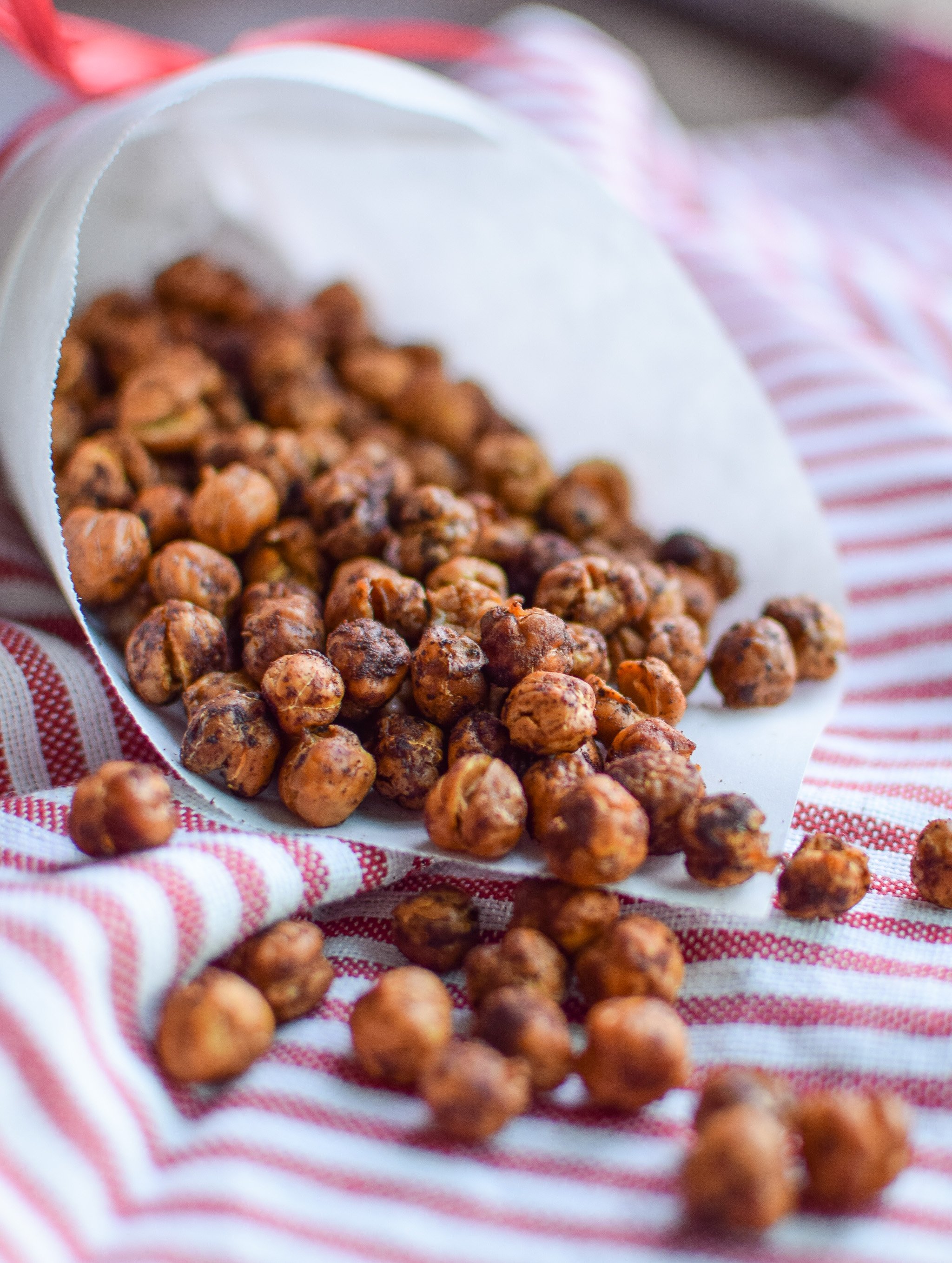 Recipe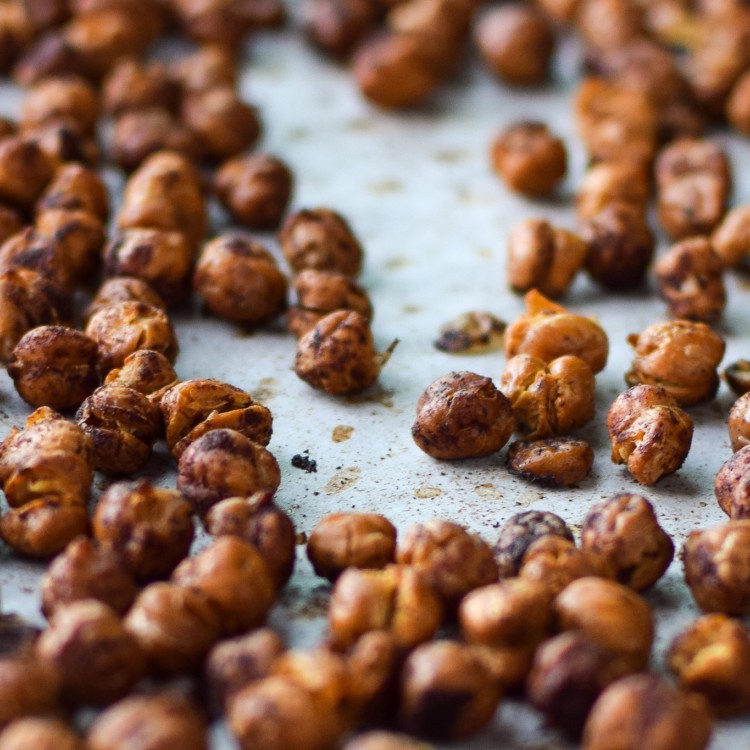 Crispy Cinnamon Roasted Chickpeas
Prep:
10 minutes
Cook:
50 minutes
Total:
1 hour
A healthy crunchy holiday treat! Four simple ingredients and your home smells amazing!
Ingredients
1

14.5 ounce can garbanzo beans, drained and rinsed

1 tablespoon

olive oil (or avocado oil)

1 teaspoon

cinnamon

1

packet of stevia (

1 gram

, or sweetness equal to

2 teaspoons

of sugar)

1

small pinch of salt
Instructions
Use a paper towel to pat dry the rinsed and drained chickpeas. Remove any skins that come off while drying, or remove all skins if you wish.
Preheat the oven to 400 degrees F.
Spread the chickpeas out on baking sheet lined with a Sil-Pat or parchment paper. Let them sit out to continue drying while the oven preheats.
Place the chickpeas in the oven for 15 minutes. Remove from oven and stir to ensure even roasting. Return to oven and roast for another 15 minutes.
After a total of 30 minutes roasting, remove chickpeas from the oven and drizzle with oil. Sprinkle with cinnamon, stevia, and pinch of salt. Stir to ensure all chickpeas are evenly coated.
Return to the oven for another 10-15 minutes, stirring after 10 minutes. Taste a chickpea to determine if they are crispy enough for you.
Return to the chickpeas to the oven and turn it off. Let the chickpeas sit in the oven with the door OPEN as the oven cools.
Enjoy! The chickpeas are best when warm, and will stay perfectly crunchy for about a day. They begin to soften after that but remain tasty.
Notes
Nutrition information estimated with MyFitnessPal.
Nutrition Information
Serving Size:

1/2 cup

Calories:

94

Sugar:

2.6g

Fat:

2.1g

Carbohydrates:

15g

Fiber:

4.3g

Protein:

4.5g
Recipe Card powered by
Thank you so much for checking out my new post, Crispy Cinnamon Roasted Chickpeas! Tag @projectmealplan on social media if you make this yummy recipe, or any other flavor of roasted chickpeas! Throw me a comment if you have any super amazing ideas for me to try.
Don't forget to follow me on Pinterest for meal inspiration every single day!