If you're the kind of person who despises eating the same lunch four days in a row, then this one's for you. Hot & Cold Turkey Taco Meal Prep is made of two taco salads and two taco bowls so you can have more variation and less work!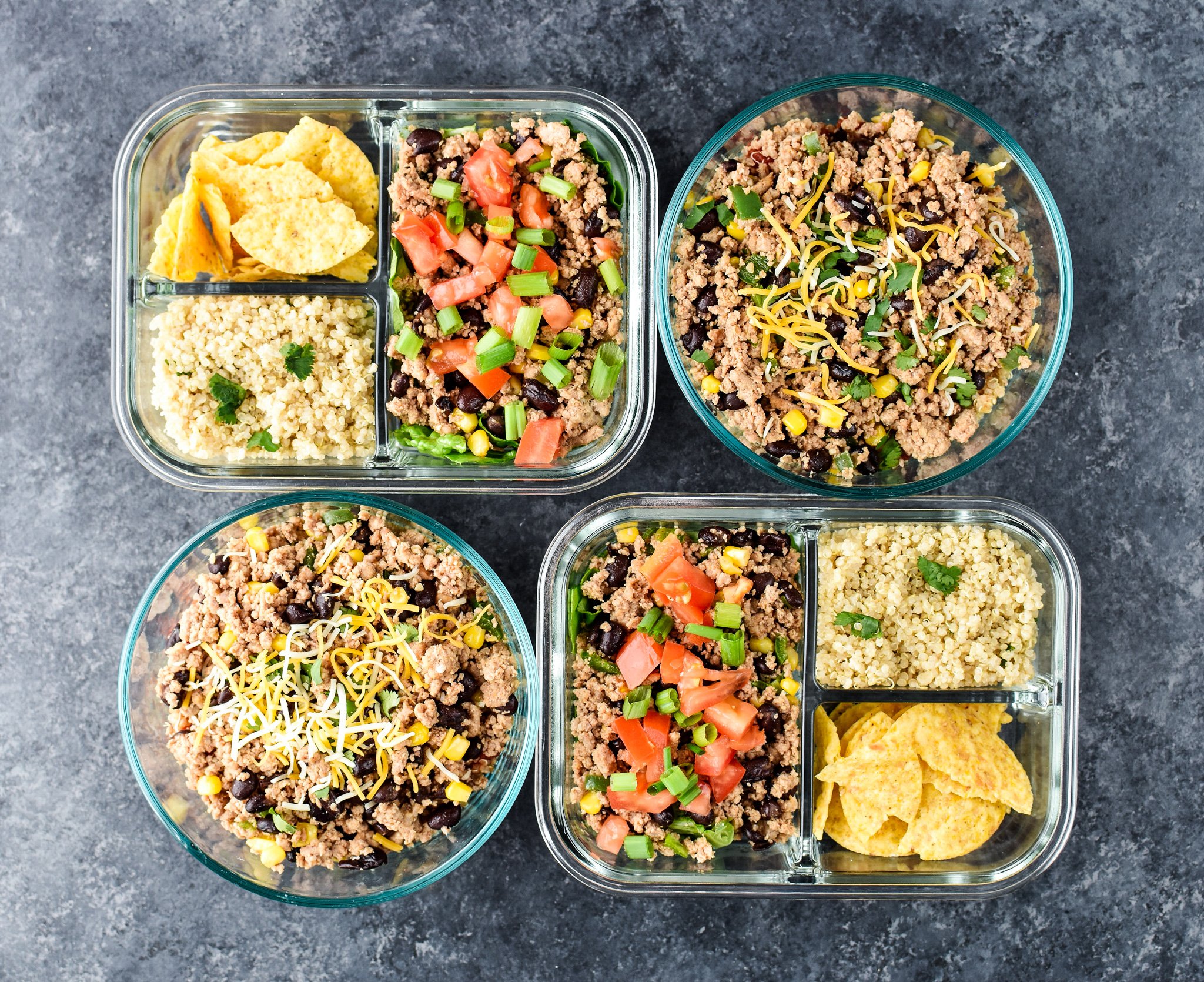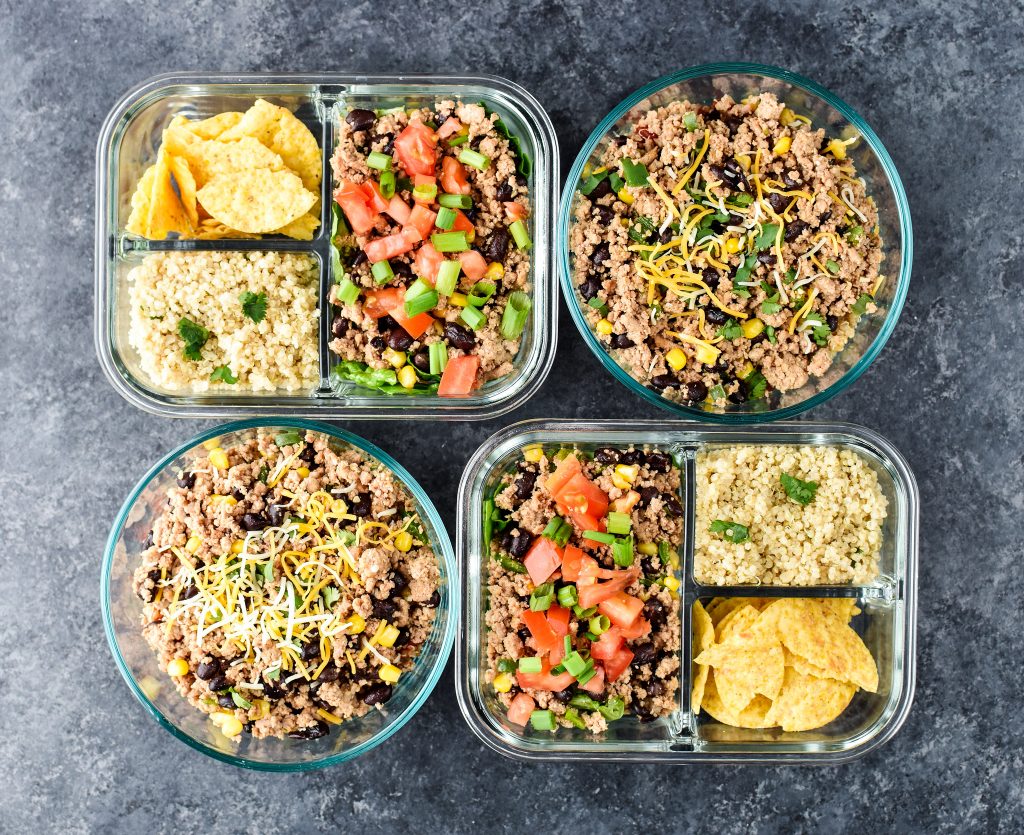 It's the literal season of meal prep and I'm so thrilled to get this recipe and video out to you guys.
The number 1 and 2 complaints I hear about meal prep are:
"I don't like eating the same thing every day."
"I don't like leftovers."
Here are a few solutions to problem one. Get really good at meal planning (sounds like a joke but I'm very serious). Then, plan every dinner to have leftovers.
It's a great way to save time while also avoiding the same lunches for four days straight. Plus, you're already cooking the food, so hopefully you like it.
I have lots more solutions in my article about How to Meal Prep and Eat Different Meals Every Day. For now, try this idea: One recipe, two different ways to prep.
Recipe Overview
Total Time: 30 minutes
Difficulty: Easy
Method: Stovetop
Prep: Make-Ahead Friendly
Watch how to Make Hot & Cold Turkey Taco Meal Prep (1 min 42 sec):
JK JK JK. Okay seriously though. The line between leftovers and meal prepped food is faint for some.
Solution to problem number two (you don't like leftovers): Try to deal with them.
But if you're not eating any of the food when it's originally cooked, then they aren't 'leftovers', and meal prepping is on the same level as buying pre-made food at the store (except you made it, so it's cheaper and probably healthier).
Skip that salad wrapped in plastic and make your own at home. EASY.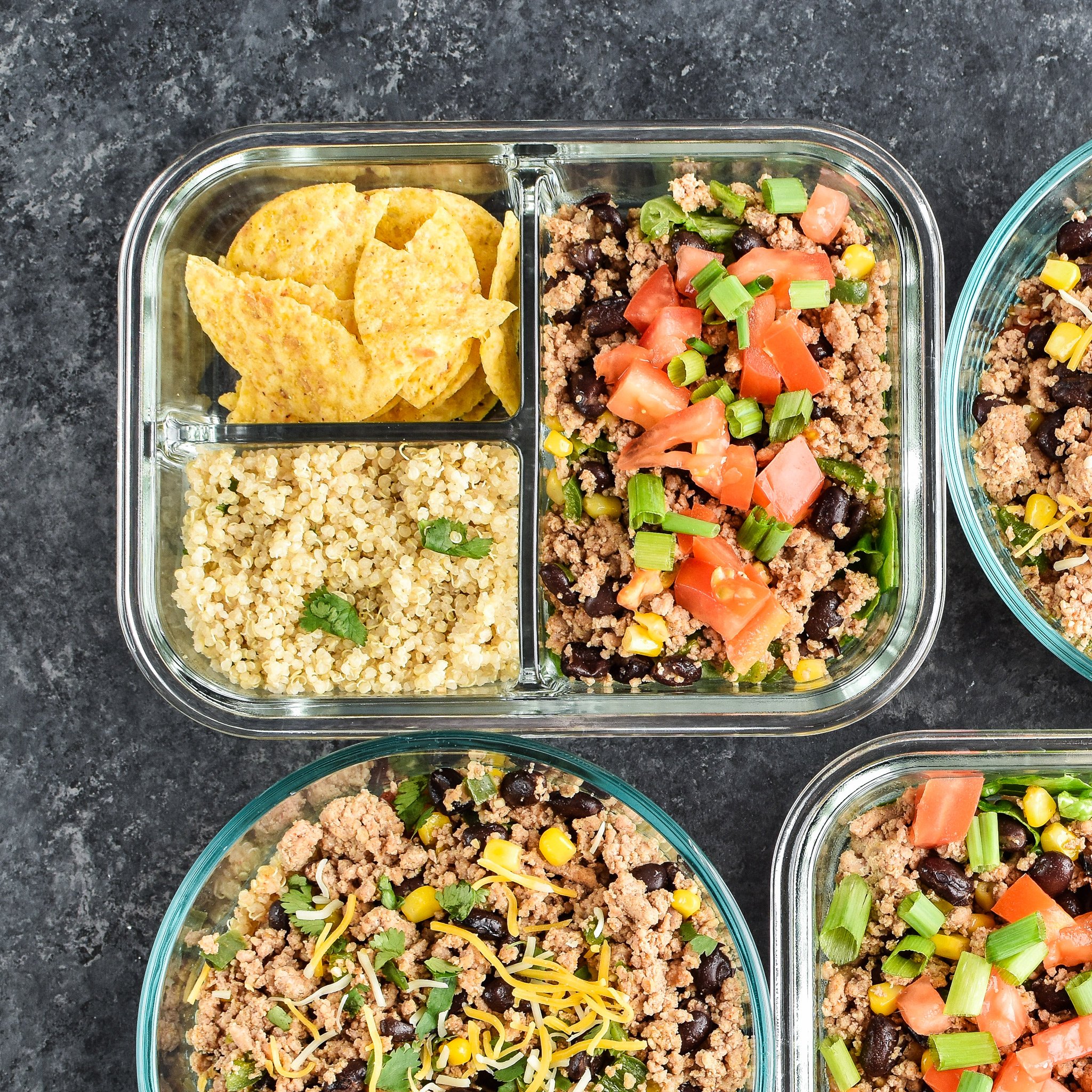 How to make this meal prep work for you:
Modify your taco salads and taco bowls with your favorite toppings. This might be obvious, but you don't have to make them exactly like mine. I made then how I like them.
Try using glass containers instead of plastic. They're a lot tougher and can stand up to the constant microwaving, dishwashing, and change in temperature that meal prep requires. I use these 3 compartment containers (the salads are in these), and these Pyrex round 4 cup bowls (the taco bowls are in these).
Use another meat instead of ground turkey if that's what you like. I think ground beef would work too (I just don't eat red meat).
Switch the quinoa flavors, or do all one flavor. I put the cilantro lime quinoa with the taco salad, and the tomato green chili quinoa with the taco bowl, since I thought it would taste better reheated.
Recipe
Hot & Cold Turkey Taco Meal Prep
Prep:
10 minutes
Cook:
20 minutes
Total:
30 minutes
Hot & Cold Turkey Taco Meal Prep is made of two taco salads and two taco bowls so you can prep two kinds of lunches with half as much work! Best for those who despise eating the same lunch four days in a row!
Ingredients
Turkey Taco Mixture:
1 tablespoon

avocado oil (or EVOO)

1

pound lean ground turkey meat

1/2 teaspoon

cumin

1/4 teaspoon

paprika

1/2 teaspoon

onion powder

1/2 tablespoon

minced garlic (about

2

cloves)

1

jalapeño, diced, seeds and stem removed

1/2 teaspoon

salt + black pepper to taste

1

(15-ounce) can of black beans, rinsed and drained

1/2 cup

frozen corn

1/2

lime's worth of lime juice
Quinoa Mixtures:
1 cup

uncooked quinoa, rinsed

1 1/4 cups

low sodium chicken broth (or more depending on your cooking method)
Lime Cilantro Quinoa: 1/2 lime of lime juice, 1 tablespoon chopped cilantro, 1/8 teaspoon salt
Tomato & Green Chili Quinoa: 1 teaspoon chili powder, 1/2 teaspoon cumin, 1 (10-ounce) can tomatoes and green chilis (I like Rotel)
Toppings & Side Ideas:
romaine lettuce
green onion
black olives
diced tomatoes
avocado
shredded mexican cheese
cilantro
tortilla chips
Instructions
Use your preferred method to cook plain quinoa using low-sodium chicken broth as the liquid. Here's some detailed information on How to Cook Quinoa in the Instant Pot, and How to Cook Quinoa in the Rice Cooker.
Heat oil over medium heat in a deep skillet or Dutch oven. When hot, add ground turkey. Use a spoon or spatula to break the meat into smaller pieces. Add about 1/4 teaspoon of salt, and cook for 6-7 minutes, stirring occasionally. If you have a lot of extra liquid, you can remove the excess from the pan, but it's not usually necessary with lean ground turkey.
Add cumin, paprika, onion powder, garlic, jalapeño, black beans, corn, and additional 1/4 teaspoon salt. Stir until mixed. Simmer on the stove for another 2-3 minutes and then remove from heat and cool.
Divide your cooked and cooled quinoa into two bowls, placing half in each (about 1 1/2 cups each). In one half, add lime juice, cilantro and salt. In the other, add cumin, chili powder, and tomatoes with green chilis. Stir each bowl of quinoa and set aside.
Assemble your meals: Add lettuce to the salad containers, and tomato quinoa to the taco bowls. Divide the taco meat evenly between all four meals. Add lime cilantro quinoa to the salads, along with any raw vegetable toppings like green onion and tomatoes. Add cheese and cilantro (or anything you don't mind being reheated in the microwave) to the taco bowls. Avocado should be added when consuming so it doesn't brown in storage!
Store in sealed containers for up to 4 days. The taco salads are great straight from the fridge, and the taco bowls are perfectly reheated after 1 minute 45 seconds in the microwave along with some stirring.
Nutrition Information
Serving Size:

1/4 pound turkey meat & 3/4 cup quinoa + toppings

Calories:

495

Fat:

15g

Carbohydrates:

54g

Protein:

36g
Recipe Card powered by