Picture this: Lunchable meets Pesto Pasta Salad! Get creative and craft your own bites of pasta salad with traditional pesto, fresh mozzarella, grape tomatoes, chicken breast, black olives, and bowtie pasta in this DIY Chicken Pesto Pasta Skewers Meal Prep!
Jump to Recipe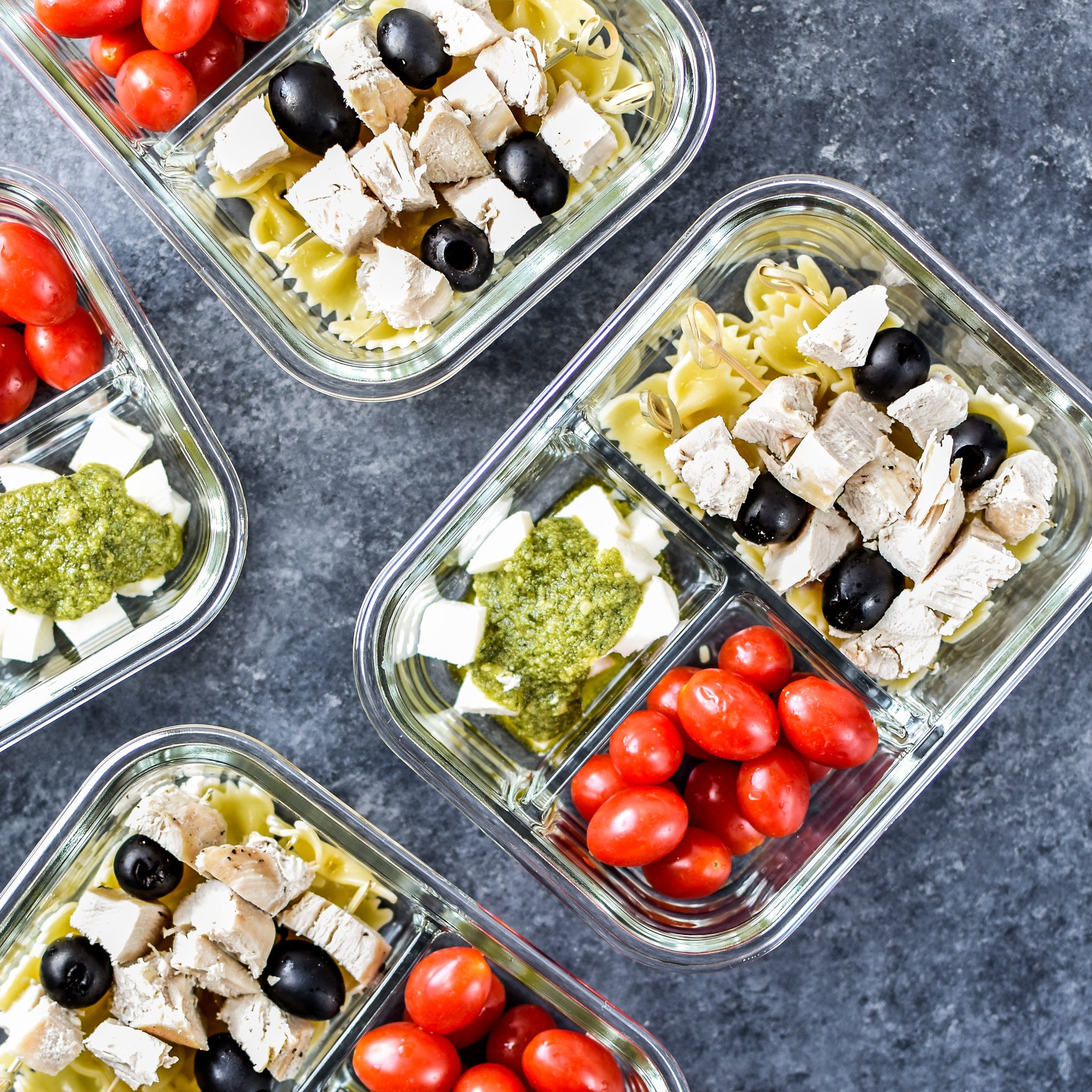 Just to bring you up to speed, I have a bit of a pesto obsession. Let's check the running list of Project Meal Plan recipes involving pesto:
WOAH. This list is getting long. I should probably write an article about all the things to make when you buy a Costco sized amount of pesto… Coming soon!
Seriously though, it's the perfect time to meal prep pesto pasta salad. It's a cold lunch (since pesto + microwave don't get along), it's EASY, it's delicious, and I've never seen anyone upset about having to eat pesto pasta. However, I wanted to get a little creative with this one while also limiting my actual pasta intake. So this DIY Chicken Pesto Pasta Skewers Meal Prep was born!
During the creation of this meal prep, I dedicated a little extra time to portioning all the components of the meal for optimum taste without eating way too much pasta along the way. I cut the amount of pasta I would normally eat per meal IN HALF, and added more tomatoes than I would normally eat to help fill me up.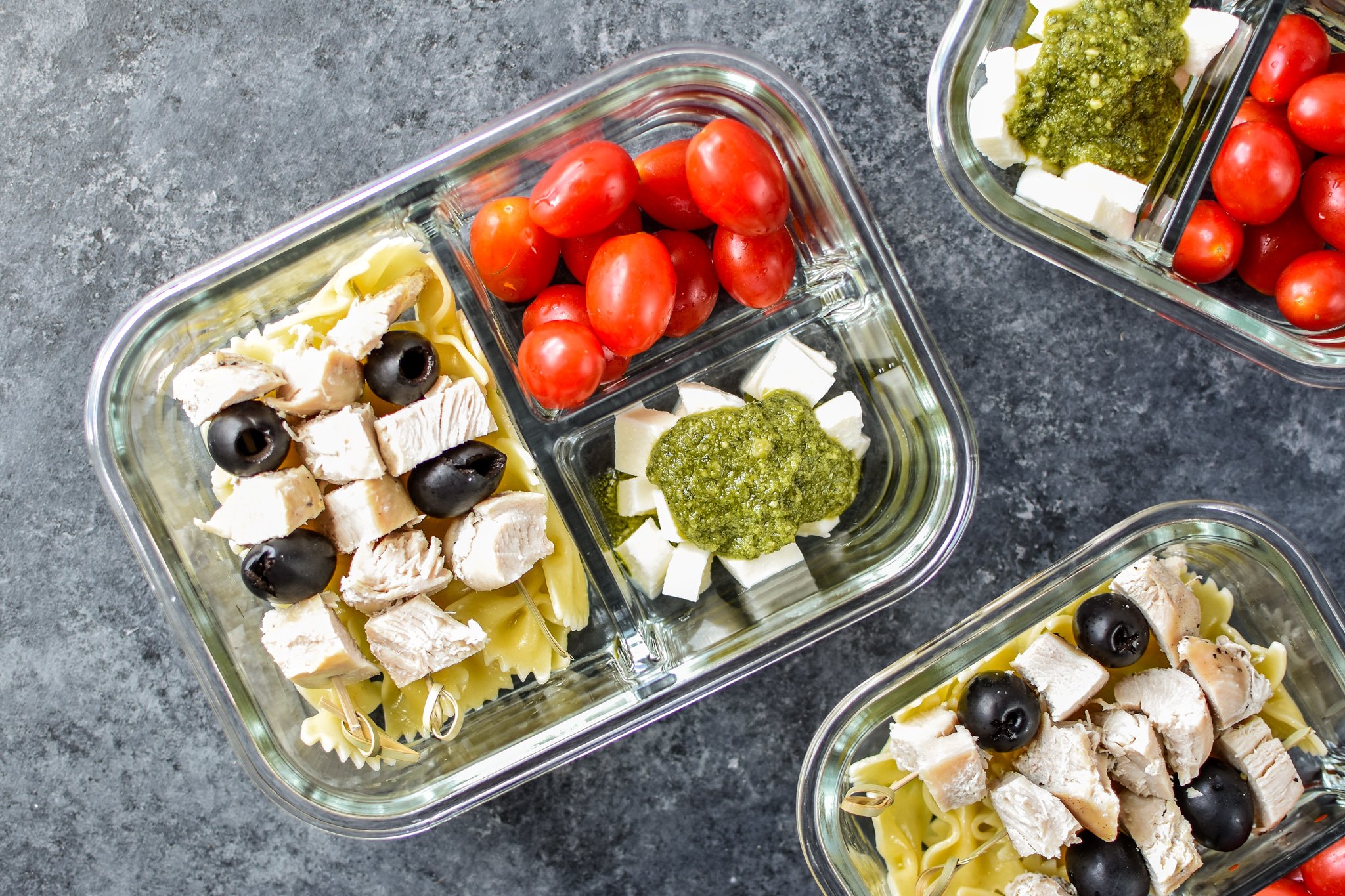 Since I spent extra time this week thinking about portions, I thought I would share examples of my thought process and steps I take when I determine my portion sizes.
How to decide your own portion sizes:
This might seem like a daunting list, but after you try portioning certain foods a few times, it becomes natural! You'll quickly figure out how much of what foods you're able to (and should) eat.
In my opinion, it's more important to pay attention to portions of calorie dense foods like meat, cheese, nuts, grains, beans, and things like that. Of course this varies by specific diet, but for calorie counting purposes, it's a bit less important to portion out most produce such as grape tomatoes, because the difference between servings is only around 10 calories. However, I do like to have an even amount in each meal, so I still weigh out the portions to ensure they're even.
Here's how I determined my portion of grape tomatoes for each meal:
The package of grape tomatoes from Trader Joe's was 16 ounces (1 pound), so I originally planned to split this into four portions of about 4 ounces each.
The plastic produce container actually didn't have a nutrition label, but according to the Internet, 3 ounces of grape tomatoes is about 30 calories (pretty negligible to me – so it's more about how much of these grape tomatoes I actually want to eat). I also noticed this website said that was only like 3 tomatoes, while I weighed it out to be like 12 grape tomatoes. Weighing is important!
I weighed out 4 ounces of the tomatoes and decided it was more than I could eat in one sitting, so I decided to go for 3 ounce portions instead.
I weighed each portion using a kitchen scale

(affiliate link!)

and then added them to my meal prep container. I used up 12 ounces total.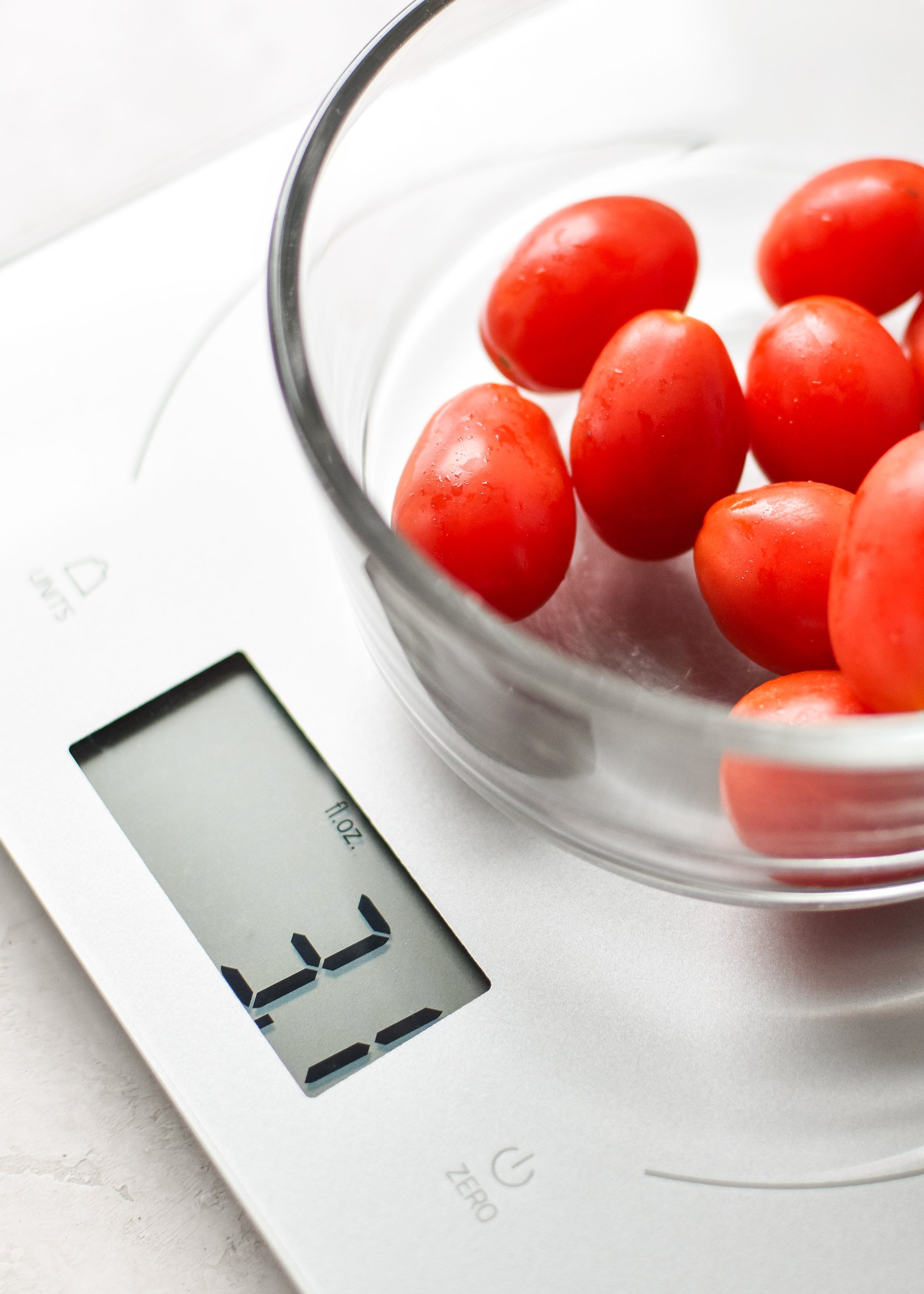 Here's how I determined my portion of mozzarella for each meal:
I decided to just go with the 1 oz package recommendation. I weighed out each portion (since I love cheese and it can get out of hand). Easy!
Here's how I determined my portion of pasta for each meal:
First, I determined that my goal was to reduce a normal portion of pasta.
The box says one serving of pasta is 2 ounces and 200 calories.
I weighed out 2 ounces of pasta to see how much it looked like.
I definitely want the pasta to be less calories of my meal, and 2 ounces is a decent amount of pasta. I decided to see what 1 ounce of pasta looks like.
1 ounce of pasta looks good for each meal and it's only 100 calories, so I decided to go with that. I'll need to cook 4 ounces of pasta total for the four meals.
As you can see, the process can be a little different depending on the type of food item you're portioning. With meats, I know that we like to have 5 or 6 ounces per meal, so I always start with that. After a few meal prep Sundays, you'll develop a system that works well for you without even realizing it!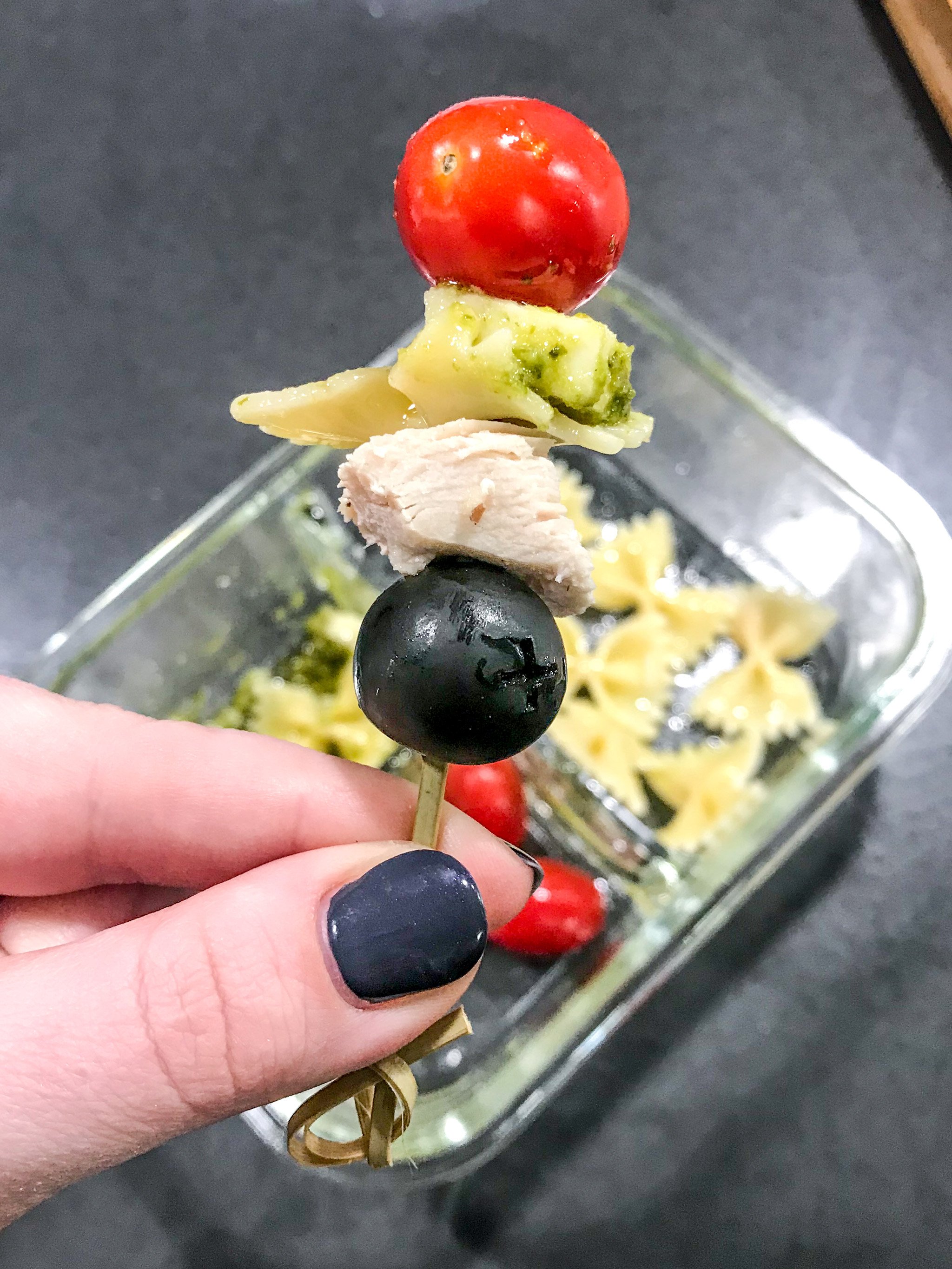 A few notes on the recipe: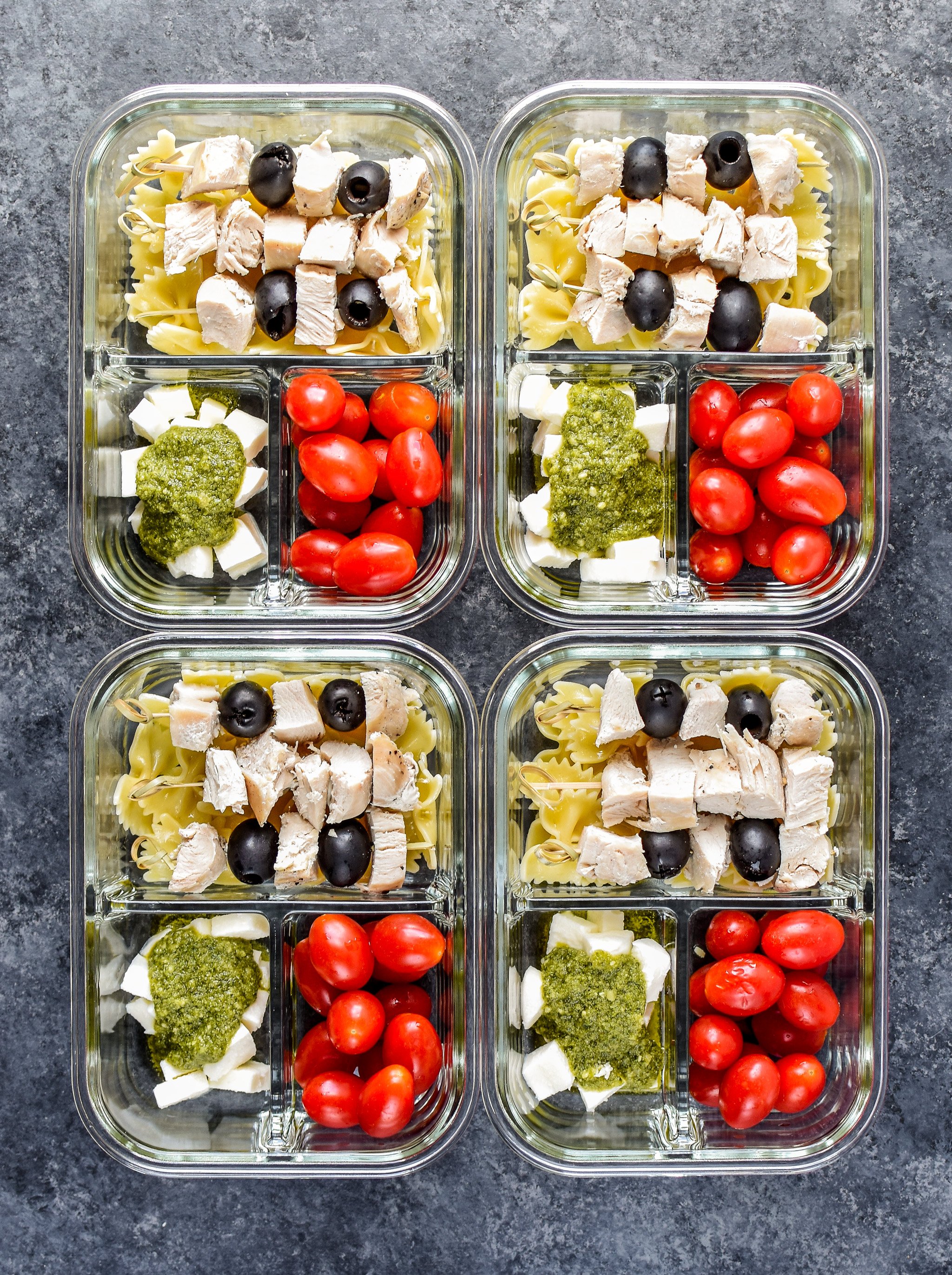 More meal prep recipes from Project Meal Plan:
Recipe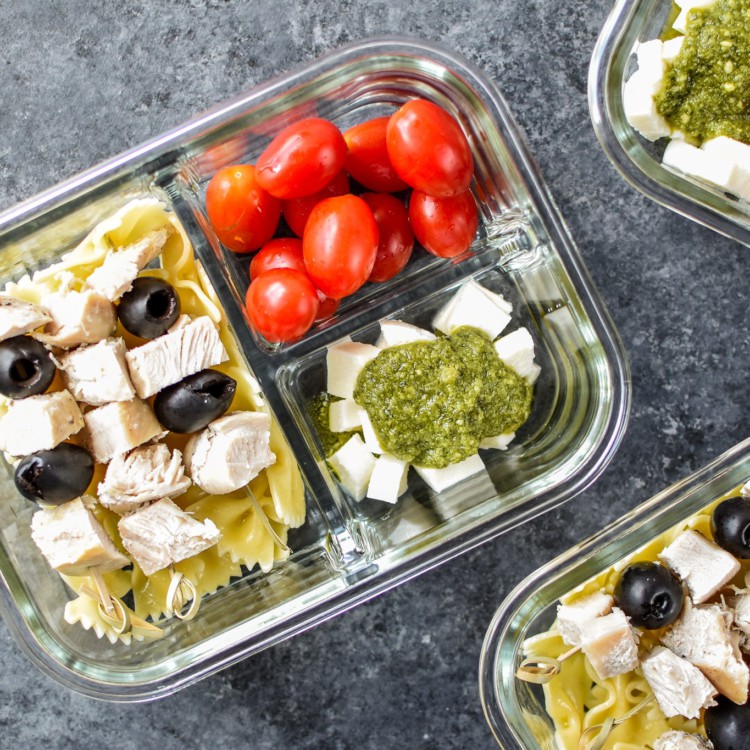 DIY Chicken Pesto Pasta Skewers Meal Prep
Prep:
10 minutes
Cook:
12 minutes
Total:
22 minutes
Craft your own bites of pasta salad with traditional pesto, fresh mozzarella, grape tomatoes and more in this DIY Chicken Pesto Pasta Skewers Meal Prep!
Ingredients
4 ounces

dry bowtie farfelle pasta (about

1 3/4 cup

)

1/2 teaspoon

salt

1

–

2

tablespoons olive oil

12 ounces

boneless skinless chicken breast, cooked and diced into small chunks (see notes for cooking method ideas)

12 ounces

fresh grape tomatoes

4 ounces

fresh mozzarella cheese

16

–

20

whole pitted black olives

1/4 cup

traditional prepared pesto

12

–

16

bamboo knot skewers

(affiliate link!)

or similar small skewer
Instructions
Cook pasta to al dente according to package directions, seasoning the water with 1/2 teaspoon salt.
Once cooked, strain and rinse noodles with cold water. Add pasta to a bowl and toss with olive oil. Let it cool while you assemble the rest of the meal prep.
Use a scale to portion your cooked chicken breast, tomatoes, and mozzarella into four portions. Add the tomatoes to one small compartment in each container, and the mozzarella to another. Top mozzarella with 1 tablespoon pesto in each container.
Portion pasta into the large compartment of each container, weighing out 1 ounce portions if you want to be precise.
Add chicken pieces to skewers, alternating with olives if you prefer. Add 3-4 skewers to each meal (depending on how many you made total) on top of the pasta. If you want to skip the skewers, just toss the chicken on top of the pasta.
Store in the fridge for up to 4 days. Eat it straight from the fridge!
Notes
Chicken: Use leftover chicken or cook it up using any method you prefer. The chicken breasts pictured were cooked in the Instant Pot with 1 cup broth on high pressure for 7 minutes, seasoned with salt, pepper and garlic powder. Here's a great oven baked method. Grilled chicken works too!
Pasta: I recommend using plain regular wheat pasta for this recipe, unless you have a brand you trust. Any healthy pasta brands I've tried get severely dried out when stored overnight. If you're just looking for some good old fashioned pesto pasta, try this recipe.
Nutrition information estimated with My Fitness Pal.
Nutrition Information
Serving Size:

1 meal prep lunch

Calories:

441

Sugar:

6g

Fat:

21g

Carbohydrates:

30g

Fiber:

3g

Protein:

32g
Recipe Card powered by
Thanks for checking out this DIY Chicken Pesto Pasta Skewers Meal Prep! Please tag me or use #projectmealplan on social media to share your skewer creations!