1 Comment
Posted: 12/18/2019
Updated: 09/22/2021
Parmesan crisps make the perfect crunchy topping for salads, casseroles, and soups! Or enjoy them plain as a low-carb snack. Quick, easy, and just one ingredient! Let's learn How to Make Baked Parmesan Crisps!
Jump to Recipe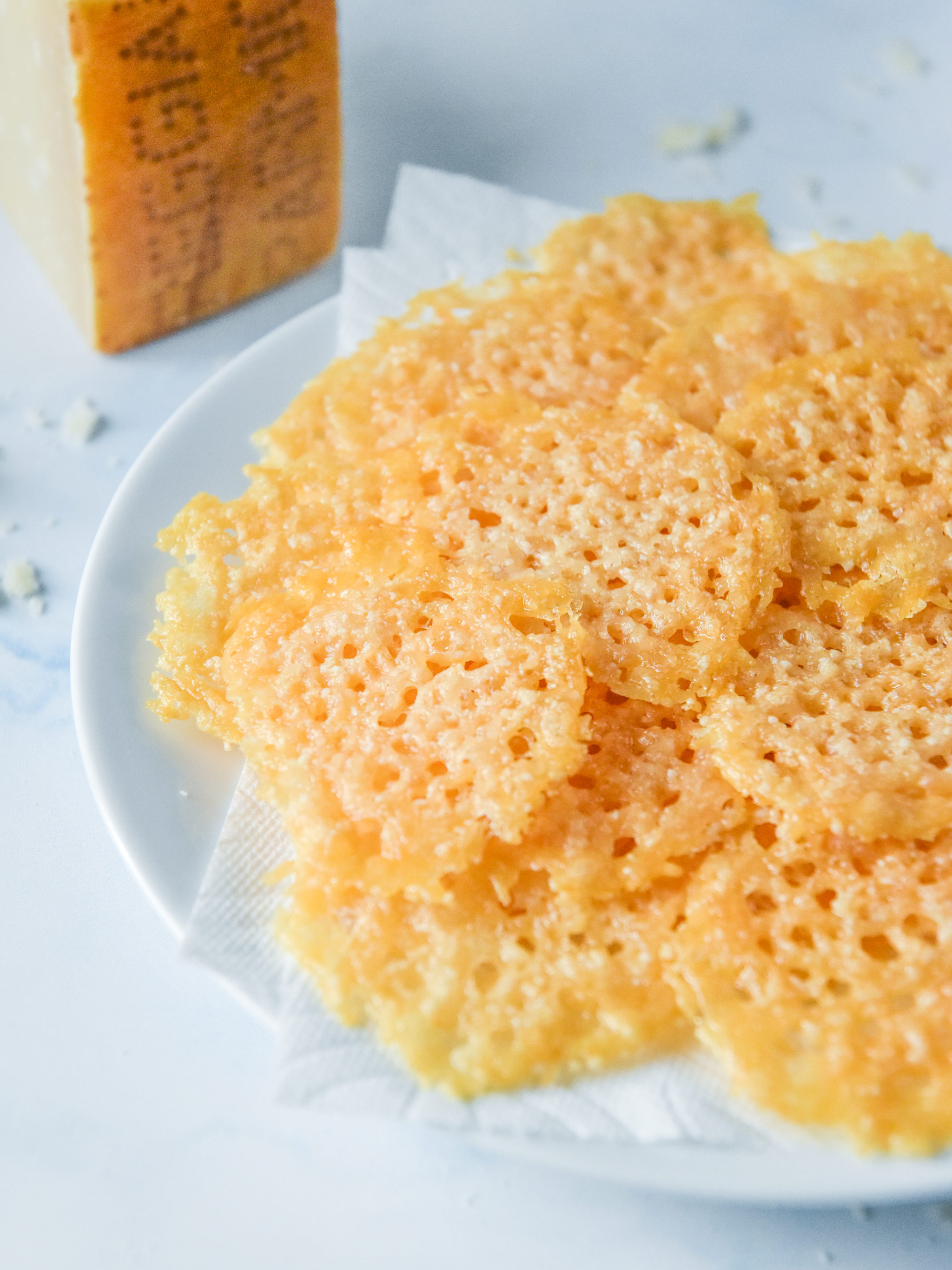 You know that large crispy web of cheese that sometimes comes with those fancy Caesar salads?! Well, this is that!! And you can make it at home.
One of my favorite hobbies is finding something I was buying at the store, making it taste way better at home, and then feeling really good about myself. You should have seen my face the first time I made these!
I've made a whole batch to later use as topping on a casserole, and I've also just eaten the whole batch plain. These things are delicious and the best use of a large amount of parmesan cheese!
What's in these baked parmesan crisps?
The ONLY ingredient we are using here is freshly grated parmesan cheese! Shred your own! It makes a difference.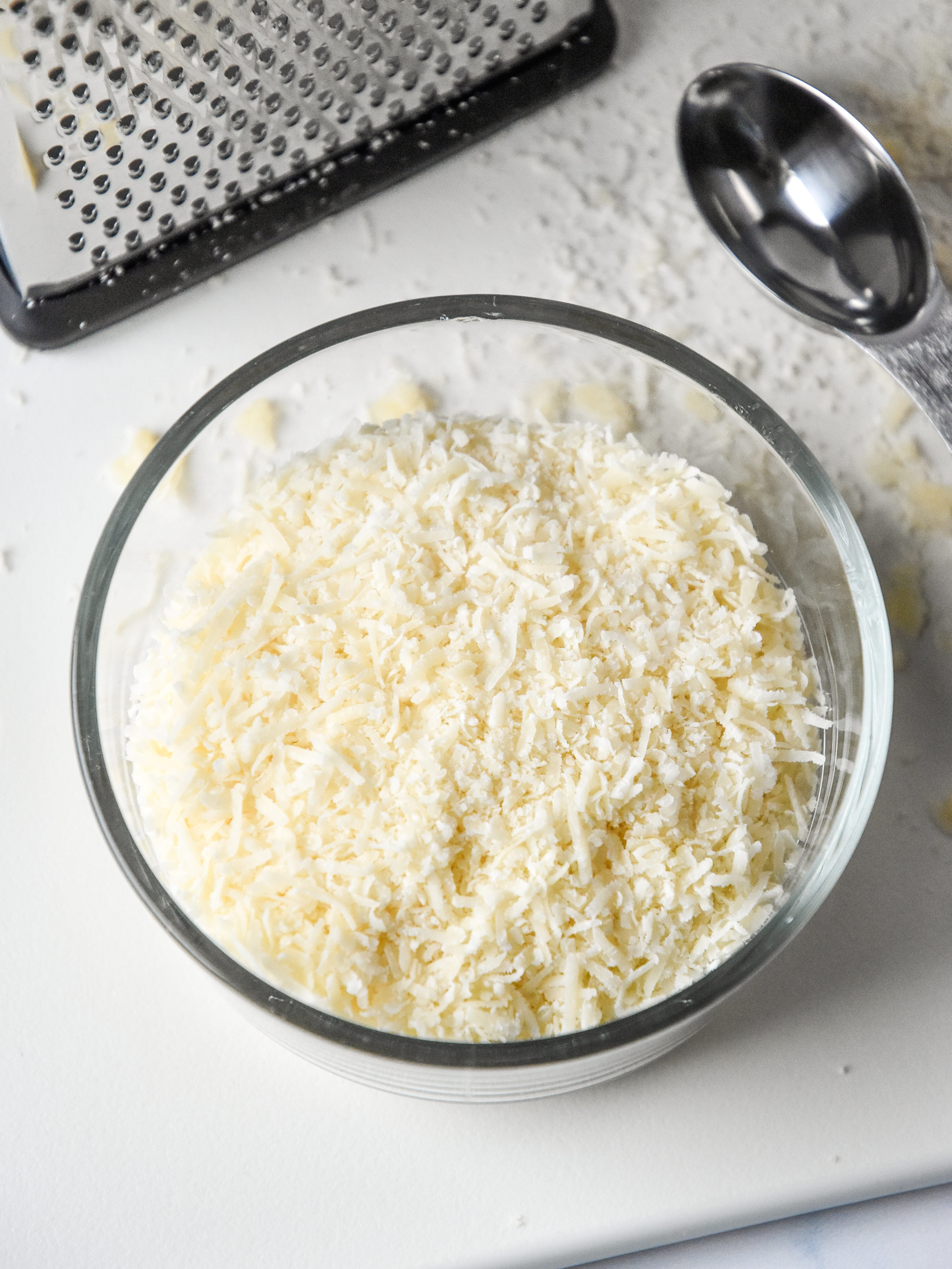 Can you use pre-shredded parmesan cheese?
In general, almost all cheese that comes pre-shredded from the store has a powdery coating. It's usually made up of cellulose and/or some kind of starch. This powder is added to shredded cheese to prevent clumping.
I *usually* (like, 75% of the time?) try to shred my own cheese. Sometimes I let it slide for time's sake, but if I want the cheese to melt and become perfectly cheesy, maybe in a soup, or here, for these crisps, I grate my own!
In this recipe, grating your own cheese makes sure that all you have in your parmesan crisps is cheese, and NOTHING else. Seriously. It's important!
You should always grate your own cheese when you make parmesan crisps!
If you have cellulose hiding in there, it prevents your cheese from sticking together when it re-melts to form a crisp. Instead, you'll have a brittle piece of baked cheese that falls apart at first touch.
How do you make baked parmesan crisps?
Grate a good amount of parmesan cheese using a hand grater or even a food processor. To make 20 crisps on a half sheet pan (affiliate link!) size baking sheet, I used about 1 + 1/4 cups of grated parmesan cheese, which was also about 4 ounces of parmesan cheese.
Line a half sheet pan (affiliate link!) with parchment paper or a silicone baking mat (I like this Silpat Half Sheet Size Silicone Baking Mat (affiliate link!), but parchment paper is pictured!).
I like to use a tablespoon to measure out and create the piles of cheese on the baking sheet. Leave about 3/4-1 inch of space in between piles of cheese, as they will spread out a bit.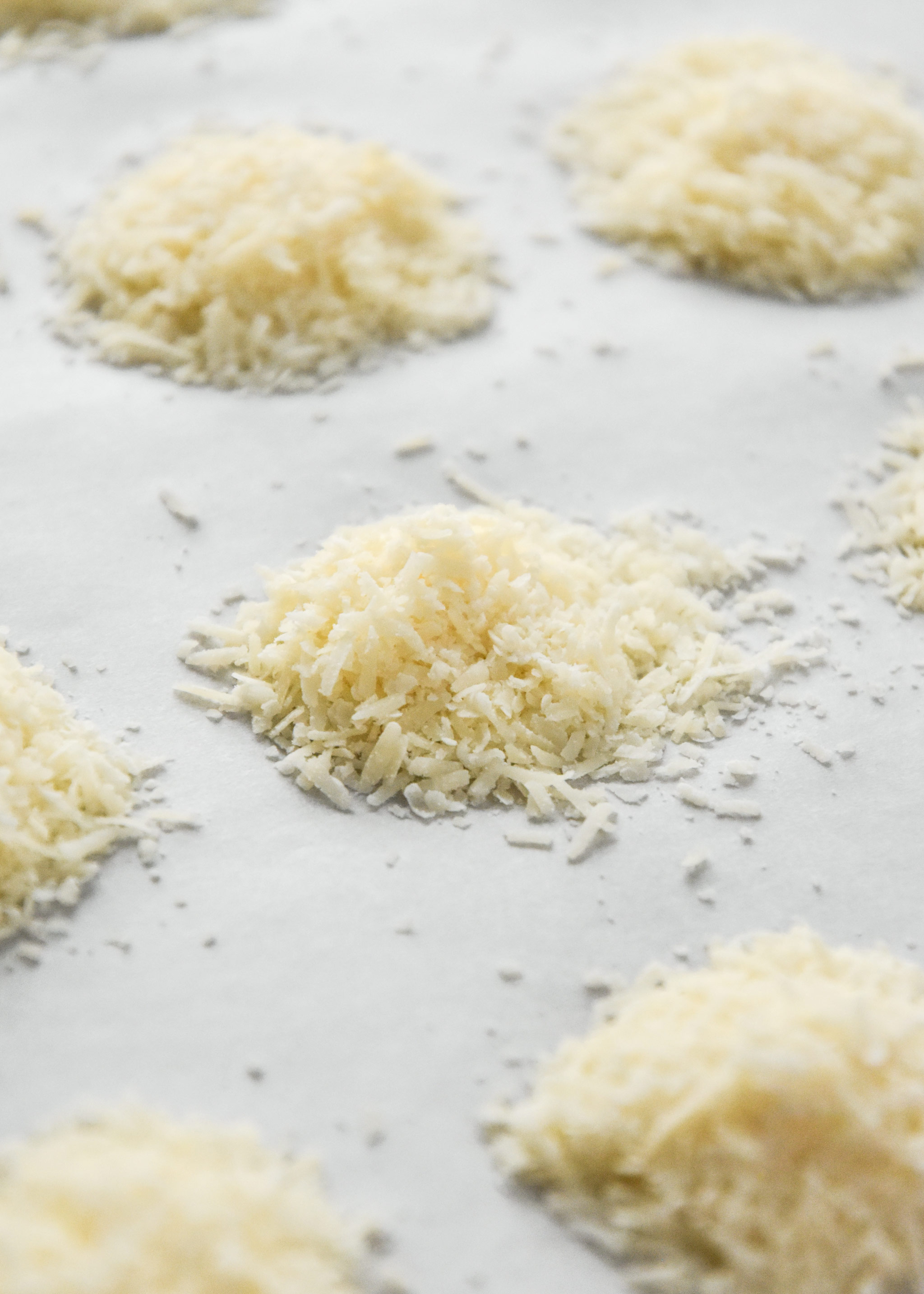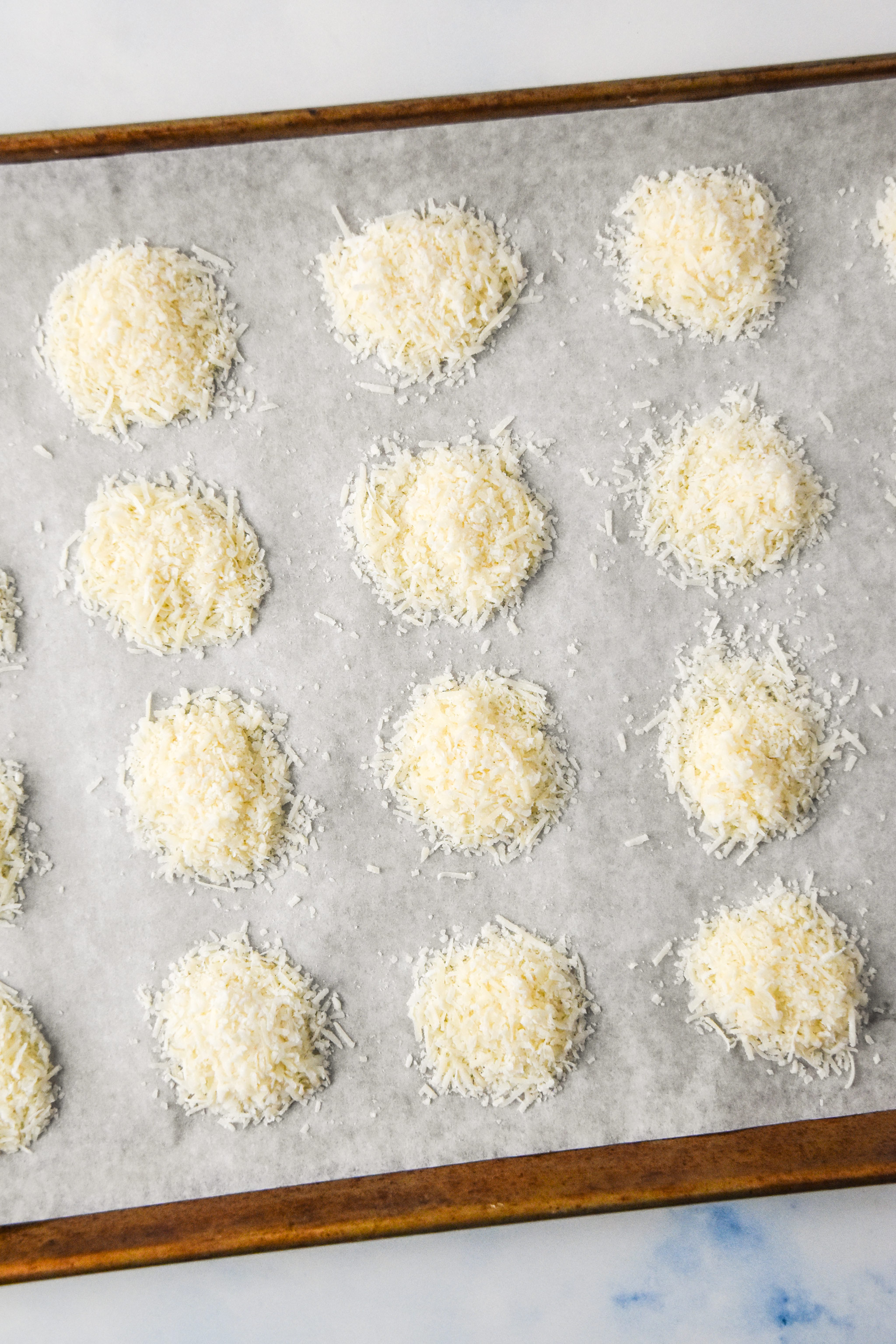 Bake the parmesan cheese piles for 7-8 minutes at 400F. They'll be super bubbly and smell like parmesan cheese!
Let the crisps cool on the baking sheet for 5 minutes while the cheese hardens. After 5 minutes, I like to transfer to a plate lined with a paper towel, as the crisps will be slightly greasy.
How do you store homemade baked parmesan crisps?
Store baked parmesan crisps in a sealed container at room temperature. They do not need to be refrigerated.
How long do these parmesan crisps last?
These crisps will last for about 5-7 days on the counter, but they don't last that long at my house!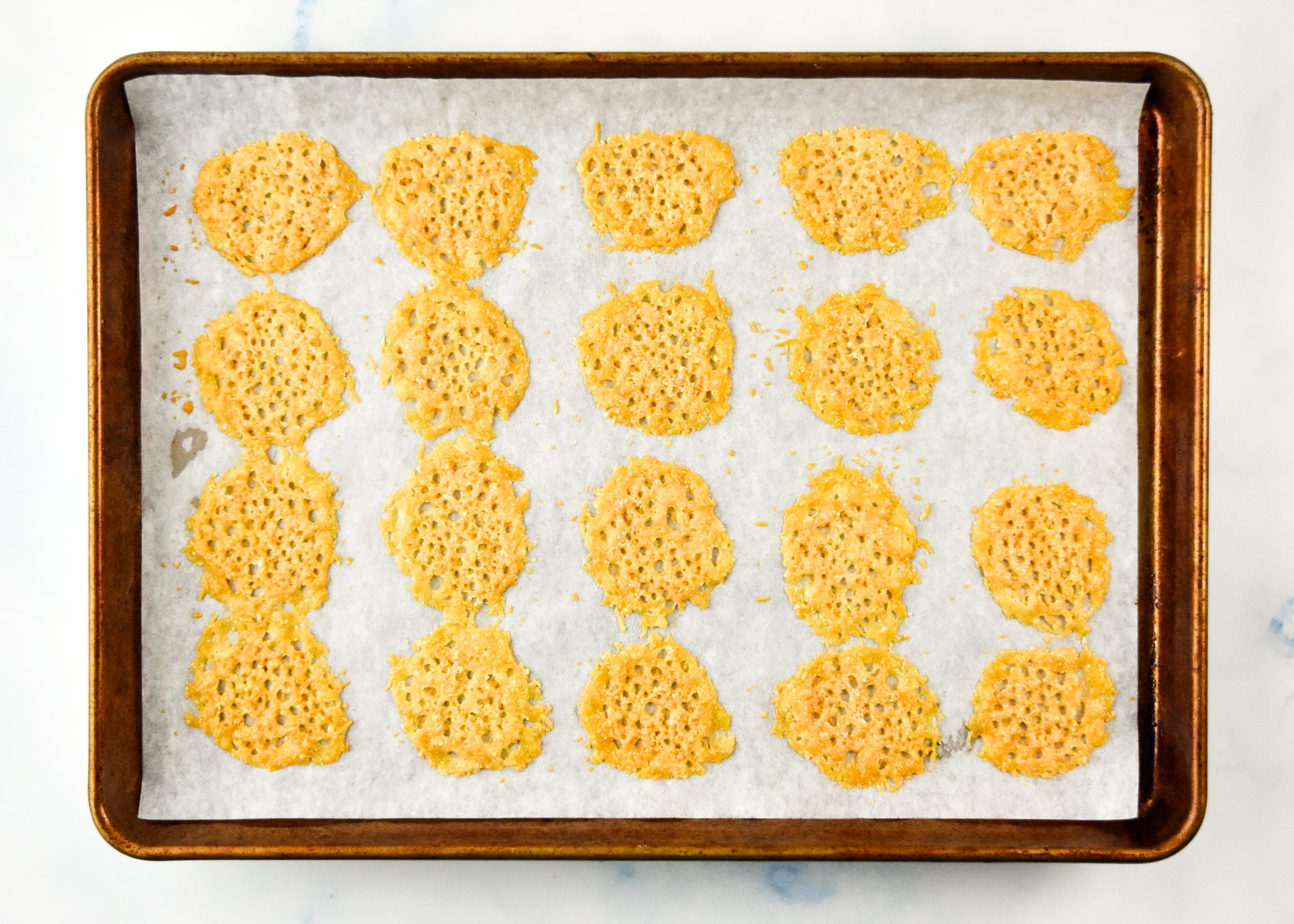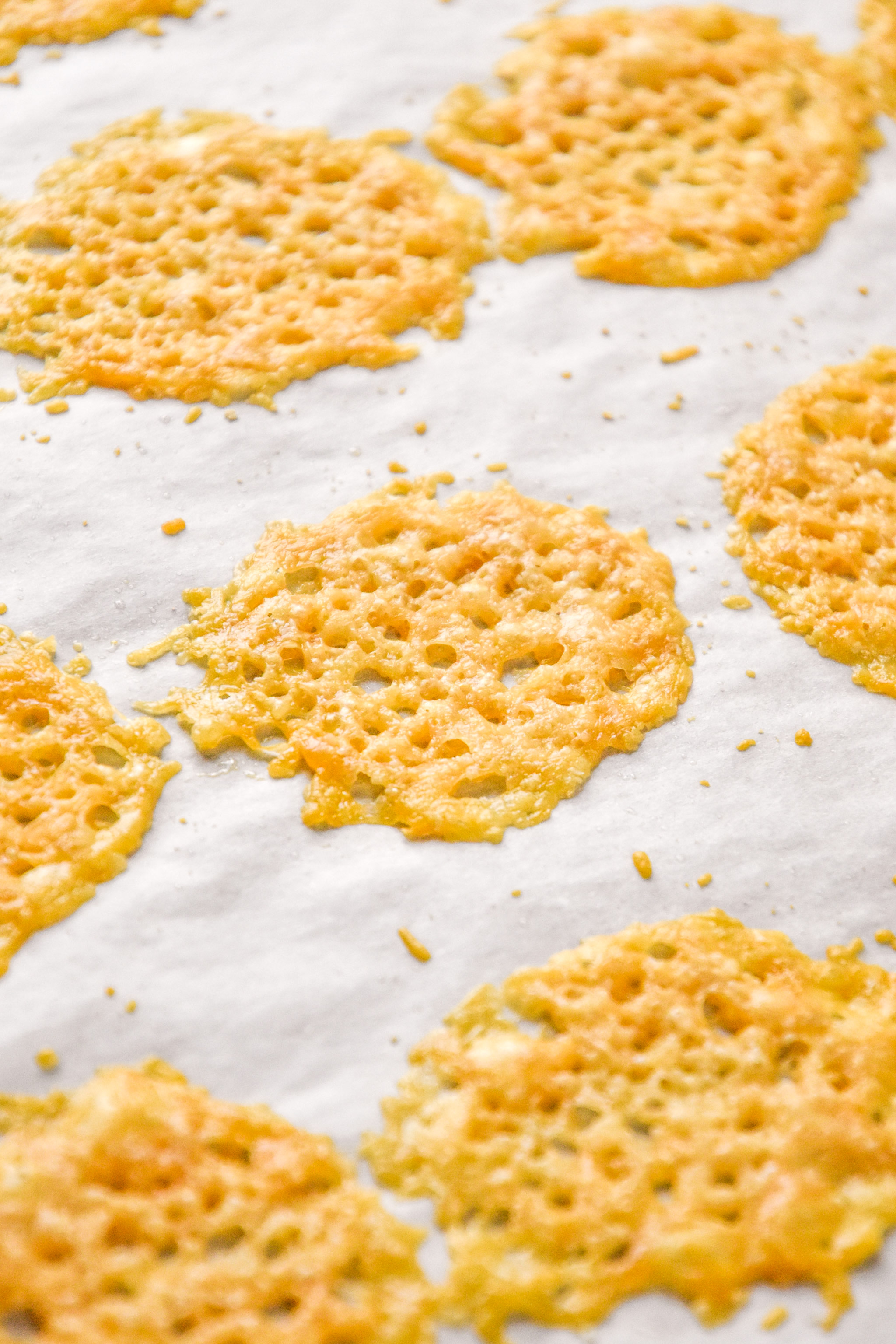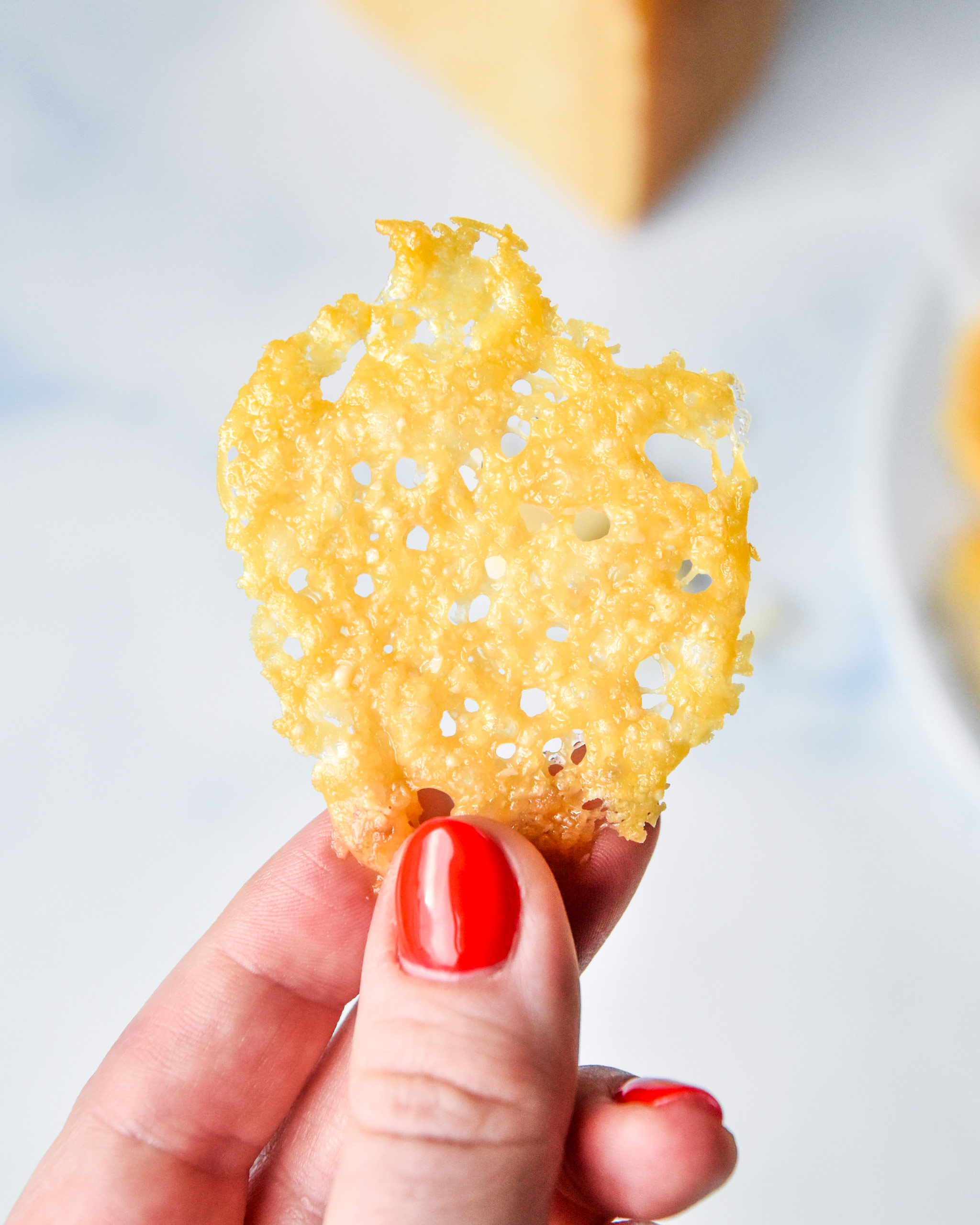 What to serve with baked parmesan crisps:
One of my favorite uses (and probably what I'll be doing with these most often besides eating them by themselves) is using them as a crunchy topping for casseroles.
That's actually how the idea for these parmesan crisps was inspired – by a reader who made homemade parmesan crisps for the Veggie Loaded Rotisserie Chicken Casserole instead of buying them at the store.
Here are a few more casseroles that you could top with these baked parmesan crisps:
Another way to serve up these parmesan crisps is with soups and salads. You can crunch them on top of something basic like a caesar salad, or serve as a side with tomato or broccoli cheese soup.
Finally, these baked parmesan crisps are wonderful on their own, especially for cheese lovers. Add to a snack plate or cheese board for a unique crunchy cheese addition.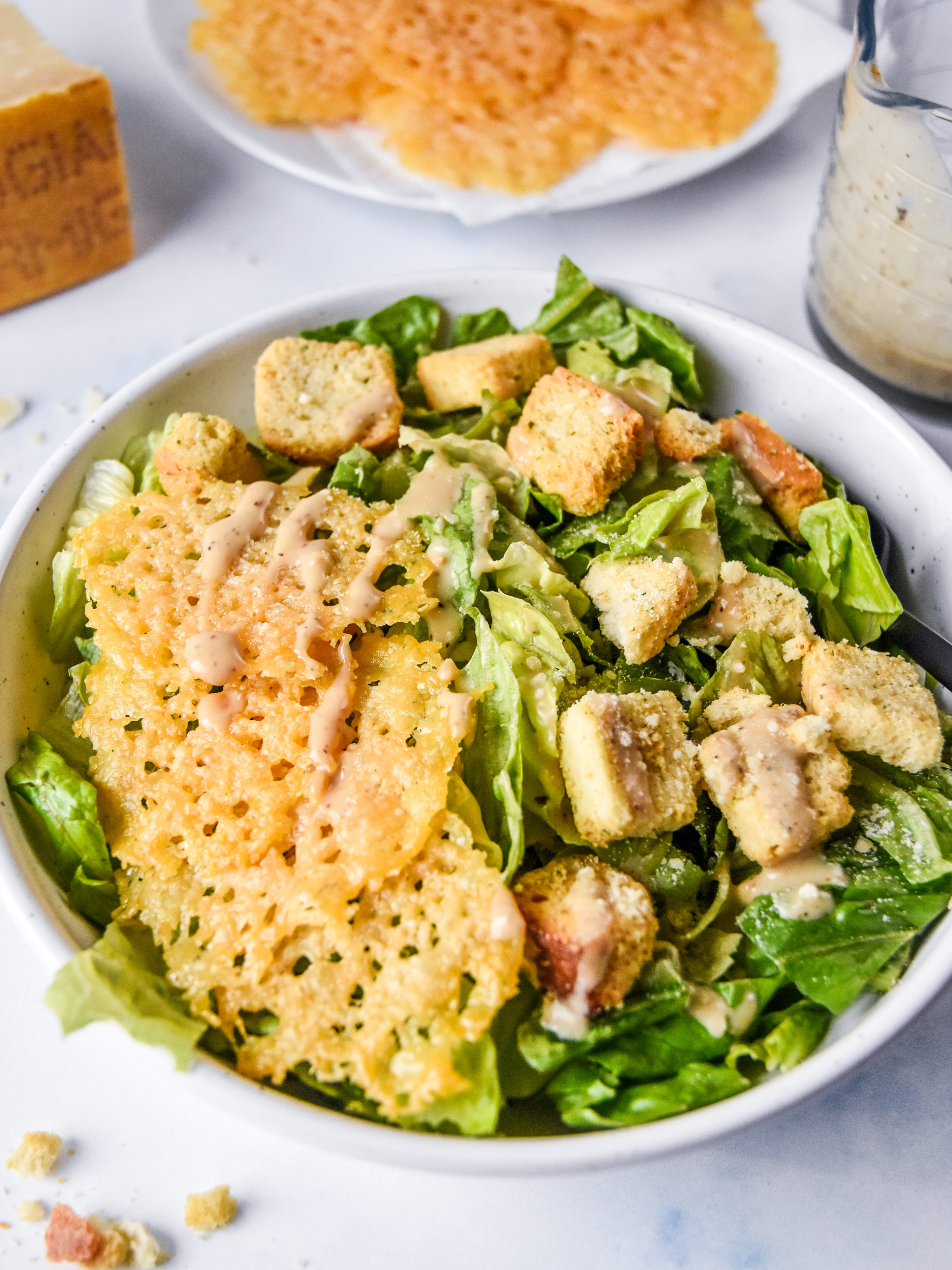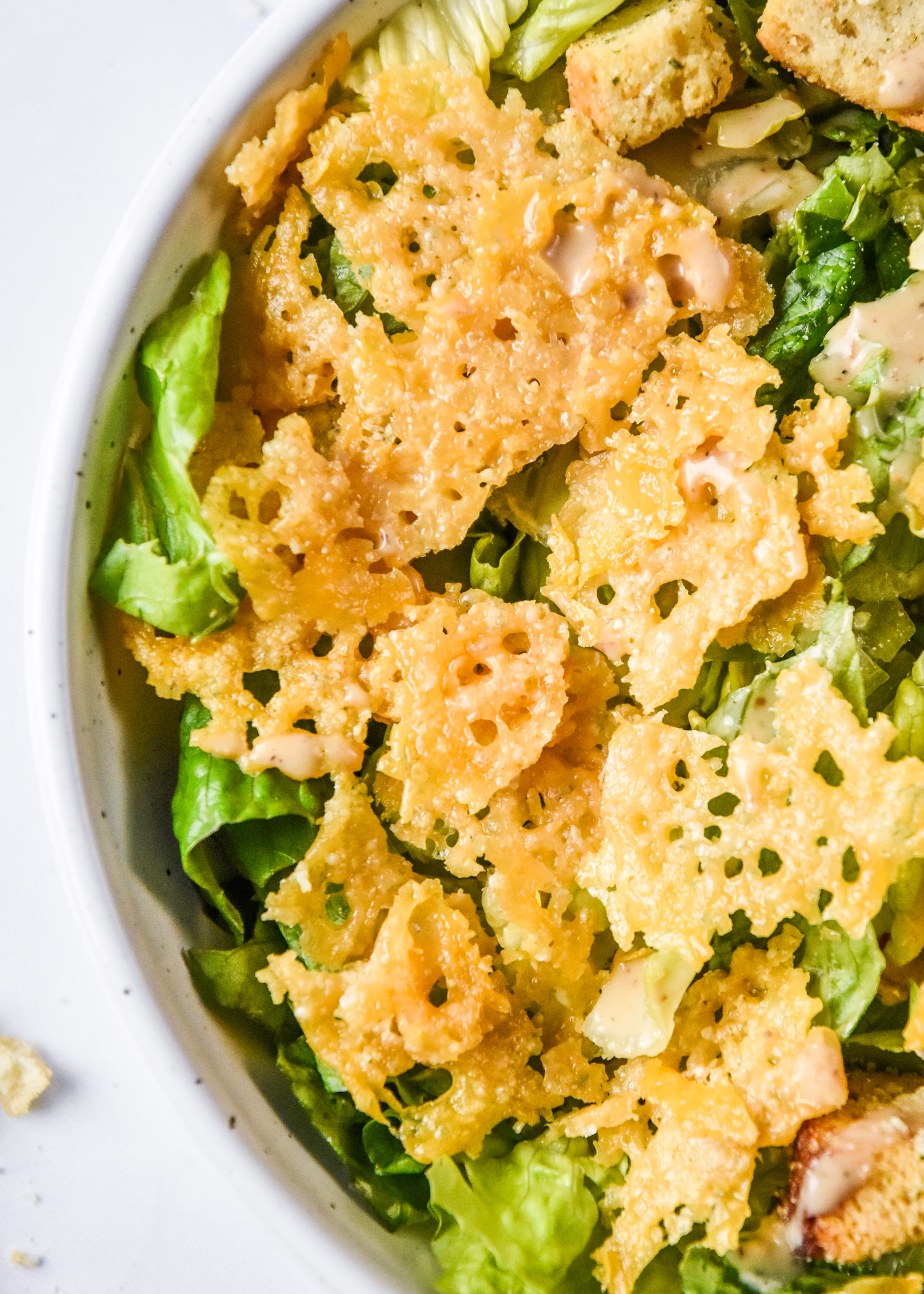 More easy recipe ideas from Project Meal Plan:
Recipe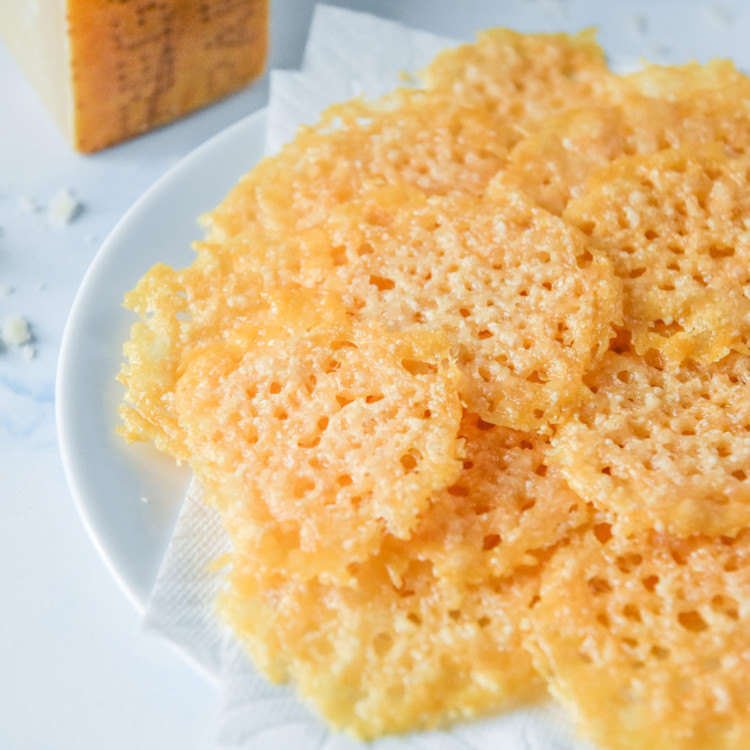 How to Make Baked Parmesan Crisps
Yield:
20

parmesan crisps

1

x
Prep:
10 minutes
Cook:
7 minutes
Total:
17 minutes
Parmesan crisps make the perfect crunchy topping for salads, casseroles, and soups! Or enjoy them plain as a low-carb snack. Quick, easy, and just one ingredient! Let's learn How to Make Baked Parmesan Crisps!
Ingredients
1 1/4 cups

freshly grated parmesan cheese (about

4 ounces

)
Instructions
Prep: Preheat oven to 400F. Line a baking sheet pan with parchment paper or a silicone baking mat. Place tablespoon size piles of parmesan cheese on the baking sheet, spaced about 1 inch apart (they'll spread a little). You should be able to make 16-20 parm piles.
Bake: Bake in the preheated oven for 7-8 minutes. The cheese will be super bubbly and you'll be able to smell the parmesan. Let them cool on the sheet pan for 5 minutes, then transfer to a plate lined with a paper towel, as they will be a bit greasy. Crisps will be crispiest after they are completely cooled.
Store & enjoy: Keep in a sealed container on the counter for up to 5 days. Enjoy as a snack or use as a topping for salads, soups and casseroles.
Notes
Nutrition information estimated with My Fitness Pal.
Nutrition Information
Serving Size:

4 parmesan crisps

Calories:

108

Fat:

7g

Carbohydrates:

1g

Protein:

10g
Recipe Card powered by
Did you make these baked parmesan crisps at home?! I want to see how they turned out and how you served them. Yeah, I'm nosey. Tag @projectmealplan on Instagram and use the hashtag #projectmealplan so I can see your creation!