It's the very first breakfast casserole to officially hit Project Meal Plan! It's a good one too. Like most breakfast casseroles, it's totally customizable, but you've got to try it as written first. Spinach and feta were obviously a match made in heaven, and served as my starting place for the recipe. To that magical combo, I added chicken sausage and mushrooms for a perfect balance of veggies to proteins (plus eggs, obviously). All of the above is layered over… Sweet potato "crust". Yep. Layers of sweet potato sweeten the breakfast deal in the best way possible. I'm certain you'll love the Spinach Feta Chicken Sausage Breakfast Casserole with Sweet Potato Crust.
Jump to Recipe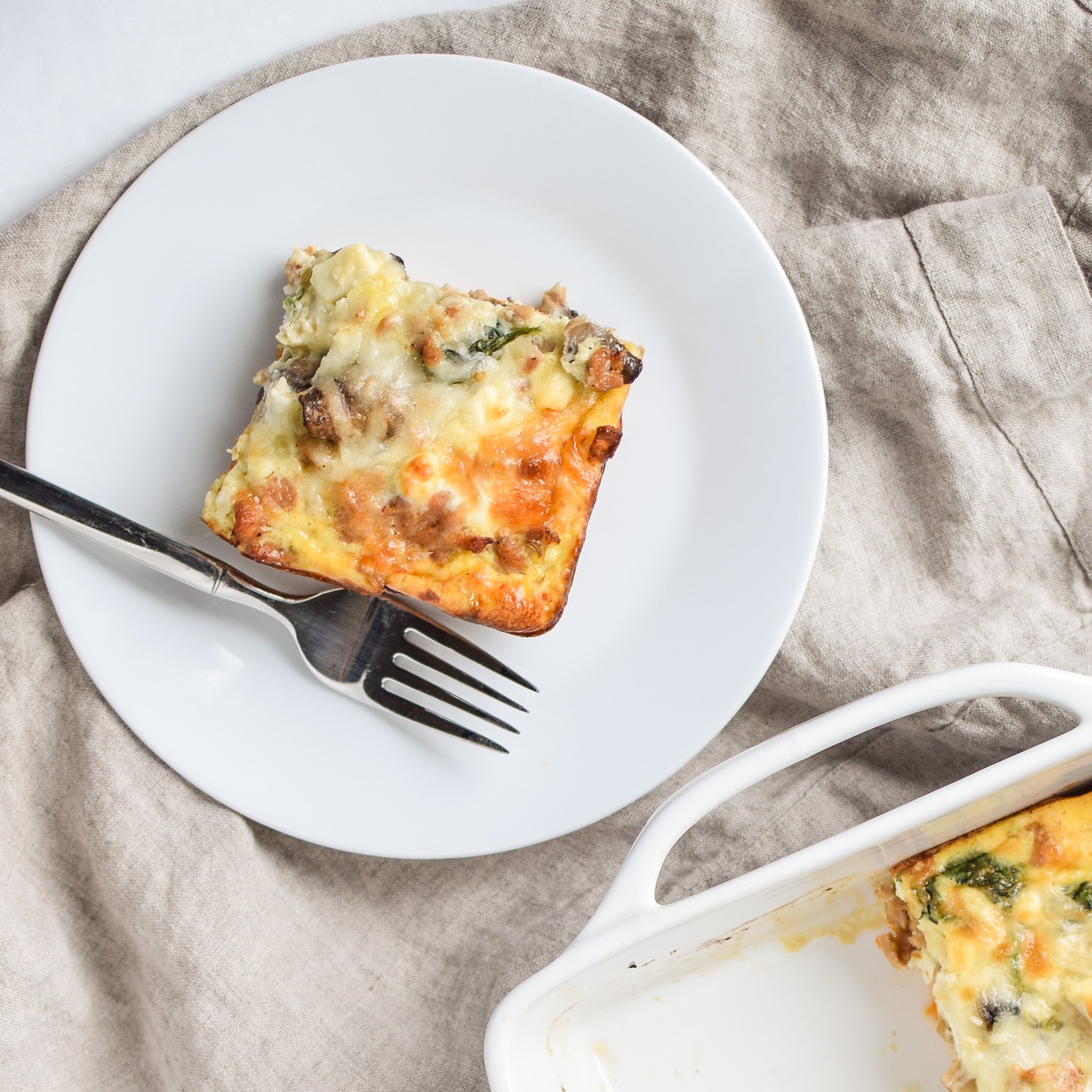 I'm very much in love with this sweet potato crust method. It makes me feel as though there is some kind of real, true crust, and my casserole is something like a quiche. Not that the sweet potato isn't "real", but… you know what I mean. It's a sweet sub but we all know what could really be there. However, I'm thinking the sweet potato method is easier, and definitely better for you. So, here's how it goes (special thanks to Rachel Cooks – Bacon Cheddar Quiche with Sweet Potato Crust for the sweet potato crust idea).
You can use either one long sweet potato, or two smaller ones. Slice the sweet potato into super thin discs, about an 1/8 of an inch thick (you can use a mandoline slicer if you have one, but I didn't use one). Spray a 9×13 inch casserole dish with non-stick cooking spray and layer the discs in the casserole dish until you run out of sweet potato. It's that simple! I like to break a few discs in half and put the straight edge against the casserole dish to cover all the edges. Make sure you can't see the bottom of the dish, and then bake it for 20-25 minutes on 400 degrees.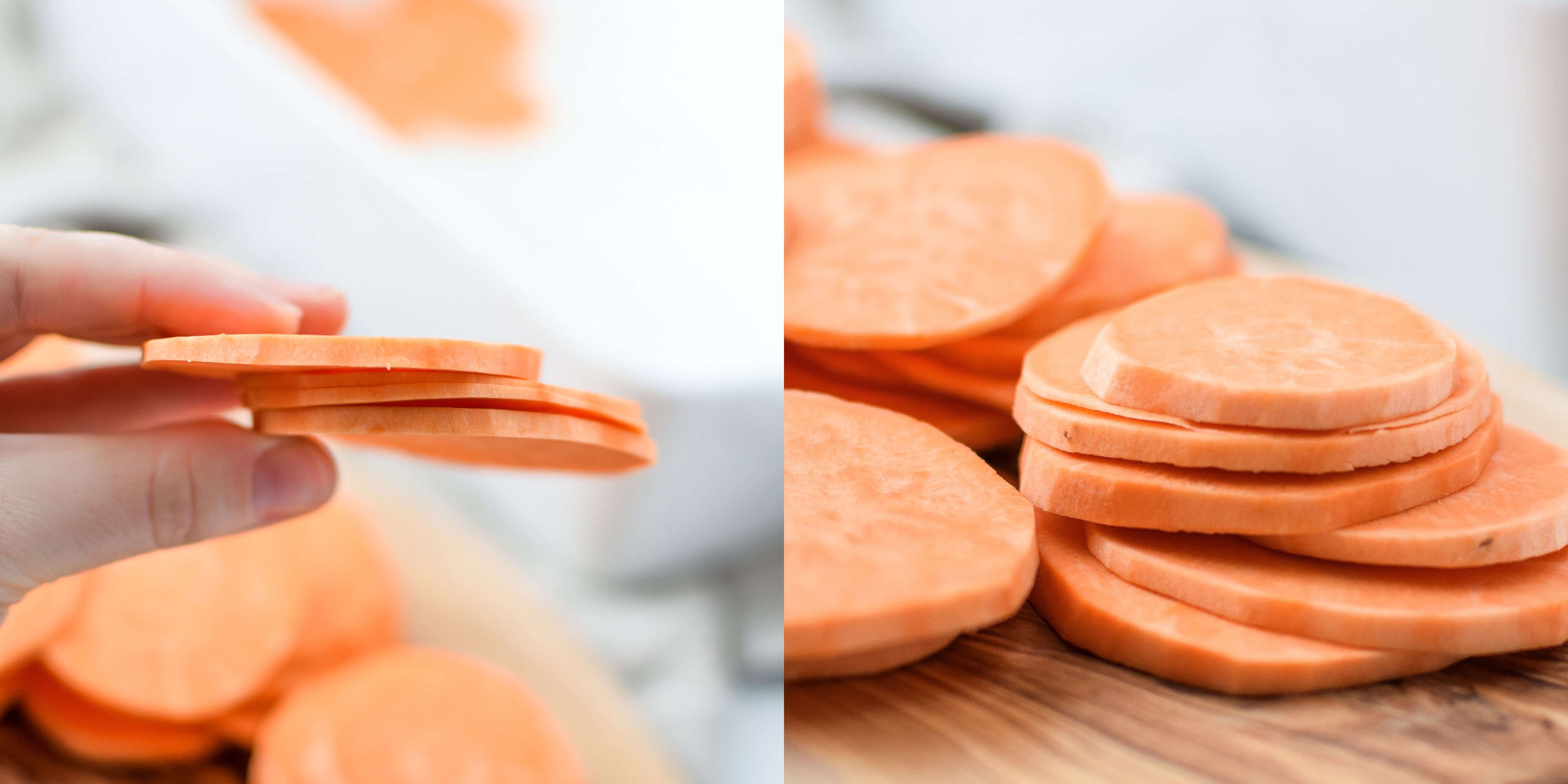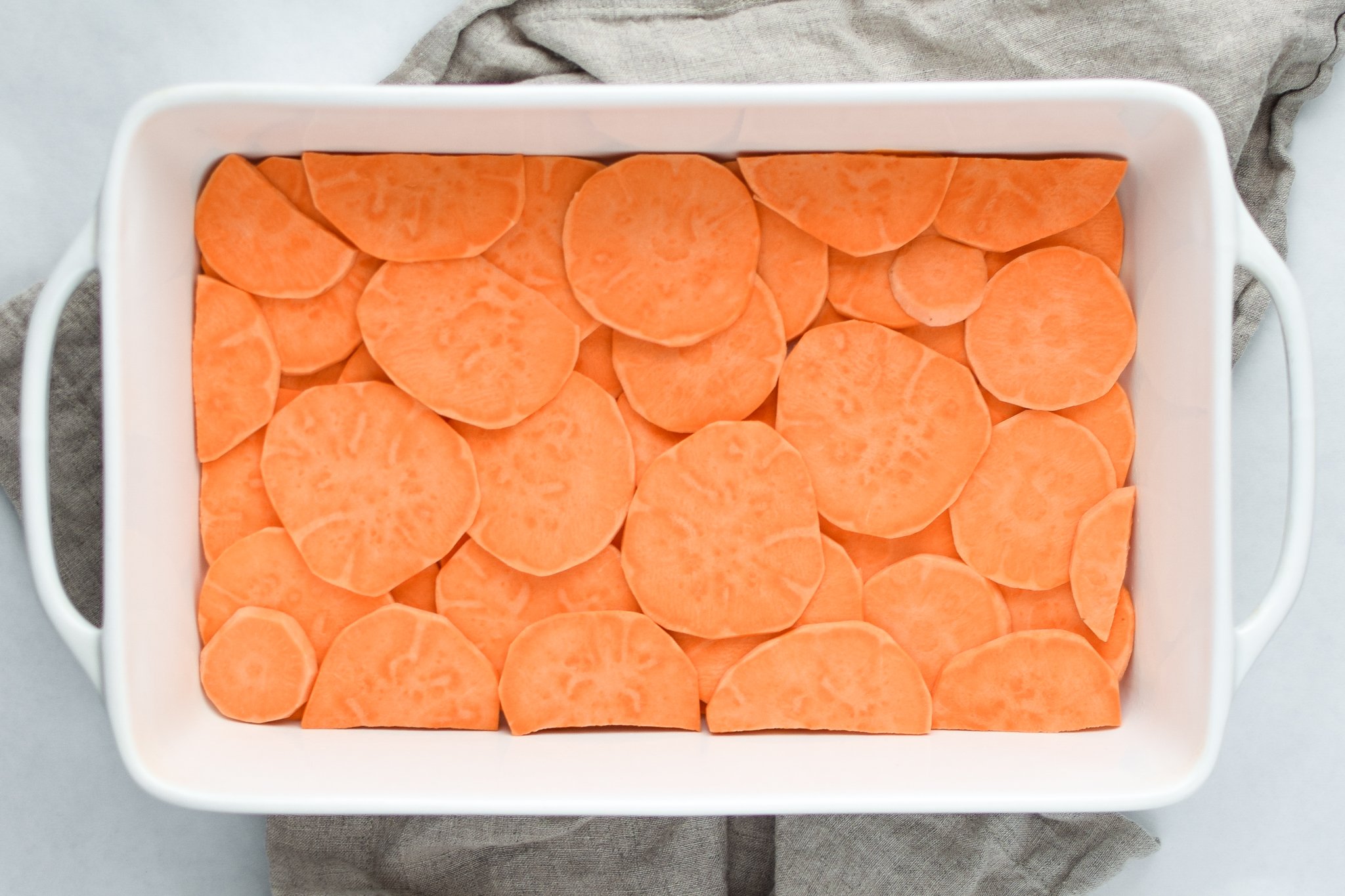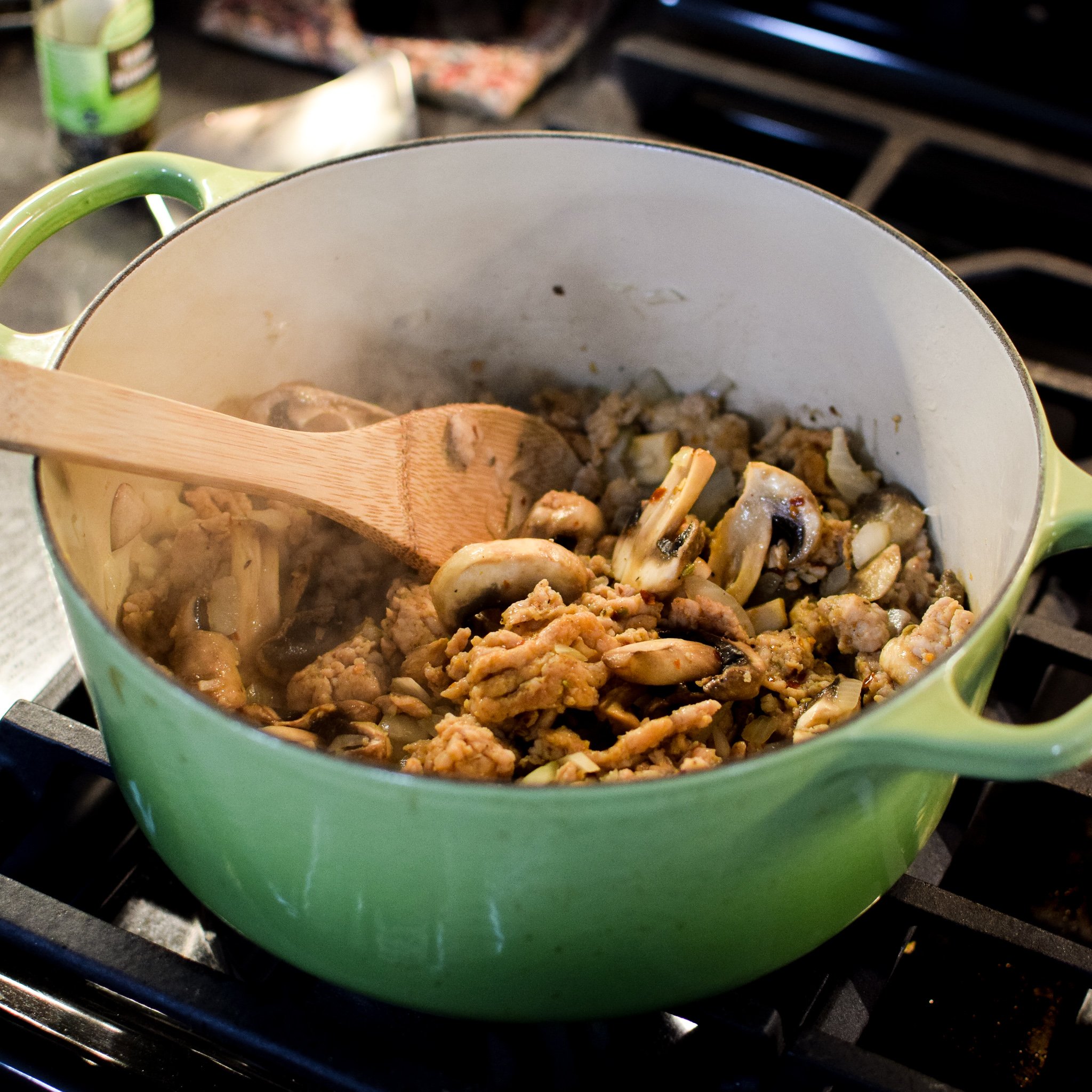 While that sweet sweet potato crust is doing it's thing, stay busy by cooking the meat and veggies. I've tried this recipe with both Italian ground chicken sausage and regular ground chicken. Italian is 100% the way to go. I've also learned that if you're planning on reheating this recipe for multiple meals, be sure not to overcook the eggs. They'll keep cooking when you reheat it, and overcooked eggs are no good, ever.
Veggies are totally your choice, but the feta-spinach-mushroom combo is my go-to. No-meat version is possible as well! Leave out the chicken and turn up the veggie volume with zucchini, artichokes, and tomatoes. I'm pretty sure you can impress guests OR have your breakfast ready to go for the week with this one 😍 Enjoy!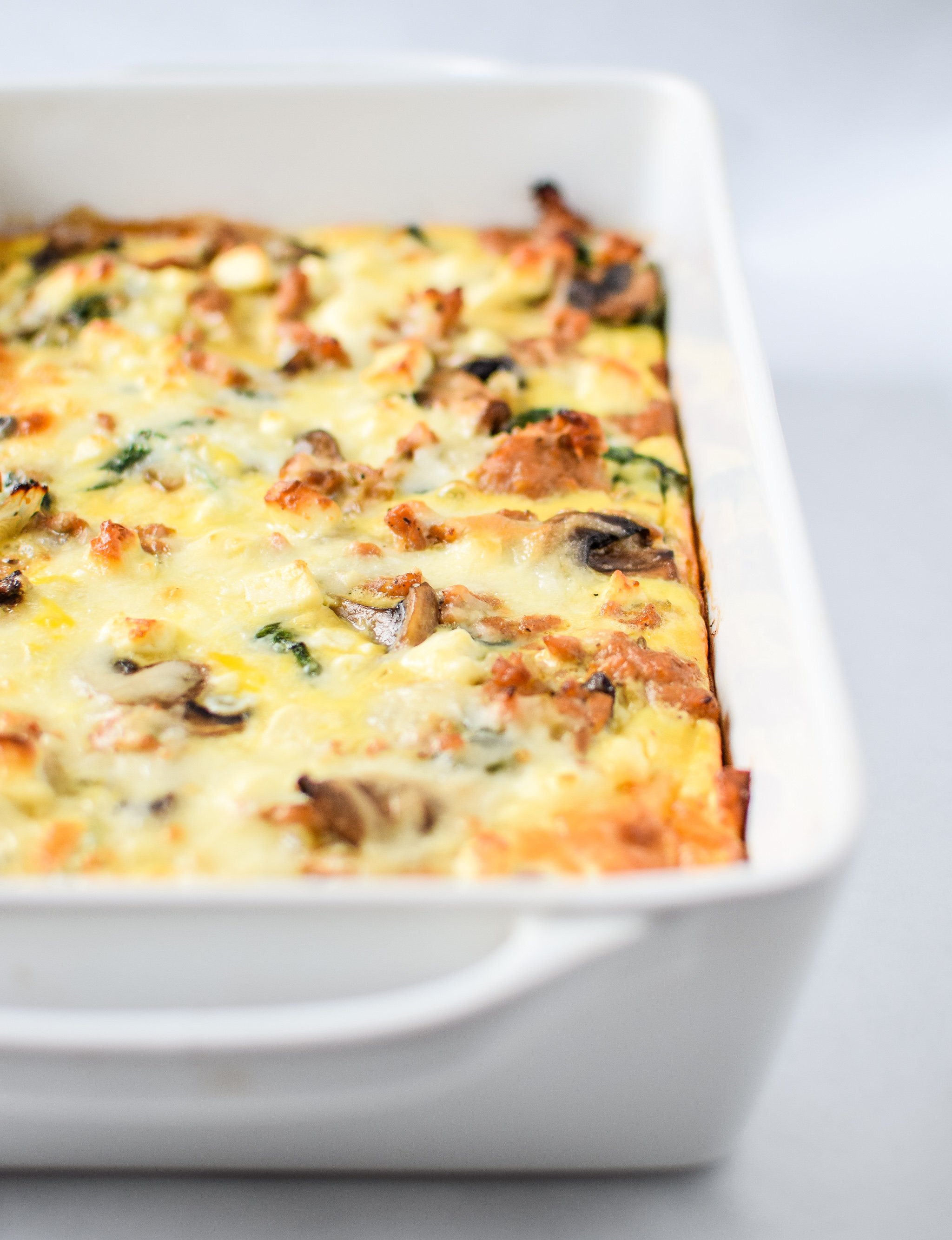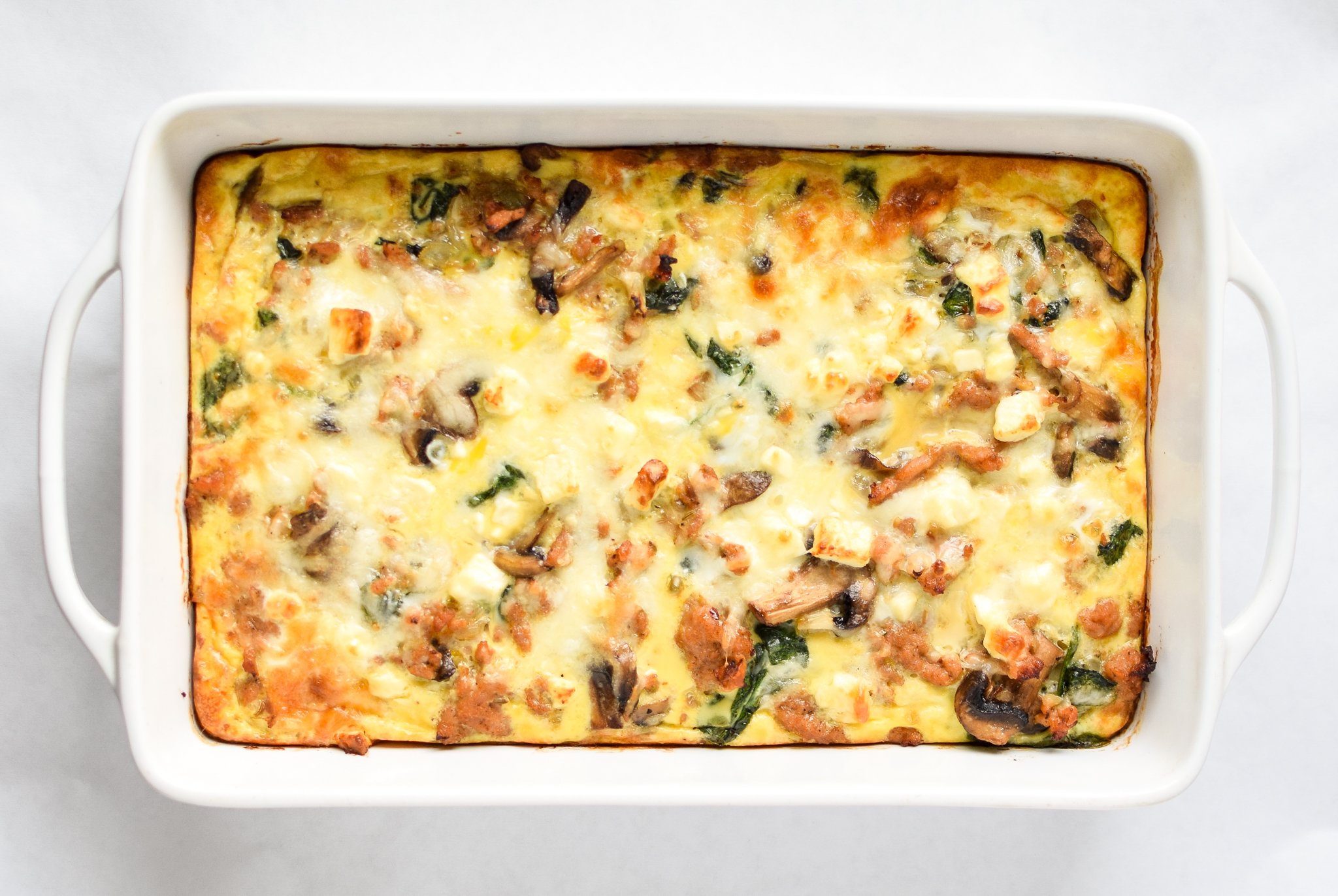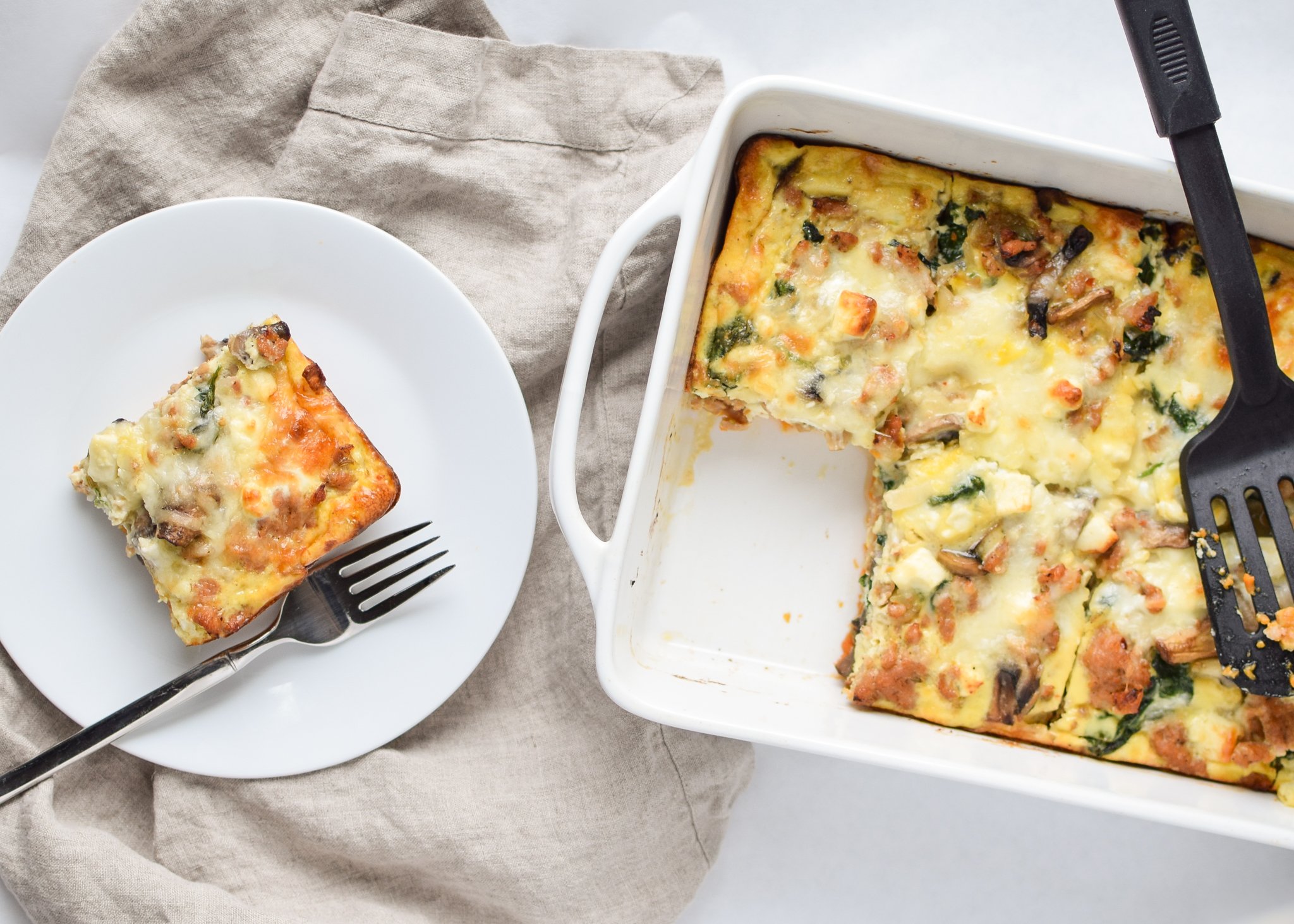 Print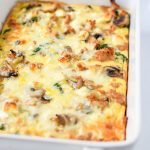 Spinach Feta Chicken Sausage Breakfast Casserole with Sweet Potato Crust
Author:

Prep Time:

10 minutes

Cook Time:

1 hour 5 minutes

Total Time:

1 hour 15 minutes

Yield:

8 servings
---
Description
A tasty breakfast favorite for a crowd (or meal prepped!) with an easy sweet potato crust!
---
Ingredients
1 large sweet potato (or 2 small), peeled and sliced into 1/8 inch thick discs
2 tablespoons avocado oil (or olive oil)
16 ounces ground Italian chicken sausage
8 ounces white mushrooms, sliced
1 small yellow onion, diced
3 heaping cups spinach leaves
1 teaspoon garlic salt
1/2 teaspoon red pepper flakes (optional)
1 teaspoon sea salt
1 teaspoon ground black pepper
10 eggs, whisked
1/2 cup milk, 2%
1/2 cup feta cheese
1 1/2 cups shredded mozzarella cheese
non-stick cooking spray
---
Instructions
Preheat the oven to 400 degrees F.
Spray a 9×13 inch casserole dish with non-stick cooking spray. Arrange sweet potato discs in the casserole dish, first covering the bottom of the dish, then adding more layers until you run out of sweet potato (2-3 layers works). Break 4-5 of the discs in half and put the straight edge of the sweet potato against the side of the casserole dish to help cover the entire bottom of the dish. The bottom of the casserole dish should not be visible.
Bake sweet potato crust in the oven for 20-25 minutes (you want to take it out before the edges of the sweet potato discs start to curl). Remove from the oven and let it cool for 2-3 minutes when done. Lower the oven temperature to 375 degrees when the crust is removed from the oven.
After the crust is in the oven, heat oil in a deep skillet or Dutch oven over medium heat. When hot, add chicken sausage and cook for about 8 minutes, or until just barely cooked through. Break sausage into small pieces and continue to stir occasionally while cooking.
Add mushrooms and onion to the chicken sausage pan. Stir and cook for an additional 3 minutes, or until the onions begin to turn translucent. Add spinach, garlic salt, red pepper flakes, and 1/2 teaspoon each salt and pepper. Stir continuously until the spinach has wilted and cooked down (about 1 minute). Remove the pan from heat and set aside until the crust is done.
Whisk eggs with milk and 1/2 teaspoon each salt and pepper in a medium bowl. Set aside until the crust is done.
When the sweet potato crust is done and cooled for 2-3 minutes, begin to assemble the casserole. Using a slotted spoon, place 1/2 the meat and veggie mixture over the sweet potato crust (do not add the extra liquid to the casserole). Cover with 1 cup mozzarella cheese (save remaining 1/2 cup for topping) and 1/4 cup feta cheese (save remaining 1/4 cup for topping). Pour half the egg and milk mixture into the casserole dish over the cheeses, followed by the remaining meat mixture, and then the remaining egg mixture. Top with remaining mozzarella and feta cheese.
Place in 375 degree oven for 40-45 minutes. Casserole is done when the center is cooked through and does not jiggle when the casserole is moved. Stores for up to 4 days in an airtight container (leftovers can also be put in the freezer).
---
---
Nutrition
Serving Size:

1/8 of casserole

Calories:

292

Sugar:

5g

Fat:

14g

Carbohydrates:

11g

Fiber:

2g

Protein:

29g
Recipe Card powered by
Equipment Used in this Recipe: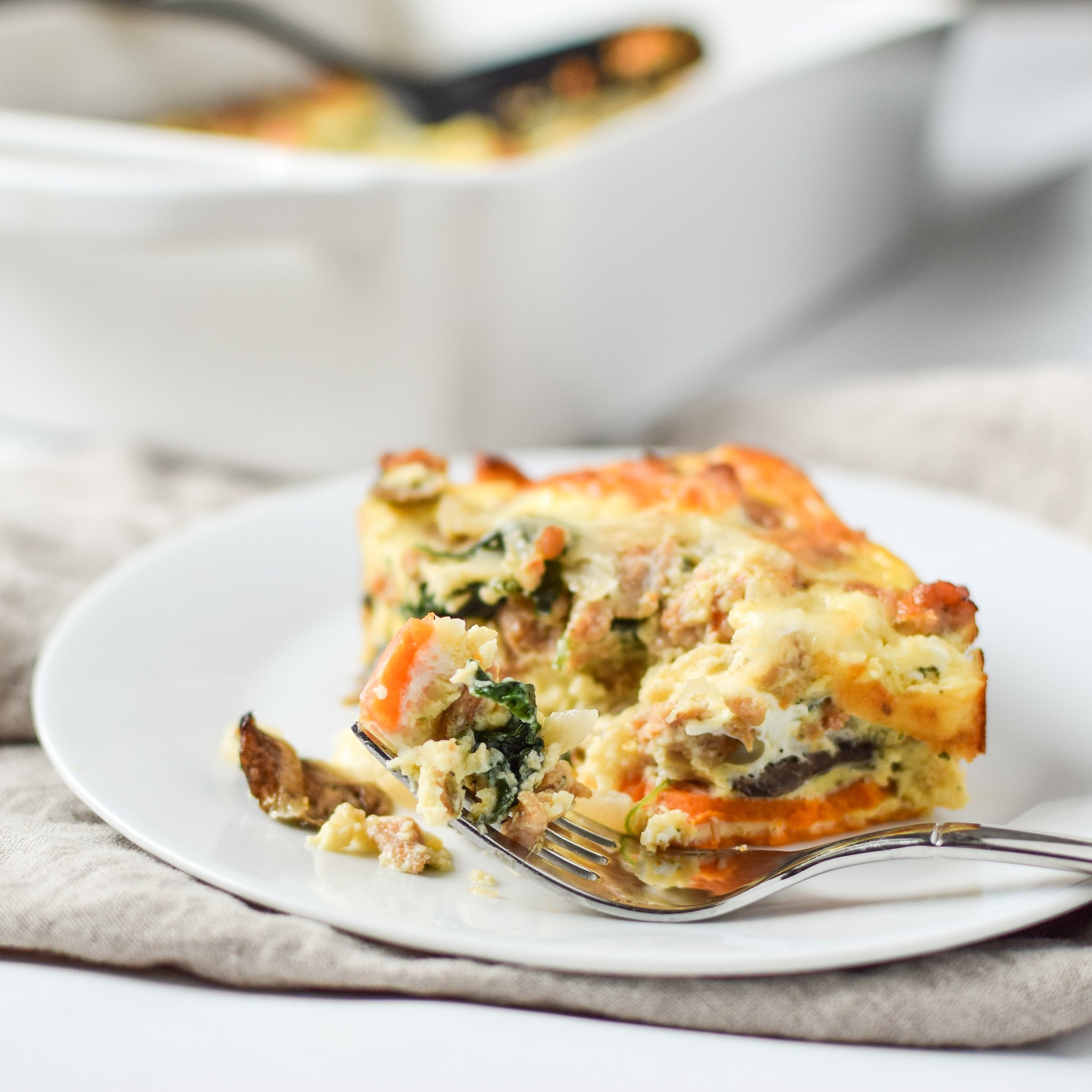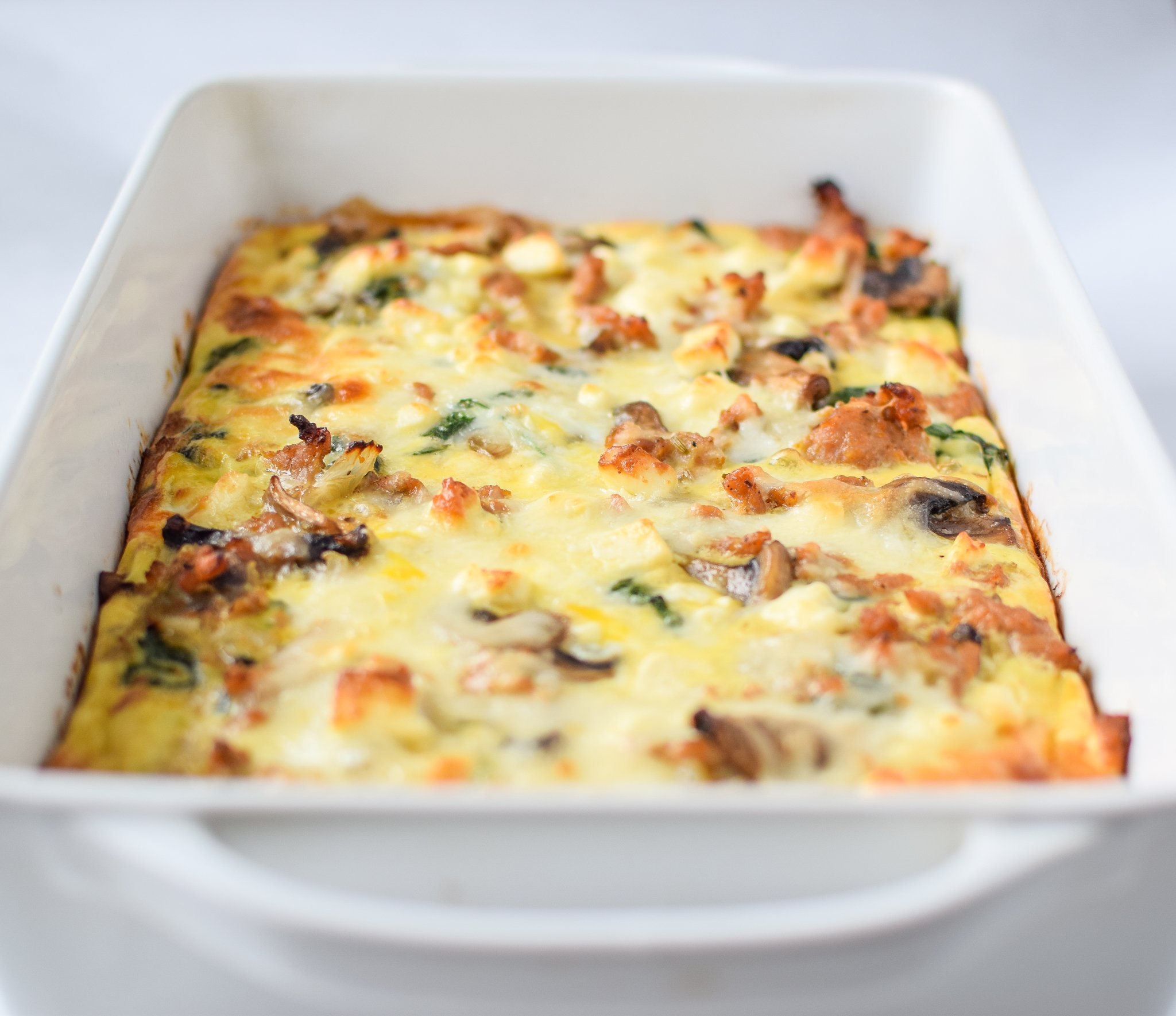 Thank you so much for checking out the Spinach Feta Chicken Sausage Breakfast Casserole with Sweet Potato Crust. Leave a comment if you've tried making sweet potato crust before! I'd love to hear what you used it for.
Be sure to use #projectmealplan on social media if you make this yummy recipe! And follow me on Pinterest for meal inspiration every single day.
– Danielle
Disclaimer: Some of the links on this page are for affiliated products on Amazon. If you are planning to make any purchases, please start your Amazon shopping here on Project Meal Plan! We'll get a small commission at no extra cost to you. I truly appreciate your support! For more information, please see our Full Disclosure & Privacy Policy.
Support and Share Project Meal Plan -
Disclaimer:
 Project Meal Plan is a participant in the Amazon Services LLC Associates Program, an affiliate advertising program designed to provide a means for us to earn fees by linking to Amazon.com and affiliated sites. For more information, please see our
Full Disclosure & Privacy Policy
.