Well, we made it through an entire 30 days of the Pantry Clean Out Challenge! We started this challenge on April 1st, 2017. I can now officially confirm we saved money, tried out some new recipes, and used up a lot of canned goods that potentially may not have been eaten anytime soon. Here's a quick update to share how we did it! In Part 1 of the Pantry Challenge, you can find a little more info on why we did this challenge, as well as all of my pre-planned meal ideas and inventory.
Here's the challenge (April 1-May 2):
Don't spend money at restaurants the whole month (with the exception of our pre-planned 3 day vacation in mid-April).
A budget of $100 for produce and dairy only.
Main Goal: Use up what we have, instead of buying more food.
Grocery Spending Results:
April 3rd – $20.48 (lettuce, cucumber, lemon, onion, grapes, bananas…)
April 17th – $16.63 (milk, sweet potato, limes, onion…)
April 19th – $17.00 (Costco – eggs, avocados…)
April 19th – $6.00 (bananas, pepper, bean sprouts…)
April 24th – $14.00 (mushrooms, green onions…)
May 1st – $14.32 (carrots, milk, onion, curry paste…)
TOTAL: $88.91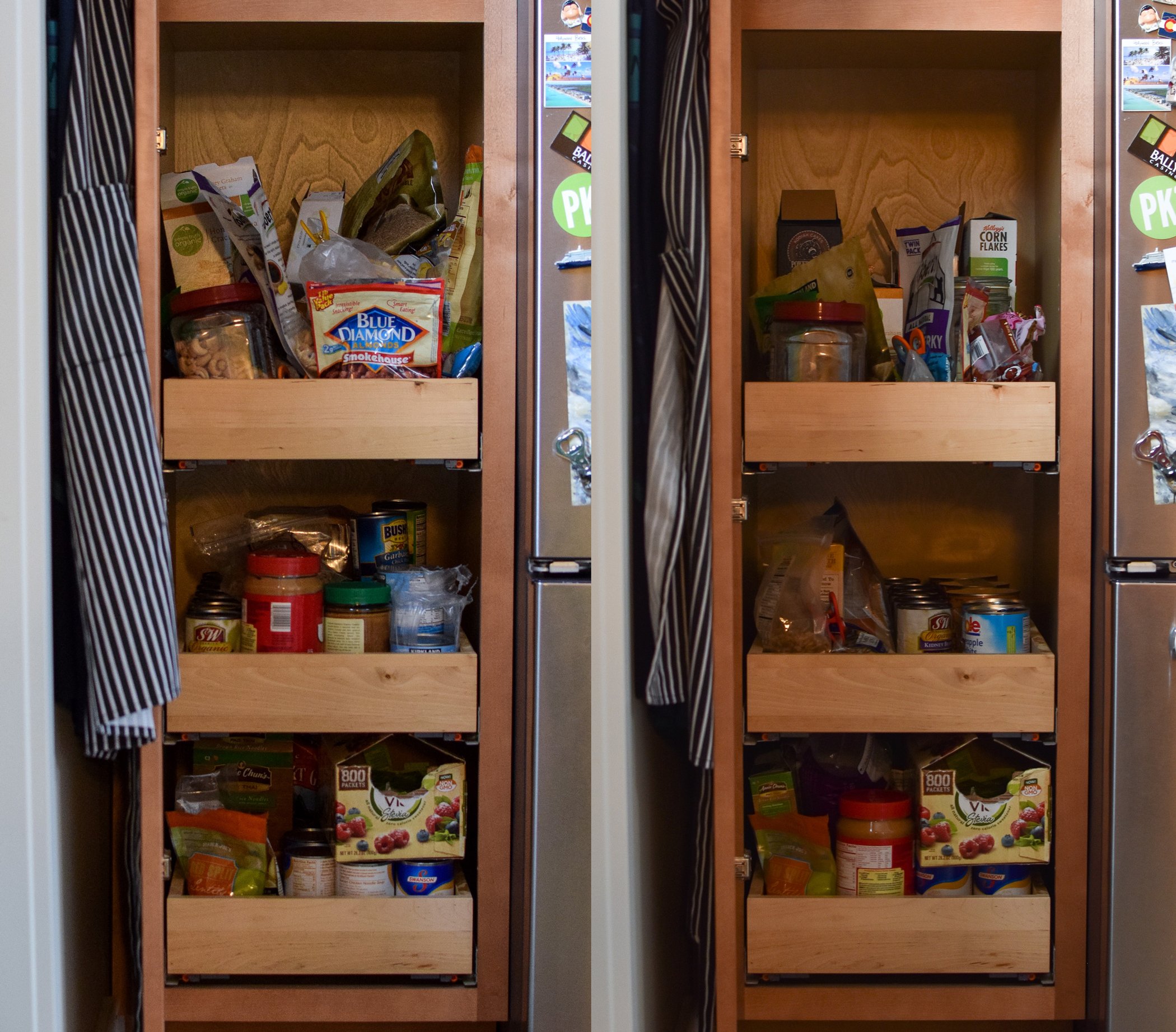 Doesn't look much different… Until you look a little closer.
Less cans! I tried some new recipes and we used up several of our canned goods.
Notice the cashews, and then lack of.
From 11 cans of chicken broth to 4. From about 10 cans of beans to 3.
Looks tidier in general.
You can't really tell, but we got busy on the bags of rice and quinoa.
Everything can pretty much touch the shelf. No snacks on snacks.
Inventory After Challenge:
(Click here to see the Inventory before the challenge)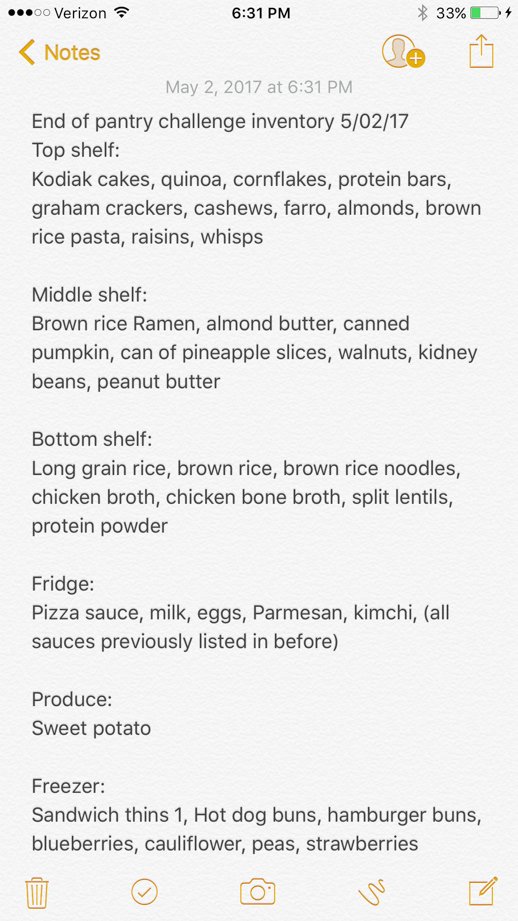 Here's what we ate:
chicken thighs with black beans and quinoa
shrimp and raviolis
tropical smoothie (recipe in progress :D)
shrimp fried rice, scallion pancakes
homemade bagel sandwiches / tuna melt on homemade bagels
breakfast scramble (eggs + whatever we had)
burritos with rice, beans and rotisserie chicken
turkey breast wraps with lettuce and provolone (plus turkey bacon)
mozzarella macaroni and cheese (we also fried it which was WAY better – picture below)
cereal and milk
smoked sausage with beans and rice
SNACKS: celery and PB, turkey jerky, protein bars, Whisps, cashews, almonds, grapes
Would I do it again?
Quick and short answer: YES. If I find myself in the same place, with an overflowing pantry and plenty of protein around, I would totally do it again. I feel great about how much money we didn't spend during the month.
Long answer: I knew we didn't have any birthdays, events, or company staying with us for the month, so we were able to make it work. I also knew we had just enough protein to make it through (tuna, beans, chicken, shrimp, etc). Plus, we had a couple helping hands along the way – received a $25 gift card which we spent at Taco Time (Chicken Caesar Soft Taco rocks my entire world), and leftover pizza brought home from poker night. Everyone should have realistic goals! It felt like we had a lot of food, but then again, we don't have another garage freezer or anything like that.
Here's why:
I didn't buy things I didn't need. Someone pointed out that we are completely out of any protein and it's not going to be cheap to buy the foods we normally eat all at one time (particularly the freezer which is basically empty). So did it really save us money? Without hesitation, I still say yes. First, there were so many things I wanted to buy just because they look delicious. Things I might actually, in a normal month, buy. Bark Thins at Costco, for example. Shiny flavored Greek Yogurts that we totally do. not. need. Smoked salmon. I didn't buy any of these little pleasure this month. None! Second…
I moved food along that might sit in the pantry forever. This month, I used up the can of coconut milk that had an expiration date of October 2017. I hate to say this, but sometimes things end up in the pantry and I just plain forget they're there. It's totally possible something could sit in the pantry for another 6 months, and then skip past the expiration date without me even noticing. I'm not at all saying it's bad to have a stocked pantry – but it's nice to make sure things get used. You're sure to get all your money's worth on the food you buy if you actually use it up.
I was WAY more aware of what food we had in the house. This has happened – I need a can of something for a recipe, so I go buy it, not realizing I had what I needed in the depths of the pantry. When you can actually see everything sitting on the shelves, it's a lot easier to scan for what you need.
Almost every meal was cooked at home, and I think we ate healthier because of it. From Spicy Carrot Soup to plain old quinoa, black beans and shrimp, I think making nearly everything from scratch helped make it easier to eat less calories. I was forced to think more about veggies – and what can be done with them to keep some variety in our pantry diet.
Again, here's part 1 of the 30-day Pantry Clean Out Challenge where I discuss why we did the pantry challenge, as well as what we planned to eat based on our inventory.
Have you done any kind of pantry challenge before? What's great is that it's up to YOU how you plan out your own challenge. Set a goal or two, and try it out! Let me know how it's going in the comments section below!