1 Comment
Posted: 04/11/2017
Updated: 04/18/2022
This is a super special post on Project Meal Plan… It's my first recipe VIDEO! That's right. This chili was just going to slip into next week's Sunday Meal Prep, but it looked SO good on video. I'm extremely excited to share (mostly the video!!) the Easy Crockpot Chicken Thigh Taco Chili!!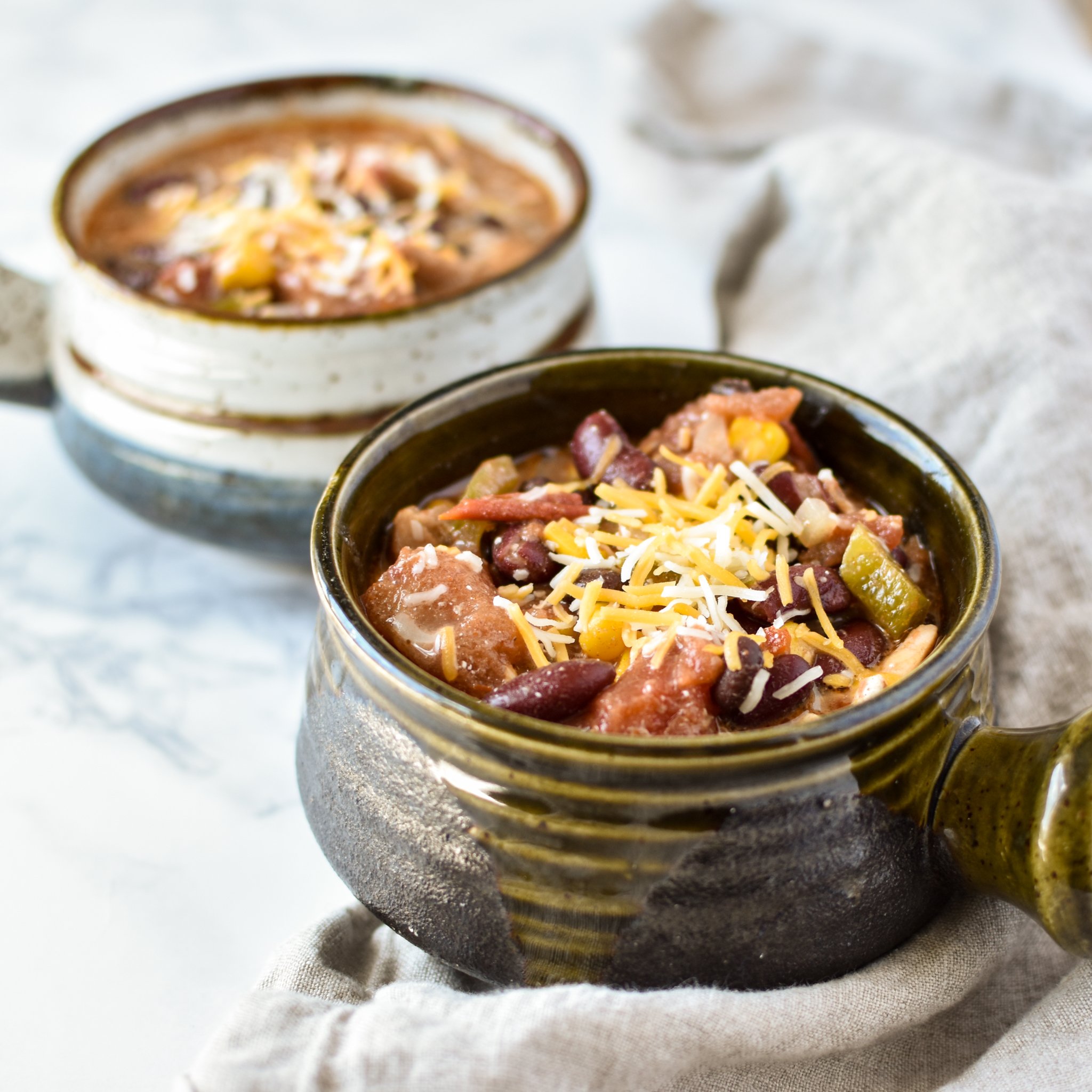 If you didn't see my last post, my husband and I are currently in the midst of a Pantry Clean Out Challenge. Throughout this month, we're trying to stay away from restaurants and eat only things already in our home (with the exception of previously planned mid-month vacation). We've allocated $100 for produce and dairy, but that's it. Based on the insane amount of beans I found deep in the pantry (still have a ton), I knew some of them had to get to work in a chili.
My inspiration for this one came from Chelsea's Messy Apron – Crockpot Creamy Taco Chicken Chili. However, thanks to the pantry challenge, I had to modify the recipe bit. I used up six cans from my pantry! And, what came out of the crock pot was a super delicious chili reminiscent of taco night!
It was made even better by all the fun I had making it directly underneath by brand new camera…Ha! I've also learned to trust well-made tripods. This week has been quite a learning experience for me!
While I was not really intending to post this video, I think it turned out pretty well! Leave a comment if you have any questions or concerns!
How to make this simple chili (1 min):
Related Links and Recipes from Project Meal Plan:
Recipe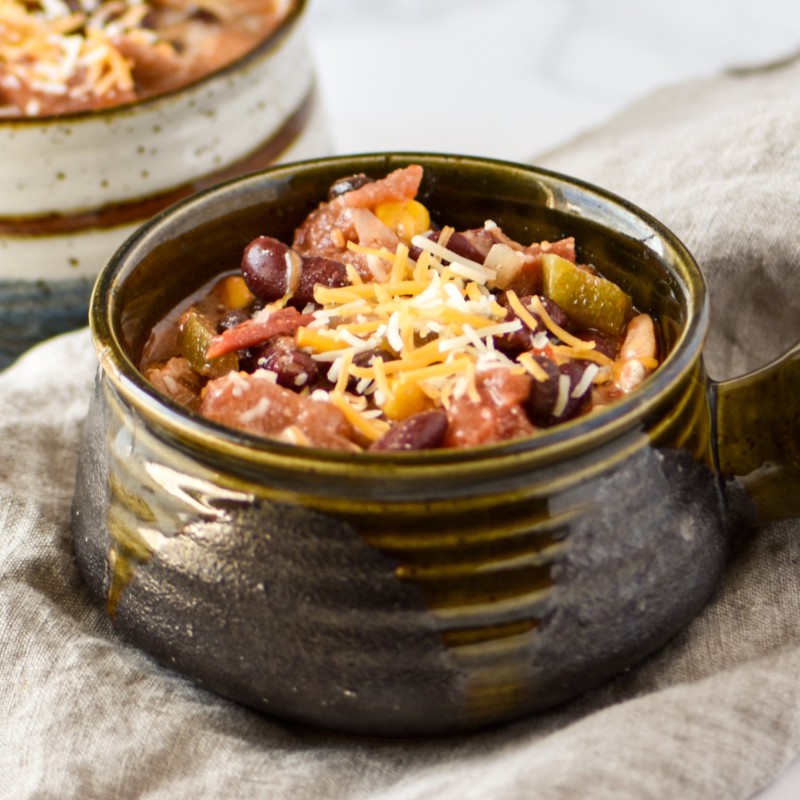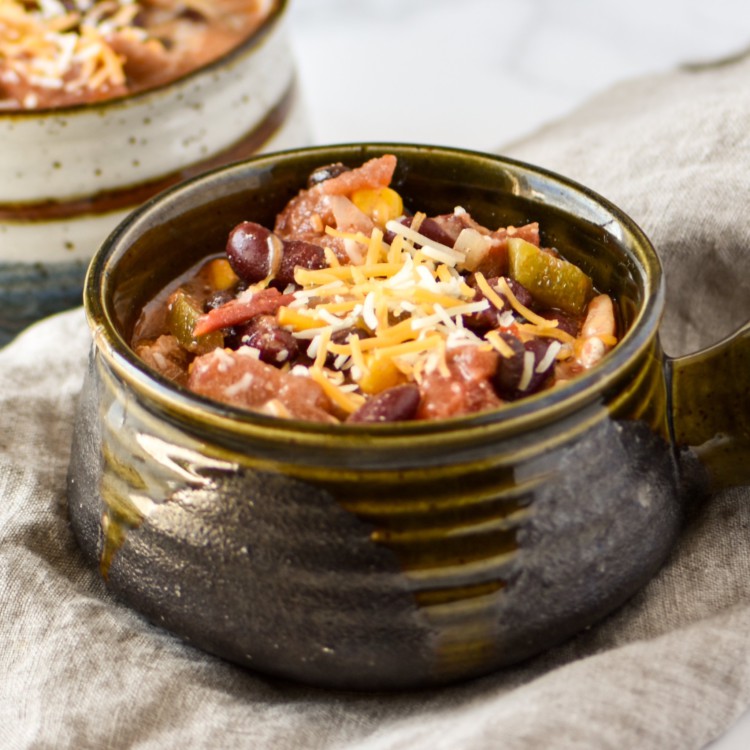 Easy Crockpot Chicken Thigh Taco Chili
Prep:
10 minutes
Cook:
3 hours 30 minutes
Total:
3 hours 40 minutes
Check out this super easy crock pot taco chili to help clear out your pantry! Set it and forget it 🙂
Ingredients
6

boneless skinless chicken thighs (about

1 1/4

pounds)

2

cans (14.5 ounces each) diced tomatoes, drained

2

cans (15 ounces) kidney beans, drained

1

can (15 ounces) black beans, drained

1

can (15 ounces) sweet corn, drained

1

green pepper, stem and seeds removed, diced

1/2

yellow onion, diced

1 cup

chicken broth

2 tablespoons

ketchup

1 tablespoon

chili powder

1 1/2 teaspoons

cumin

1/2 teaspoon

each paprika, Trader Joe's smoke seasoning (sub another

1/2 teaspoon

paprika)

1/4 teaspoon

each: salt, garlic powder, dried oregano, crushed red pepper flakes

4 ounces

cream cheese, softened and cubed
Toppings: fresh lime juice, shredded cheese, cilantro, sour cream, etc
Instructions
Starting with the chicken thighs, add all ingredients to a large crock pot except the cream cheese and toppings. Stir briefly to mix. Cover and set crockpot on HIGH for 3 hours or LOW for 6 hours.
Remove fully cooked chicken from crock pot and shred. Return to the crock pot. Add cream cheese and stir until evenly dispersed. Cover and cook on HIGH for another 30 minutes.
Remove lid and stir to ensure the cream cheese is melted. Serve immediately with toppings or store in the fridge for up to 4 days in airtight containers!
Nutrition Information
Serving Size:

1/6 of crock pot

Calories:

420

Fat:

8g

Carbohydrates:

54g

Protein:

37g
Recipe Card powered by
Thank you so much for checking out the Easy Crockpot Chicken Thigh Taco Chili recipe! If you want to follow along with the Pantry Challenge, check out the first post here. Try making a recipe with only what's in your cabinet! Be sure to use #projectmealplan on social media if you make this recipe, or if you're doing a pantry challenge of your own. Follow on Pinterest for meal inspiration every single day.