This Jalapeño Mushroom Shrimp Stir-Fry For Two is a quick and easy weeknight meal that's full of flavor. Dinner on the table in less than 30 minutes!
Jump to Recipe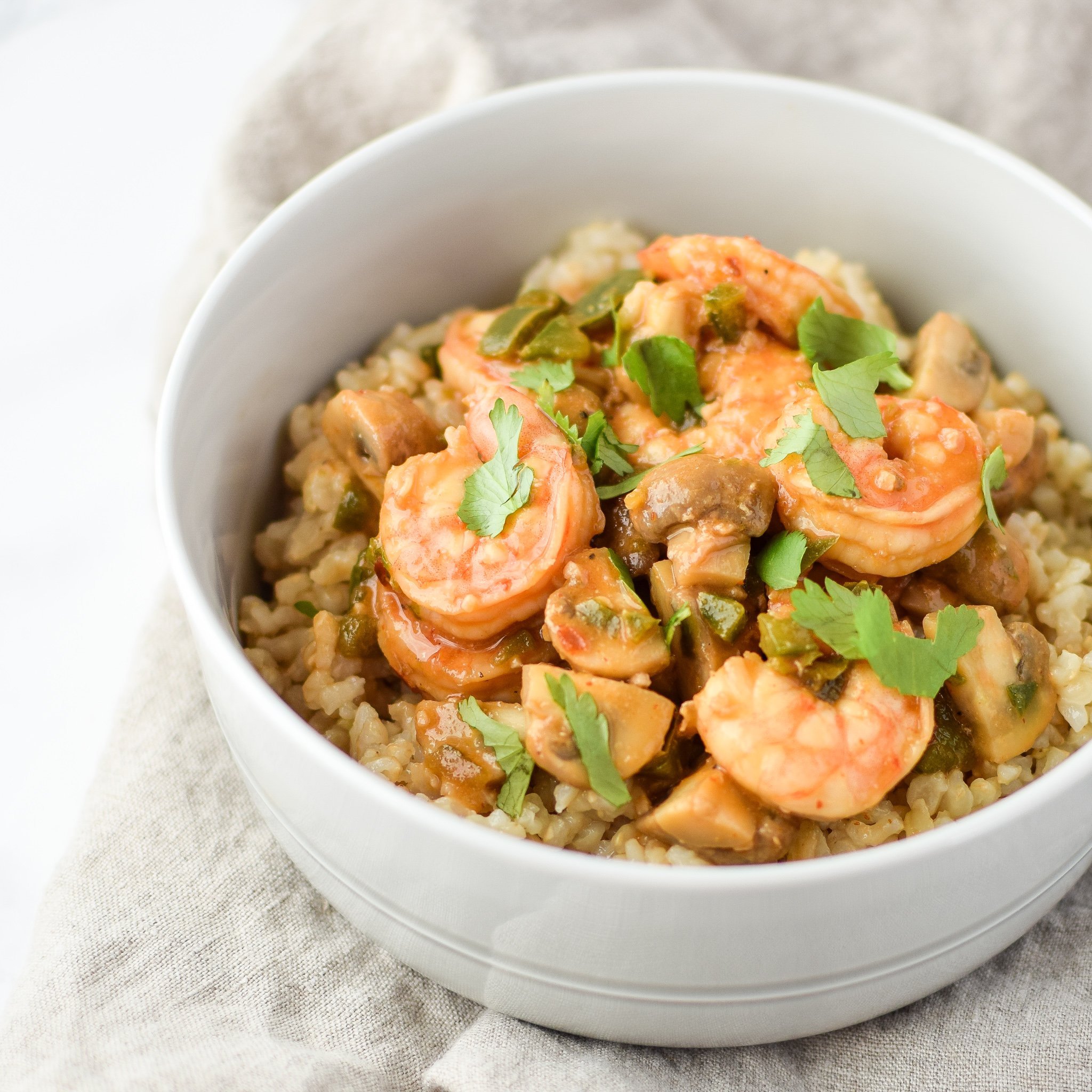 This week, I'm here with a little break from the normal: a quick and easy dish that serves two. Or, as I say, you today and yourself tomorrow. Instead of a giant recipe that makes a ton of leftovers, sometimes you just need a weeknight filler. Or a Friday night dish after you've eaten all your prepped meals for the week.
Three reasons I love this recipe:
It's easy. I love a good knife skills practice session, but sometimes you aren't down to cut SO many veggies. Plus, add all the sauce ingredients to a jar and then shake it up. SO EASY. Finally, limited dishes because it's cooked in only one pan. Total yes.
It goes with anything. Eat it plain (for very little calories). Toss it on top of some quinoa or rice (brown rice pictured!). Put in in a taco. We ate it with scallion pancakes once. That's definitely the best way.
It's spicy (or not). I love spicy things. This recipe has a few levels of spice: jalapeños (required), ground ginger (also required), red pepper flakes (eliminate if needed), and sriracha (just a little! you can do it). I love all of them, but feel free to adjust to your liking.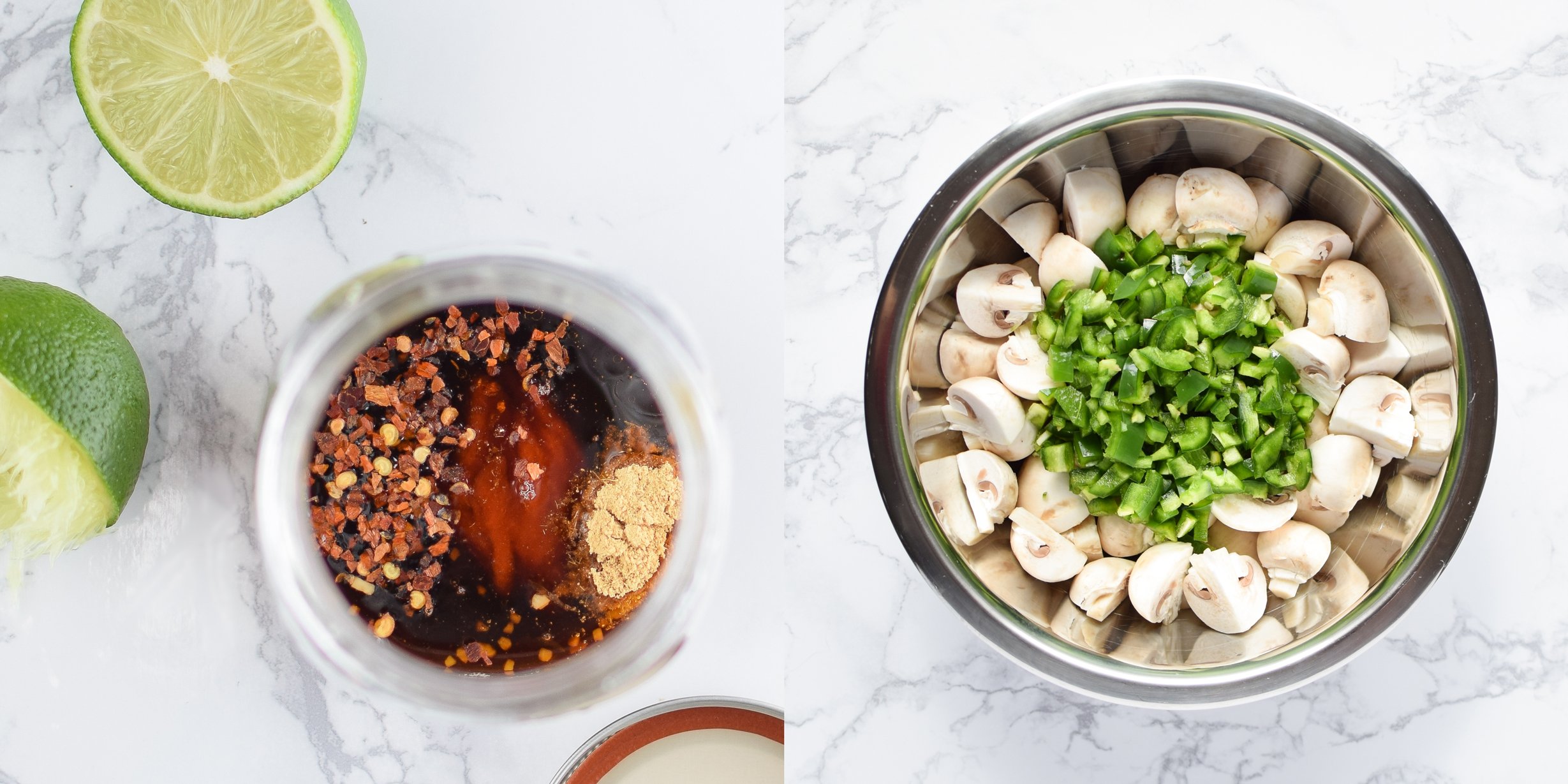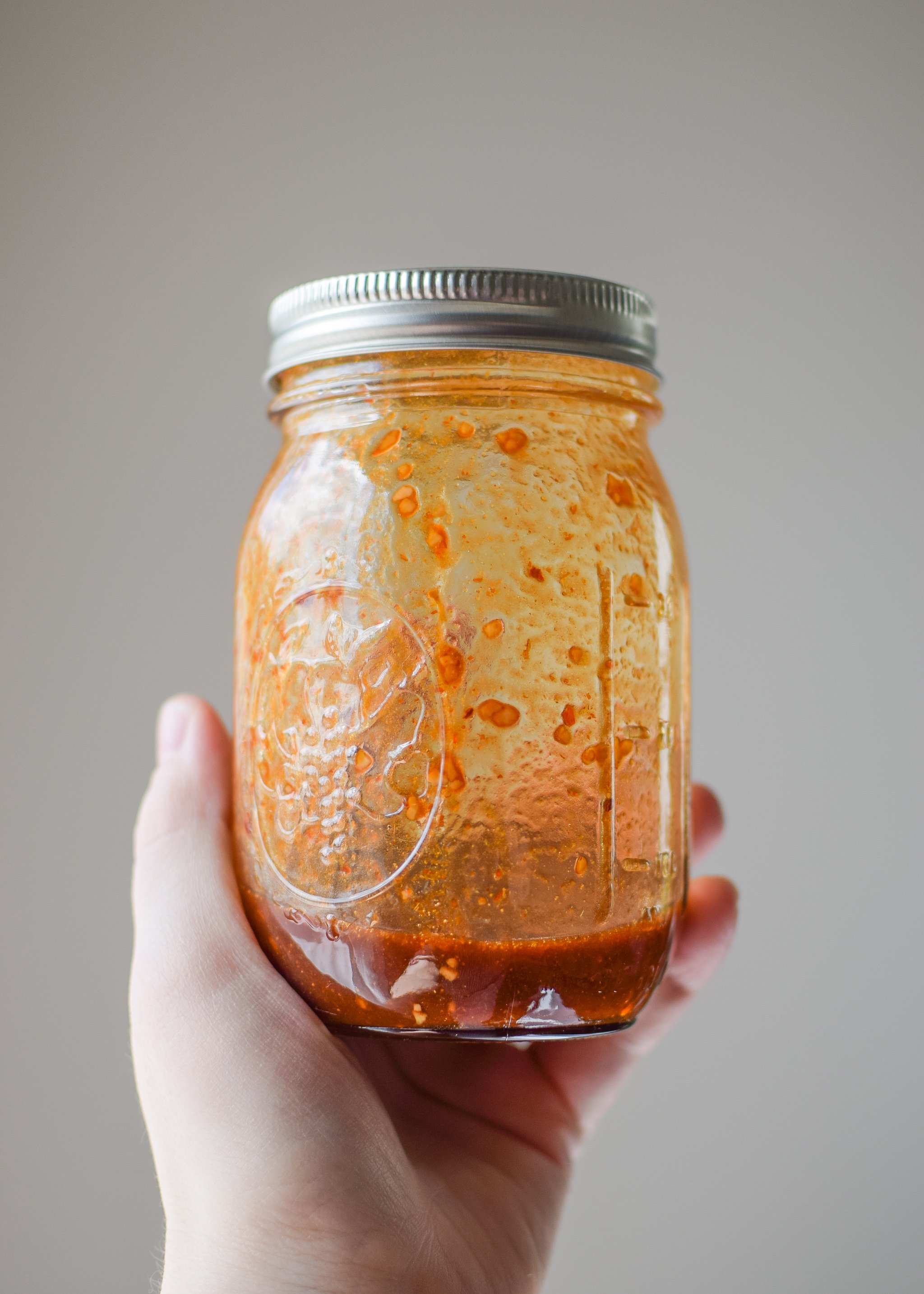 Another option for prep: wash/cut the mushrooms and make the sauce one day ahead of time. With everything measured out, the sauce already shaken up, and the dirty knives/cutting boards already over with, you'll cut the time to dinner in half!
If you don't have any mason jars, or you want to stick with the classic bowl and whisk, please feel free! I started this method recently and now I'm very into it. No whisk to clean, no spills or splashes, and it easily pours into the pan straight from the jar.
I've also avoided corn starch in this recipe. Personally, I don't need a thick sauce to enjoy a dish like this. The delicious flavors coat the shrimp and mushrooms with no problem, and the sauce is perfect drizzled over brown rice. Who really needs the extra calories anyway? Okay I get it, corn starch is necessary for some thing, but not in this dish 🙂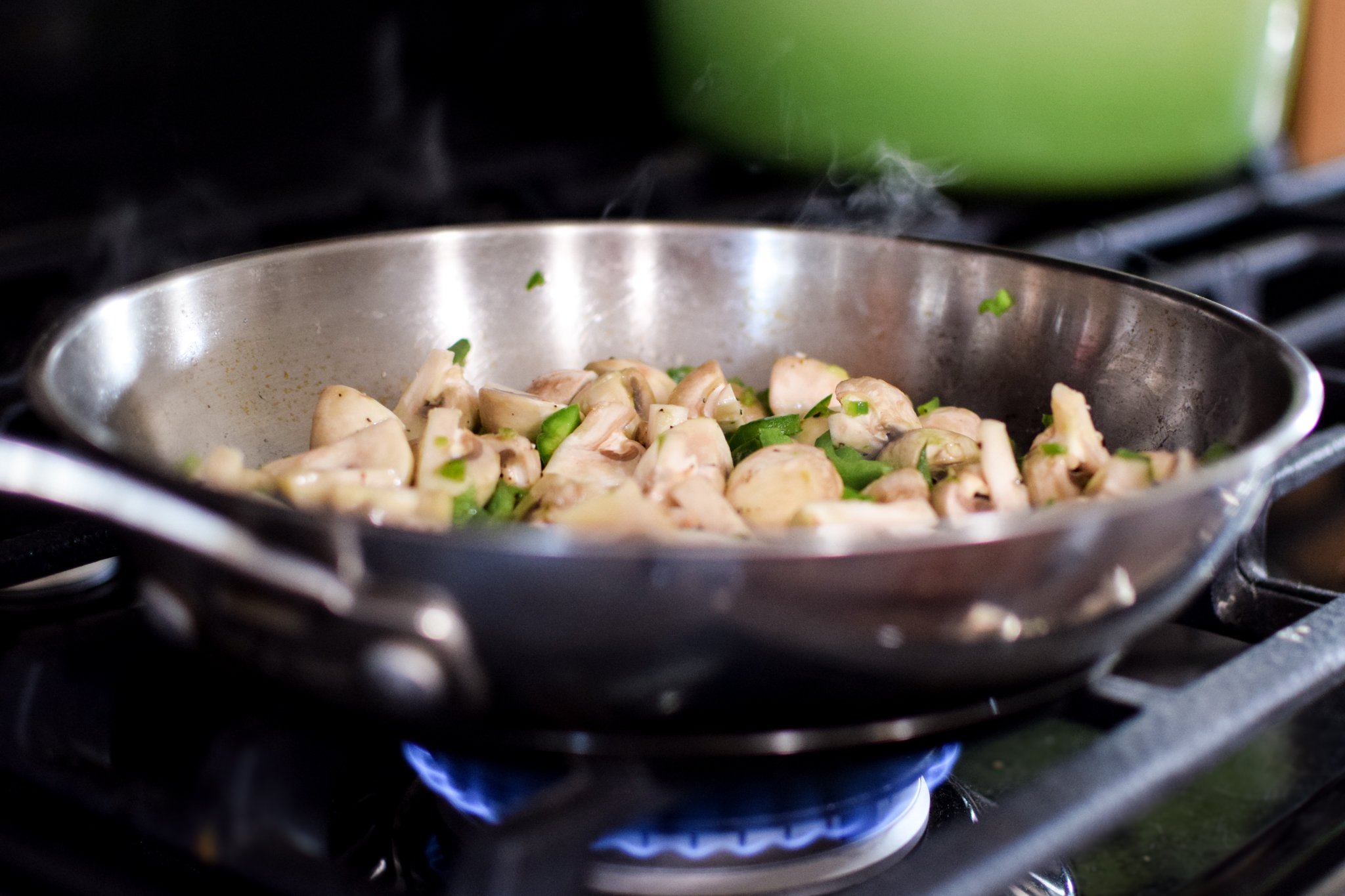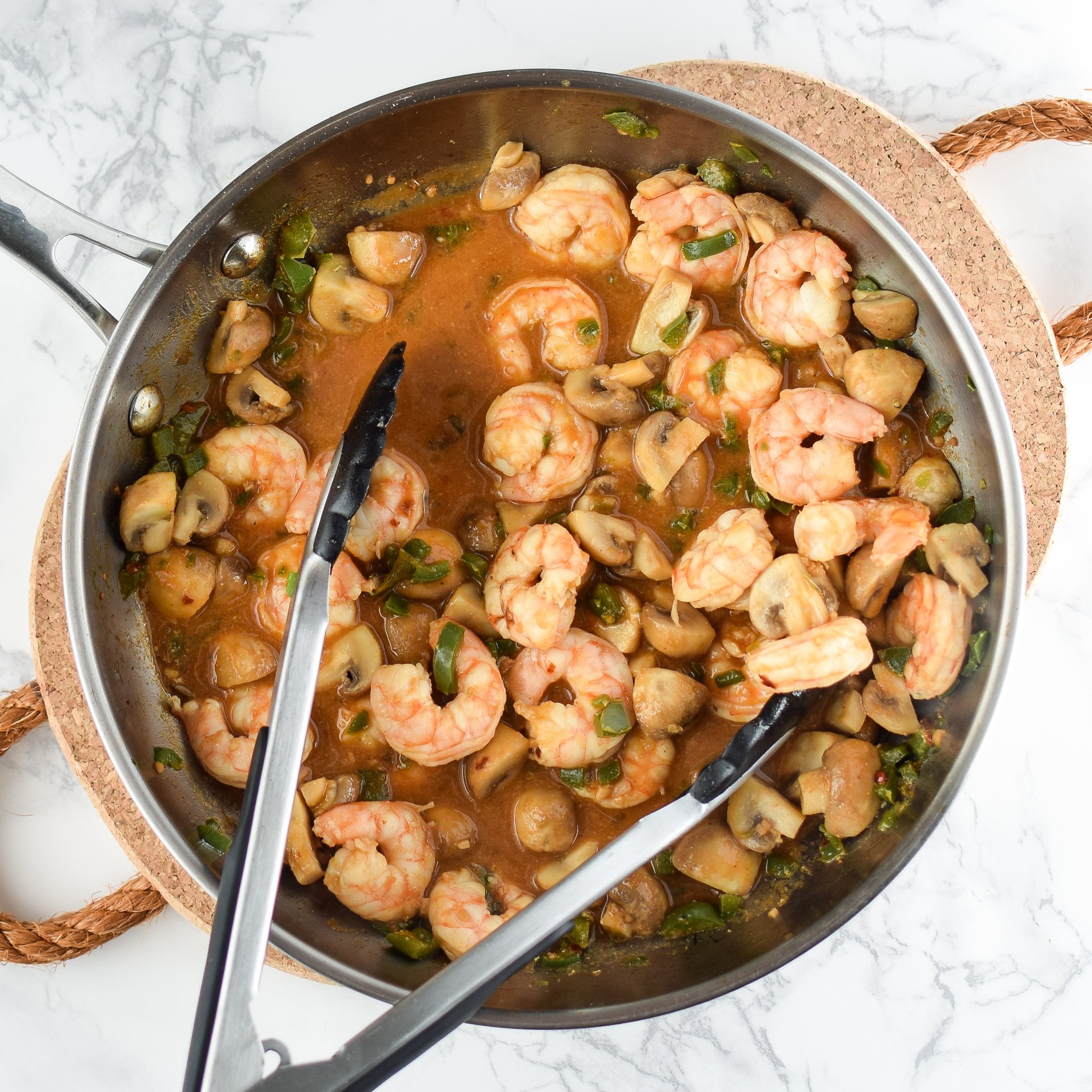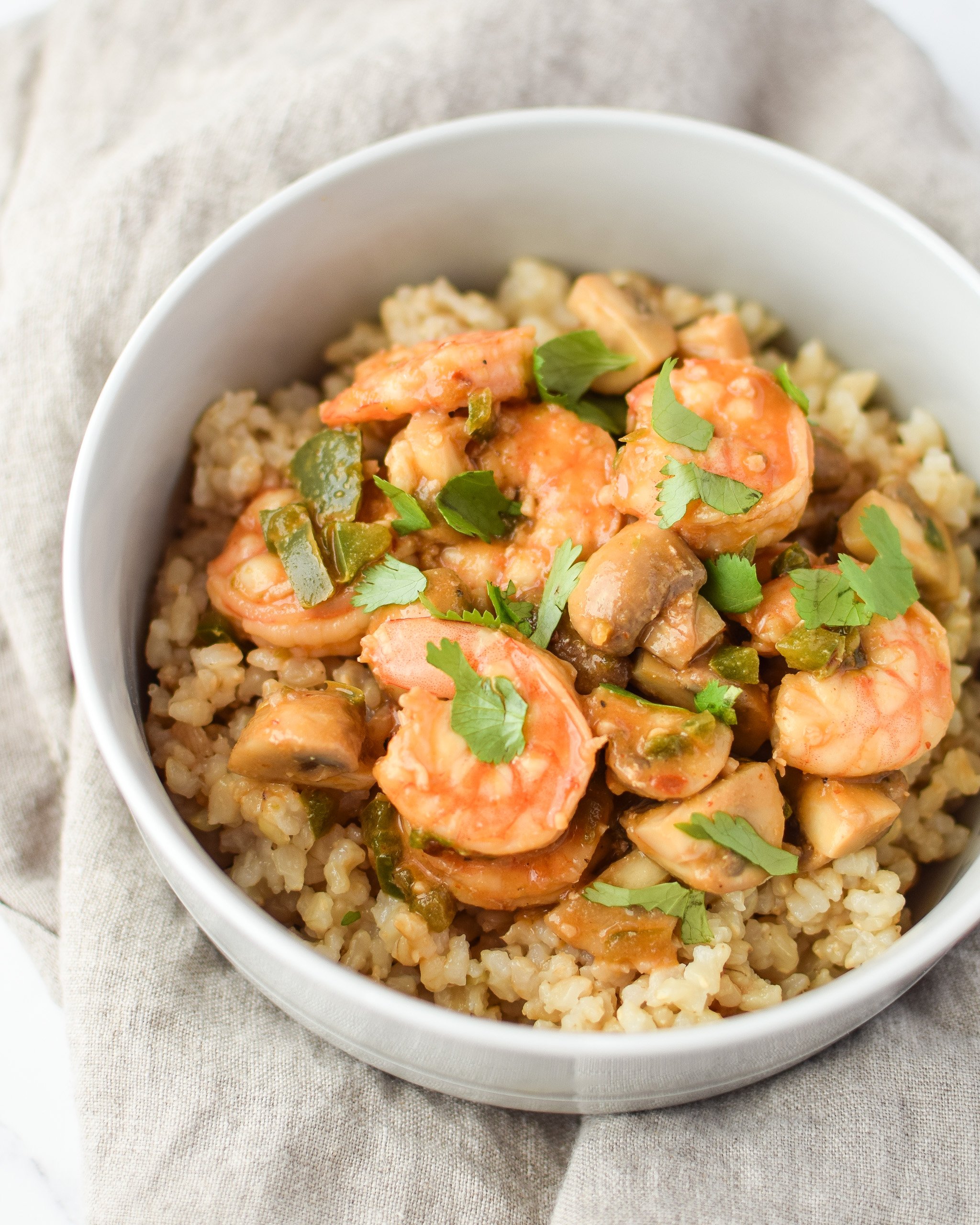 Related Links and Dinner Recipes:
Recipe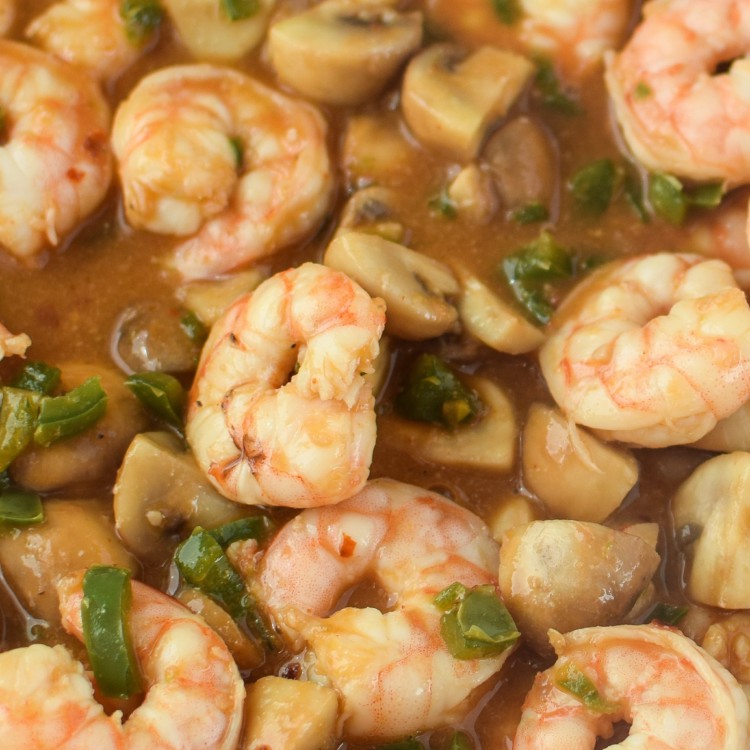 Easy Jalapeño Mushroom Shrimp Stir-Fry For Two
Prep:
10 minutes
Cook:
10 minutes
Total:
20 minutes
An easy weeknight one-pot meal with shrimp and mushrooms. Spicy + delicious, and no added corn starch!
Ingredients
1 tablespoon

avocado oil (or olive oil)

8 ounces

white button mushrooms, quartered

2

jalapeños, stem and seeds removed, diced

12 ounces

medium shrimp, peeled, deveined, tails removed (

18

–

22

shrimps)

1/4 teaspoon

each salt
For the sauce:
2 tablespoons

soy sauce

1/2 tablespoon

honey

1/2 tablespoon

toasted sesame oil

1 tablespoon

sriracha

1/2 tablespoon

minced garlic

1/2 teaspoon

ground ginger

1/4 teaspoon

fish sauce

1/4 teaspoon

red pepper flakes
juice from

1/2

lime
Optional:
Goes well with brown rice, quinoa, or on taco shells with rice and beans.
Toppings include sesame seeds, cilantro, green onion, lime wedges, and additional sriracha.
Instructions
To a small mason jar, add all sauce ingredients (soy sauce, honey, sesame oil, sriracha, minced garlic, ground ginger, fish sauce, red pepper flakes, and lime juice). Shake well for 5-10 seconds, or until well mixed.
Heat oil in large skillet or wok over medium heat. When hot, add jalapeños, mushrooms and salt. Cook for 3-4 minutes, or until the mushrooms begin to soften. Stir occasionally.
Make a well in the center of the pan and add shrimp in one layer across the pan. Ensure all shrimp are touching the bottom of the pan. Cook for 2-3 minutes, or until the bottoms are pink, and then flip each shrimp to cook the other side. Shake the prepared sauce one more time, and add it to the pan. Cook for about 3 minutes, or until all the shrimp are fully cooked. Remove from heat and stir to ensure the sauce has coated all the mushrooms and shrimp.
Serve immediately (my favorite combo: over brown rice with cilantro on top!). Leftovers can be stored in the fridge for up to 4 days.
Nutrition Information
Serving Size:

1/2 pan

Calories:

233

Sugar:

8g

Fat:

8g

Carbohydrates:

13g

Fiber:

3g

Protein:

48g
Recipe Card powered by
To make this recipe, I used: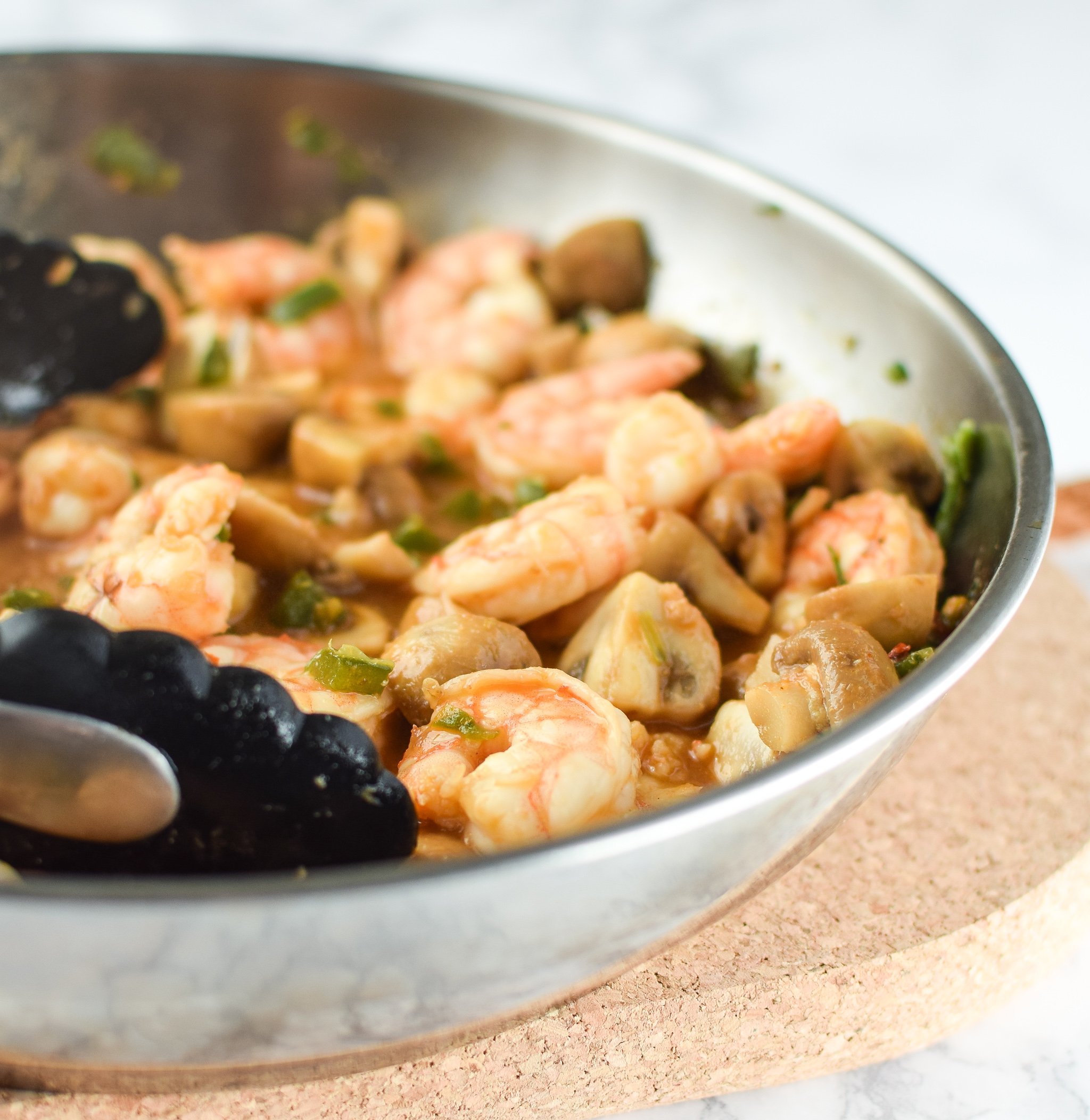 Thank you so much for checking out the Easy Jalapeño Mushroom Shrimp Stir-Fry For Two! Be sure to use #projectmealplan on social media if you make this recipe! And follow me on Pinterest for meal inspiration every single day.