In what I can only sum up as the best vacation of my life, my husband and I spent a total of nine nights and ten days in Hawaii (Oahu and Maui) during February 2019. Since it was a long trip and I took tons of photos, I've split this PMP Travels post into two parts! Here's Part 2 with all my amazing pictures from Maui!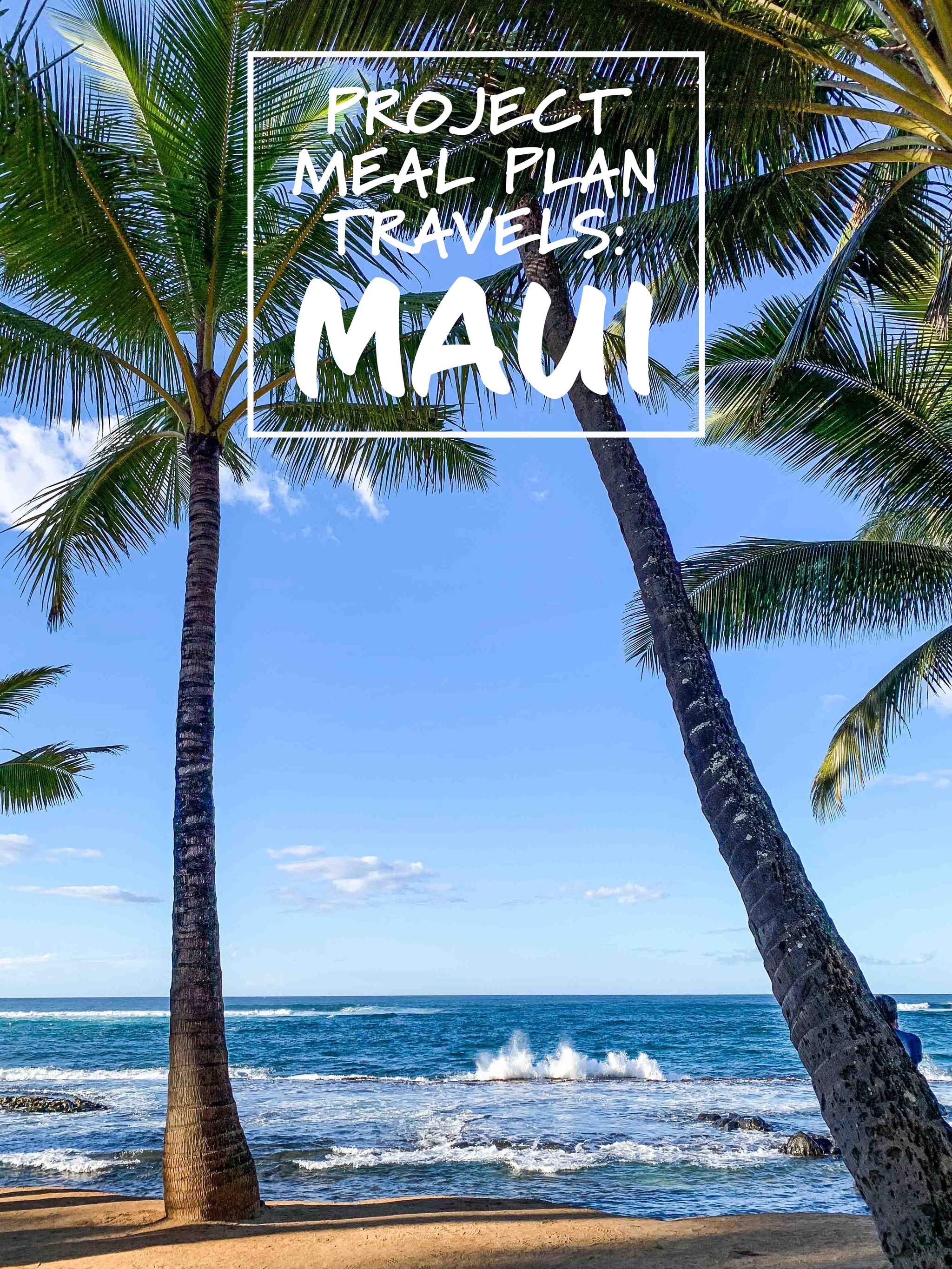 This is Part 2 of my post about our trip to Hawaii (part 1 had all the pictures from Oahu). Oahu was magical but it sort of felt like a tropical combination of other tourist destinations I've been in my life. Maui felt like a place completely unique to itself. Maybe you'll see why I feel that way in my photos!
Some of these photos were taken with my iPhone, and some were taken with my DSLR camera. But they're all in chronological order. Sometimes I wasn't able to take my DSLR or didn't have it with me, but the iPhone photos are pretty good too.
TRAVEL DAY
We spent day five of our vacation traveling between islands on Hawaiian Airlines. The flight was only 50 minutes or so, but going in and out of airports, turning in and picking up rental cars, checking out of hotels, it took all day. It was pretty cool to see Diamond Head Crater, which we had hiked three days earlier, from our plane window.
We made it to our AirBnb on Maui around 3pm. The Lilikoi Retreat was adorable, and actually the best contrast from our busy downtown Waikiki Beach hotel. There were tangerine trees, lime trees, banana trees and more unidentifiable trees. Also, a *rooster farm* or something like that nearby (see photo) which was one of the oddest things I've ever seen. We could see the ocean and the Puu Kukui peak from our balcony. We stayed here for two nights in the middle of our trip.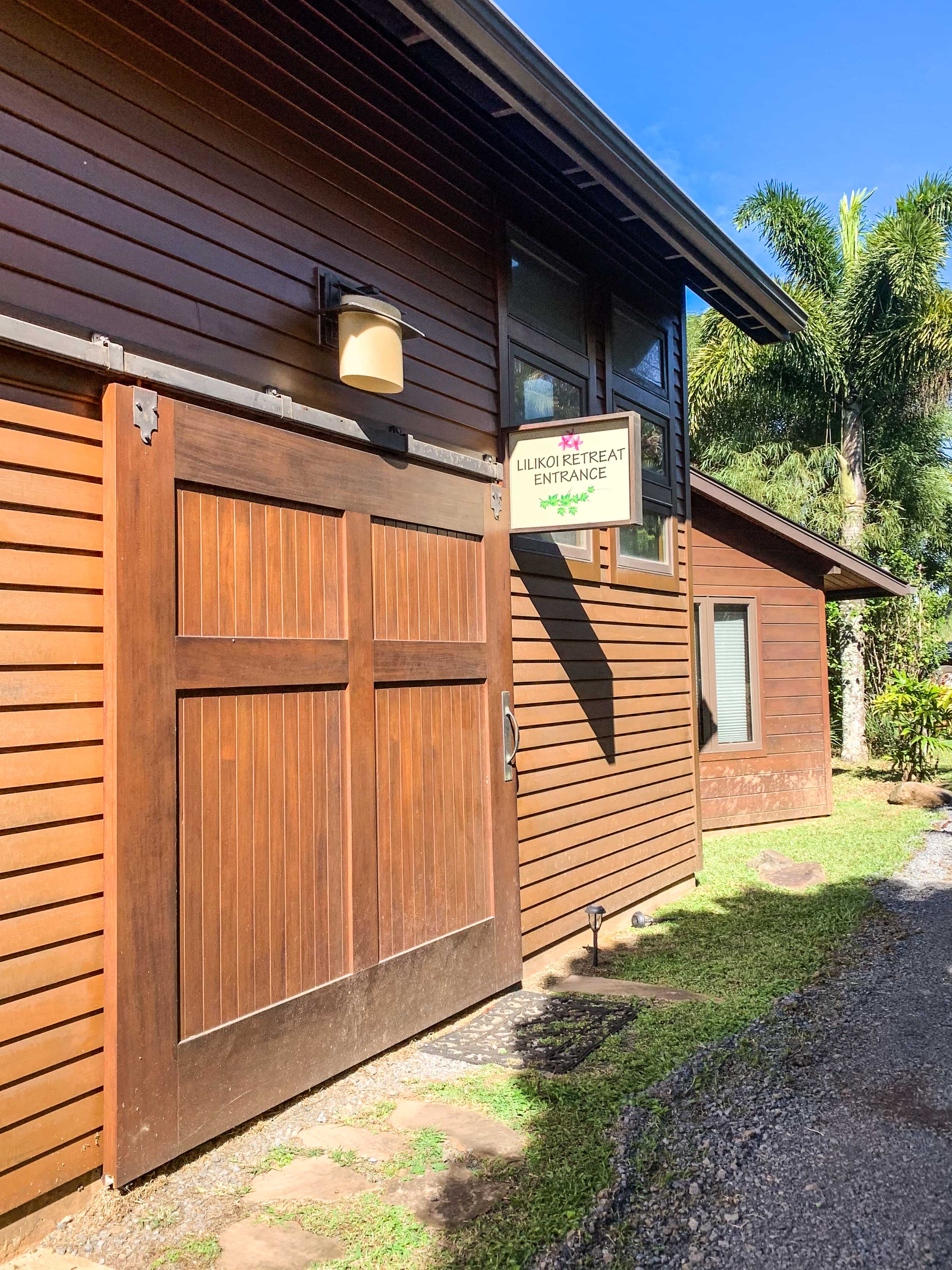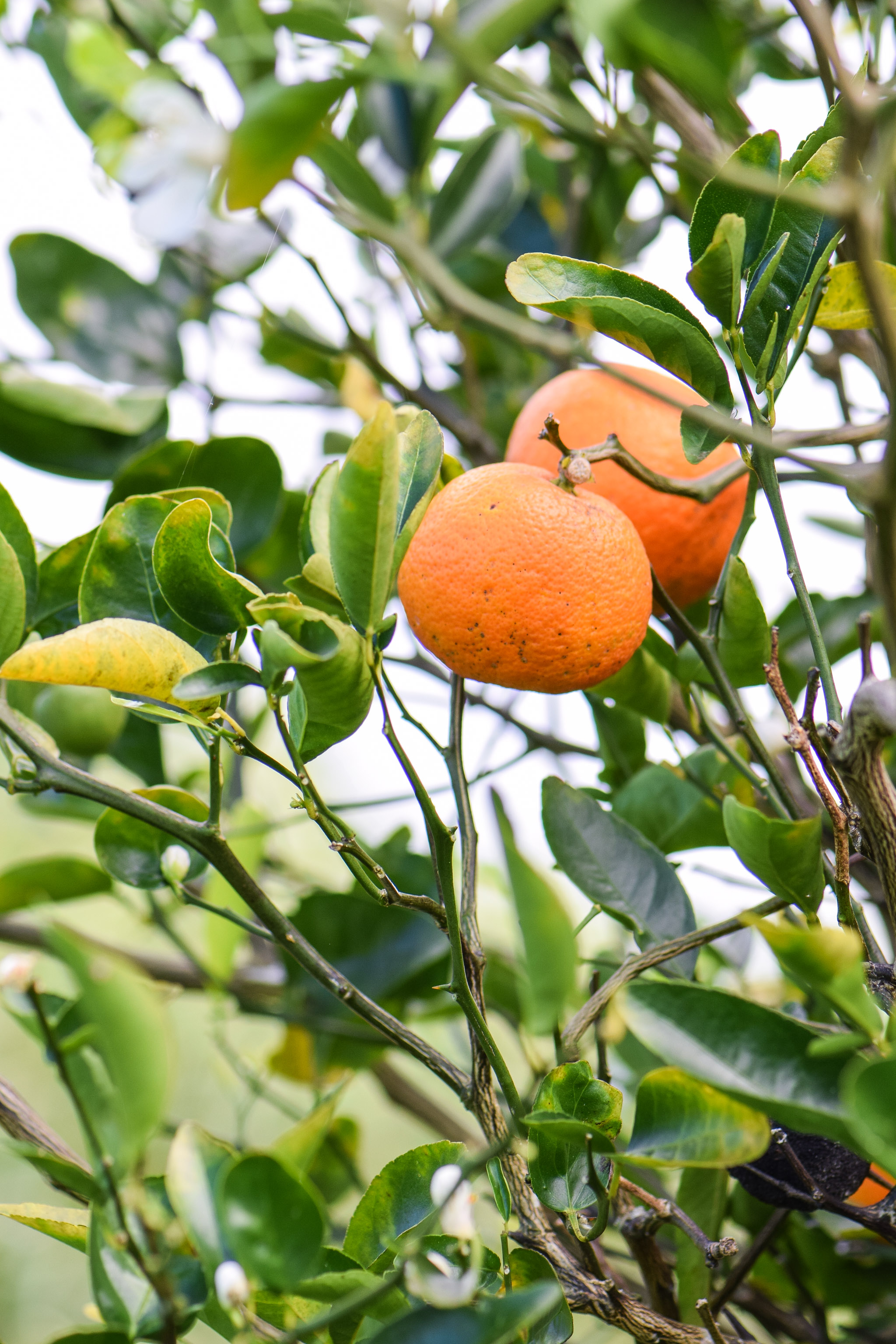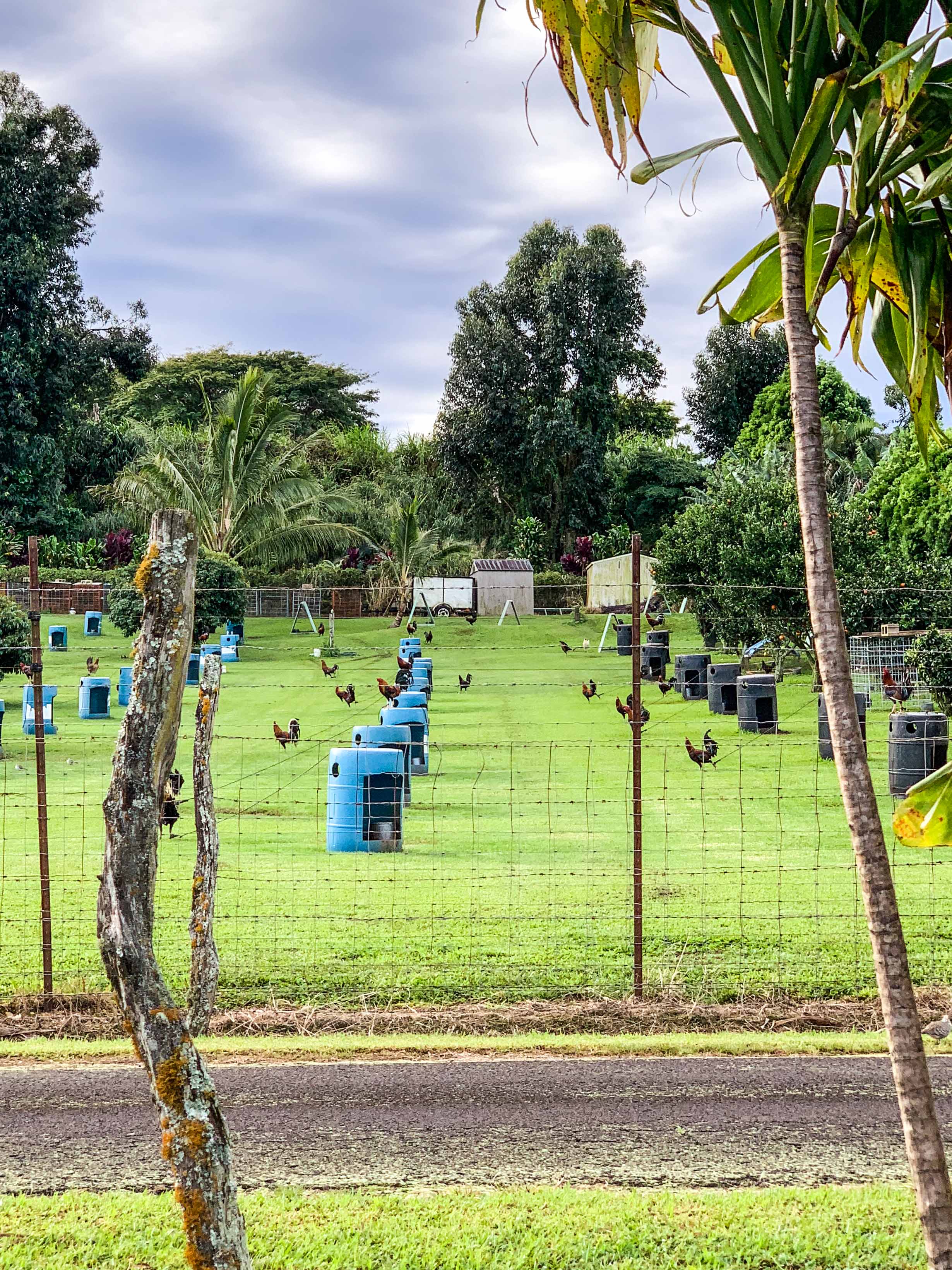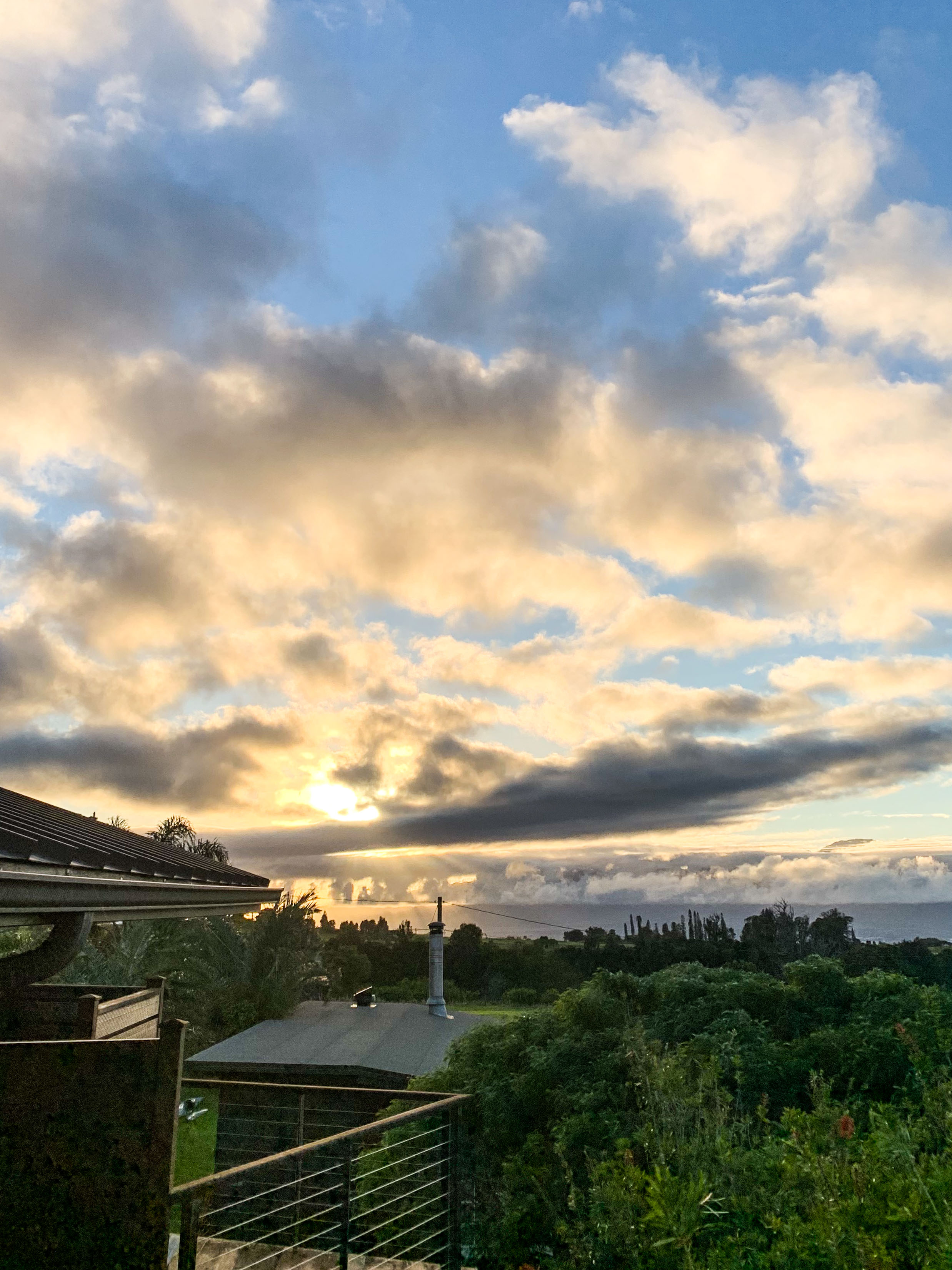 O'o Farms
For day six of our trip, I had booked a breakfast & coffee tour at O'o Farms in upcountry Maui. It was easily my favorite adventure during our time in Hawaii, and I would recommend it to anyone! We sampled tons of coffee, smelled fresh citronella and allspice, ate borage flowers, and had the absolute best farm cooked breakfast you could imagine. Every single thing we ate was grown or produced at the farm.
I took over 100 photos in just 3 hours at the farm, and obviously had to pick the best ones to share with you! Here are my favorites that really give you a feel for the farm and Maui vibe. The feeling of looking down at the farm and then looking out at both Maui ocean coasts is completely indescribable!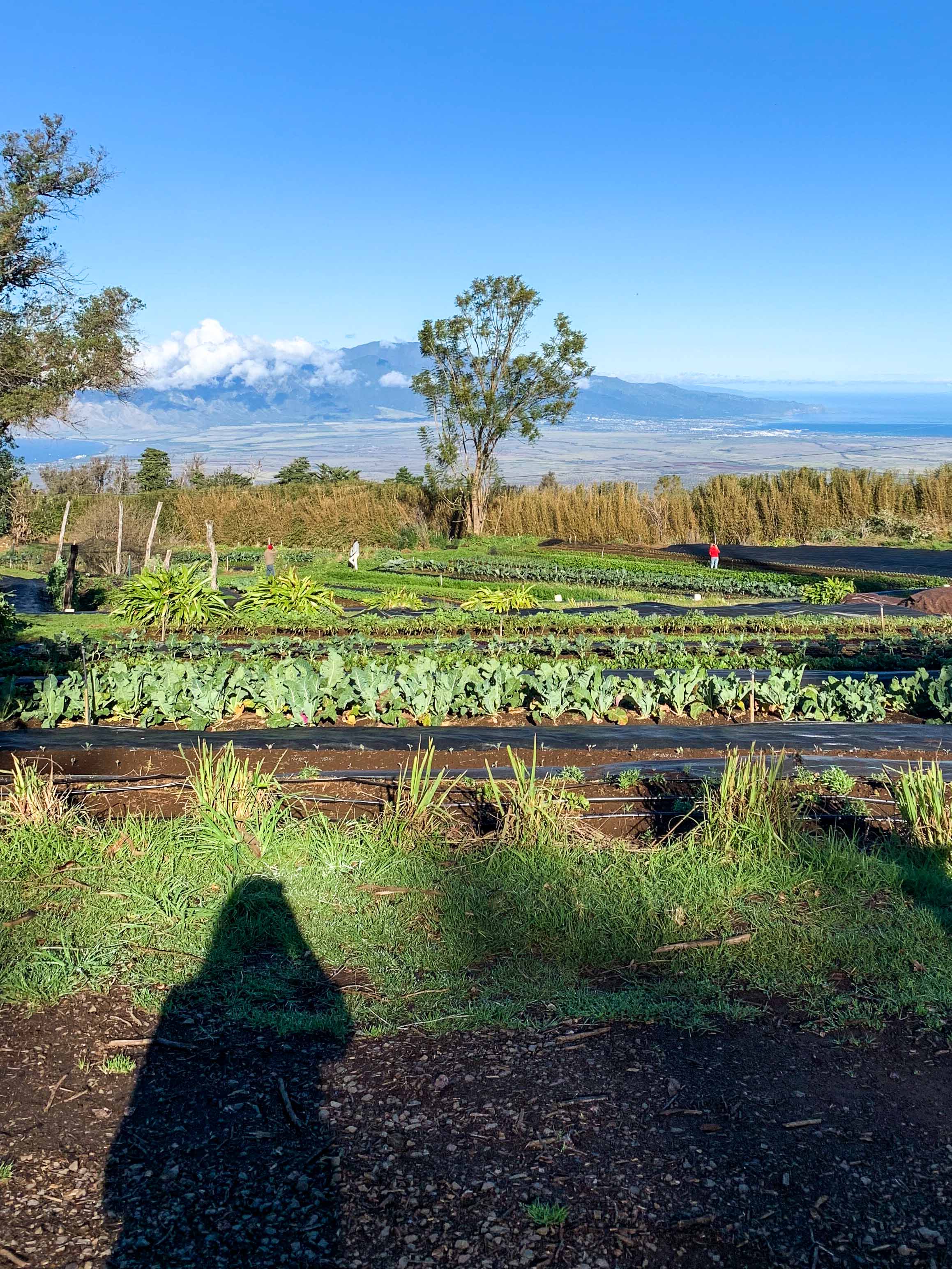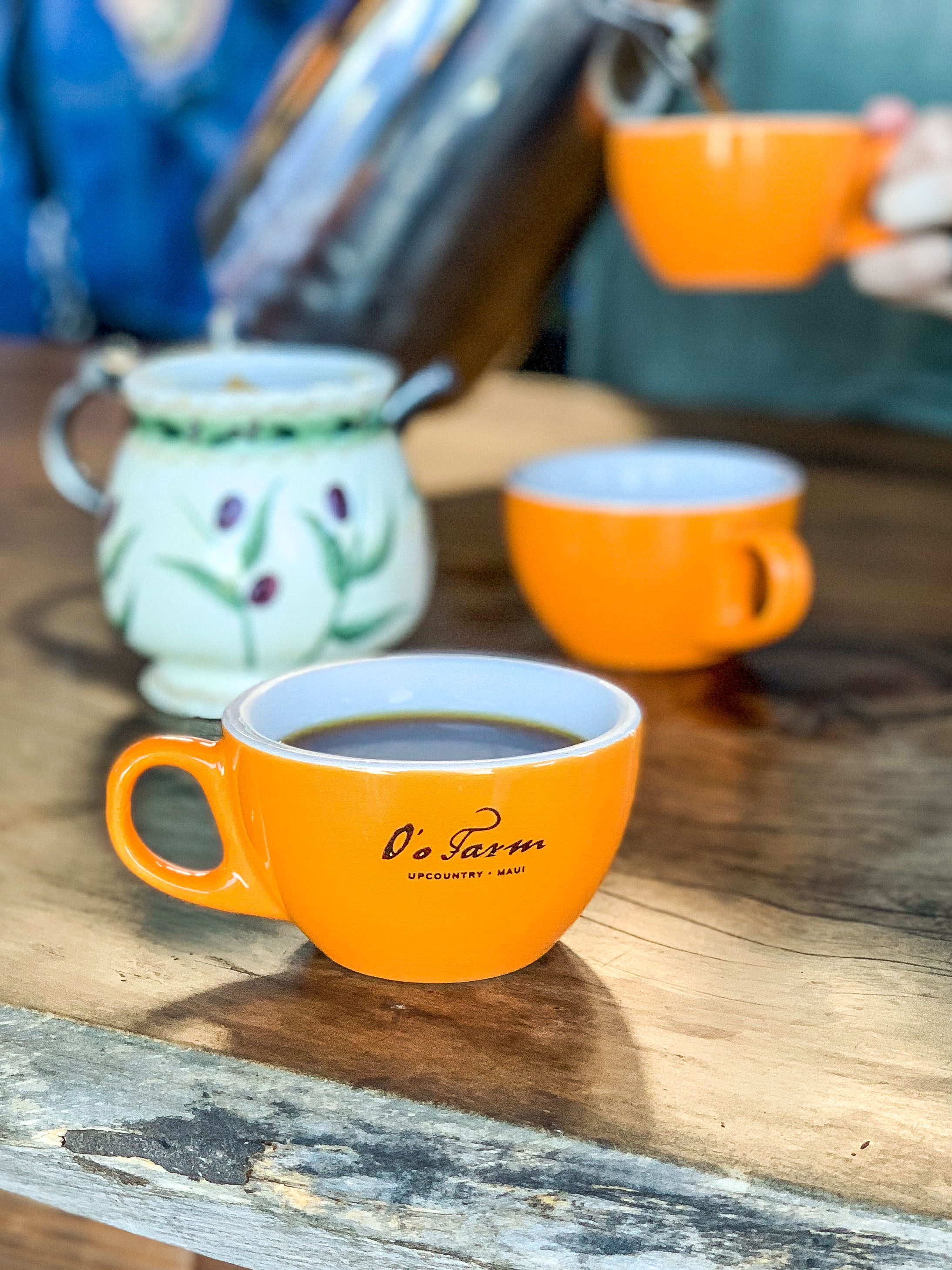 Our farm tour guide's name was Hoku. She's a Maui native and incredibly knowledgeable about the farm and native vs invasive species on the island. The large tree pictured below is an allspice tree, which is 100% new information to me because I thought allspice was a spice mix. OOPS. We are all learning, okay??
Hoku showed us around the farm where we saw avocado trees, the plant that poi is made from, all kinds of fruit trees, chameleons, and so much more!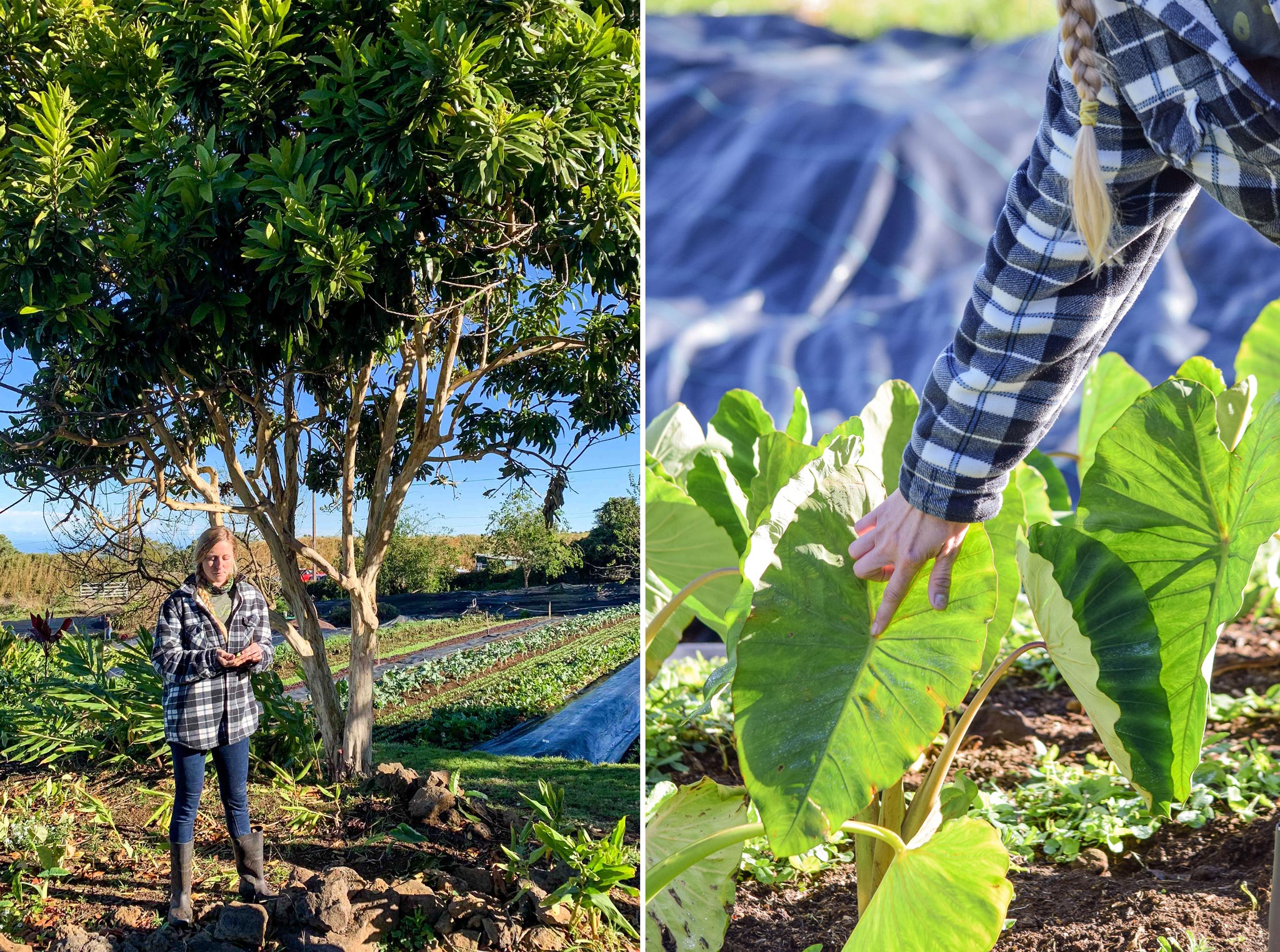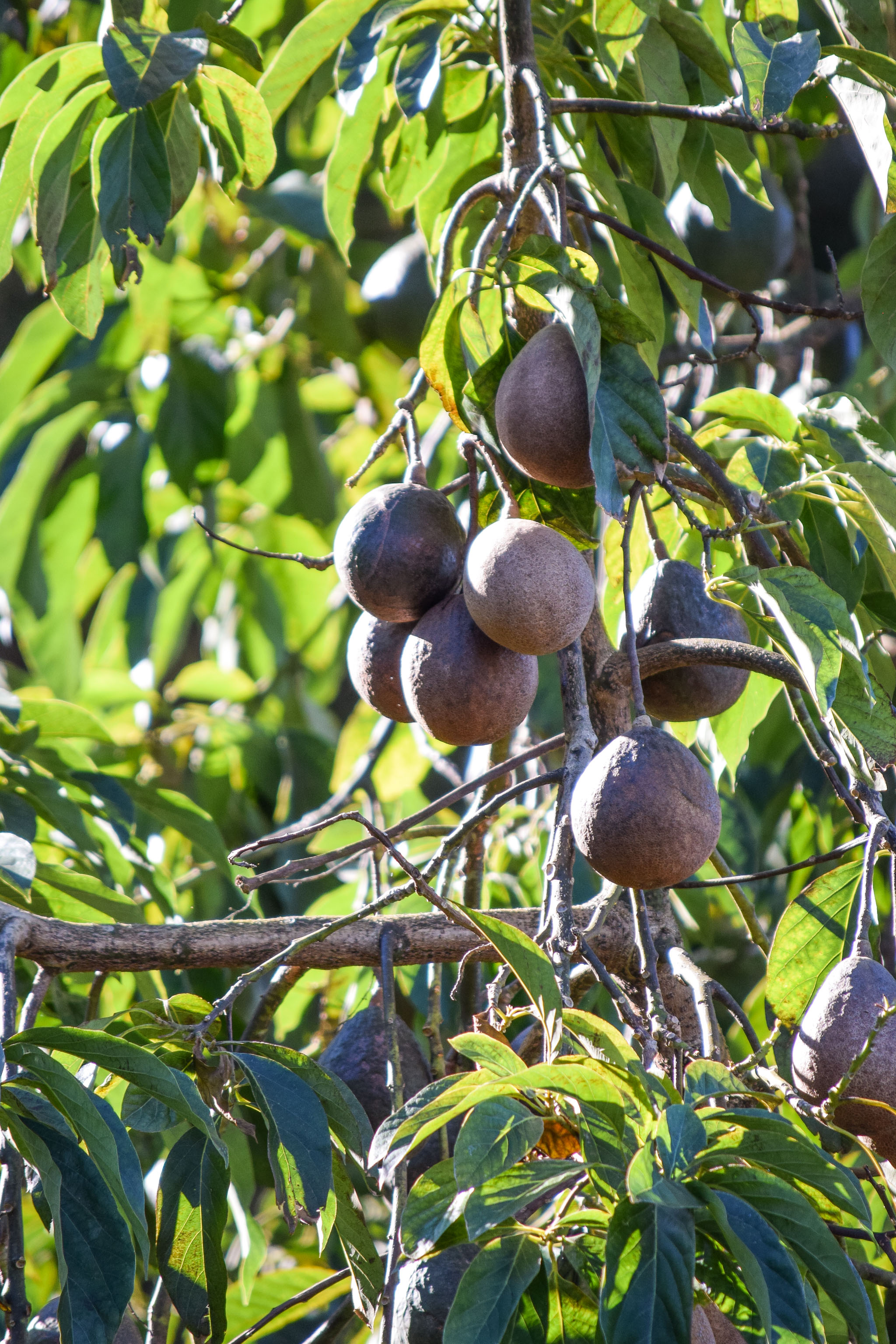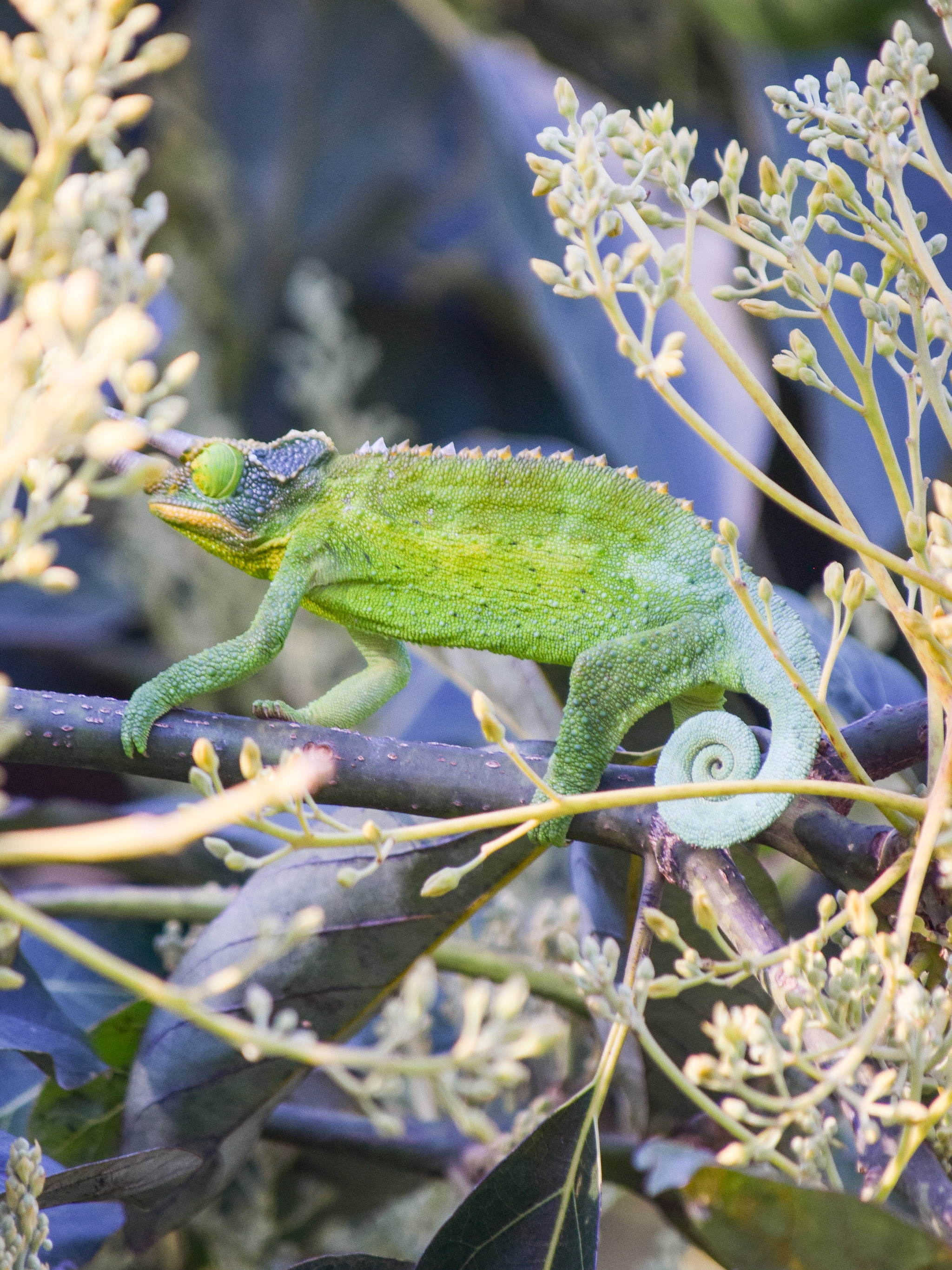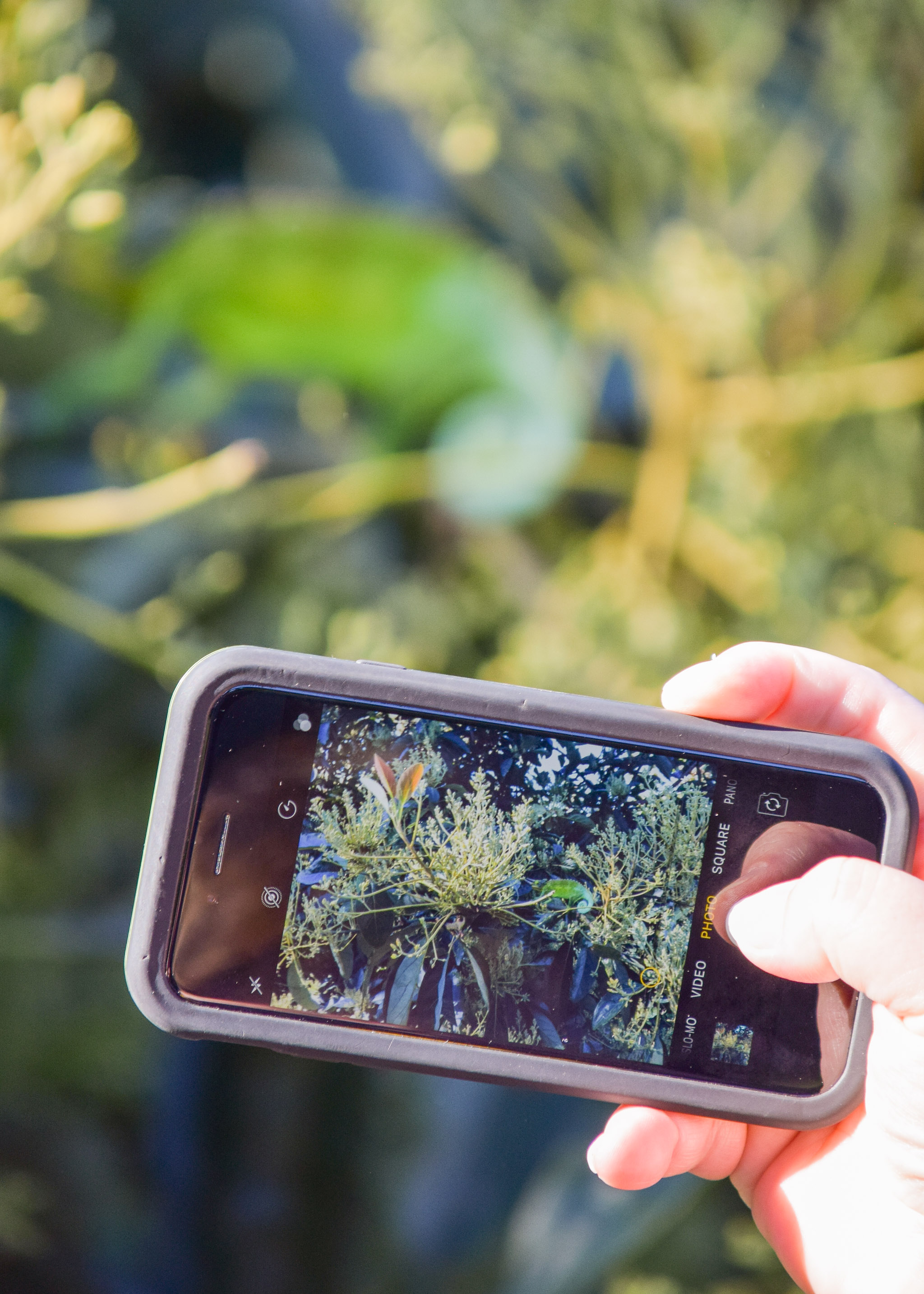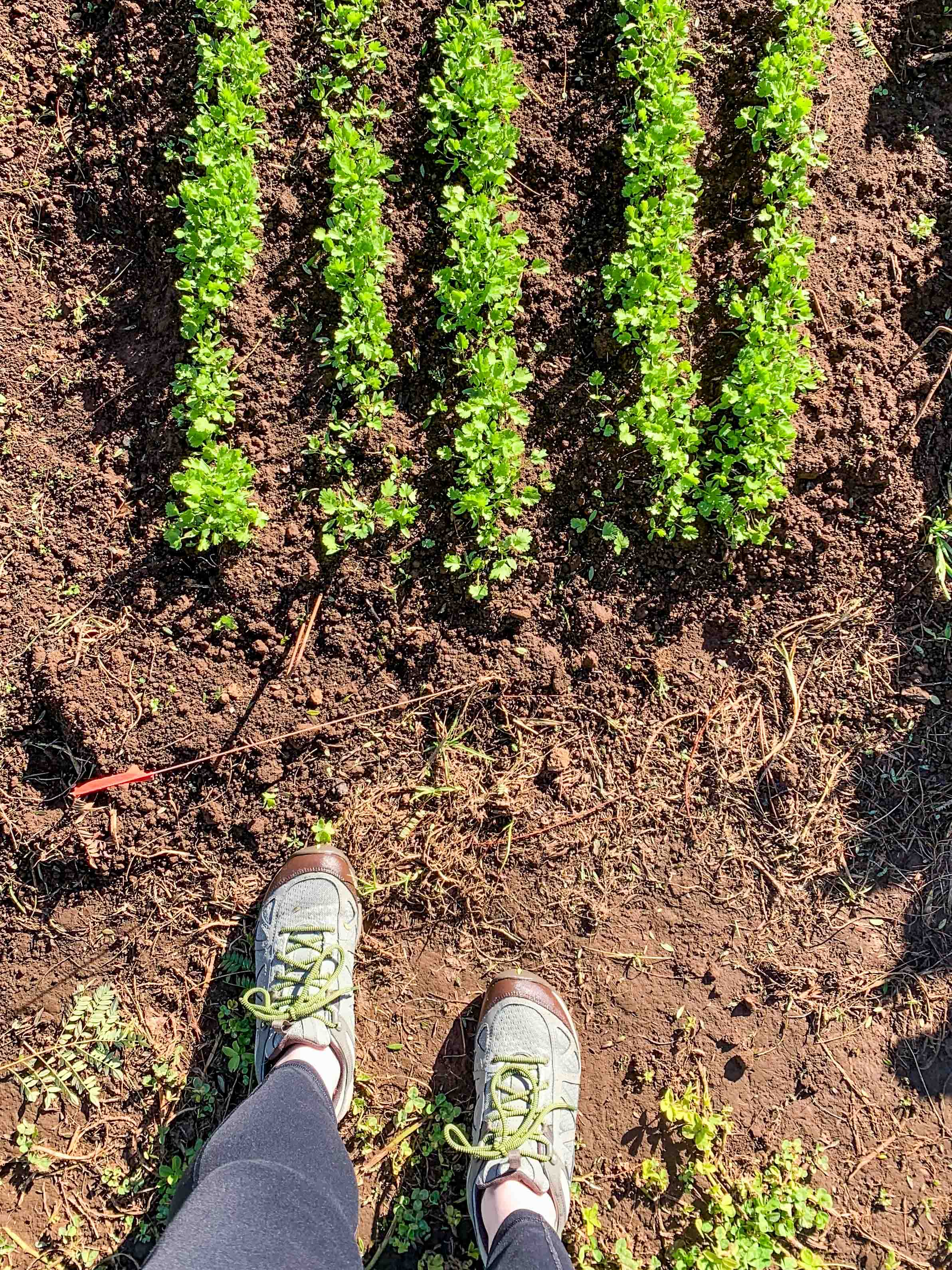 Like I said before, the breakfast was the most magical part about the whole experience. We met the chef. We saw where all of our food was cooked and grown. We watched several pots of pour over coffee being made for us. We got to eat outside in a beautiful covered dining area overlooking the farm and the best view of Maui. Seriously, it was just such an amazing feeling to be there (like the feeling I get when I eat vegetables grown in my own garden except times 100!).
Our breakfast menu included the best and only smoked frittata I've ever had, which was full of smoked vegetables and farm fresh eggs. The mushrooms had such a savory smoky flavor that several of us actually thought it was meat!
There was also fresh fruit, including sweet little apple bananas, and fresh squeezed juices. Fresh baked sourdough cinnamon rolls with the farm sourdough starter, and gorgeous plated salads with edible flowers and unique dressings (like smoked tomato raspberry vinaigrette!).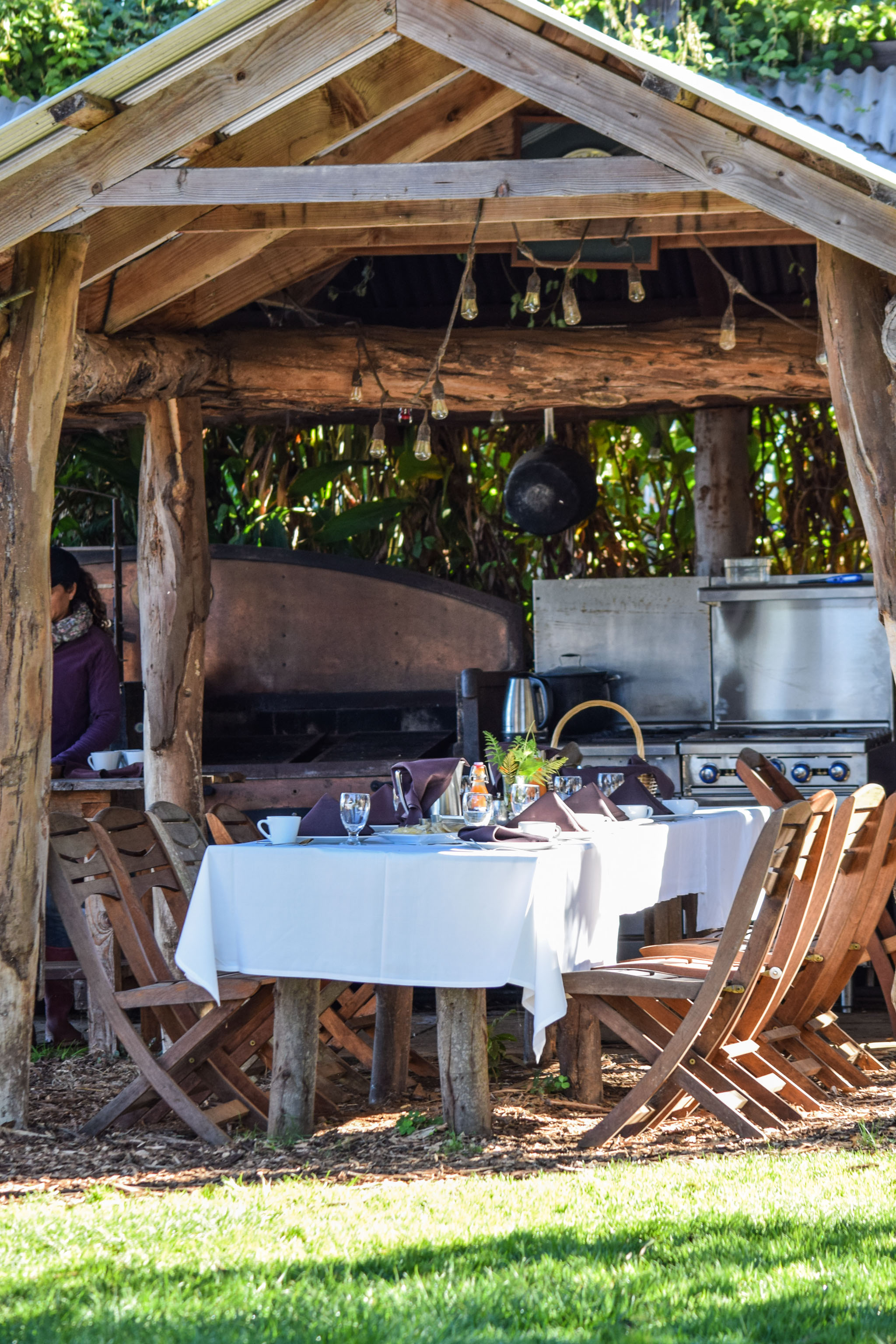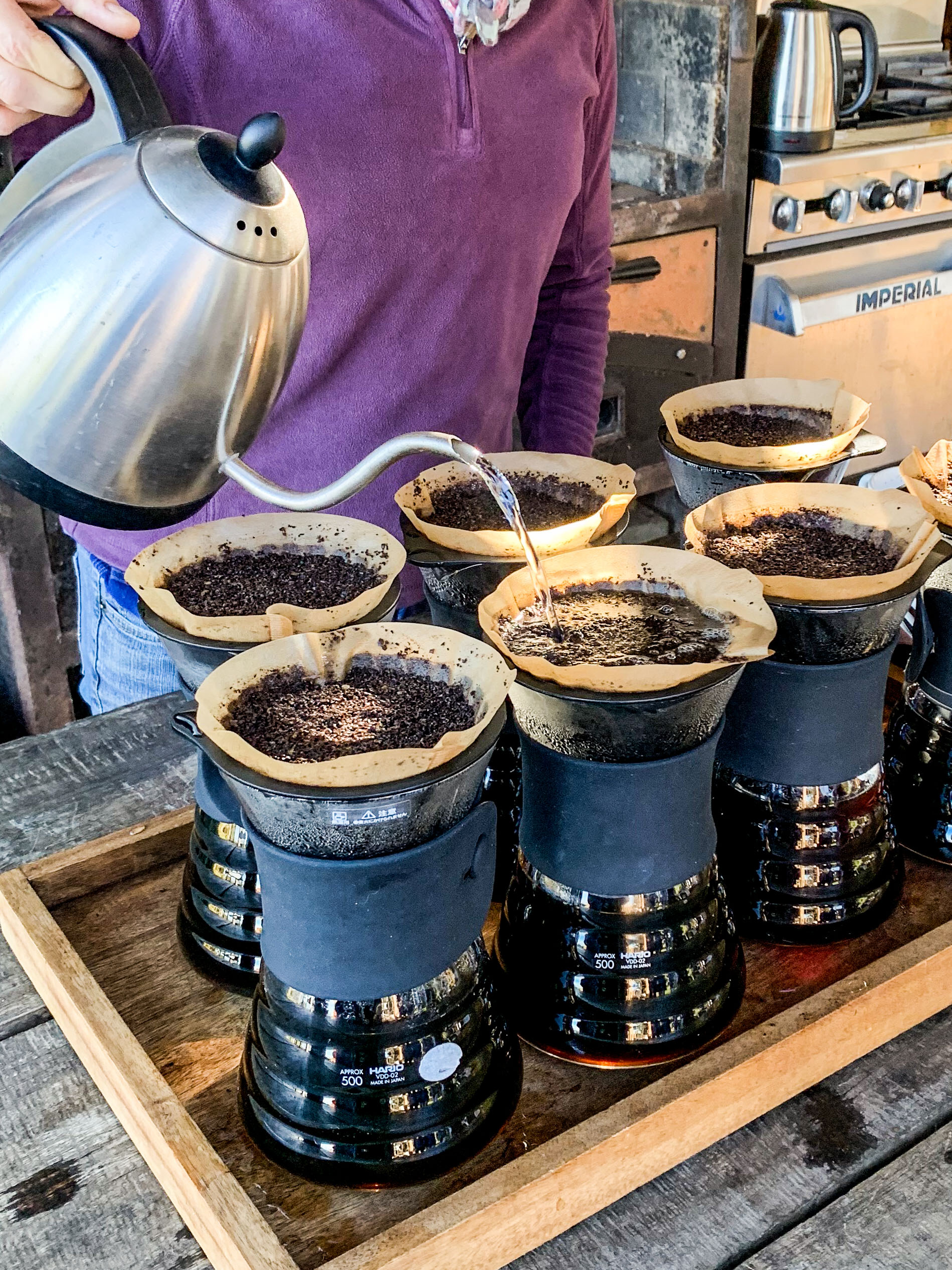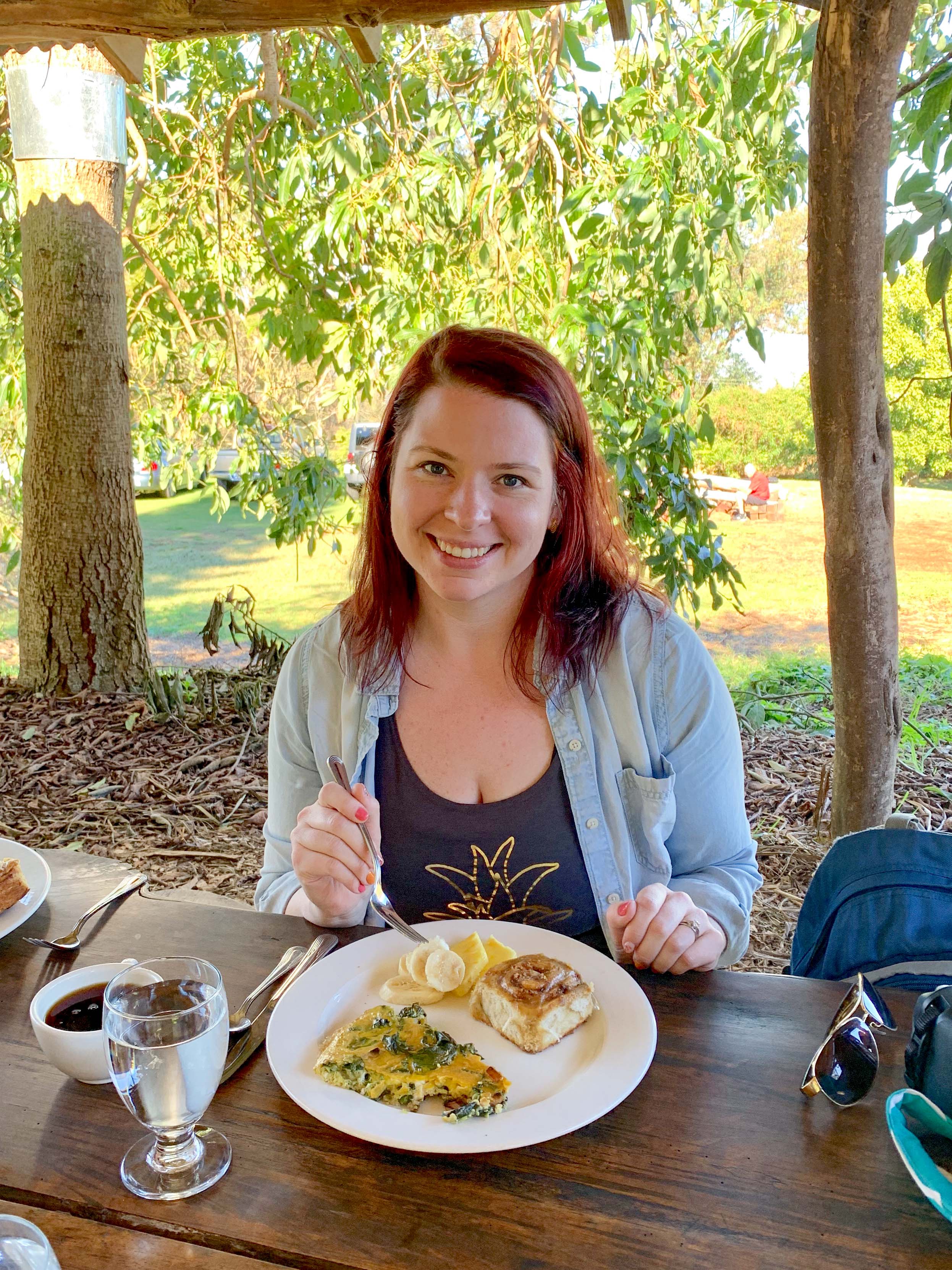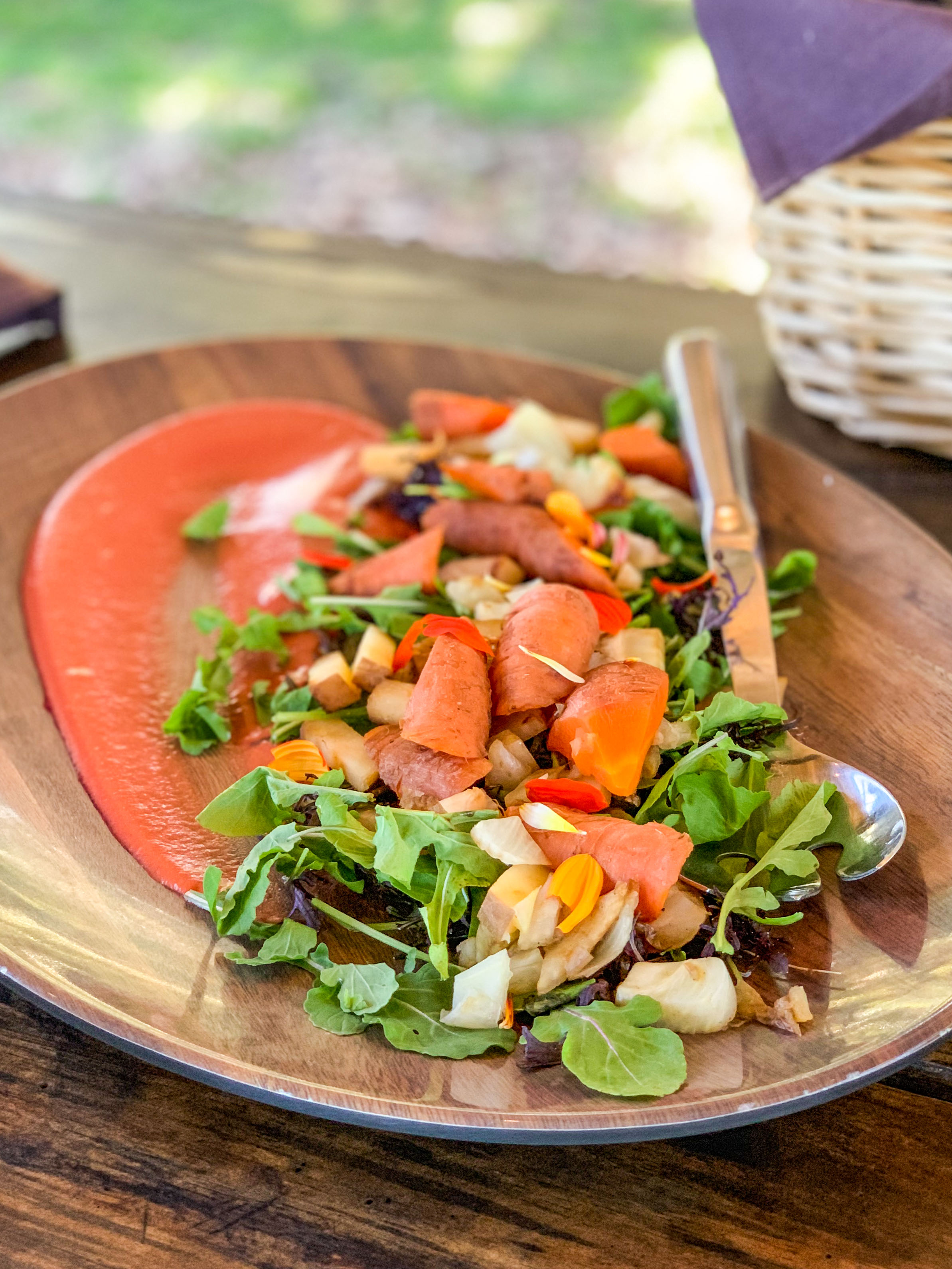 After breakfast we did more touring of the farm, but we stuck to the coffee plants and then the coffee room. Hoku gave us some history of the farm and how they harvest, roast, and package their coffee.
We bought one bag of the O'o Farms coffee, and both of us HAD to get t-shirts! During the rest of our trip, we both got compliments on our t-shirts from people around Maui that had been to and loved the farm themselves.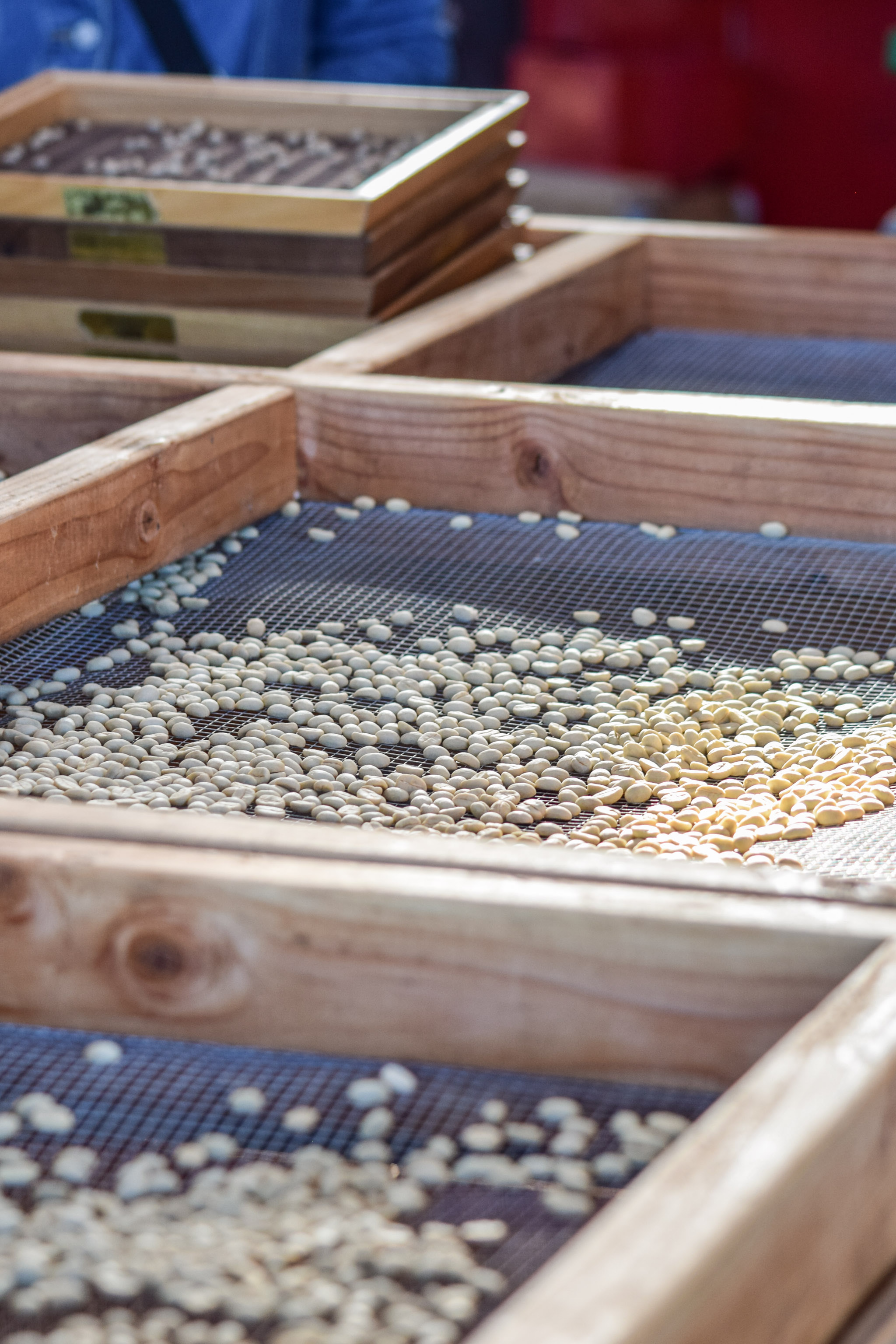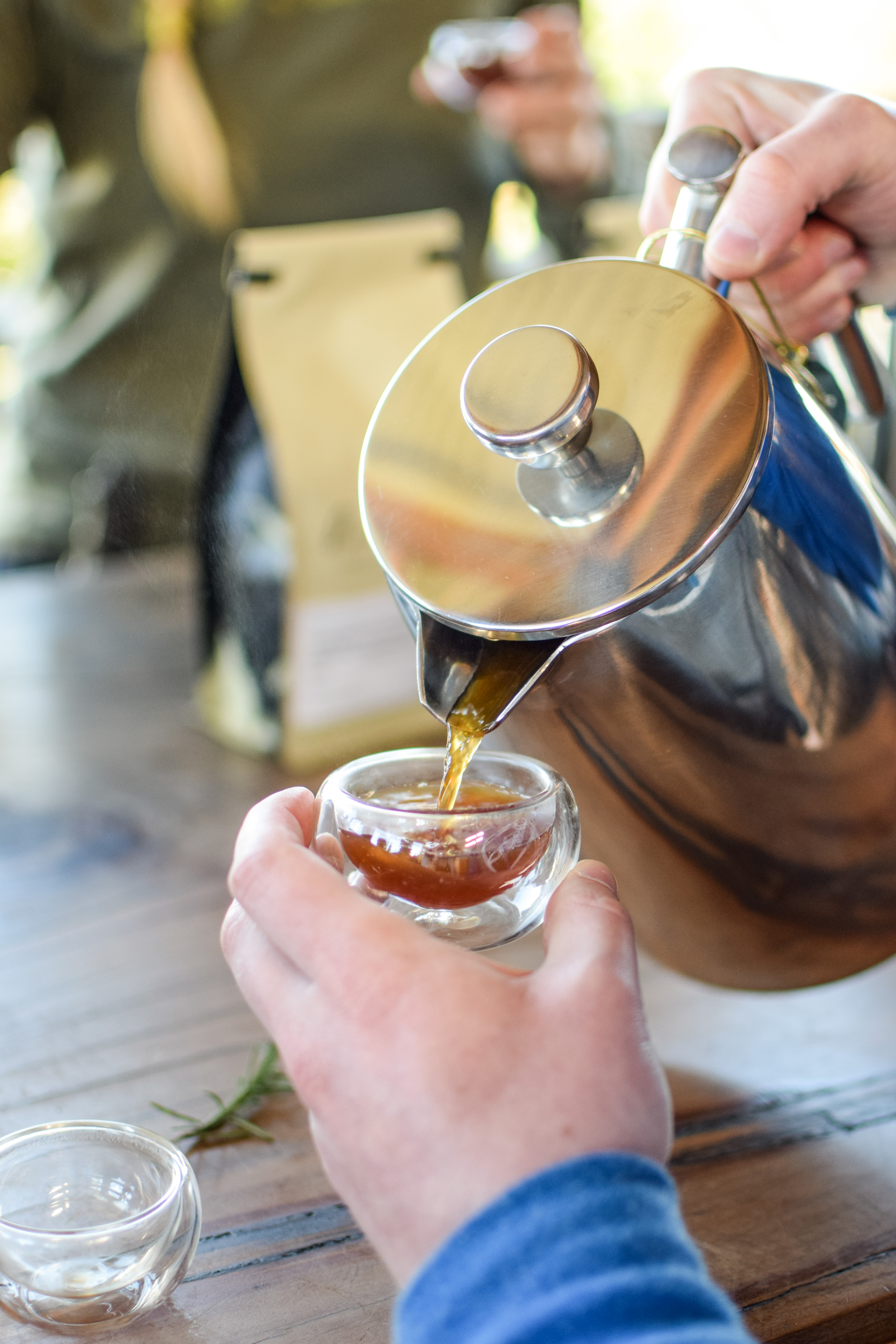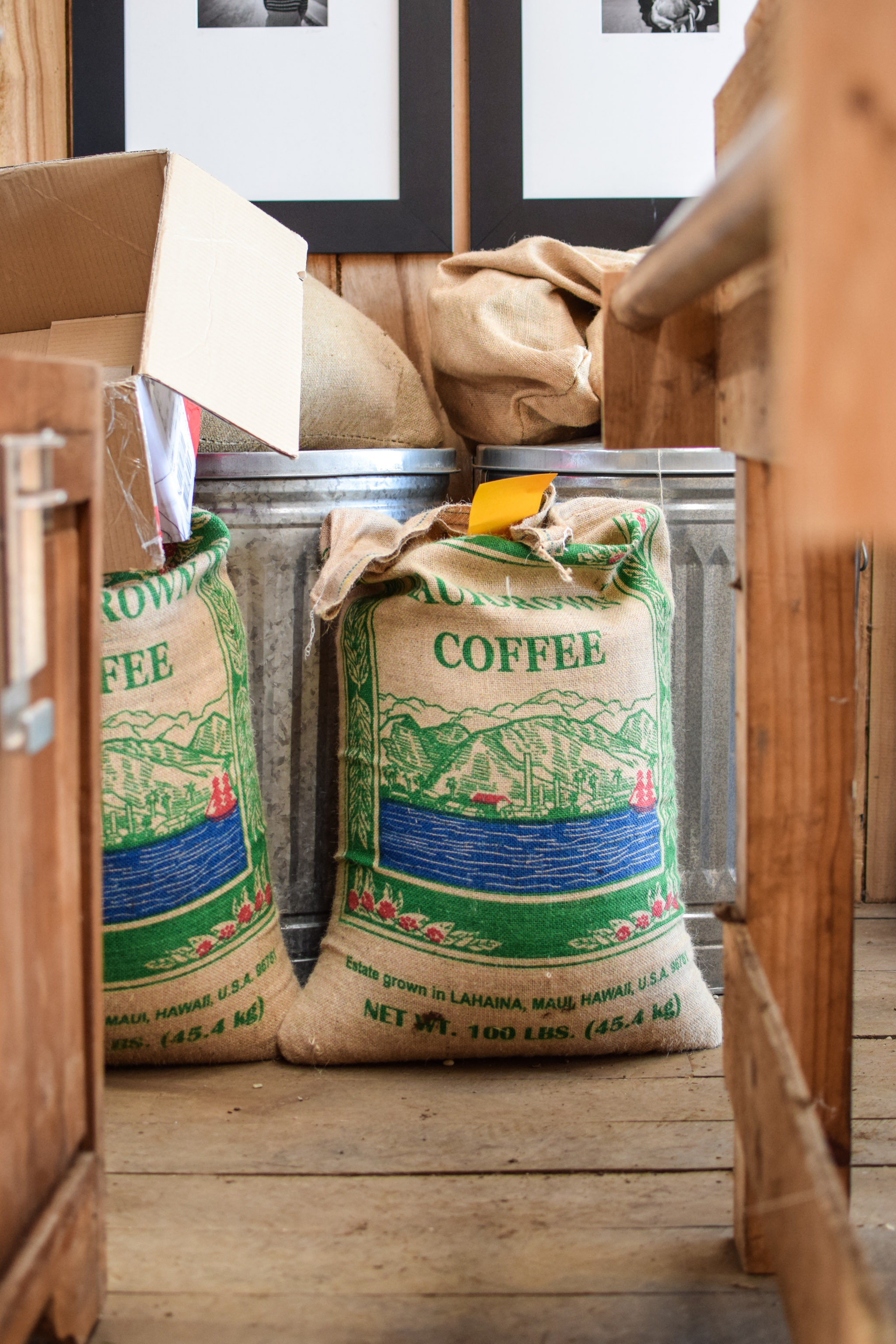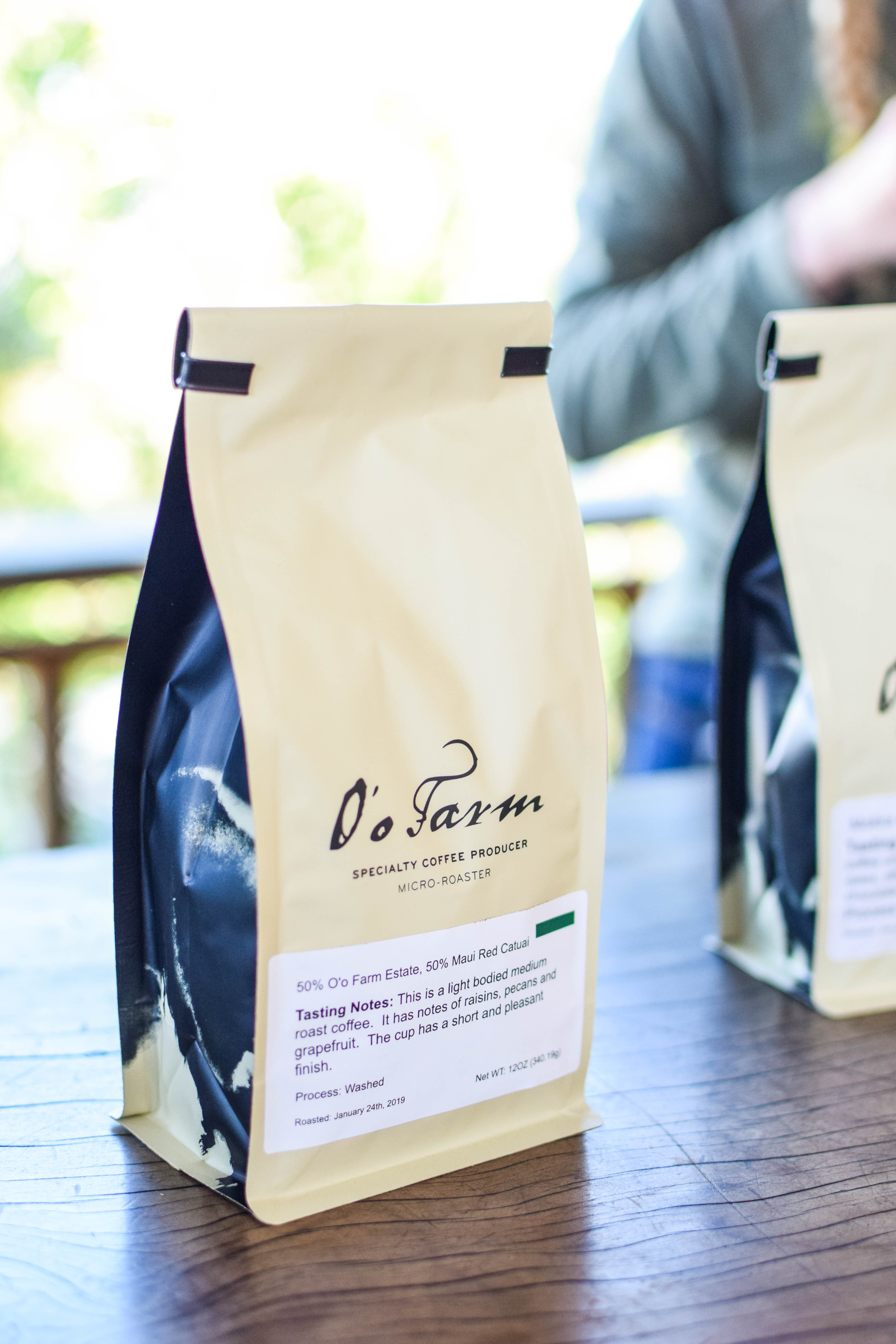 Kula Botanical Gardens
It still amazes me how beautiful this place was, and we were there in winter! I honestly have to go back in the summertime because I think it would look like a totally different place. The entrance is located only a couple minutes drive from O'o Farms, so I think these two activities pair really well together.
There's a small gift shop in the front, and then a winding paved path through different areas of the garden. We spent around 45 minutes here walking around, snapping photos, and taking in the beauty. Again… in winter! Imagine this place with 10,000 flowers blooming.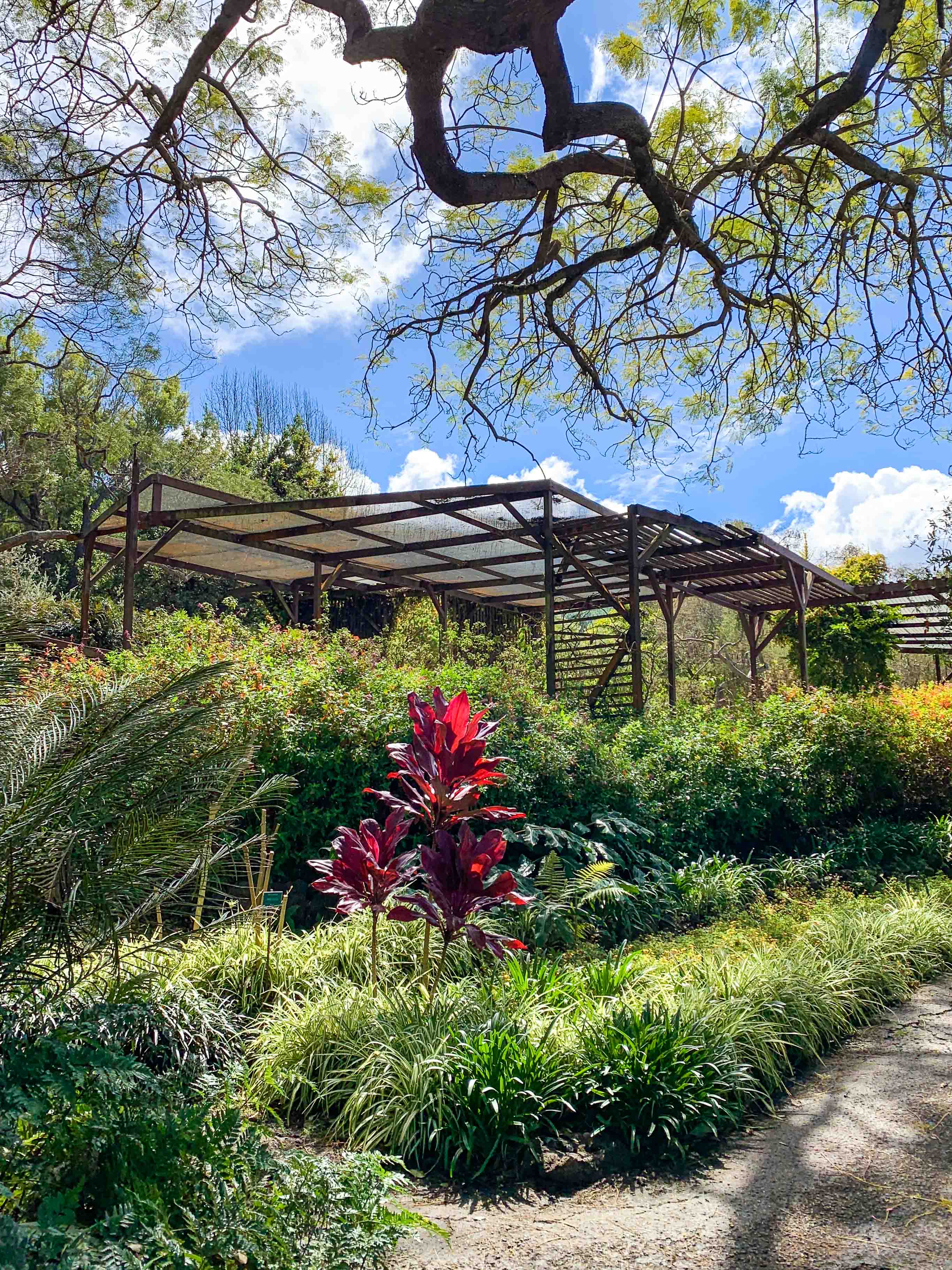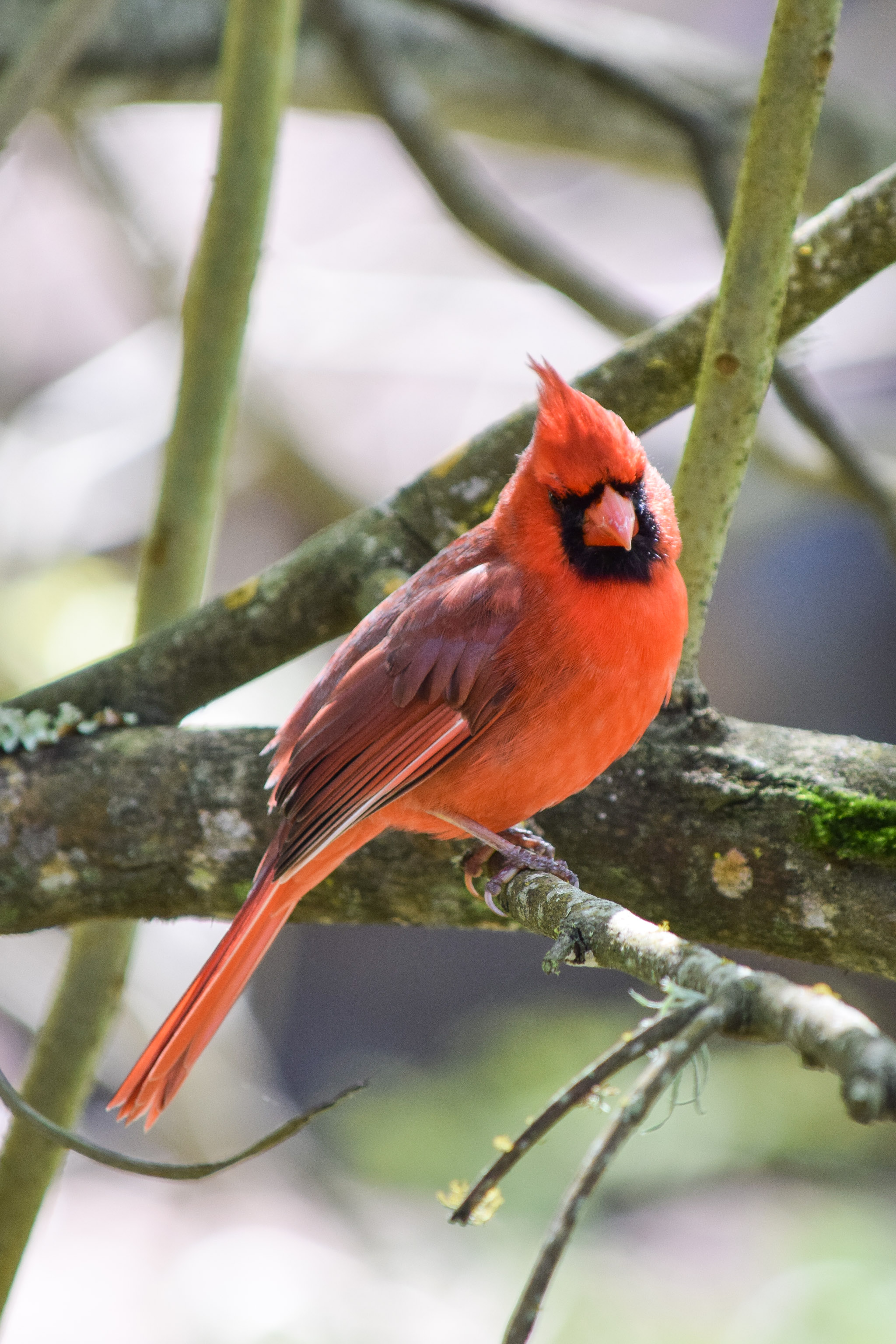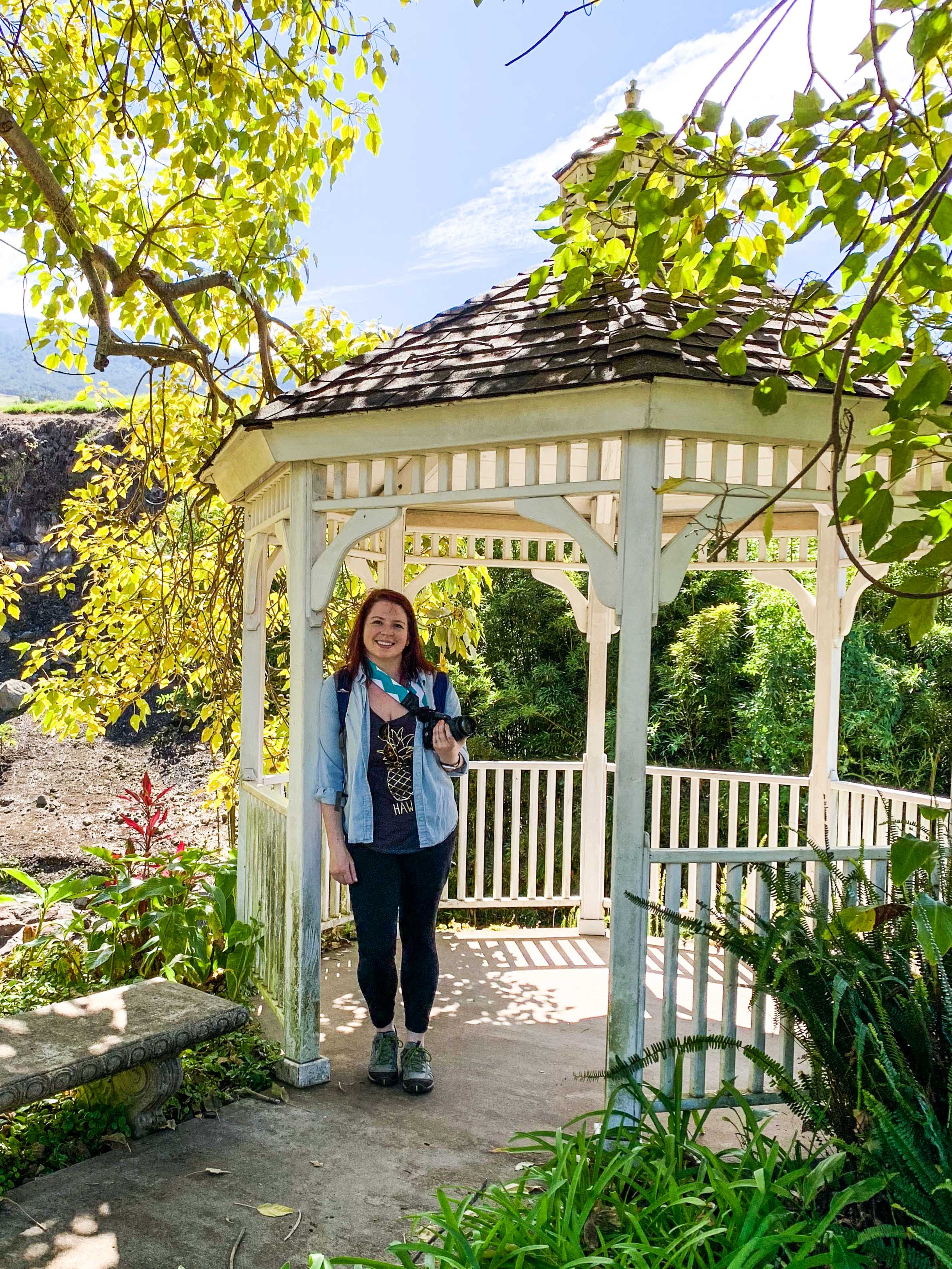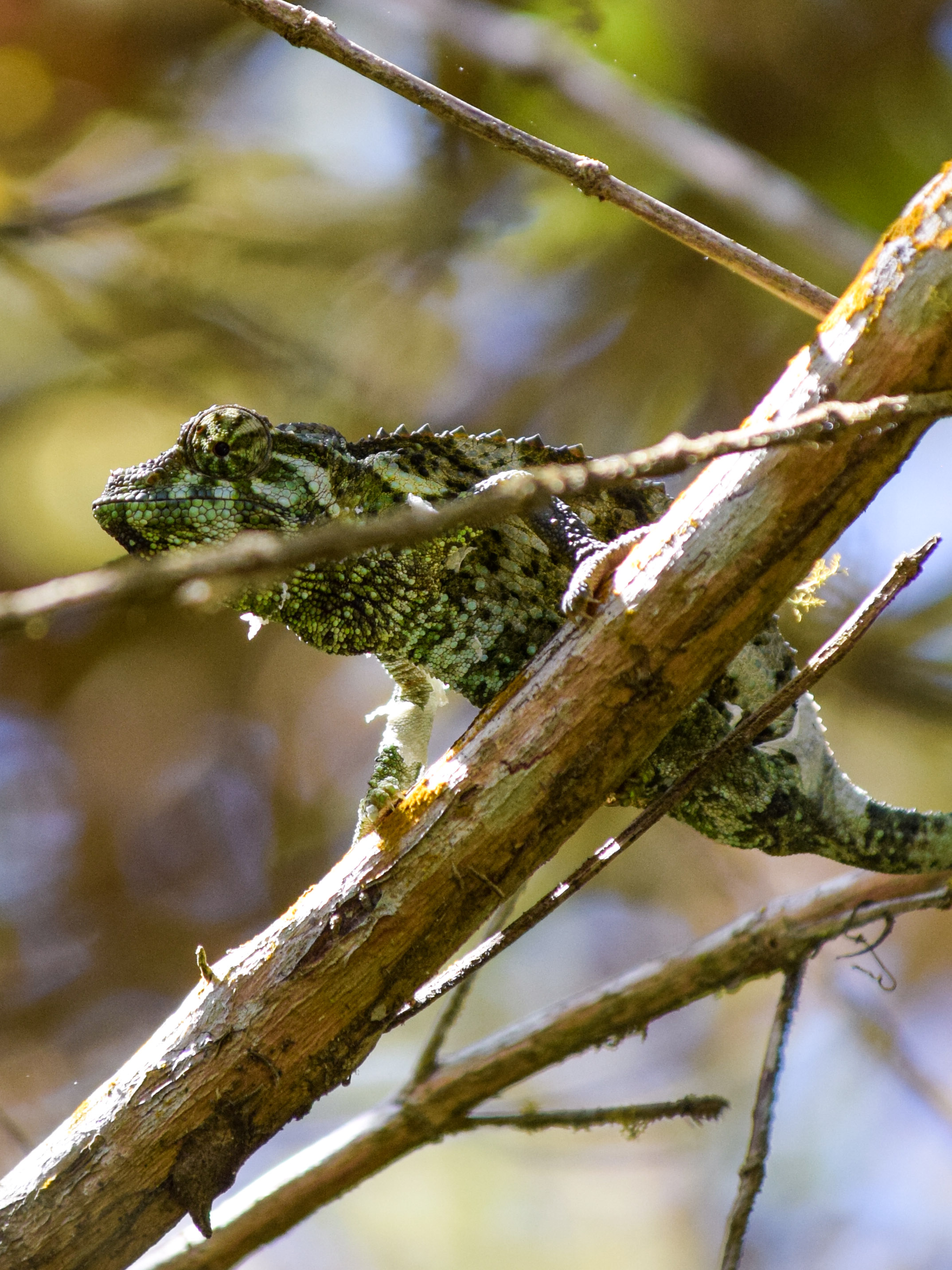 Hawaii Sea Spirits Organic Farm & Distillery
This turned out to be a surprisingly awesome part of our day exploring upcountry Maui. Hawaii Sea Spirits sugar cane farm is home to both Ocean Organic Vodka and Kula Rum. The farm was about 45 minutes from Kula Botanical Gardens, and very close to a goat dairy that we skipped, but heard is also popular!
We toured the farm, distillery, and bottling areas, and we learned a lot about the distilling process. And yes, we learned the rum and the vodka are BOTH made from sugar cane! The difference between products is in the distilling process.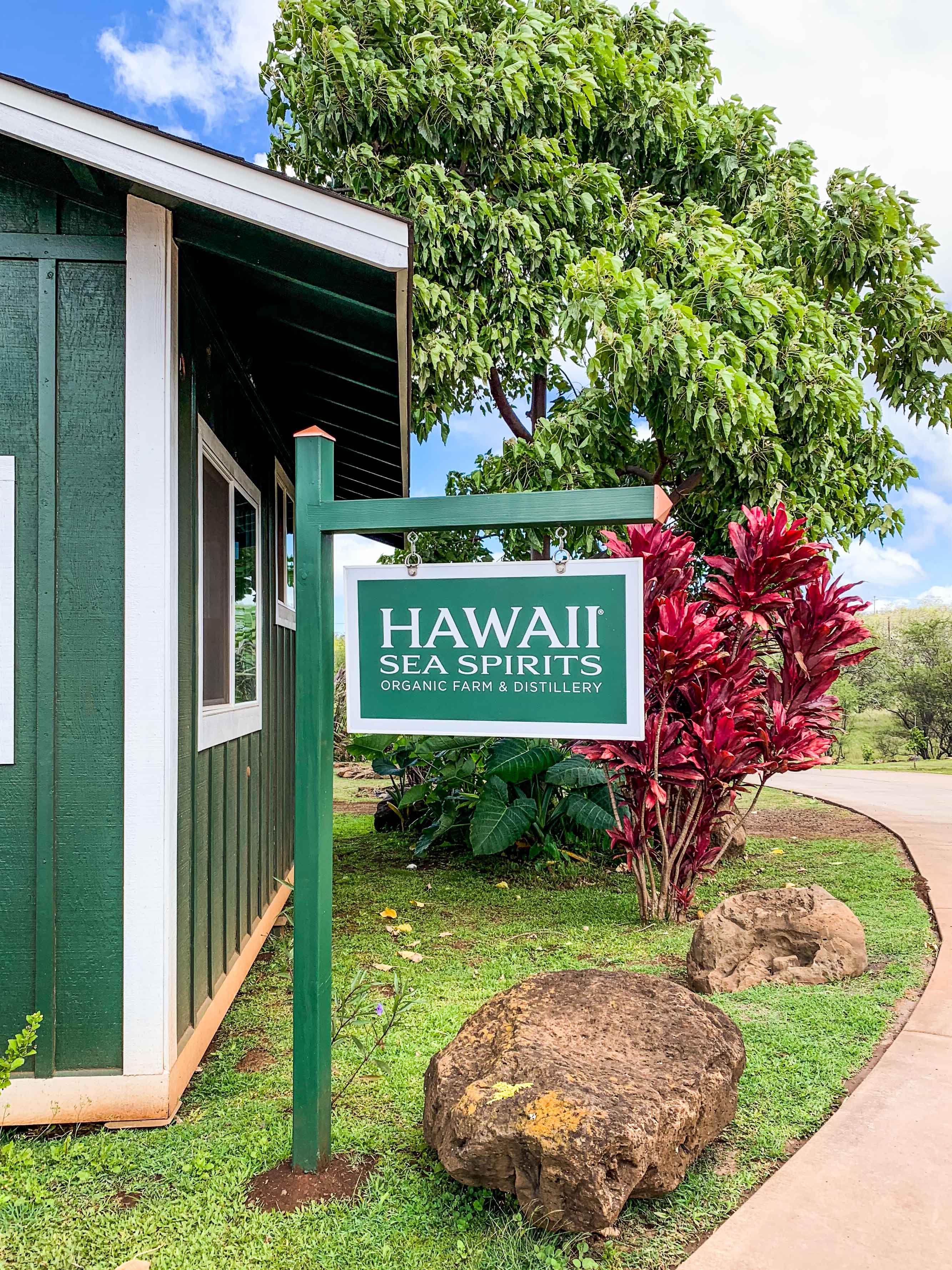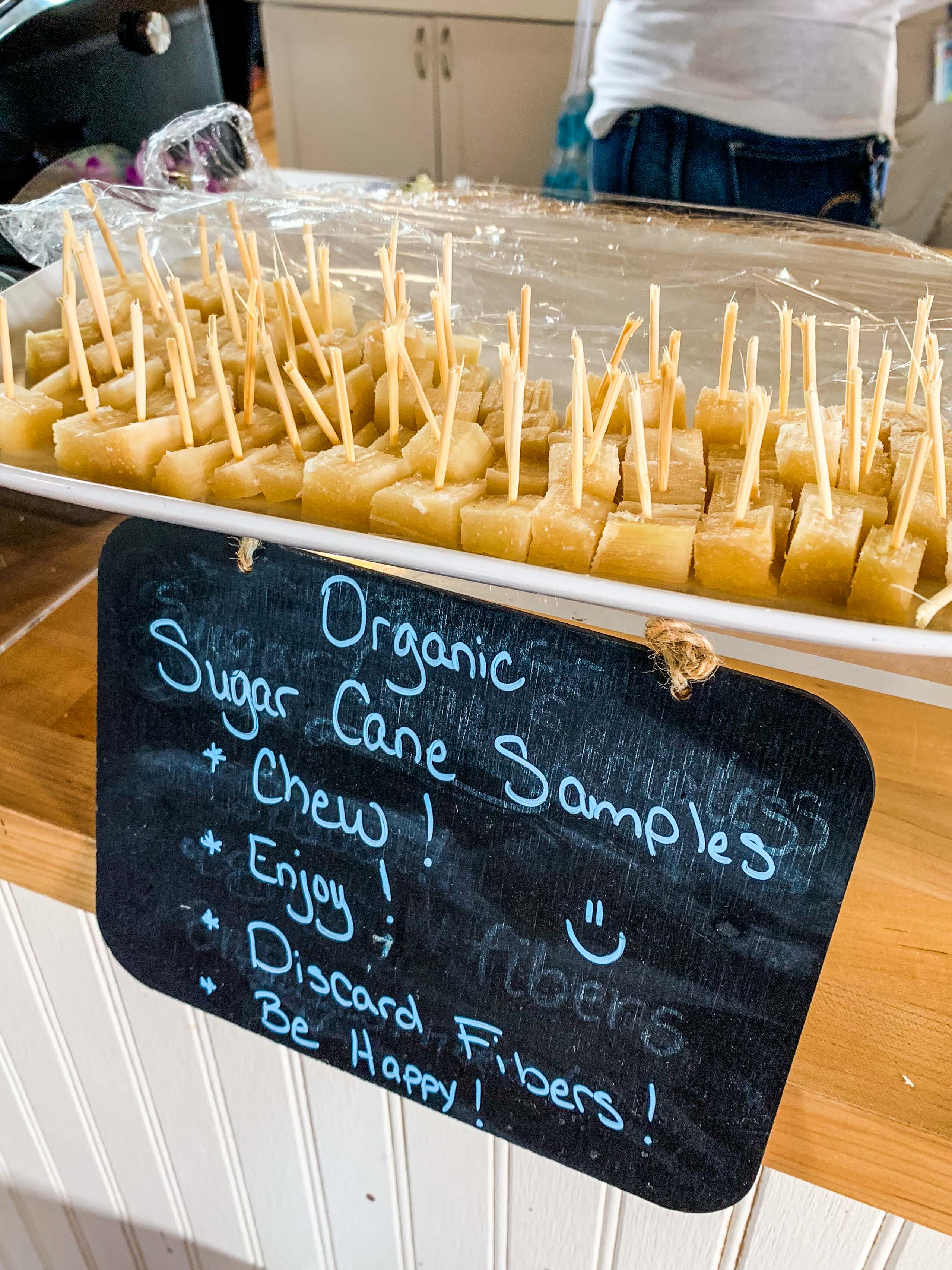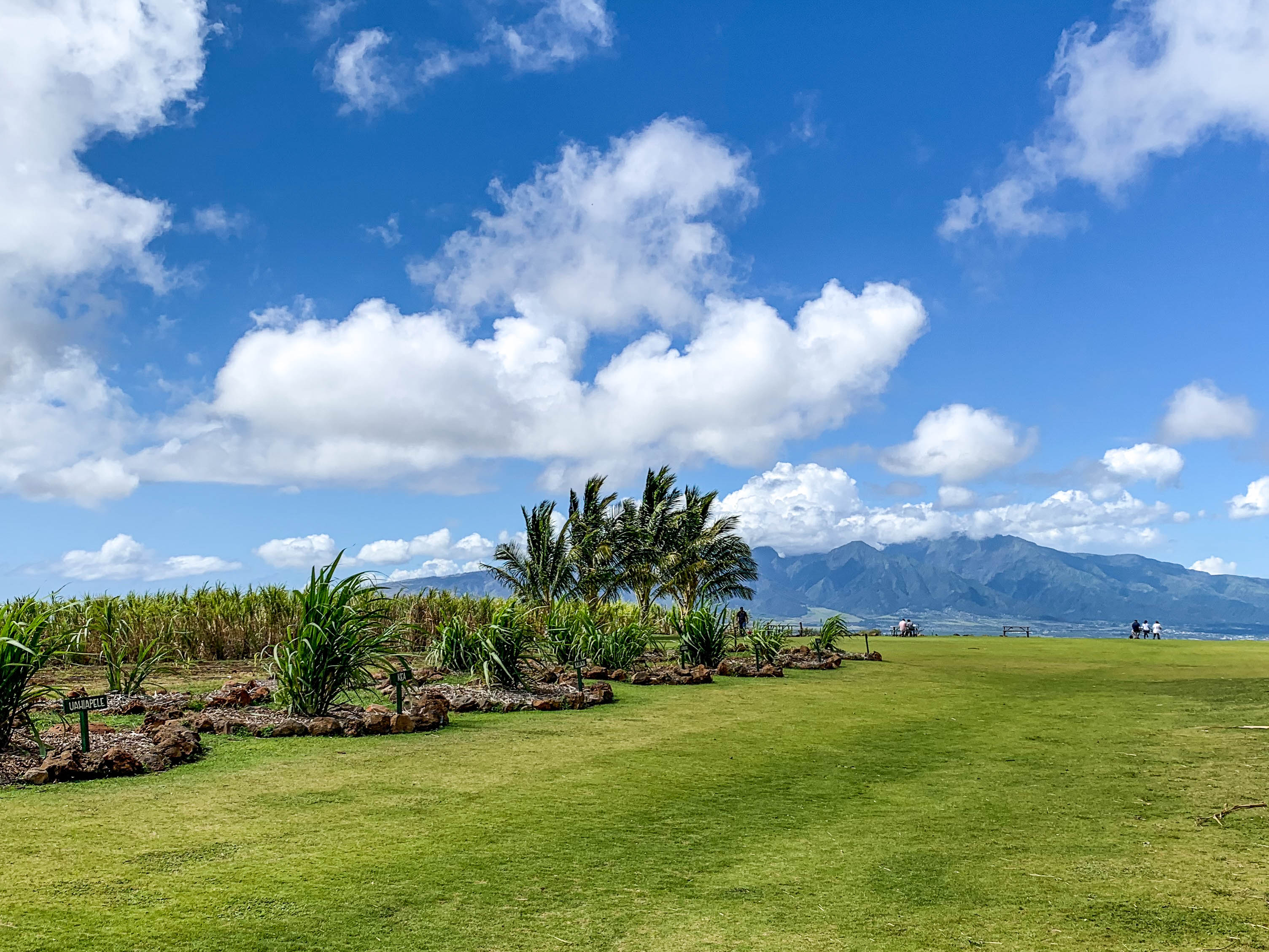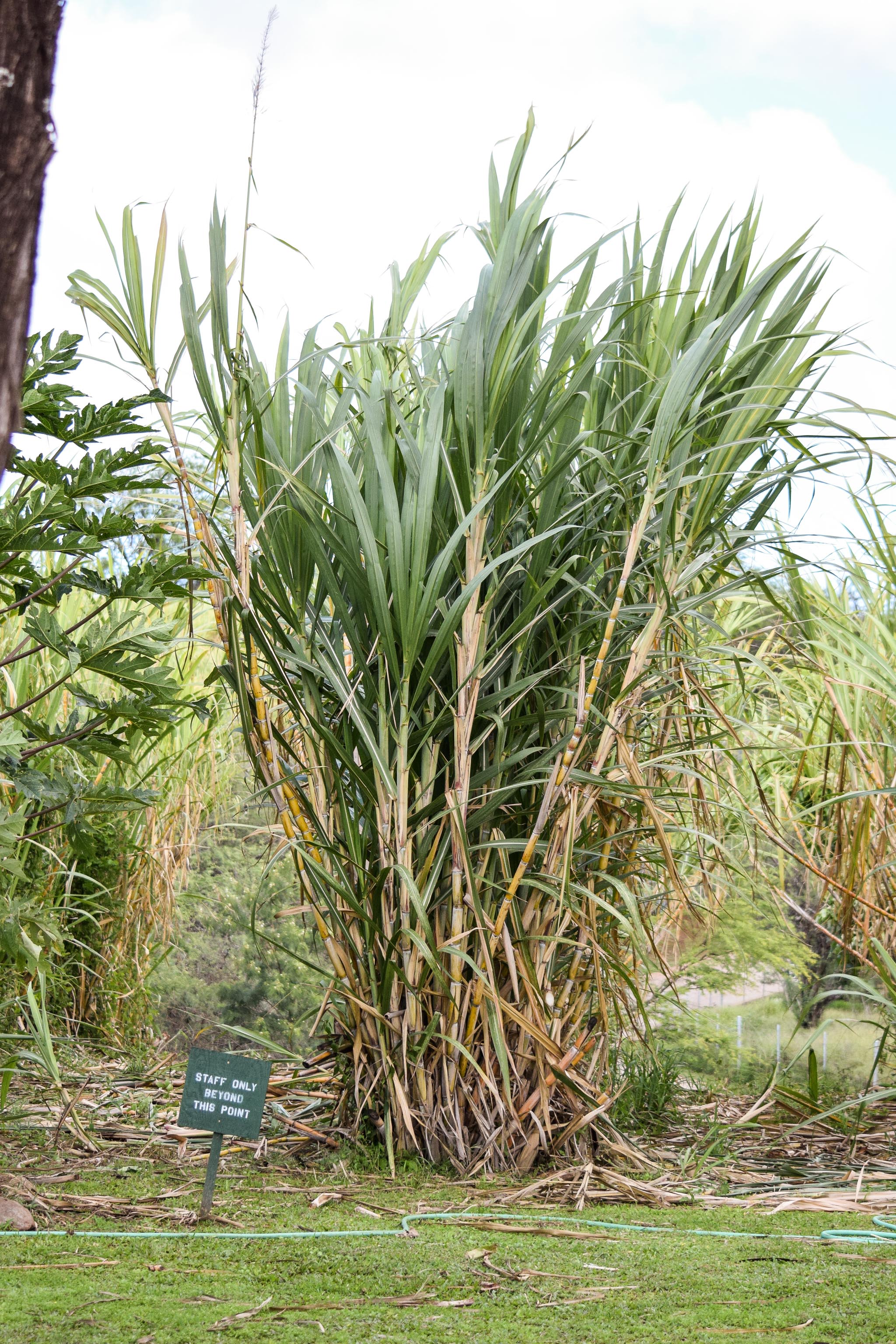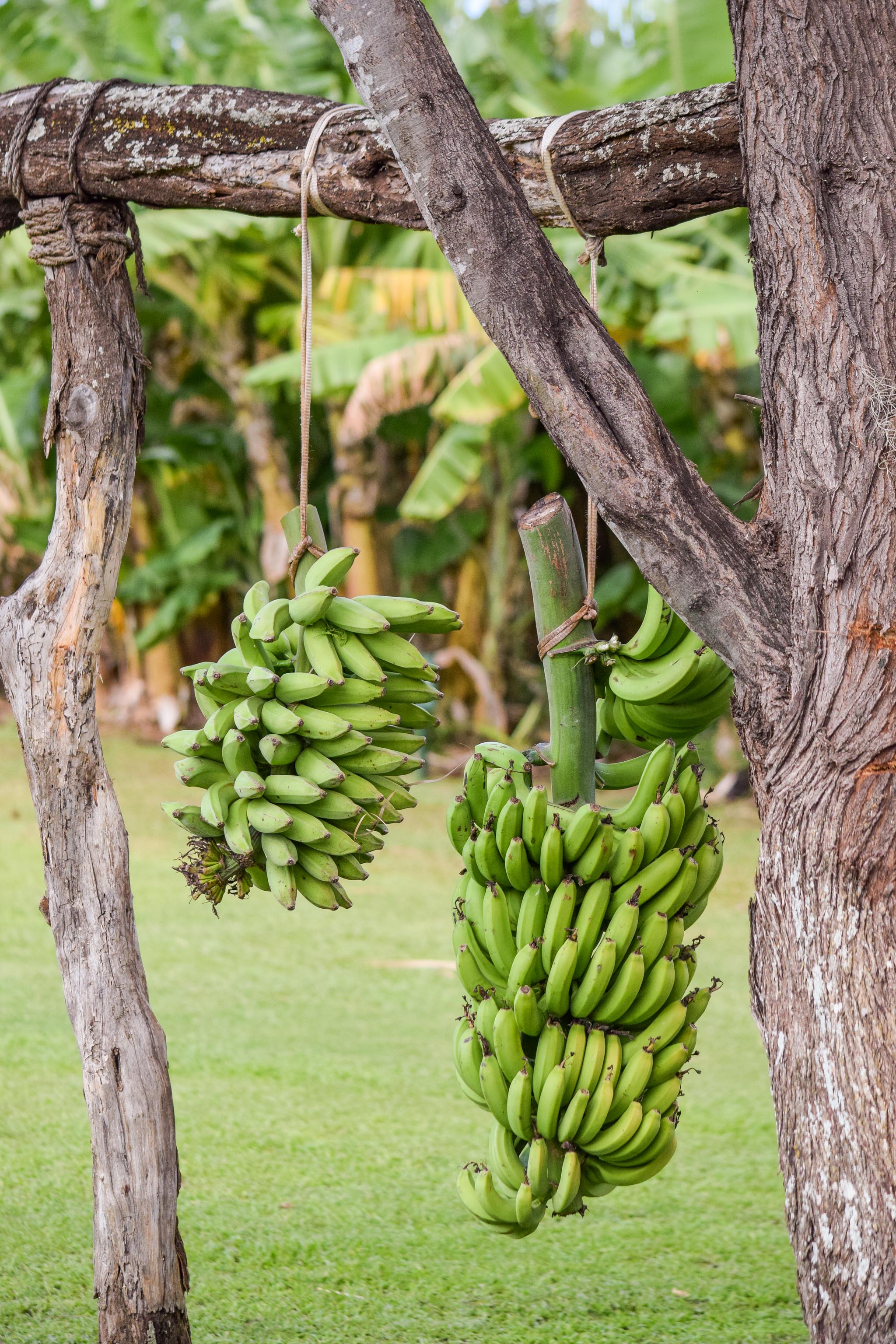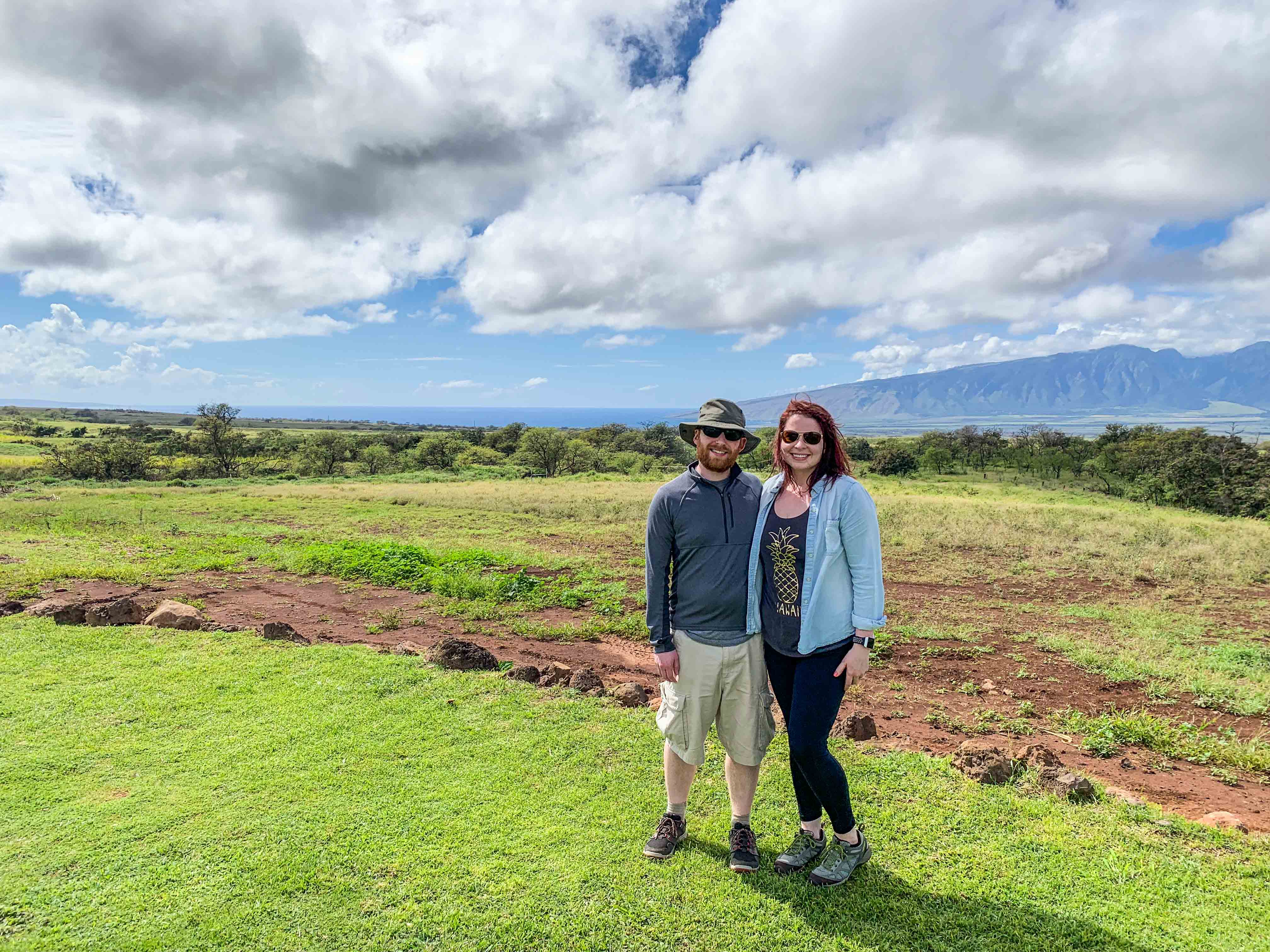 Mama's Fish House
This restaurant on the north shore of Maui came highly recommended, and we just had to go! After a long day of touring around upcountry Maui, we made it to Mama's Fish House around 4:30pm. When we were back in Seattle, I had tried to make a reservation for literally any time between 4pm and 9pm on this certain Wednesday evening (so, more than a week before), but had found nothing. So we took our chances with the bar.
Good fortune got us seated for dinner in the bar immediately, where we celebrated Sean's 30th birthday with the freshest and most exquisite seafood on the planet. It was definitely the most expensive meal we ate during our trip, but completely worth it.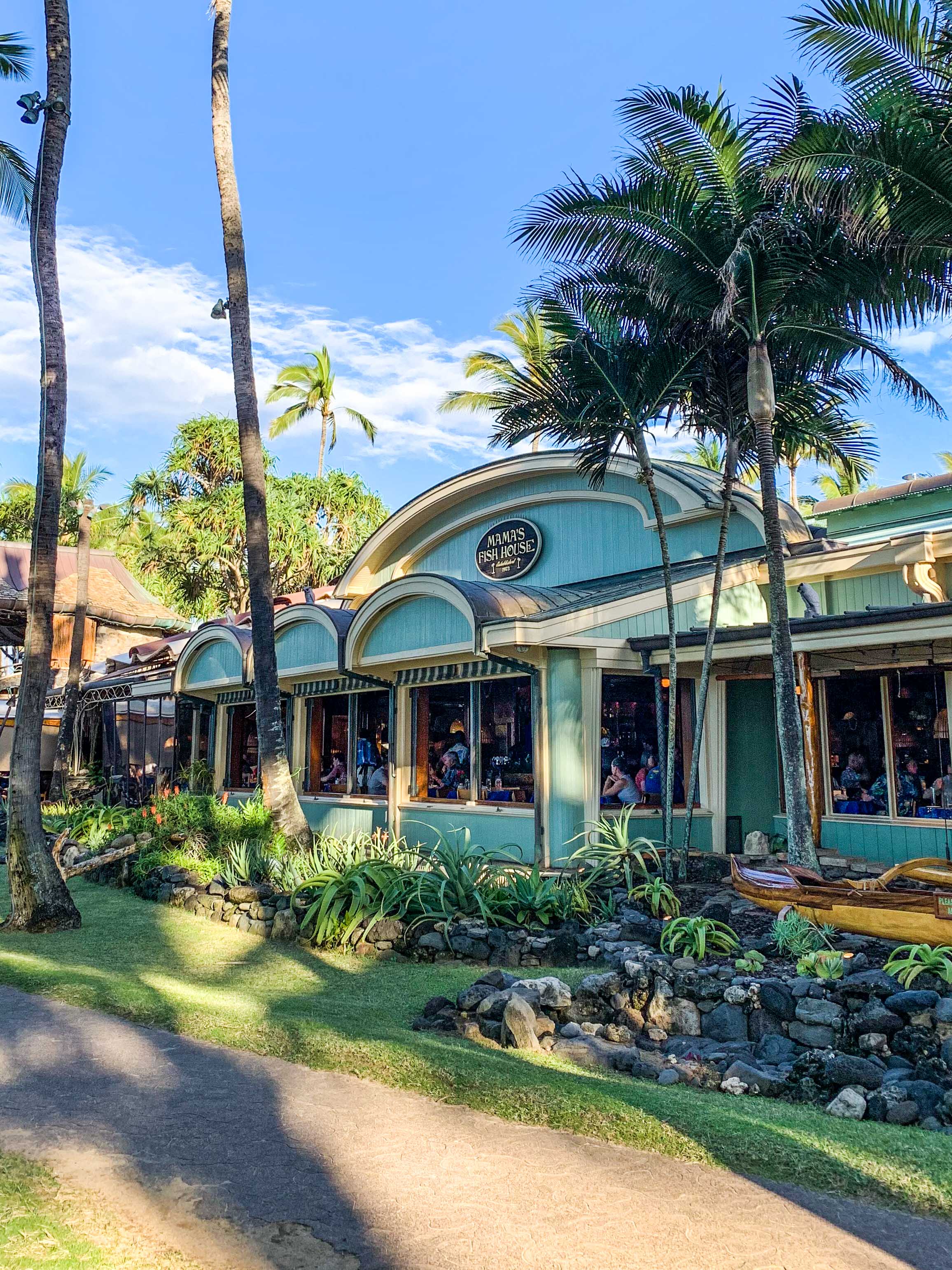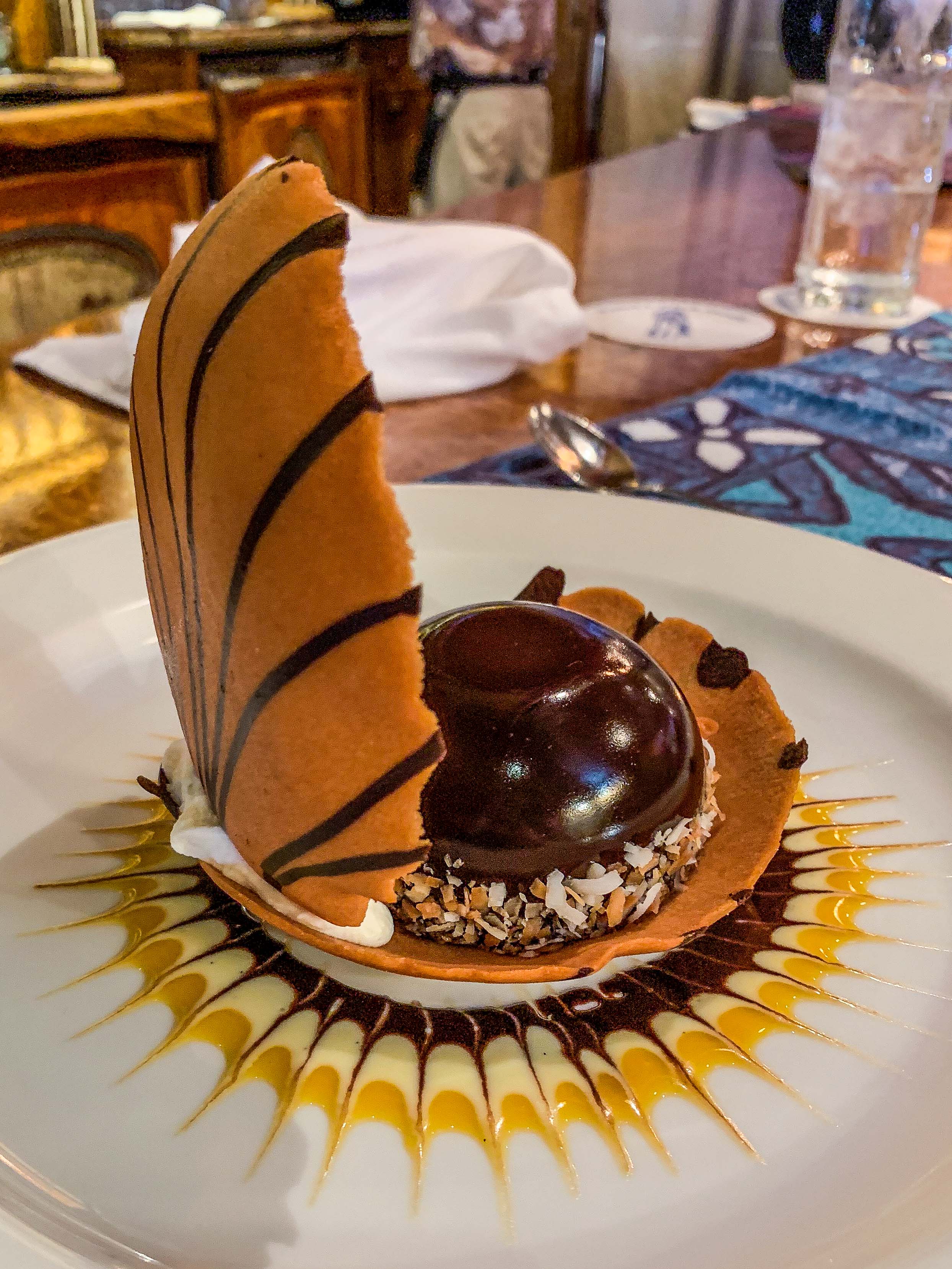 Ho'Okipa State Park
A friend had told us to go check this beach out and look for the turtles at sunset. Since it's a two minute drive from Mama's Fish House, the timing worked out perfectly. We watched surfers and enjoyed the beach for a few minutes, while we eagerly awaited sunset so we could see the turtles.
Don't worry, we only waited 10 or 15 minutes after sunset until we realized all the turtles were down at the end of the beach where they had obviously been for quite a while. They actually looked like huge wet rocks!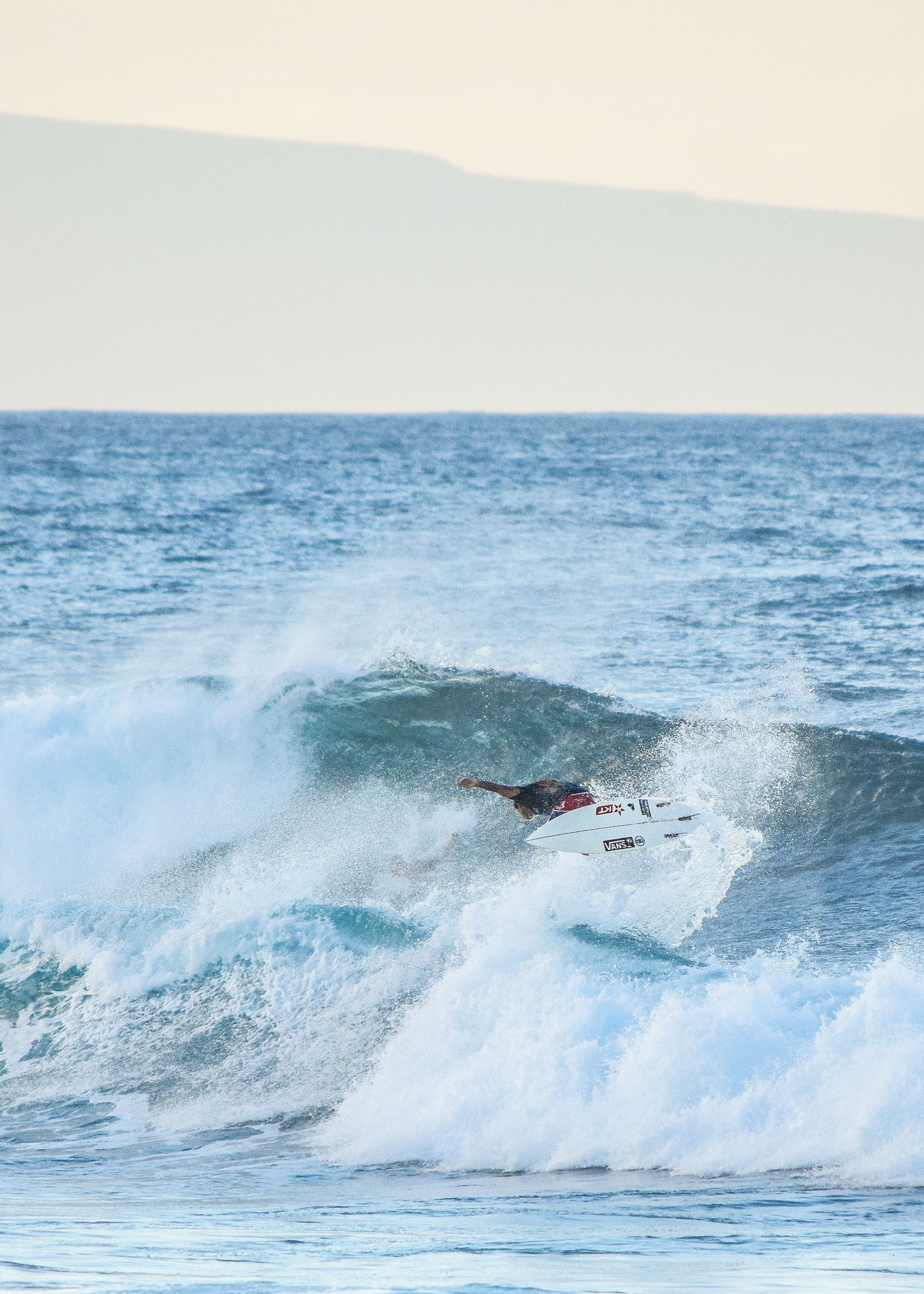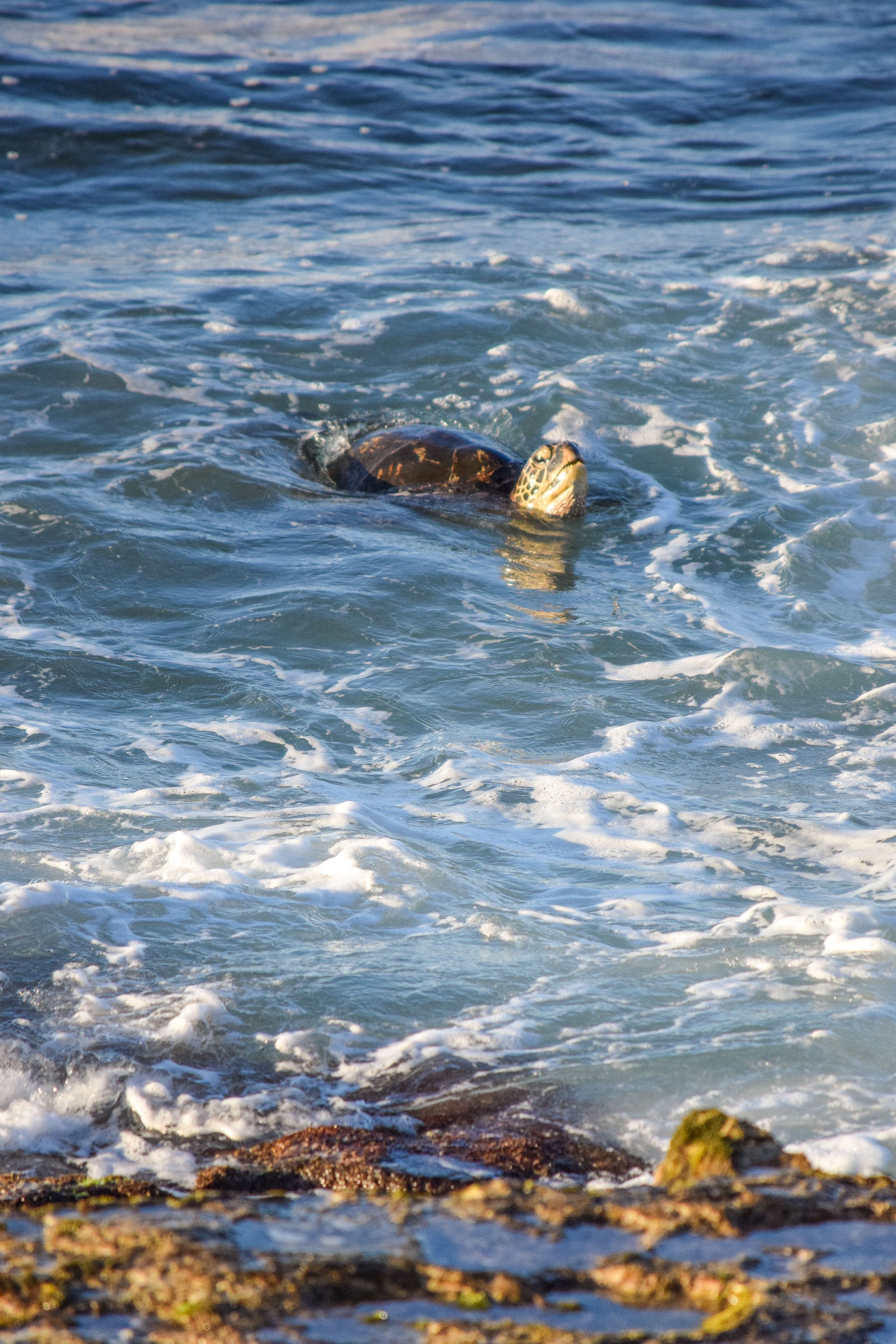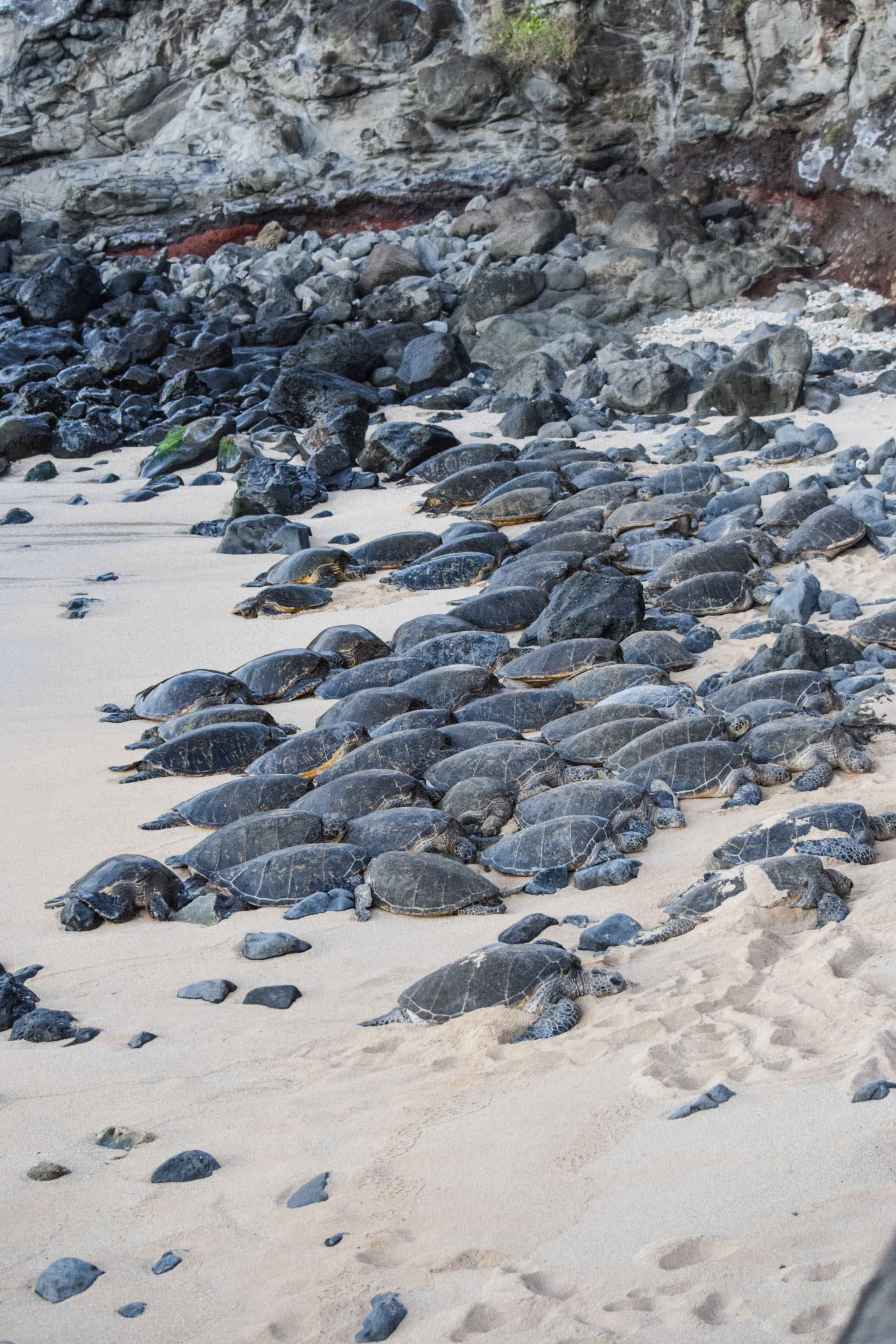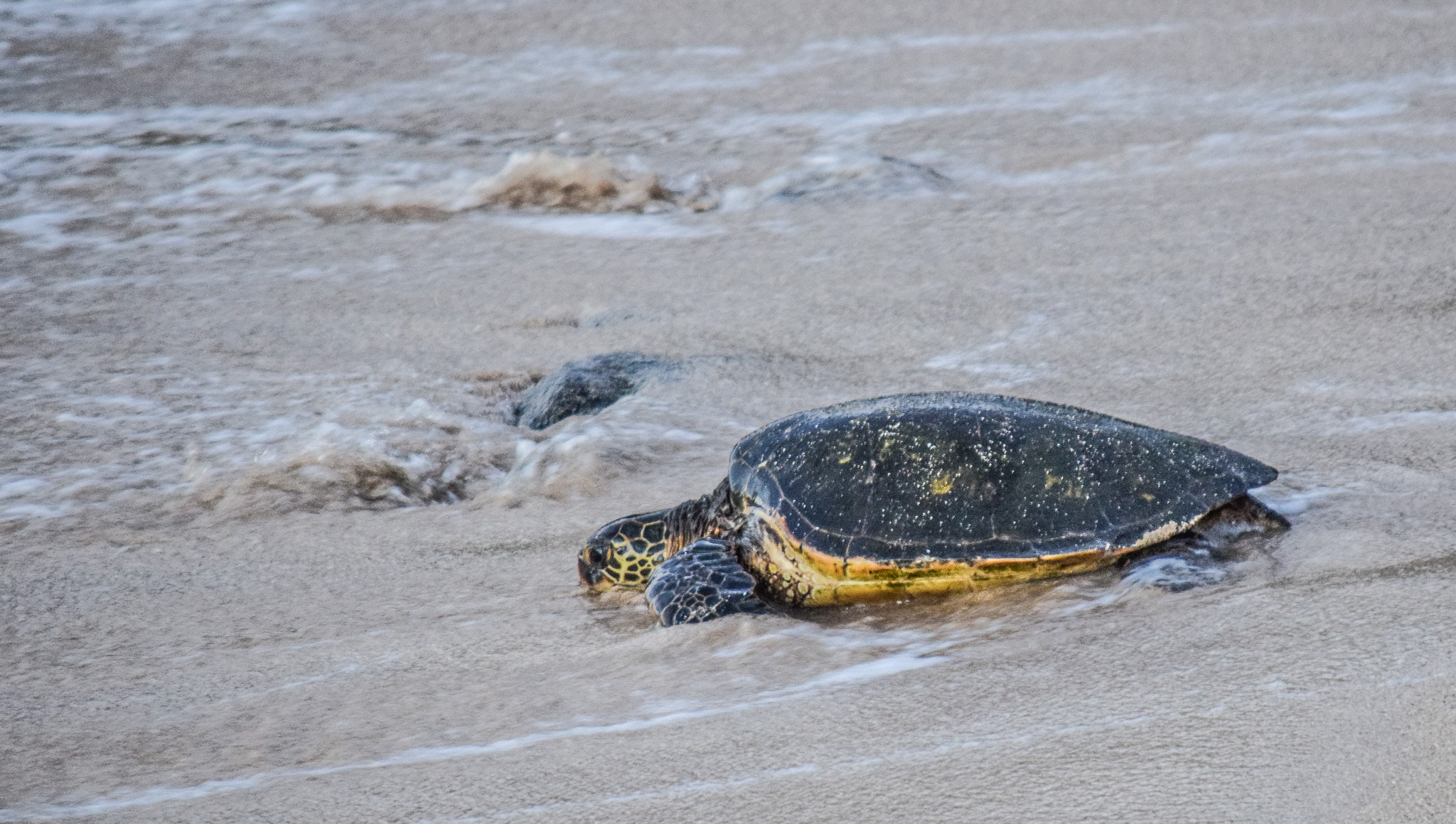 Whale Watching off Ka'anapali Beach
After two nights in our AirBnb, we left upcountry Maui and headed for the resort in Kapalua. We were unexpectedly allowed to check-in at 10 AM, I repeat 10 AM, which led to what felt like a whole extra day of time to spend doing activities! Soon after a quick chat with concierge Michelle, we were booked for some Whale Watching at 2pm! But first, the biggest macaron I've ever seen.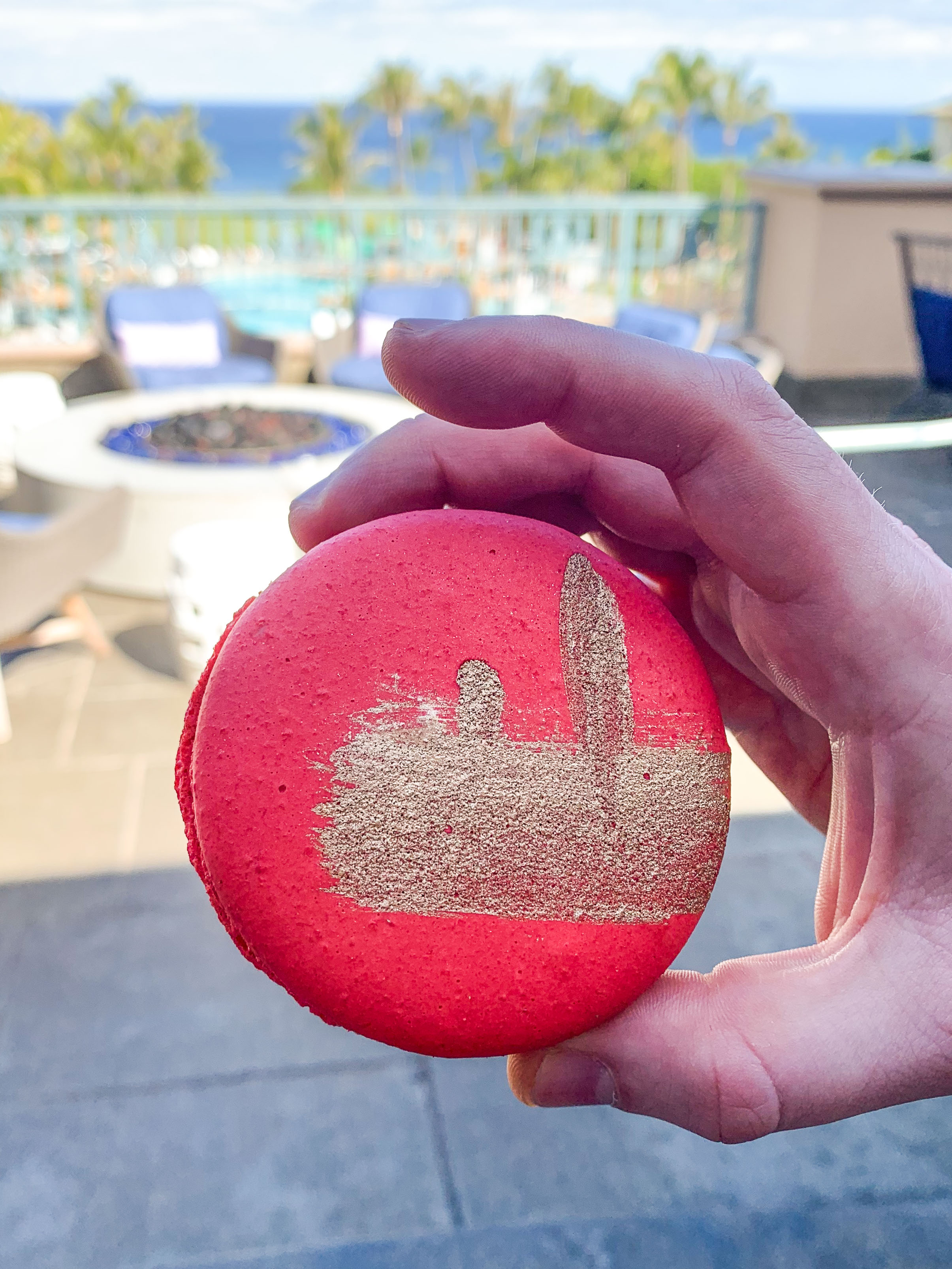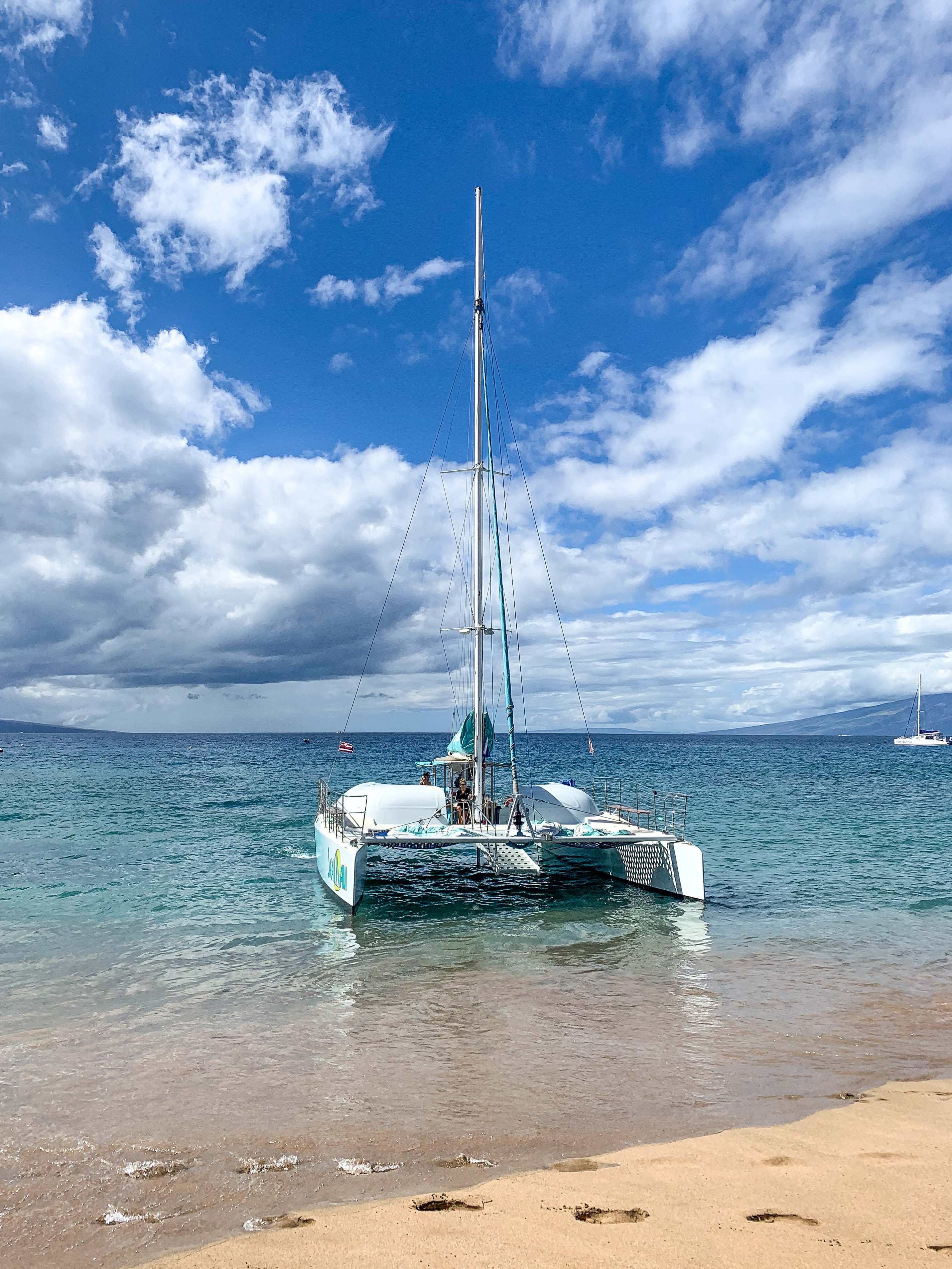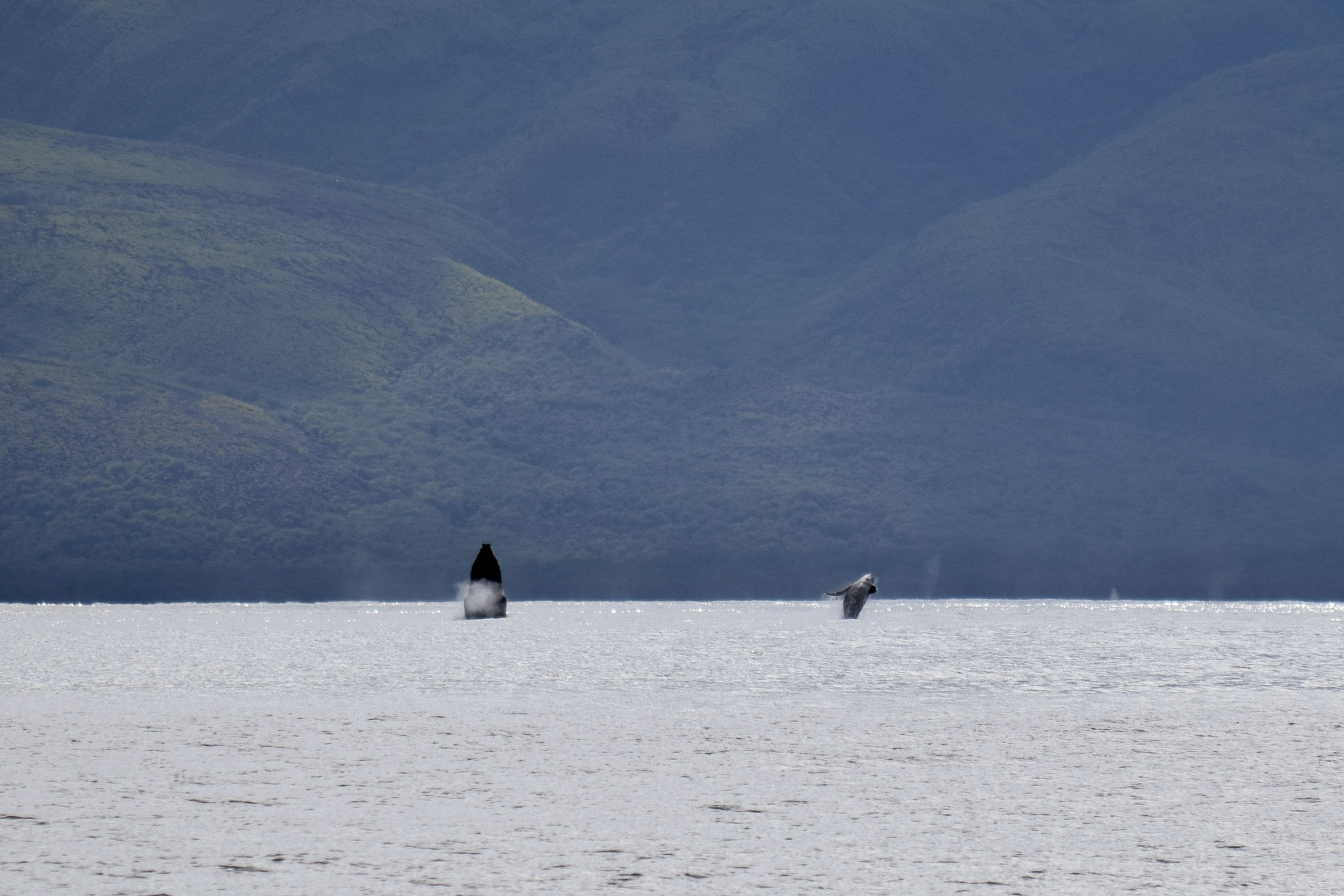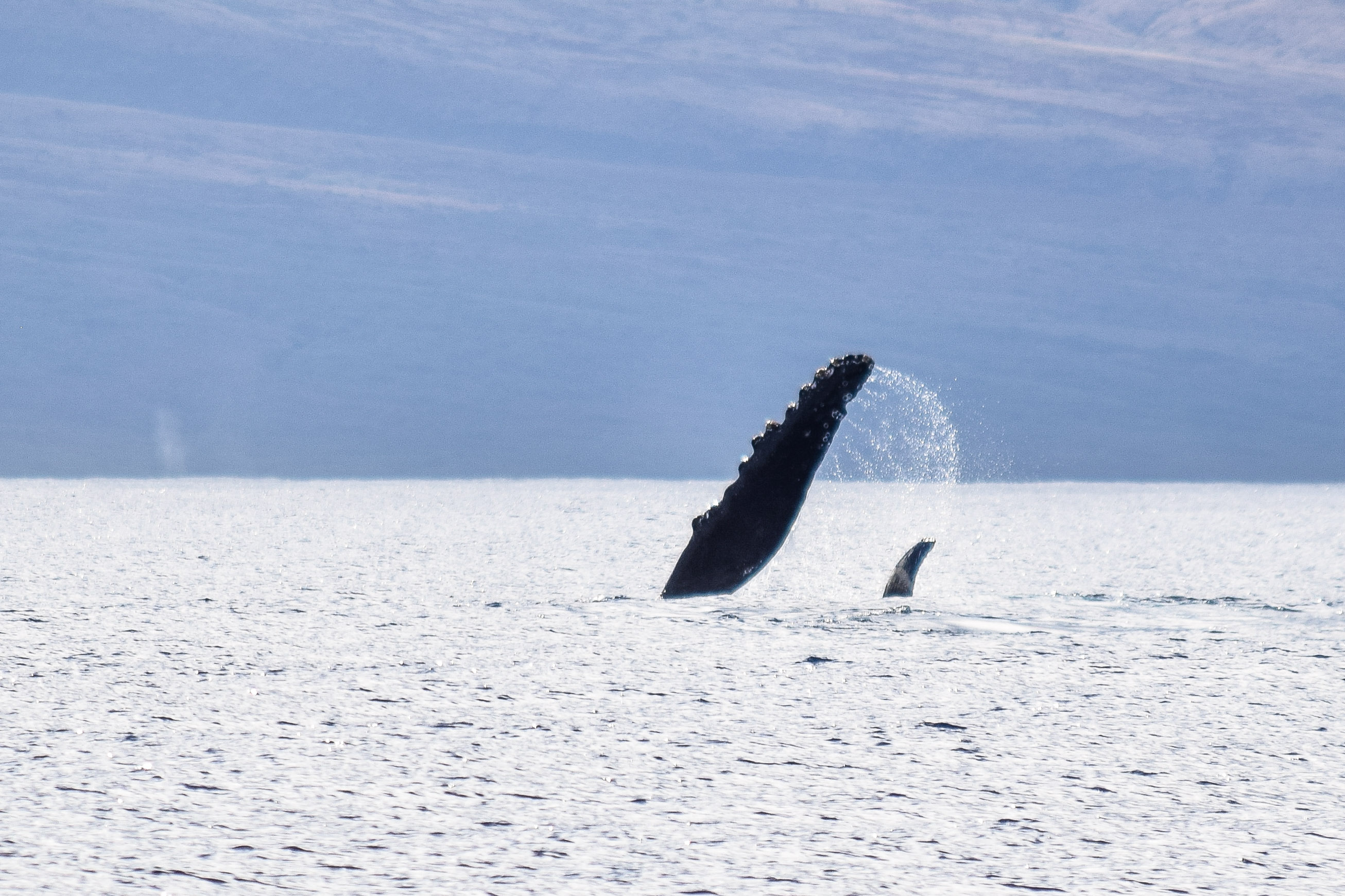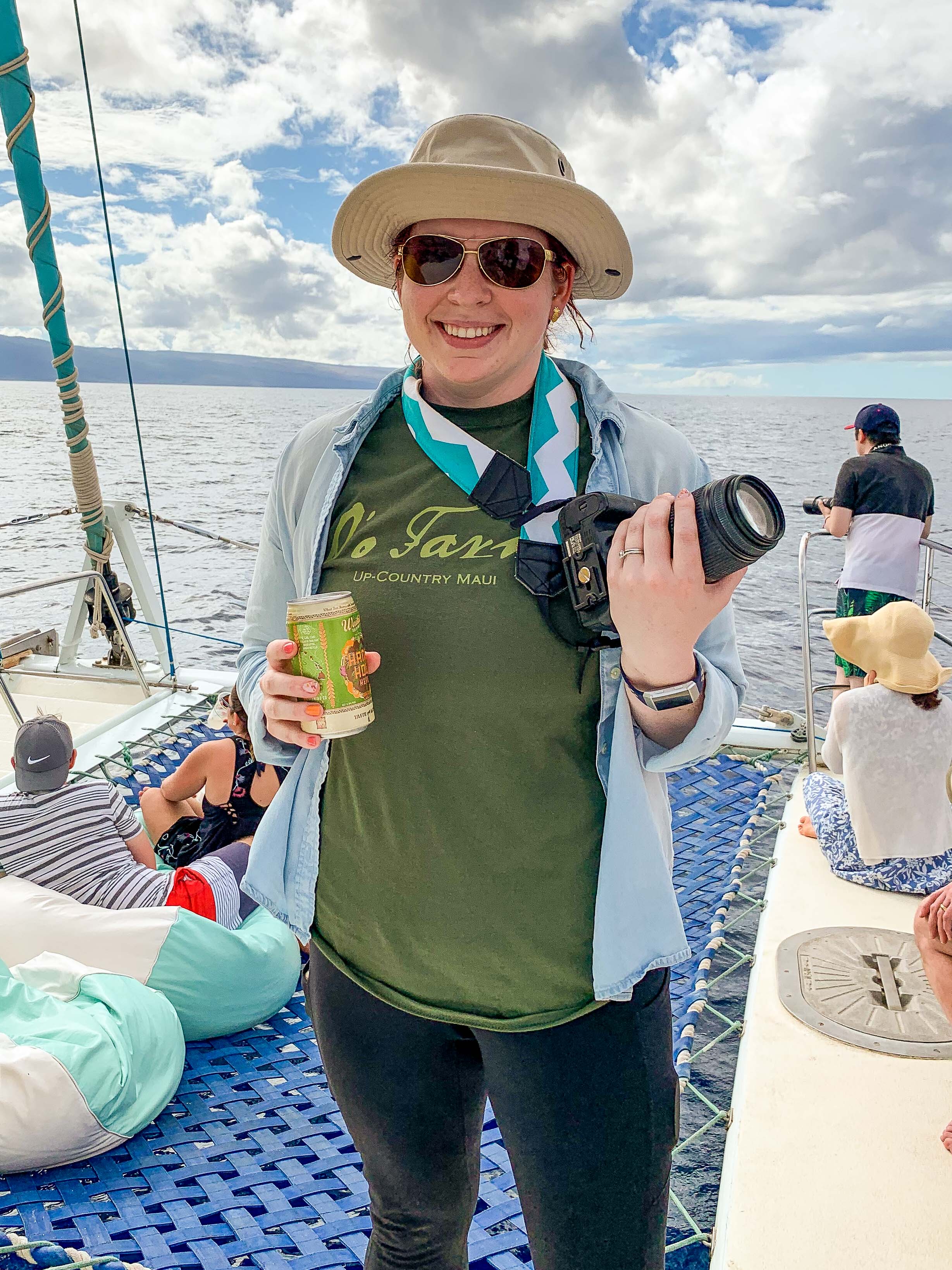 Lounging and Food
We spent the last couple days of our trip lounging around the resort, swimming in the pool, and eating seriously delicious food. There ended up being some high tide/destructive surf warnings, and we were advised that scuba diving would either be unavailable, or sort of unsafe if I could get my hands on gear at all.
We ate a thing called a Seafood Tower, which was just as impressive as it sounds. I don't even like oysters, and they were the best oysters ever. The lobster tail and crab legs were already pulled out of the shells. There was poke, salmon and tuna. Grilled prawns and the best sauces to go with. Best part? Go between 5-6pm and it's half off. NOT KIDDING.
On Friday, we walked the Kapalua Coastal Trail to the super classy Merriman's, which was a place recommended to me by a few friends and lots of people on the internet. We got there right on time for happy hour. We ate the best sliders I've ever had in my whole life!! made with grass-fed beef from Kauai. The guy next to us said he would stop coming if they stopped serving the sliders, and I totally agree with him. Plus, mai tais with passion fruit foam, $6 during happy hour. Which is actually the best drink deal in all of Hawaii!
And finally, the Gazebo, also recommend by friends and family. We got the fried rice (we we ate for three more meals after breakfast) and the macadamia nut pancakes. Both were amazing!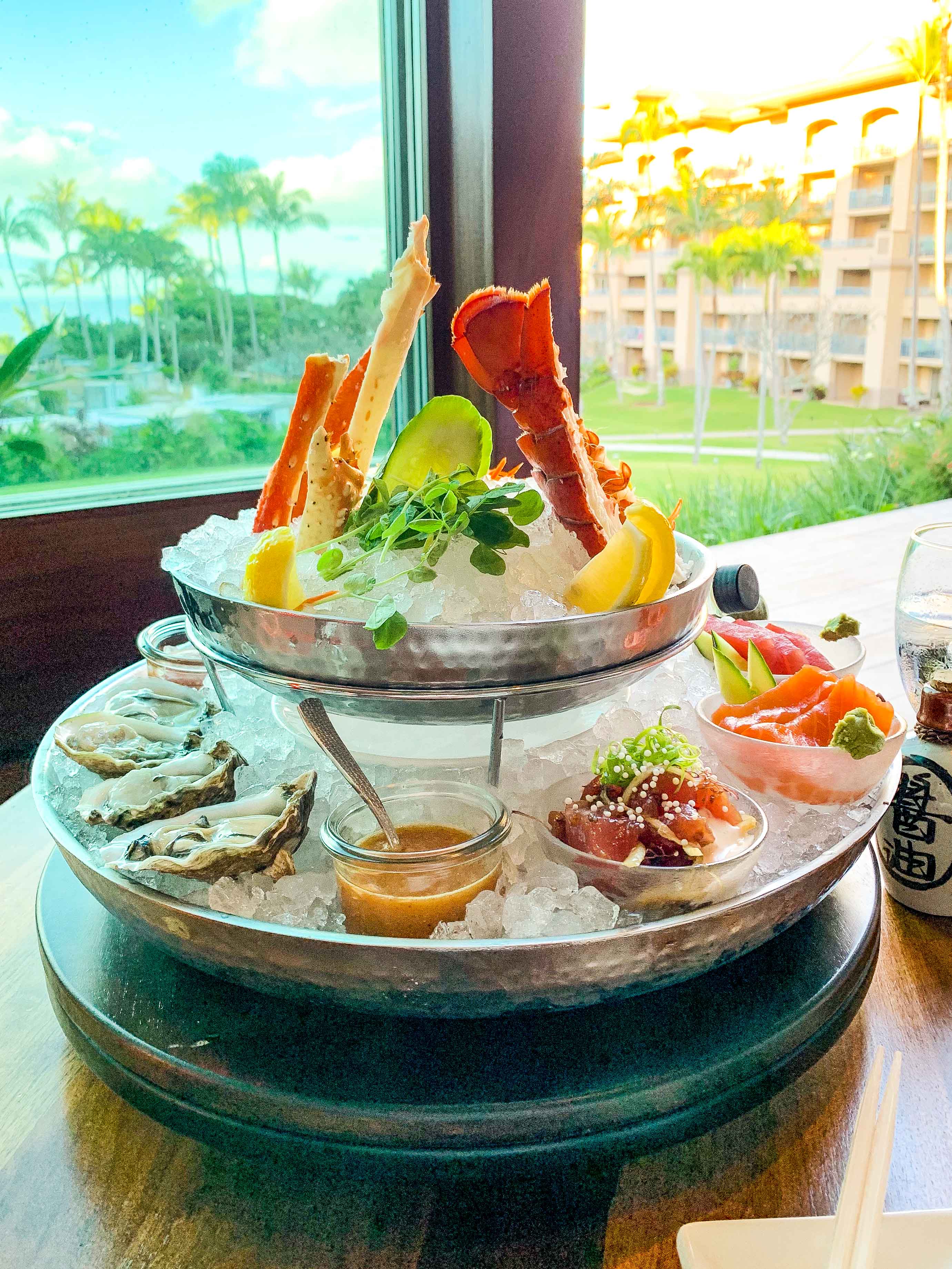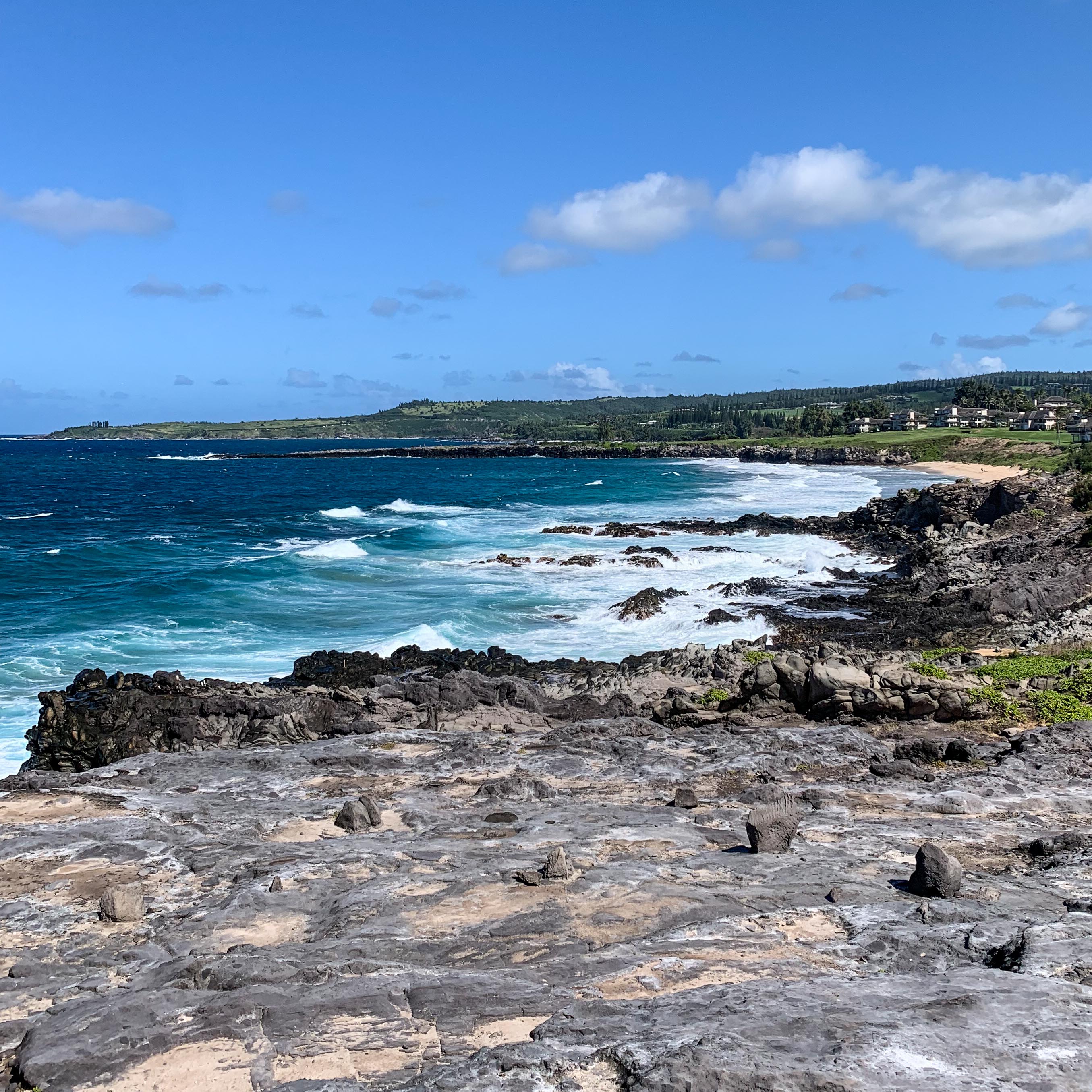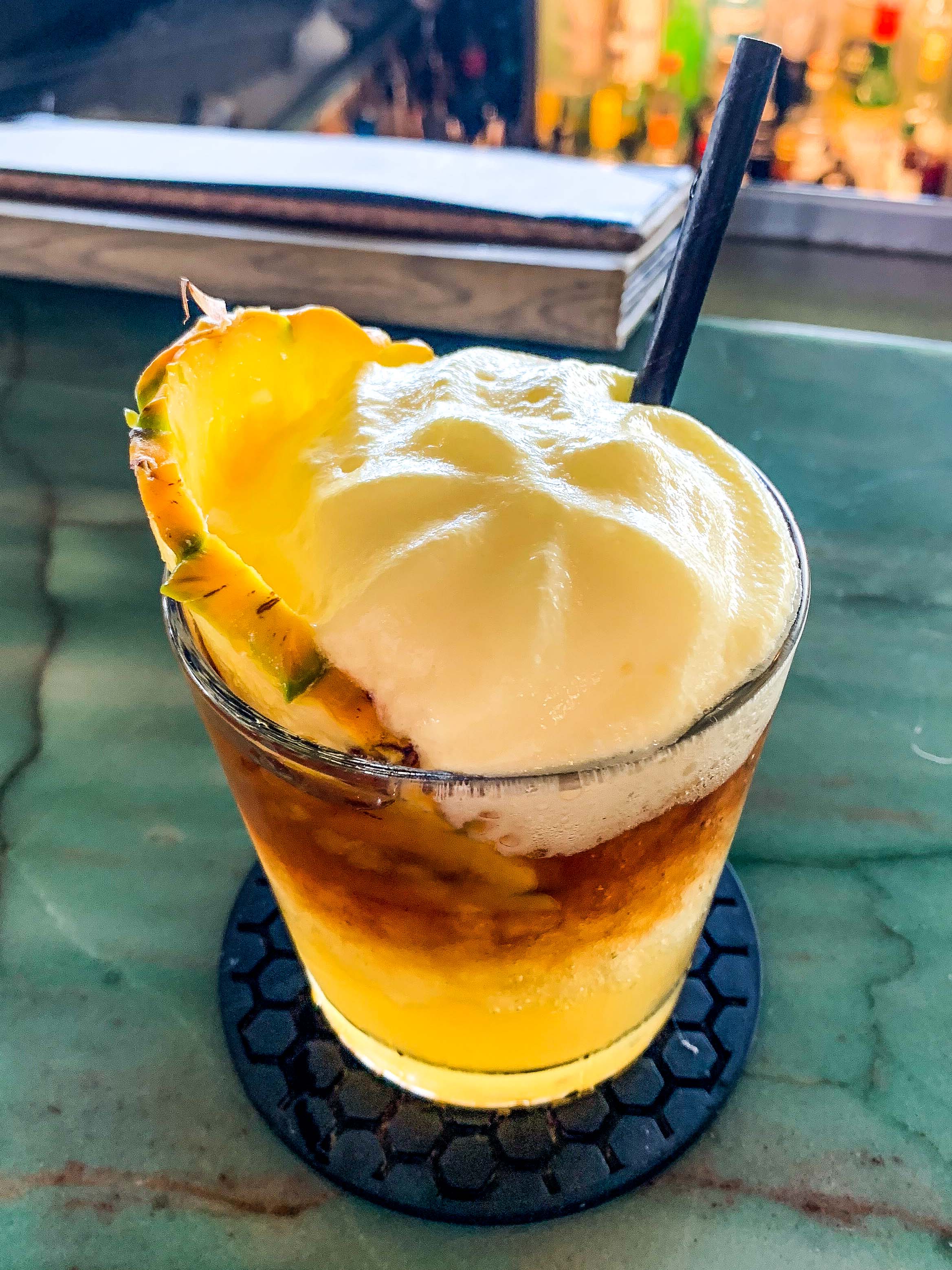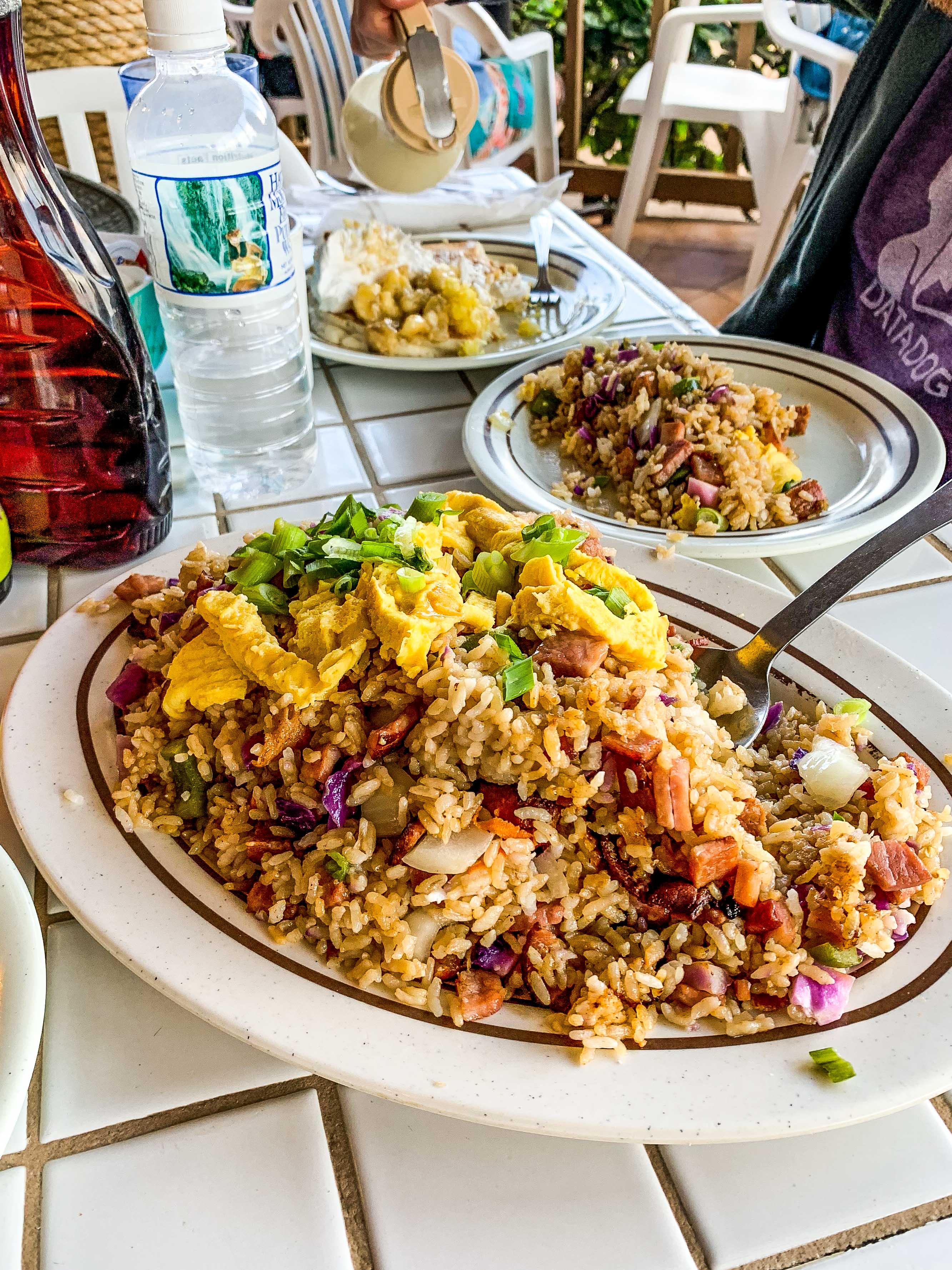 Day 10 was a long day of hotel checking out, driving 90 minutes up to the airport, getting lunch and gas at Costco during the most intense rainstorm of the trip, and sitting at the airport with a lot of anticipation about the foot of snow waiting for us at home. Our flight landed around 11:30pm, we somehow made it 98% of the way home in a Lyft Prius, and then walked the remaining snowy 2.5 blocks to our house, four luggage bags and two backpacks in tow.
So many memories I will never forget! Hawaii, you were amazing. Words can't explain. I must go back!