If you have an air fryer and you need some chicken dinner ideas, this list is for you! If you don't have an air fryer yet, well maybe I'll finally convince you. There are lots of creative ways to cook chicken in your air fryer! Here are 10 Must Try Air Fryer Chicken Recipes you should make for dinner this week!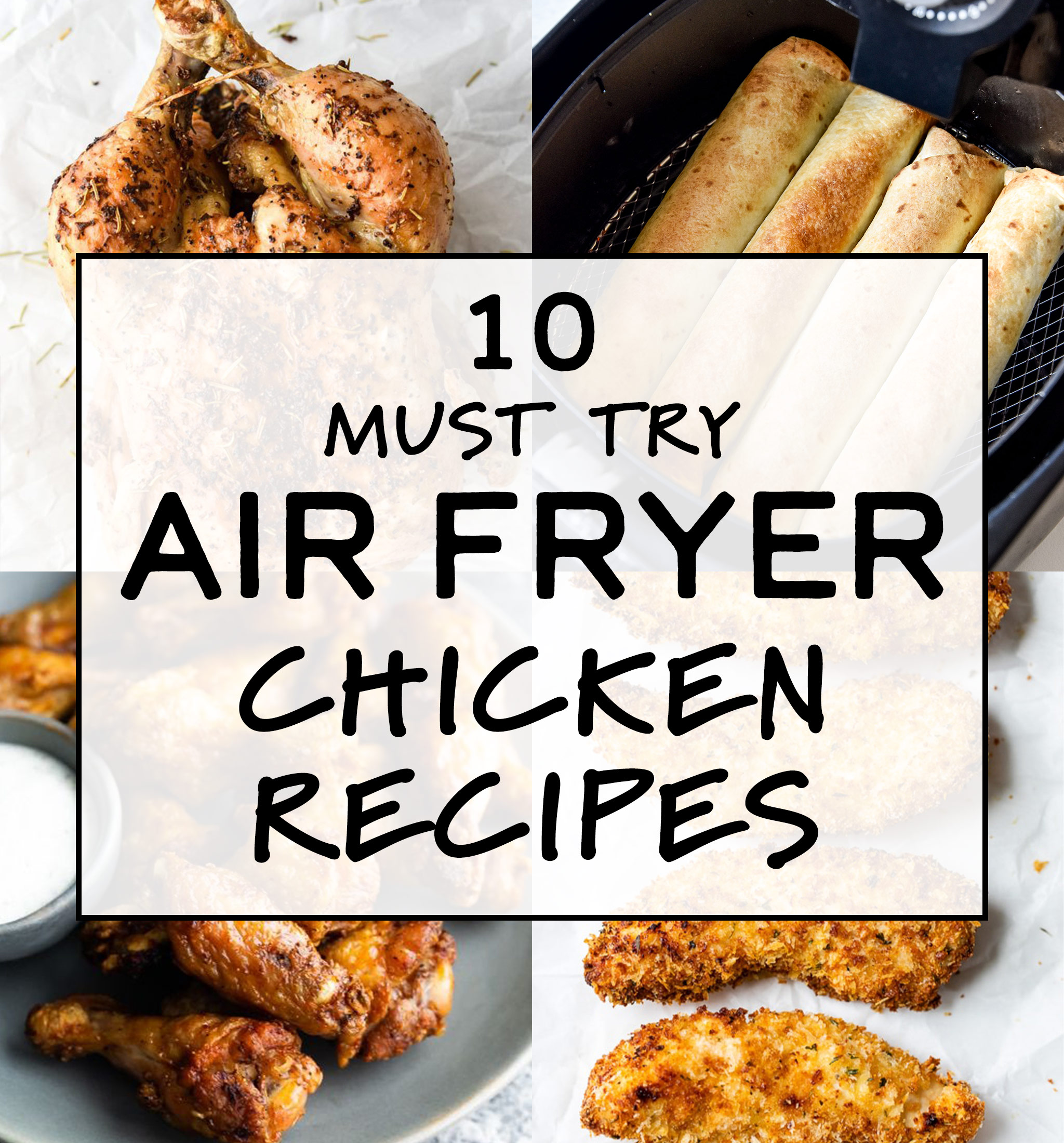 A couple years later and here I am still in love with my air fryer. I'm trying new things in there all the time, and continuing to be amazed by its powers. Here are the First 15 Recipes I Made With My Air Fryer!
Air fryers are becoming even more popular in 2020 I'm noticing, and it's easy to see why! Most of us are eating at home a lot more often, but we're still craving restaurant foods.
The air fryer is one of the BEST appliances at recreating crispy restaurant style foods while reducing oil and calories at the same time. Win win!
What air fryer do you recommend?
If you've read any of my previous air fryer recipe posts, you may know that I had a Philips 2.75 qt Viva Air Fryer (affiliate link!). Two years later, I decided to upgrade to a bigger and better version.
Now I'm fully in love with this Cosori XL 5.8 qt Air Fryer (affiliate link!). More space = more air frying power = more amazing air fried food!
I'm more into the non-stick coated basket than the wire basket in the Philips air fryer. I've linked both above so you can compare for yourself!
What are the best air fryer accessories?
Here are the accessories and ingredients I'm almost always using when I use my air fryer:
Chosen Foods Avocado Oil Spray (affiliate link!) – I use this oil spray for 90% of the cooking I do in the air fryer. I get them in bulk from Costco at a very reasonable price! Avocado oil has a high smoke point which is good for air frying. Plus the spray function helps distribute a little bit of oil very rapidly!
OXO 9-Inch Silicone Head Tongs (affiliate link!) – A solid pair of tongs is very necessary for air fryer cooking! These are my favorite tongs and I use them for most of my cooking. I especially love the silicone heads so the tongs don't damage my Dutch oven or non-stick pans. Useful for lots of cooking applications!
Both of these accessories will be helpful for cooking any of these delicious looking air fryer chicken recipes! Let's get to the list!
10 Must Try Air Fryer Chicken Recipes
What are your favorite air fryer chicken recipes? Have you tried any of the ones listed above? Let me know in the comments below! As always, I love to see your food creations. Tag me on Instagram or use #projectmealplan to share!