Here's how to create a Perfect Trader Joe's Winter Cheese Board! From easy prep ahead ideas to festive garnish, I've got you covered on inspiration! Plus a video of how I put mine together!
Jump to Recipe · Jump to Video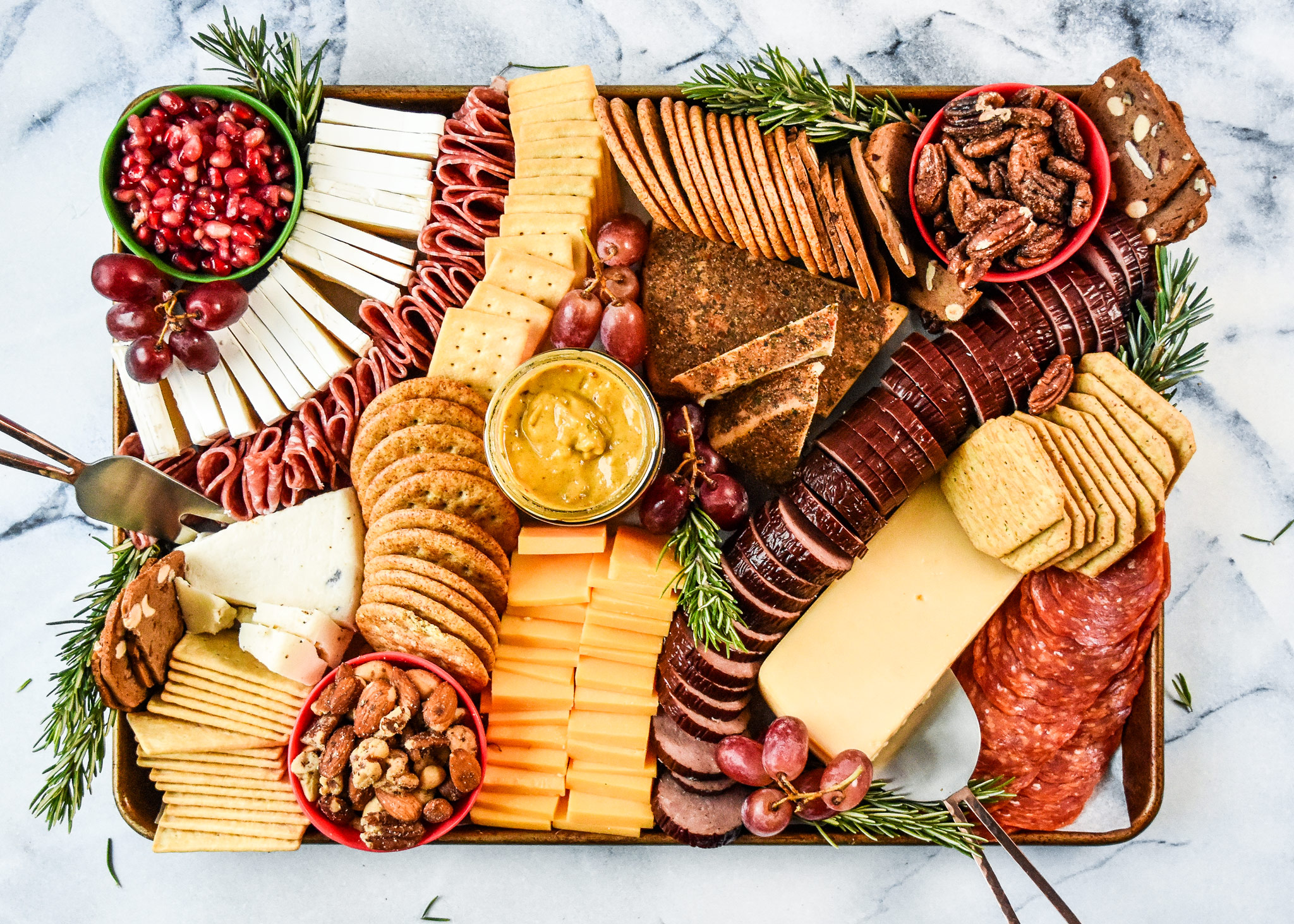 Cheese boards or charcuterie boards or snack platters or whatever you want to call them are THE BEST way to feed lots of people and not have to worry about cooking a thing before or during your party.
In this post, I talk about how you can make your own PERFECT Winter Cheese board without having to freak out about it. They're so much easier than they look!
Plus, everything that goes on your winter board can be purchased at Trader Joe's. For this Winter Cheese Board, I bought the salami, pepperoni, turkey summer sausage, most of the cheeses, all the crackers, the pomegranate seeds, the grapes, and the garnish at Trader Joe's. The things I did not buy at Trader Joe's could have easily been purchased there too.
This holiday themey cheese board is appropriate for all eating events in the late Fall or Winter, including but not limited to:
Christmas/holiday parties
Thanksgiving or Friendsgiving
Winter time birthday parties
New Year's Eve Parties
game nights
How do you pick cheeses for the Winter Cheese Board?
I personally think there is no wrong when it comes to cheese (except blue cheese, sorry). Think of my suggestions as a guide, no rules. To give your guests the best cheese board experience, here are my suggestions on selecting cheese:
aim for a variety, but stick to the classics too
keep most of the cheeses familiar with just one or two new ideas mixed in
always include a cheddar – goes with everything and is very familiar
always include a brie – this was the favorite on my board, it was gone first!
always include a non-cow's milk cheese – helps create a range of flavors and textures
if it's your favorite, it's probably someone else's! Use what you like
How much cheese should you buy for your cheese board?
If your cheese board is the main food event, here's a good rule of thumb:
1-2 ounces per person per type of cheese
This helps ensure that everyone gets to try each cheese, and really you can never have too much cheese.
How do you pick meats for the Trader Joe's Winter Cheese Board?
Here are my recommendations for purchasing meats for your Winter Cheese Board at Trader Joe's:
As with the cheeses, I would keep it simple and recognizable.
Purchasing pre-sliced meats saves time and prep.
Stick with up to 3 types of meat to save money and keep focus on the cheese.
Salami is always a good choice – it's very familiar and goes with most things on the board.
Pepperoni is another very recognizable choice for the same reasons.
Turkey summer sausage is a great red-meat alternative and I like the Trader Joe's version a lot!
Cured meats are also available at Trader Joe's, but tend to be more expensive.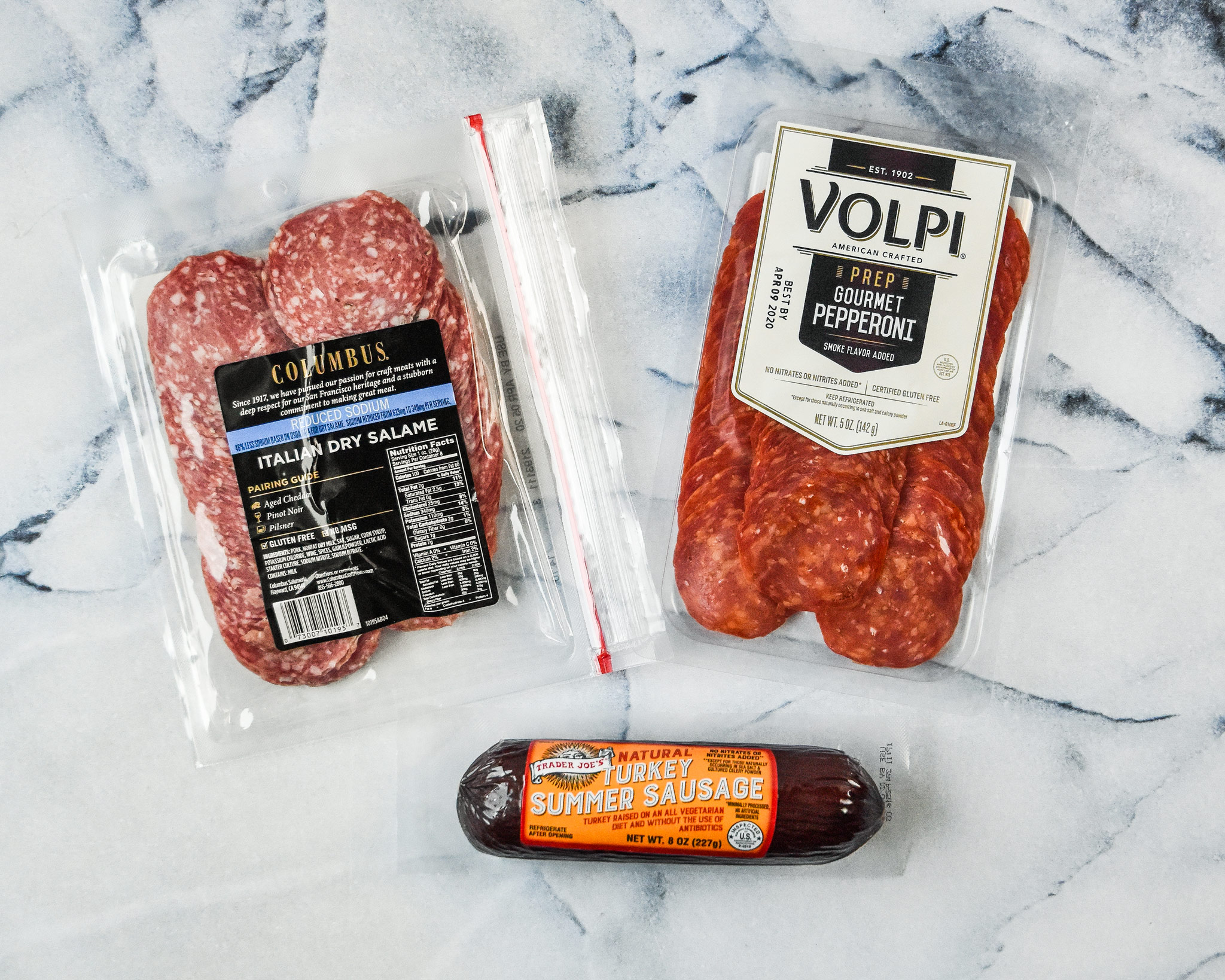 Best crackers from Trader Joe's:
Trader Joe's has the best variety of crackers on a budget. In general for a cheese board, you should select crackers with no added flavors so you can truly appreciate the cheeses and meats you have selected.
Here are a few of the Trader Joe's crackers we like for the Winter Cheese Board:
Social Snackers – flaky, small, with a mild flavor that goes with everything on the board. Cheap!
Cracker Assortment – as the name states, this is a great box of four types of assorted crackers that make it look like you bought way more kinds of crackers than you actually did
What makes the Trader Joe's Winter Cheese Board wintery?
Meats and cheeses are appropriate for any time of year, that's why you have to dress up the rest of the board with some seasonal components. Here's what makes this board a little more on the wintery side than a normal cheese board:
Pomegranate seeds – Pomegranates are in season in late Fall and store well through December. The red seeds are super colorful to add to your cheese plate to offset all the oranges, yellows and browns.
Trader Joe's seasonal crisps – These crisps are delicious, they look like mini fruitcakes, and they bring a festive sweet crunch to the board. For my board, I chose the Banana Date Nut Bread Crisps, but they also have Gingerbread Crisps and Fig & Olive Bread Crisps!
Spiced & Candied Nuts – candied nuts just remind me of fireplaces and eating lots of holiday food!
Rosemary garnish – Garnish can really help set the mood! A simple rosemary garnish on the cheese board works wonders.
Dried fruit – Besides grapes, fresh fruit usually gives me the feeling that we're going for something fresh and summery. Using dried fruit helps give that wintery, preservey vibe.
How to keep your Trader Joe's Winter Cheese Board cheap:
Meats and cheeses and holiday foods can get expensive. Here are some tips on keeping your Winter Cheese Board on the lower end of the price spectrum:
Instead of buying nuts or dried fruit, check your pantry. Do you already have bulk nuts or dried fruit on hand? Sprinkle those on!
Limit your meats to three kinds. You can even just buy the charcuterie variety pack if they have it. Meat can get expensive, especially if you get fancy.
Buy smaller cuts of cheese, instead of huge chunks. This will offset the chance of spending a huge amount of money on a variety of cheese nobody eats.
More crackers. People need crackers for everything else on the board!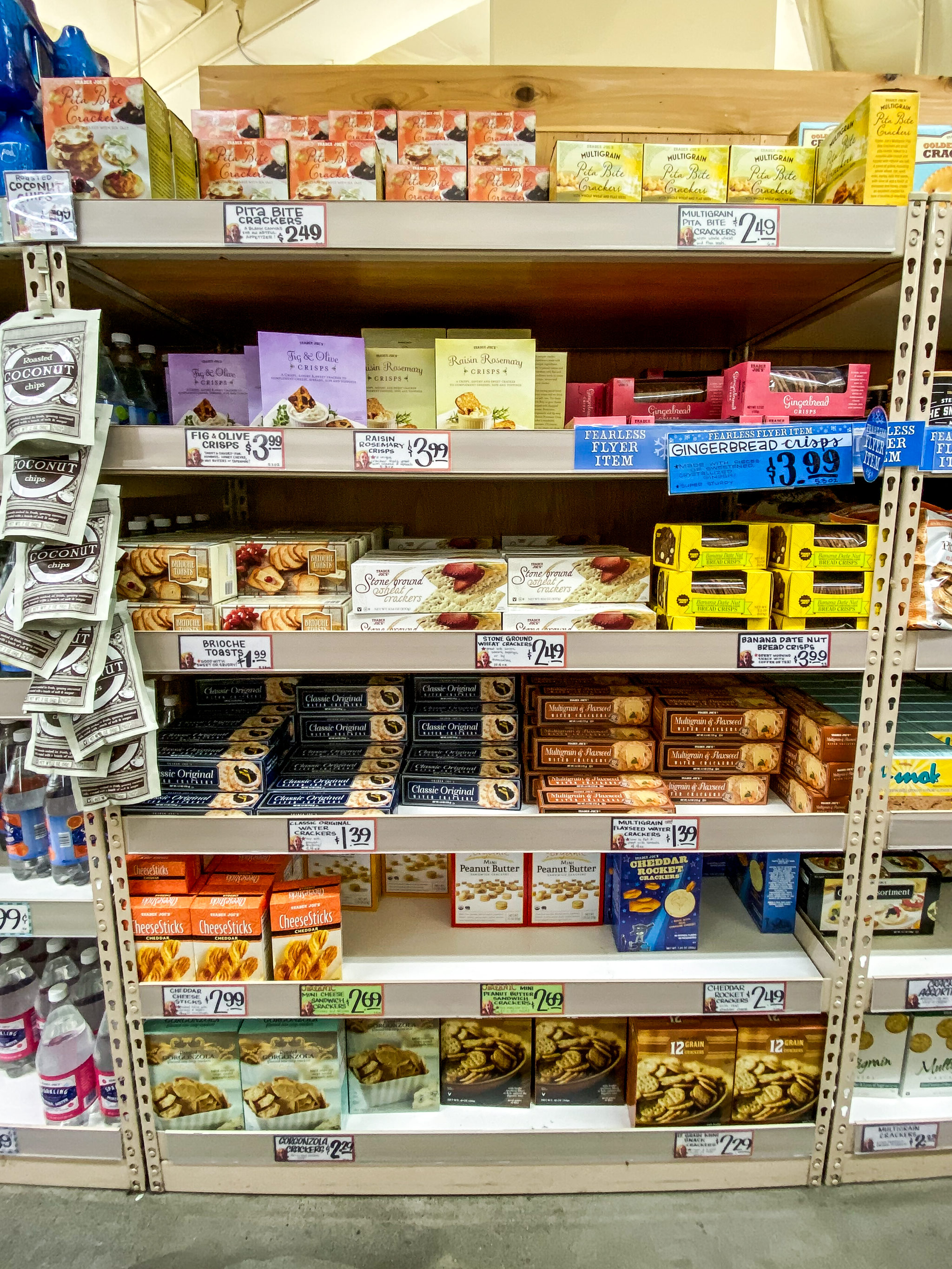 How to personalize your Trader Joe's Winter Cheese Board:
pick your favorite meats and cheeses
arrange your board without looking at anyone else's
add some fancy cut veggies or other produce
change up the mustard for your favorite jam/spread
add some sweets to match the holiday – peppermint chocolate covered pretzels, candied nuts, fudge, yogurt covered raisins, candied bacon, anything that is food and excites you
Special Trader Joe's food ideas:
fig butter
olive tapenade
Antipasto Assortment (if you like olives)
How to prep your Trader Joe's Winter Cheese Board ahead:
You can prep ahead, but you can also make some choices to have less prep required. Pre-sliced meats and cheeses save time and require no prep. Nuts and crackers also require no prep.
Identify what items on your board can be prepped ahead of time and what items don't need any prep until assembling the board.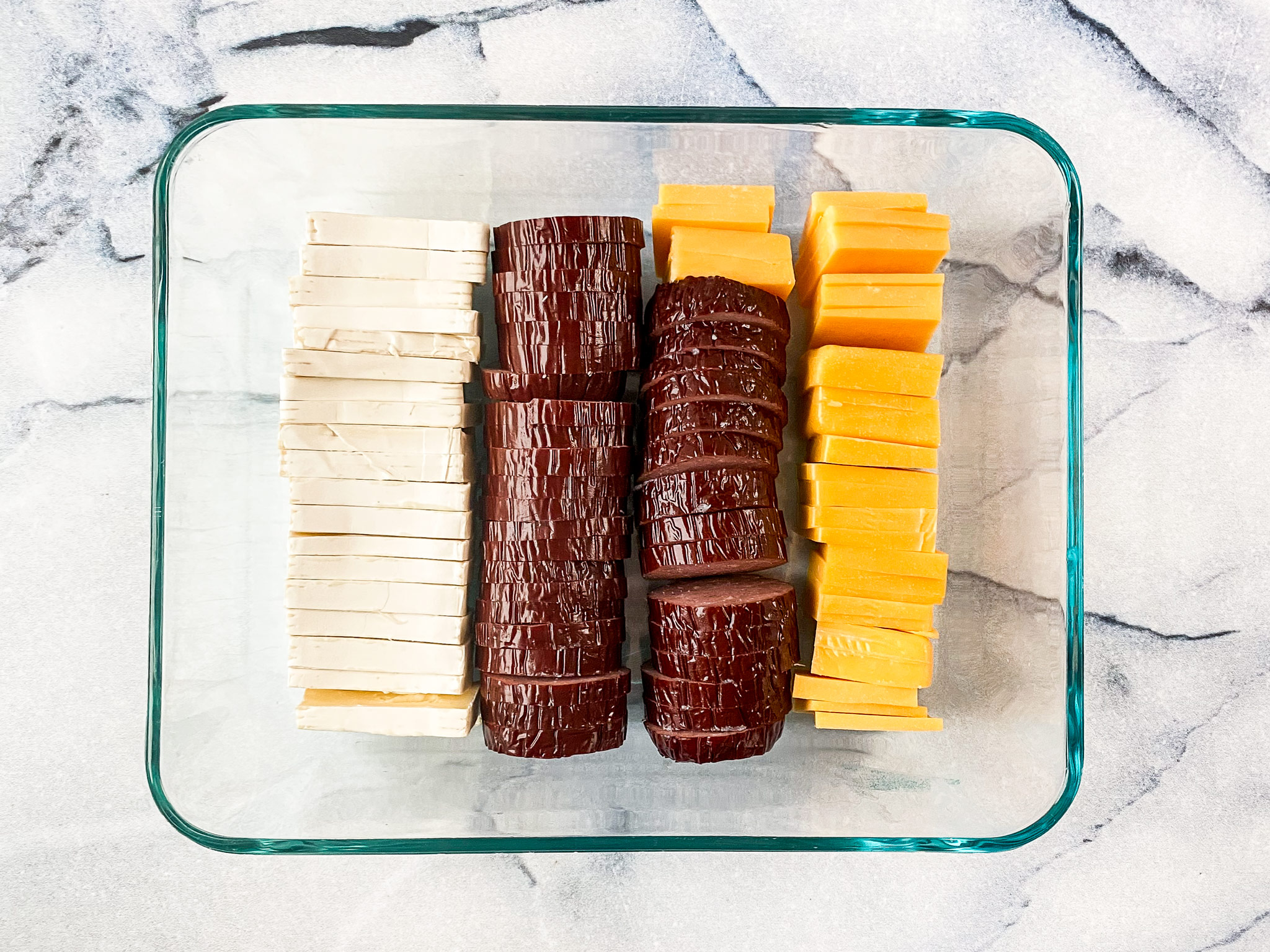 Here are some tips to make it easy to put this board of goodness together on the day you want to serve it:
Prep a day or two ahead:
slice up cheese and crackers and store in an airtight container
wash and slice any veggies or cut grapes into smaller groups
make any homemade snacks, such as parmesan crisps
leave fancier cheeses in whole segments for less prep
Prep up to 4 hours ahead:
prep your cheese board up to 4 hours ahead of serving time, but make sure you can store it in the fridge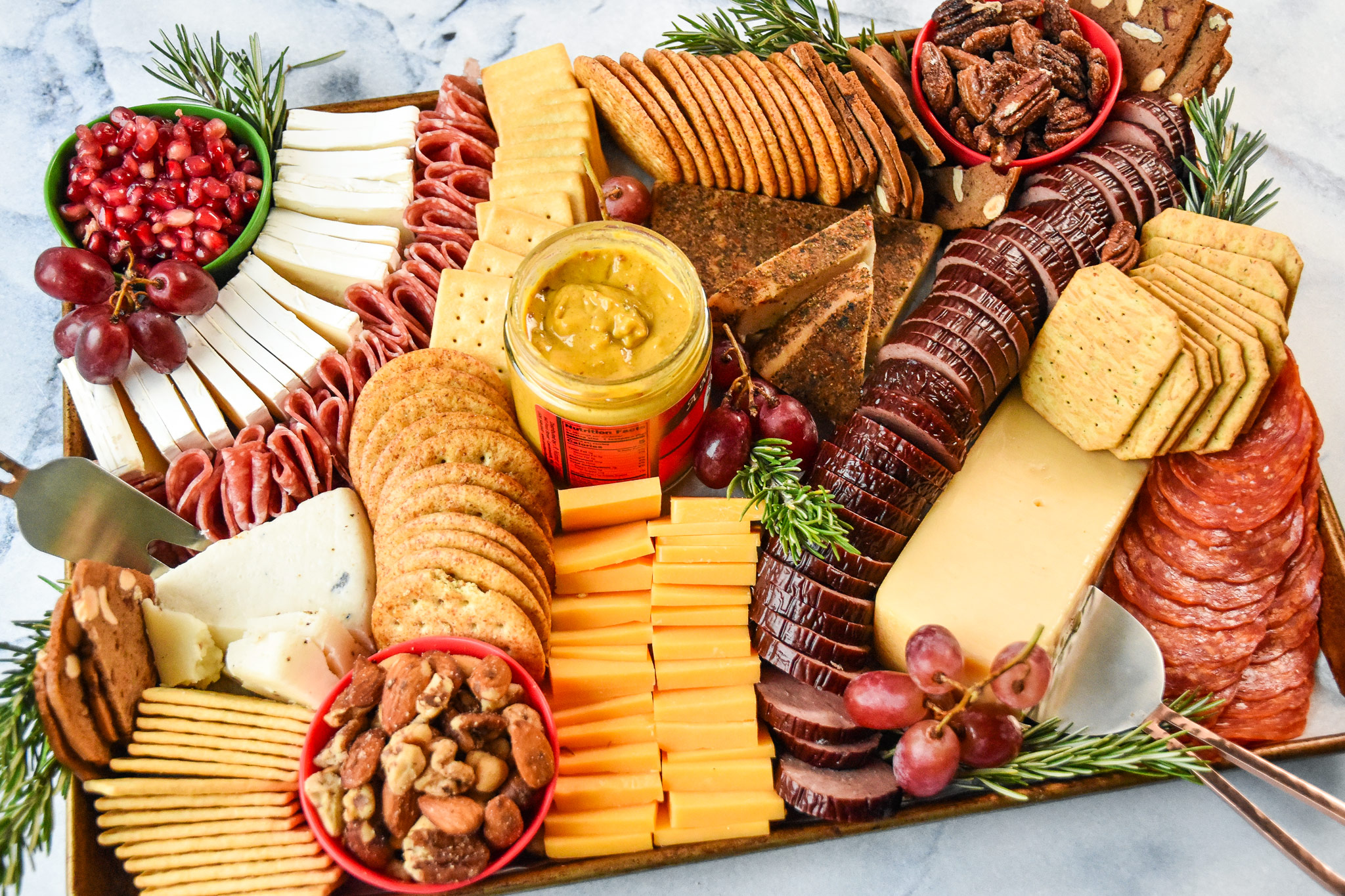 How to assemble the Trader Joe's Winter Cheese Board (1 min 18 secs):
More snack ideas from Project Meal Plan:
Recipe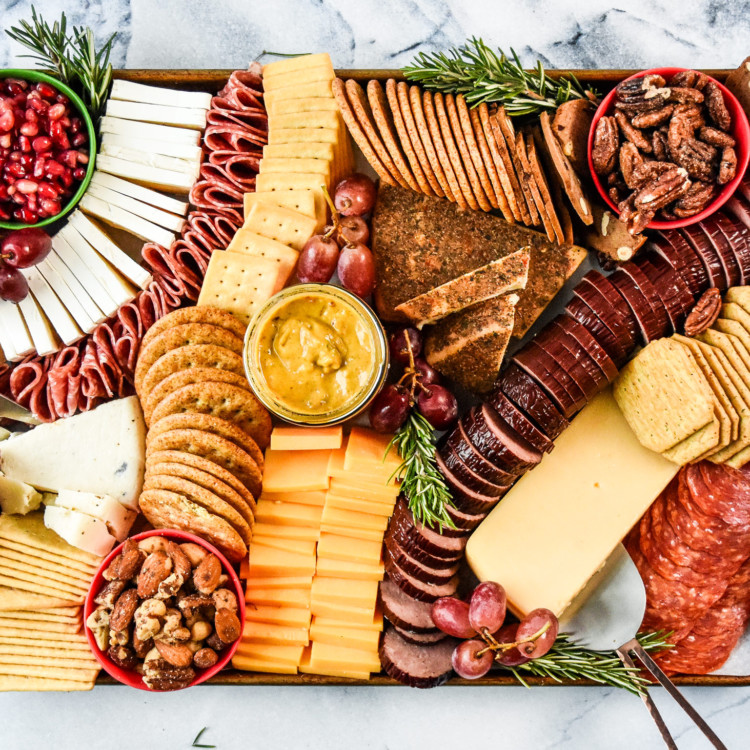 Perfect Trader Joe's Winter Cheese Board
Prep:
20 minutes
Total:
20 minutes
Here's how to create a Perfect Trader Joe's Winter Cheese Board! From easy prep ahead ideas to festive garnish, I've got you covered! Plus a video of how I put mine together! Everything can be purchased at Trader Joe's for a great price!
Ingredients
cheeses: 4-6 kinds, include a cheddar, brie, goat's milk, and other favorites to create a variety; include about 1-2 ounces of cheese per person per cheese
meats: choose 3 kinds; salami, pepperoni and turkey summer sausage are great
crackers: choose two boxes and plan to replenish! crackers go with everything
sweet & salty extras: nuts, candied pecans, dried fruit, pomegranate seeds, festive bread crisps
produce: use small groups of grapes for filling in gaps
garnish: fresh rosemary is especially festive!
Instructions
Begin with a large cheese board or rimmed baking sheet (pictured!). Cover with parchment paper for easy cleanup if you want.
Start with your cheeses – place them around the board, spaced evenly. You can always move them around while arranging the rest of the board.
Add any other larger items like bowls or dips you need to have space accounted for.
Move on to meats, spacing them around like the cheeses. Salami can be made into a salami river, summer sausage should be sliced, and pepperoni can just be left sliced if it is easy to peel apart.
Add tons of crackers in groups of 10-20, spreading them around the board.
Add your sweet and salty extras like nuts, candied pecans, or any other holiday goodies.
Fill in the gaps with small groups of red grapes. They can sit on the cheese just a little!
Finally, spread some festive garnish all around the board, tucking it in under crackers and bowls so it sticks out the side and in the gaps. Perfect!
Equipment
Notes
This "recipe" is meant to be more of a guide and example of how to easily create your own Trader Joe's Winter Cheese Board without going crazy! I have not included any nutritional information as it highly varies by amount consumed.
Recipe Card powered by
Did you make a Trader Joe's Winter Cheese Board?! I'd love to see how it turned out! Tag me or use the hashtag #projectmealplan to show me what you made!!