Looking to brighten up your lunches around St. Patrick's Day or Grinch Day? This Green Food Lunch Box Meal Prep is an easy idea to use naturally green fruits & veggies for a simple cold lunch meal prep that's all shades of green!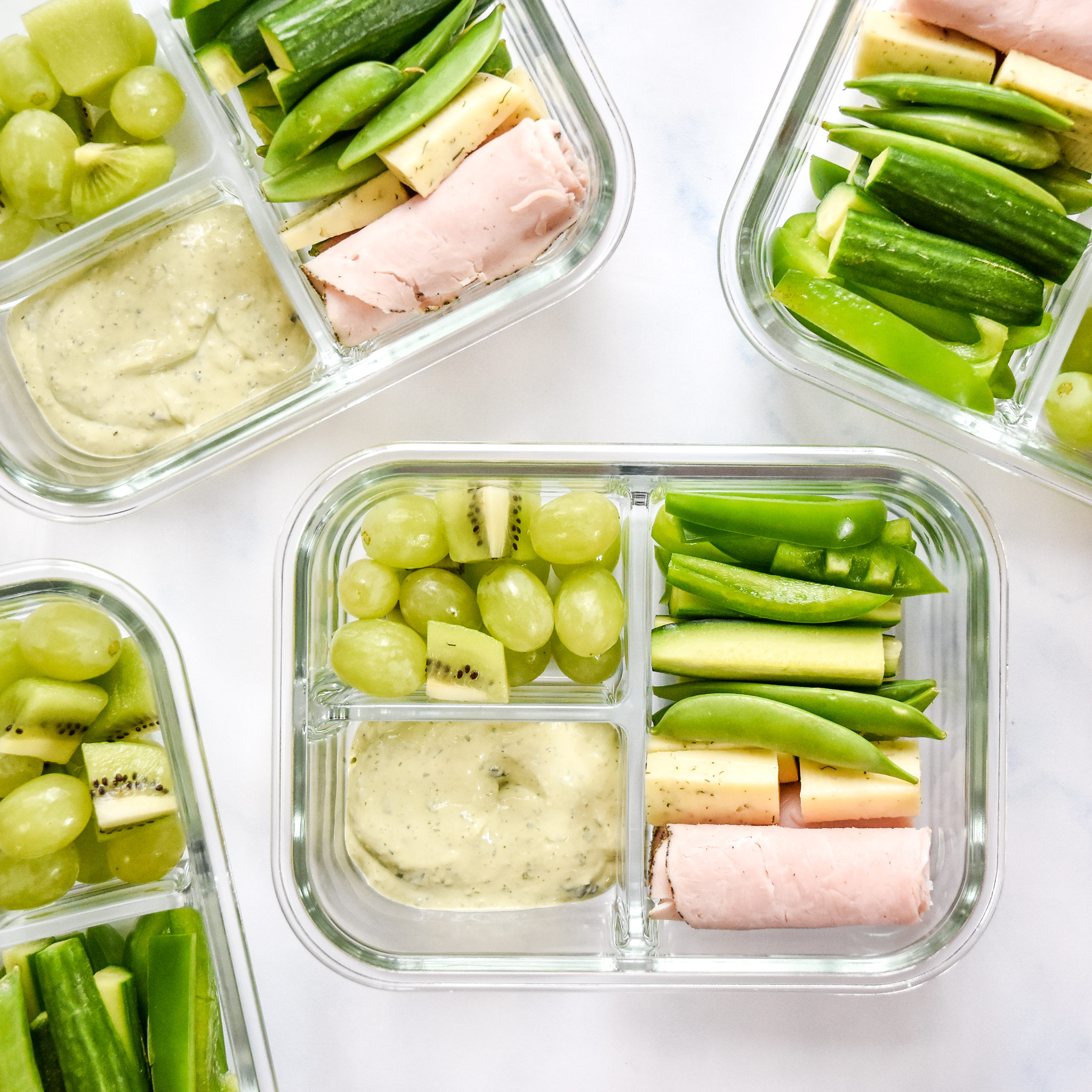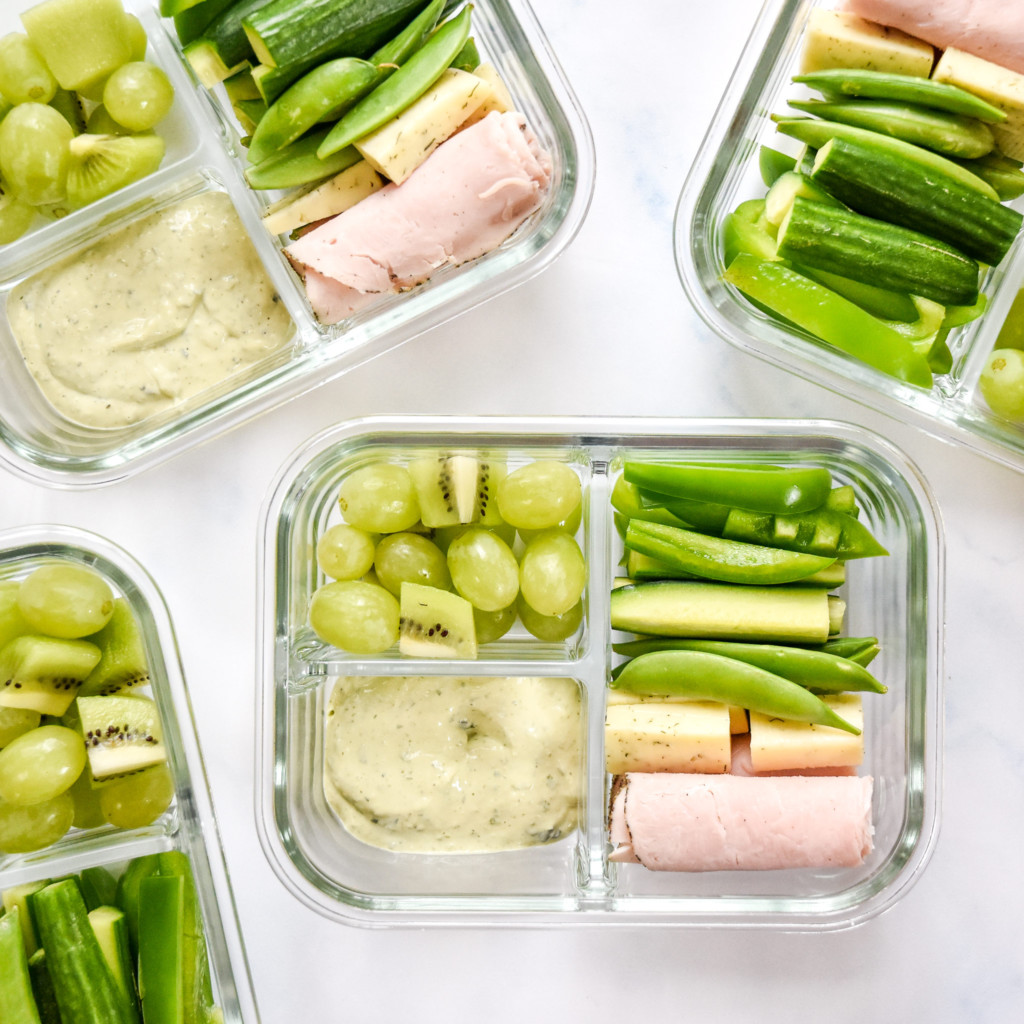 Changing up your normal cold lunch box meal preps is always a good idea – we all like a little variation! In this post, I'm sharing this new Green Food Lunch Box Meal Prep idea.
The formula is the same as my classic Chicken Hummus Plate Lunch Meal Prep, but most of the ingredients changed! As always, this is just a starting place idea for your own meal preps at home. Give it a try and show me what you come up with!
Where does the idea for this Green Food Lunch Box come from originally?
Back in 2018, I shared a recipe for this Chicken Hummus Plate Lunch Meal Prep. It was a super delicious, easy cold lunch, and honestly, quite photogenic – posts and videos of the colorful glass containers were some of my most popular for a long time. Plus, I absolutely love it – I've probably made it more than any other recipe on the site.
You might already know this, but green food is always trending around St. Patrick's Day. As a food blogger, it's not something I have to look for – it shows up in every social media channel for the first half of March. And I wanted to participate in this trend!
I've thought about trying to turn a classic recipe green; one year I made an awesome green food snack tray; green mac & cheese has appeared in my house; but none of them seemed right for PMP.
This year, it hit me. Back to basics, simple meal prep combination, easy prep, naturally green food. I brainstormed green produce, already had my favorite green dip in mind, and made it happen!
Recipe Overview
Total Time: 10 minutes
Difficulty: Easy
Method: No Heat
Prep: Make-Ahead Friendly
What are the ingredients in this Green Food Lunch Box Meal Prep?
This 'recipe' features some of my favorite green produce! Feel free to swap any of these with your favorites, but this list is what's pictured in this post:
sugar snap peas – I love these because there's hardly any prep, just wash and add in to your container.
Persian cucumbers – These cucumbers are much smaller and shorter than the classic variety; I actually used 3 of them in these 4 boxes. I like them because they're more crisp, a little sweeter, and less watery than classic cucumbers. Still a good idea to pat them dry to reduce the chances they'll turn soft. No need to peel!
green bell pepper – This was my favorite veggie in the box for dipping into the Green Goddess dip. They're a little bit sweet and it went perfect with the herby dip.
green grapes – Washed and removed from the vine, green grapes belong in this box! They taste great with the kiwi too.
kiwi fruits – I am a kiwi lover! The interior green of this fruit is perfect for our green food meal prep. Keep reading for a little demo on how to peel.
peppered turkey breast – This is just what sounded good to me to go with the rest of these flavors, but you can pick any kind of protein you want to go here!
dill Havarti cheese – This cheese had some natural green in it, so I went for it. So good! I love havarti with veggies, but you can use any cheese you want.
Green Goddess Dip – I got this specific dip at Trader Joe's. It's an avocado based herby savory dip that I love for dipping veggies, especially the peppers! This dip first appeared in 2019, and I believe it has returned every late Winter since then. I just found it at my Trader Joe's in March 2022.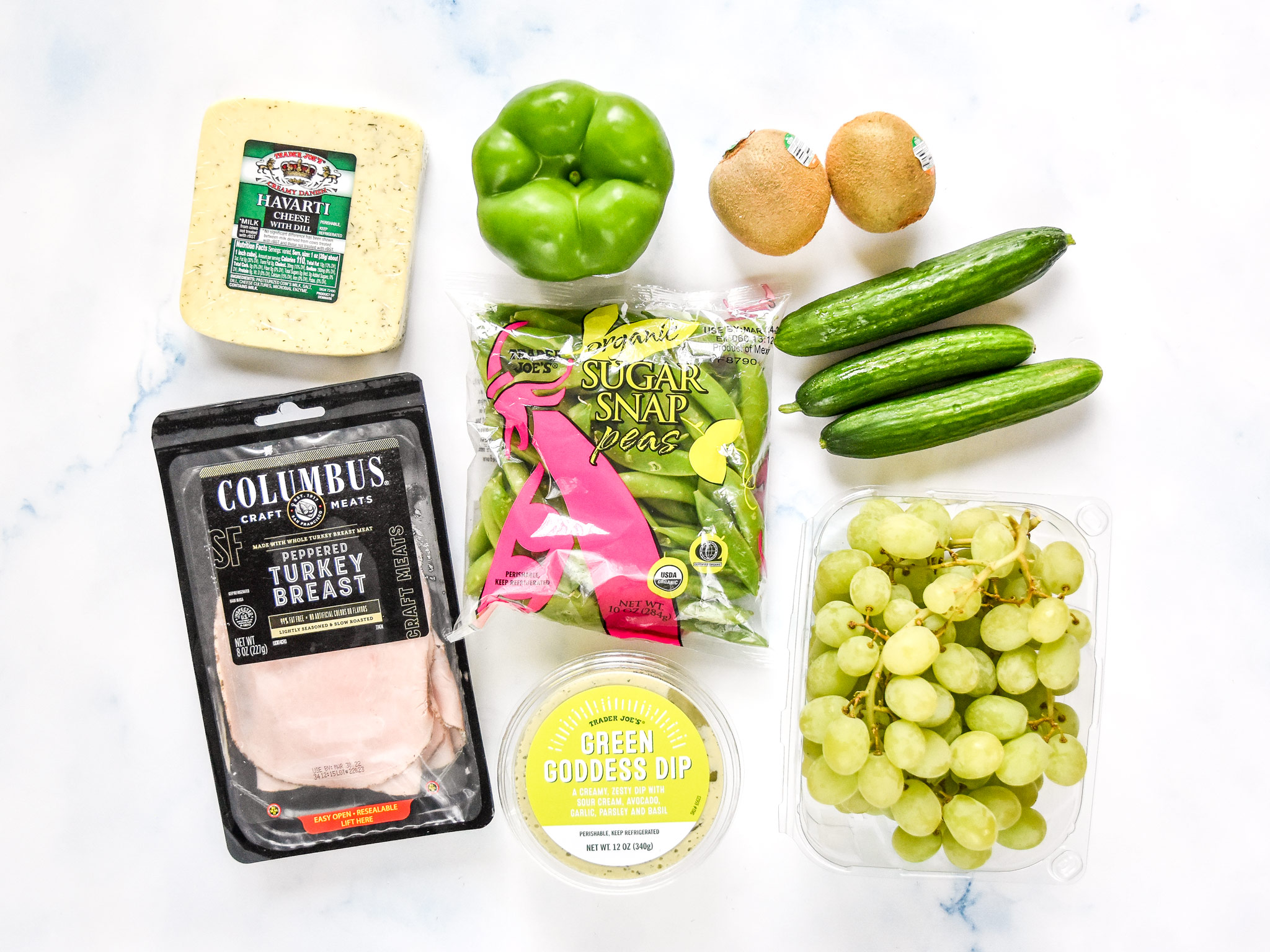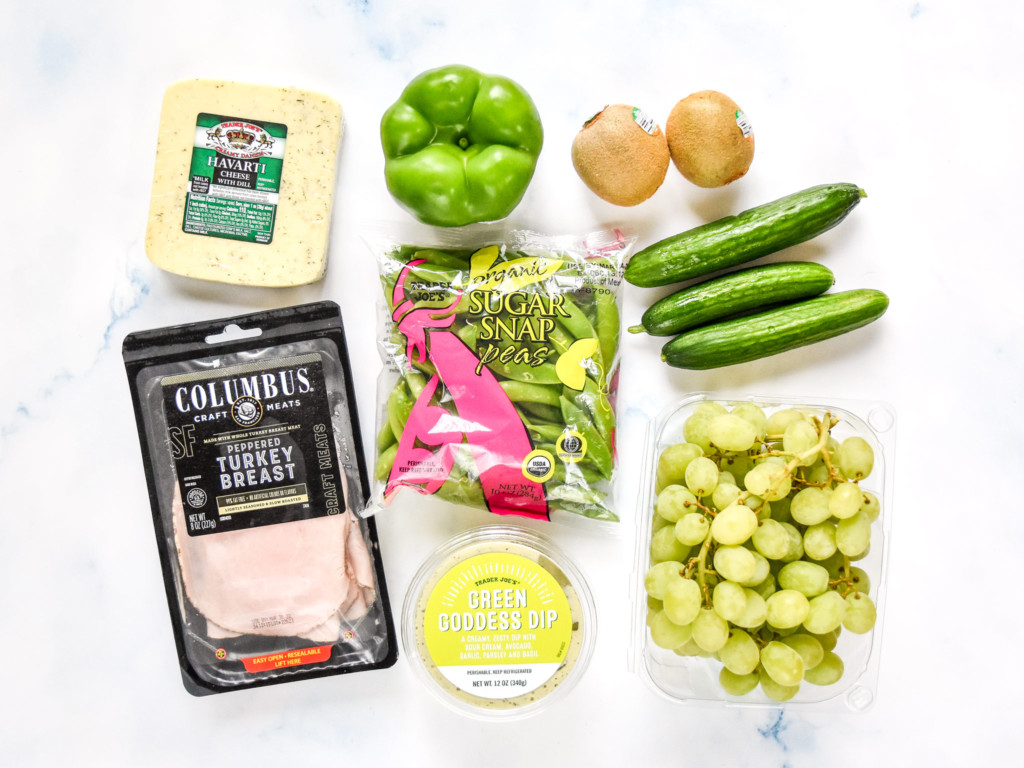 How do you assemble the Green Food Lunch Box Meal Prep?
Assembling this lunch box meal prep is pretty simple, but I do have some steps I follow to make it go a bit smoother.
Start with produce, end with non-produce. It helps you fill up more of the container with fruits and veggies, and it's just a good order for filling your containers. Cheese is easy to jam in anywhere. Of course it's okay if you do it in a different order, this is just my recommendation 🙂
Chop all of an ingredient before putting it into meal prep containers. Next, spread it out into 4 piles on your cutting board, estimating your portions. That way you'll get around the same amount into each container. You can also use a kitchen scale

(affiliate link!)

if you want to be more precise.
Store your chips or crackers separately. That way they won't get soggy (some do better than others but I don't like to risk it lol), and you'll have more room for the produce in your container.
About 2 ounces of dip per container is perfect for this amount of veggies. This is more of a preference, but I usually end with no leftover dip or dipping items – 2 ounces of dip is a good serving size for each container.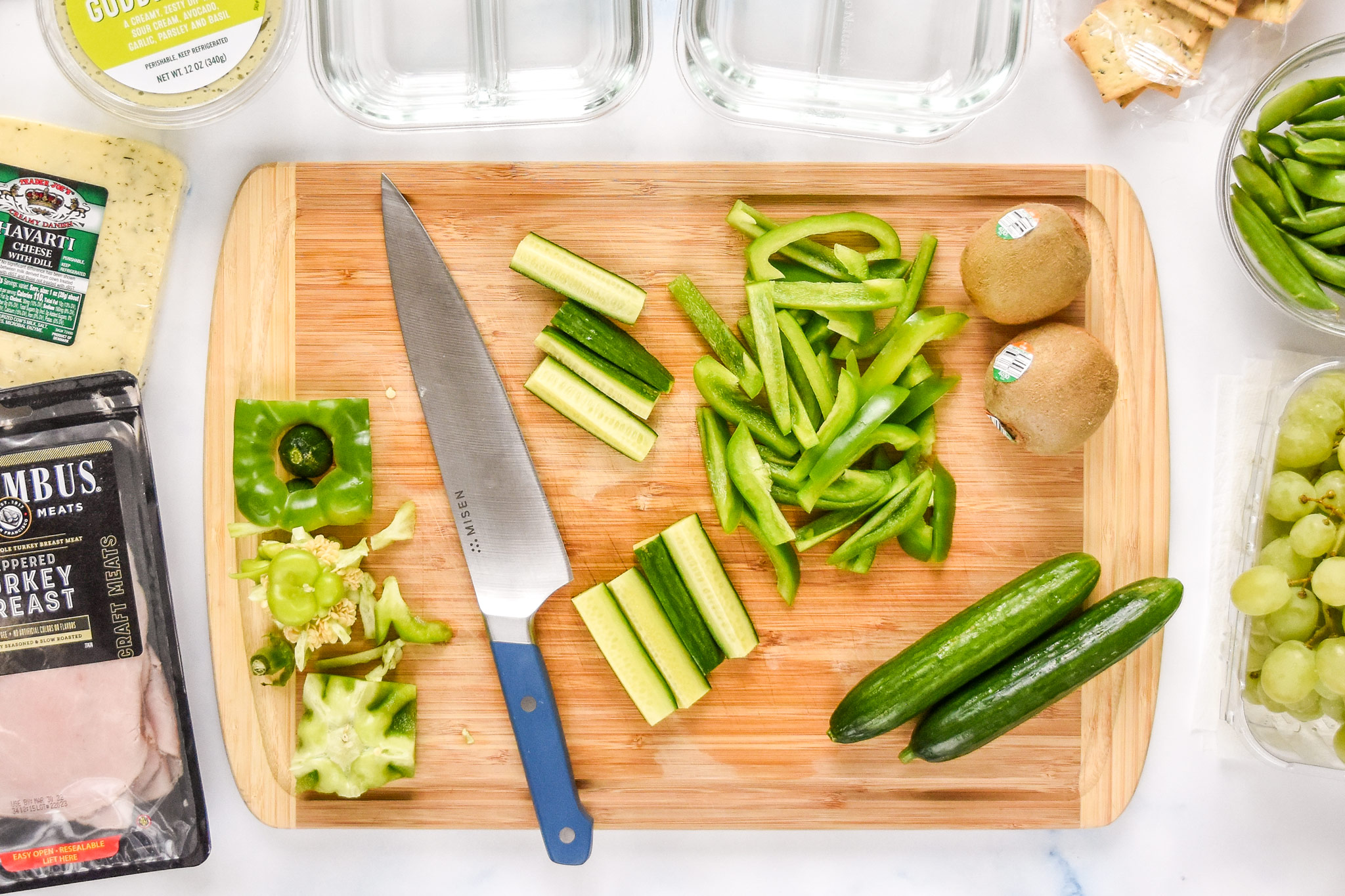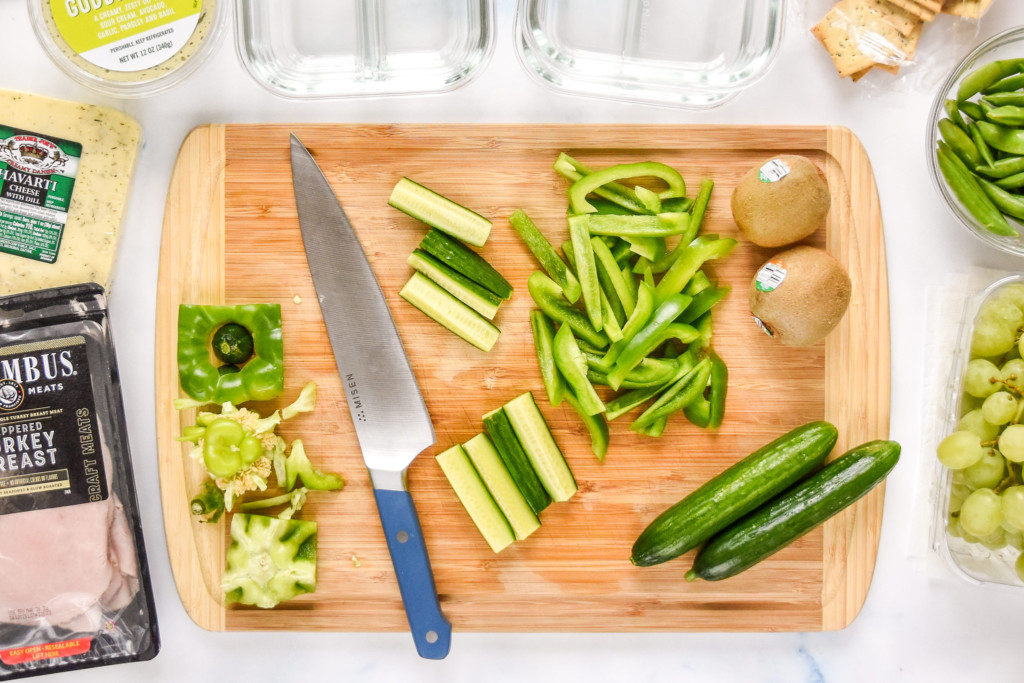 What is the Green Goddess Dip? Can it be made at home?
The Green Goddess Dip I'm using in this lunch box meal prep is from Trader Joe's. I believe it first came out in 2019 and I just found it again in March 2022. Note: The Green Goddess Dip is different than the Green Goddess Dressing!
This dip is an avocado and herb based thick & creamy creation that is seriously perfect for dipping veggies, adding to sandwiches, on chicken, and more.
If you can't find this dip in stores, there are a few copycat recipes that would also work great: Avocado Green Goddess Dressing from My Quiet Kitchen; Green Goddess Dressing from Sweet Simple Vegan.
How do you peel a kiwi fruit?
In order to peel a kiwi fruit, you will need a basic metal spoon and a sharp knife. First, use the knife to remove the ends of the kiwi. One end will have a slightly thicker, deeper stem which you can remove further if you want.
Next, insert the metal spoon in between the green kiwi flesh and the hairy skin. Use your fingers and thumb of one hand to hold the kiwi and the other hand to control the spoon. Slowly move the spoon along the inside of the kiwi, removing the flesh as you go.
Optionally, cut larger kiwis in half to make it easier for the spoon to get around all the flesh at once.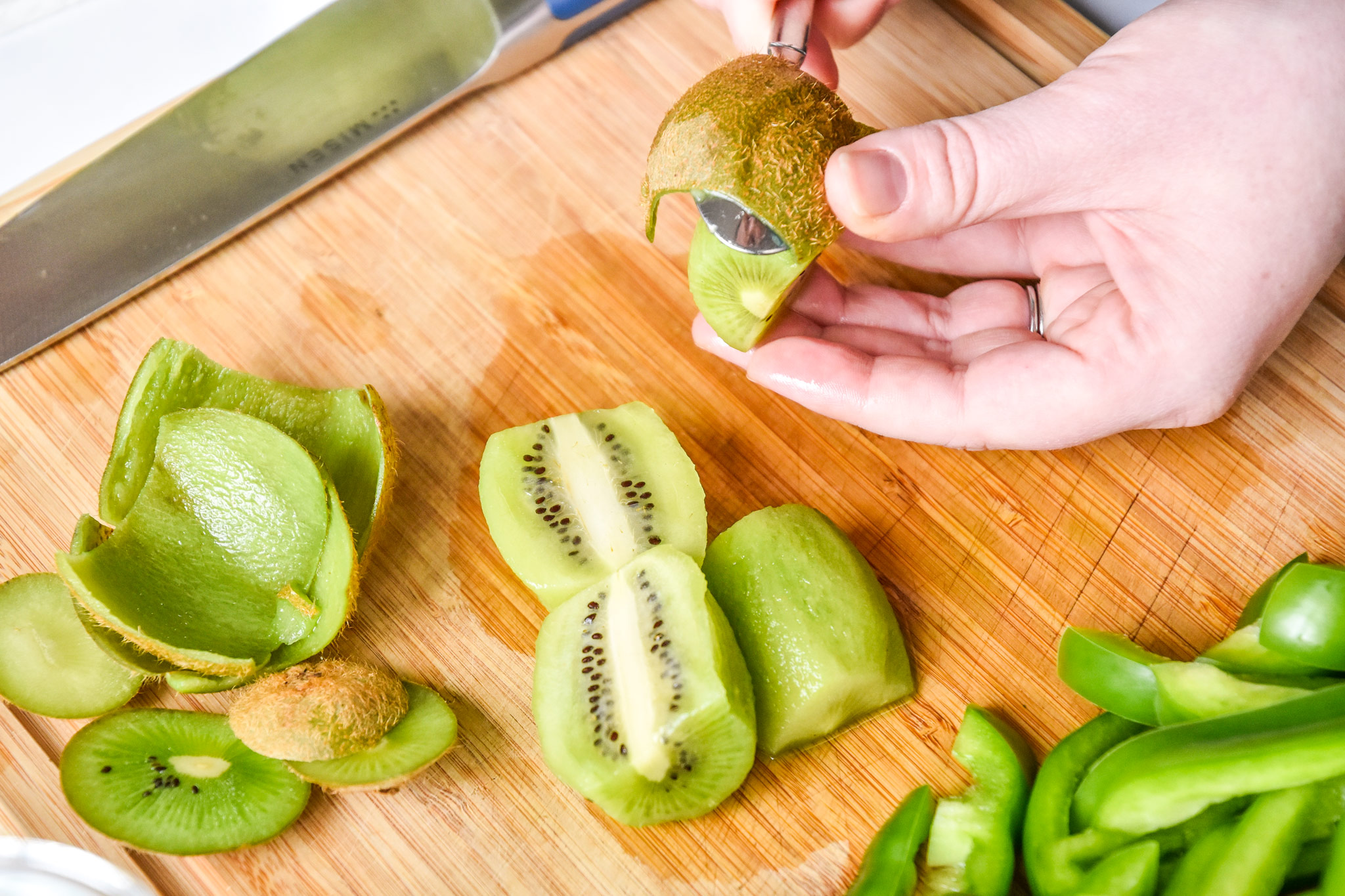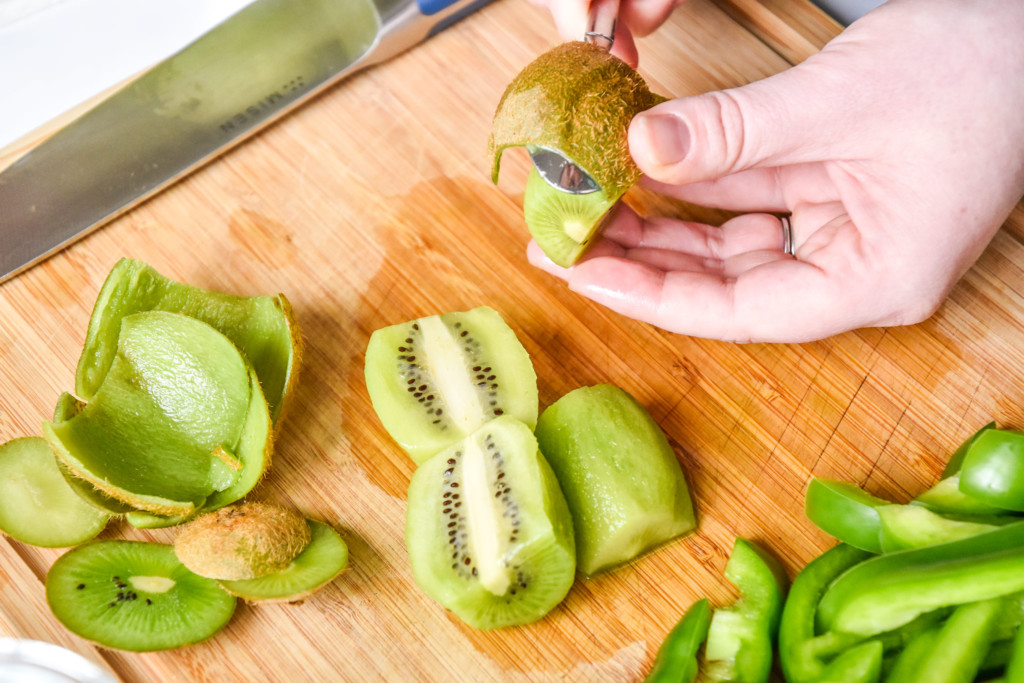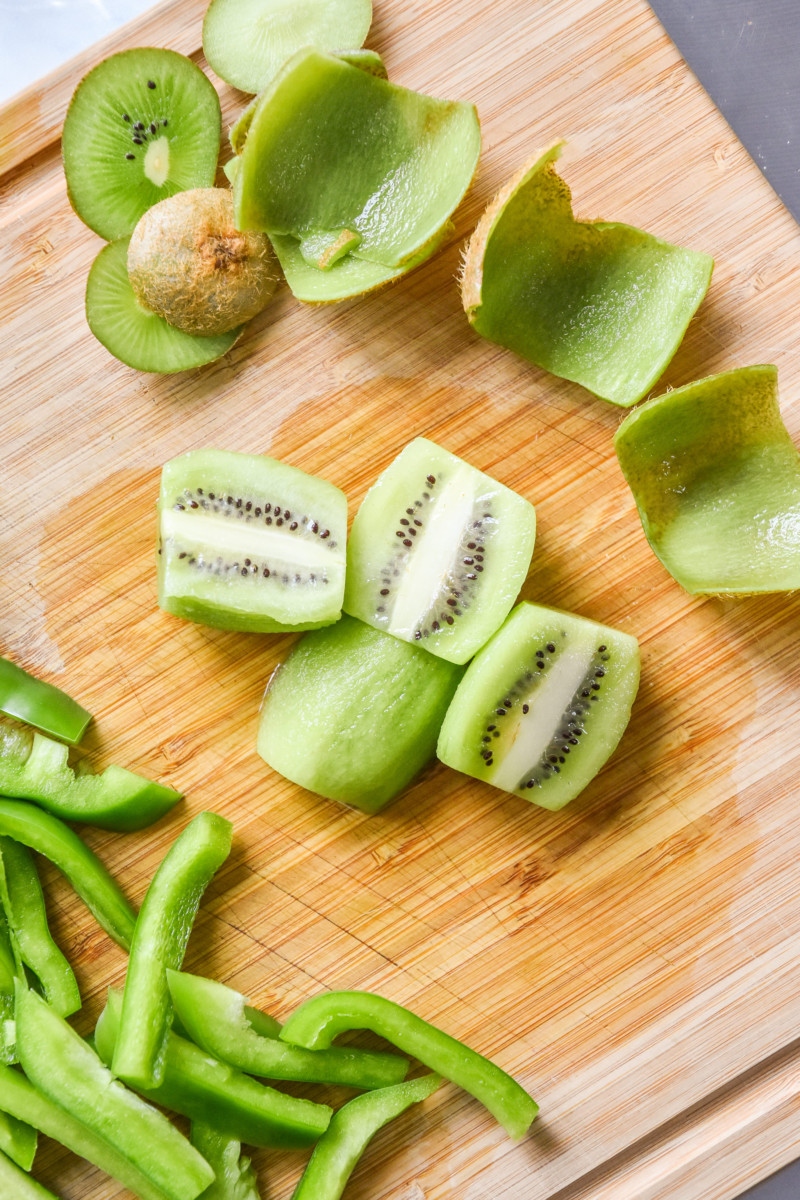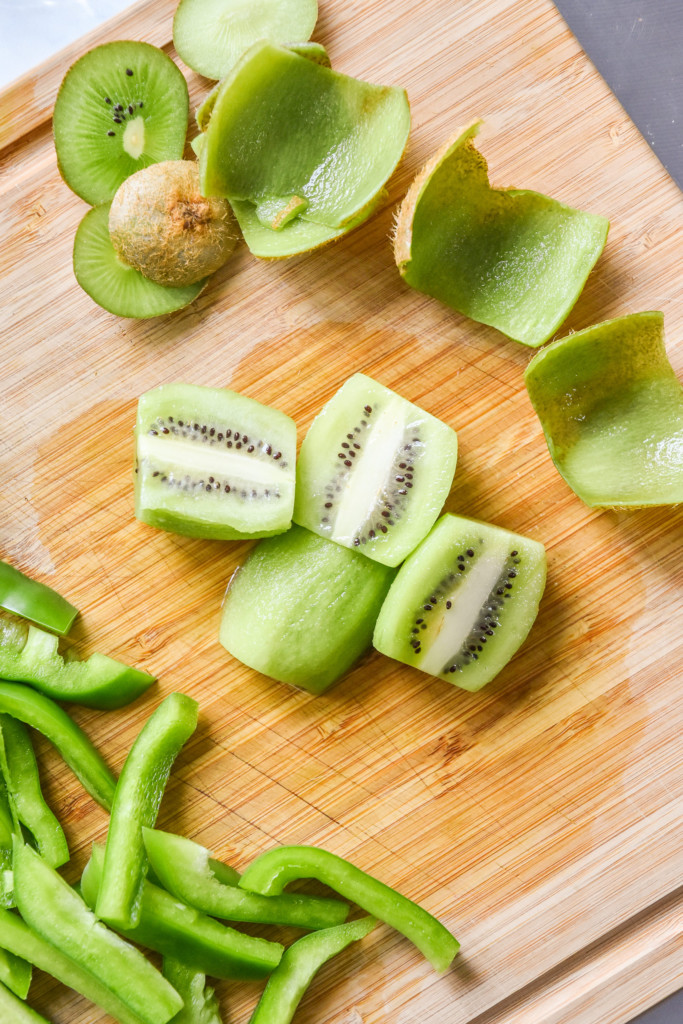 How do you keep the cucumbers from getting soggy?
Here are a couple tips that will help keep your cucumbers crisp and not soggy for up to 4 days:
Do not remove all the skin from the cucumbers.
Use a paper towel to pat the cut cucumbers dry and remove excess moisture.
Try using Persian cucumbers as pictured – they are less watery overall and ideally will keep crisp a little bit longer than regular cucumbers.
Alternative ways to customize this lunch box:
Here are some ideas for making this Green Food Lunch Box Meal Prep into our own favorite adult lunchable!
Swap out the peppered deli turkey I used for grilled chicken breast, or another protein you prefer
Swap out the dill havarti for your favorite cheese! This can totally change flavors and smells in your box
Ditch the Green Goddess Dip and go back to hummus (like the original hummus plate lunch) or go for another dip like spinach artichoke (TJ's has so many good options!)
Use your favorite veggies and fruits instead of the ones I used!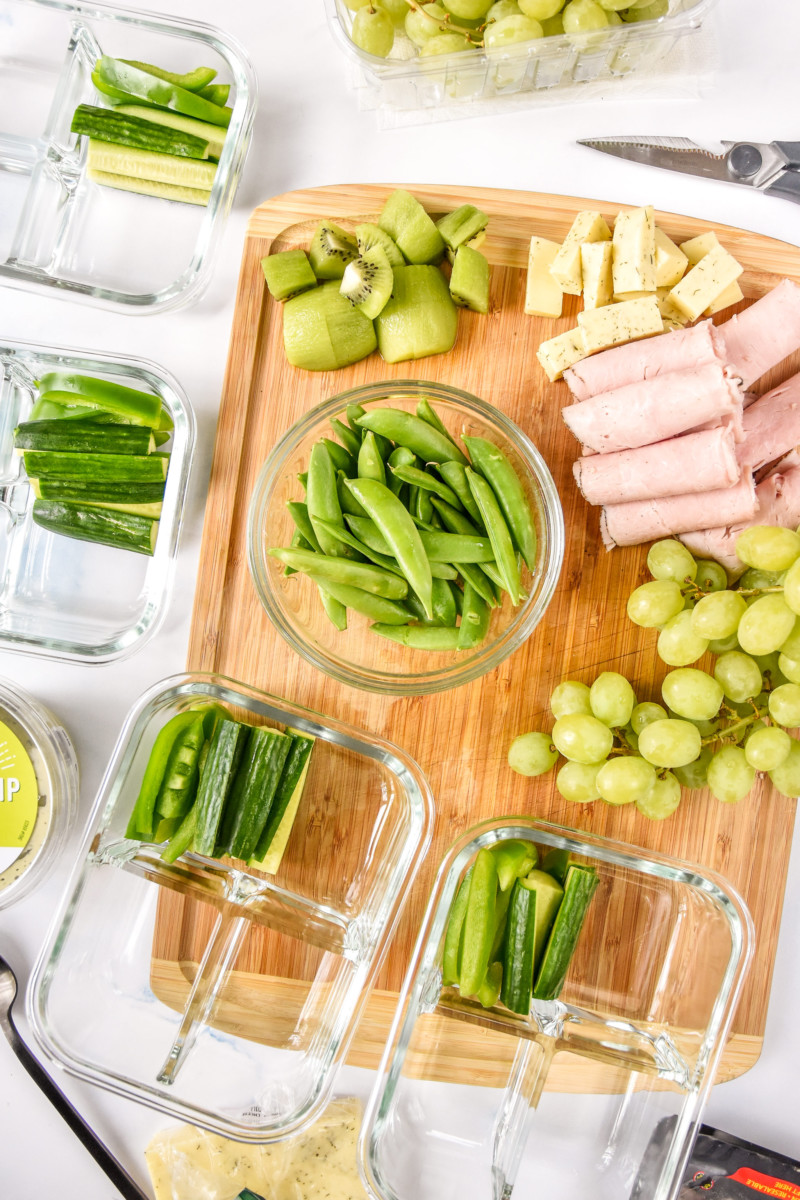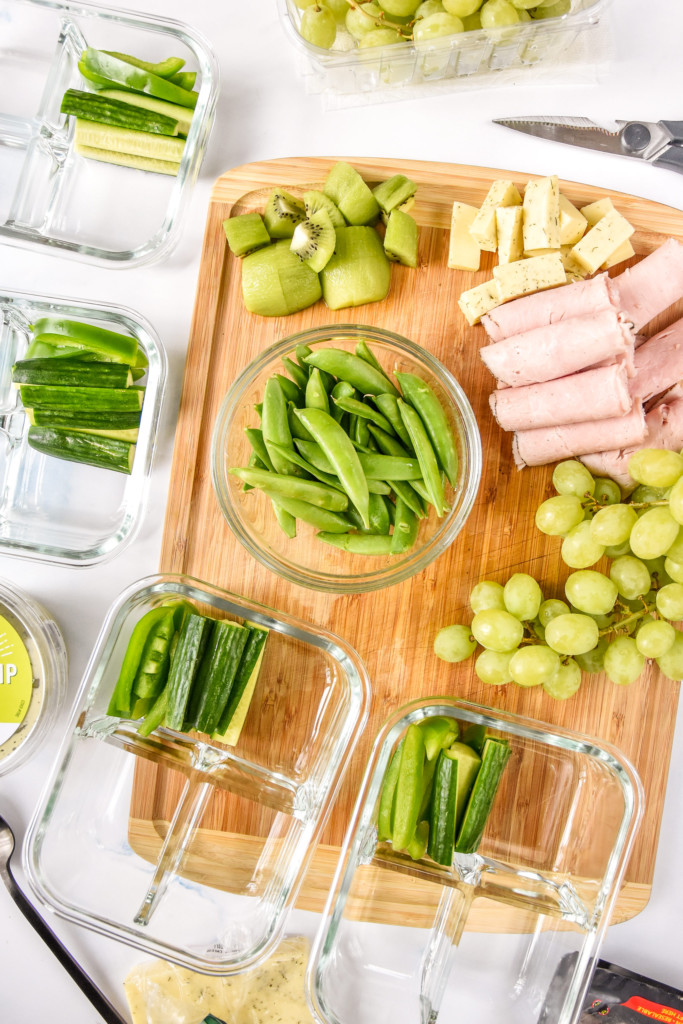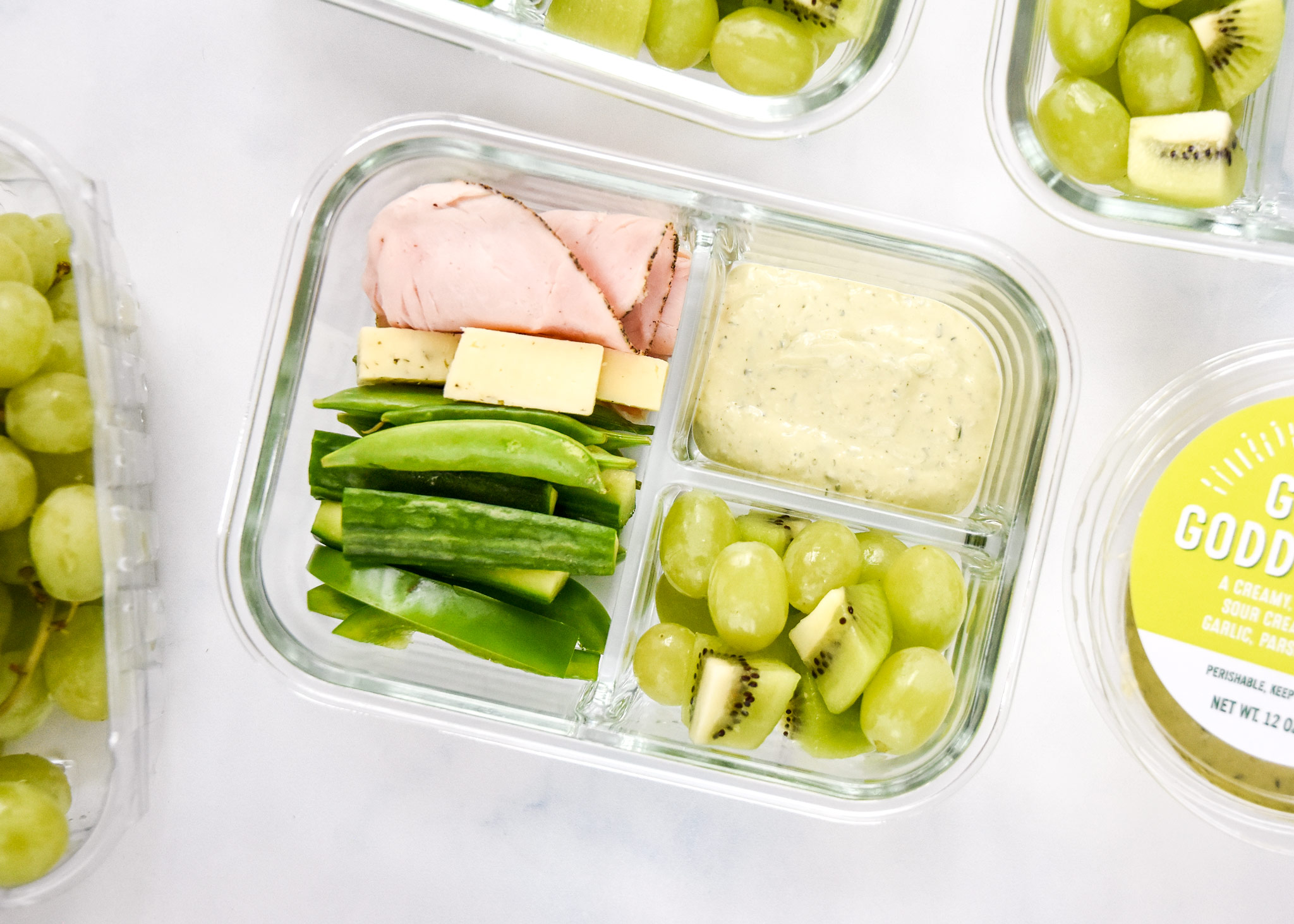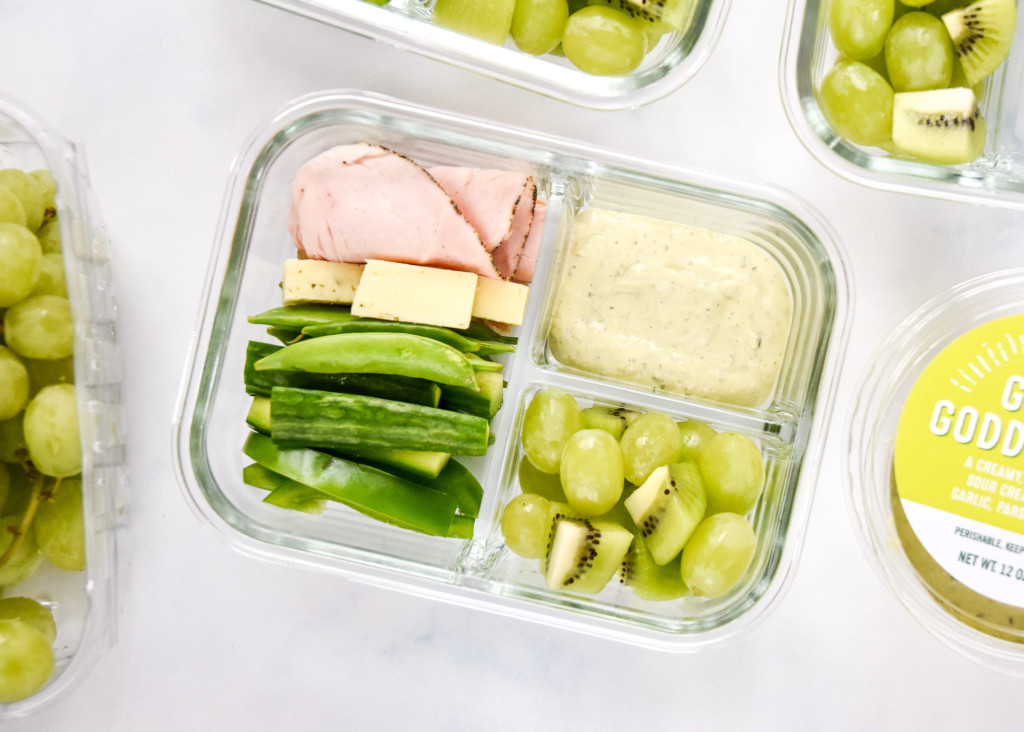 More naturally green food ideas:
Here are some more naturally green produce ideas you can add to this plate in your own way:
spinach leaves or other salad greens
green peas (maybe a ham and pea salad?)
edamame
celery sticks
cabbage or green slaw
green apple
Where do you get those containers?
The containers pictured in this post are the 3 Compartment Glass Meal Prep Containers (affiliate link!) from Prep Naturals on Amazon.
I've owned these for a few years and still love them! I recommend hand washing the plastic lids so they last longer.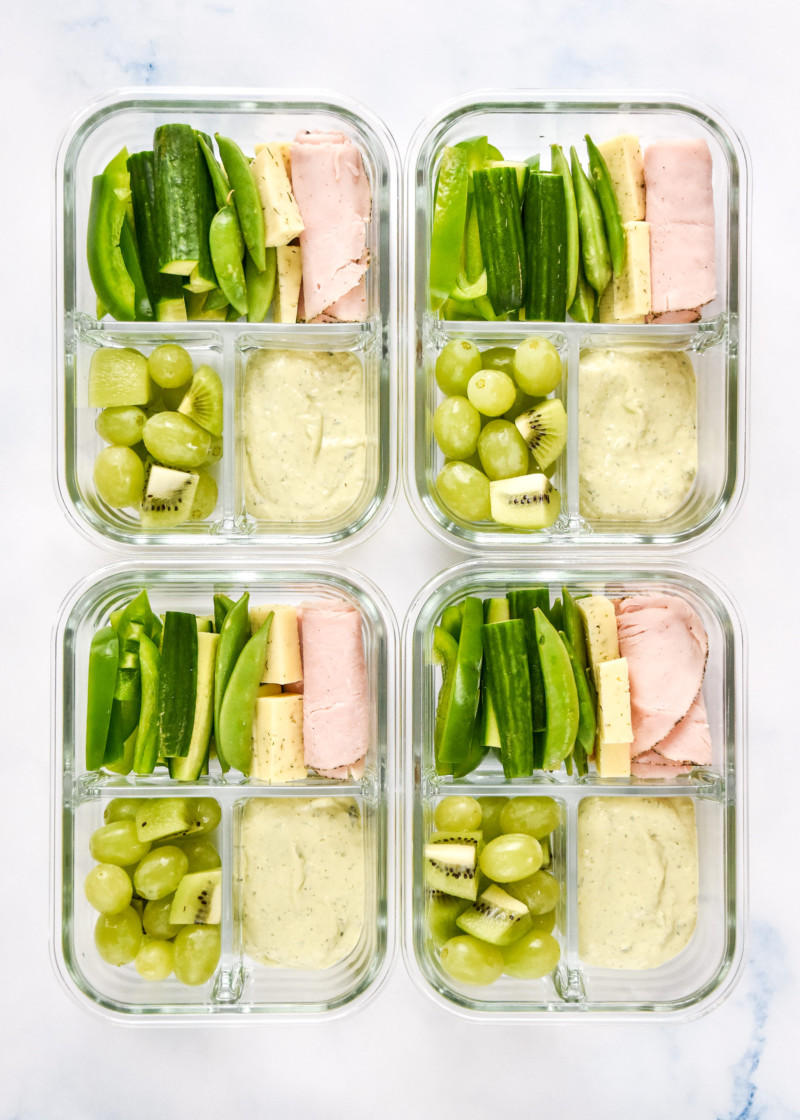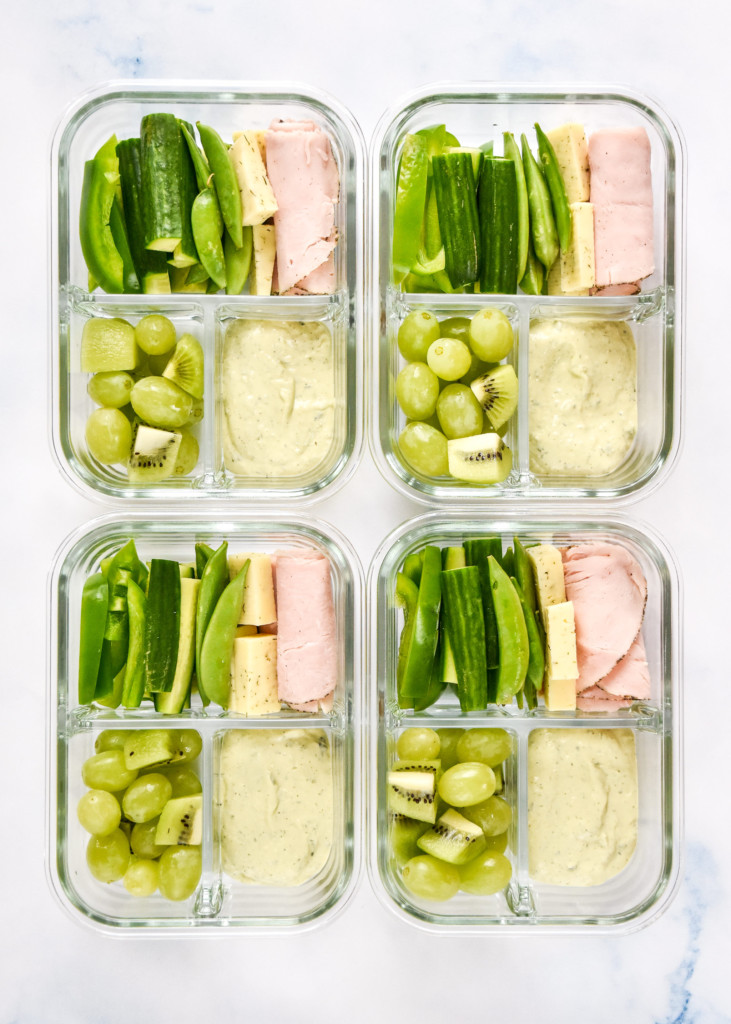 Is this recipe freezer-friendly?
No, I would not suggest freezing this recipe! It's meant to be eaten fresh – only assemble as many portions as you need.
How to store this meal prep:
To store in the refrigerator, portion ingredients into your chosen containers with airtight lids. Dry the cucumbers as much as possible to prevent them from becoming soft. Store in the fridge for up to 4 days.
Recipe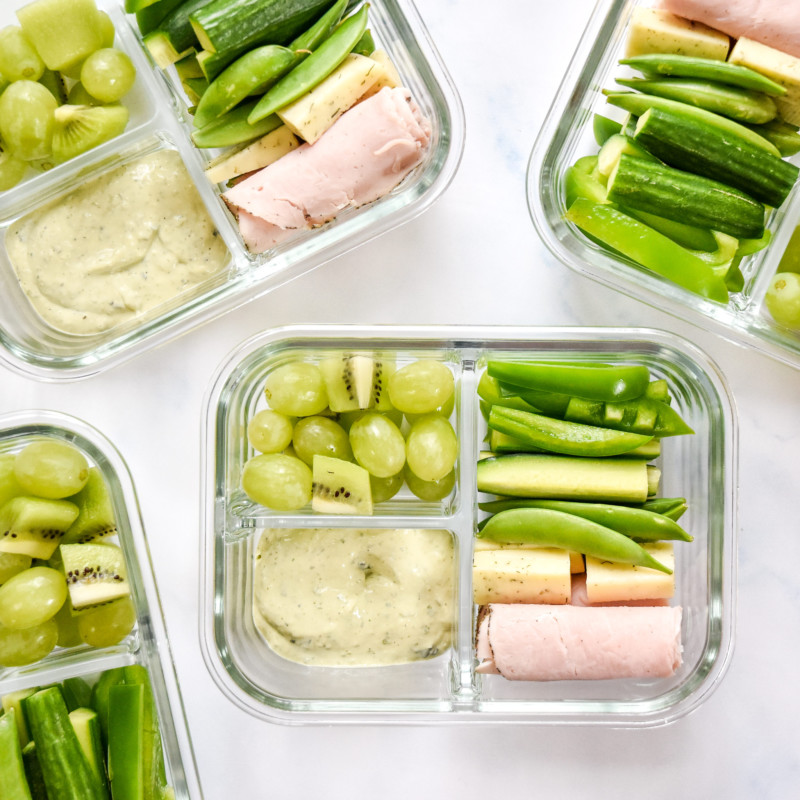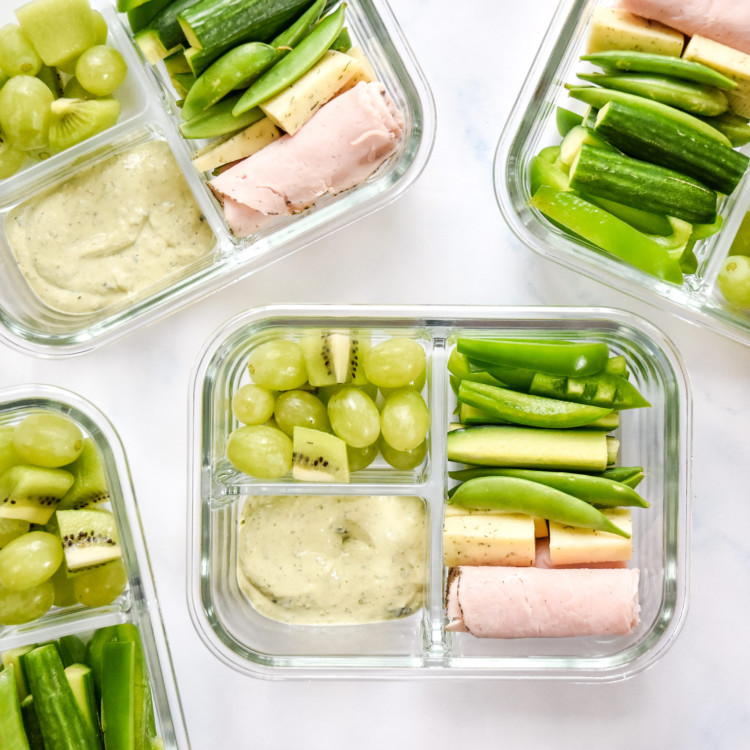 Green Food Lunch Box Meal Prep
Prep:
10 minutes
Total:
10 minutes
Looking to brighten up your lunches around St. Patrick's Day or Grinch Day? This Green Food Lunch Box Meal Prep is an easy idea to use naturally green fruits & veggies for a simple cold lunch meal prep that's all shades of green!
Ingredients
4

–

5

ounces sugar snap peas

2

–

3

Persian cucumbers, ends removed, cut into spears

1

green bell pepper, seeds and stem removed, cut into strips

1

small bunch of green grapes

2

large kiwi fruits, peeled and cut into quarters

8 ounces

cooked sliced peppered turkey breast

4 ounces

Havarti cheese with dill, sliced

8 ounces

Trader Joe's Green Goddess Dip (or your fave green dip!)
your favorite cracker, pretzel thins, or pita chips (stored separately)
Instructions
Prep & portion produce: Wash and prep the sugar snap peas, Persian cucumbers, green bell pepper, grapes, and kiwis, then separate into 4 even portions and add to 3 compartment meal prep containers. I put the vegetables in the large compartment (with room to add meat & cheese) and the fruit in a smaller compartment.
Prep & portion non-produce: Roll up turkey slices and cut cheese into bite-sized pieces. Separate into 4 even portions, using a kitchen scale

(affiliate link!)

if necessary, and add to meal prep containers. Finally, add about 2 ounces of dip to the final compartment of each container.
Store & serve: Enjoy immediately with crackers or pretzels; or put the lid on and keep stored in airtight meal prep containers in the refrigerator. Enjoy within 3-4 days for best quality.
Notes
Customize: Feel free to use this as a starting place for an all green food meal prep lunch idea. Swap out any ingredients you don't like for something else! Ideas for swaps in the post content above. You can also make fewer than 4 servings by assembling only as many as you need.
Nutrition information estimated with My Fitness Pal and does not include additions like pretzels or crackers.
Nutrition Information
Serving Size:

1 meal prep lunch

Calories:

444

Sugar:

13g

Fat:

31g

Carbohydrates:

21g

Protein:

22g
Recipe Card powered by