1 Comment
Posted: 06/06/2018
Updated: 09/23/2021
This Chicken Bacon Avocado Salad Sandwich is made with only 6 simple ingredients (including the bread!) and is the perfect use of any leftover cooked chicken you have on hand. It's easy, creamy, and delicious! Layer between bread, use as a dip for your favorite crackers, or just eat it plain!
Jump to Recipe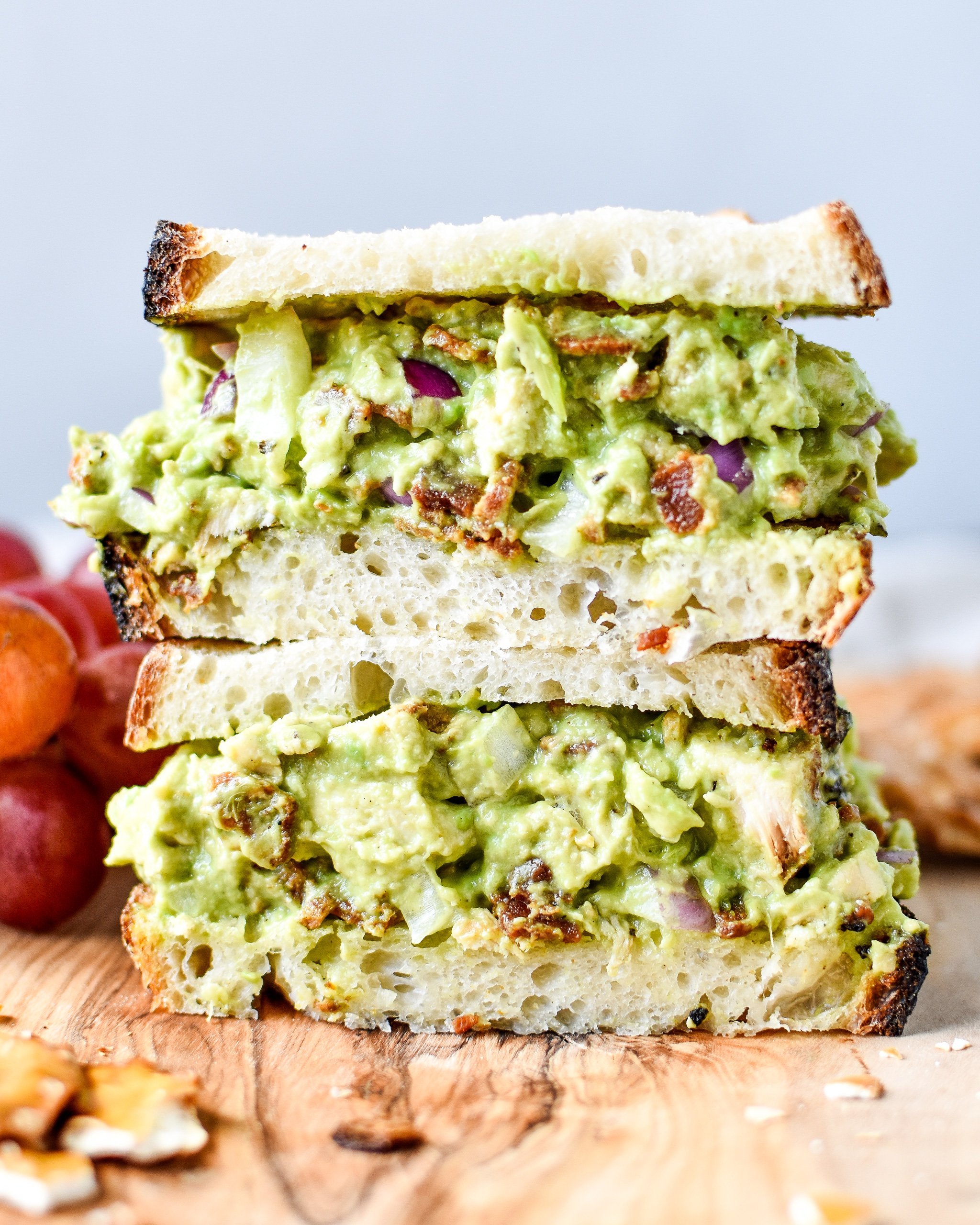 One Saturday afternoon, I found myself with chicken breast, avocados, and red onion that ALL needed a purpose. Saturdays tend to be my "get creative with all the leftovers in the fridge!" days, and so this salad was born. This salad portion of this recipe has only FIVE ingredients, partially because these were my options when creating it, and because less is totally more with this one.
Here's what you need for this super simple recipe:
cooked chicken breast
bacon bits
ripe avocados
red onion
olive oil mayo or paleo mayo
season with salt and pepper to your fancy
This is IT! Pick out your favorite bread or crackers but honestly if don't have anything to eat it with, the salad would be great too.
PLUS, You can totally cut the recipe in half if you want – it doesn't store as long as some recipes do, but one night in the fridge is 100% okay. If you want a 2 serving recipe instead of a 4 serving recipe, that's the way to go. It might turn a little brown from the avocado after being stored overnight, but just stir it and go (sort of like guac, it'll be fine!).
Here are some details on the ingredients I like to use:
Avocados
Three small or two large will do perfectly. Make sure the avocados are ripe enough so there aren't any large hard chunks. I always put them in the bowl first so they're easy to mash with my giant serving fork (I call it my avocado mashing fork).
Chicken
This is a great recipe if you've got leftover chicken that needs a good use. The recipe calls for 12 ounces – you can either find two small chicken breasts and cook them up for this recipe, or use your leftover chicken.
P.S.: Another option is to plan your meals out and cook all the chicken you need for the next few days at one time. Save 12 ounces for this recipe and use the remainder for 1 or 2 other recipes.
Bacon
I'm not a particularly huge bacon fan, but when I do eat pork of any kind, it's going to be the special Paleo bacon from ButcherBox (affiliate link!). There's no sugar added, so I'm covered there. Plus the bacon is sourced from sustainable and ethically raised pork. If I'm going to eat pork once a month, this is what it's gonna be!!
In order to make up the bacon bits from my raw strips of bacon, I simply use a sharp knife to cut the bacon into small pieces. I then cook all the bacon bits at the same time in my Dutch Oven until crispy.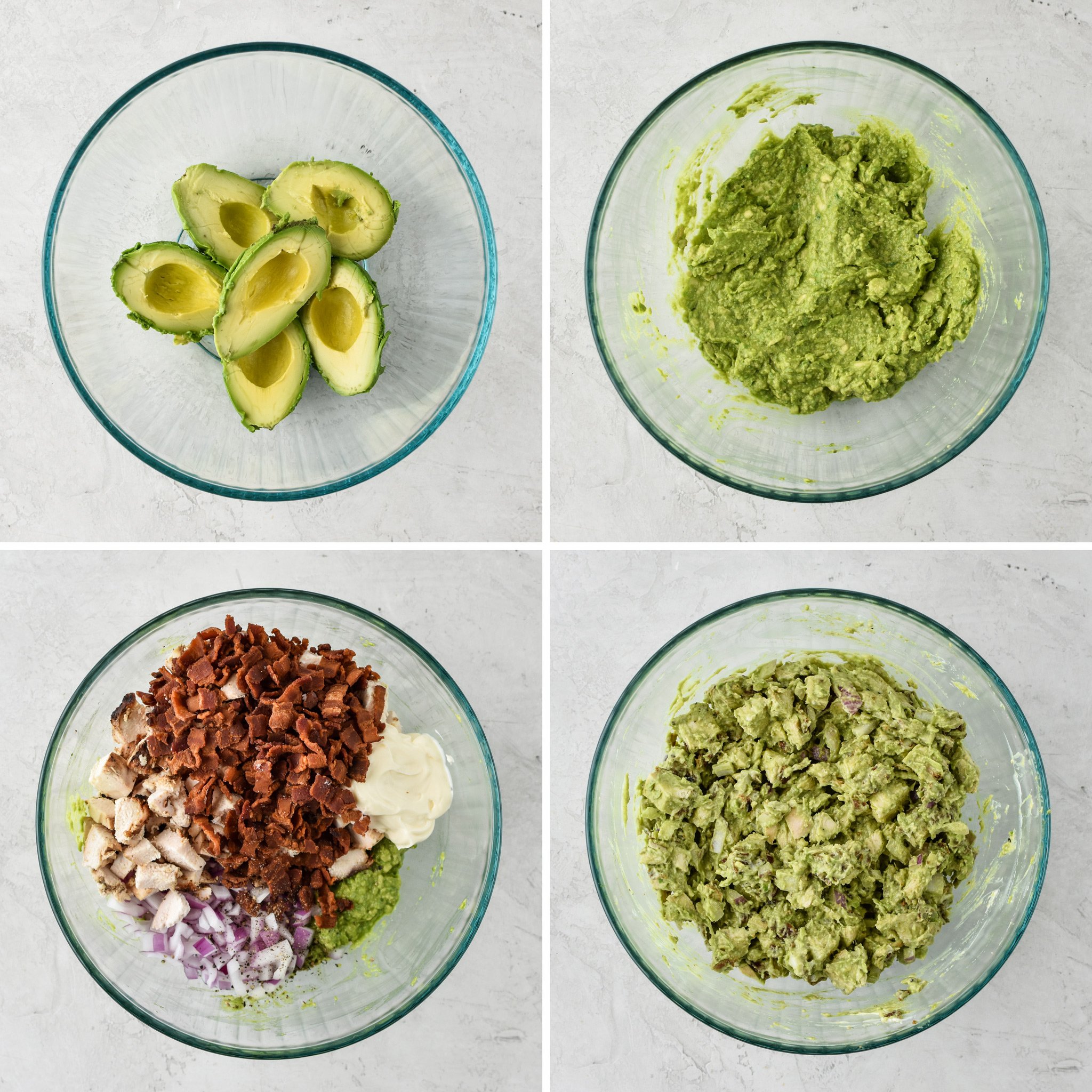 Red Onion & Mayo
I had half a leftover red onion from making my Quinoa Party Salad, so I decided to give it a try in this salad. Success! It provides a little bit of oniony spice to contrast with all the avocado happening in there. I personally only like red onions in salads and guac. So this fits perfectly with that theme.
For the mayo, stick with an olive oil based mayo or the Chosen Foods brand Paleo mayo (which they just started selling at Costco). You may know that I don't follow a strict Paleo diet, but I also do not need sugar in my mayonnaise (which is why I'm switching to Paleo mayo!). I don't like to add a ton of mayo to recipes, but the small amount (1/4 cup) does the avocado salad some super justice in the creaminess department. It's just necessary.
Sandwich (& More) Joy
Mix it all together and voila! Season with a tiny bit of salt if your bacon wasn't too salty already. And that's it.
This salad is pictured on my husband's homemade sourdough bread. It's amazing. BUT. This Chicken Bacon Avocado Salad would work on ANY grain or even a lettuce wrap if that's your jam. Here are all the things I think you could do with this salad:
Put it on some pita bread
Eat as a dip with crackers or pretzel thins
Made into a wrap with a tortilla
Between two amazing slices of bread
On big pieces of lettuce
YUM.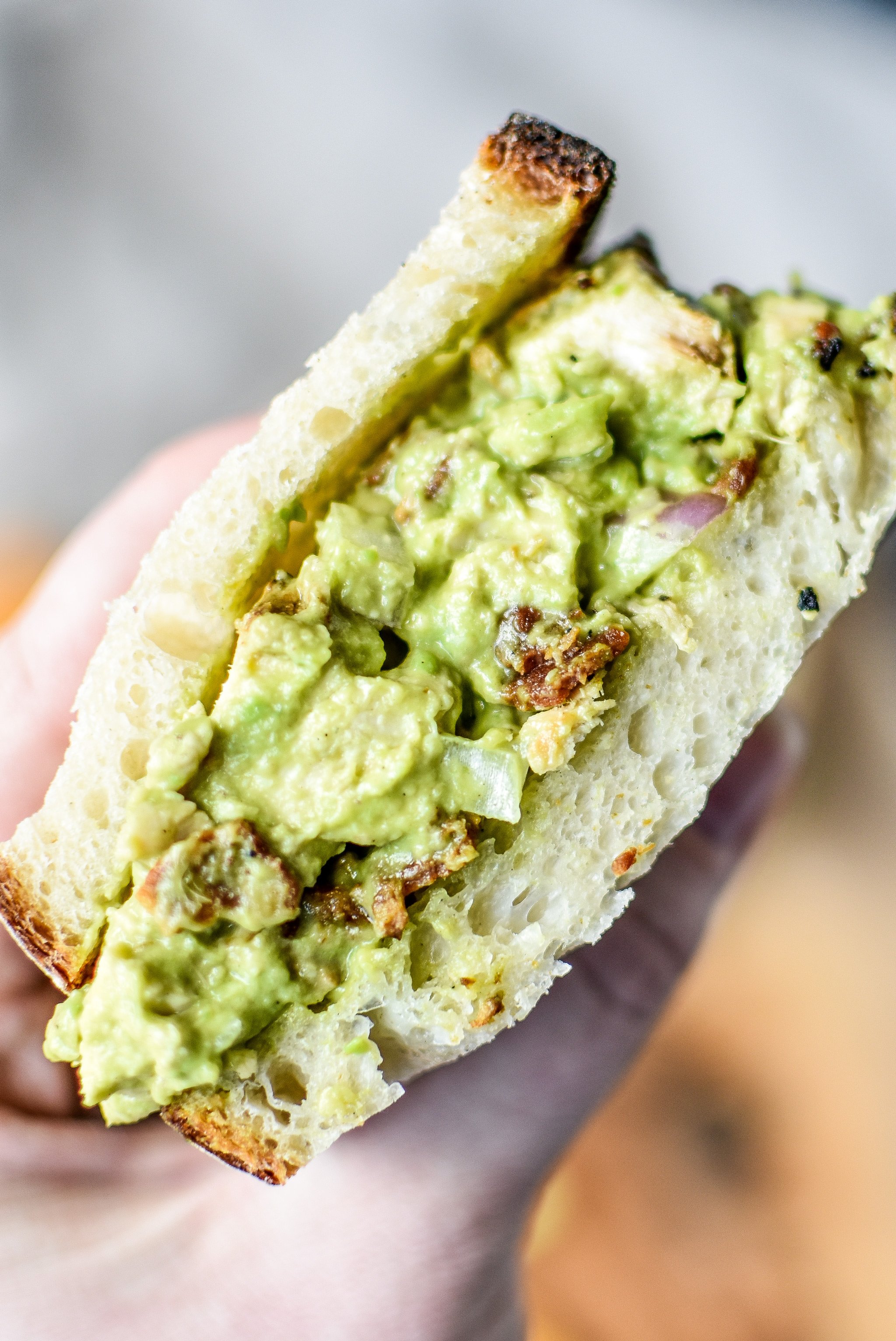 More main dish recipes from Project Meal Plan:
Recipe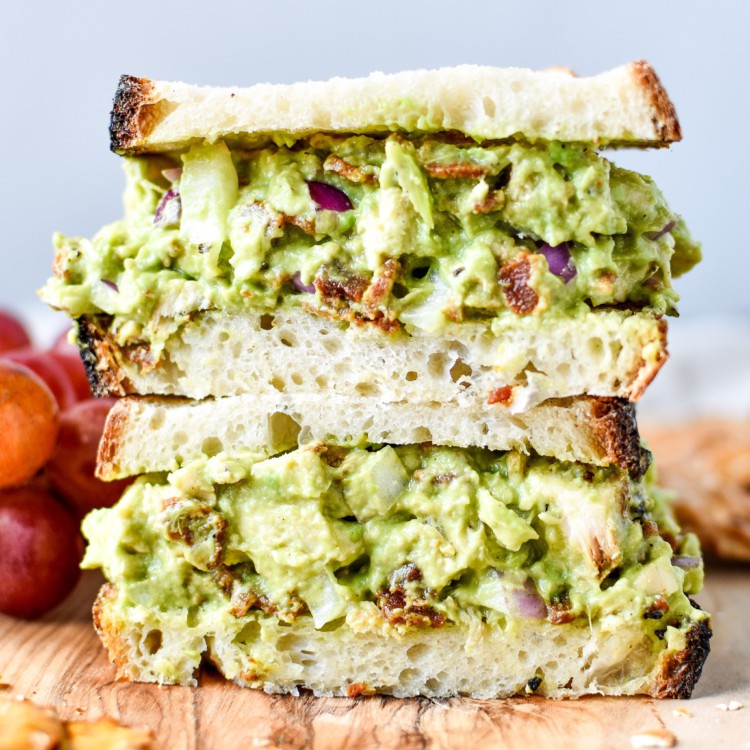 Chicken Bacon Avocado Salad Sandwich
Prep:
10 minutes
Total:
10 minutes
This Chicken Bacon Avocado Salad Sandwich is made with only 5 simple ingredients and is the perfect use of any leftover cooked chicken you have on hand. It's easy, creamy, and delicious! Layer between bread, use as a dip for your favorite crackers, or just eat it plain!
Ingredients
12 ounces

cooked chicken breast, diced

8

strips of bacon cooked into bacon bits (or

3/4

to

1

cup bacon bits – homemade is best)

3

small ripe avocados, peeled and pits removed

1/4 cup

red onion, finely diced

1/4 cup

olive oil mayo or Paleo mayo
season with salt and pepper

2

slices of your favorite bread per sandwich (toasting is optional!)
Instructions
Add avocados to a large bowl and mash well. Add remaining ingredients and stir until well mixed. Season with a pinch of salt and pepper if you want. Serve on bread, crackers or just plain!
Store in the refrigerator for 1-2 nights. The avocado may begin to turn brown when stored overnight, but just give it a quick stir and it will be fine.
Equipment
Notes
Nutrition information estimated with My Fitness Pal and includes two thin slices of sourdough bread per serving.
Nutrition Information
Serving Size:

about 1 cup salad + 2 slices of bread

Calories:

576

Fat:

15g

Carbohydrates:

50g

Protein:

31g
Recipe Card powered by
Thanks for checking out the Chicken Bacon Avocado Salad Sandwich! Please tag me or use #projectmealplan on social media to share! I'd love to see your creation, or hear any feedback you have 🙂