This Whole30 Egg Salad with Bacon can easily be prepped ahead and enjoyed for a low-carb breakfast or lunch. Made with bacon, celery, red onion, mayo & mustard! An easy classic to put together when eggs get a little boring!
Jump to Recipe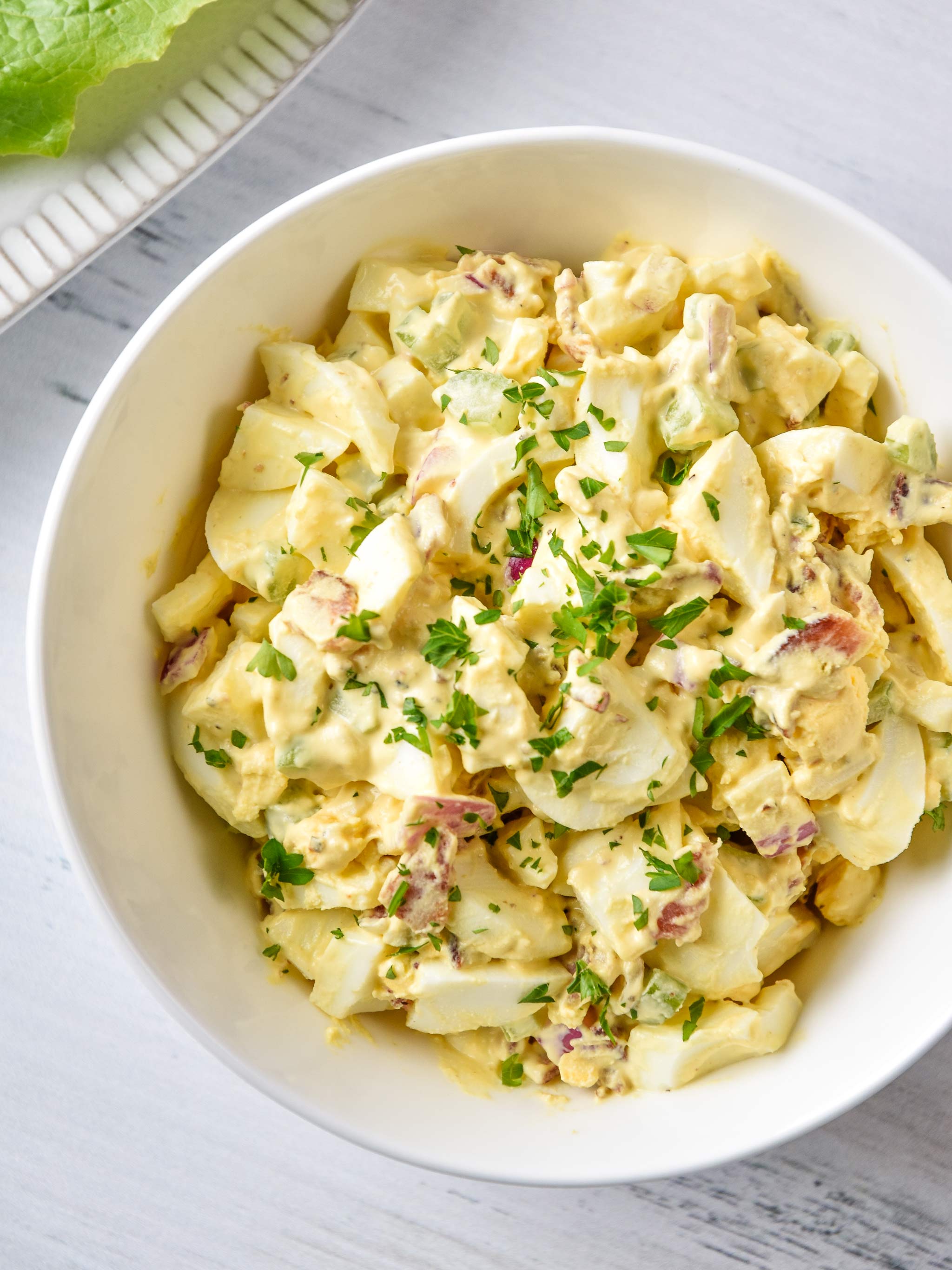 Thoughts on deviled eggs? They've grown on me in the past few years. At one point, I literally could not stand being in a room with those little red dusted things… now 10+ years later, I know that red dust is paprika and it's also not half bad.
This Whole30, we came in strong, confident, and oh yeah, now I'm a little bored. But it's going well.
Point is, I needed a new egg recipe besides deviled eggs (love these though). Enter egg salad.
Never been a fan of any of those salads with eggs or mayo, mostly because they were always from the store and that kind sucks.
New concept: make something myself, use quality ingredients. Oh, hey. That's actually pretty good now that I'm almost 30.
On the other hand, I've also recently been loving chicken salads (such as this Buffalo Chicken Salad or this Chicken Bacon Avocado Salad).
So I applied those principles to this egg salad. Some crunch, some mayo, some onion… plus bacon because eggs and bacon just go together.
What's in this Egg Salad with Bacon?
I love this recipe because it's made with simple ingredients, most of which I already have on hand when we're doing a Whole30.
eggs – couldn't do it without 'em! I use my Instant Pot Duo Plus 6 qt

(affiliate link!)

and do 4 minutes high pressure, 3 minutes natural pressure release, and then ice bath for a random amount of time until I peel them. But you can make them however you want!!
bacon – I use ButcherBox bacon. It's sugar free, and there are no additives. See more info on that below. Detailed post on how to make homemade bacon bits here!
veggies – celery for crunch and bulk, red onion for some tang and backbone.
mayo and mustard – classic ingredients in a salad of this kind. I actually have been using yellow mustard but dijon mustard is also a good option.
salt/pepper – for taste! I always salt and pepper my hard boiled eggs. Treating this salad no differently.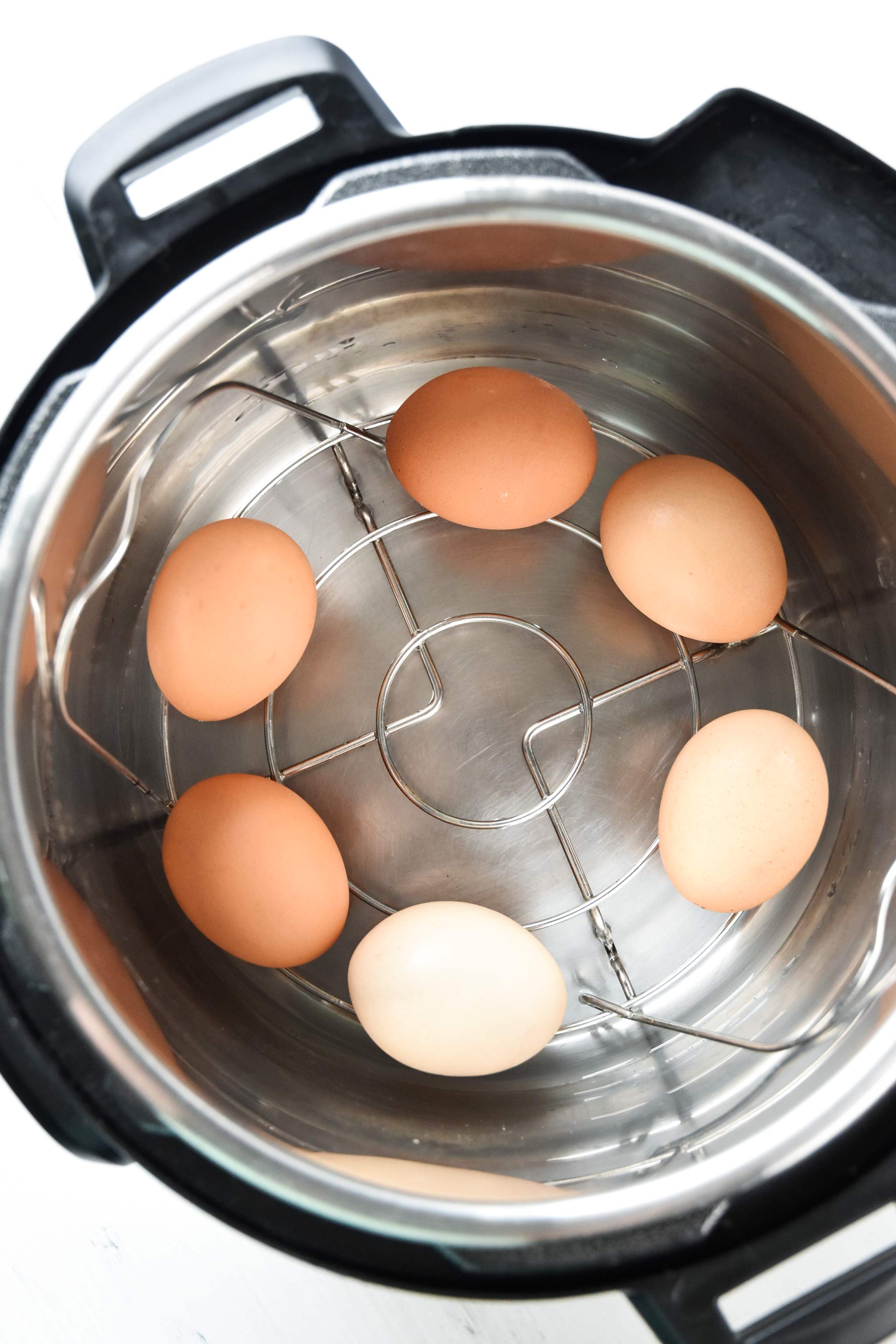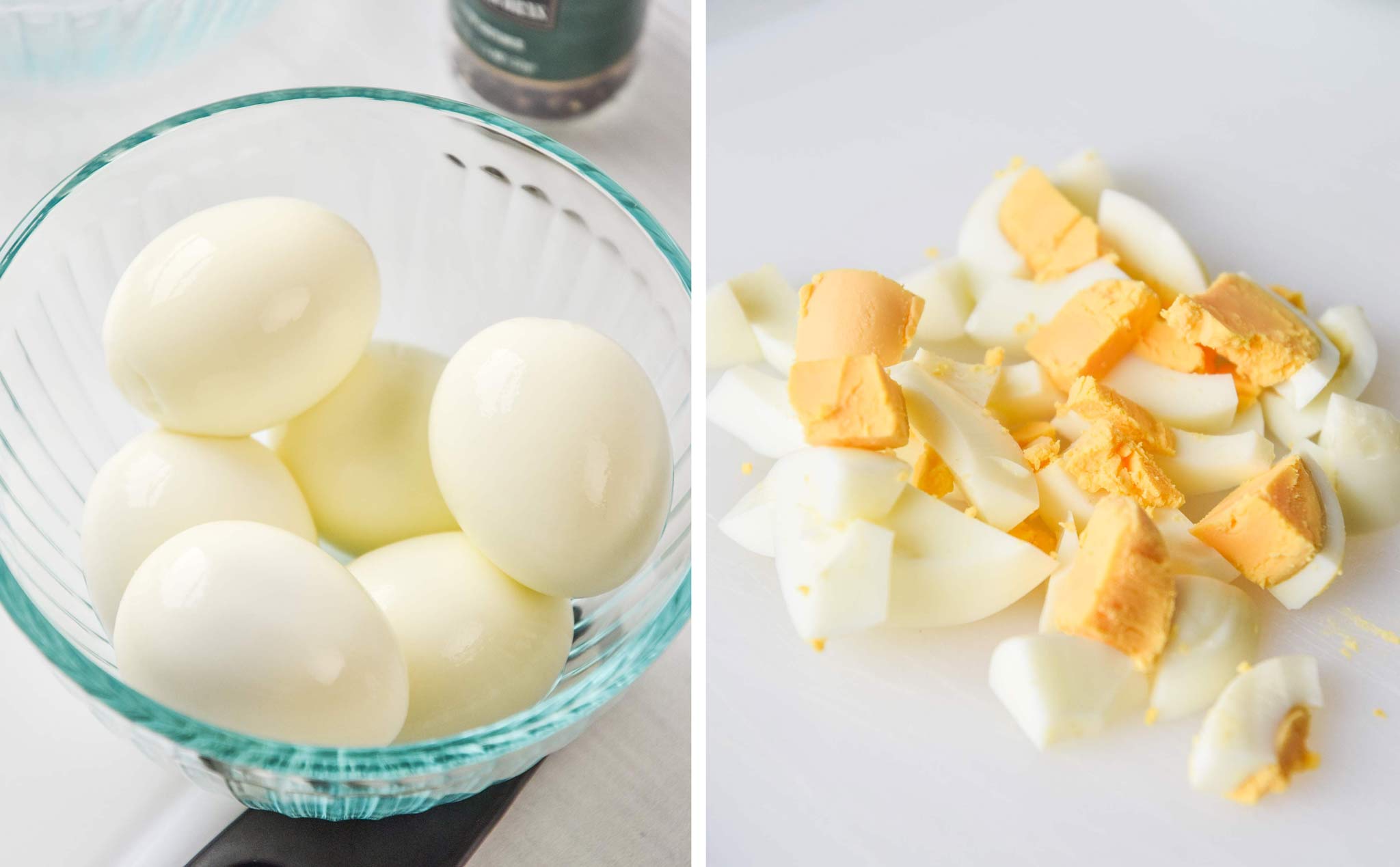 Is mayo Whole30 approved?
Yes! You just have to get the right mayo. Most grocery store brands have added sugars and are made with random unapproved oils.
Here's the homemade mayo recipe I have made in the past from the Whole30 website specifically.
You can make your own but lately Costco has been carrying the Chosen Foods Avocado Oil Mayonnaise, so I'm finding that to be more time and cost effective!
Is bacon Whole30 approved?
Yes! You just have to get the right bacon.
First, the bacon must have absolutely zero added sugar or additives. This includes no nitrates or nitrites, msg, and more.
Second, the Whole30 program strongly recommends your bacon comes from pastured pigs that are humanely raised.
So, the solution to needing quality, ethically raised bacon with no sugar or added preservatives is ButcherBox (affiliate link)!
We've been getting about 75% of our meat from ButcherBox for a while now, and that includes the bacon in this recipe.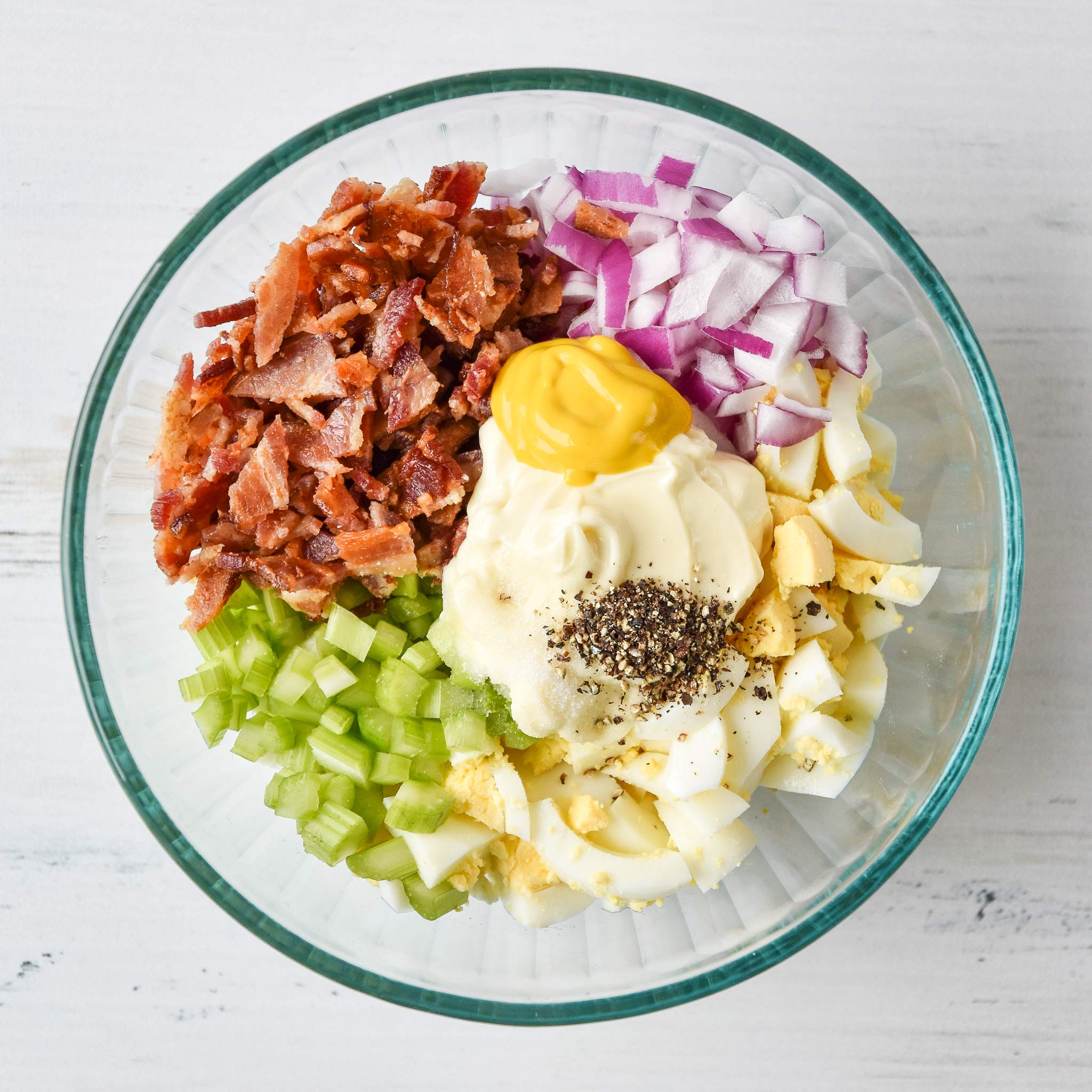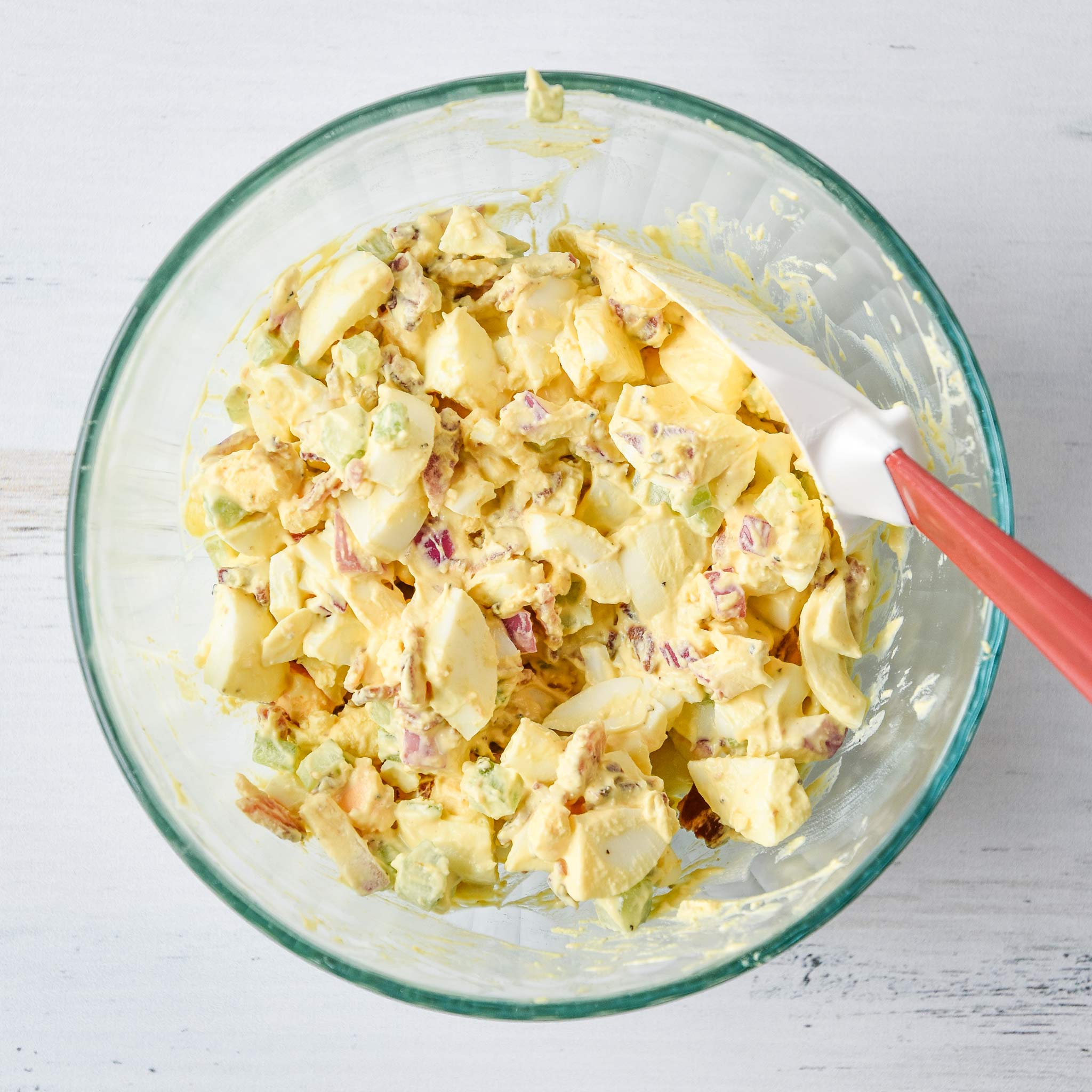 How long does egg salad last in the fridge?
This dish will last up to four days in the fridge, kept in an airtight container.
Can I freeze the Egg Salad with Bacon?
Sorry, I wouldn't try that! I don't think hard boiled eggs freeze well.
How do you serve the Egg Salad with Bacon?
The correct answer here is, any way you want! But here are some basic ideas:
plain, with a spoon or fork
in a lettuce wrap
on a croissant
in a sandwich
Let me know if you try it another way because I'm legitimately interested!!
Can this be fried?? Maybe with some cheese? OBVI not Whole30 but you can tell what I'm always craving. Hope you like this egg salad with bacon!!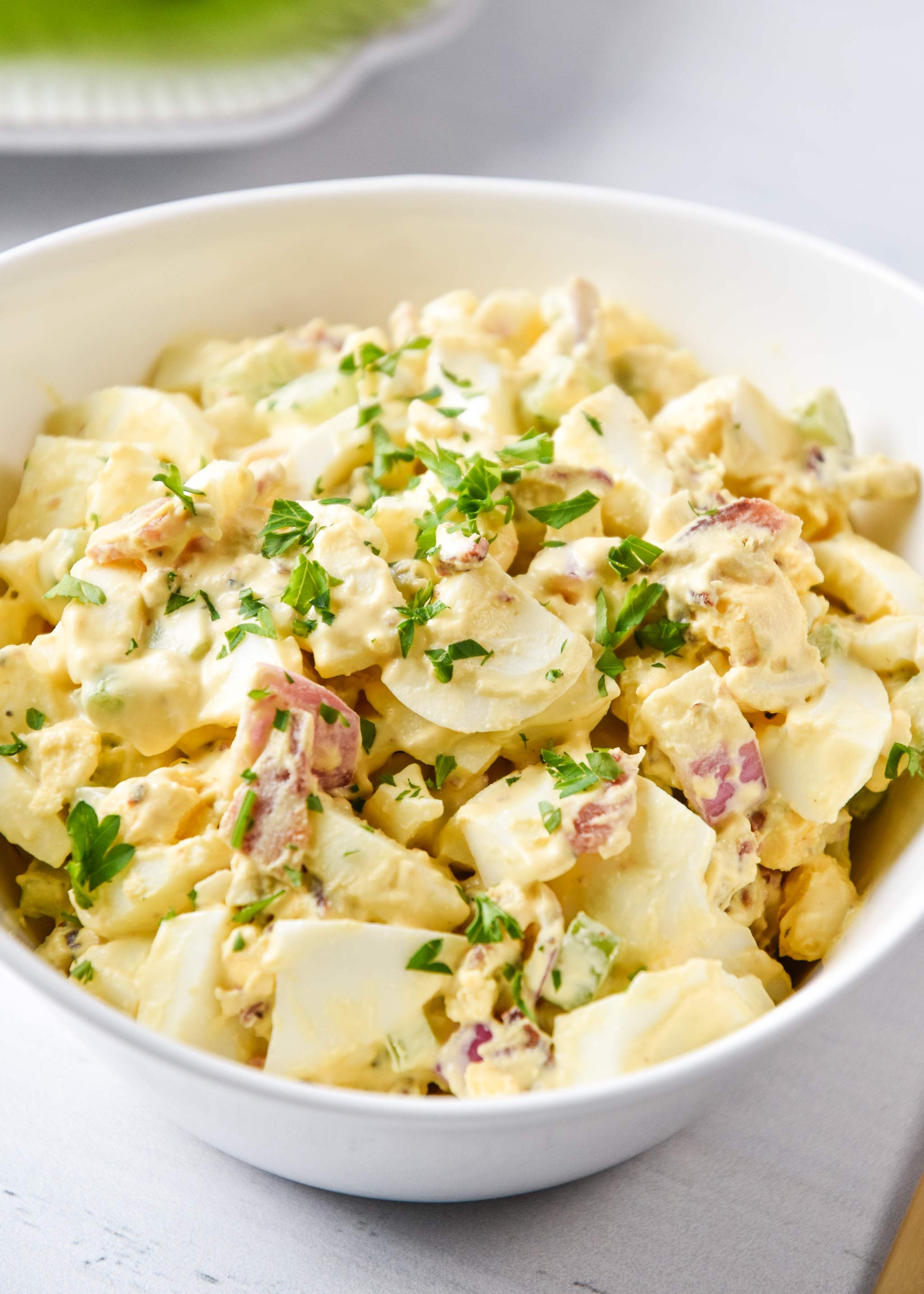 More Whole30 recipe ideas from Project Meal Plan:
Recipe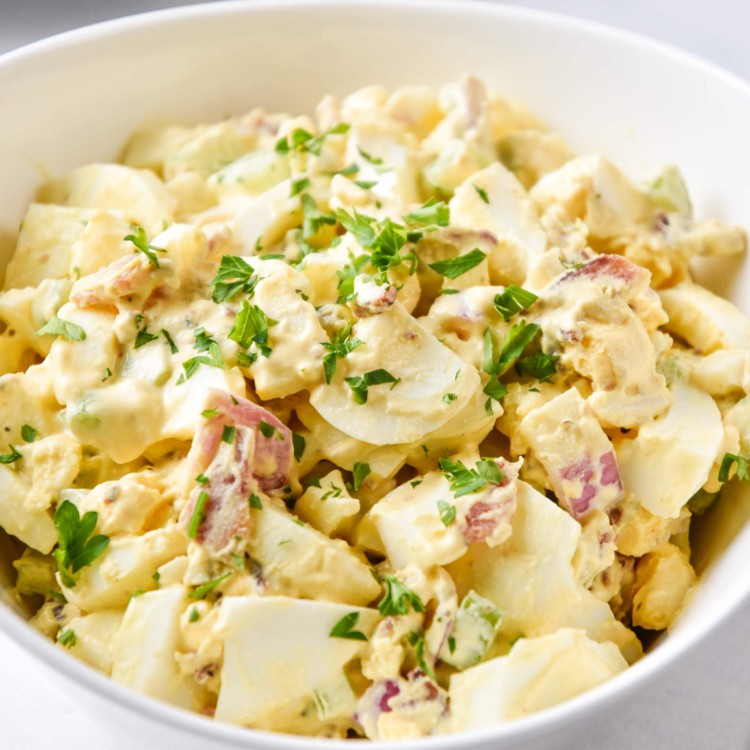 Whole30 Egg Salad with Bacon
Prep:
15 minutes
Cook:
25 minutes
Total:
40 minutes
This Whole30 Egg Salad with Bacon can easily be prepped ahead and enjoyed for a low-carb breakfast or lunch. Made with bacon, celery, red onion, mayo & mustard! An easy classic to put together when eggs get a little boring!
Ingredients
6

pieces of compliant raw bacon (sugar and additive free – I use ButcherBox)

6

large eggs

1

stalk of celery, finely diced

1/4 cup

red onion

1/4 cup

 compliant mayonnaise (*see note)

2 teaspoons

yellow mustard

1/2 teaspoon

salt

1/4 teaspoon

fresh ground black pepper
Instructions
Cook the bacon: Line a sheet pan with parchment paper and lay bacon strips flat on the tray. Place the bacon into the COLD oven and then turn the temperature to 375F. Bake for about 22-25 minutes, or until your preferred crispness (no need to flip). When done, lay the bacon on a paper towel lined plate to cool.
Hard boil the eggs: Use your favorite method to hard boil all 6 eggs – I make my HBEs in the Instant Pot. Here are stovetop instructions (follow directions for Hard). Once the hard boiled eggs are cooled, peel and then roughly chop them up and add to a medium size mixing bowl.
Mix it together: Chop the cooled bacon and add it to the bowl with the eggs, along with all remaining ingredients. Mix gently until well combined.
Serve: Eat it plain or use lettuce wraps for Whole30, otherwise try it as a sandwich or on a croissant. Store in an airtight container in the fridge and enjoy within 4 days.
Notes
Whole30 Compliant Mayo: Here's the mayonnaise recipe from the Whole30 website so you can make yours at home. It's super easy! There are also multiple compliant brands you can get from the store including Primal Kitchens, Chosen Foods, and Tessemae's. Check the ingredients and make sure there's no sugar added and the oils used are Whole30 approved.
Bacon cooking method adapted from The Defined Dish. Nutrition information estimated with MyFitnessPal.
Nutrition Information
Serving Size:

~2/3 cup

Calories:

320

Sugar:

0g

Fat:

29g

Carbohydrates:

2g

Protein:

13g
Recipe Card powered by
Whole30 or not, this recipe can be prepped into a quick and easy lunch for anyone. I'd love to see your version of this Egg Salad with Bacon! Tag me in your post or use the hashtag #projectmealplan to share with me!