Whether you just got your first air fryer or you're a longtime user looking for some new recipes, this list is for you! These simple recipes will be added to your air fryer rotation in no time! Here are 10 Easy Air Fryer Recipes for Beginners to try!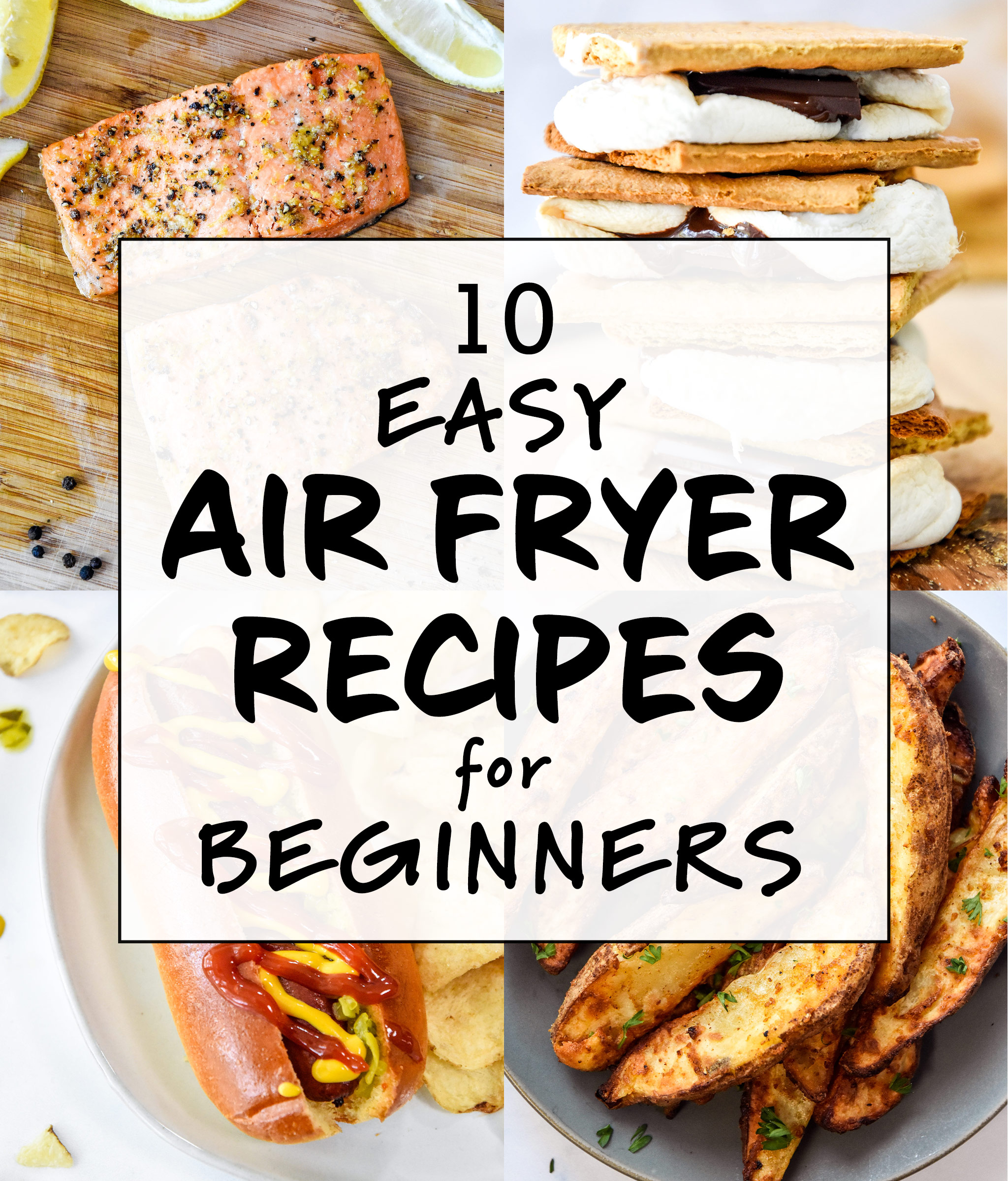 So many people are getting air fryers these days! And let me tell you, I'm ON BOARD. So you ask, what are some easy air fryer recipes I should start with? I've got the perfect selection of my very own easy air fryer recipes just for you!
Why these recipes are great for beginners:
In general, air fryer recipes are pretty simple, but they can get busy with lots of ingredients just like any recipe. I've tried to keep these ones super easy with minimal ingredients, and also teach you a few things in the process!
Here's why these recipes are perfect for beginners to try:
few ingredients – These recipes have few ingredients so it really helps you get to know how various proteins, starches, etc., react in the air fryer.
all a little different – Each of these recipes introduces you to a different air fryer technique or taste. If you try all of these recipes, you'll work your way through everything from raw chicken to marshmallows!
hard to mess up – Even if you burn the marshmallows, it's FINE. You'll learn something along the way, and some people like burnt marshmallows. In general, most of these recipes are hard to mess up as long as you set the cook time!
What is the best thing to make in an air fryer?
After multiple years of using air fryers, I have concluded that the air fryer is actually the best at REHEATING things quickly, 10 times better than the microwave could ever do, and way quicker than an oven.
This is easily demonstrated by reheating fries in the air fryer! Seriously, give it a shot. No extra oil needed, and they're usually better than the originals!
What is the easiest thing to make in an air fryer?
It's really hard to pick one thing that's the 'easiest'. Just because of how the air fryer works, it's naturally incredibly easy to use. That being said, some recipes are harder than others, which is the case with most methods of cooking.
In general, reheating things in the air fryer is super easy (just put them in and pick your cook time).
If I had to pick a recipe, it would be any recipe where you just dump something in and add oil. Always so easy! A great example is frozen tater tots!
Which air fryer do you recommend?
The air fryer I have currently, and the one that is pictured all of my more recent air fryer recipes is the Cosori XL 5.8 qt Air Fryer (affiliate link!). If you're going to invest in an air fryer to cook things for 2 or more people, you should opt for a larger size like this one.
I previously had a slightly smaller Philips Air Fryer with a metal grate basket which I liked, but I prefer the larger Cosori model with the nonstick coated basket. I've recommended this air fryer to several people and they all seem to enjoy it!
What other equipment do you recommend for air frying?
Besides the air fryer, there are a couple other things I'm always using when air fry, and I want to point them out to you!
Chosen Foods Avocado Oil Spray

(affiliate link!)

– When you use an air fryer, oil is usually required to help brown and crisp things up! This is my favorite kind. I buy it at Costco and I always have at least 3 bottles on hand at all times.
OXO 9-Inch Silicone Head Tongs

(affiliate link!)

– Tongs (sometimes spatulas but mostly tongs) are the best choice for handling foods in the air fryer. I recommend silicone head tongs to avoid scratching the non-stick surface! I also use these tongs for all kinds of cooking, not just the air fryer!
Now that you're all set with equipment, it's time to get to that list! Here are my picks for 10 Easy Air Fryer Recipes for Beginners!
10 Easy Air Fryer Recipes For Beginners
Woohoo! Which one are you going to try first? If it's the jojo potatoes wedges, you're definitely in the right place 😍
BONUS advanced beginner recipes:
I want to know which of these easy air fryer recipes you've tried! Let me know in the comments below!