We never had lentils growing up – it was just one of those things none of us really tried. But then I went to Washington State University. Lentils are a big deal over there. I tasted a couple kinds of lentil soup and liked them, but I always found there were other choices I liked better. Fast forward to today, where I appreciate the nutritional content of food a lot more. My first successful experiment with lentils this season – Vegetable & Chicken Sausage Lentil Soup (jump to recipe).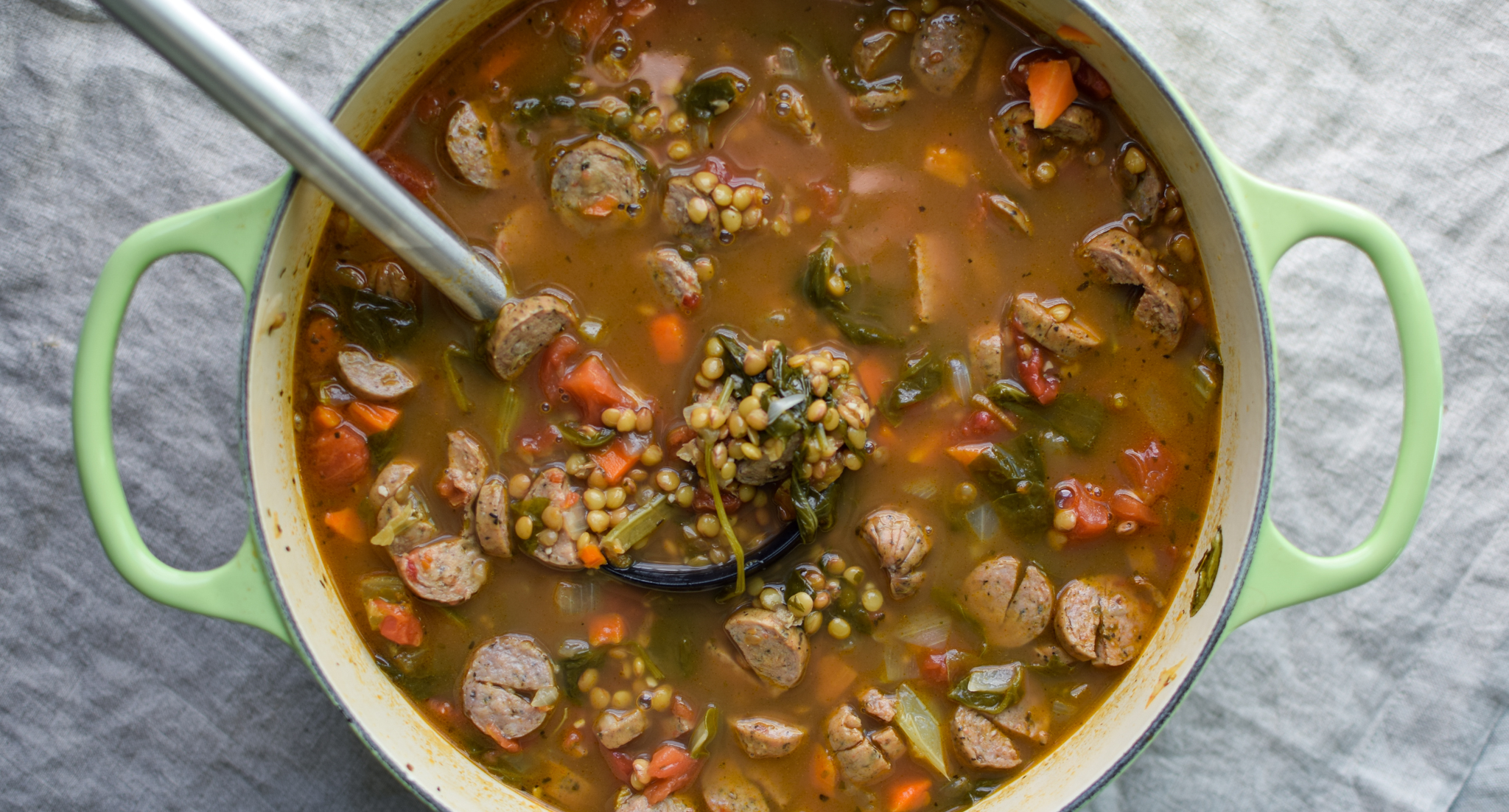 The Palouse is also home to the National Lentil Festival. In fact, 18% of the nation's lentils are grown on the Palouse (thanks to Lentil Fest homepage for that awesome stat). Unfortunately I didn't appreciate lentils enough at the time of my education to actually go to the festival. But maybe someday. Until then I will continue to create and eat delicious lentil soup.
Speaking of delicious lentil soup, I think this one turned out pretty well. It was also incredibly easy and very versatile. I tried to jam pack mine with veggies, including spinach, carrots, onion, celery, and tomatoes.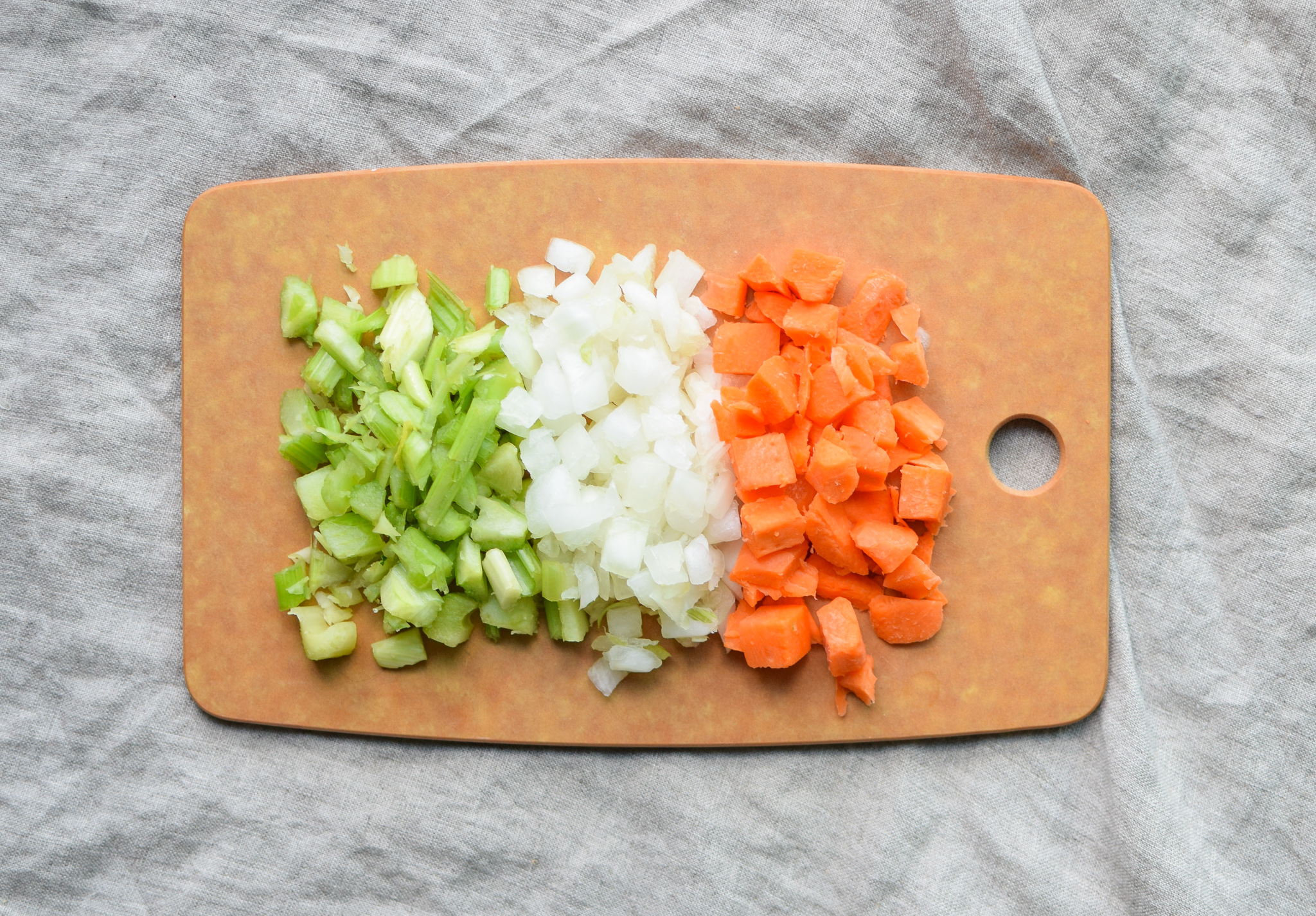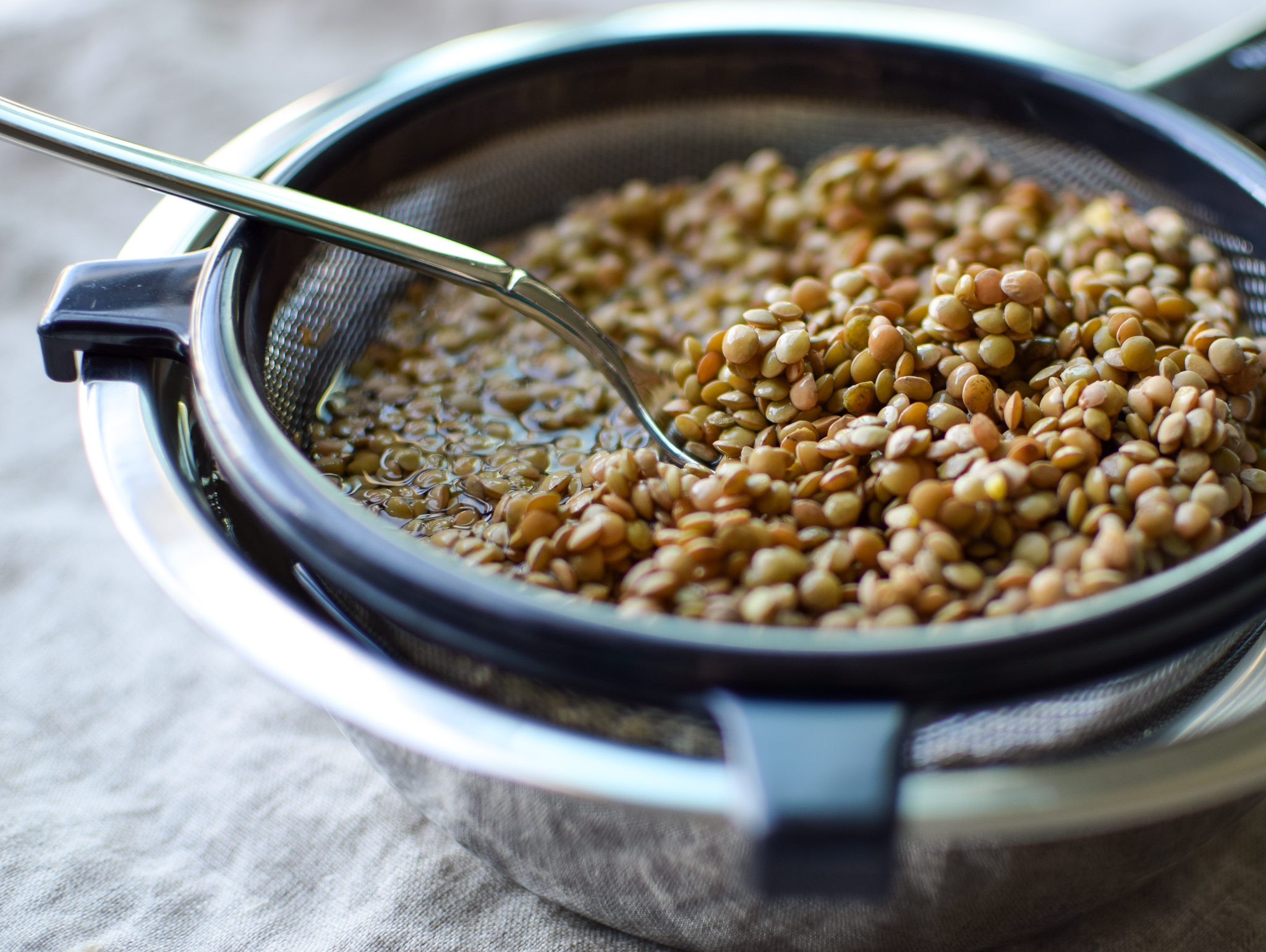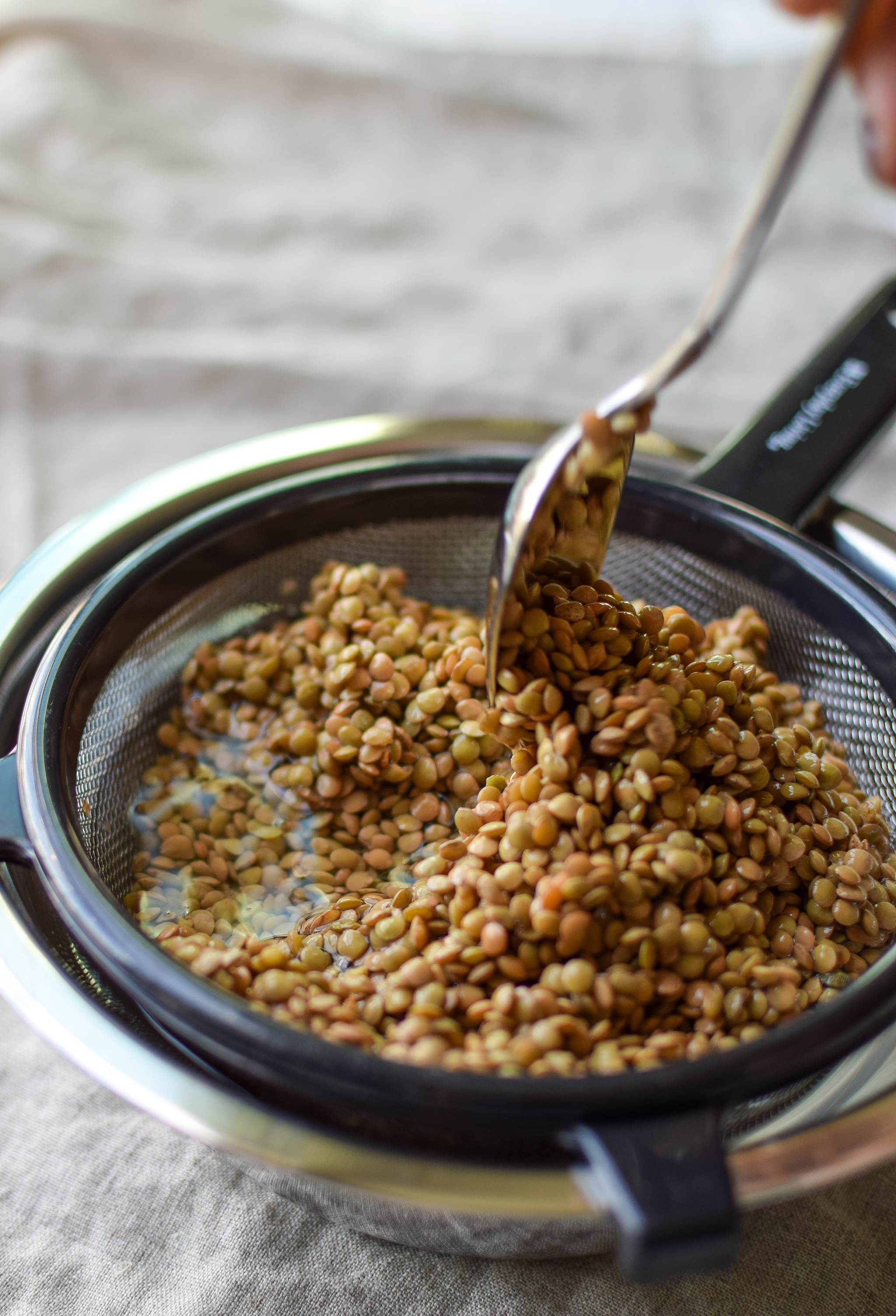 Rinsing is necessary with the lentils, and I've found the method pictured above to be the easiest. Since the lentils are bigger than quinoa, there's no risk of any going through the strainer. I stir the lentils around for a bit (see above!), and then drain. The water is probably going to be cloudy (which means the rinsing worked). You could do the rinsing directly from the faucet over the sink, but if any lentils are spilled they go right into the sink. Not cool.
Have you heard of the book Fix-it and Forget-it 5-Ingredient Favorites: Comforting Slow Cooker Recipes by Phyllis Good? It's where I got the original idea for this hearty stew. The stew recipe put the lentil idea into my brain, and the rest evolved from what was in my fridge. I also wanted to make the stew into an easier and quicker version, instead of taking 4-6 hours in the crockpot. There's definitely a lot of slow cooker love around here, but a quicker cooking method is sometimes necessary.

I also recently realized that lentils have more protein than quinoa. YAY. This only makes me more excited about remembering lentils exist and they're incredibly tasty. My other keen observation to share: they are cheaper than quinoa. Everything good, just in time for Fall.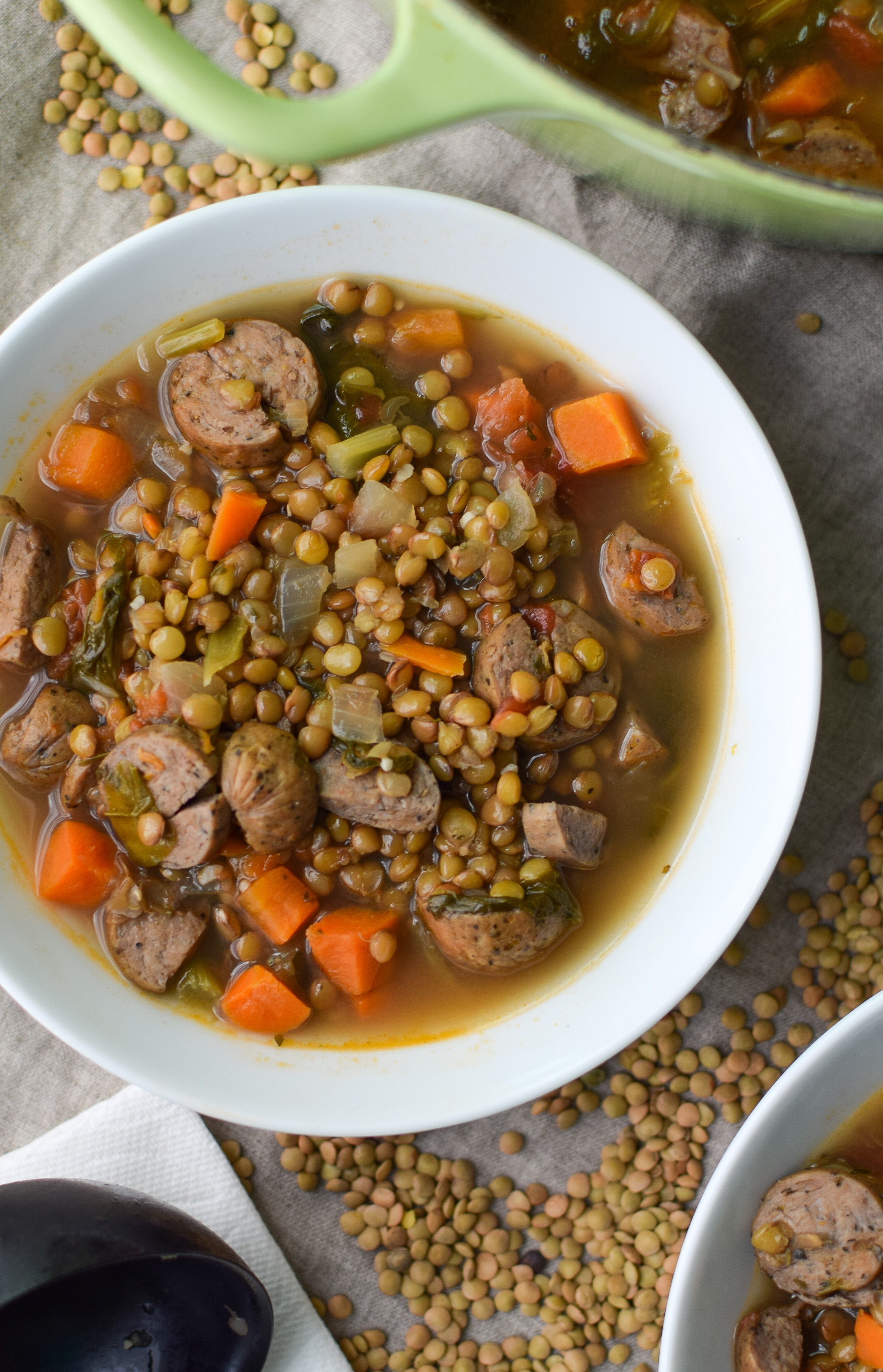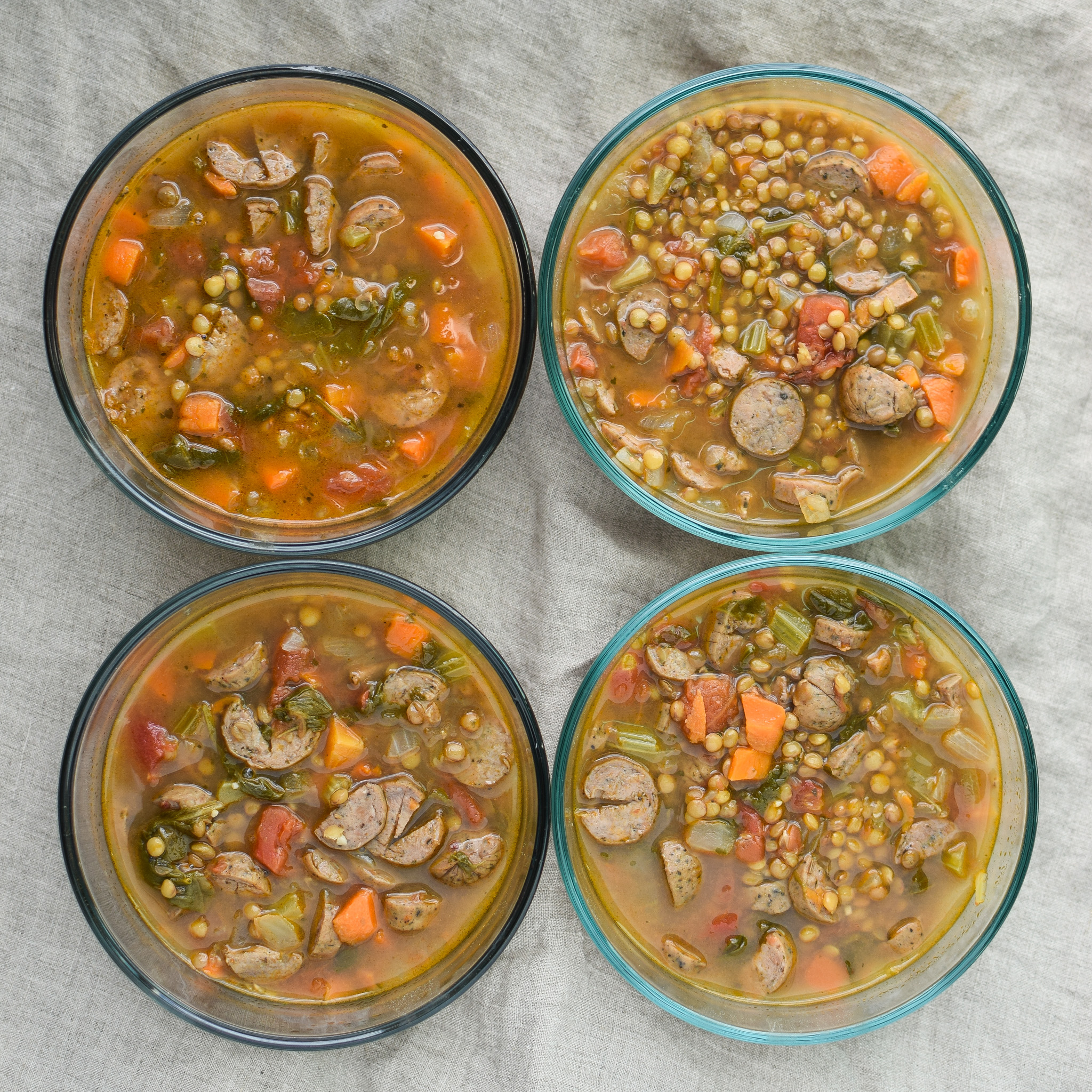 Recipe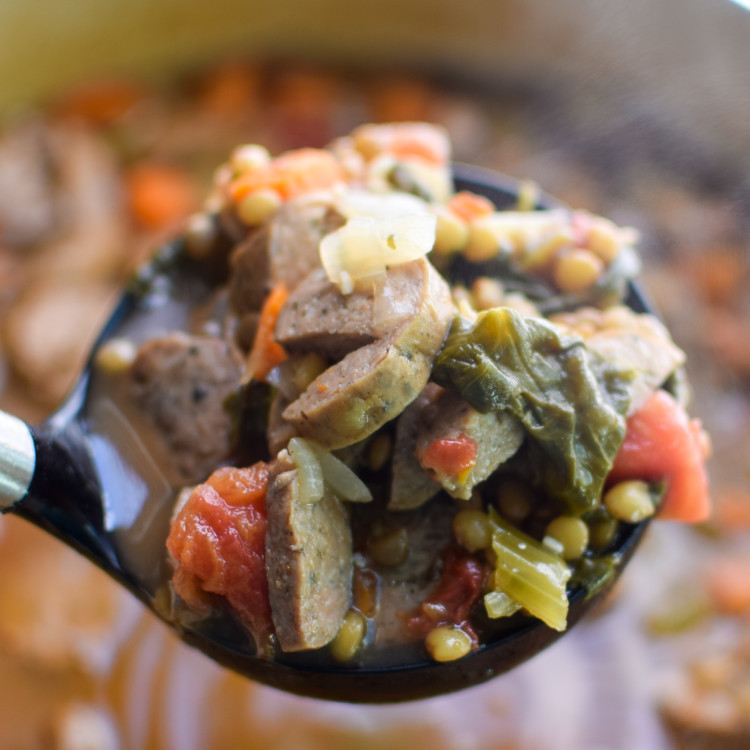 Vegetable & Chicken Sausage Lentil Soup
Prep:
5 minutes
Cook:
45 minutes
Total:
50 minutes
This Vegetable & Chicken Sausage Lentil Soup is a simple, hearty and delicious fall soup that will make your home smell amazing on any weeknight!
Ingredients
2 cups

uncooked green whole lentils

1 tablespoon

olive oil

14 ounces

mirepoix, about 3 cups (diced onions, carrots, celery)

1 tablespoon

minced garlic

1 tablespoon

salt
pinch of ground black pepper

1 tablespoon

dried parsley

4 cups

raw baby spinach leaves

1

can (14.5 ounces) diced tomatoes

8 cups

chicken broth (about 4 cans plus

1/2 cup

water)

16 ounces

pre-cooked chicken sausage, diced into bite-sized pieces (I used tomato basil chicken sausage from TJs)
Instructions
Rinse your lentils in cold water to remove the outer coating.
Heat olive oil over medium heat in a large deep soup pot or Dutch Oven. Add mirepoix mixture when oil is hot. Stir to coat all vegetables in oil and let it cook for 3-4 minutes, or until the onions begin to turn translucent.
Add garlic, salt, pepper, parsley, and spinach leaves to the pan. Stir initially, and cook until the spinach leaves are cooked down (2-3 minutes).
Add tomatoes and chicken broth to the pan. When it comes to a boil, add lentils and reduce heat to low. When the soup returns to a simmer, cover the pan and let it cook for 10 minutes.
After 10 minutes, remove the lid and stir the soup to ensure the lentils cook evenly. Add the sausage to the soup and stir once more. Replace the lid and set a timer for 15 minutes.
After 15 minutes, remove the lid and stir the soup. The soup is done when the lentils are cooked through and tender.
Remove from heat and let the soup cool for 10 minutes before serving immediately. Store in long flat containers or Pyrex for up to 4 days.
Nutrition Information
Serving Size:

about 2.5 to 3 cups

Calories:

396

Fat:

13.4g

Carbohydrates:

26.9g

Protein:

31.7g
Recipe Card powered by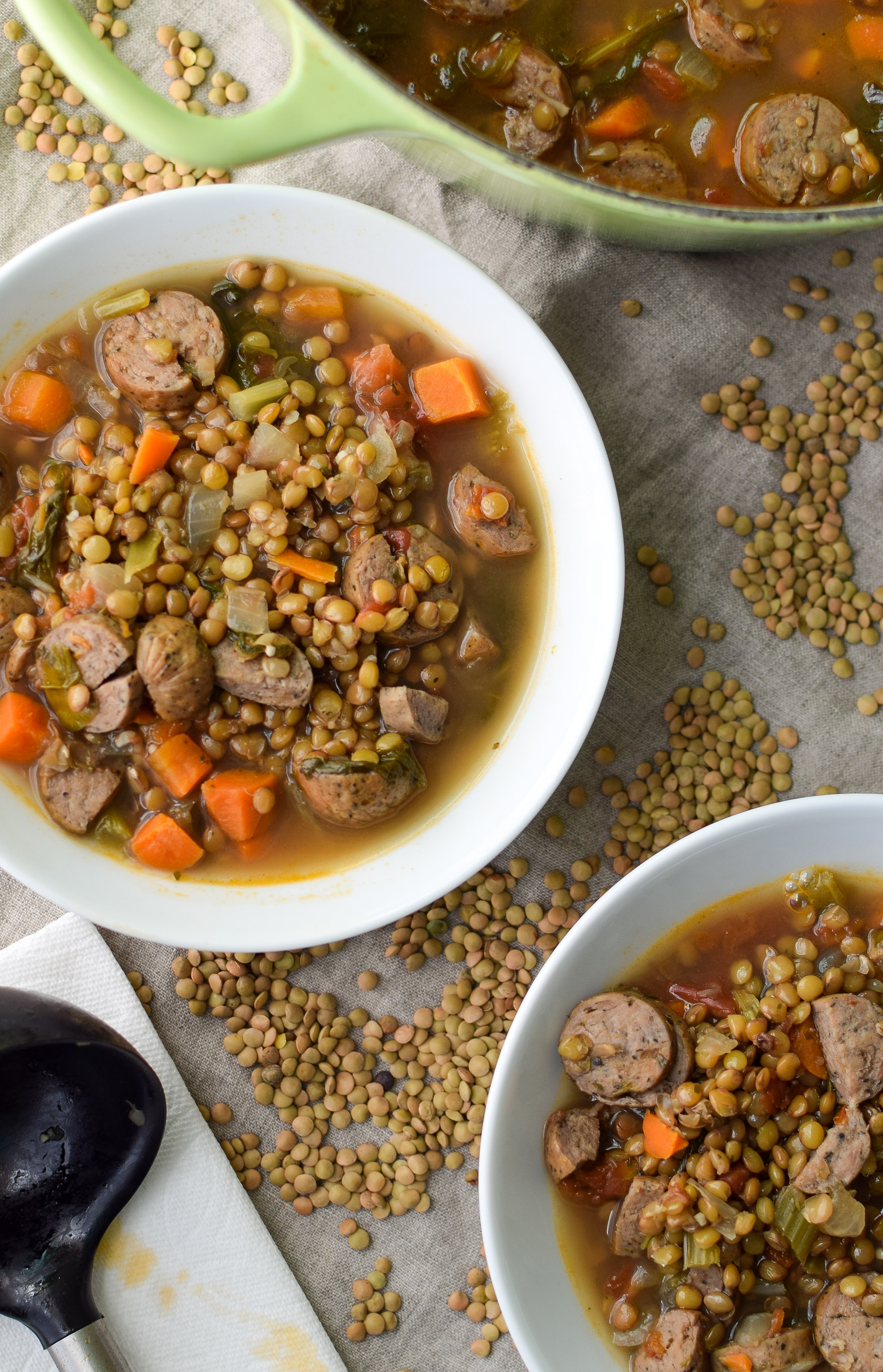 Thank you so much for checking out Vegetable & Chicken Sausage Lentil Soup! Tag @projectmealplan on social media if you make this yummy recipe! Follow me on Pinterest for meal inspiration every single day!
P.S.: What's your favorite lentil soup recipe? Since I apparently didn't know I liked lentils for a long time, I haven't tried many!
– Danielle