1 Comment
Posted: 09/08/2017
Updated: 09/24/2021
These Southwest Muffin Tin Hash Brown Egg Cups are perfect for your breakfast meal prep! Southwest hash browns with veggies, cheese, scrambled eggs, and a tiny dose of chipotle Tabasco!
Jump to Recipe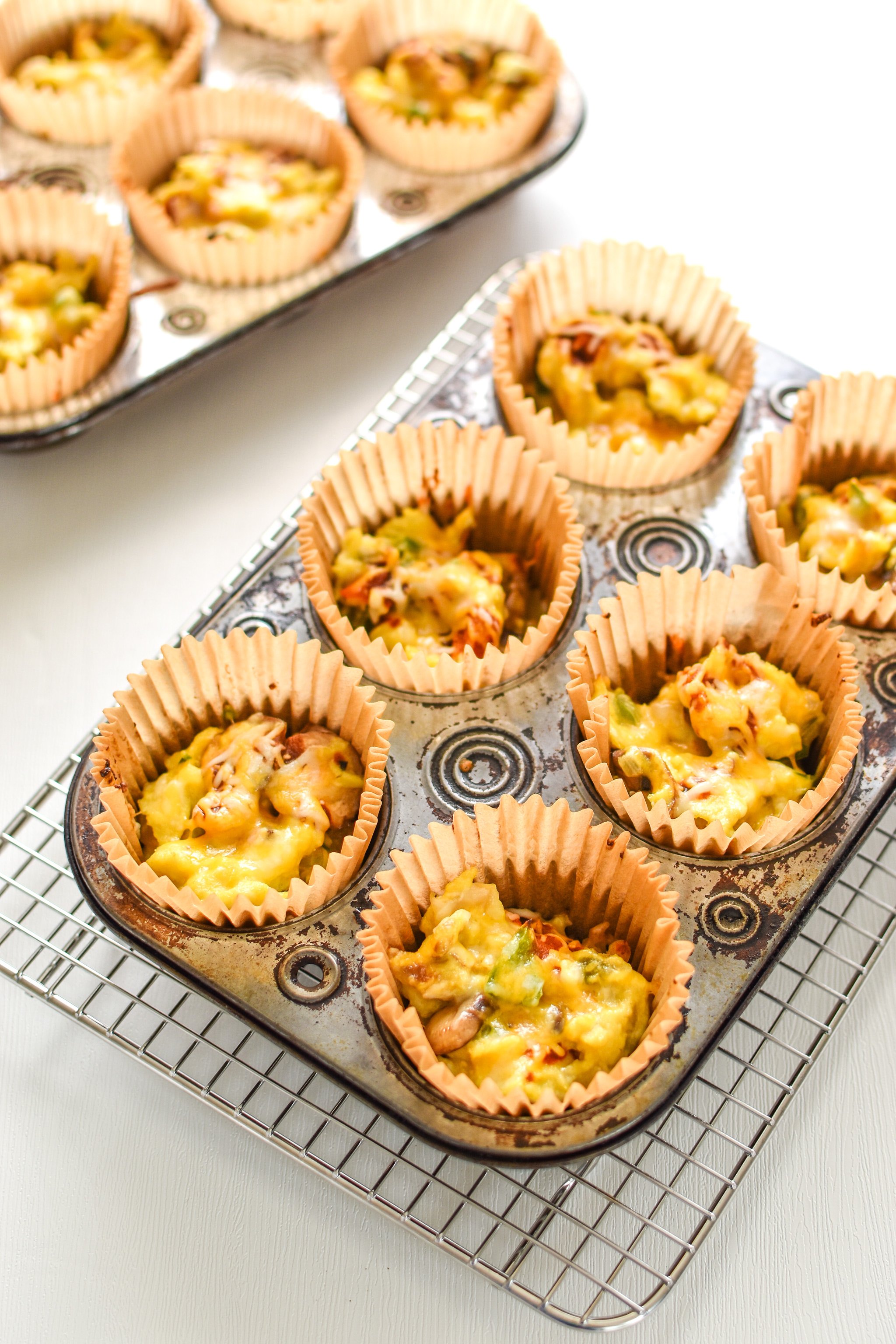 Here are some reasons this recipe rocks:
Perfect for Sunday Meal Prep! This recipe makes 12 egg cups. If you eat 2 per day (starting with the day you cook them because you have to sample!!), that works out to a perfect little breakfast for the rest of the week.
The hash brown base: "Hash browns" is one of those word combos my brain thinks is just one word, so forgive any typos. Hash browns rock and they can hold my eggs any time.
Veggies: Use up what you have, or stick to my classic mushroom-pepper-onion trio. Add more, or add less. You do you.
CAN BE TURNED INTO BURRITO FILLING: During the one of the test runs of these hash brown cups, we were like, "Breakfast burritos sound way better". So I heated up a pan, browned the egg muffins on the hash brown side a little more, then scrambled everything together and tossed the mixture onto a couple tortillas. YES.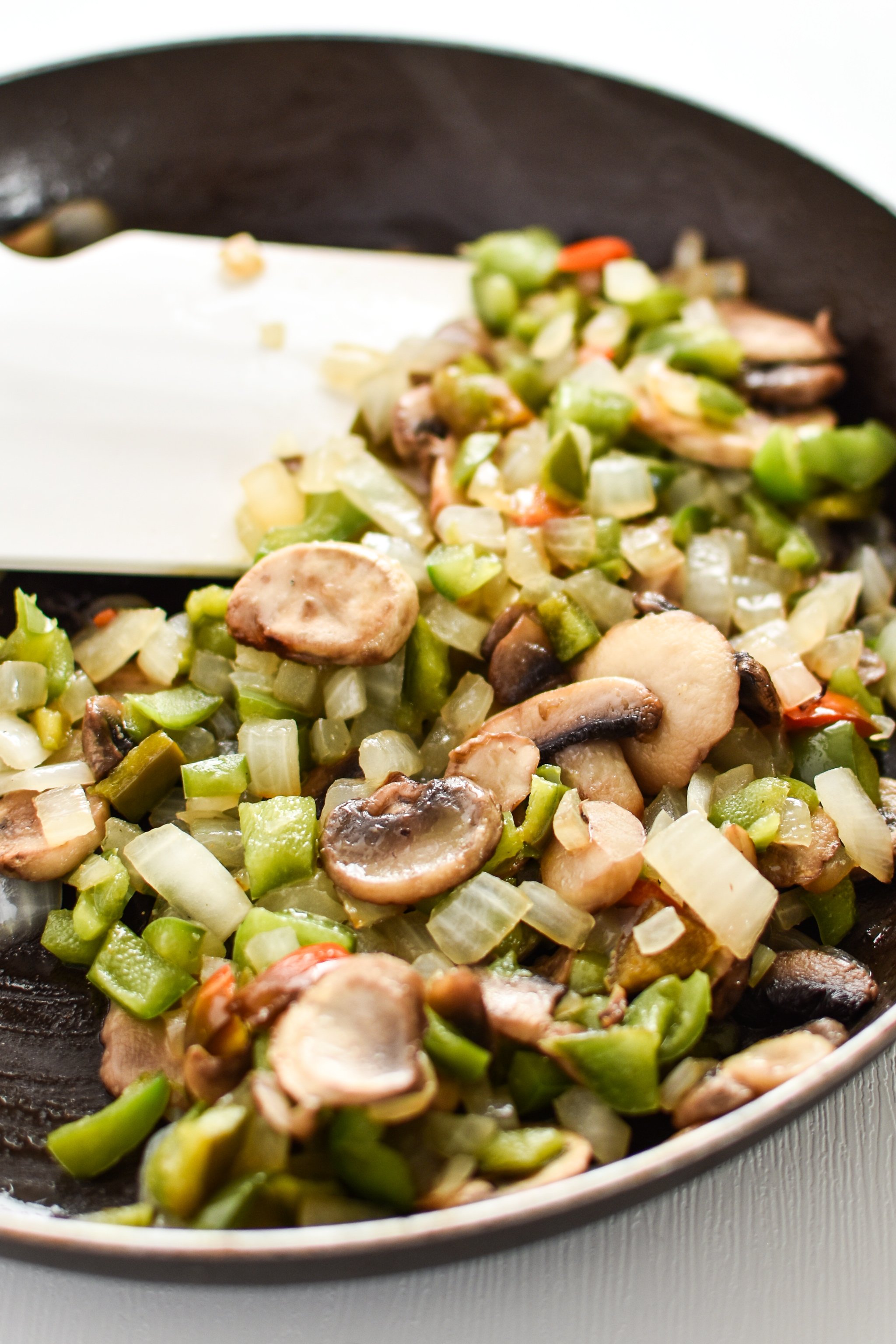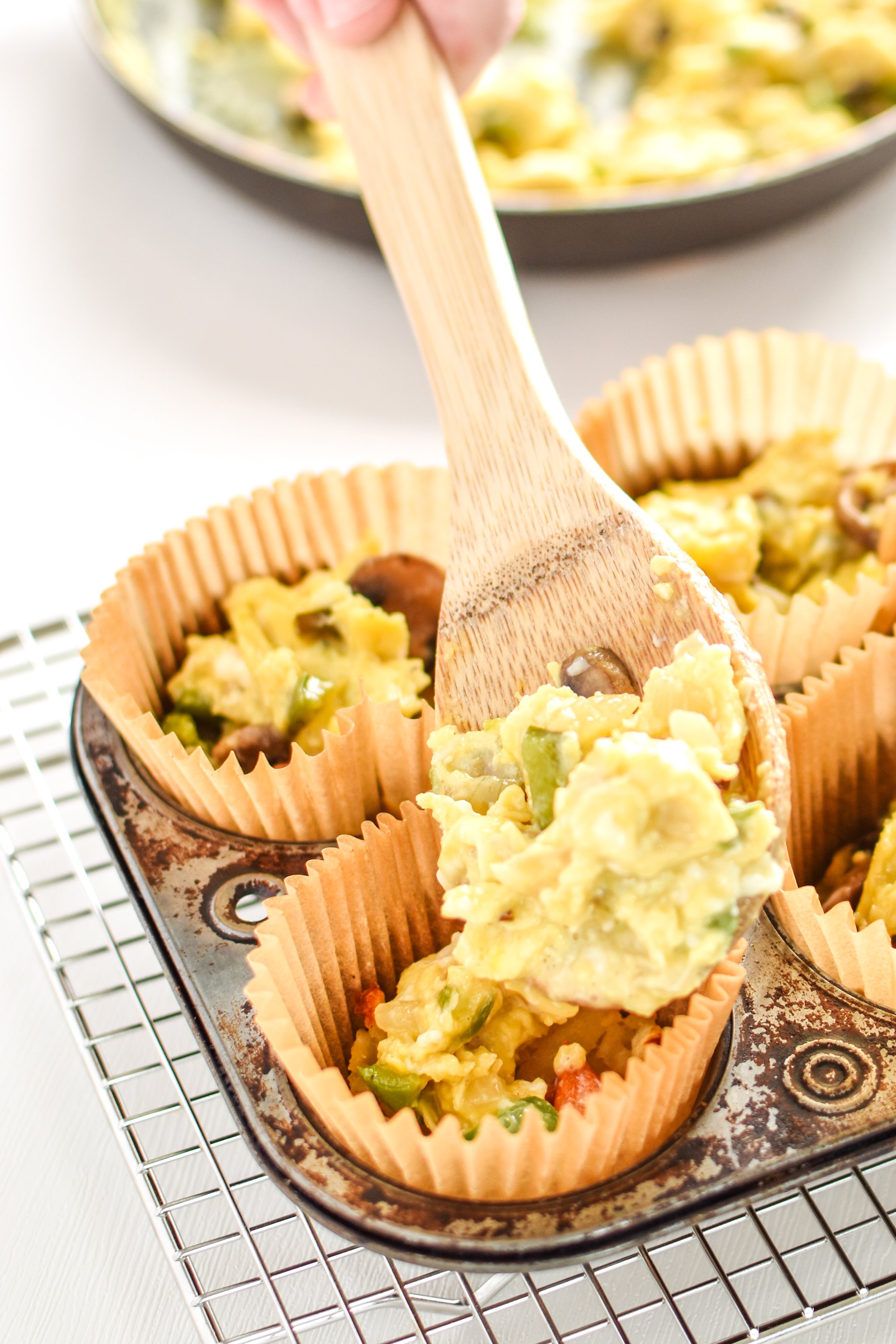 Guys, I tried really hard to cook these egg muffins in JUST the muffin tins, without scrambling the eggs first. The first batch was sort of a soggy hash brown muffin situation. Unfortunately, it is my assessment that the eggs have to be pre-scrambled before going on top of the hash browns. Otherwise, the little crisp hash brown edges don't stay so crisp.
For veggies, I like to go with my favorite trio of mushrooms, peppers, and onions. I basically can't cook a savory dish without adding onions somehow. The peppers (in each trial, and the photo egg cups) were from my garden. And I just like mushrooms. Other veggie ideas: spicy peppers, tomatoes, zucchini chunks, broccoli, basil, and spinach.
The "cherry on top" of this recipe is this Chipotle Pepper Tabasco Sauce. I don't even like regular Tabasco sauce, but the chipotle version? Oh yes. I used to like Tapatio, but this is a whole step above in flavor. We probably go through a bottle a month. NO JOKE. You go through things a lot faster when you don't eat at restaurants as much.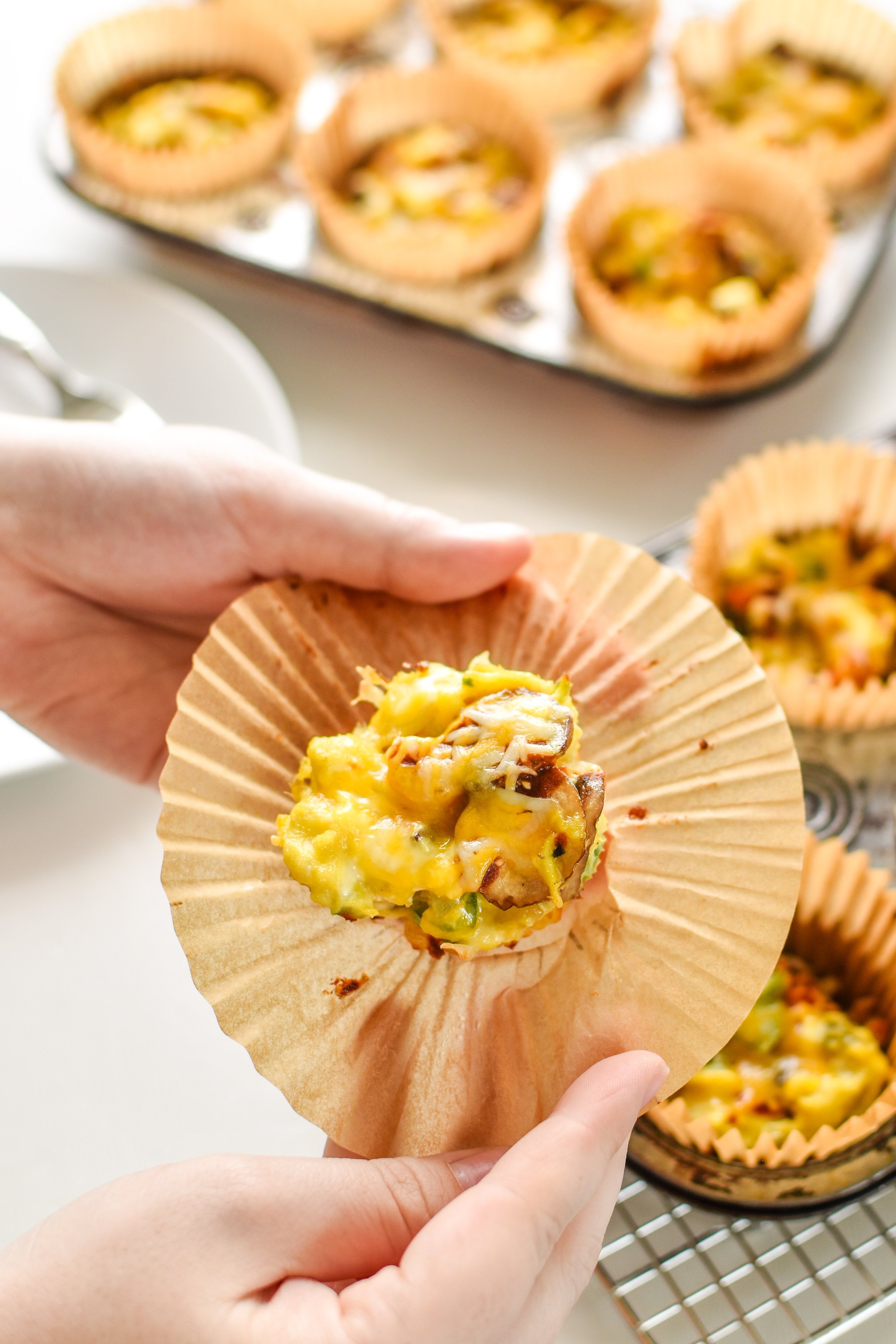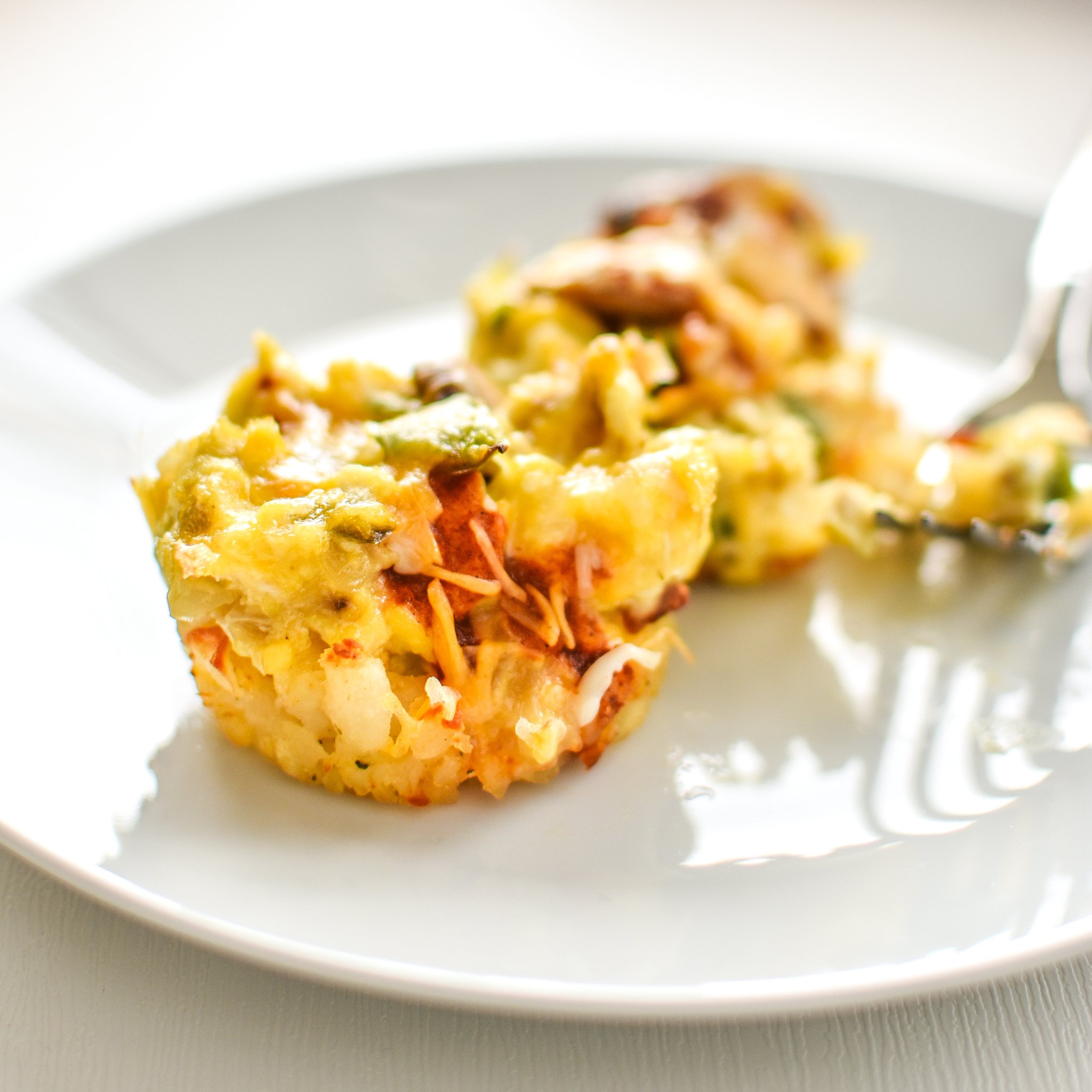 My final recommendation for this recipe: Get these parchment paper baking cups. It's the only thing in the world egg doesn't stick to (for me at least). Making the egg cups without the parchment baking cups was actually a huge disappointment, since about a quarter of each egg cup sticks to the regular baking cup (annoying) or the muffin tin (super annoying).
Solution for baking egg cups WITHOUT STICKING:
These are the actual brand I use. I bought these a long time ago for cupcakes just because they were bigger, without even realizing they were special parchment cups. Duh! SO happy to finally have a perfect use for them.
Some more breakfast recipes from Project Meal Plan:
Recipe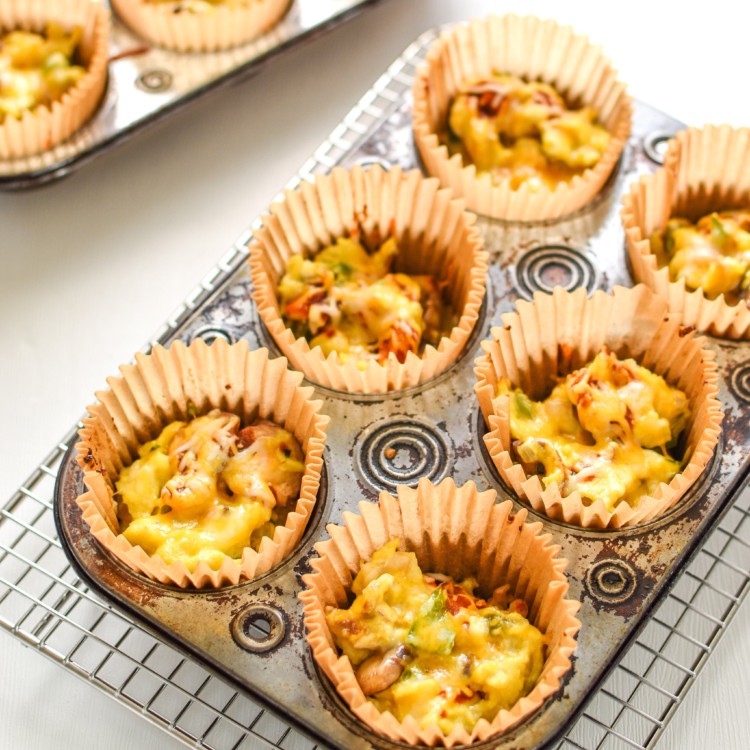 Southwest Muffin Tin Hash Brown Egg Cups
Prep:
15 minutes
Cook:
45 minutes
Total:
1 hour
These Southwest Muffin Tin Hash Brown Egg Cups are perfect for your breakfast meal prep! Southwest hash browns with veggies, cheese, scrambled eggs, and a tiny dose of chipotle Tabasco!
Ingredients
3 tablespoons

EVOO or avocado oil, separated

1 1/2 cups

Simply Potatoes Southwest Shredded Hash Brown Potatoes (refrigerated section)

1/2

yellow onion, finely diced

1

bell pepper, color of choice

1 cup

mushrooms (about

5 oz

.)

8

large eggs, whisked

1/4 teaspoon

salt

1/4

fresh ground black pepper

1/2 cup

shredded cheddar or cheddar jack cheese
Chipotle Pepper Tabasco Sauce, to taste
Instructions
Preheat the oven to 400 degrees. Line 12 muffin tins with parchment paper baking cups (or take your chances with non-stick spray, but it doesn't always work for me).
In a small bowl, mix 2 tablespoons oil with hash browns. Divide hash browns evenly between the 12 cups. Use your fingers to press the hash browns down into the bottom of the muffin tin to form small cups. Bake for 25-35 minutes until edges are crispy.
While the hash browns bake, heat remaining 1 tablespoon oil over medium heat. When hot, add onion, pepper, and mushrooms. Stir occasionally and cook for 6-7 minutes or until the onions begin to turn translucent.
Reduce heat to low and wait about 60 seconds. Add eggs, salt and pepper to the cooked vegetables. Stirring constantly, scramble over low heat until the eggs are no longer runny, but not yet scrambled enough to eat, 3-5 minutes. Remove from heat.
When the hash browns are out of the oven, immediately divide eggs into the muffin cups using a spoon. Add a dash of chipotle pepper Tabasco, and a sprinkle of cheese to each muffin cup. Return the muffin tins to the oven and cook for an additional 4-6 minutes, or until the cheese is completely melted.
Store in an airtight container and consume within 4-5 days. Heat in the microwave, covered, for 30-40 seconds per egg cup.
Nutrition Information
Serving Size:

2 egg cups

Calories:

218

Sugar:

1g

Fat:

14g

Carbohydrates:

11g

Protein:

12g
Recipe Card powered by
To make this recipe, I used:
Thank you so much for checking out the Southwest Muffin Tin Hash Brown Egg Cups (and making it to the bottom)! Be sure to use #projectmealplan on social media if you make this recipe! And follow me on Pinterest for meal prep inspiration every day.
– Danielle