Pumpkin Spice Whipped Greek Yogurt is an incredible make-ahead dessert that tastes JUST LIKE pumpkin pie filling – made with plain Greek yogurt, and sweetened with maple syrup. You'll be eating this one all Fall long!
I wanted to wait until maybe mid-September or even somewhat closer to actual Fall to share this recipe with you… but I simply could not wait. Me and my dinner experiments have not been jiving all that well lately, but me and desserts? BFFs.
So, we are pretty intense Greek yogurt eaters around here. I make it in my Instant Pot at home and it saves $$$ (Related: Store Bought Vs. Homemade Greek Yogurt: Which is Cheaper?). But plain Greek yogurt gets boring after a while, so I decided to WHIP IT, and add just a touch of sweetness and flavor. Best decision ever. See the original version + a VIDEO on how to make it here.
Next phase of Greek Yogurt evolution: PUMPKIN SPICE Whipped Greek Yogurt. I had to.
Recipe Overview
Total Time: 10 minutes
Difficulty: Easy
Method: No Heat
Prep: Make-Ahead Friendly
Watch how to make Pumpkin Spice Whipped Greek Yogurt (1 min 13 sec):
Just a few of the several reasons I love this dessert:
Make-ahead friendly: It's completely edible right after whipping, but I actually prefer to stick my whipped Greek yogurt in the fridge for 2-4 hours before I dig in. It's thick and whippy… like a Yoplait Whip from the grocery store (PS if you like those, this is 100% for you).
Easy to find ingredients: We almost always have the few required ingredients on hand for whipped Greek yogurt. And at least at my house in the Fall, it's a guarantee pumpkin spice and canned pumpkin can be easily located. That's all you need!
Natural sweetener: Both the original and pumpkin spice version use a small dose of maple syrup for sweetener. It only takes 2 tablespoons of sweetener for a 4 serving batch.
Simple to make: No weird techniques, no stove or oven usage, just some whipping and stirring. Anyone can make it!
Protein: Did you know 1 cup of Greek yogurt has 20g of protein? So what I'm really telling you is that each serving has 5g of protein. FOR DESSERT.
IT'S AMAZING: Can't forget this reason to love Pumpkin Spice Whipped Greek Yogurt – it tastes amazing. Like pumpkin pie filling. Like you didn't even have to make a pie and now you're the luckiest person in the world.
Have I convinced you? I hope so. If not, let me describe just how easy this is to make, and then maybe you'll be on my level.
How to Make Pumpkin Whipped Greek Yogurt
Most importantly, you're going to need a stand mixer or hand held mixer. Whipping this by hand would definitely require more power than my arms possess, but power to you if you want to do it that way. (See the original version + a VIDEO on how to make it here.)
First, add all of your ingredients EXCEPT the canned pumpkin to your mixing bowl.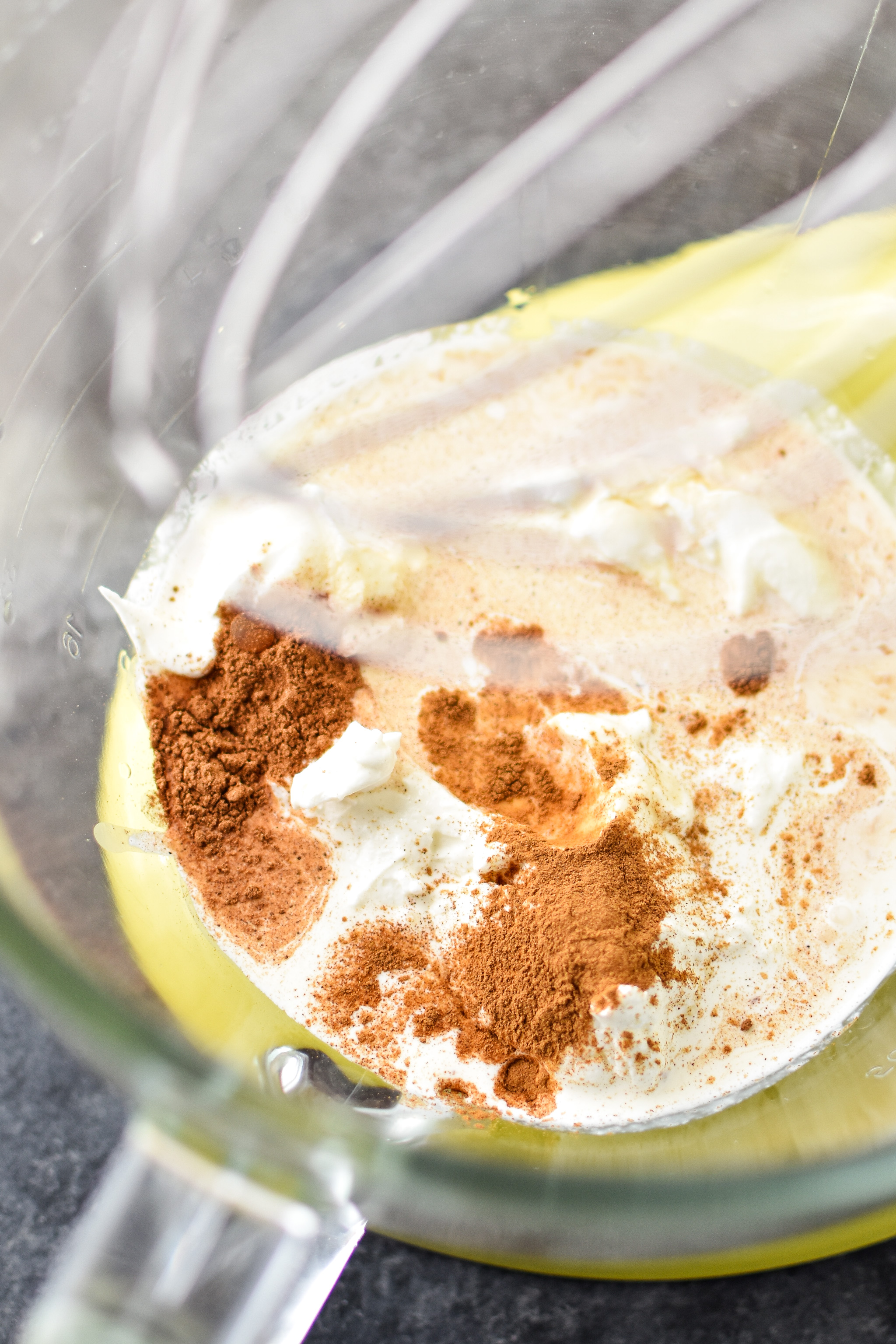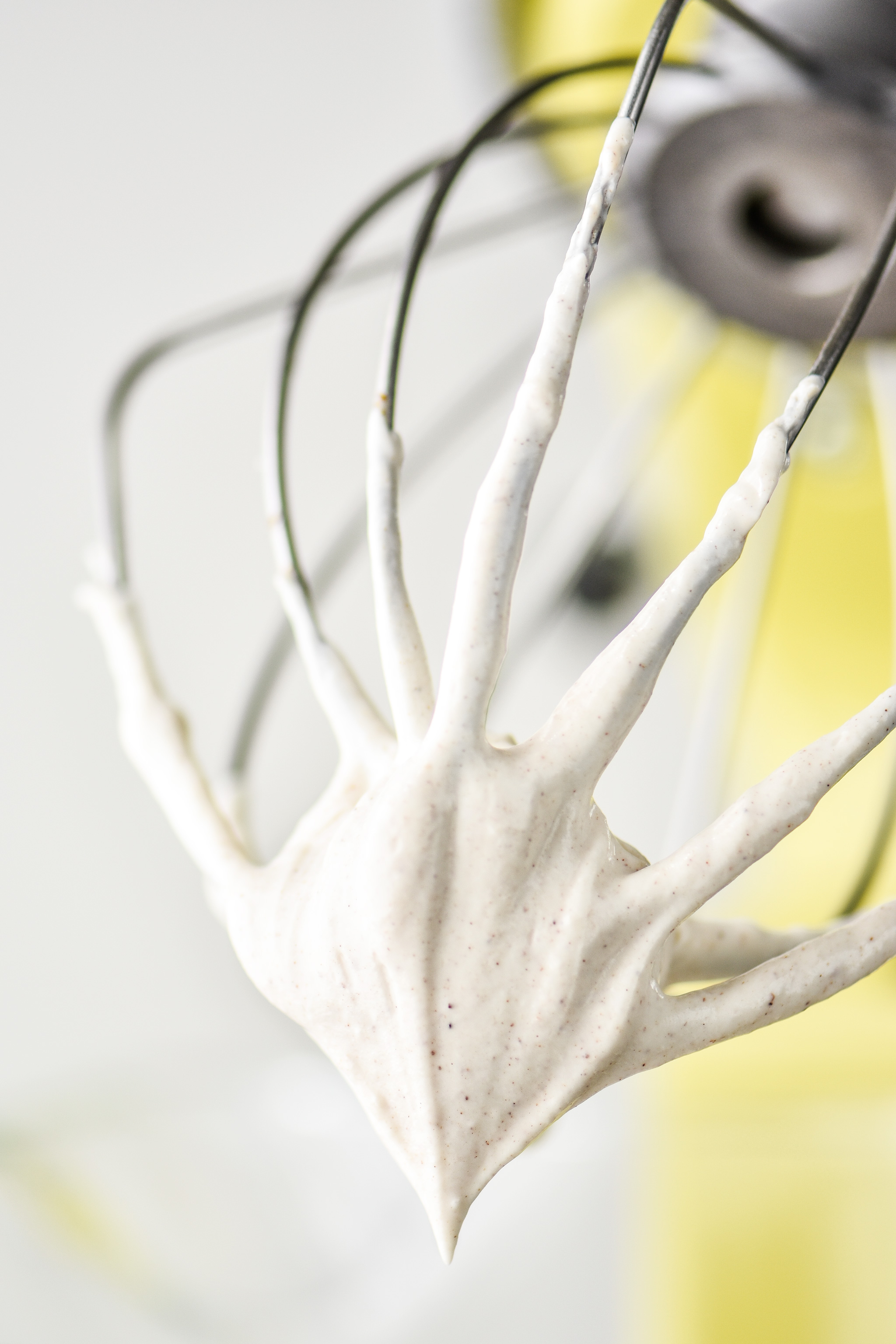 Next, whip it! Start on a slower speed so there's not too much whipping cream splatter. After it's slightly mixed (maybe 20 seconds), increase the speed of the mixer until it's at the highest level. Let it go for about 90 second to 2 minutes, then stop the mixer and give everything a good stir with a rubber spatula.
When I use my Kitchen-Aid, there's always a little area in the bottom that the attachments can't quite reach. Make sure to mix that part in! After a quick stir, keep mixing for another 2 minutes, until soft peaks form.
Once your Greek yogurt is fully whipped, set the mixer aside. Toss your canned pumpkin into the bowl and fold with a rubber spatula until it's completely mixed in.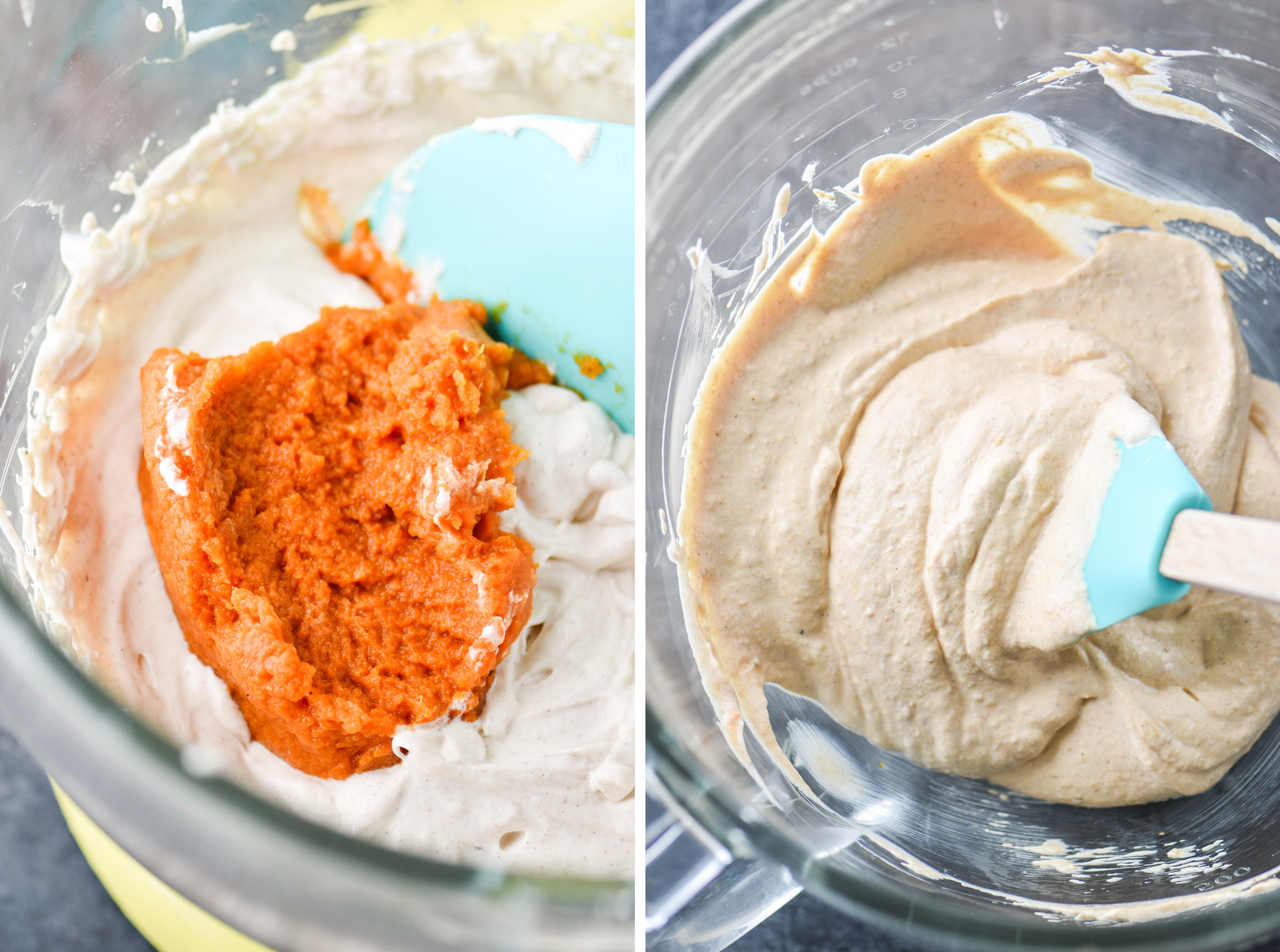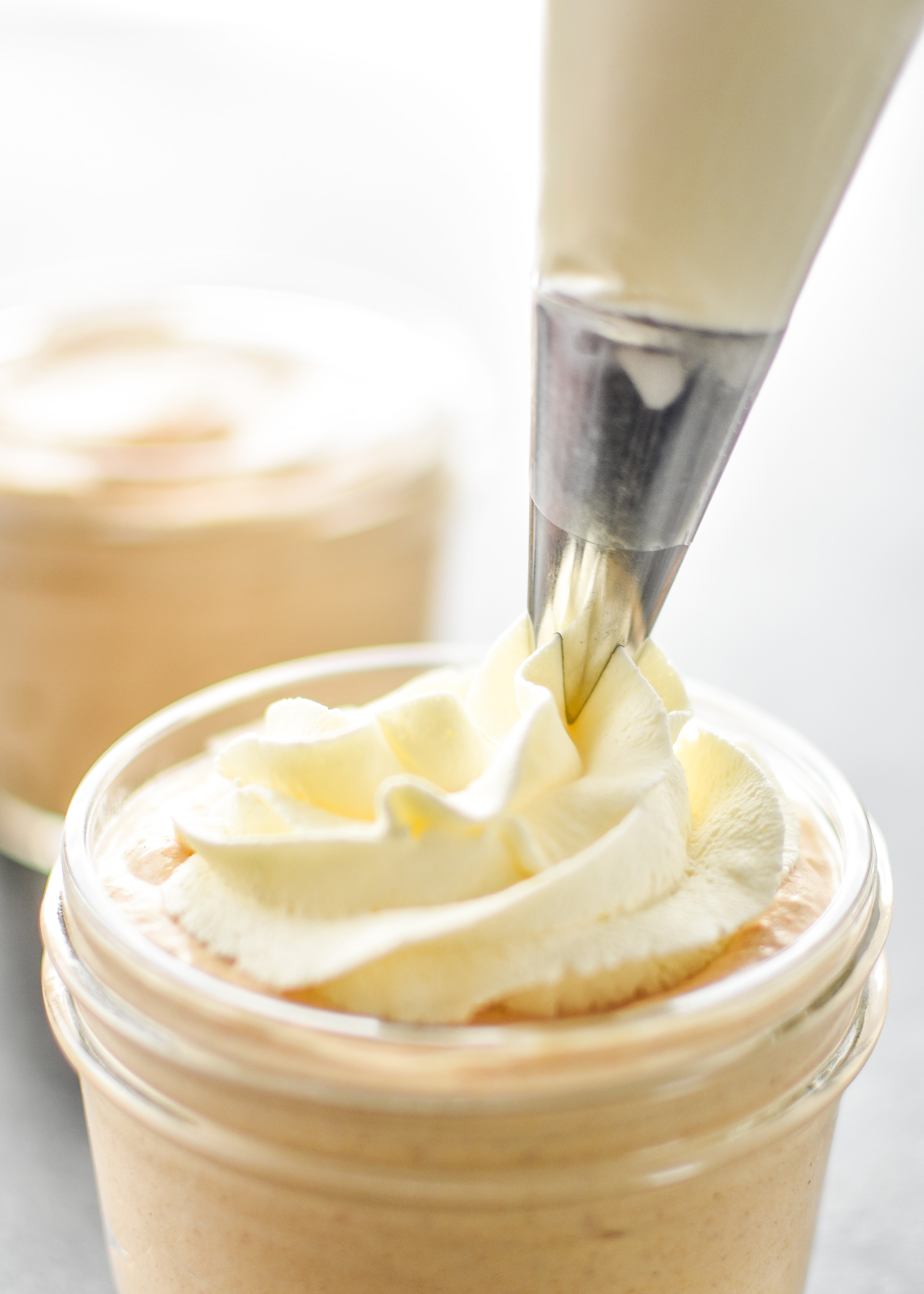 Finally, portion out your Pumpkin Spice Whipped Greek Yogurt into individual cups, or place it all in one big bowl and refrigerate. At this stage, the mixture is whipped and perfectly delicious if you're just dying to eat it right now. But after a bit of fridge time, it thickens up and become a similar consistency to a Yoplait Whip from the grocery store.
If you're feeling fancy, top with whipped cream and a sprinkle of pumpkin spice. Fancier, cheaper and healthier than the store bought version!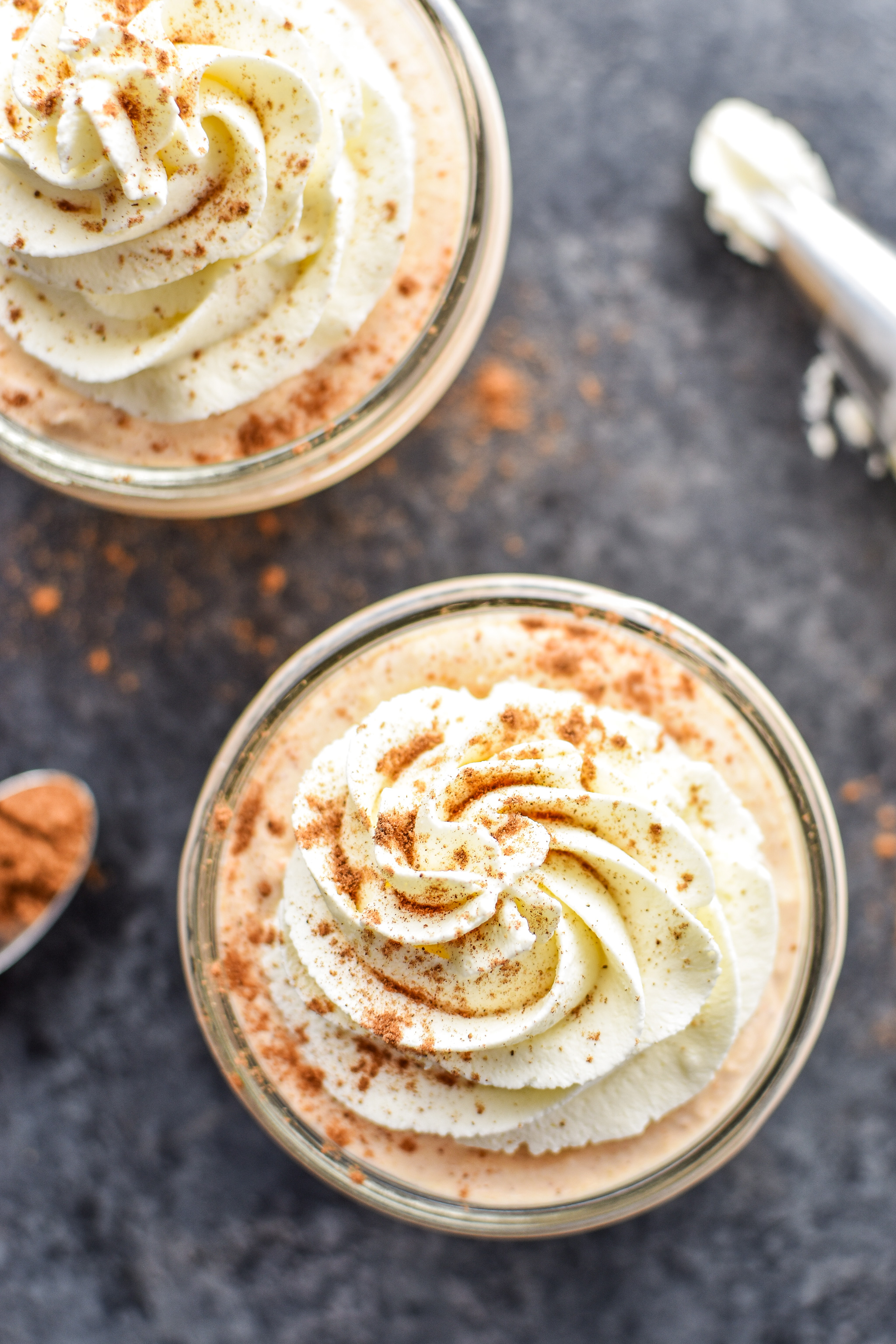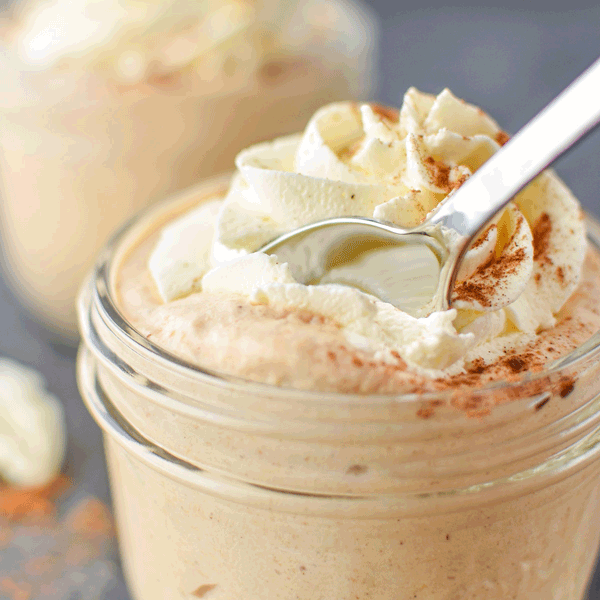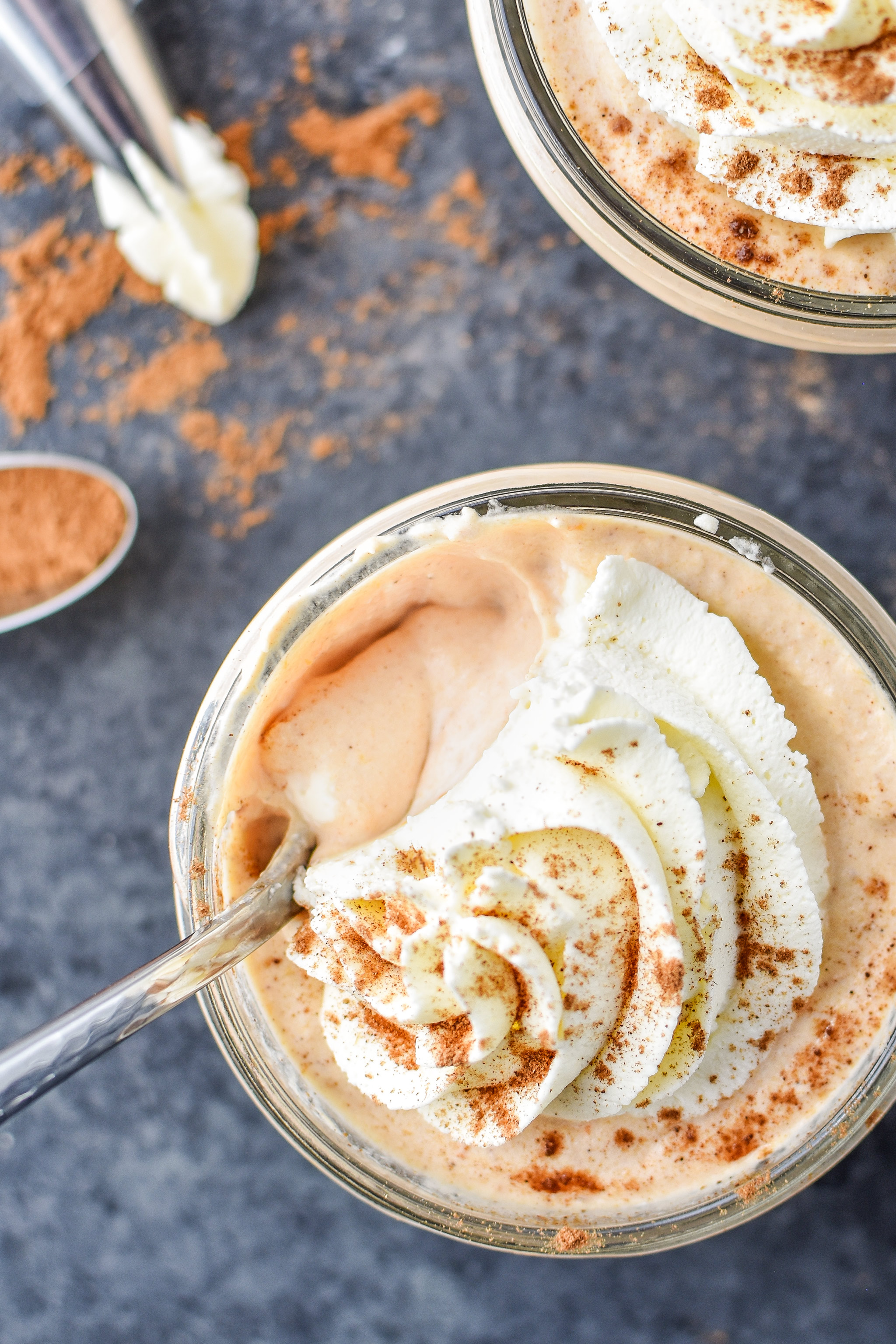 How to store prepared Pumpkin Spice Whipped Greek Yogurt:
These delicious little pumpkin cups will last up to 5 days in a sealed container in the fridge, but I bet they'll be gone before then!
How to freeze Pumpkin Spice Whipped Greek Yogurt:
I would not recommend freezing if you want the whipped texture – but I have not tried it. I think the texture would be different after freezing and thawing and you would not get the same creaminess.
Recipe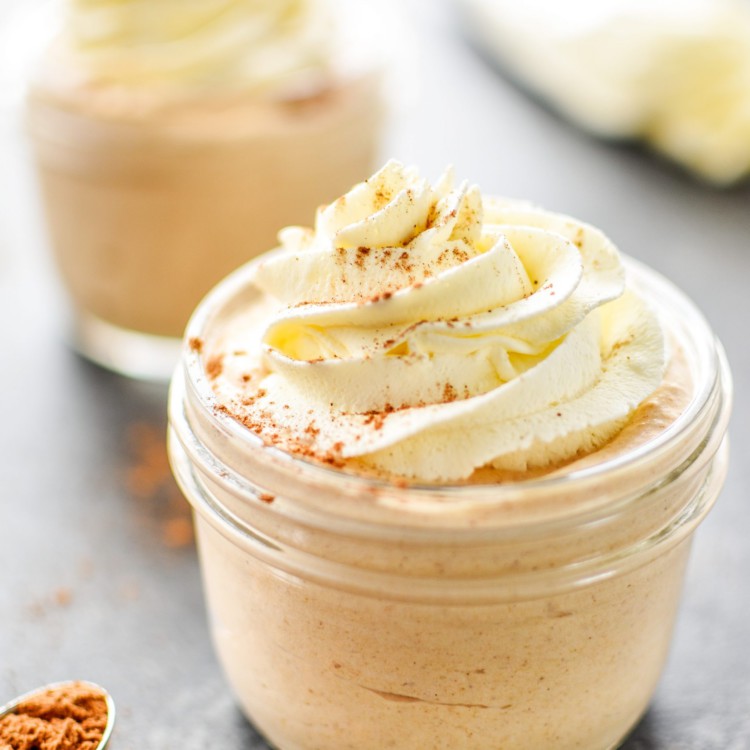 Pumpkin Spice Whipped Greek Yogurt
Prep:
10 minutes
Total:
10 minutes
Pumpkin Spice Whipped Greek Yogurt is an incredible make-ahead protein packed dessert that tastes JUST LIKE pumpkin pie filling – made with plain Greek yogurt, canned pumpkin, and sweetened only with maple syrup.
Ingredients
1 cup

whole fat or 2% plain Greek yogurt (such as Fage)

1/4 cup

heavy whipping cream (at least 36% milk fat)

2 tablespoons

 maple syrup

1/2 teaspoon

 vanilla extract

1/2 teaspoon

pumpkin spice

1/4 teaspoon

ground cinnamon
pinch of salt (optional)

1/3 cup

canned pumpkin (unsweetened with pumpkin as the only ingredient)
Add ingredients: Add all ingredients

except the canned pumpkin

to the bowl of a stand mixer fitted with the whisk attachment, or use a hand mixer.

Whip yogurt: Begin mixing on low for about 20 seconds, until the liquid cream begins to mix into the yogurt. Slowly increase power to the highest speed. After about 2 minutes of whisking, pause mixing and use a spatula to give the yogurt a quick mix – push down the sides of the bowl and make sure the very bottom is mixed in. Continue mixing for another 2-3 minutes, or until soft peaks form when the whisk is removed. The peaks will not be super stiff, but will still stand up.

Add pumpkin: Add the canned pumpkin to the mixing bowl and fold in by hand until well mixed.

Serve & store: Place the mixture into individual portion containers or a large bowl with a lid. Enjoy now or place in the fridge for 3-4 hours – the whipped Greek yogurt will thicken as it chills. Top with whipped cream if you wish! Store in a sealed container in the fridge for up to 5 days.

Notes
This recipe is based on my original Whipped Greek Yogurt recipe. Nutrition information estimated with My Fitness Pal and does not include any toppings.
Nutrition Information
Serving Size:

1/2 cup

Calories:

141

Sugar:

10g

Fat:

8g

Carbohydrates:

11g

Protein:

5g
Recipe Card powered by