This One Serving Vegetable Pork Bowl is a simple stir fry meal that's packed with flavor and perfect for one! Seasoned ground pork and vegetables in a delicious sauce come together in just 15 minutes. Serve with your favorite rice for a quick and easy weeknight dinner.
Jump to Recipe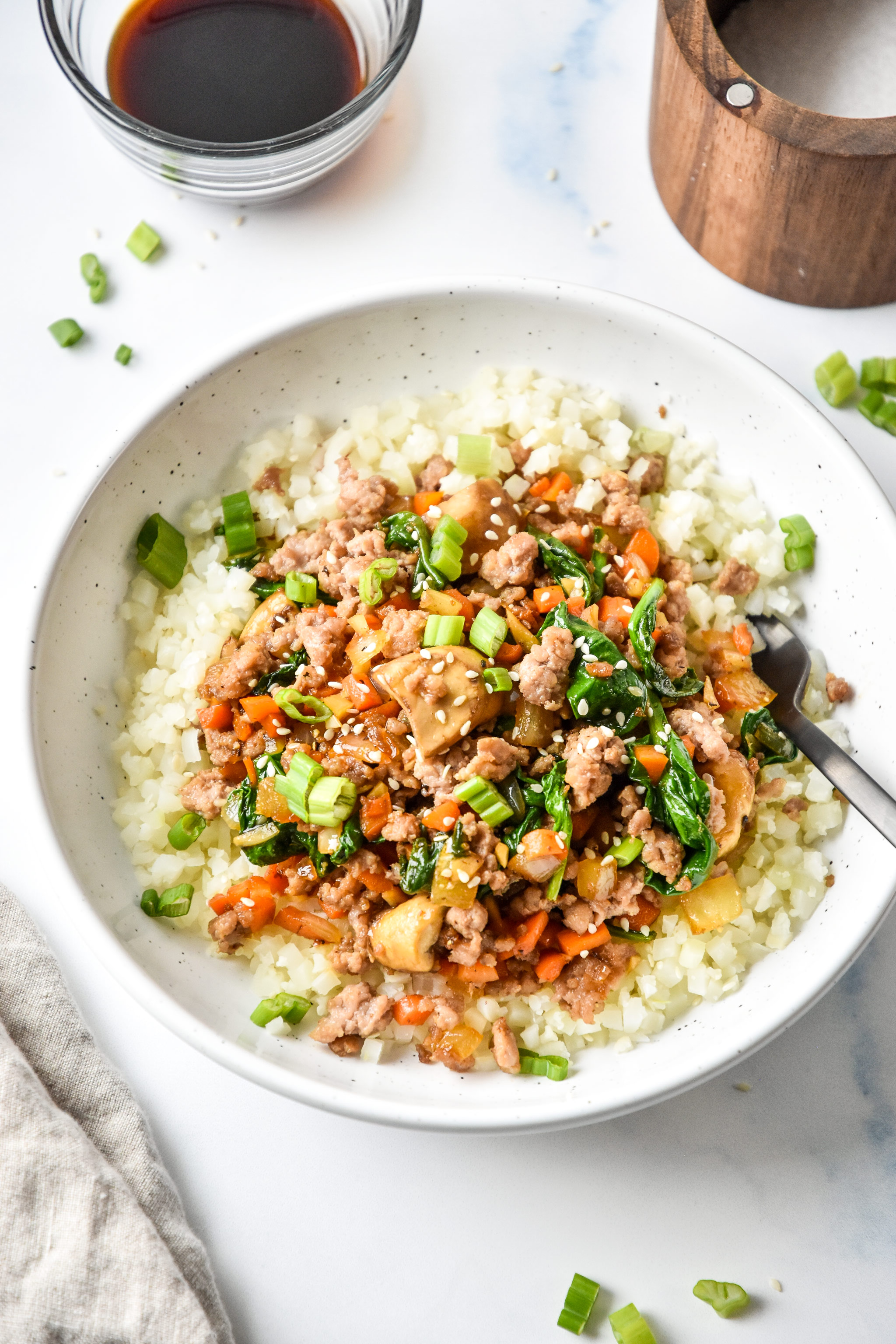 As a meal prepper, I'm commonly making meals that serve 3-4, and then saving the leftovers for the days after. Leftovers for the win!
But what if there are no leftovers? What if I have random veggies in my fridge that need to be used up? What if I only need to cook for myself tonight?
Leftovers are fabulous and time saving, but fresh cooked meals are the bee's knees too. And sometimes, you just need to cook for you. Enter this One Serving Vegetable Pork Bowl.
Where is this recipe from?
This recipe comes from The Ultimate Cooking for One Cookbook: 175 Super Easy Recipes Made Just for You, by Joanie Zisk of OneDishKitchen.com. Cooking for one has never been easier!
I'll admit, cooking for one is not something I do often. BUT, there are times when I just want a satisfying and delicious home-cooked meal for only me. Now I know exactly where to look!
From breakfasts to dinners to desserts, this book has easy, economical recipes that anyone can make, PLUS tips and tricks for grocery shopping for one.
Huge shoutout to Joanie for sharing her cookbook with me!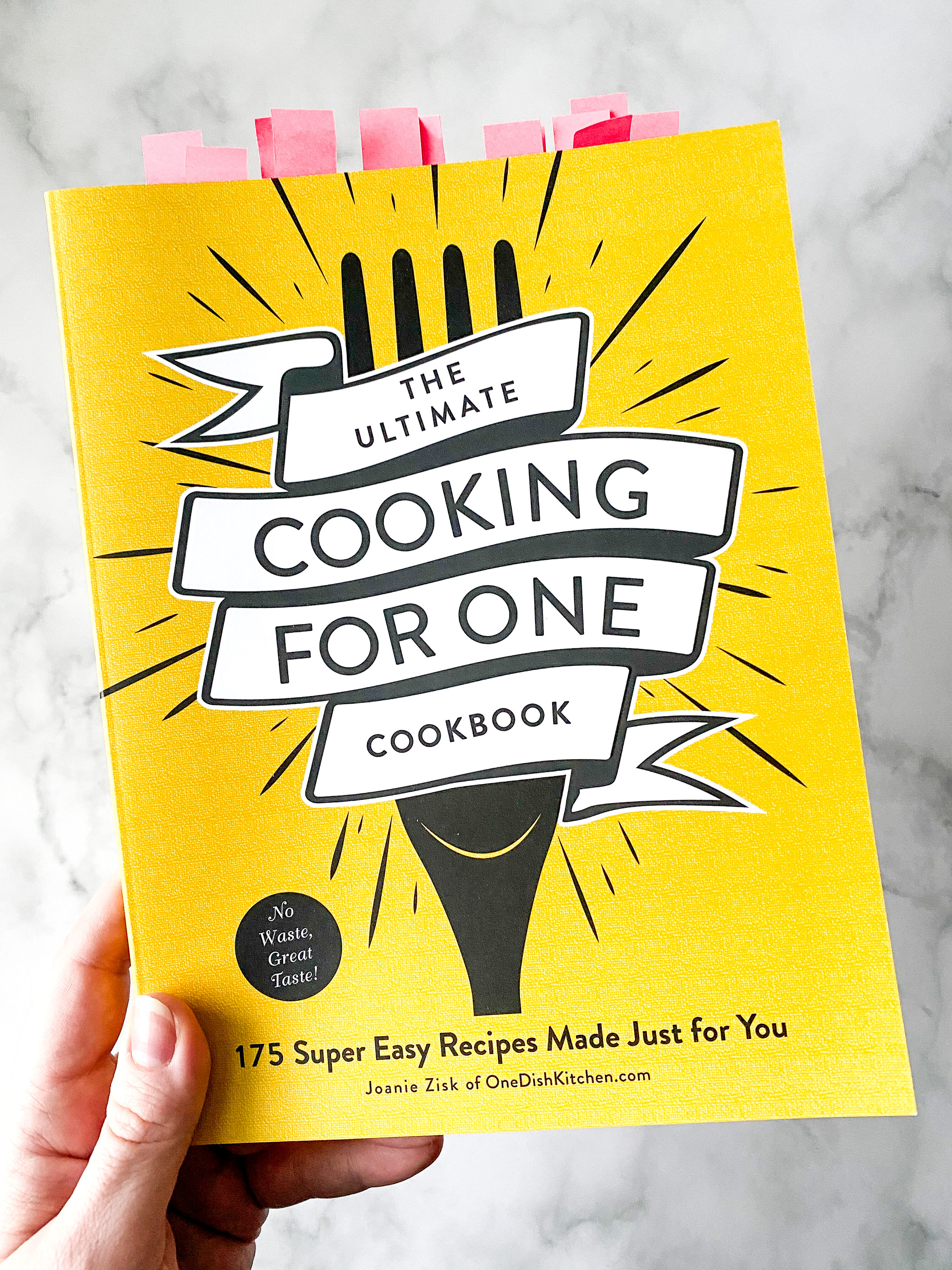 Times when one serving recipes come in handy:
Meal plan filler meal: If you need a meal to fill one spot and make zero leftovers, this is it! Sometimes you can do your best to plan out every meal but you've got a hole in the plan.
Recipes like this are here for just that occasion. You don't need leftovers, you aren't meal prepping or cooking for the family, you just need some fresh cooked dinner.
Leftover veggies to use up: Random leftover veggies such as ONE carrot, a couple mushrooms, 1/4 of an onion. Don't let them go to waste! Use these scraps for this recipe.
You want a fresh meal for just you: If you cook for yourself all the time, you're probably familiar with trying to reduce a recipe from 4 or 6 servings to one. Here's another meal you can add to your rotation without having to do any extra math! Easy, delicious, fresh.
You don't want leftovers: Some people love leftovers. Some people hate them. I obviously love the leftovers, but sometimes I still might not want them around. If we're going on a trip or I have lots of other food on hand, I don't always want to make leftovers.
What are the ingredients in this One Serving Vegetable Pork Bowl?
This One Serving Pork Bowl is full of simple ingredients and pantry items you probably already have in your home. If you don't have these exact veggies, that's okay! Substitute what you have on hand in similar quantities.
ground pork – I get my ground pork from ButcherBox (affiliate link); humanely raised and free of antibiotics!
white mushrooms, yellow onion, carrot, spinach – The main veggies in this Vegetable Pork Bowl. I think the onion, mushrooms, and spinach are vital, but you could always swap the carrot for bell pepper or just add any other veggies extras you have in the fridge.
garlic – Adds a ton of flavor, don't skip!
ground ginger – More aboard the flavor train! I wouldn't skip this either, but you could probably substitute fresh ginger if you have it on hand!
soy sauce & apple cider vinegar – These help make up the sauce for the bowl! If you're paleo or Whole30, I think it would be appropriate to swap the soy sauce for coconut aminos.
rice – Completes the dish! You can use your favorite rice, or swap for cauliflower rice.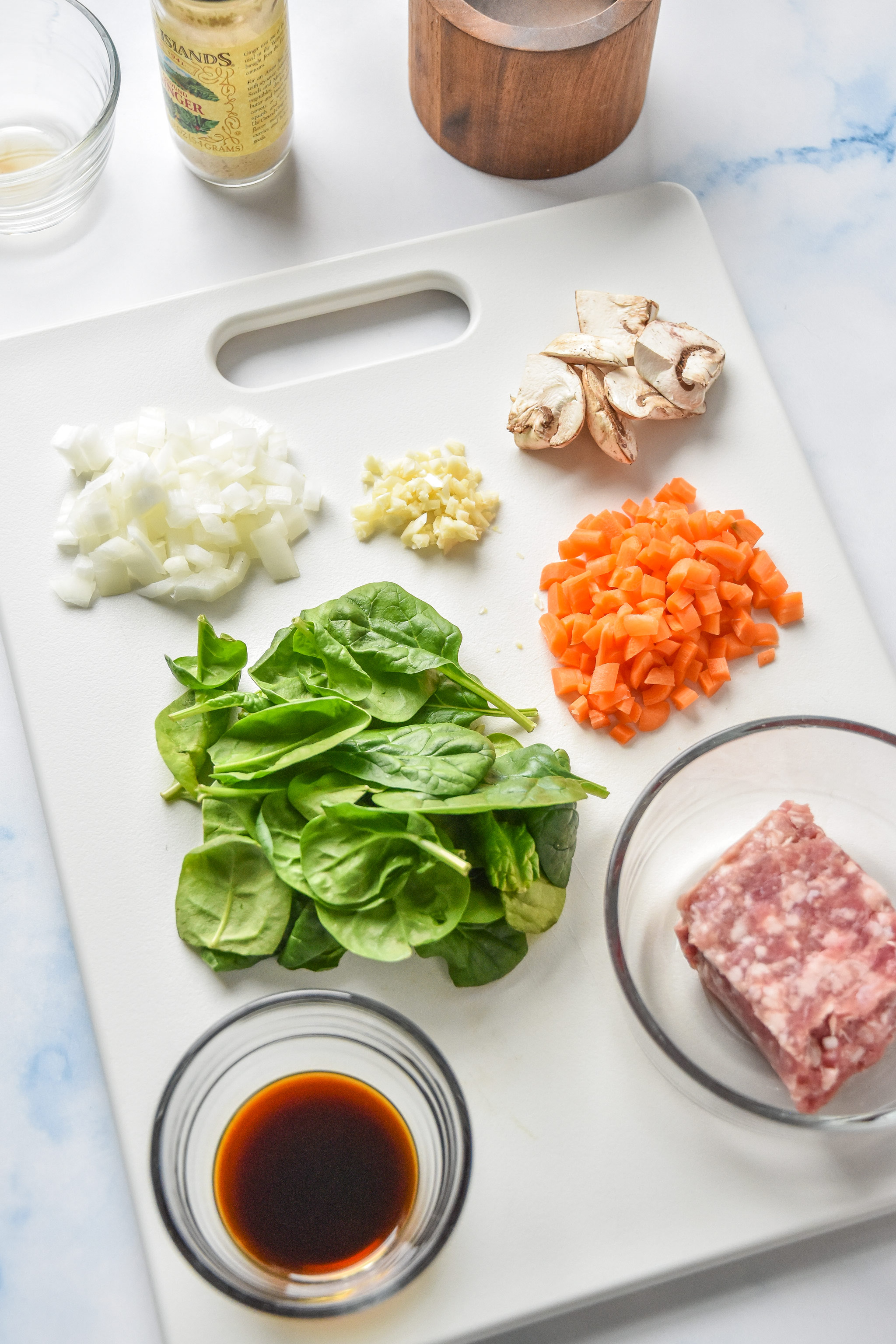 How can I customize this One Serving Vegetable Pork Bowl?
Veggie swaps: My favorite veggie addition to this meal would be to add some red bell pepper for a hint of sweetness.
I did say earlier that the white mushrooms, yellow onion, carrot, and spinach are vital to the recipe, but it wouldn't be the end of the world if one of them was left out. Add more of the other veggies to make up for it!
Add some heat: Toss some red chili pepper flakes on top or add some chili garlic paste to the stir fry if you like the heat!
Change the rice: Use white rice as the recipe has written, substitute with brown rice instead, or keep it lower calorie and use cauliflower rice instead (pictured!).
What do you do with the leftover ground pork?
Most of the time when you purchase ground meat, it comes in a 1 pound pack. This recipe calls for 4 ounces of ground pork, which is a quarter of a normal size pack of ground meat.
Here are some options for how to use up the remaining 12 ounces of ground pork you have just opened:
portion into 4 ounce servings and freeze: If you cook for one often, chances are you'll be needing another 4 ounce portion chunk of ground meat. When you portion out your first 4 ounces for this recipe, make the rest of the pack into three more 4-ounce portions to save you time later. Store in a sealed container in the freezer. Don't forget to label!
make a meal plan and use it up: Take a few minutes to set up your meal plan for the week. Plan dinner or lunches with the rest of your ground pork so it doesn't go to waste.
Recipe ideas for using leftover ground pork: meatballs, egg roll in a bowl, add to red sauce + pasta, fried rice, tacos, and more!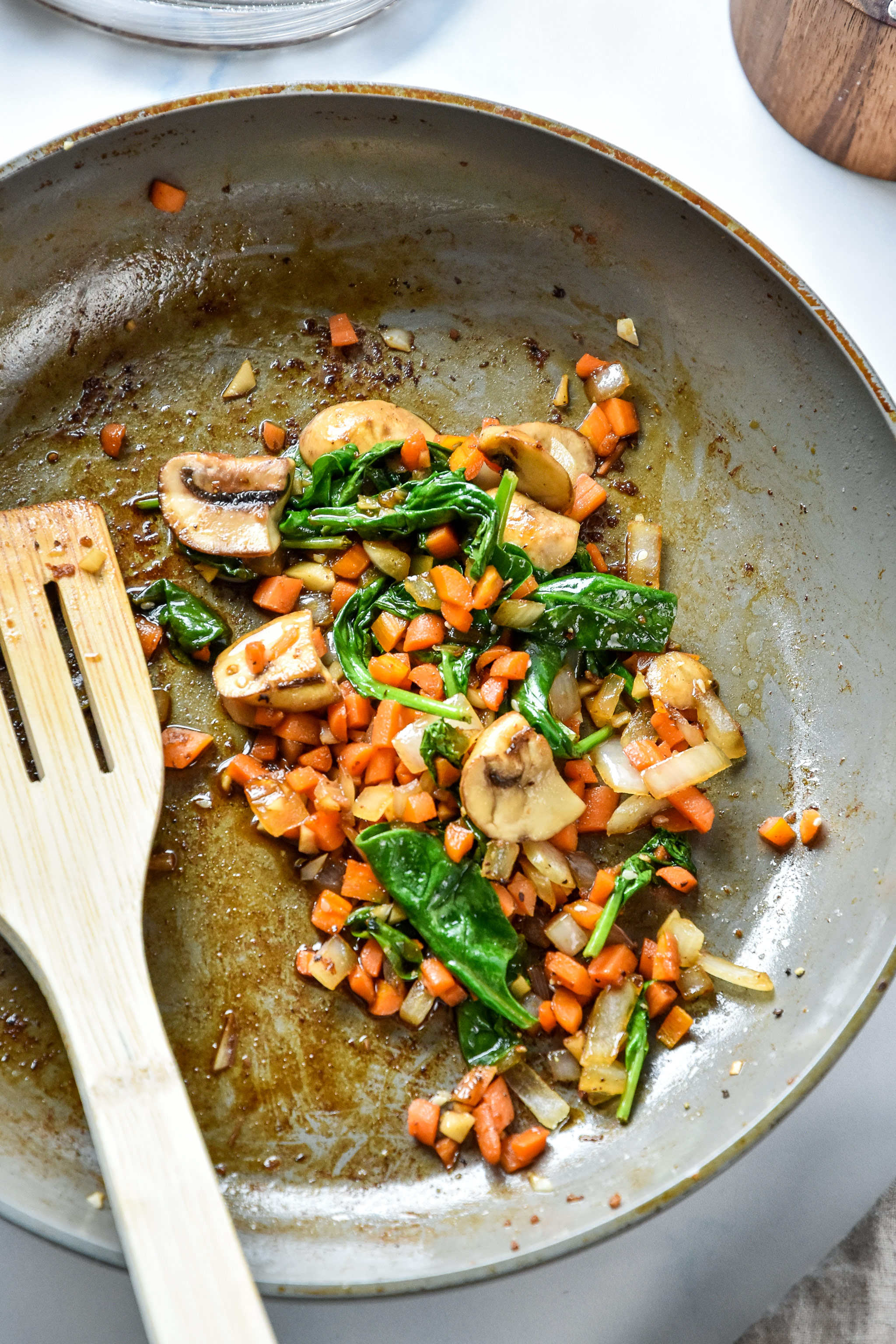 Buy veggies in small servings HACK
If you want to buy lots of different vegetables in small quantities, I suggest hitting up the salad bar at your local grocery store. Since you purchase everything by weight, you can grab exactly what you need and pay for nothing more. This is a great veggie buying method if you cook for just you a lot!
Can this One Serving Vegetable Pork Bowl be doubled to serve two?
Absolutely. If you're cooking for two, it is totally feasible to double this recipe and have one serving for each person. Sometimes doubling a smaller recipe can be easier than trying to reduce a larger recipe.
You can still accomplish goals such as no leftovers and use up extra veggies, while serving a two people with the exact size of dinner they need!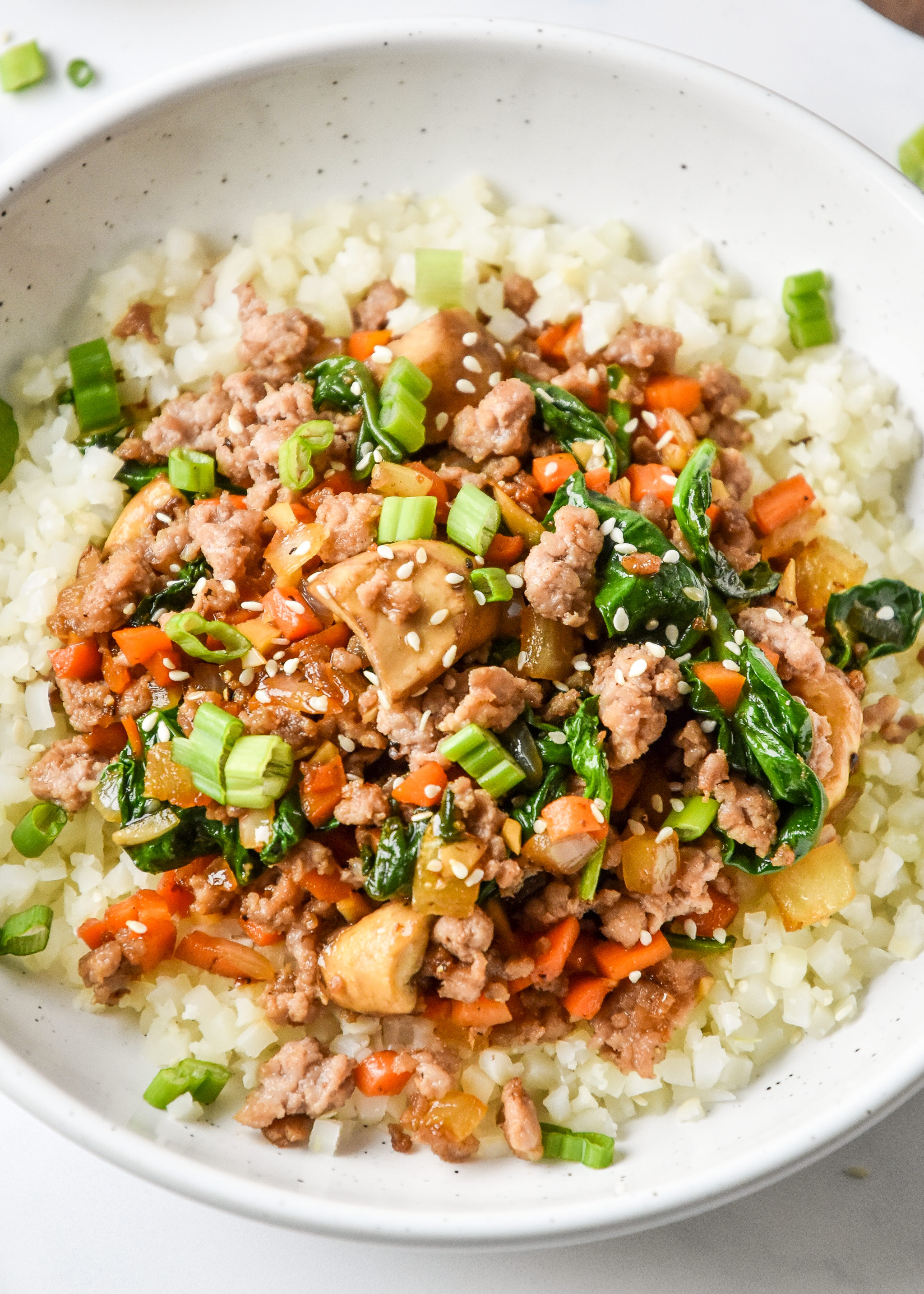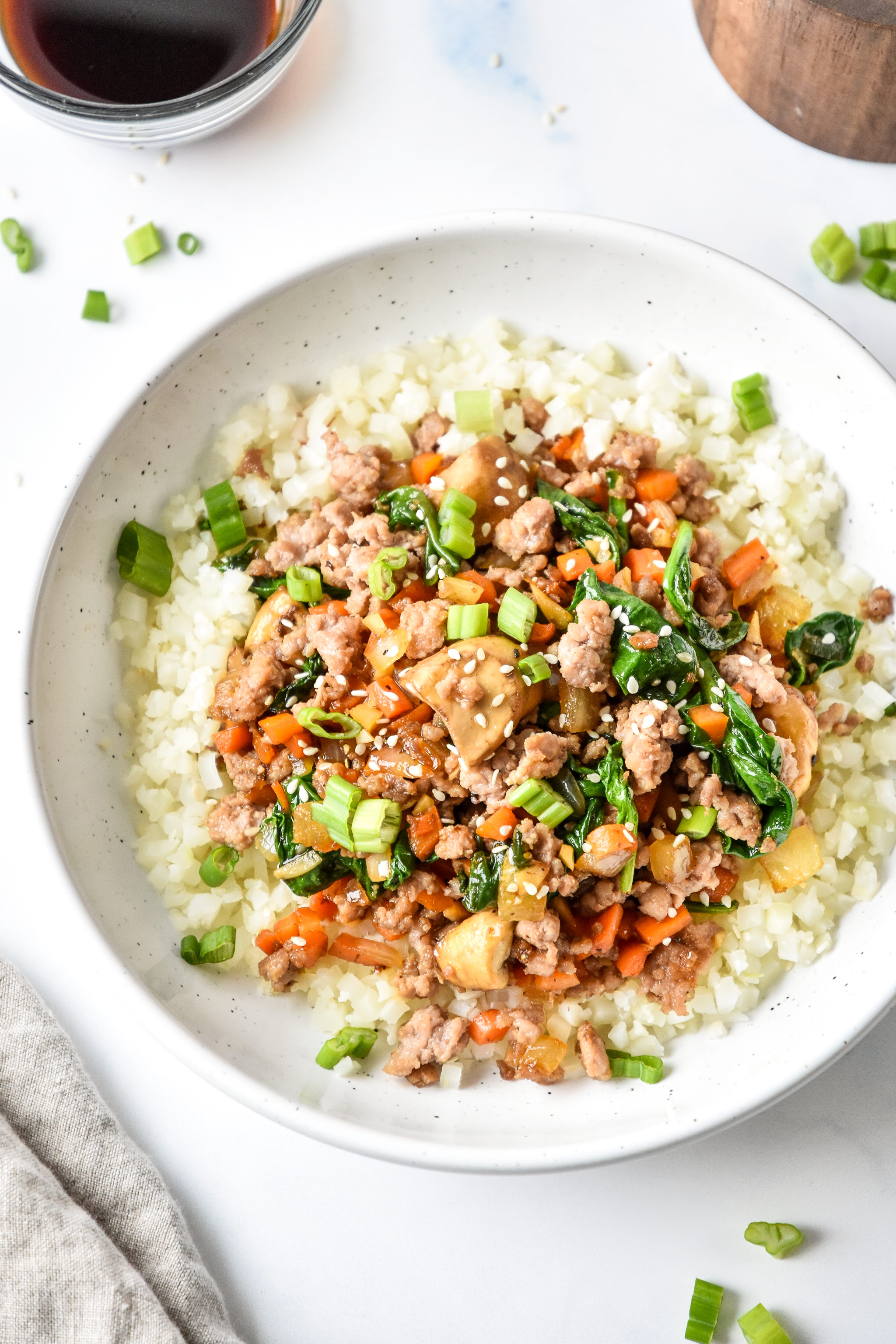 More quick dinner recipes from Project Meal Plan:
Recipe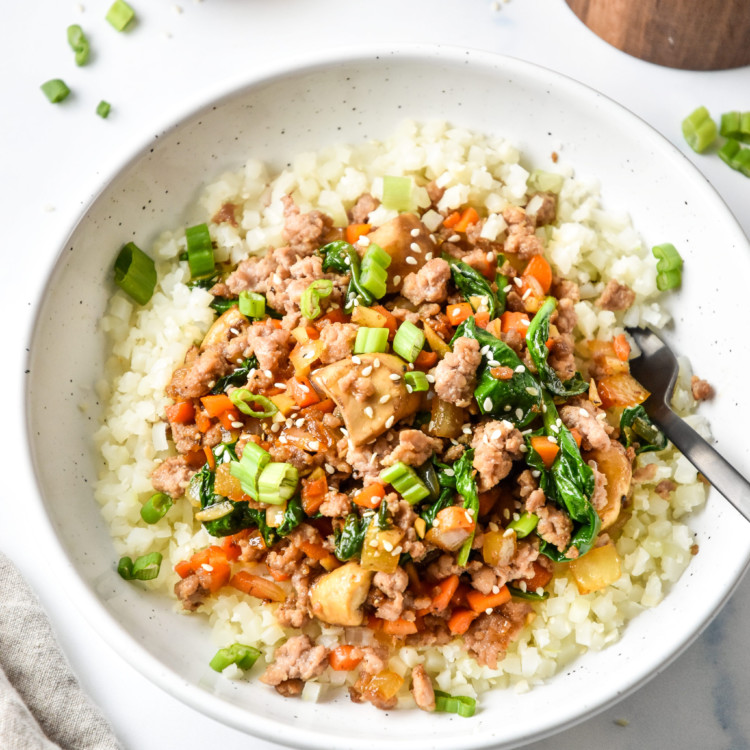 One Serving Vegetable Pork Bowl
Prep:
10 minutes
Cook:
15 minutes
Total:
25 minutes
This One Serving Vegetable Pork Bowl is a simple stir fry recipe that is packed with flavor and perfect for one! Seasoned ground pork and vegetables in a delicious sauce come together in just 15 minutes. Serve with your favorite rice for a quick and easy weeknight dinner.
Ingredients
1 teaspoon

olive oil

4 ounces

ground pork

1/8 teaspoon

kosher salt

1/4 cup

white mushrooms, sliced

1/4 cup

yellow onion, peeled and chopped

1

small carrot, peeled and chopped

1

clove garlic, peeled and minced

1/8 teaspoon

ground ginger

1 cup

spinach, loosely packed

1 tablespoon

low-sodium soy sauce

1/2 teaspoon

apple cider vinegar

1/8 teaspoon

freshly ground black pepper

1 cup

cooked white rice
Instructions
In a 10″ skillet over medium-high heat, heat oil 30 seconds. Add pork and salt and cook, stirring frequently, until completely cooked, about 4 minutes. Transfer pork to a large bowl and set aside.
Add mushrooms, onions, and carrots to skillet. Cook, stirring occasionally, 2 minutes. Add garlic and ginger and cook, stirring constantly, 30 seconds.
Stir in spinach, soy sauce, vinegar, and pepper. Cook, stirring constantly, until the spinach wilts, about 30 seconds.
Pour into bowl with pork, then pour contents over cooked rice in a large serving dish. Enjoy!
Equipment
Notes
For an individual helping of rice, simply add 1/4 cup rice, 3/4 cup water, 1/4 tablespoon butter, and 1/8 teaspoon kosher salt to an oven-safe ramekin or 5″ × 5″ baking dish. Preheat your oven to 325°F, then bake the rice for 40 minutes until the water is absorbed and the rice is tender.
Excerpted from The Ultimate Cooking for One Cookbook by Joanie Zisk. Copyright © 2019 by Simon & Schuster, Inc. Photography by James Stefiuk. Used with permission of the publisher, Adams Media, an imprint of Simon & Schuster. All rights reserved.
Nutrition Information
Serving Size:

Entire Recipe

Calories:

546

Sugar:

5g

Fat:

22g

Carbohydrates:

57g

Fiber:

4g

Protein:

29g
Recipe Card powered by
Thanks for checking out this One Serving Vegetable Pork Bowl! If you're digging this one serving meal, tag me or use #projectmealplan or #onedishkitchen on social media to share your own version!