The "secret" to this zucchini chicken lo mein is spiralized zucchini. The zucchini noodles camouflage themselves so well with the spices, chicken, and vegetables that it actually does seem like you're eating pasta with this Zucchini Chicken "Lo Mein"!
Jump to Recipe
Spiralizing may seem like a daunting task, but it's actually pretty fun and unique. I was never good at hiding vegetables until we got a spiralizer. It definitely changed my thoughts on zucchini, and like I said, it has made me a believer in amazing pasta-less dishes. We use this Tri-Blade Vegetable Spiral Slicer and it has never failed us for any of our needs.
This Lo Mein is hands down the best thing to come out of my spiralizer (we even made curly fries once!). This recipe is so full of veggies that seconds are a guilt-free must-do.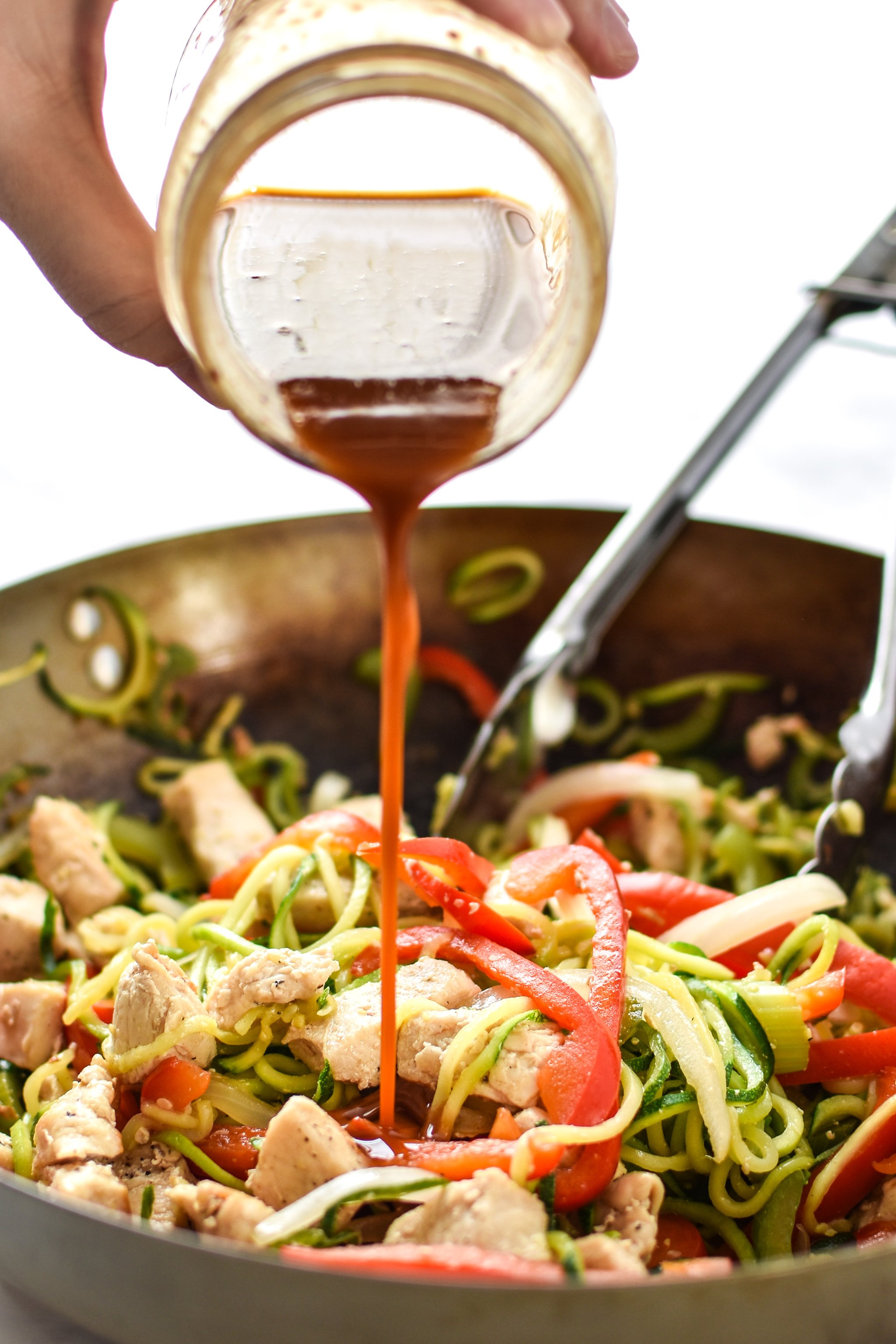 To make this zucchini chicken lo mein, first spiralize two large zucchinis and pat them dry. Let them sit out in a strainer so they are ready to hit the pan. Next, cook the chicken and it sits aside until reintroduced to the pan near the end of the recipe. Then, toss the celery and red pepper in the same chicken pan you just used. Once those veggies have cooked down, toss the zucchini "noodles" in, letting them cook down as well. Sauce it up, return the chicken, and you've got a super healthy one pot wonder.
To prep this one ahead, you could probably cut up your veggies a day before or used pre-cooked chicken! We love this recipe on a week night when we are craving something spicy and "noodle-y". My only caution for this recipe is it's hard to make in any larger quantities due to the high volume of vegetables which cook down as you go – but I try to think of that as the best part!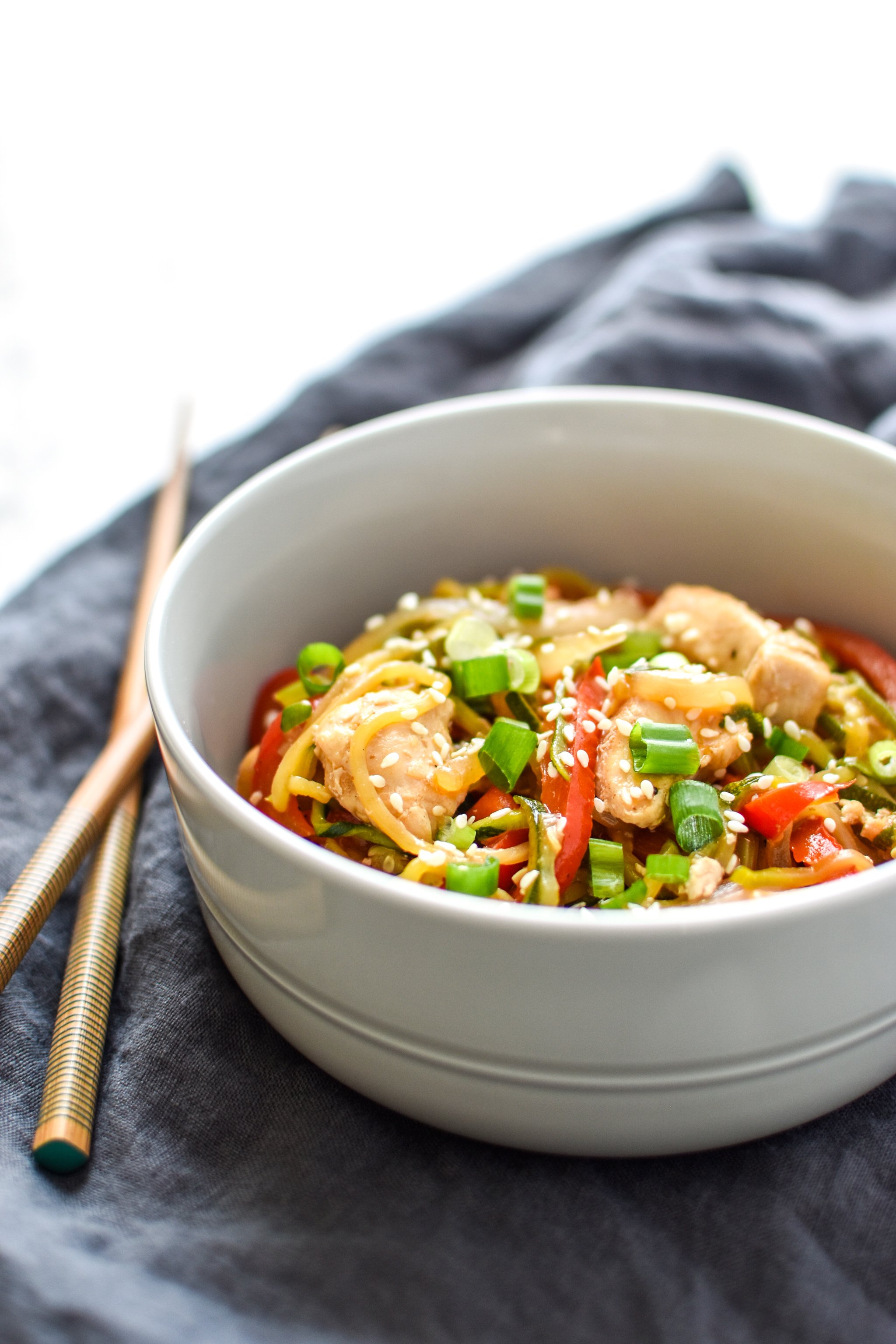 Other delicious dinner ideas:
Recipe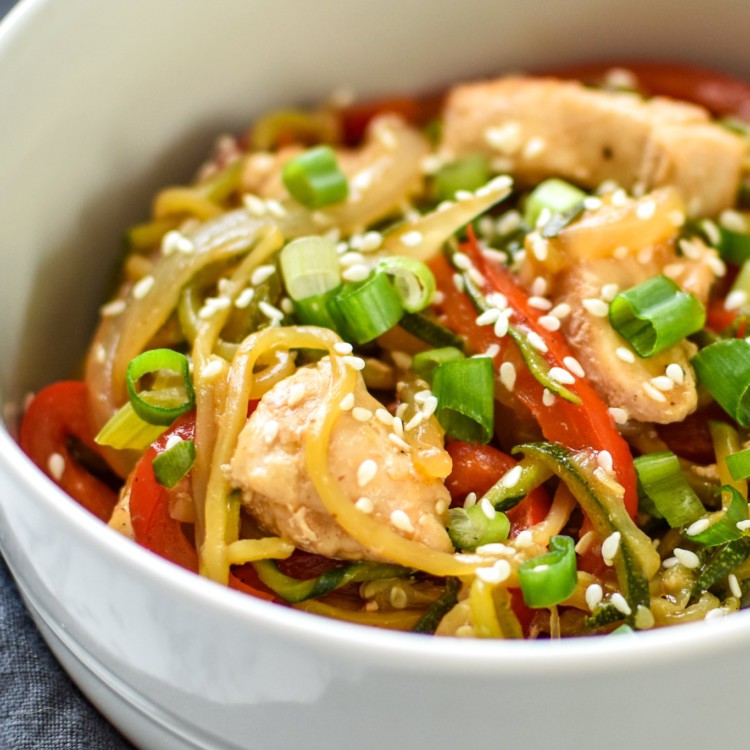 Zucchini Chicken "Lo Mein"
Prep:
20 minutes
Cook:
20 minutes
Total:
40 minutes
A noodle inspired dish made with zucchini noodles and juicy chicken breast. This Zucchini Chicken "Lo Mein" will satisfy your pasta and take-out cravings! – ProjectMealPlan.com
Ingredients
2 tablespoons

olive oil

1

pound chicken breast, cut into bite-sized pieces

3 tablespoons

soy sauce

1 tablespoon

your choice barbecue sauce (we like Sriracha/spicy flavors)

2 tablespoons

toasted sesame oil

1 teaspoon

packed brown sugar

1 teaspoon

cornstarch (optional for thickening)
salt/pepper to taste

1

red bell pepper, thinly sliced

3

stalks celery, thinly sliced

1/2

yellow onion, thinly sliced into strips

2

large zucchinis, spiralized and pat dry
chopped green onions, for garnish
Instructions
Combine soy sauce, barbecue sauce, sesame oil, brown sugar, and cornstarch in a small bowl. Stir together until well mixed. This step can be done while the chicken is cooking.
Heat 1 tablespoon of olive oil in a large skillet or wok over medium heat, and add chicken when hot. Sprinkle salt/pepper to your taste. Cook for 12-15 minutes (flipping halfway) or until browned and cooked through (internal temperature 165 degrees). Remove from pan and set aside.
In the same pan the chicken was cooked, add 1 tablespoon oil, followed by red pepper, onion and celery. Cook over medium heat for 3 minutes, stirring frequently.
Add spiralized zucchini to celery and pepper mixture. Cook for another 5 minutes, stirring frequently.
Return the chicken to the pan, along with soy sauce mixture. Stir until chicken and vegetables are evenly distributed and covered with sauce. Cook for another 3-4 minutes until sauce has thickened and zucchini noodles are tender.
Top with chopped green onions, Sriracha or sesame seeds for garnish. Serve.
Notes
To save a bit of time, feel free to chop veggies while the chicken is cooking. When making recipes for the first time, I find it's much less stressful if everything is ready to go before the heat is on.
This recipe does not freeze well! Nobody likes mushy thawed zucchini noodles.
This recipe works best as a one-evening wonder meal to replace your pasta and take-out cravings.
Recipe adapted from Andie Mitchell – Easy Healthy Chicken Lo Mein Under 250 Calories.
Nutrition Information
Serving Size:

1/4 of dish

Calories:

373

Fat:

24.8g

Carbohydrates:

10.8g

Protein:

27g
Recipe Card powered by
To make this recipe, I used:
Thank you so much for checking out the Zucchini Chicken "Lo Mein"! Be sure to use #projectmealplan on social media if you make this recipe! And follow me on Pinterest for meal inspiration every day.

Disclaimer: One of the links on this page is for a product on Amazon. If you are planning to make any purchases, please start your Amazon shopping here on Project Meal Plan! We'll get a small commission at no extra cost to you. I truly appreciate your support! For more information, please see our Full Disclosure.