It's time to recap Project Meal Plan's best hits – 2021 recipe style! Here's where I share trends, top lists and fun tidbits from the year, along with a countdown of Project Meal Plan's Top 10 Most Popular Recipes of 2021!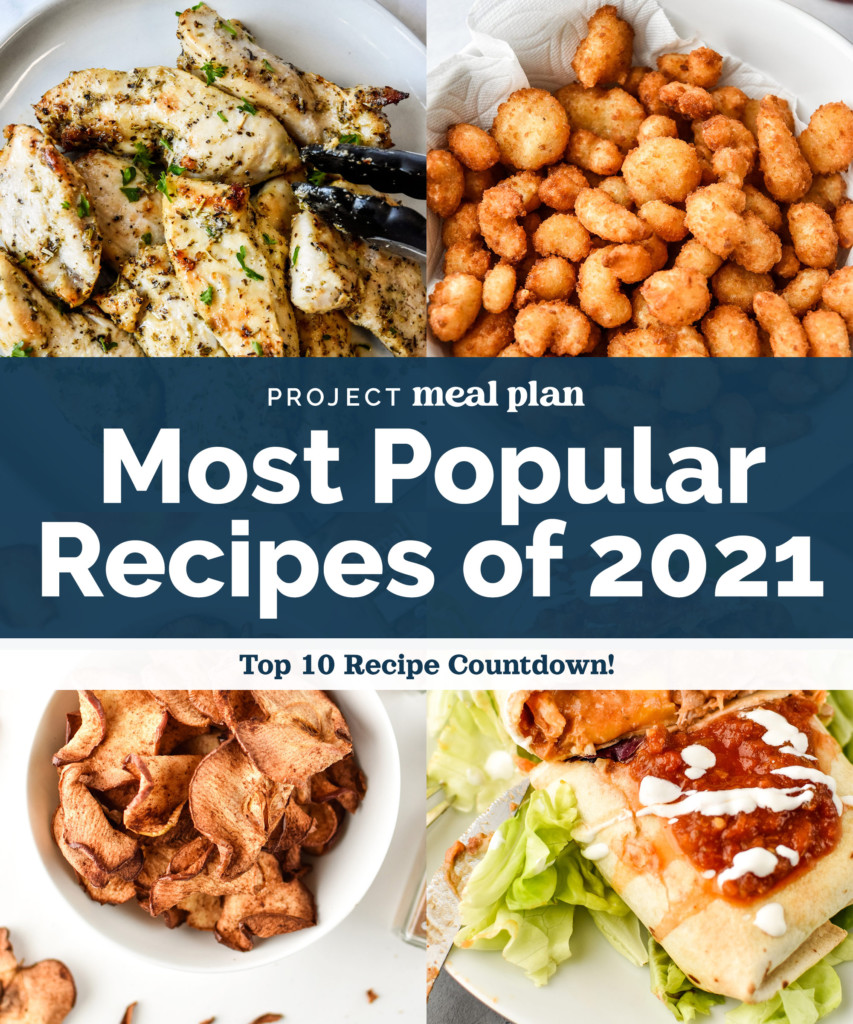 If you're looking for a PMP recipe to try for the first time, you're in the right place! These year end lists and roundups are my favorite way to keep tabs on what's trending and what's not, and I like sharing that info with you!
As I said last year, I love the numbers and this is where I get to share any of them I want. But first, here's a little year end message to my readers – that's YOU!
When you write a comment, leave a review, share a picture on social media, tag me in a post, I see it!
And it brings me so much joy each and every time something I worked on is helpful for someone else.
I know you could spend your time on any food website, in any cookbook, making anyone else's recipes.
Your time is valuable, which is why I want to send the biggest thank YOU for any moments you spent on Project Meal Plan this year.
I appreciate every single one of you ❤️
I put together this list by looking at the top most viewed recipes on Project Meal Plan, not including recipe round-ups or non-recipe article posts (those will be listed separately below!).
If you're looking for the best of Project Meal Plan according to YOU, the readers, try one of these Most Popular Recipes of 2021!
Most Popular Recipes of 2021
Most Popular Non-Recipe Posts of 2021
#1: 10 Trader Joe's Foods That Are Perfect for Your Air Fryer – 8.03% of 2021 pageviews! Second year in the #1 spot!
#2: 16 Make Ahead Cold Lunch Ideas to Prep for Work
#3: The First 15 Recipes I Made With My Air Fryer
#4: The Importance Of Meal Planning: 3 Reasons To Meal Plan Weekly
#5: 15 Easy To Make Work From Home Lunch Ideas
2021 in Review
Project Meal Plan 2020 vs. 2021 Stats
Pageviews: Decreased ~18% from ~2,643,000 (2020) to ~2,160,000 (2021)
A Pageview is the number of pages viewed by a User, including repeat pageviews, during any number of sessions. Higher is better!
Users: Decreased ~15% from ~1,792,000 (2020) to ~1,550,000 (2021)
A User is someone who has initiated at least one session on the website. Higher is better!
Sessions: Decreased ~19% from ~2,284,000 (2020) to ~1,865,000
A Session is a period of time when one User is actively engaged on the website. This could include multiple pageviews. Higher is better!
Bounce Rate: Decreased 1.73% from 88.88% to 87.34%
The Bounce Rate is the percentage of single-page sessions in which there was no interaction on the page. AKA when someone comes to the site and leaves immediately without clicking anything else. Lower is better!
Notes on these stats
Okay, so welcome to my first year of a decrease in pageviews – I feel like I should be freaking out, but I'm not. This year has been a doozy and I'm happy just to be through it.
You might have noticed the Top 10 is mostly just a shuffle of last year's top posts. For that, I blame my appendix. In February, I had to have yet another abdominal surgery to remove an unnecessary organ.
Between that and my bum knee, I was forced to take multiple weeks off work when I would normally be focusing on new recipes and content for the website. I wasn't able to make as many videos or test as many new recipes, which bummed me out.
However, we did see a significant decrease in the Bounce Rate, which is actually very good! I attribute this to brand new website we launched in November! That also took a significant of time away from content creation, but it was oh so worth it!!
Overall, this means more people are interacting with the website when they arrive, instead of just leaving after viewing one page. This is really good! So while this is the only positive stat this year, I'LL TAKE IT.
Project Meal Plan 2021 Top 5 Lists
Top 5 NEW Recipes Published in 2021
#1: Air Fryer Chicken Tenders (No Breading!)
#2: Air Fryer Tuna Melt
#3: Air Fryer Hot Dogs (Fresh or Frozen!)
#4: Air Fryer S'mores
#5: Tuna Egg Salad Meal Prep
There was zero intention of giving you another list of air fryer recipes, but here we are! Since only one of these appeared on the big Top 10 list, I'm sharing the rest of the newer, more popular recipes here. This list is limited to recipes I published in 2021 only!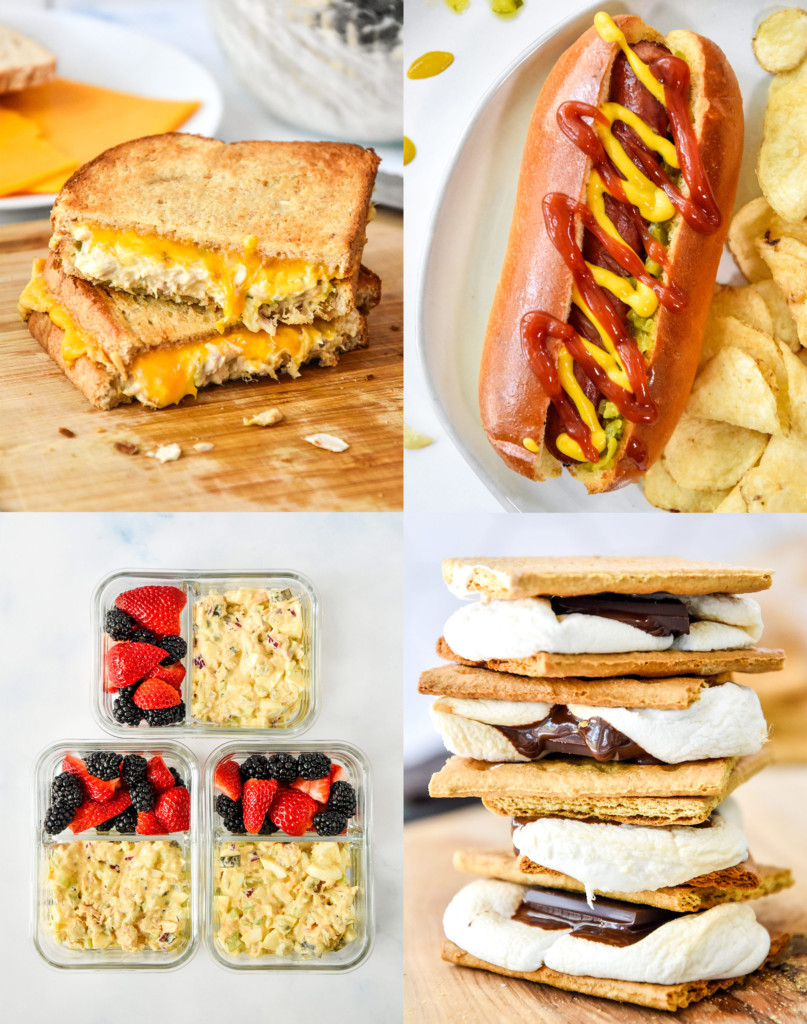 Top 5 Traffic Referral Sources (+ percentage of all traffic):
#1: Google – 47.95%
#2: Pinterest – 31.70%
#3: Direct/None – 13.46%
#4: Facebook – 0.69%
#5: Bing – 0.66%
This list is very similar to the 2020 version, with a small decrease in Pinterest traffic and a small increase in Direct traffic.
I do think this has to do with Idea Pins on Pinterest. You can't click on them to get to the recipe, but if readers really want to get here, they can copy & paste the link into a browser, which would count as Direct traffic.
While I would obviously like it if Pinterest added the ability to get to my website from Idea Pins, the traffic they are driving to the website is still noticeable.
Top 5 Instant Pot Recipes of 2021
#1: Instant Pot Ginger Chicken & Rice Soup
#2: Instant Pot Cinnamon Apple Steel Cut Oats
#3: Instant Pot Maple Brown Sugar Oatmeal
#4: Instant Pot Honey Garlic Chicken Meal Prep
#5: Instant Pot Pumpkin Spice Oatmeal
You probably won't be surprised to know that all those air fryer recipes in the Top 10 shoved out some of these delicious Instant Pot recipes. I'm including this short list of top Instant Pot recipes because these deserve some recognition too! The ginger chicken soup has been especially popular this year.
Top 5 Lunch Recipes of 2021
#1: Easy Turkey Pinwheels Meal Prep
#2: Veggie Packed Greek Yogurt Tuna Salad
#3: Turkey Pesto Tortilla Pinwheels
#4: Chicken Hummus Plate Lunch Meal Prep
#5: Tuna Salad Lettuce Wraps Meal Prep
I said it last year and I'll say it again: No meal prep lunches in the top 10 is a surprise to me, because that's where I thought I was strongest. I'm less surprised this year, but still surprised, because I thought people were headed back to work.
Since none of these made the official Top 10, I wanted to share a short list. Seems like people are still into cold lunches and no reheat ideas – every one of these fits that description!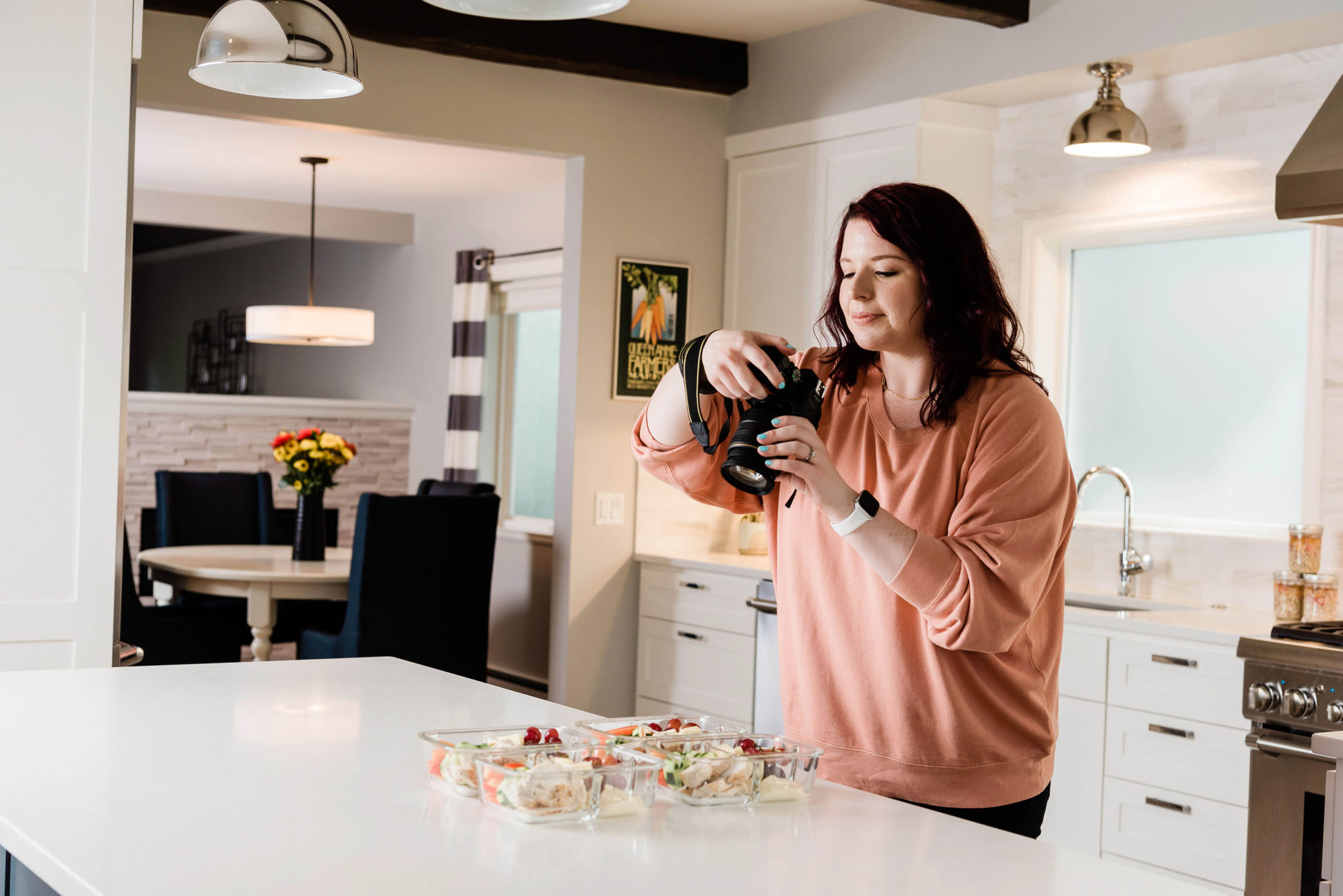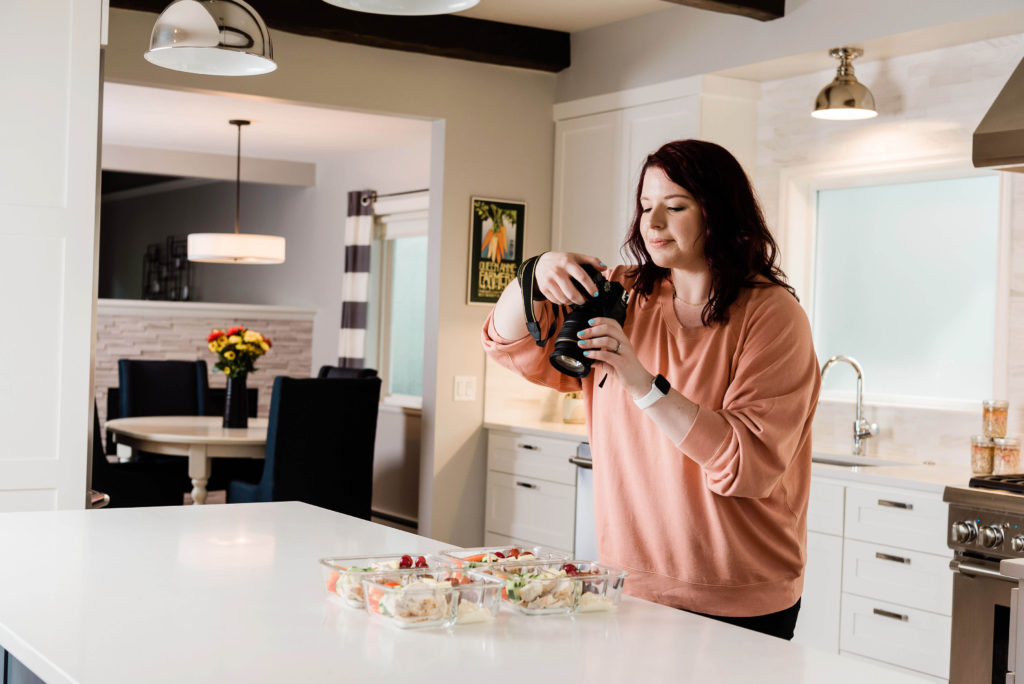 Notes & Comments on the Year
This year did not turn out how any of us expected. I had multiple medical problems that kept me from doing things I wanted. Prioritizing mental health is hard. Staying positive is hard. But I accomplished a lot this year, things that are not reflected in the numbers, so I want to celebrate them.
In November, we launched a brand new Project Meal Plan website. This was my biggest project of 2021, and took months in the making. While we stuck with the original blue color along with the pencil & eating utensil logo theme, every other detail was redesigned and revamped. Thank you to developers Once Coupled and designer Melissa Rose!! I also had my very first legit brand photoshoot – thank you Rebecca Ellison for a wonderful experience!
Along with the new website, there were other changes to the structure and content on Project Meal Plan. Category pages are now organized, making it easier to navigate. I removed all my old 'meal plan' posts. We got all new Meal Planner templates, and a shopping list template! Plus, I launched the Meal Prep Lunches eBook!
During 2021, I published 27 new recipes and 8 new articles on Project Meal Plan. I also updated 6 old recipes with helpful content and new photographs. I was only able to film 4 new videos for PMP this year. More next year! Project Meal Plan has a total of 239 recipes.
Traffic was lower this year, but followed all the same trends. Busy in January with a relatively flat year. Nothing too exciting on that graph. It was just a really weird year overall.
Traffic to air fryer recipe pages made up over 46% of all pageviews in 2021, even though I only have 31 air fryer recipes total (13% of recipes!). I keep publishing simple air fryer recipes because they continue to be popular and rise in pageviews quicker than anything else I publish.
Pageviews to category pages (like the breakfast category, for example) are up by over 47%, and a majority of that growth is has occurred after the new site redesign. This means people are using the new category pages!
Here are the most popular recipe lists from previous years – you'll definitely recognize a couple consistent favorites!
Thank you again for being here, especially if you managed to get through this whole post! I hope you enjoy finding out the faves and trends as much as I do.
This year was more about the non-number milestones and accomplishments. Thank you for celebrating with me!
Have you made any of the recipes on this list? Which was your favorite? I would love to know your thoughts below!! Happy cooking, and here's to a bigger and better 2022!