Planning meals ahead of time is such a helpful task, but only if you follow through and actually put your meal plan to work. Here are five simple and effective strategies to help you learn How to Stick to Your Weekly Meal Plan!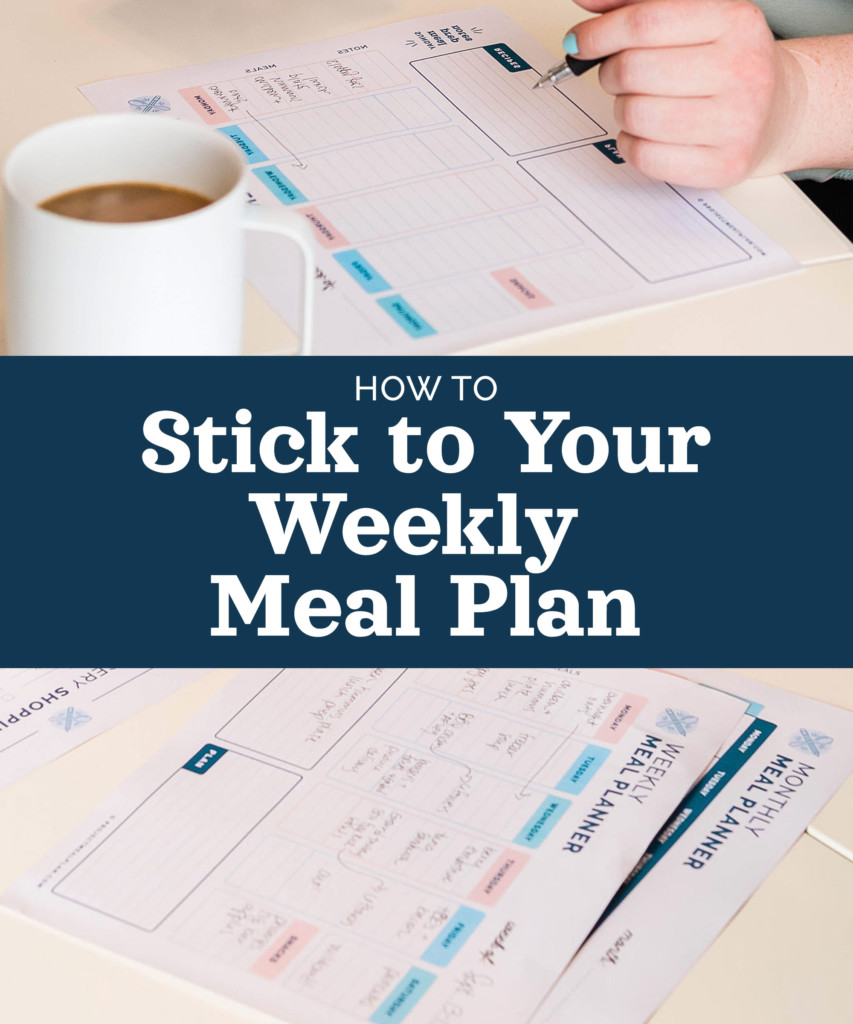 If you find that sticking to your meal plan during the week is difficult, you're in the right place! There are a few simple strategies I use to keep up this weekly habit at my house, and I'm sharing them here. But first…
What is meal planning?
Meal planning is the act of planning and writing down any of your meals for the week (or month!) ahead of time. Meal planning can be as flexible or as rigid as you want it to be!
Plan for yourself, or plan for your family. Plan to eat home-cooked meals, or plan a night or two out for dinner. Plan every breakfast and dinner, or simply plan your lunches so you don't spend money on restaurant food during the week.
If you're trying to figure out why meal planning on a weekly basis might be important for you, check out my post on 3 Reasons to Meal Plan Weekly.
What does "stick to your meal plan" mean?
I keep repeating the phrase 'stick to your meal plan.' I could also say 'follow your meal plan' or 'use your meal plan'.
To be clear, 'stick to your meal plan' means that you're referring back to your meal plan during the week to prepare and cook the meals you planned out when the week started.
What are the benefits of sticking to your meal plan?
The exact benefits will vary depending on your goals (which is why #1 is important!). These benefits can include saving time, saving money, reducing food waste, reducing grocery store trips, following a specific style of eating, and more.
One of the best things about meal planning is there are lots of benefits available for you to choose from, depending on your routine and goals. You can literally make it your own, and get what YOU want from planning out meals ahead of time.
Sticking to your meal plan is the best way to reap those benefits. If you created a weekly meal plan for yourself, then did absolutely nothing with it, there would be zero benefits! And honestly, it'd just be a waste of time. It's better to put it to use in a way that works for you.
Why can't I stick to my meal plan?
If you find yourself struggling to stick to your weekly meal plan (even though it feels like you're really trying!), it could mean that you're not planning realistically, or you're expecting a little too much of your meal plan. More on this below!
Maybe a new method or different template might work better for you. If you want to refresh your meal planning method, check out my free meal planning templates here!
It's also possible you're being too hard on yourself. Try out the tips listed here and give it another shot! It's all about experimentation and figuring out what works best for you.
5 Tips on How to Stick to Your Weekly Meal Plan
Identify goals for your meal plan.
Think of a food-related goal or something you'd like to accomplish with your meal plan. This can be anything from saving money, saving time, eating specific foods, or reducing food waste – you name it!
Once you've identified a goal or two, you can focus on creating a meal plan that will help you accomplish those goals. Sometimes, it can be easier to focus on the overall goal, instead of feeling like you have to plan out an entire week of meals.
My goals for meal planning include: making fewer trips to the grocery store, saving money on food, and reducing the stress of always trying to figure out what to make for dinner.
With these goals, even if we miss a meal or switch things around a bit, my goals are still accomplished. I never feel like a failure for not "sticking to my meal plan", because sticking to my meal plan 100% was never the main goal.
Your goals for meal planning might be different than mine. Here are a few examples of goals and how you could accomplish those goals through meal planning:
Meal Plan Goals Example #1
Goal: Stop buying lunch every day. Bring lunch to work at least four out of five days a week.
How to accomplish: Plan out lunches for the week ahead of time. Meal prep lunches on Sunday. Plan for dinner leftovers or a freezer meal on Friday.
In this case, you could still plan out dinner and breakfast ideas, but lunch is what you want to focus on because that's your biggest cost.
You still allow yourself to eat out for lunch once a week because you don't want to be unrealistic with your goals, and sometimes, you just want to go to lunch with your co-workers!
Meal Plan Goals Example #2
Goal: Reduce stress from trying to decide what to eat for dinner and grocery shop every night.
How to accomplish: Plan dinners for the next week on Saturday. Make a list and grocery shop for dinner ingredients on Sunday.
In this case, planning dinner ahead of time saves the daily stress of having to figure it out right on the spot. We take the daily dinner decision work and do it on Saturday (or Sunday) instead. Maybe sometimes you can fit it into your schedule to do a little meal prep on Sundays, too!
Meal Plan Goals Example #3
Goal: Save money on groceries.
How to accomplish: Plan meals from your pantry and freezer. Grocery shop once a week to fill in the gaps.
In this case, when you meal plan for the week, you'll want to start by checking the freezer and pantry for meal ideas. If you have an ingredient that needs to be used up, start there. Pick all recipes where you already have one or more of the ingredients, then simply fill in the gaps by shopping or making substitutions where possible.
Related: Read my post all about How to Save Money When You Meal Prep!
Choosing a realistic goal for meal planning will help give you direction and purpose when you choose your meals for the week. And remember, goals can change over time! You aren't a robot. Don't expect perfection or continuous repetition.
Keep your meal plan simple.
Simplicity can be the key to success with meal planning, especially if you're just starting out. A super detailed meal plan can be helpful, but it can also be really intimidating for some.
One of the best ways to master a weekly meal planning routine is to ease yourself in. Don't expect to be a pro right when you start – it's a skill to practice just like any other!
Here are some specific tips for keeping your meal plan simple, so it's easier to stick to it:
plan recipes you've made before and know you enjoy
be realistic – don't plan to cook every single meal
lean on leftovers and freezer meals
plan only one meal of the day if every meal sounds like too much
it's okay to plan a meal out or plan to order food. give yourself a break every once in a while
start by planning according to your own schedule, then add more people later
Keep your meal plan visible.
Keep your weekly meal plan on the fridge, in your phone calendar, or somewhere you can see it at least once a day. That brief but visible reminder that your meal plan exists can sometimes be all you need to stick to it. Hide it away, and you may forget about it.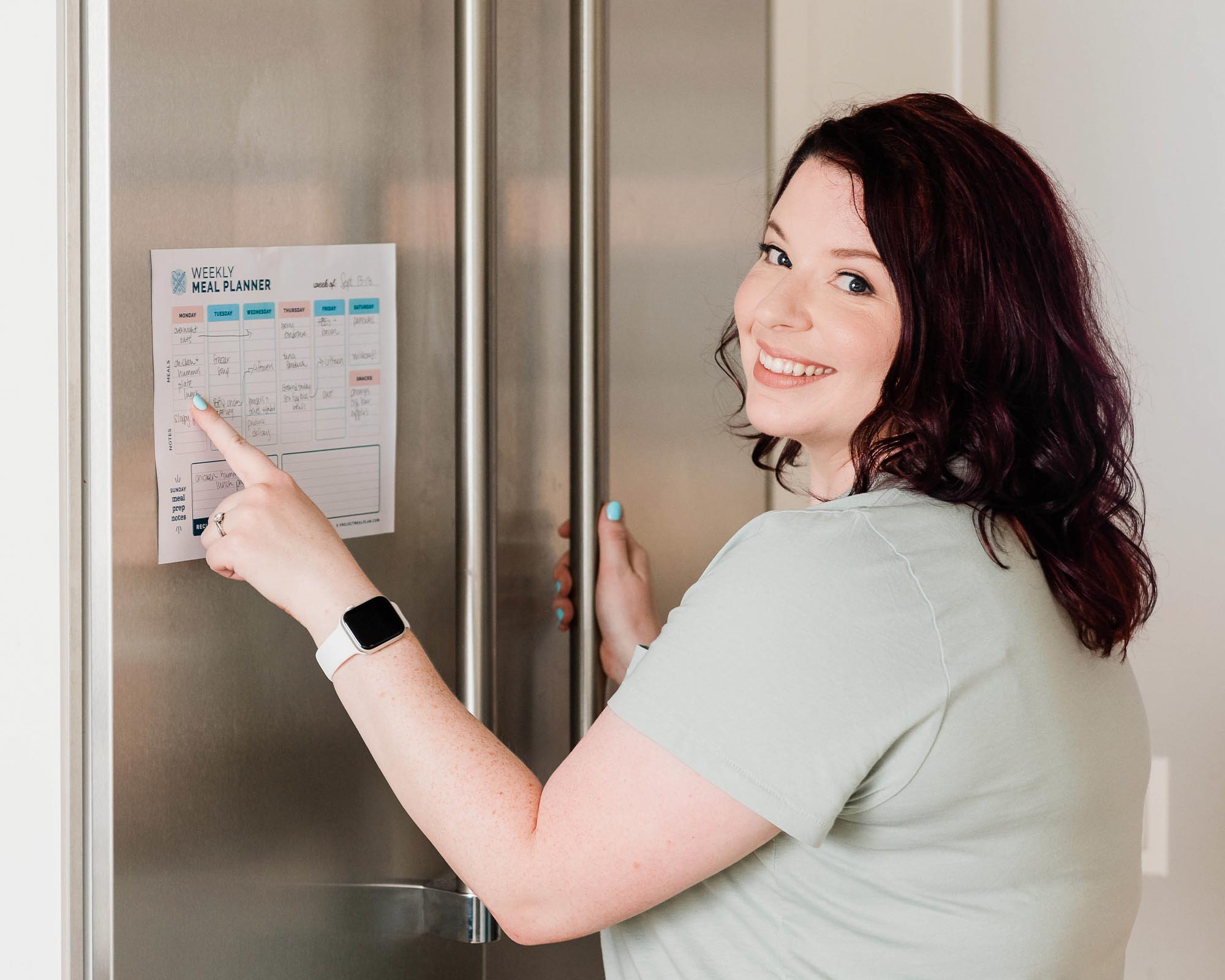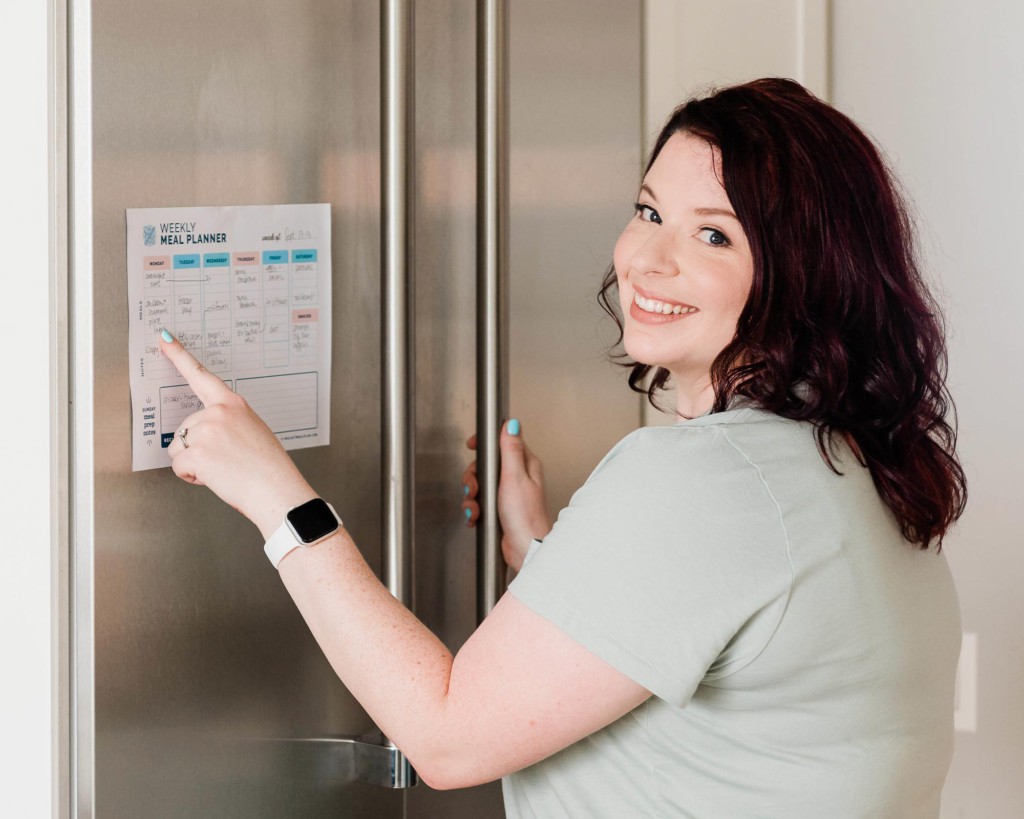 Another bonus of keeping your meal plan on display is that family members or roommates can easily see what the breakfast or dinner plans are, which may keep them from asking you! This is an easy way to work that meal plan into your kitchen routine.
Make a list and grocery shop ahead of time.
Sometimes, you can have the best intentions to follow what you planned out for dinner. But maybe you get home from work, and you're missing half the ingredients, and you just don't feel like going to the store. I find this is one of the most common reasons to stray from your meal plan. Dinner can be a really stressful time of the day!
To keep that from happening, try this: After you make your meal plan for the week, take the effort to make your grocery shopping list too. Schedule a time to hit the store when you know you'll have the energy to get everything you need for the week's dinners. Do this before your week starts!
For me, this means meal planning on Friday, then I make my list and visit the grocery store early on Saturday or Sunday morning.
This way, when it's Wednesday night and you get home late, the dinner decision and ingredient shopping is already done. And that's half the battle, right?
Even better if a little food prep is done or someone in the house gets the dinner started! Which of course is only possible if it was planned out ahead of time and the ingredients are at home ready to go.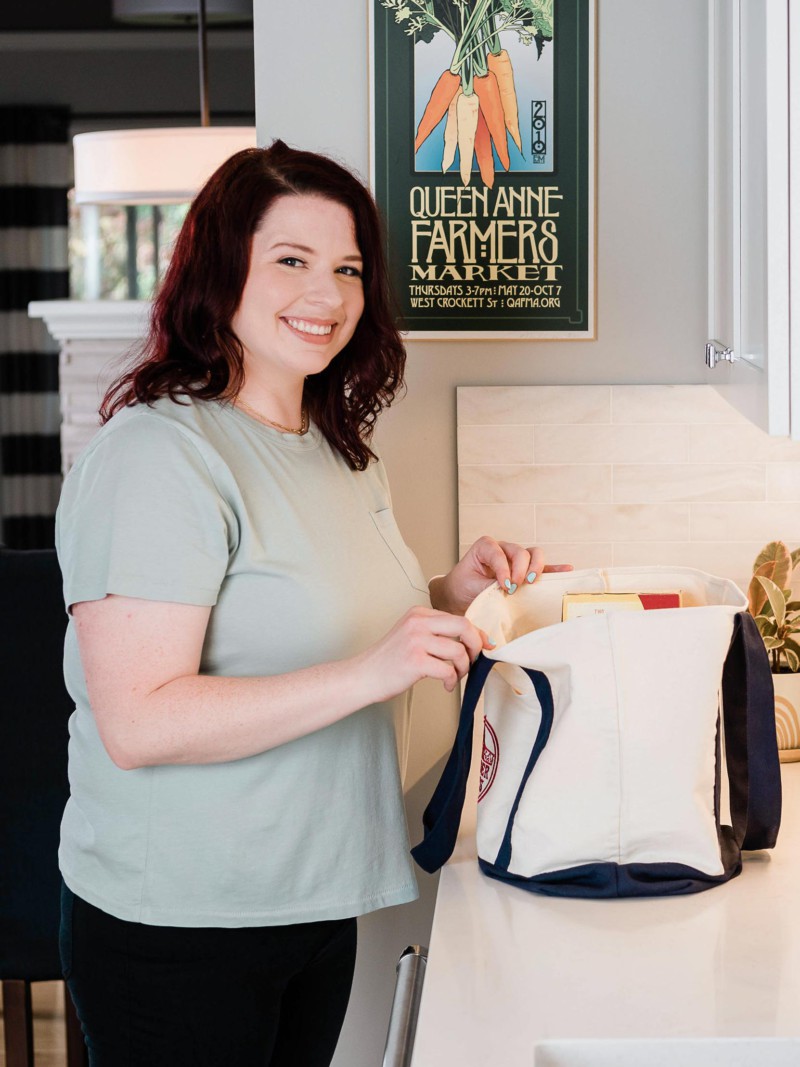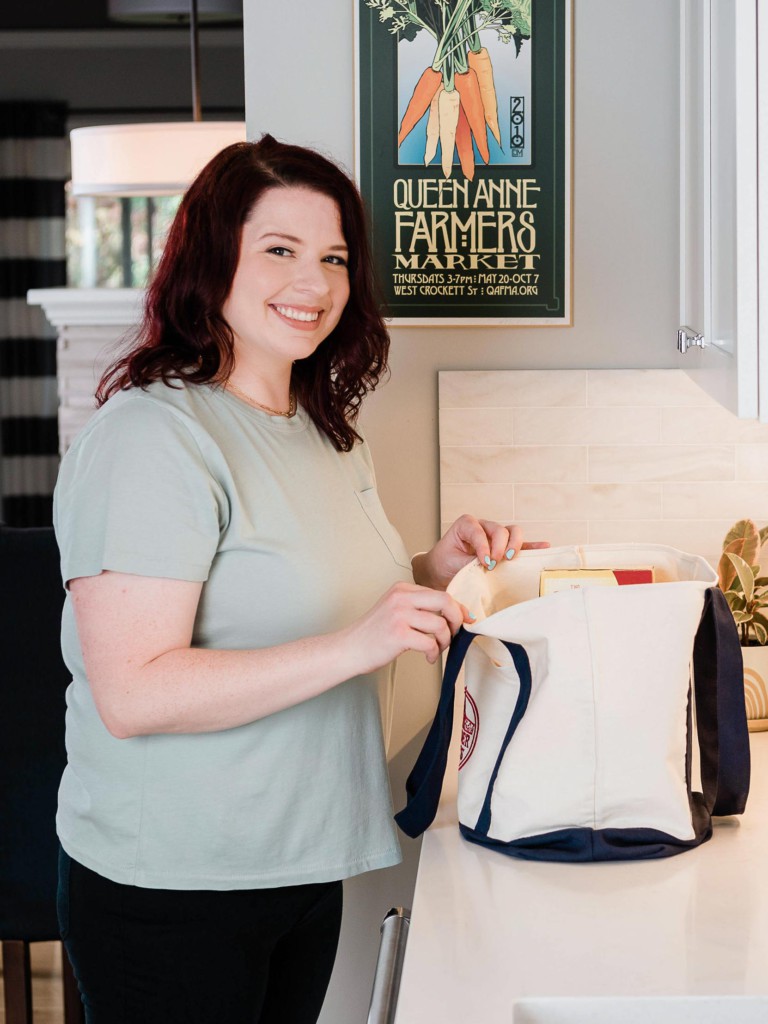 Plan to be flexible.
In my opinion, it's super important to be flexible with your meal planning to ensure a continuous and sustainable habit. There will be times you can't follow your meal plan perfectly, but you can't let that discourage you!
Of course, the unexpected can always arise. Even if you planned every meal out perfectly, you just can't tell the future. Maybe a family member got a free lunch at work. Maybe your dinner recipe made way more leftovers than anticipated. Or maybe, despite all the planning and prep possible, you really just don't feel like making that specific dinner tonight.
THAT'S OKAY. Your weekly meal plan is a like your food guide for the week. It is NOT a hard set of rigid rules you must follow or face trouble if you mess up (at least in my house it's not!). My meal plan is only there to help, not to hurt.
Being hard on yourself for not following your weekly meal plan does not help. Instead, it can bring up dread and worry next time you try to meal plan, which makes the whole task a lot less enjoyable.
BONUS: Plan and prep a dessert.
This one is a bonus because I consider it a little less important for meal planning success, but it can really help make the experience more enjoyable.
Honor your cravings and follow your meal plan at the same time by preparing a dessert on Sunday that you can enjoy throughout the entire week. Yes, you can plan and prep dessert too!
This simple addition to the week can make everything just a little sweeter. And you might be even less likely to splurge at the grocery store!
Keep these tips in mind as you practice weekly meal planning and get your routine nailed down. Here are a few more meal planning resources to check out as you go:
Let me know in the comments how your meal planning journey is going! I'm happy to help with any questions or concerns about how to stick to your weekly meal plan. Thanks for reading and as always, happy meal planning!