These Fruit-Sweetened Mini Pumpkin Pies are creamy and delicious – PLUS both the crust and filling have no sugar added! Try this classic dessert in an easy to hold, pop-in-your-mouth version!
Jump to Recipe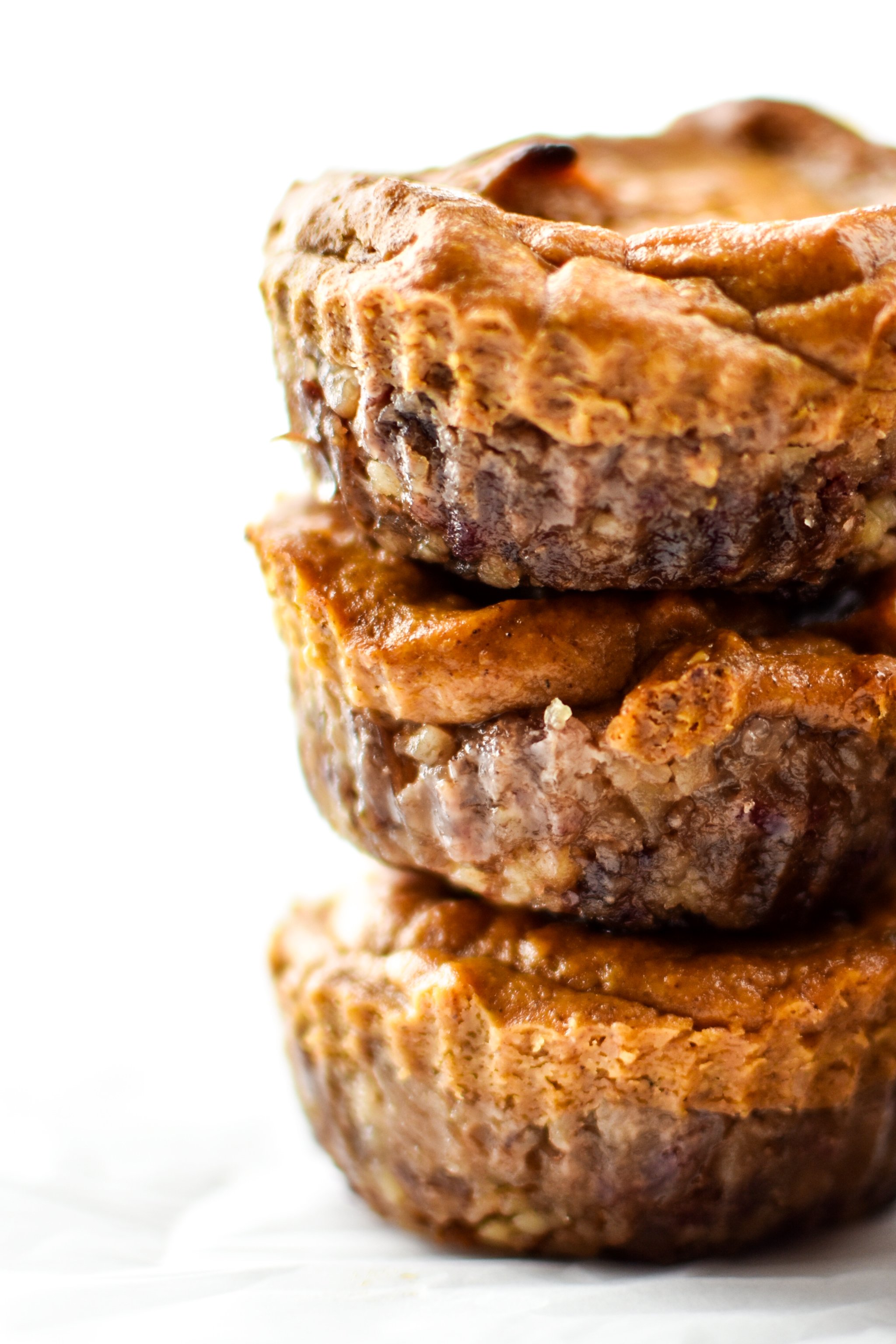 If you visit the blog often, you're probably familiar with the fact that I discovered dates this year. After my most recent pumpkin/date creation (No-Bake Pumpkin Spice Date Nut Bars), I was left wondering if dates could sweeten pumpkin pie filling. Answer: YES. 100% yes.
So, I spent two full Costco-sized bags of pitted Medjool dates testing out the best date creation yet: THIS PUMPKIN PIE FILLING. We also had a crap ton of pumpkin in the pantry, so it was basically meant to be.
Thanks to several tests on this bad boy, we've been eating a limited amount of pumpkin pie almost every day for the last couple weeks (🙌 to My Fitness Pal for keeping me in check) and I'm not even sick of it yet. Because even from test #1, it was better than just edible. It made the house smell amazing. And it was totally delicious, creamy, and perfectly sweet.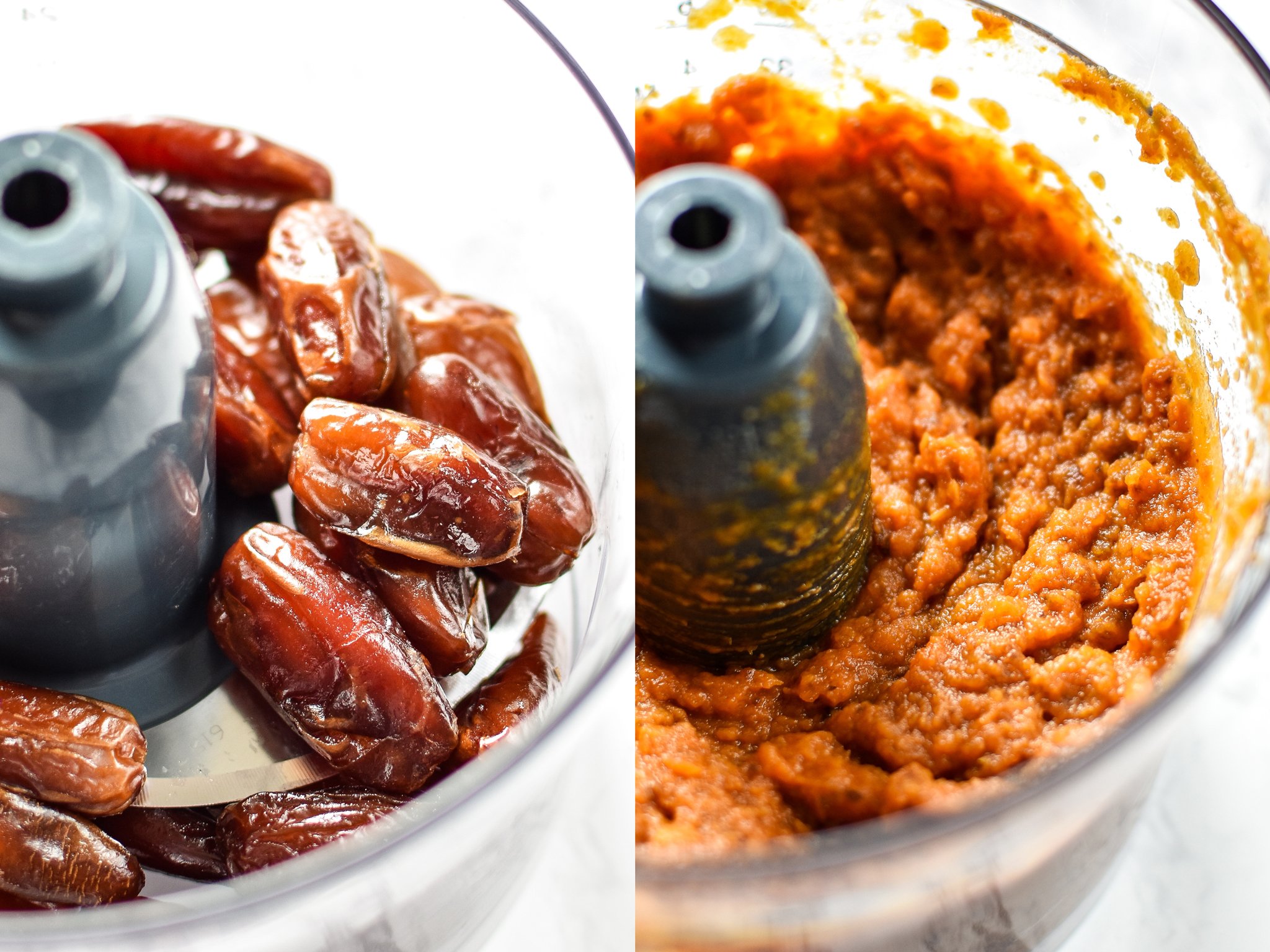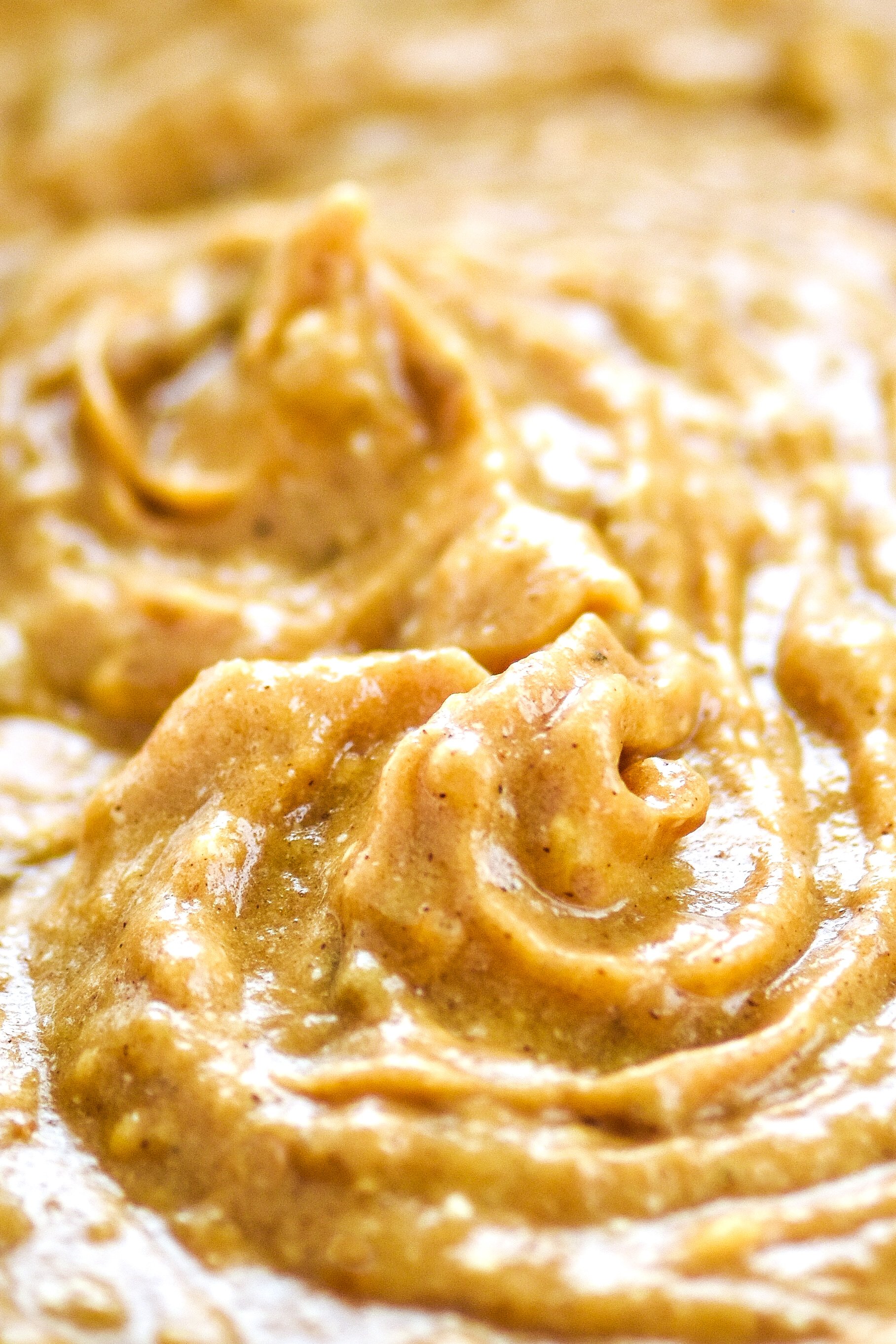 These mini pies are great for anyone looking to cut out processed sugar from their diet, but who perhaps might not follow a vegan or plant-based diet. When I first started testing this recipe, we had cream cheese in the fridge, so naturally it made its way into the filling. The recipe also uses eggs to stabilize the filling as it bakes.
You will definitely need either high-powered blender or food processor to put these together. Dates are an amazing sweetener, but they need to be blended or processed to eliminate chunks.
During the rigorous and grueling recipe testing (JK!! I love pie), I actually tried out the filling in a couple different ways. Each was perfectly acceptable, depending on how you like your pumpkin pie.
I put the filling into this pie dough recipe from Serious Eats. I've never actually made pie dough before, and it was surprisingly easy. This crust recipe made enough dough for two pies.
I bought a premade graham cracker crust from the store. I know. Not my best decision. But I wanted to test the filling without making even more pie dough. Time is a valuable thing. And it wasn't even a bad combo.
Finally, I mixed just walnuts and dates together to form a simple date nut crust. No sugar, spices, or rolling required. I used little silicone baking cups similar to these, and there was ZERO stickage. I have not tested this crust as a full pie yet, but I'll get to it soon (I'm out of dates!!). I liked this version the best!!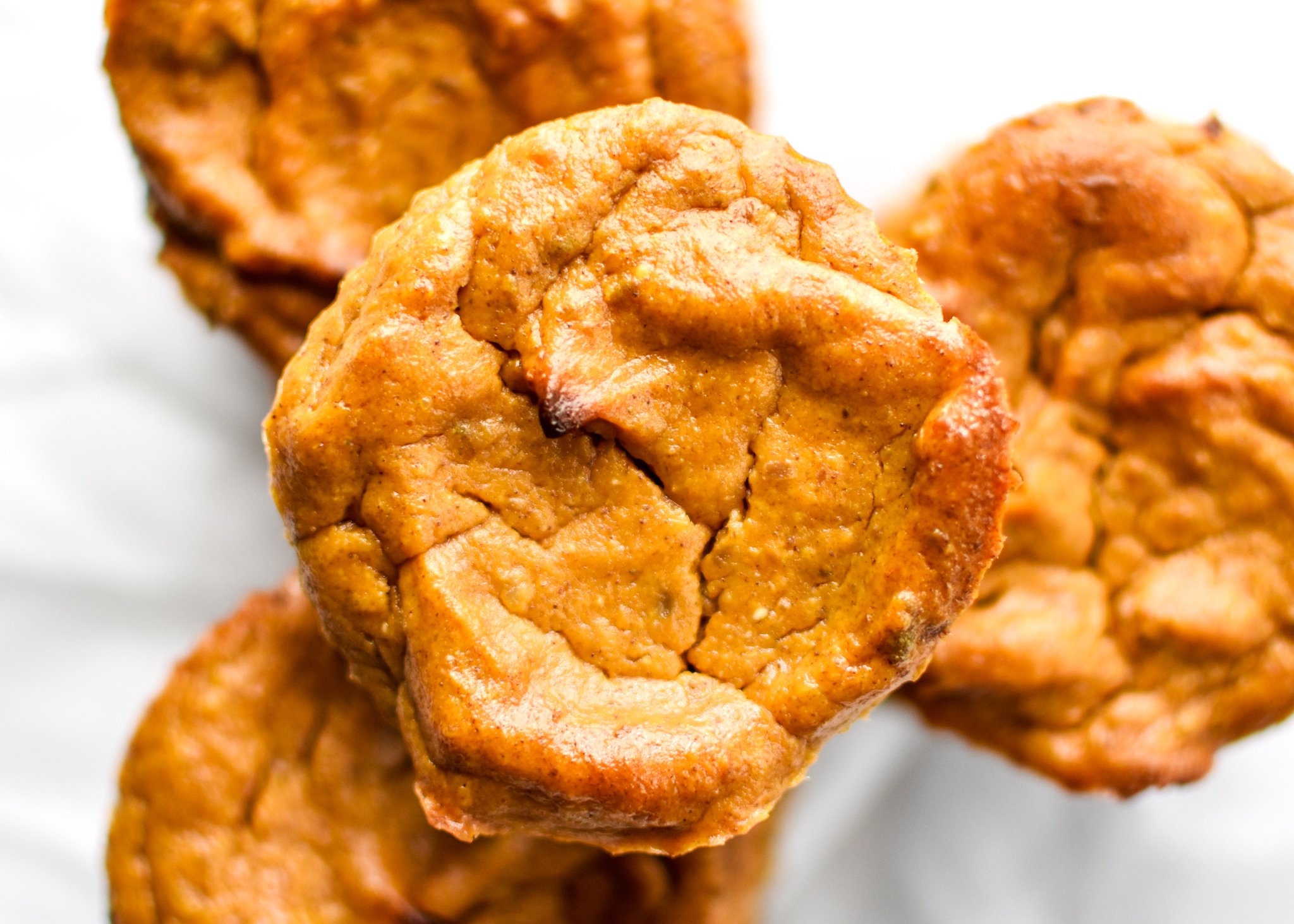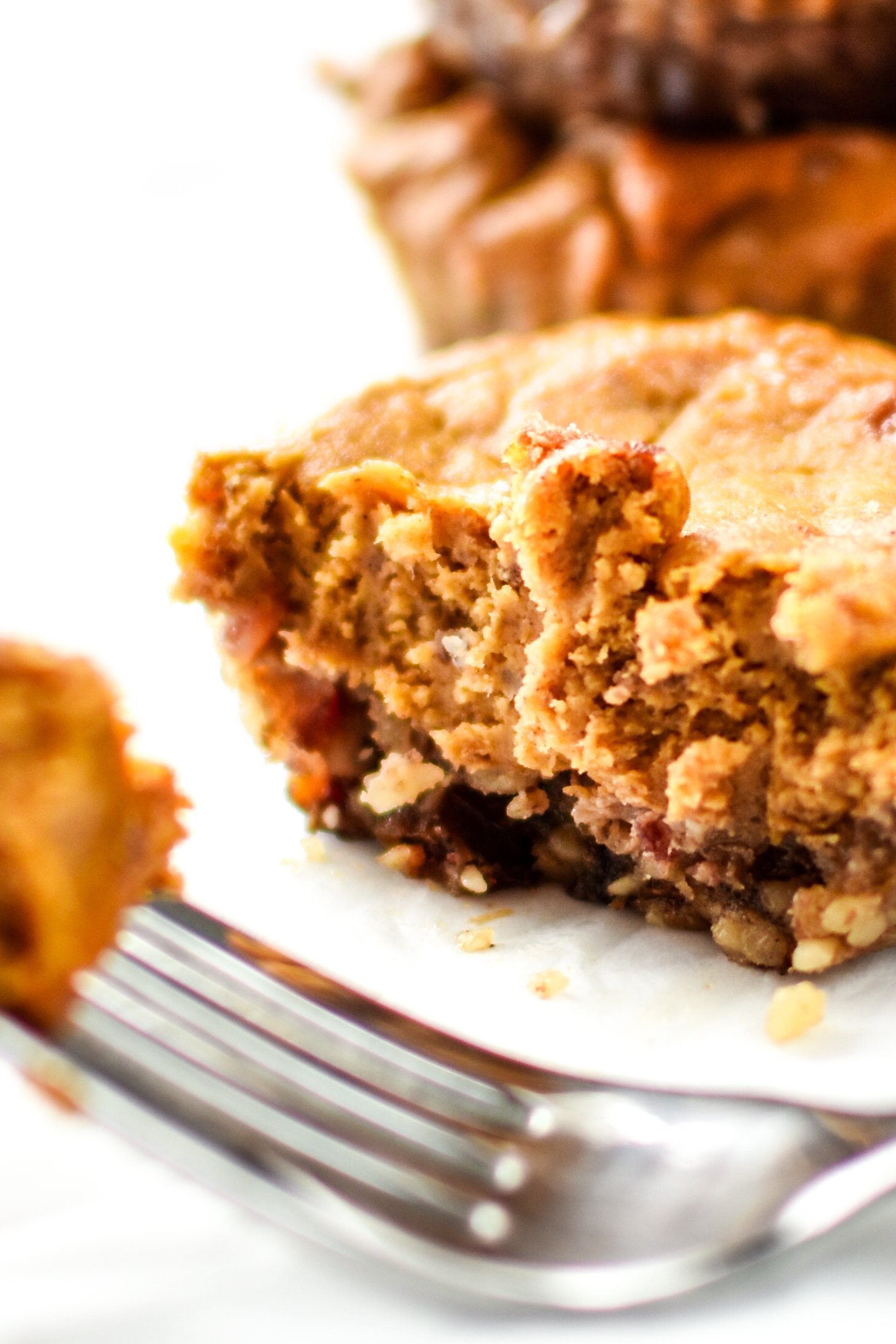 More desserts and snacks from Project Meal Plan:
Recipe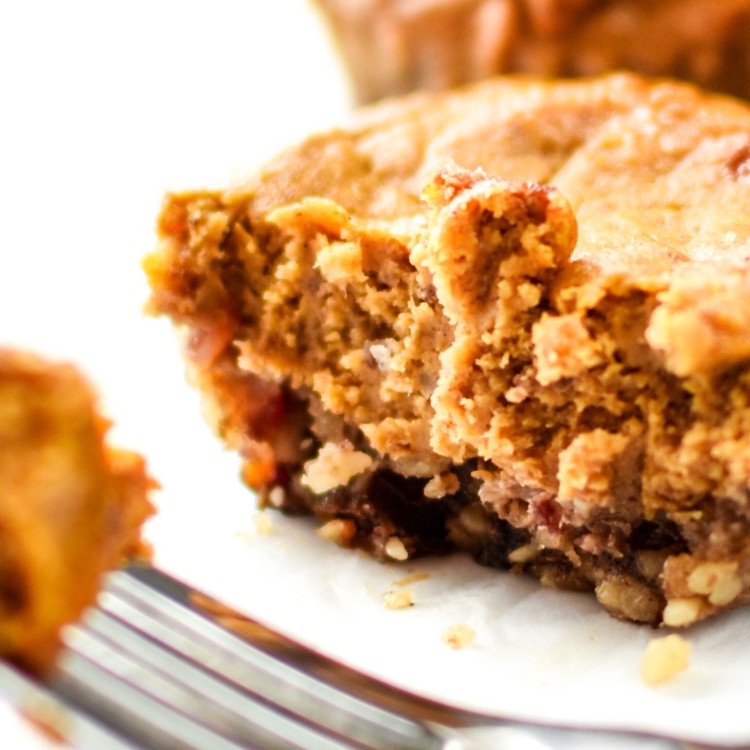 Fruit-Sweetened Mini Pumpkin Pies
Prep:
25 minutes
Cook:
50 minutes
Total:
1 hour 15 minutes
Super adorable, creamy and delicious, not to mention both the crust and filling have no sugar added! Try this classic dessert in an easy to hold, pop-in-your-mouth version!
Ingredients
For the crust:
1 1/2 cups

pitted medjool dates

2 1/2 cups

raw walnuts

1/4 teaspoon

salt
For the filling:
1 1/2 cups

pitted medjool dates

1

15-ounce can pumpkin puree (or

2 cups

minus

2 1/2 tablespoons

)

1/2 cup

(

4 ounces

) cream cheese, softened to room temperature

2

large eggs

1 tablespoon

pure maple syrup

1 teaspoon

vanilla extract

1 1/2 teaspoons

pumpkin pie spice

1/2 teaspoon

cinnamon

1 teaspoon

baking powder

1/4 teaspoon

salt
Instructions
For the crust:
Add crust ingredients to a food processor and pulse until a coarse mixture forms. The mixture should hold form when squeezed in your hand. If it does not hold together, add one teaspoon of water to the processor bowl and pulse a couple more times. Remove from food processor and set aside.
For the filling:
Add dates to clean food processor and pulse until a sticky date ball forms around the inside of the bowl, about 30 seconds. Use a spatula to break the date ball apart and spread it around the food processor bowl. Add pumpkin puree to the food processor and blend on high until well blended. Use your spatula to push the mixture back down the sides of the bowl if necessary.
In a large mixing bowl, use a handheld mixer to whip the cream cheese. When smooth, add the pumpkin date mixture from the food processor. Use a handheld mixer on medium to blend until smooth, about 1 minute.
Add eggs, maple syrup, vanilla, pumpkin pie spice, cinnamon, baking powder and salt to the mixing bowl. Blend on medium until well mixed.
Assembly and baking instructions:
Preheat the oven to 350 degrees F.
Using either silicone baking cups (recommended) or a muffin tin lined with parchment baking cups, spoon 2 tablespoons of crust mixture into each baking cup. Use gloved hands or a flat bottomed cup to mold the crust mixture into the bottom of each baking cup.
Spoon a couple large spoonfuls of filling mixture into each baking cup on top of the crust. Use the back of a spoon to gently flatten each mini pie evenly inside the baking cups.
Bake for 40-50 minutes, or until a toothpick inserted into a mini pie comes out clean. Let cool for 5-10 minutes before attempting to remove from the baking cups.
Refrigerate for at least 2 hours before serving. Store in a sealed container for up to 4 days.
Notes
The filling can be made-ahead and stored overnight in an airtight container in the fridge. I found this out on accident!
The filling can also be used to fill a 9-inch pie. Cook time would increase 5-10 minutes.
This recipe is easy to cut in half, and would make 12 mini pies. Nutrition information estimated with My Fitness Pal.
Nutrition Information
Serving Size:

1 mini pie

Calories:

164

Fat:

9g

Carbohydrates:

19g

Protein:

3g
Recipe Card powered by
To make this recipe, I used:
Thank you so much for checking out these Fruit-Sweetened Mini Pumpkin Pies (and making it to the bottom)! Be sure to use #projectmealplan on social media if you make this recipe! Don't forget to follow me on Pinterest for meal inspiration every single day.