We could all use more dinner ideas, am I right? I love incorporating dairy-free, gluten-free, and clean eating meals into my routine even though I don't strictly follow those diets. Here are our Top 10 Favorite Whole30 Dinner Recipes we keep on repeat year round!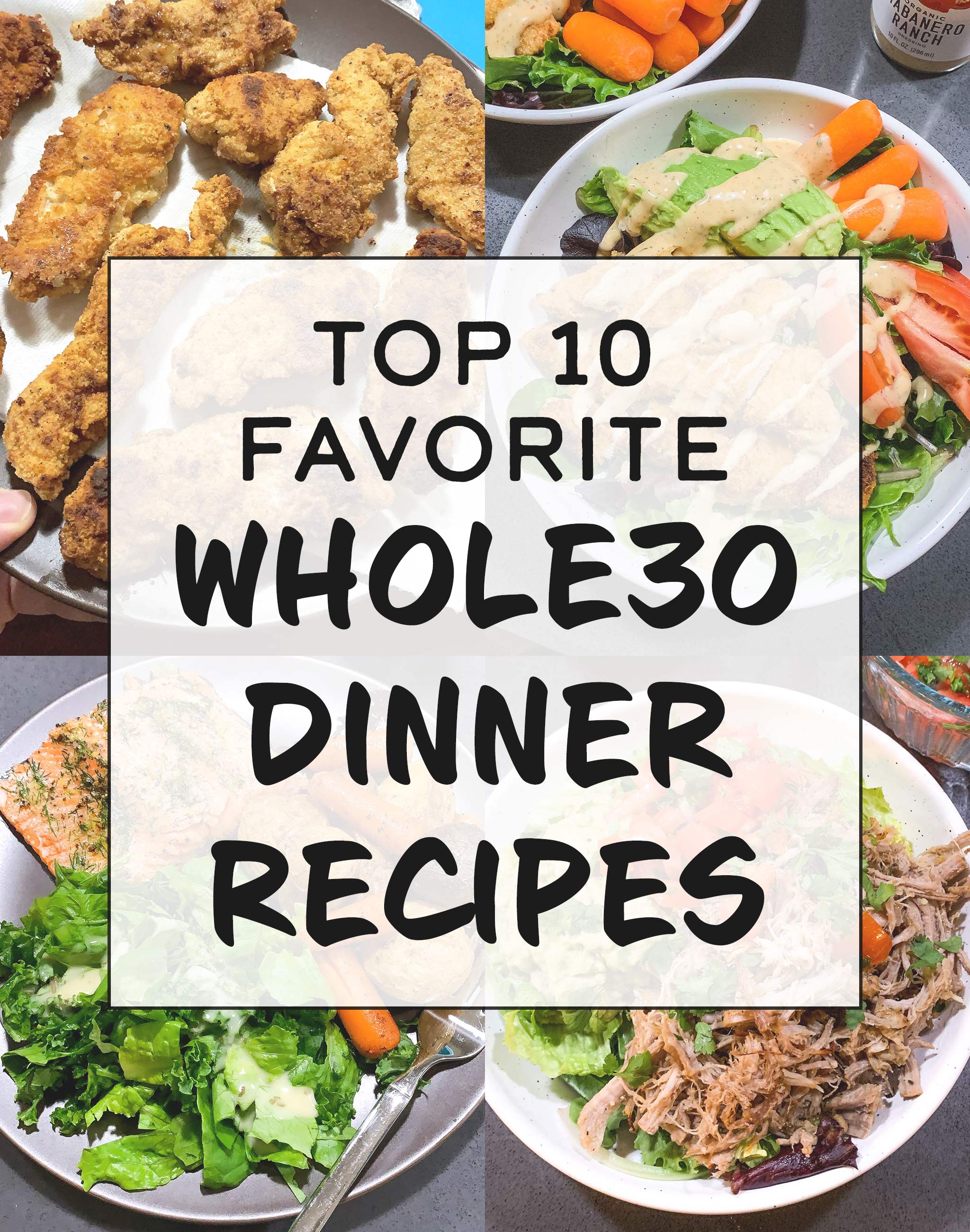 This year, we dove deep into Whole30. It started with a round in January, and more recently we just completed another round in July. In my opinion, the key to Whole30 is meal planning!
That's why I'm all about sharing Whole30 recipes along with my other nonspecific recipes. Meal planning is for anyone, but it can be especially helpful for some who want to achieve certain goals.
For me, dinner can be the most difficult meal to come up with new ideas. Maybe you had hard boiled eggs for breakfast, some dill pickles wrapped in organic turkey breast for lunch (who, me??), and now, you want a large, filling, complete, amazing meal. Don't draw a blank! I gotchu!
This list is for you and me both. When I decide to do another Whole30 in the future, I want to remember exactly what I loved for dinner the first two rounds. These are meals we eat during Whole30 (sometimes more than once), as well as when aren't doing a Whole30! That should tell you a lot about how good these meals are.
Most of these photos are real life kitchen counter phone pictures, because I want this to be authentic. Yes, we really eat all this!
What makes these dinner recipes Whole30?
Whole30 foods are a wonderful base for recipes because they can usually serve almost anyone and they fit within most diets (obvious modifications needed for vegans/vegetarians).
To be Whole30, a recipe must basically consist of only meat, seafood, vegetables, fruit, nuts, and approved oils. All of the meals listed here fit in the following categories:
dairy free
gluten/grain free
no alcohol (not even for cooking)
no legumes (beans, chickpeas, etc.)
no sugar of any kind
no preservatives
So basically, if you start your dinner bones with one of these meals, you know it's going to be real foods that are Whole30 approved.
If you aren't following the Whole30, try it how it is. If something is truly missing to you, go ahead and add it in. These ideas can be starting places, or full dinner ideas. You do you! Here are my Top 10 Favorite Whole30 Dinner Recipes, in no particular order!
Our Top 10 Favorite Whole30 Dinner Recipes
1. Copycat Chipotle Carnitas Bowls
This is one of those recipes you completely forget is Whole30 because the meat is so delicious and the veggies are the same ones you love all the time and it's just that good. I always follow this recipe for Perfect Paleo Instant Pot Carnitas from 40 Aprons to make these bowls. The meat is SO EASY to cook in your Instant Pot, I'll never do it any other way. I always make some guacamole and pico de gallo, then serve it all over romaine.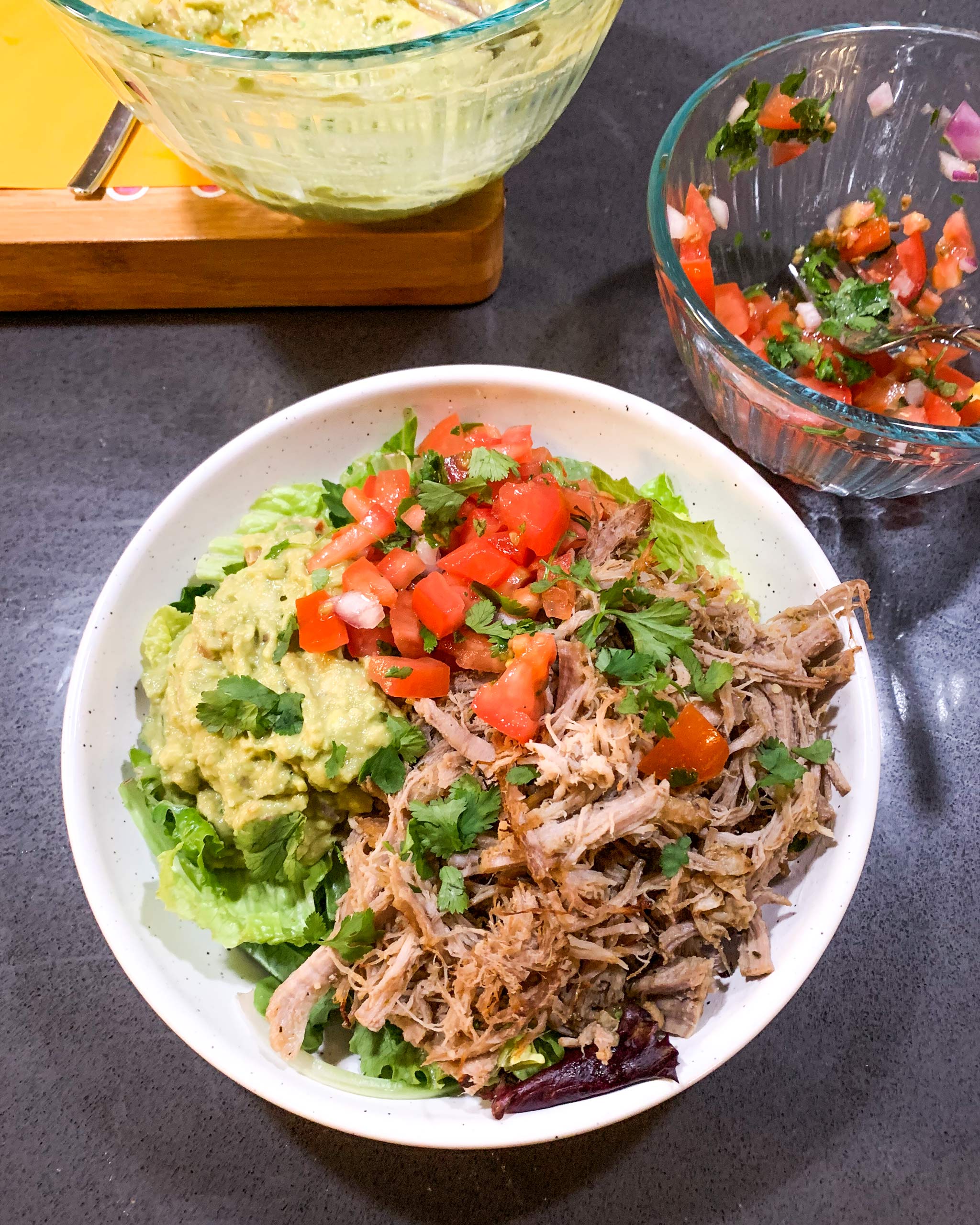 2. Sloppy Janes
Probably our favorite recipe on this list and the one we make the most often for sure – Sloppy Janes from the Defined Dish! I've praised this recipe since our very first Whole30. Think sloppy joe filling but served over sweet potato. It's so incredibly flavorful and sometimes I still can't believe that taste comes from those ingredients. Coconut aminos are pure magic people. This one will be on repeat forever!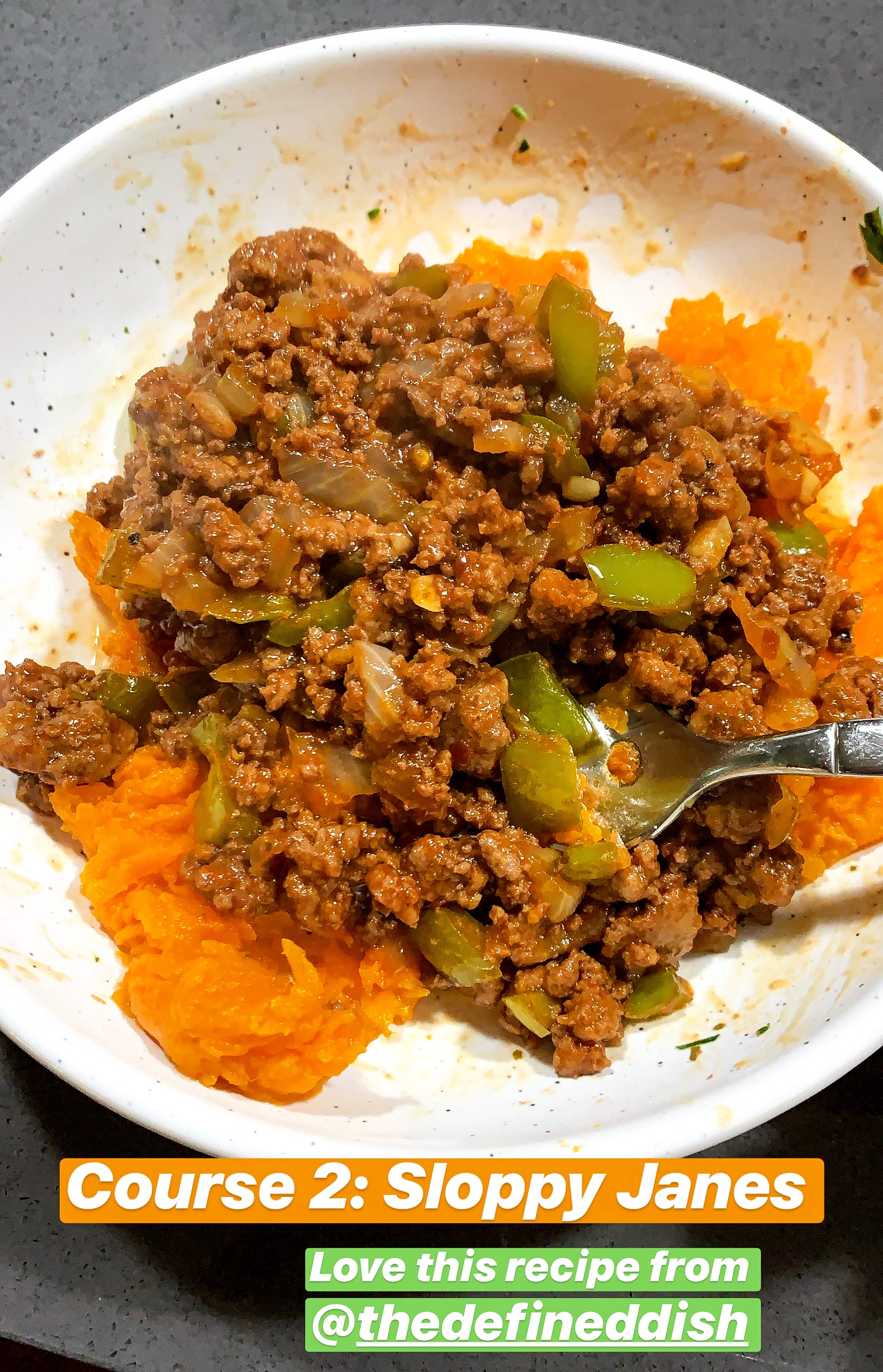 3. Simple Whole Roast Chicken + Veggies
We absolutely love a good roast chicken around here, but I was always slathering them in butter! Oops. Good news – this one is slathered in ghee and totally Whole30 approved! I always serve with potatoes and whatever veggies I'm in the mood for. Here's recipe for Simple Whole Roast Chicken.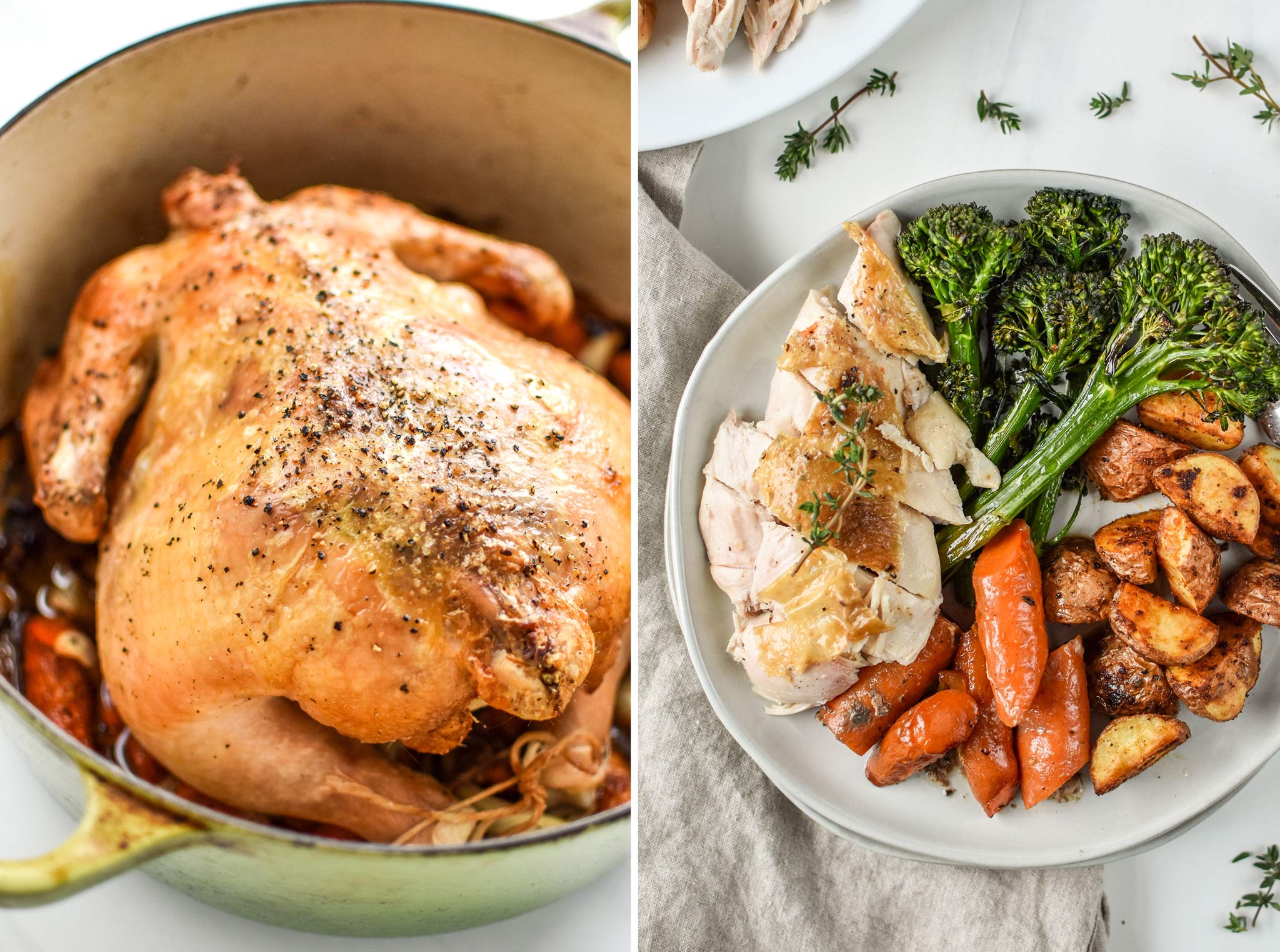 4. B.A.S. (BIG ASS SALAD)
I could never do as good of a job introducing the Big Ass Salad as Mark Sisson, so you should just go over to YouTube and watch this 1 minute video real quick. Bowl of mixed greens, whatever vegetables are on hand, protein for the meal, and the salad dressing. For Whole30 salads, I love Primal Kitchens as well as Tessemaes brands. However, I just started making this Homemade Whole30 Ranch Dressing from Tastes Lovely and it is AMAZING. It is absolutely worth a try, especially if you're already making your own mayonnaise.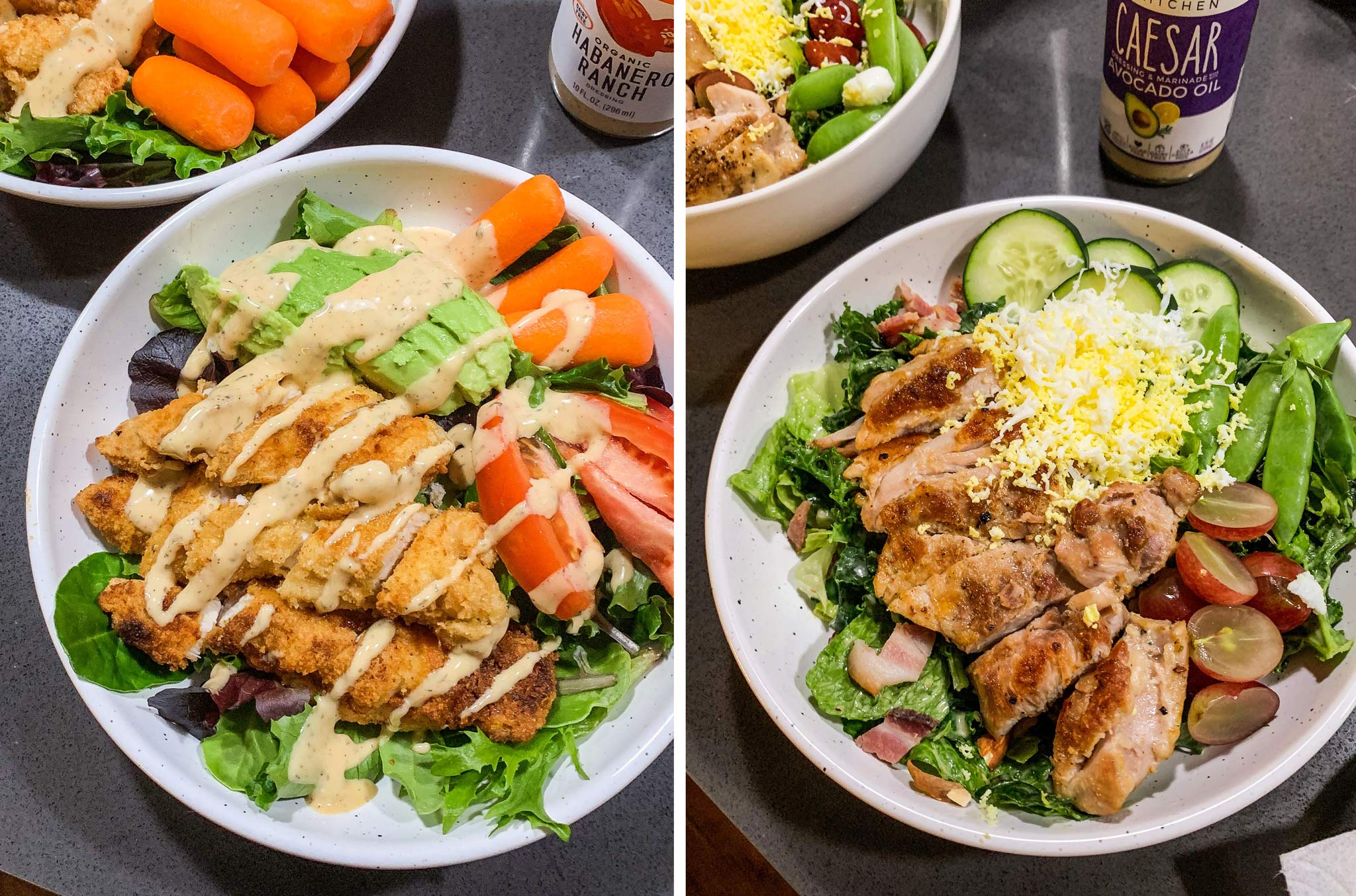 5. Egg Roll in a Bowl
Sadly, this is the only meal I couldn't find a photo of in my phone, but that does NOT mean it's any less delicious than the others. Think of the inside of an egg roll, but, in a bowl. If you're never tried it, this dish will surprise you. This is the kind of meal I'll serve with rice if we're not doing a Whole30 because we love this one all the time, Whole30 or not.
I use this recipe for Egg Roll in a Bowl from 40 Aprons because I love how it uses coleslaw mix as a base. I skip the water chestnuts because they aren't my favorite – this recipe has so many options, it's super easy to modify it for your dietary needs!
6. Breakfast for Dinner
Breakfast for dinner is always a great choice. You'll need a solid base of breakfast potatoes (recipe coming soon), some eggs (cooked any way you like), veggie such as avocado, and a protein (Whole30 approved bacon, sausage, or smoked salmon is great!). These bowls are hearty, filling and feel a lot different than your basic hard boiled egg. Also, if you don't like breakfast food, maybe we can't be friends.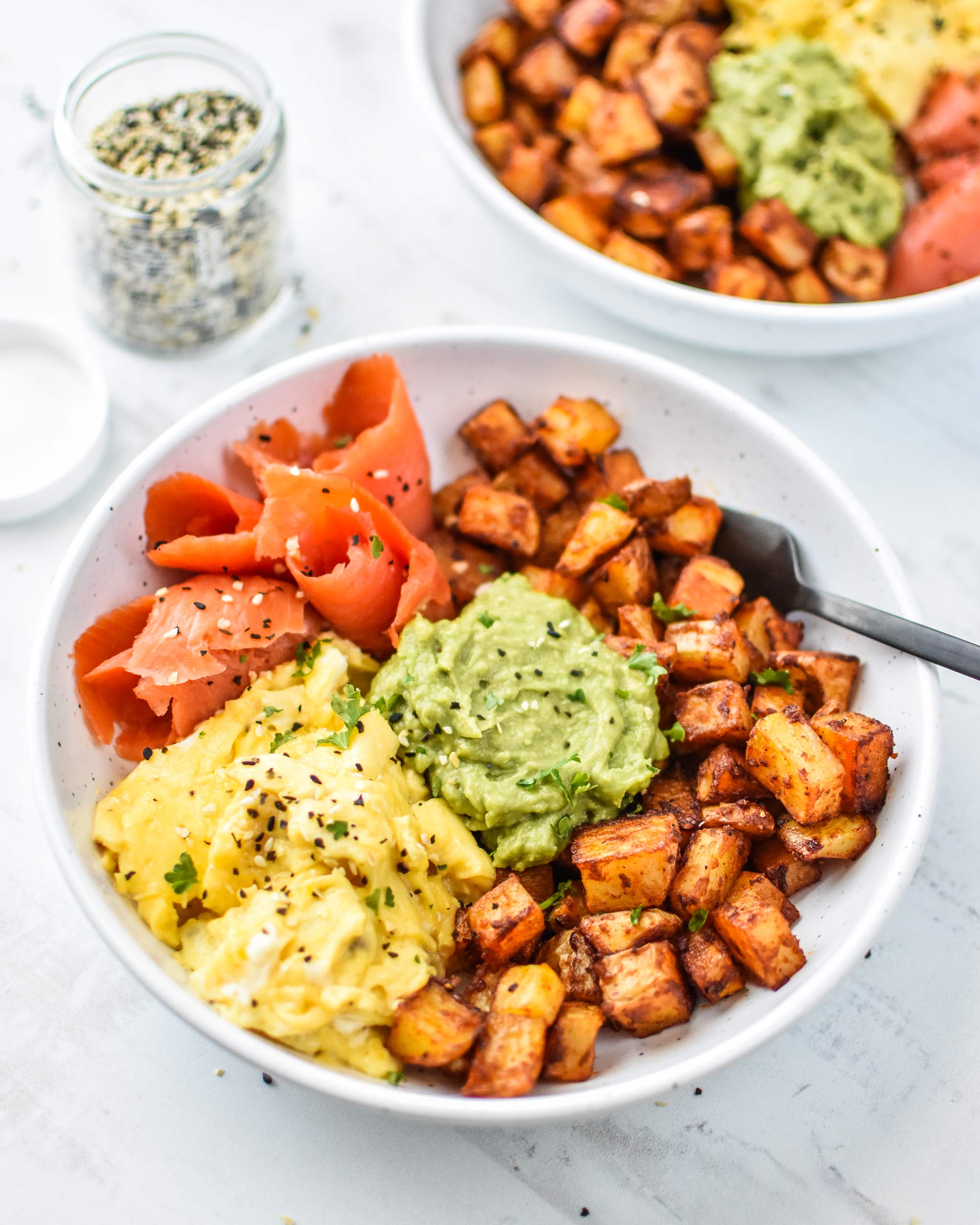 7. Almond Flour Chicken Strips
This was one of the very first Whole30 specific recipes I tried, and we still go back! These chicken strips are some kind of crunchy wonderful. They're from this recipe for Crispy Chicken Salad from Paleo Running Mamma. Honestly I've never made the dressing from the recipe because I always have my own on hand, but I always go back for these chicken strips!! They're also pictured on a B.A.S. above!!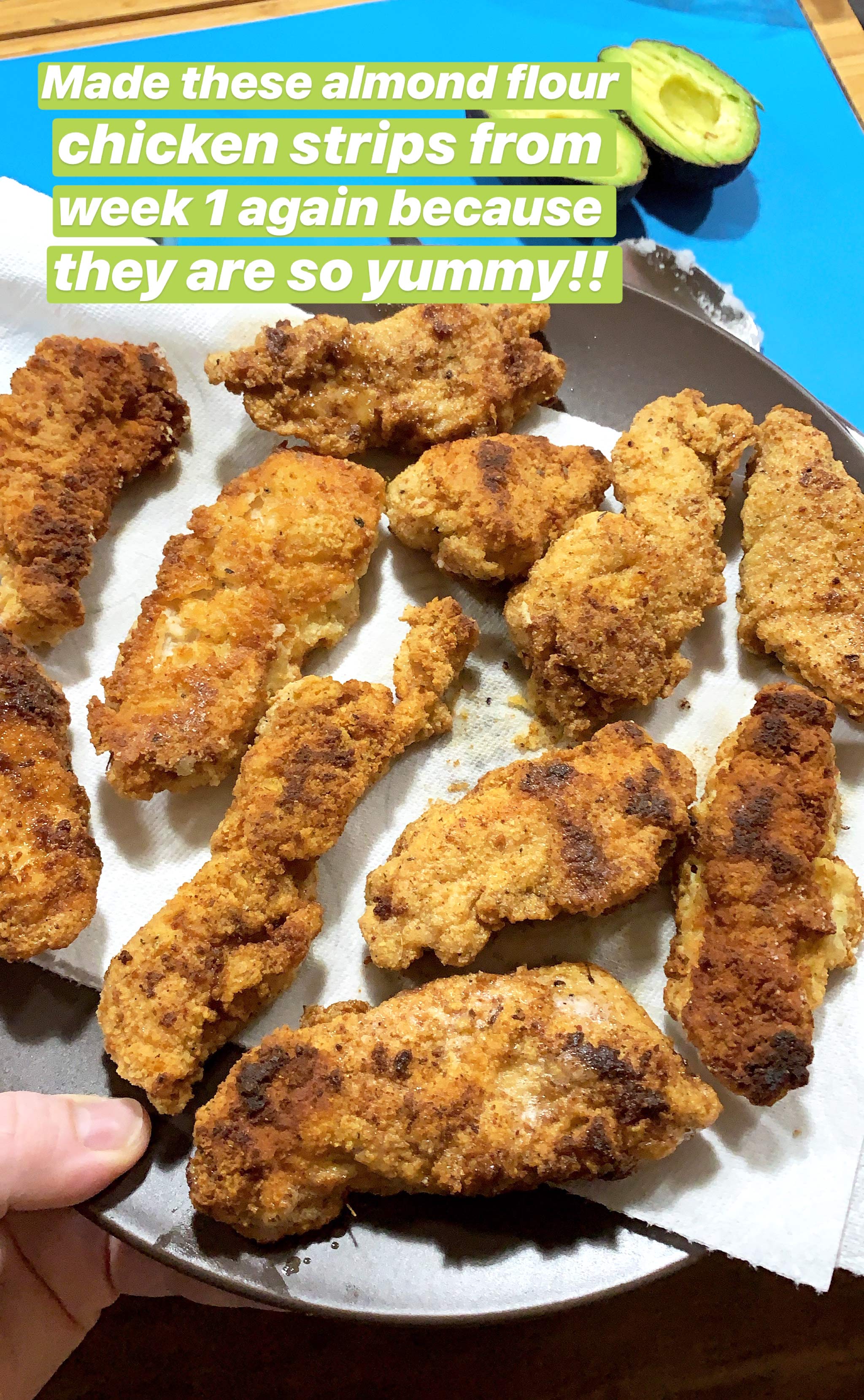 8. Quick Baked Salmon + Veggies
Lately I'm loving seafood (did you see my trip to Alaska?!), so that's what inspired trying multiple salmon recipes during this Whole30. The best part about salmon is it's a super quick cooking protein! I love this recipe from Fed and Fit for Herb Crusted Salmon & Potato Bake – get the potatoes going, prep the salmon, the put it all on the same tray and cook until the salmon is done. You can also cook the salmon by itself and put it on a salad for the quickest dinner ever!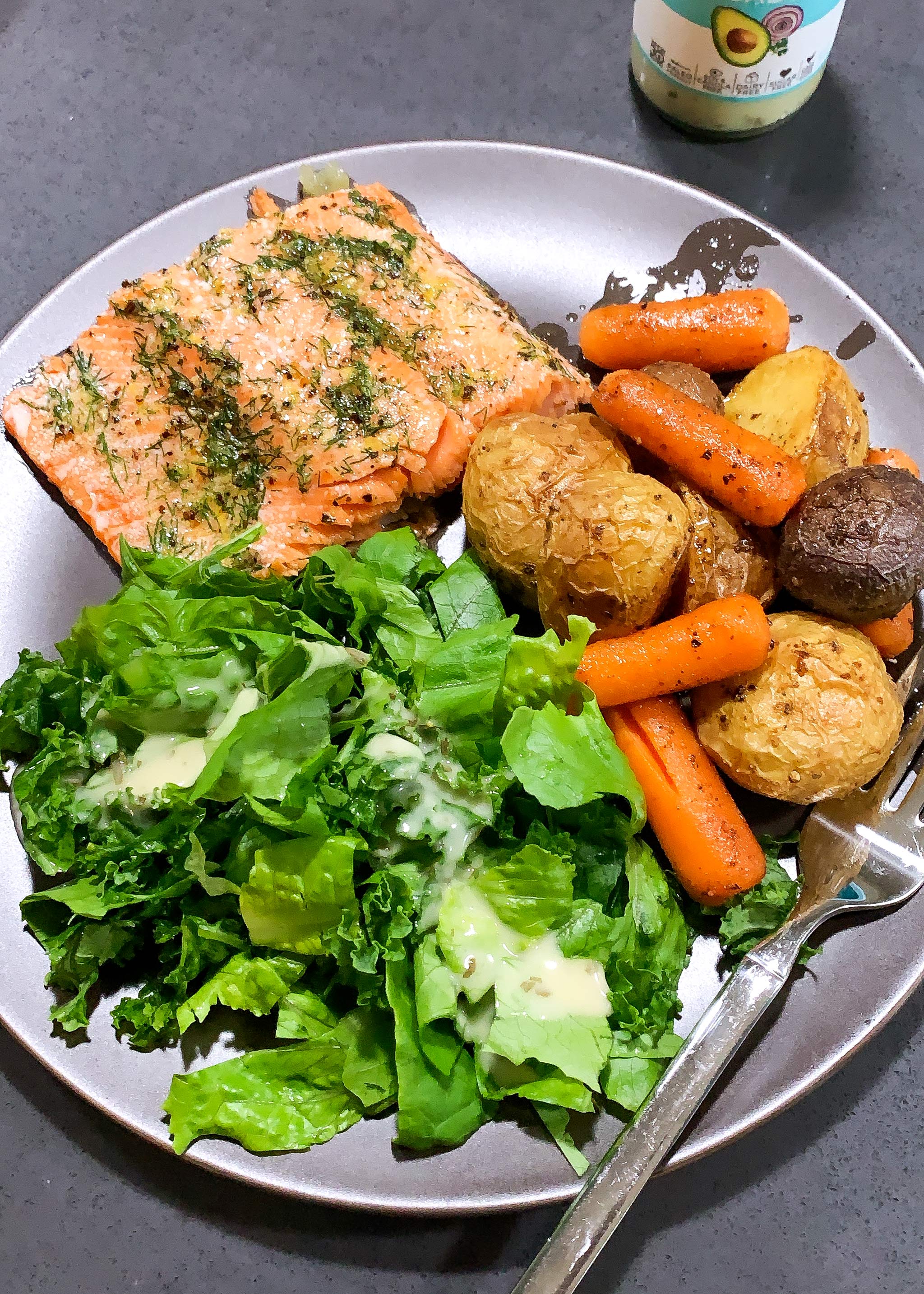 9. Spaghetti Squash Casseroles
I absolutely love spaghetti squash casseroles during winter rounds of Whole30. The first spaghetti squash casserole I ever tried was this Buffalo Chicken Casserole from PaleOMG and I could not believe the ingredients. This is paleo?? Am I exactly sure what paleo is?? (This was 4 years ago, I've come a long way since then!!) Here's a current favorite I worked up during our last winter Whole30 – Chicken Bacon Ranch Spaghetti Squash Casserole!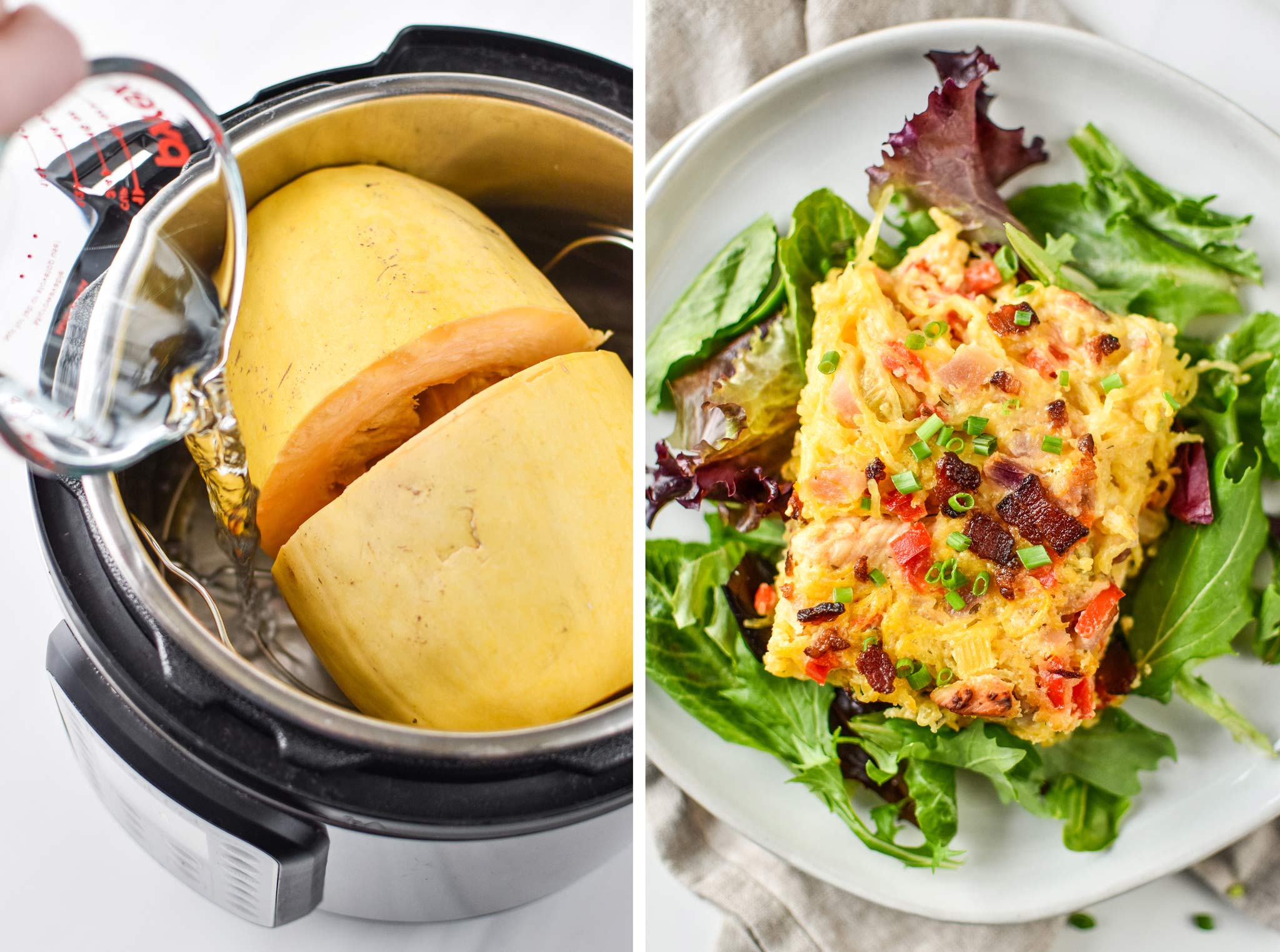 10. Teriyaki Chicken Stir Fry
If you pack a few more veggies in there and get the flavors just right, it doesn't really feel like you're missing the rice at all. We LOVE this bottled dressing from Primal Kitchens!! We also tried and really enjoyed this Chicken Veggie Stir Fry With Garlic Sauce from Paleo Running Momma. If you enjoy Chinese takeout, you'll enjoy this one!! Also works well as leftovers for lunch!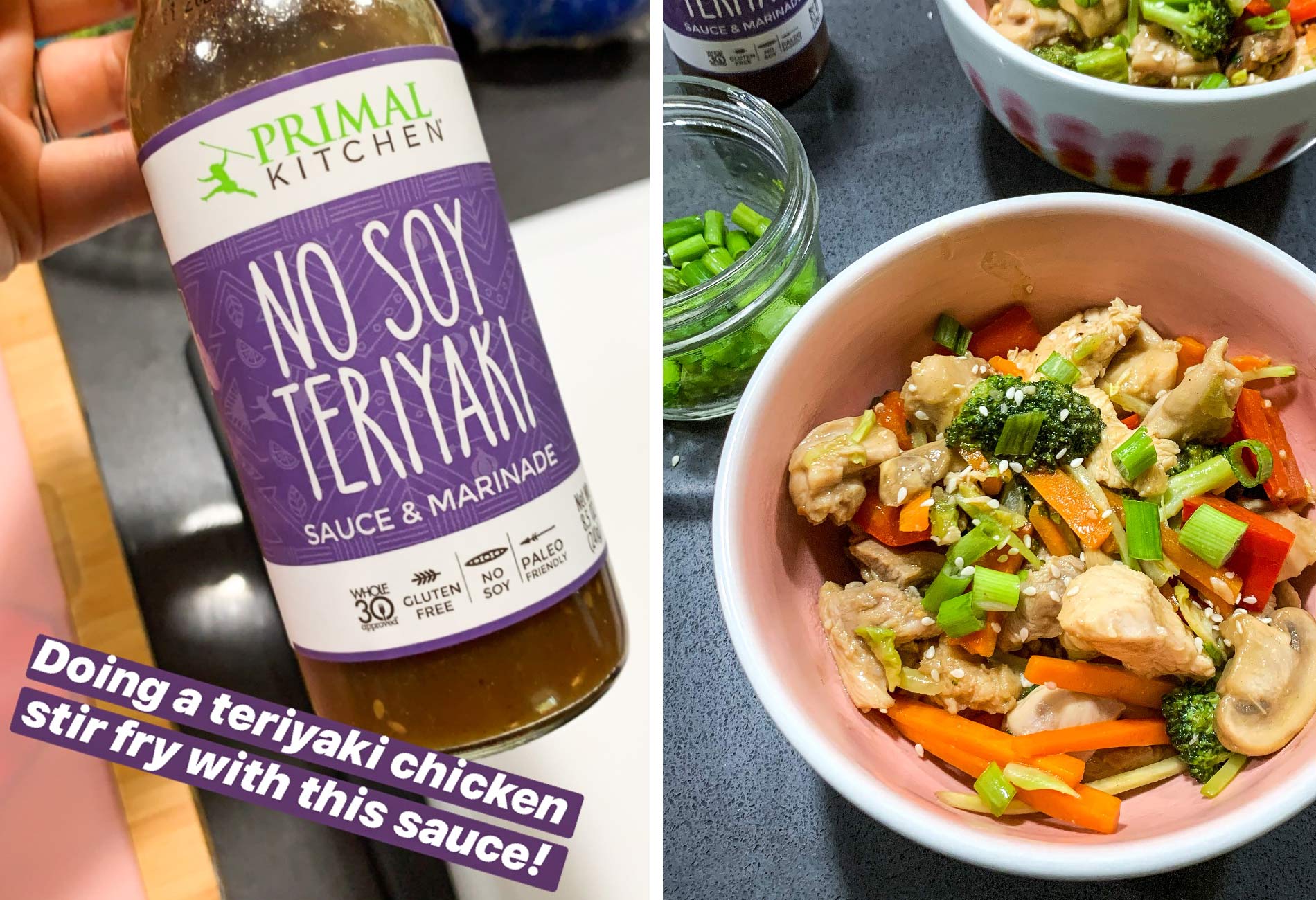 Hope this round up of our Top 10 Favorite Whole30 Dinner Recipes gives you some inspiration for your next Whole30! I know I'm going to be referring back to this list when we do future rounds. Have you tried any of these? Have a favorite? Let me know below!!