1 Comment
Posted: 07/01/2019
Updated: 10/10/2019
Did you know the only way to visit Juneau, Alaska, is by boat or plane? Incredibly delicious and gorgeous beyond words: I got to spend five days in the capital of Alaska! I tried food from almost every major restaurant in town, rode the tram up Mt. Roberts, went whale watching and more!! Here's everything I did in Juneau, Alaska, with pictures!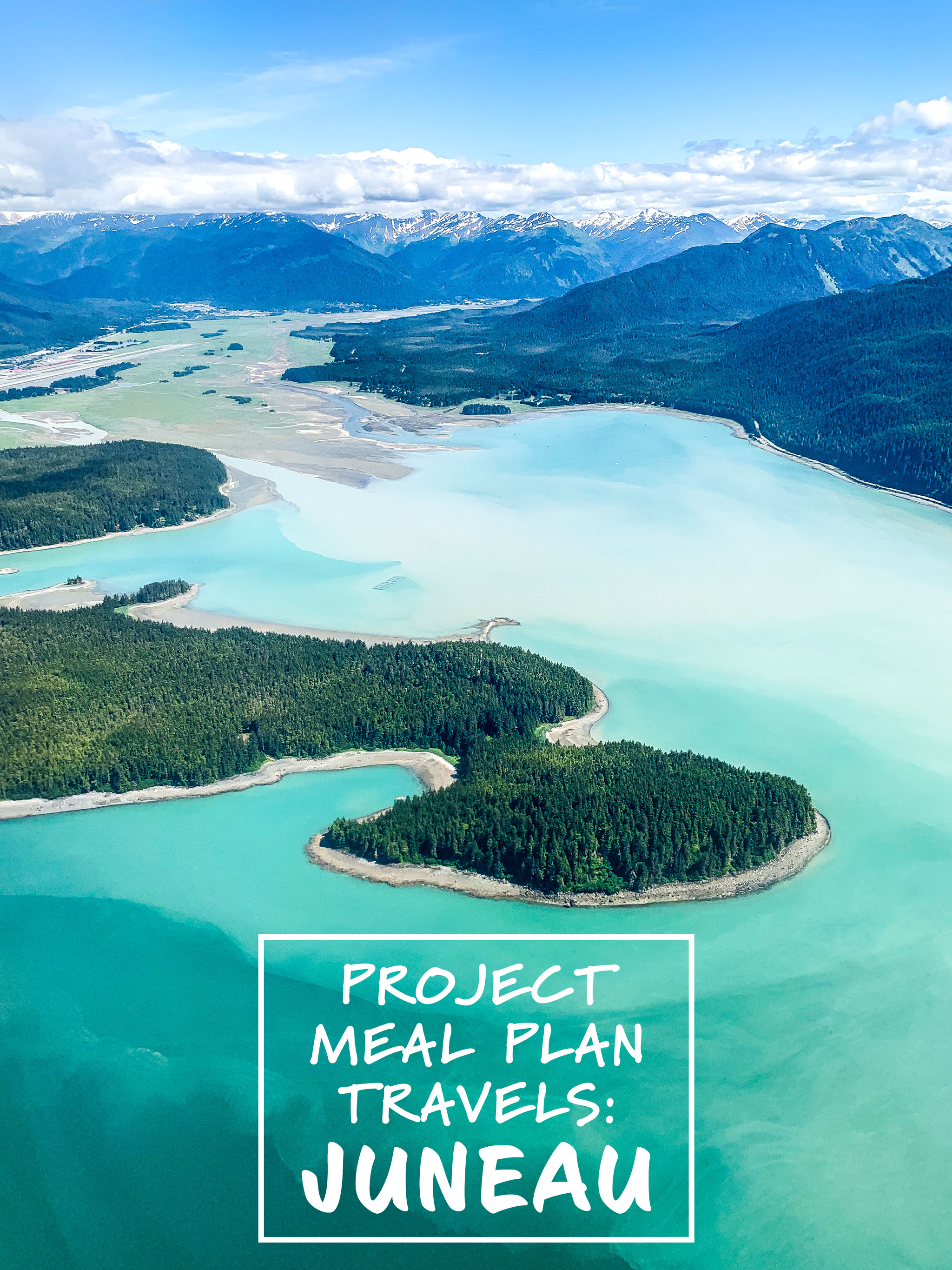 Before I get into the good stuff, I have to give a huge shout out to the International Food Blogger Conference for organizing such a spectacular trip full of amazing food and local activities. I had NO IDEA Juneau had so much to offer, and I must go back! I also met a lot of people who're passionate about food and blogging, which always brings me tons of joy!
Breweries, classy restaurants, saloons, distilleries, fusion food, Indian food, and MORE. Guys and gals, that's just the food and drink!! If you're an outdoors person, the activities lineup is endless. I was there for five days and couldn't do everything I wanted to do!
Traveling to Juneau basically took the afternoon, but it's so obviously a different world when your plane hasn't even made it to the gate and you've already seen a glacier.
Juneau is only about a 2.5 hour plane ride from Seattle (where I live), with a one hour time change. Perfect for a summer three day weekend to explore a new place I bet you've never been 🙂
The weather in Juneau actually reminds me of a slightly milder Seattle climate – meaning summer is the perfect time to visit. If you're lucky (like we were), sunny days over 70F will happen! It's going to rain, yes, but you can catch some beautiful summer days. Just check the pictures to prove it!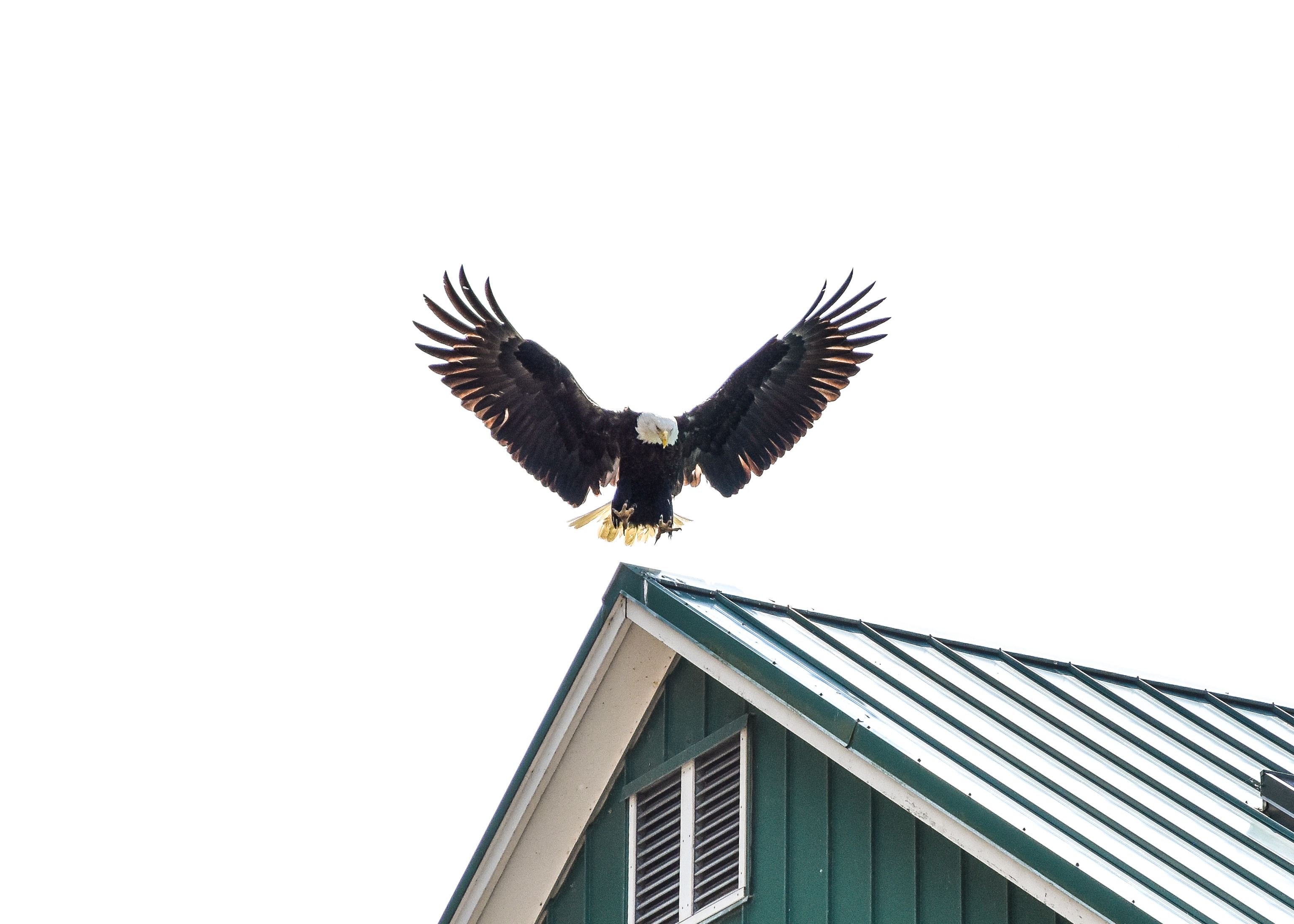 I did a lot in the short time I was in Juneau, so I'm breaking this post down into three sections: The Juneau Food Tour, Alaskan Brewing Co., and Sightseeing! Let's goooooo:
Juneau Food Tour
The very first activity planned was meeting up with Midgi for our food tour (we did "A Tour with Taste" from Juneau Food Tours!). I can honestly say that Midgi taught me more about Juneau and the food scene than I learned from anyone else! She knows everyone and everything about food in Juneau. We asked questions. She knew ALL the answers.
Not only is this tour educational in all the best ways, but it's the perfect thing to do on your first day in Juneau if you can't decide where to eat. Midgi even gave us info about restaurants and locations we didn't have time to stop at – one of them was a GEM I'll get to later!!
Downtown Juneau is totally walkable, so spending two and half hours strolling around eating food and drinking beverages is for sure one of the best ways to quickly eat a lot and learn a lot around town. Here's everywhere we stopped:
Tracy's King Crab Shack – You obviously didn't visit Juneau if you didn't go to Tracy's King Crab Shack. I was lucky enough to visit both locations – this one pictured is right by the cruise ship docks so it gets super busy real quick! The second location is less than a half mile up the road but gets much less cruise ship traffic.
With the Food Tour, we were able to try the King Crab Bisque and a couple crab cakes!! OMG. (I was impressed until I ate a full lunch at the second location up the street – those pictures are further below since it was a different day & location!)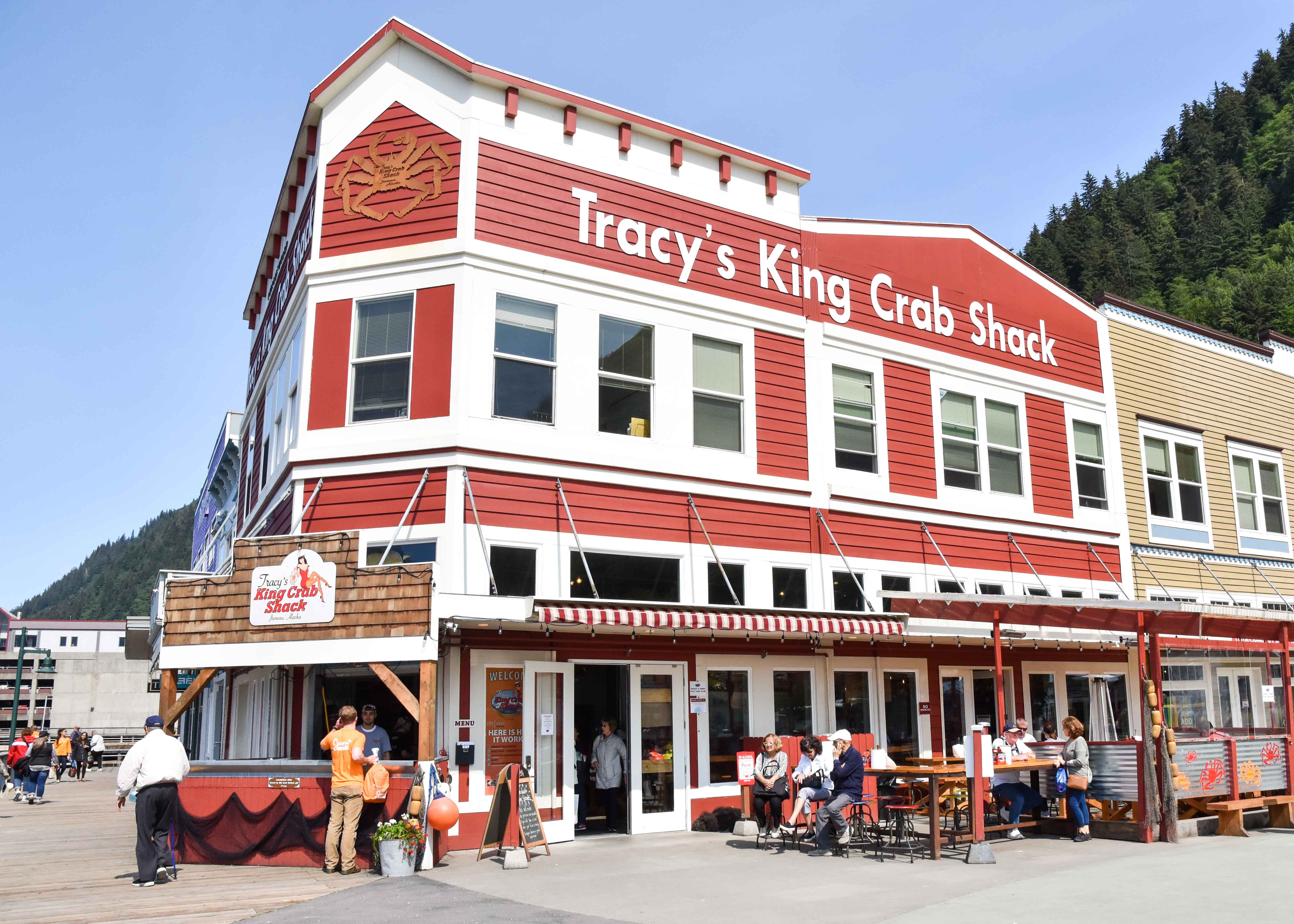 Salmon Shoppe – This was a cute little shop with every kind of dried meat you can imagine, including reindeer! They also sell kelp salsa which was surprisingly delicious.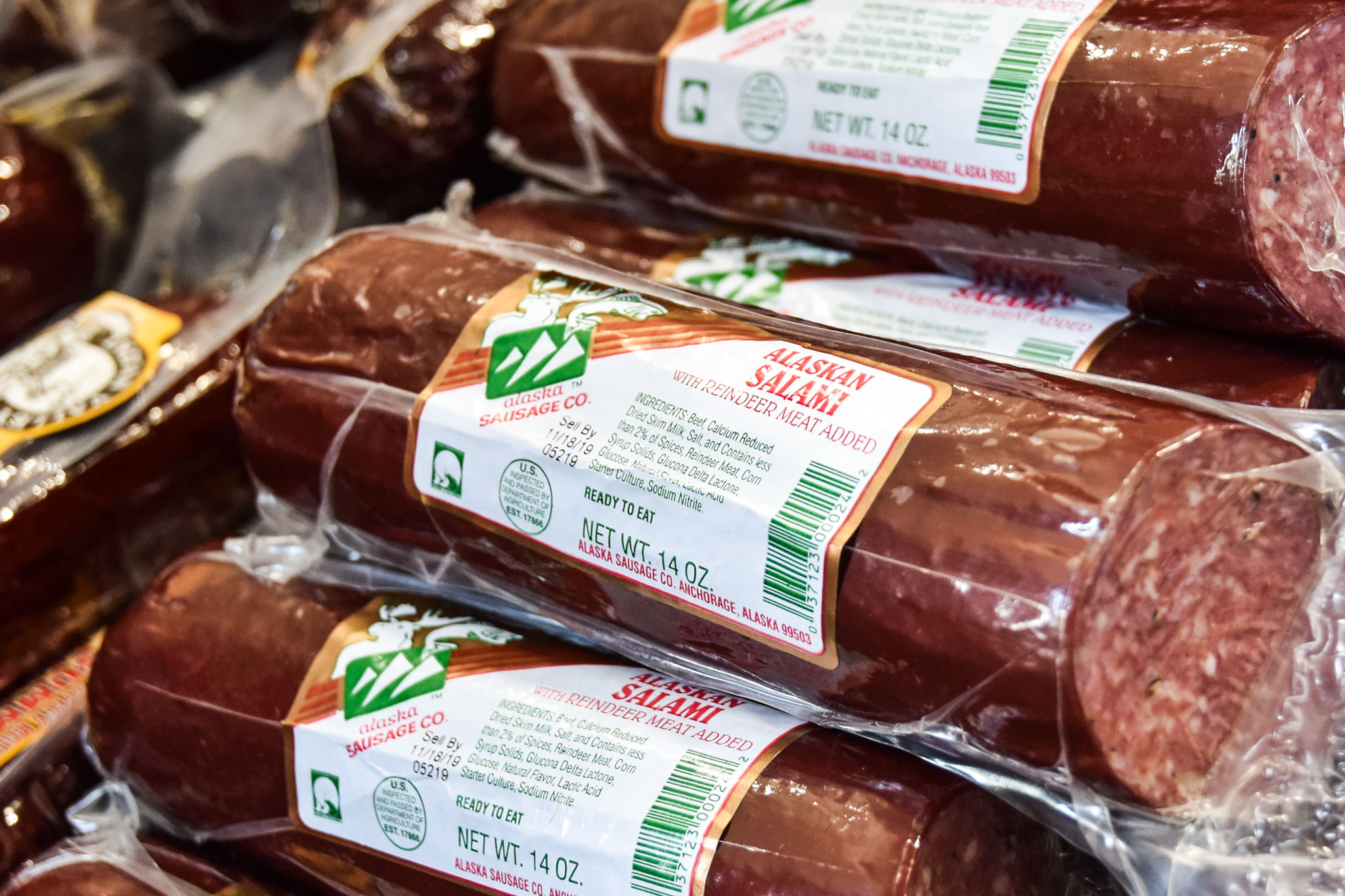 McGivney's Downtown – Ever heard of a hog wing? Me either, until we stopped at this restaurant. Admittedly, it's not really my thing, but it was served with some hard cider (WAY more my thing) and everyone seemed to be seriously enjoying it. Stop here for a Sport Bar/TVs everywhere vibe!!
SALT Wine Cellar & Bar – If you're looking for fine-dining Alaska style, this is where you want to go. The restaurant opened just for us! We got to try some halibut that was cooked perfectly, paired with some wine that made me feel very fancy at noon on a Thursday. This place was super classy and perfect for date night!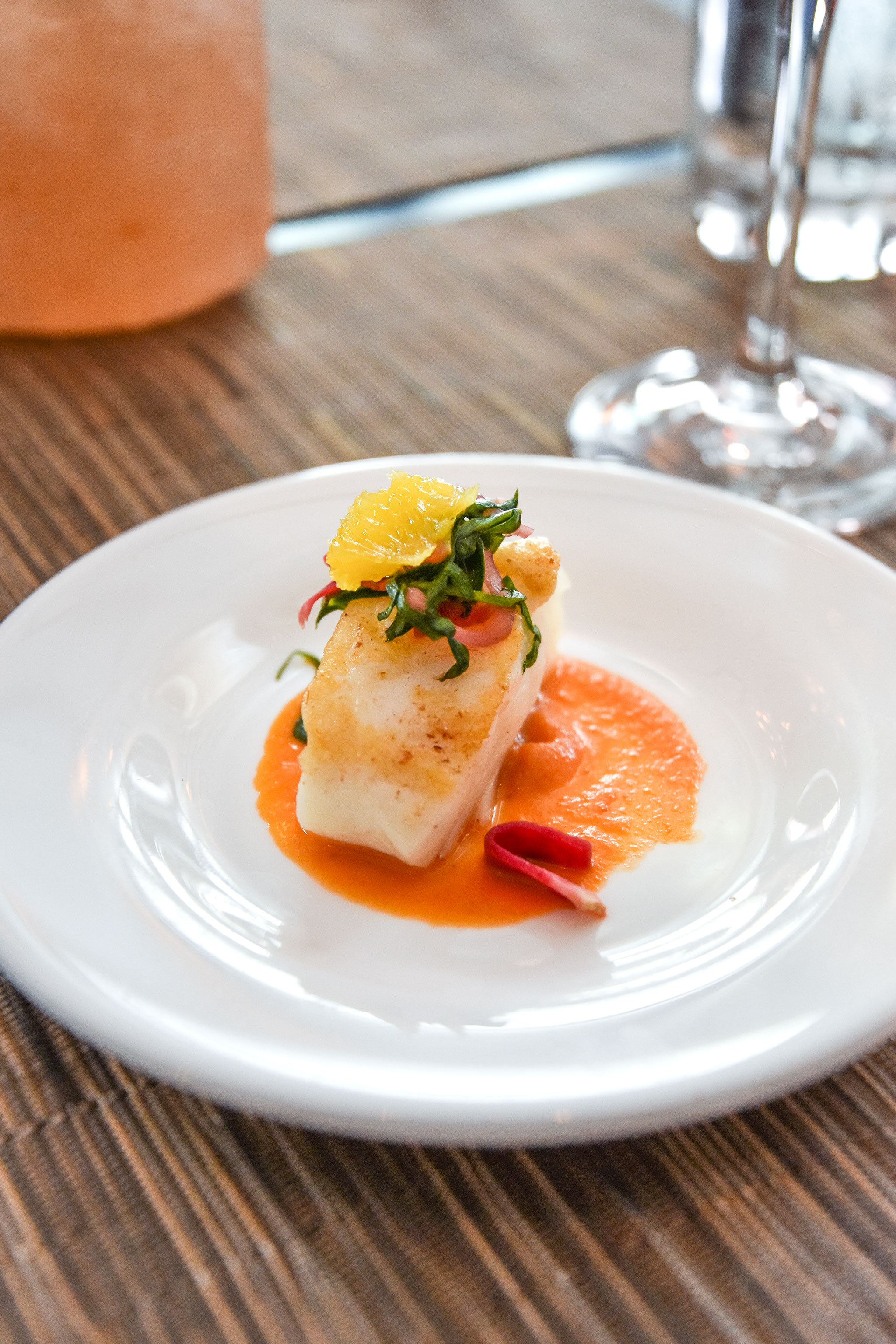 Deckhand Dave's Fish Tacos – Couldn't ask for more in a fish taco stand!! If I'm remembering this correctly, Dave was instrumental in getting the very first food truck park in all of of Alaska up and running in Juneau!
You can grab some beers with your tacos, sit under cover with heaters (or just get out of the sun like us!), and then have some ice cream from the Coppa Ice Cream stand. This little area was open every day rain or shine!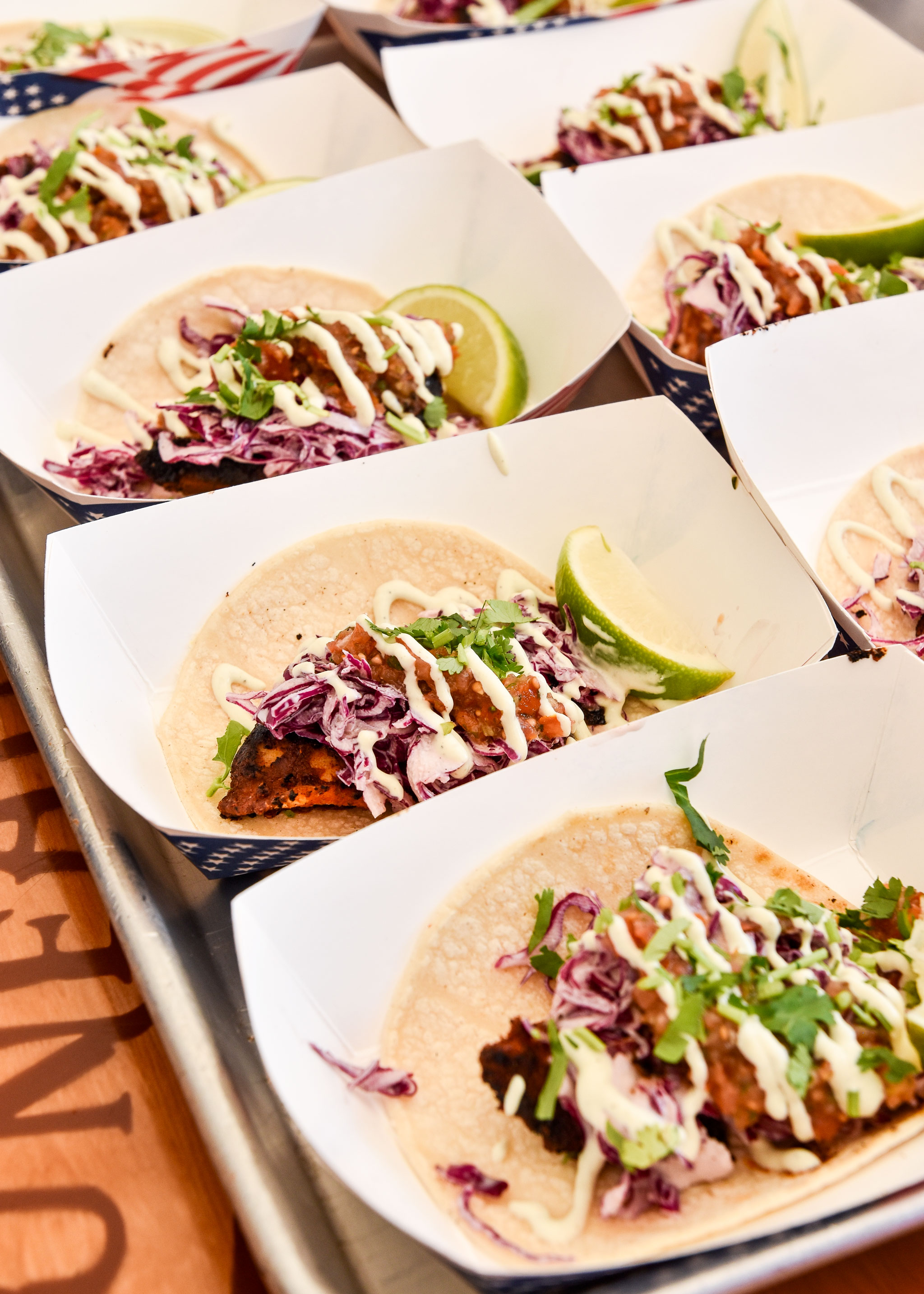 Harbor Tea & Spice – For all my friends who like to cook or drink tea, this is the place you have to check in. It's a cute little shop stuffed to the brim with spices, herbs and teas I didn't even know you could buy! We tried the Ice Cave Blue Tea – it really was BLUE.
Alaskan Hotel & Bar – We stopped by the Alaskan Hotel & Bar and sampled three different Alaskan Brewing Co beers: Alaskan Amber Alt-Style Ale (most popular), Alaskan White Wheat Ale (my favorite), and Alaskan Freeride American Pale Ale. All were good, and we got to hang out in an older bar with a live-music vibe – what's not to like??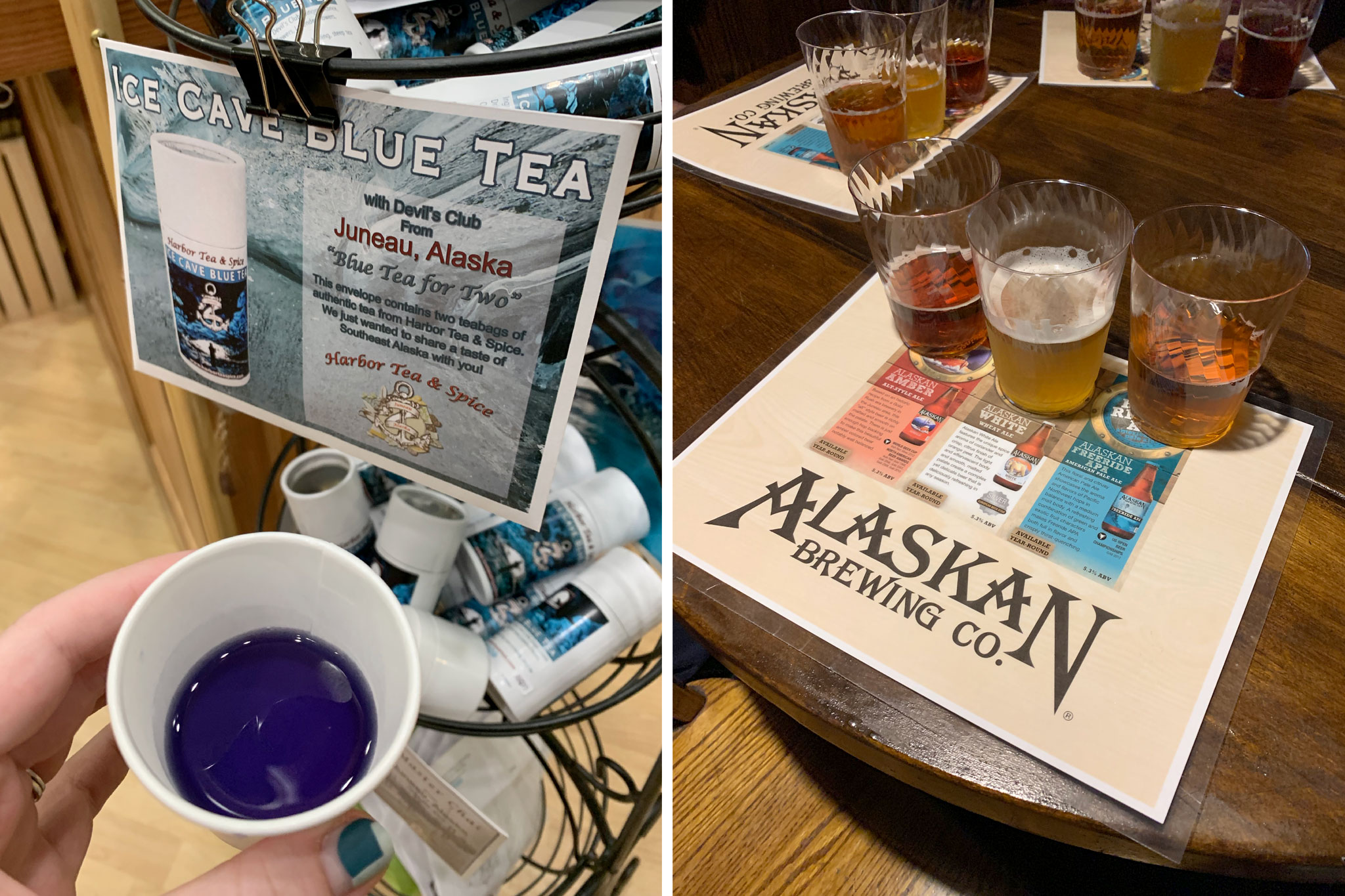 V's Cellar Door – We didn't stop here during the actual tour, but Midgi mentioned it and we ended up stopping by later… twice!! It was the only restaurant we ate at two different times during our stay in Juneau (plus the other dishes we sampled during our conference event!). V's is a Mexican Korean Fusion restaurant down some stairs in a basement that fills up quick for dinner!
I tried a few things over the course of two meals: First, we had V's Shiz-Boom-Pop! Corn (pictured below), which was a hit for the entire table! I also had the Tinga Fusion Burrito. I was prepared for an oversized burrito that would involve leftovers I couldn't take with me, but I ate the entire thing. Yep. Perfectly sized and FULL of slow roasted spicy chicken.
The second night we shared the Fusion Nachos with Korean Chicken (pictured below). Honestly I'd go there again just for this! And the pineapple jalapeno margaritas. Had two with each meal because they were the best cocktail I drank in Juneau, hands down. For dinner, I had the Fusion Burrito with Ginger Tofu – amazing!! Had the texture of chicken in a way but with sooo much flavor!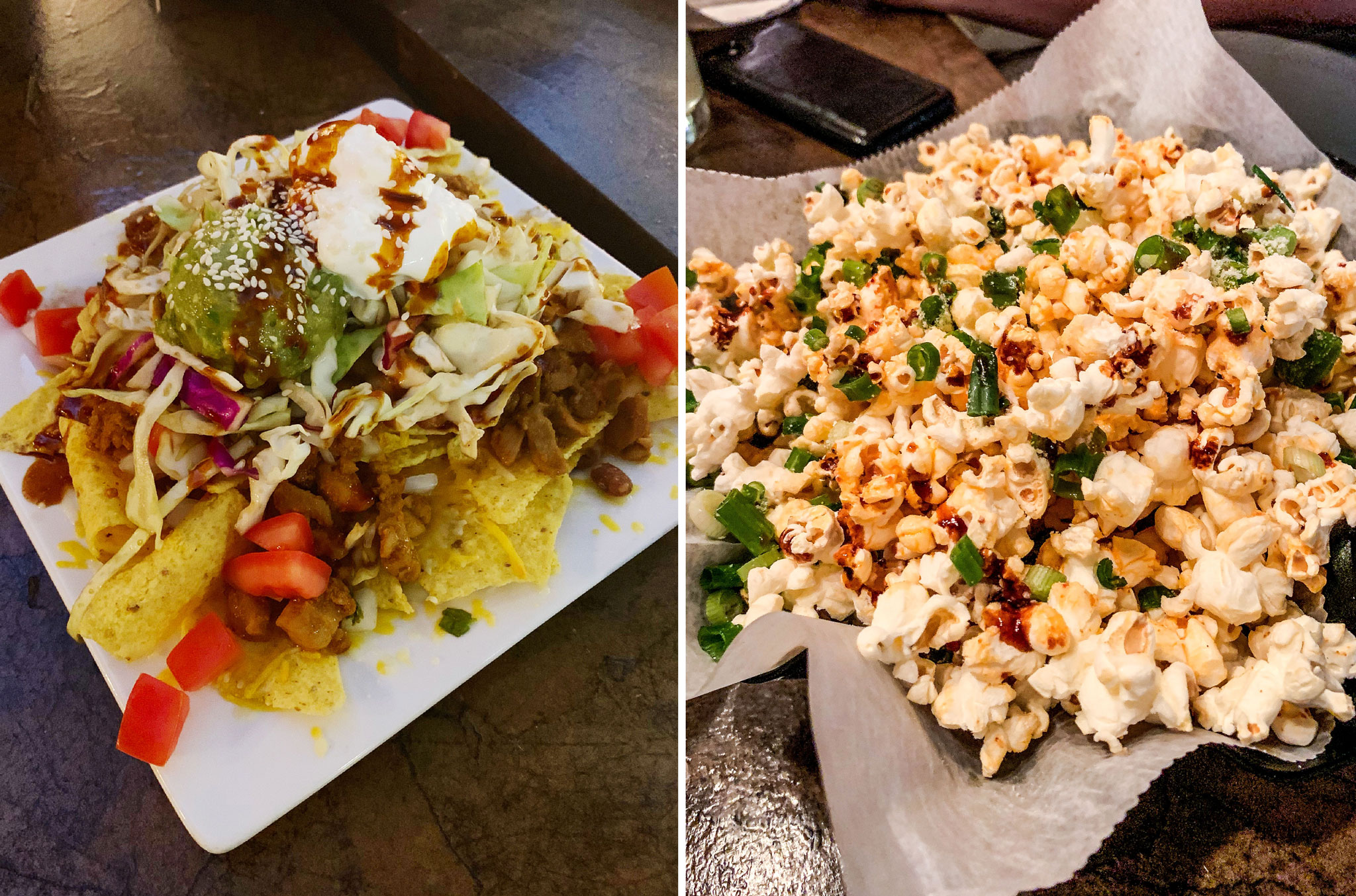 Alaskan Brewing Co.
HUGE thank you to Alaskan Brewing Co. for being a sponsor of the International Food Blogger Conference! First of all, we received the best tour a beer drinker could ask for, and they brought their beer to every single event during the conference. They taught us a lot about Alaskan beer, how they're different from other breweries, and what it takes to brew beer in Alaska.
The brewery tour started off in the tasting room where we got to sample multiple kinds of smoked fish (OMG) and try a few different kinds of beer. The best tours are the ones with alcohol before and after!
They also opened up a bottle of 2018 Smoked Porter for us to sample. Fun fact: the smoke acts as an antioxidant so this beer actually gets better with age, just like wine!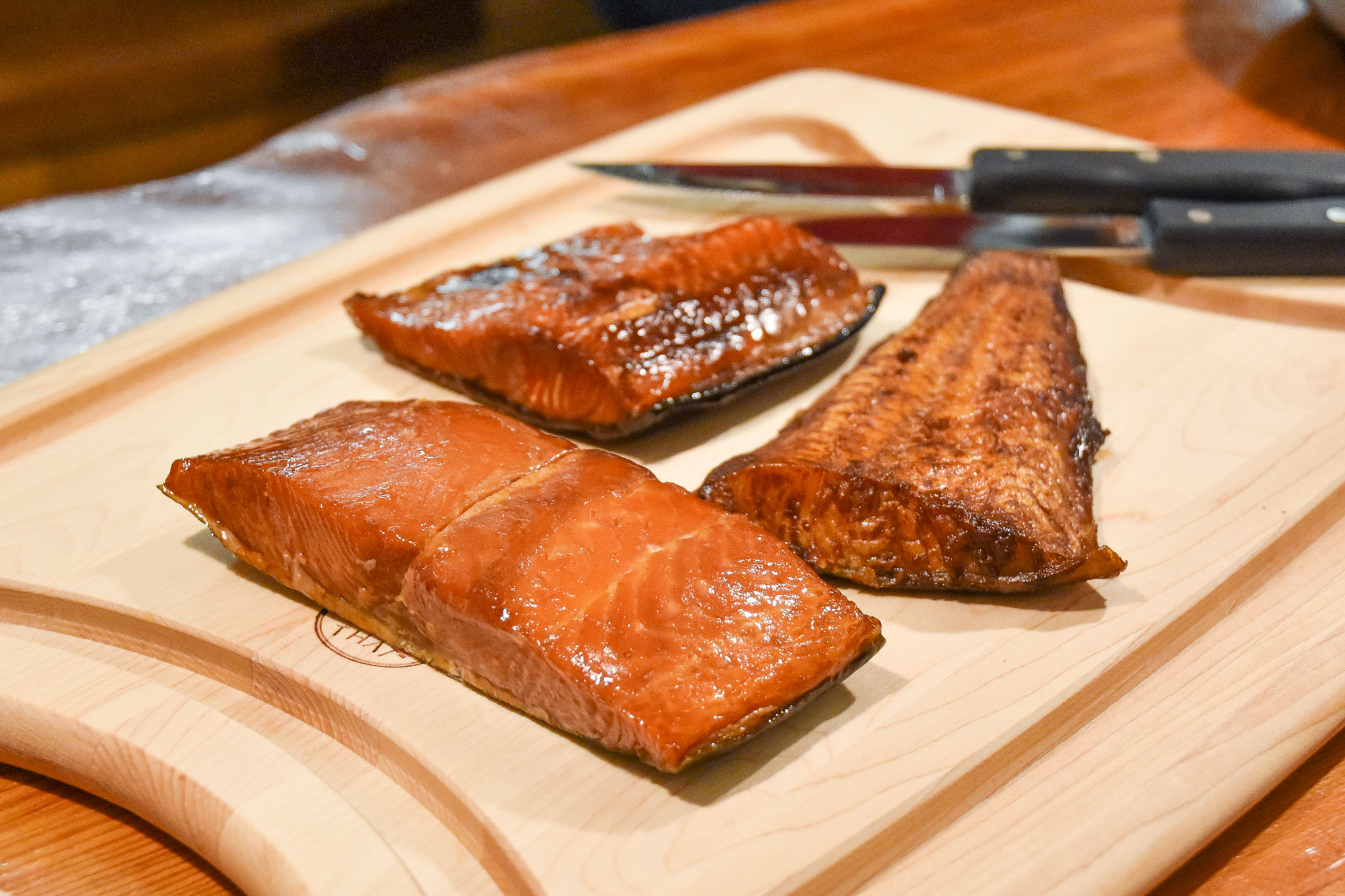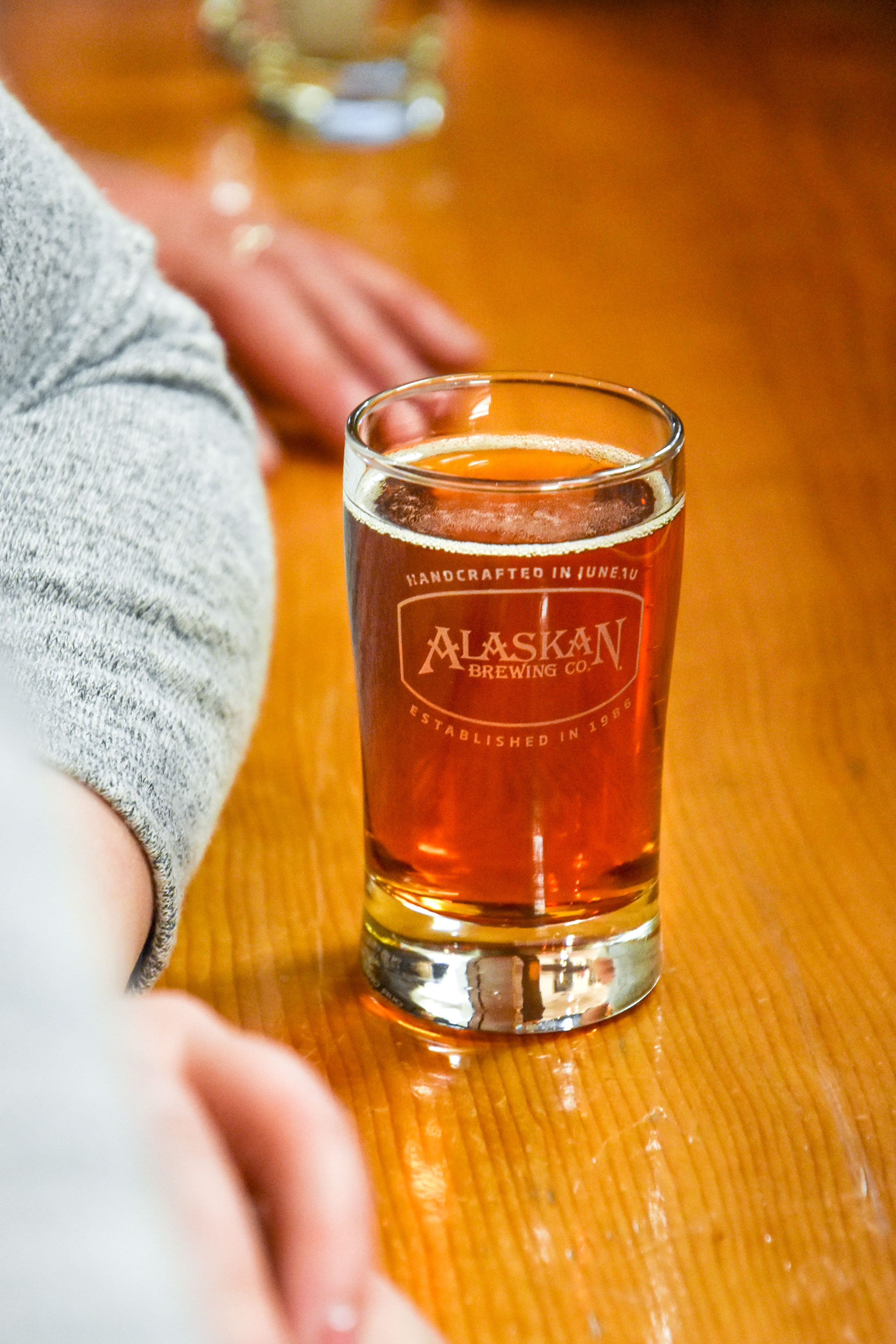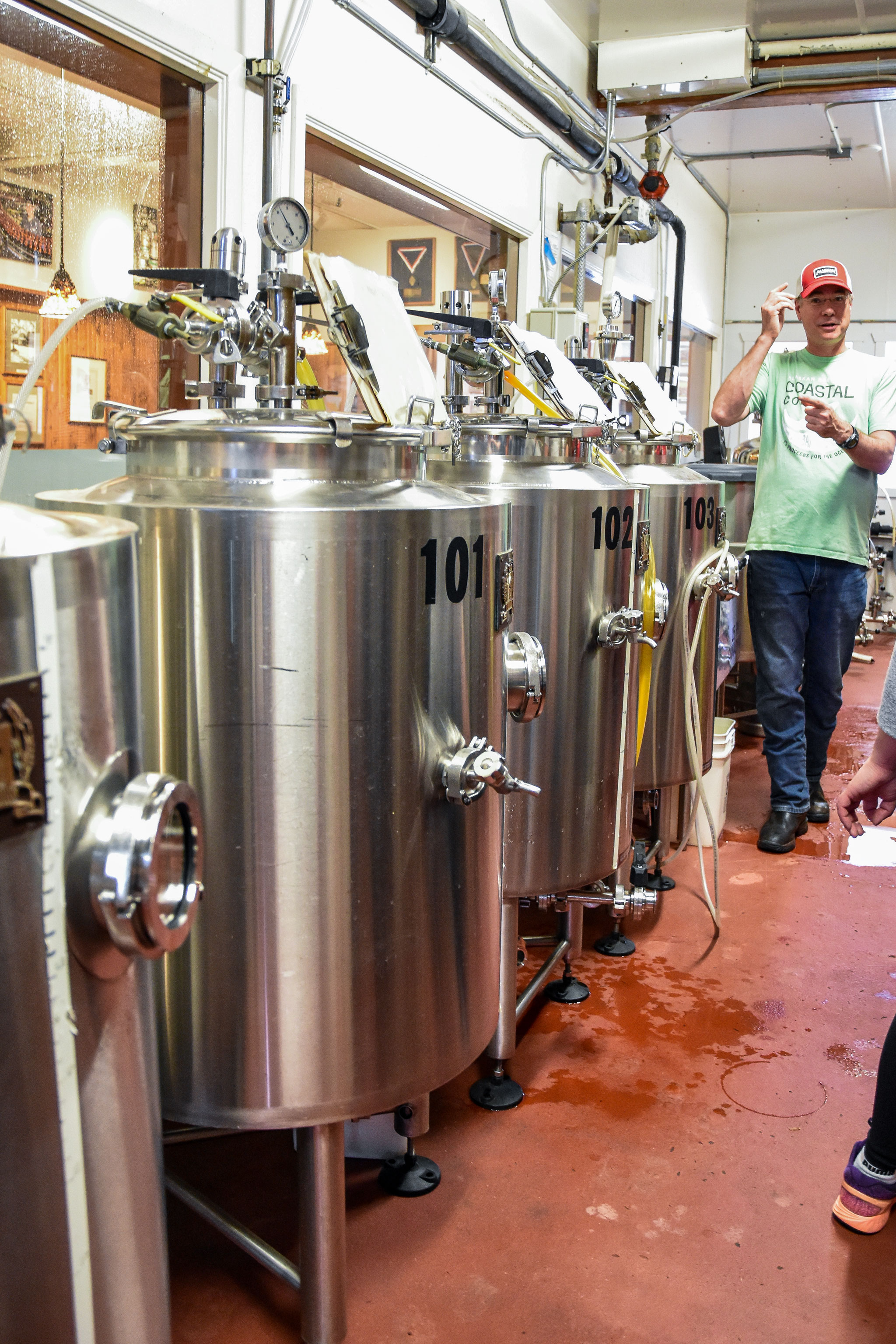 You wouldn't believe the size difference between a 1 barrel tank, a 10 barrel tank and a 100 barrel tank!! I got to see them all. The ones pictured above are 1 barrel tanks, which equals 30 gallons of beer.
We learned about how beer was first brewed in Alaska (inside the mountain where the temperature was stable!!) and all about how Alaskan Brewing Co. uses their waste products to make more beer. It really is beer powered by beer!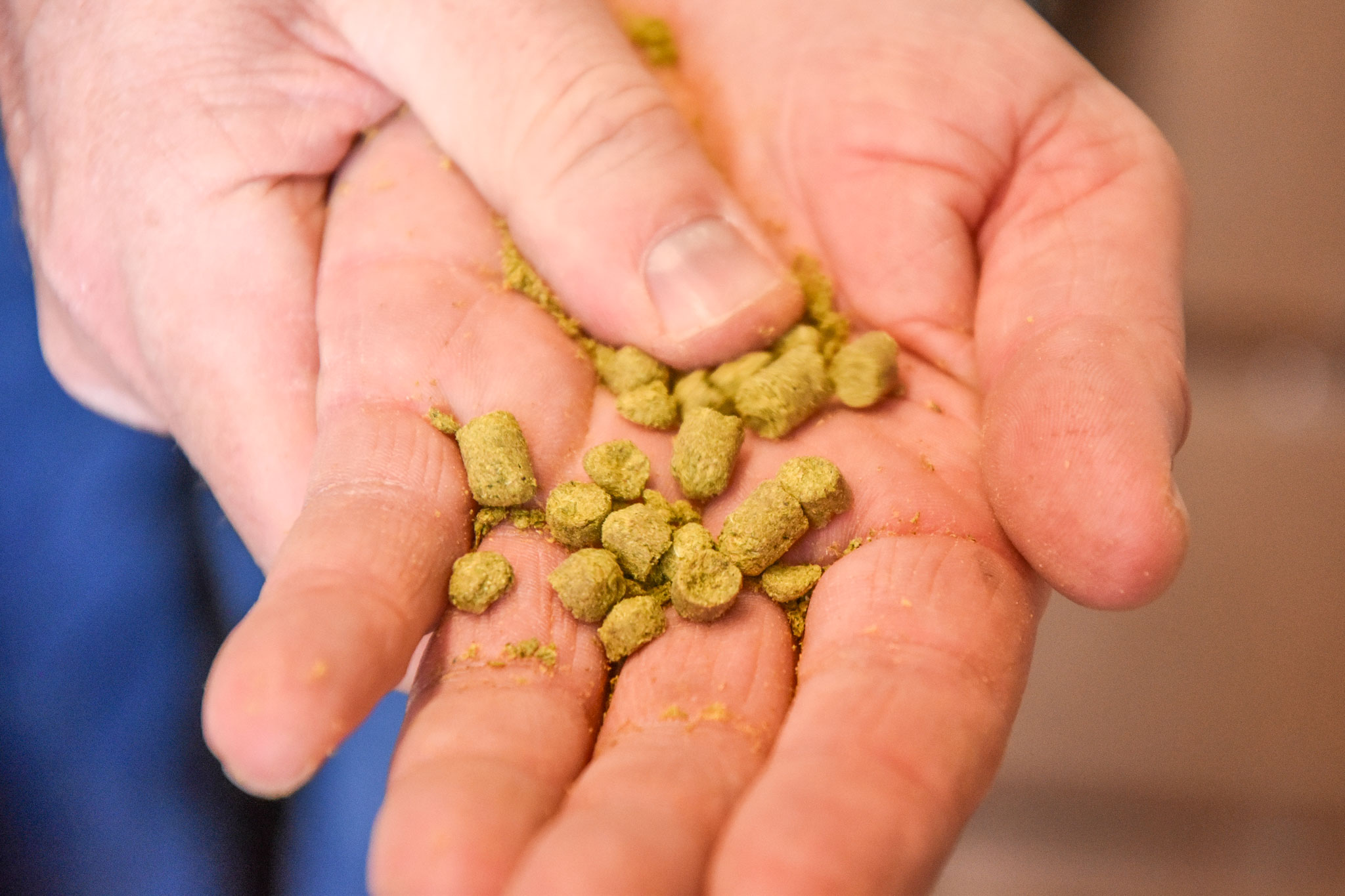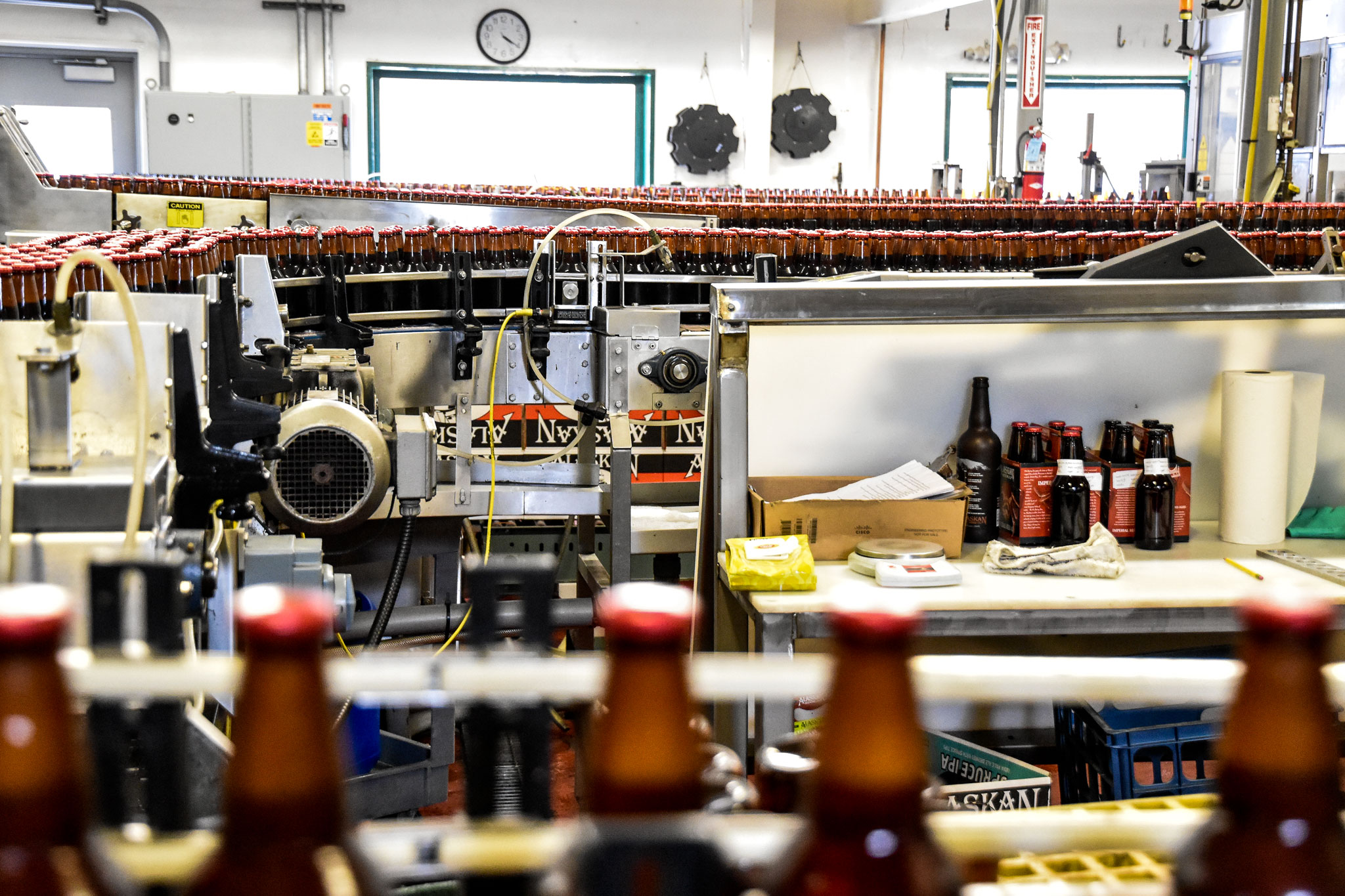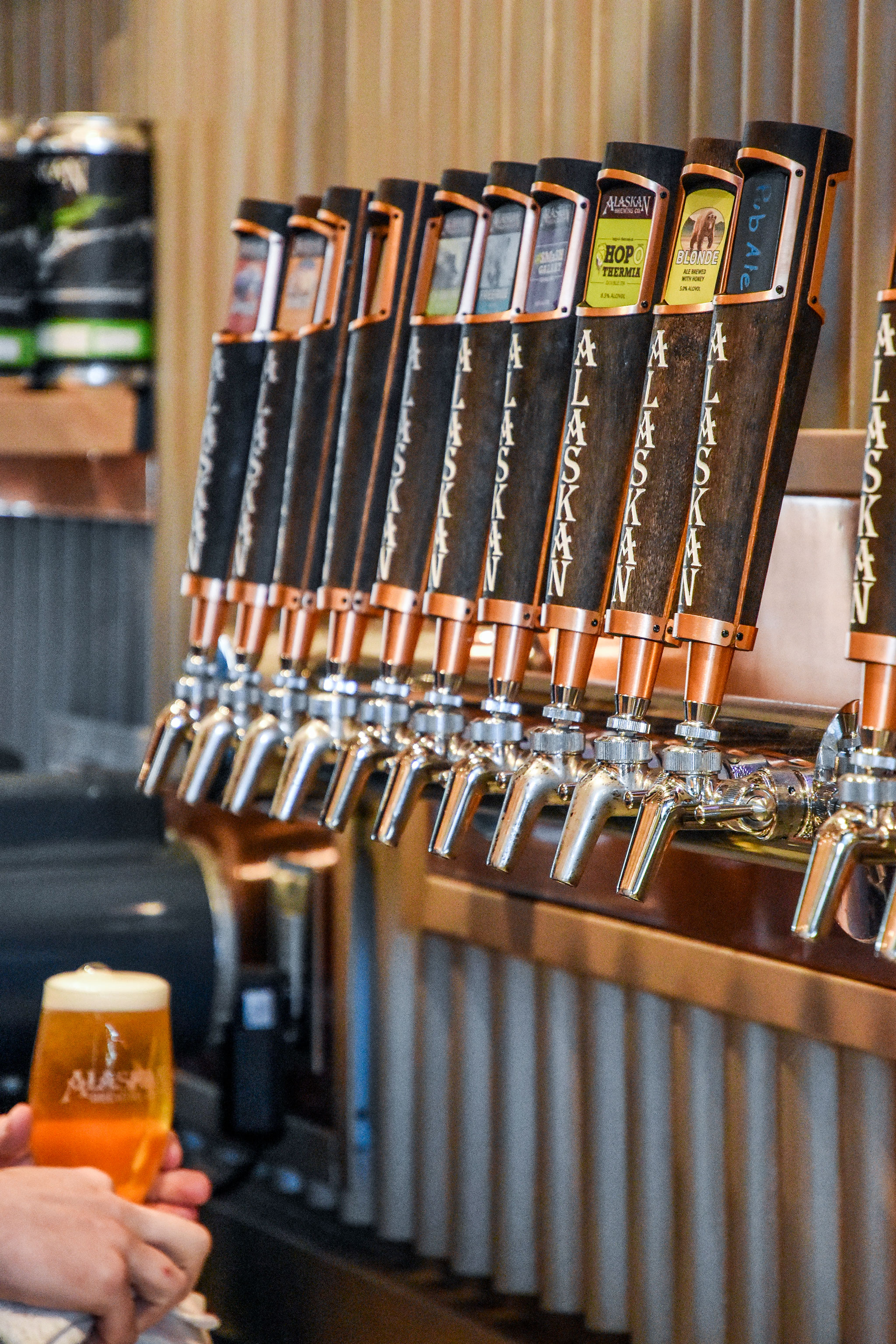 Thank you Alaskan Brewing Co. for being so welcoming to all of us food bloggers, our cameras, and our questions! You guys are awesome, and it makes me want to drink your beer all the time from now on.
Sightseeing & More Food
My first whole day in Juneau I spent eating food, and drinking lots of Alaskan Beer. The next two days were full of conference activities – still lots of food, but less about Juneau. Sparing you those details and picking up back at the excitement!
Day four I spent whale watching and then doing a little self guided tour of Juneau with my friend Steph over at Meal Plan Addict (yes, we are friends in real life!!). You may be *shocked* to hear we ate a lot more delicious food, and took in as many of the Juneau sights as we could.
Whale Watching with Juneau Whale Watch
Whale Watching in Maui, Hawaii is a completely different experience than whale watching in Juneau, Alaska. Not just because of the weather and scenery, but because the whales are in the completely different part of their yearly cycle.
Like, hi! Check me on summer vacation vs. winter stuffing my face/hibernation – I'm going to be acting different, right?
I learned that in the winter, whales in Hawaii are hanging out, mating, raising their young, fighting, etc.
In the summer, the whales go up to Alaska and eat. They eat constantly. Very sure Marina told us they eat for 23 hours a day. They aren't fighting, breaching, or playing so much as they're just eating and sleeping. Eating happens underwater, so you just see less whales in Summer Alaska than Winter Hawaii.
That being said, the tour was wonderful, well-narrated, and we learned a lot about the whales and the Alaskan landscape around us. We met three whales and a few sunbathing sea lions! Not to mention gorgeous glacier views with the water, harbor, trees, and mountains all in one. Couldn't ask for more.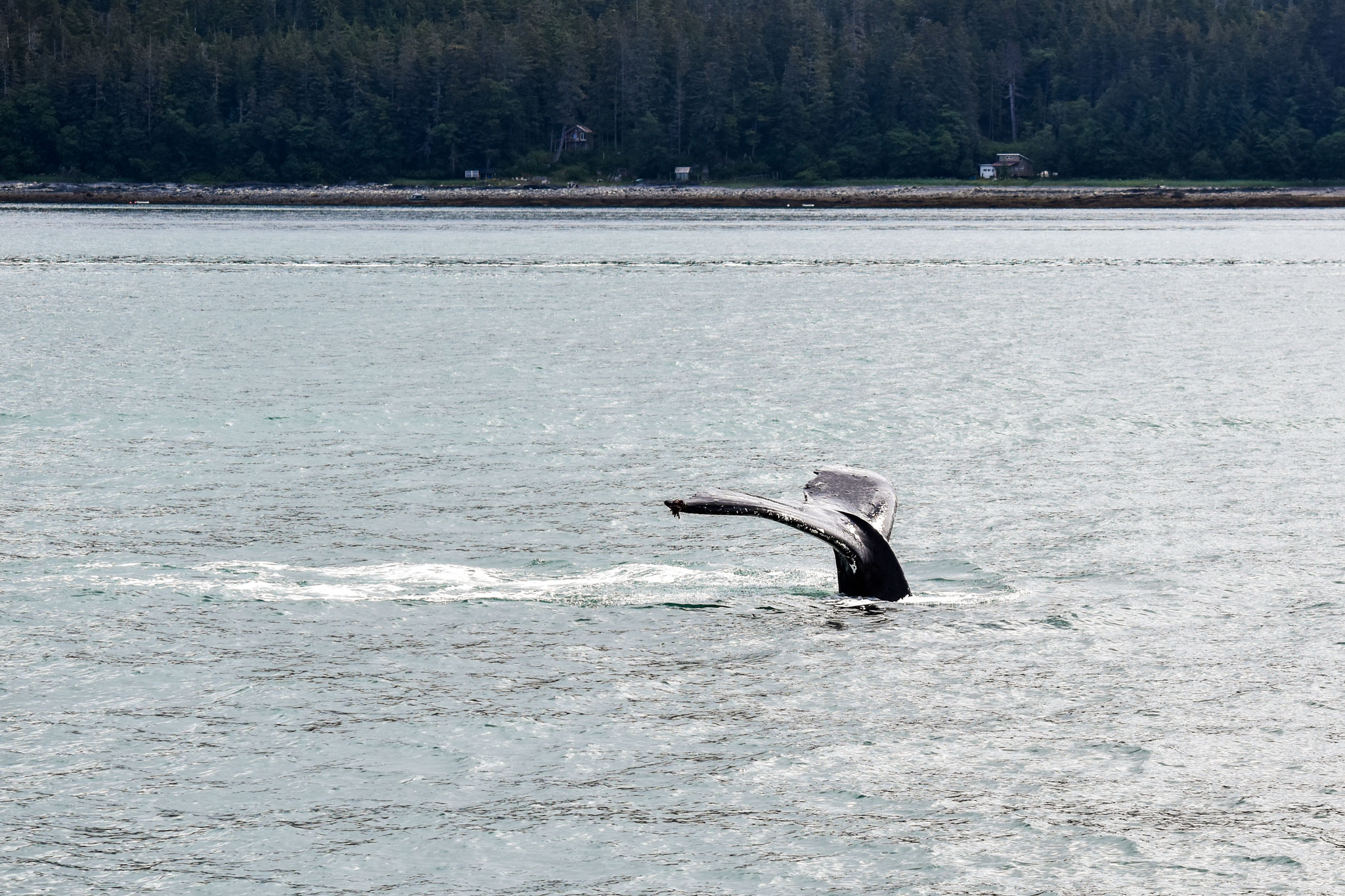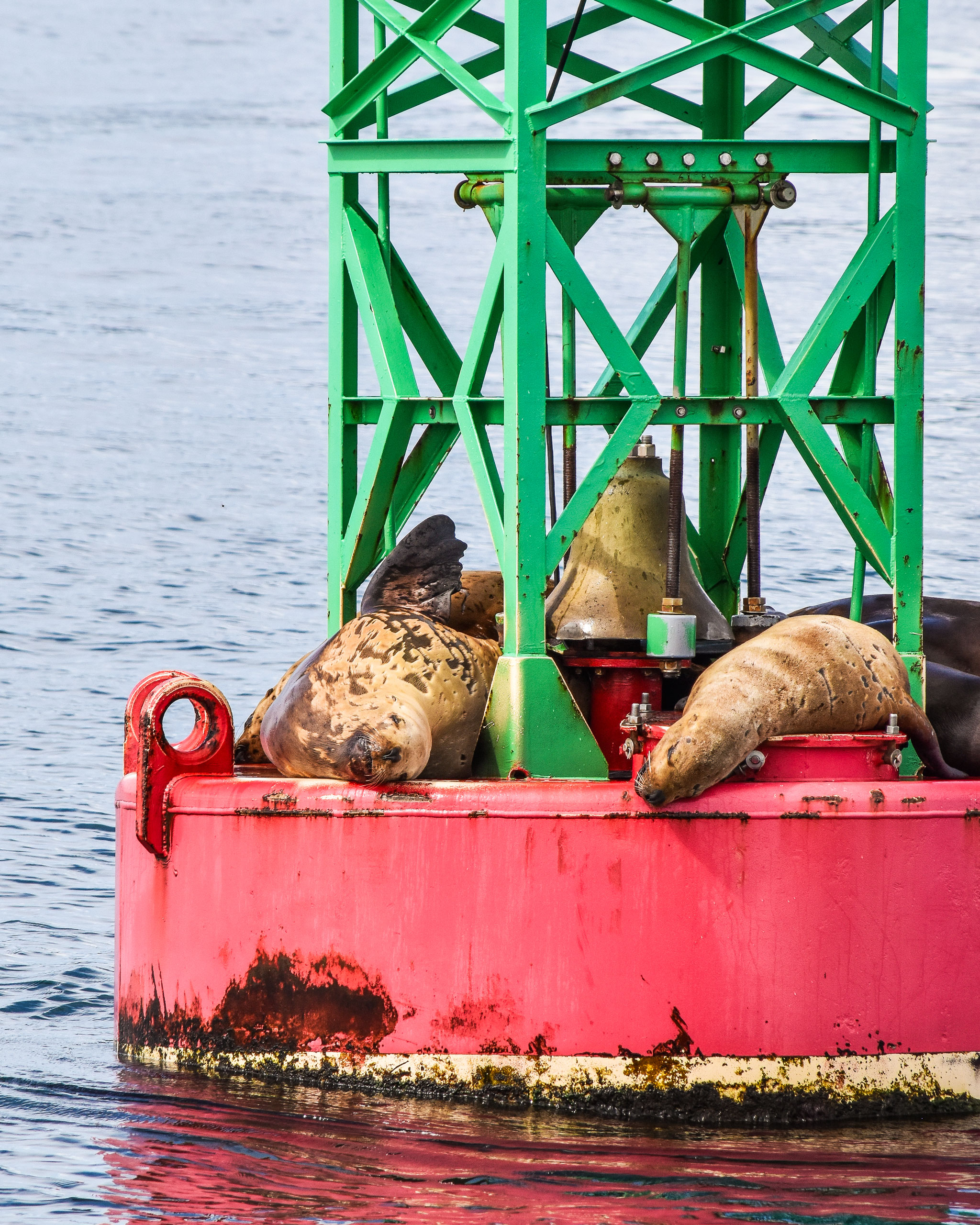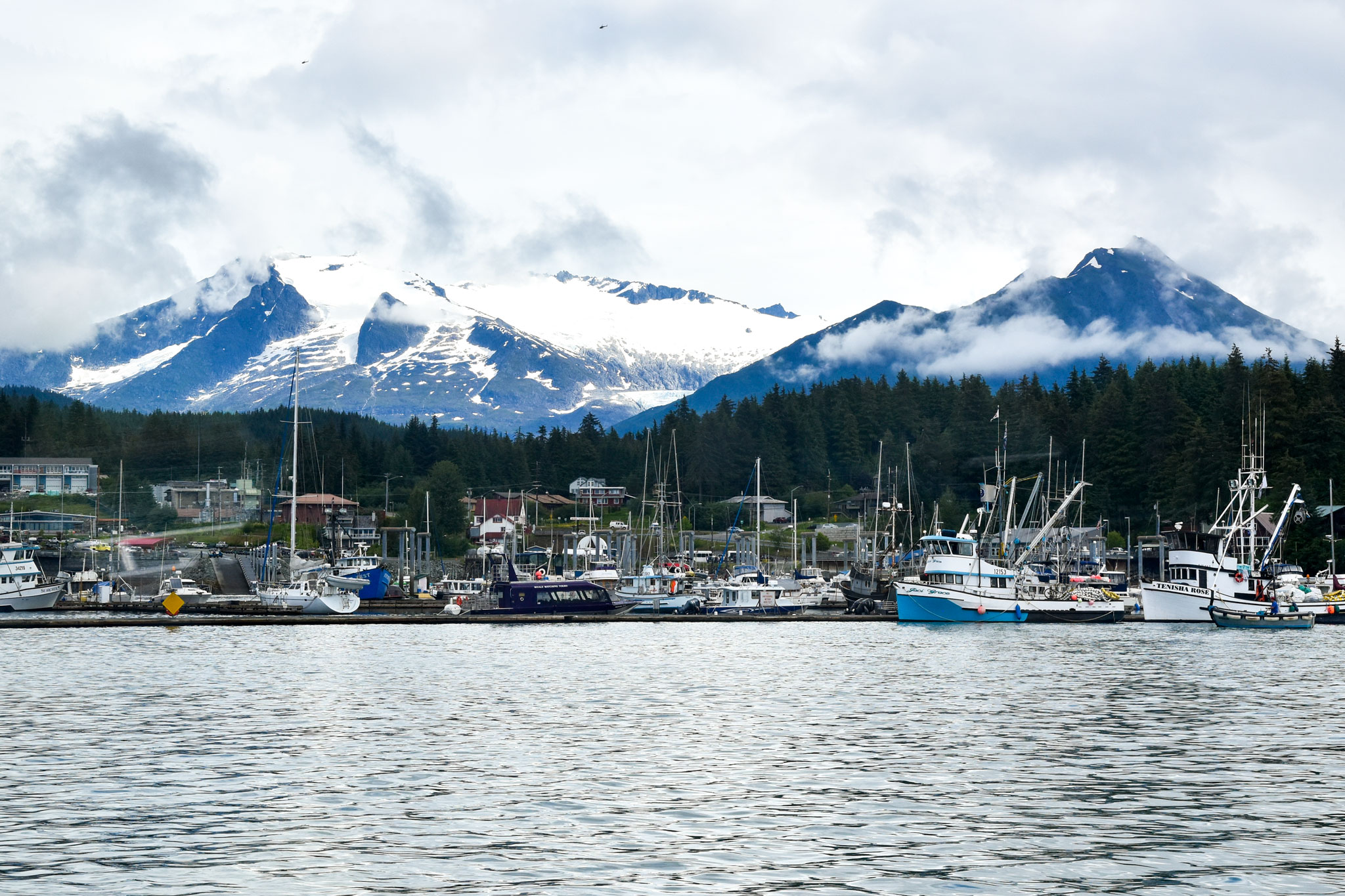 Tracy's King Crab Shack – for the full experience
The whale watching tour included a FULL lunch back in town at Tracy's King Crab Shack – the second location up the street from the cruise ships where the locals go!
I literally could not believe my eyes when I was opening the crab leg. The crab cakes, the crab bisque, why was that random bread roll so yummy, a cold Alaskan Amber, and the biggest crab leg of my entire life.
No seasoning, no salt, no butter. Just perfectly cooked king crab. The pictures don't even capture the size of the thing! This lunch was an experience that you really can't miss if you're in Juneau!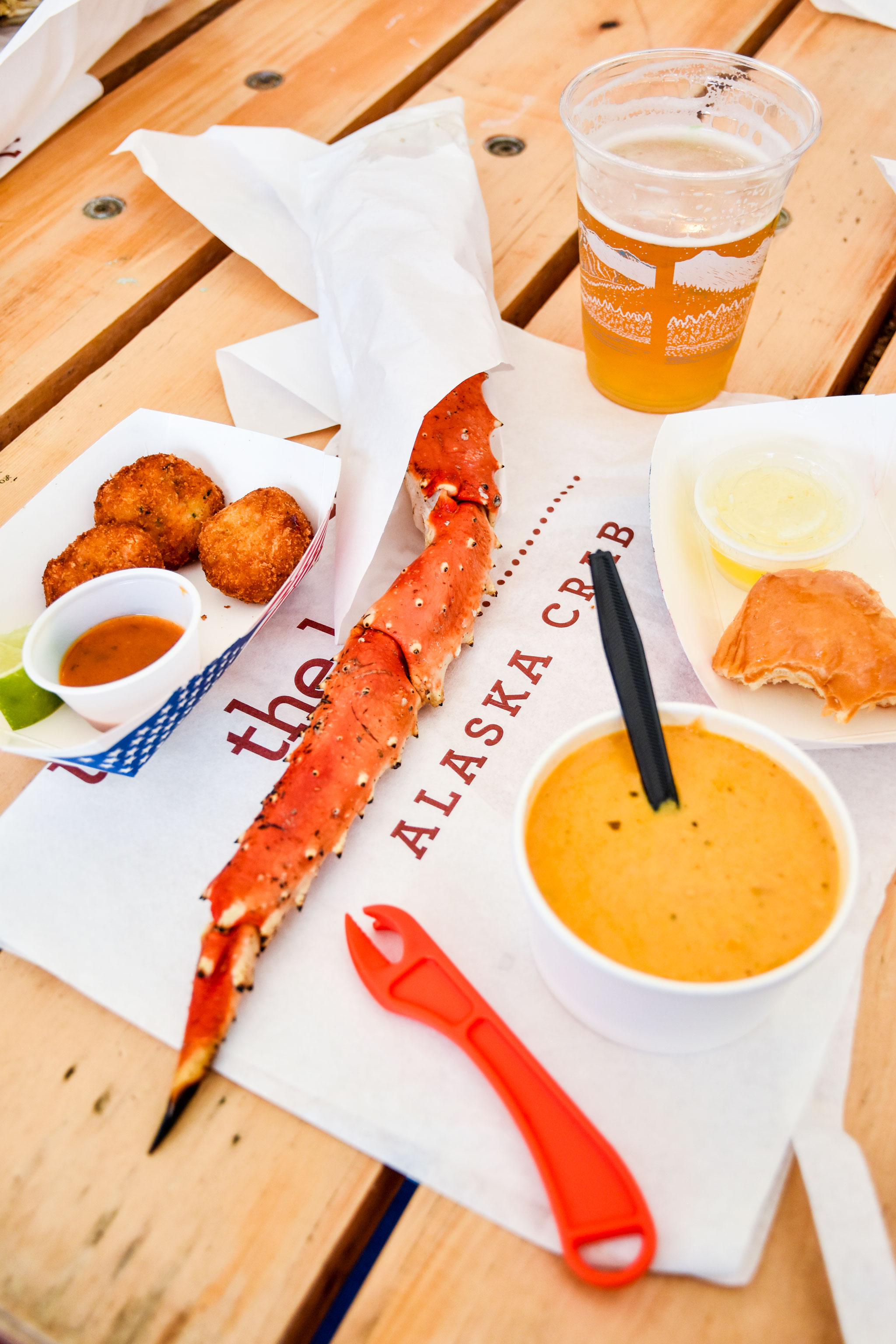 Red Dog Saloon – for the cruise ship folks
This place is more of a sight than any other restaurant in Juneau! There were multiple live performances that really had a certain kind of humor, and the sawdust floor is REAL, people. The food was good, the drinks were good, and the duck fart was worth a try!
Devil's Club Brewing Company – for beer cheese lovers
We stopped by Devil's Club Brewing Company and ordered the pretzel with Alaskan Amber beer cheese and a couple beers. We ate every crumb of that braided pretzel and not a drop of beer cheese remained. Were we even hungry? Don't know, don't care. Go here for the beer cheese!
Barnaby Brewing – for afternoon tasters
Always down for a flight of new beers. This was a cute and cozy little brewery right downtown that wasn't too busy when we were there. Some obscure beers, but some very delicious beers too.
Mt. Roberts Tramway – for nature lovers
I had no idea but there's actually a full gift shop, nature center, and restaurant at the top of Mt. Roberts. How do they get everything up there? By taking the tram!?
Also, can you find the TWO BALD EAGLES in the picture below? I honestly had no idea they were there until I was editing the photo. What an amazing place to see in your lifetime.
There's also a small network of hiking trails at the top of the mountain. One woman in our brewery tour group saw two bears while hiking up there! We hiked up briefly, then turned around for margaritas at the Mt. Roberts restaurant.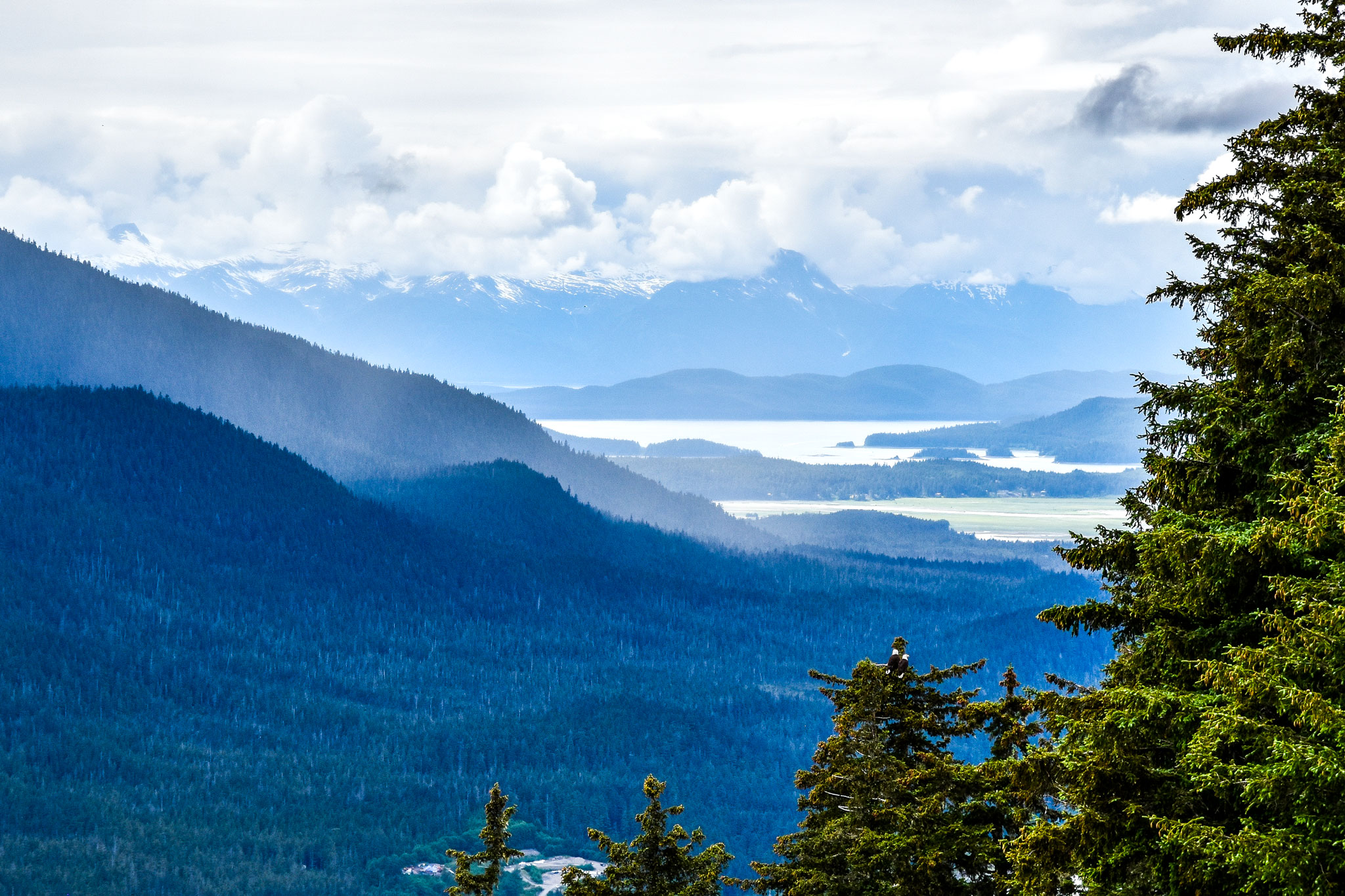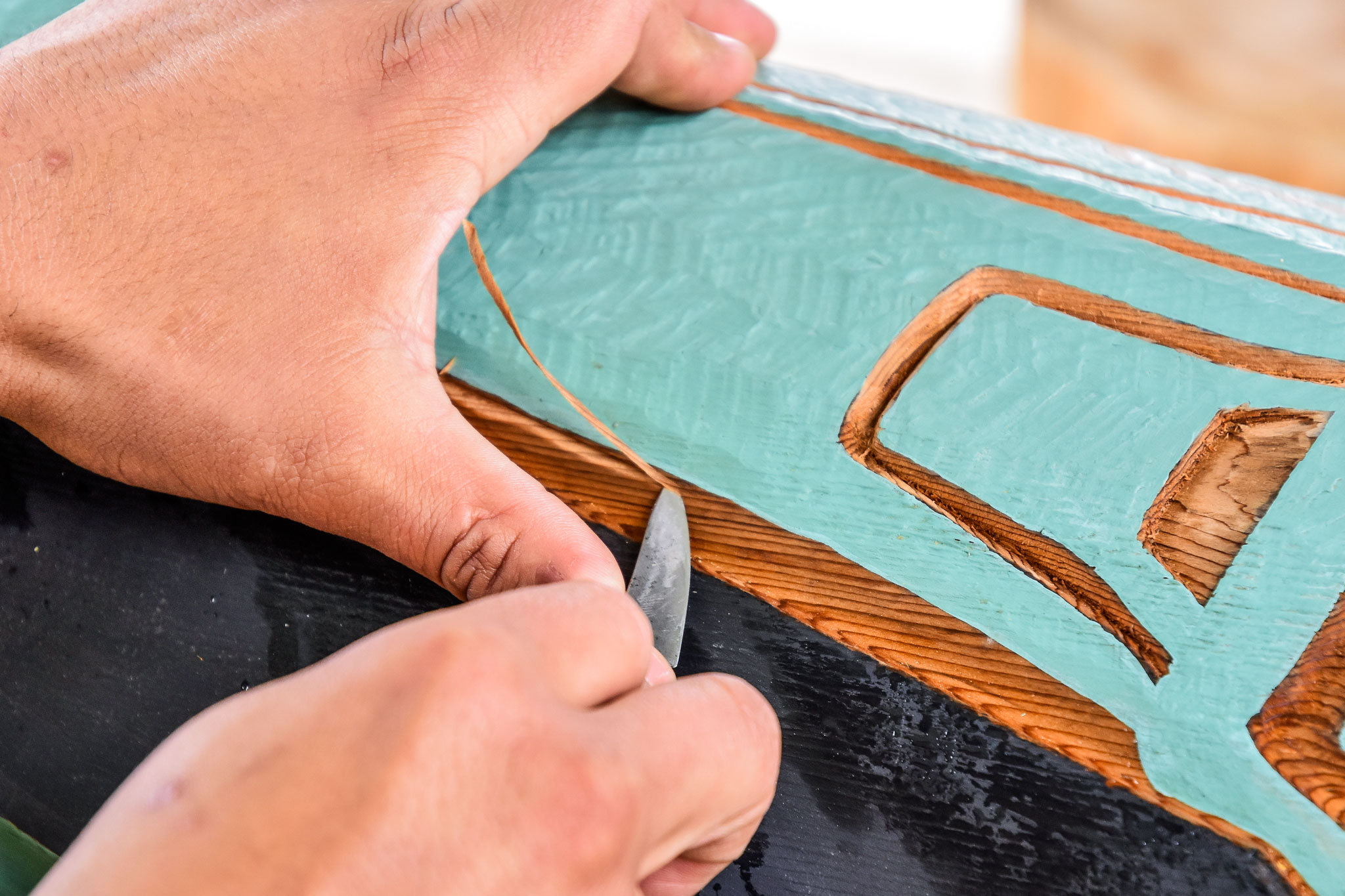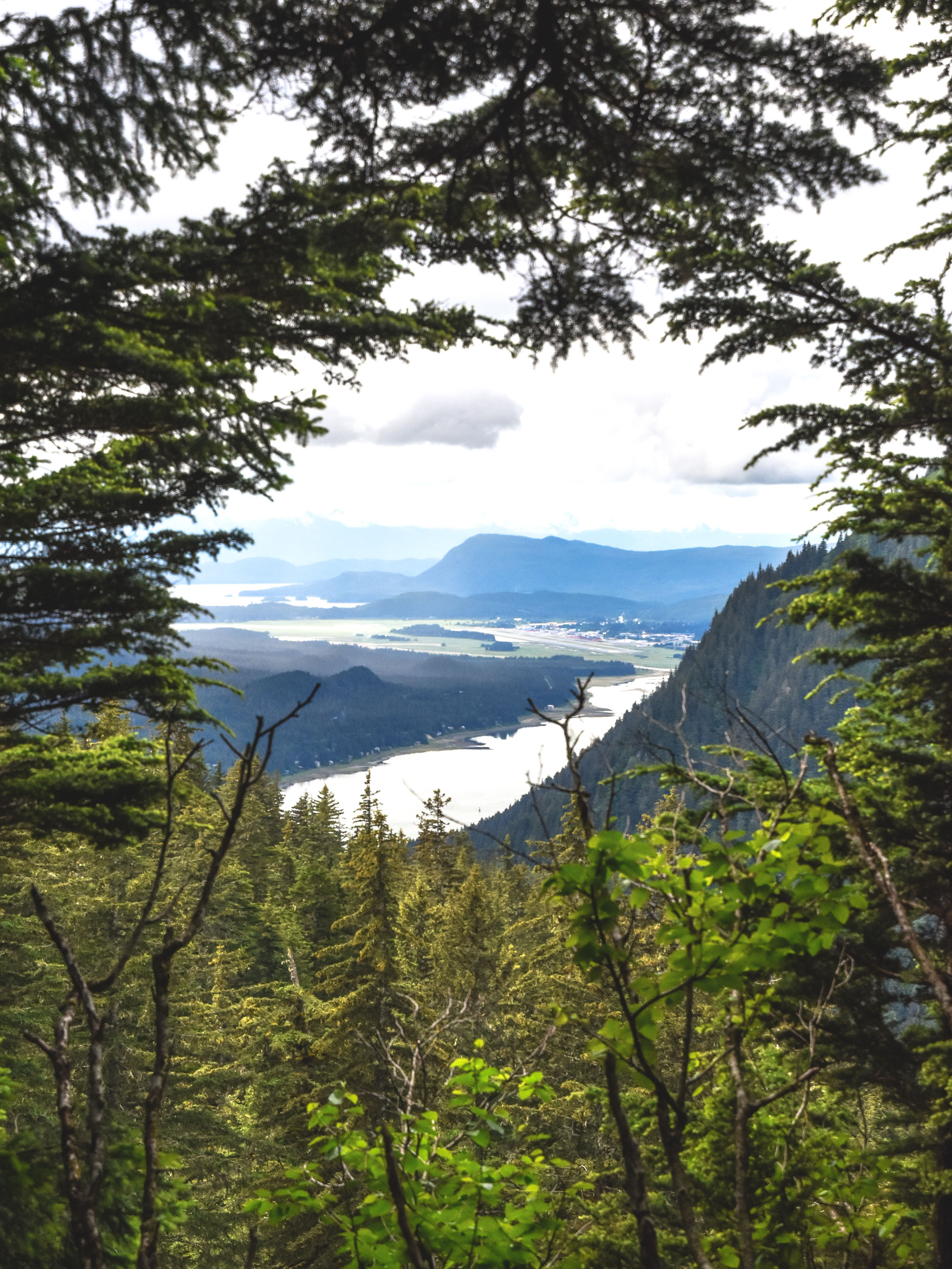 The Narrows – for fancy cocktails
I had more than one cocktail at this bar and can tell you with full confidence they know what they are doing! I heard they also use GLACIER ICE in their drinks. How cool is that?
Lots of the drinks had random local inspiration and I would honestly drink here every night if that was within the realm of possibility! This Rosemary Vodka Greyhound was perfection in a glass.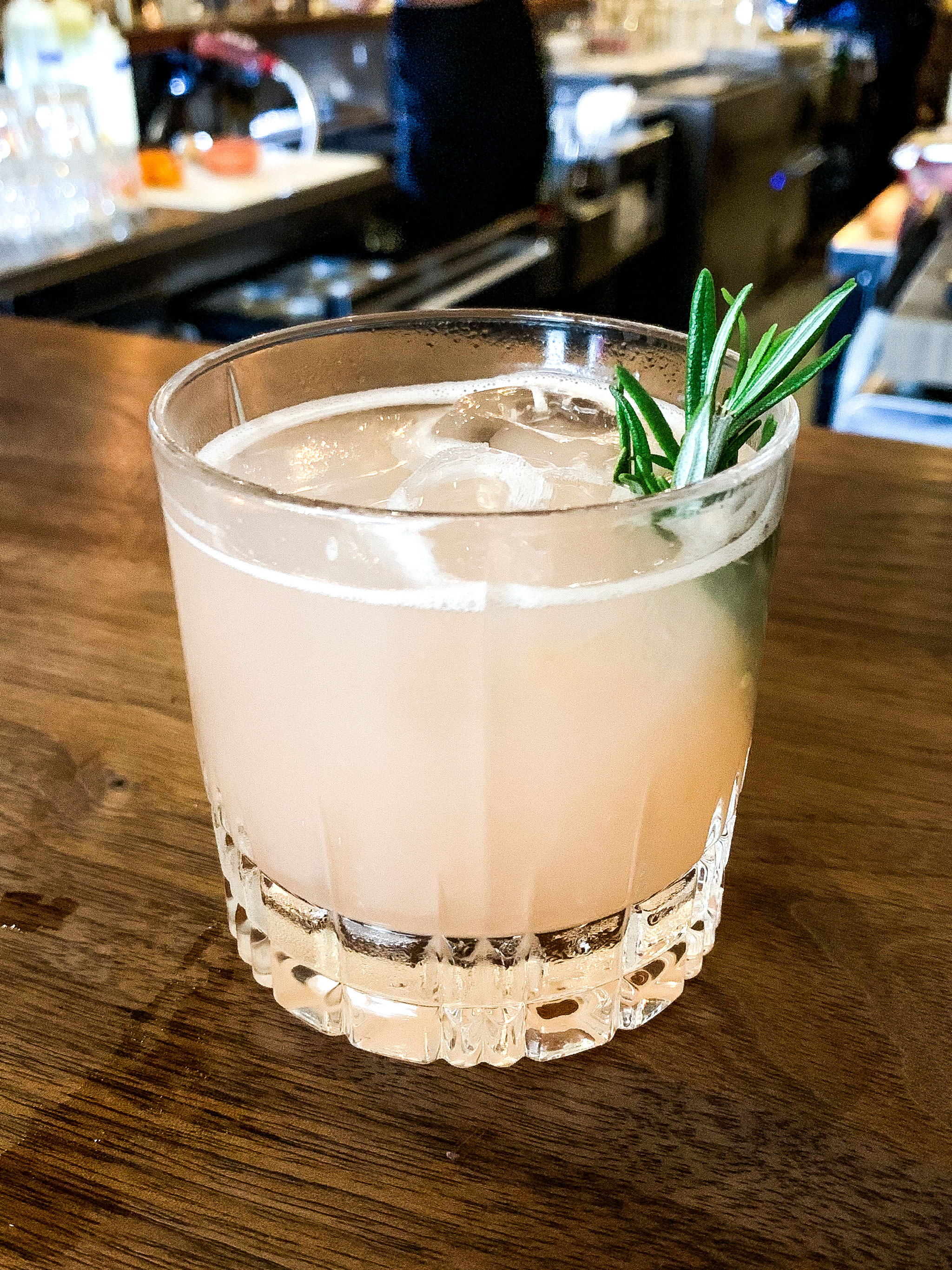 Amalga Distillery – for gin lovers
I did not have the pleasure of stopping by this distillery which was conveniently located across the street from our hotel, but everyone I talked to loved it. I'm not a huge fan of gin, but they had apparently released a new blueberry gin on Saturday night that caused quite a stir! The first distillery in Juneau, Alaska! I'll be stopping by next time I'm in town.
Alaska Fudge Co. – for edible souvenirs
If you have dessert or chocolate or candy lover in your life, stop here!! For the conference, I got three small samples of the walnut fudge and I ate them all over the course of the following three days. No regrets, obviously.
Then, we stopped by the Alaskan Fudge Co. on Day 4 and found out the fudge comes in half pound blocks! Decided that was a super dangerous idea for myself, so I didn't buy any, but man I wanted to.
Even if you don't want a half pound of fudge, the smell of the place alone is worth going in and you might even get to see them making some fudge!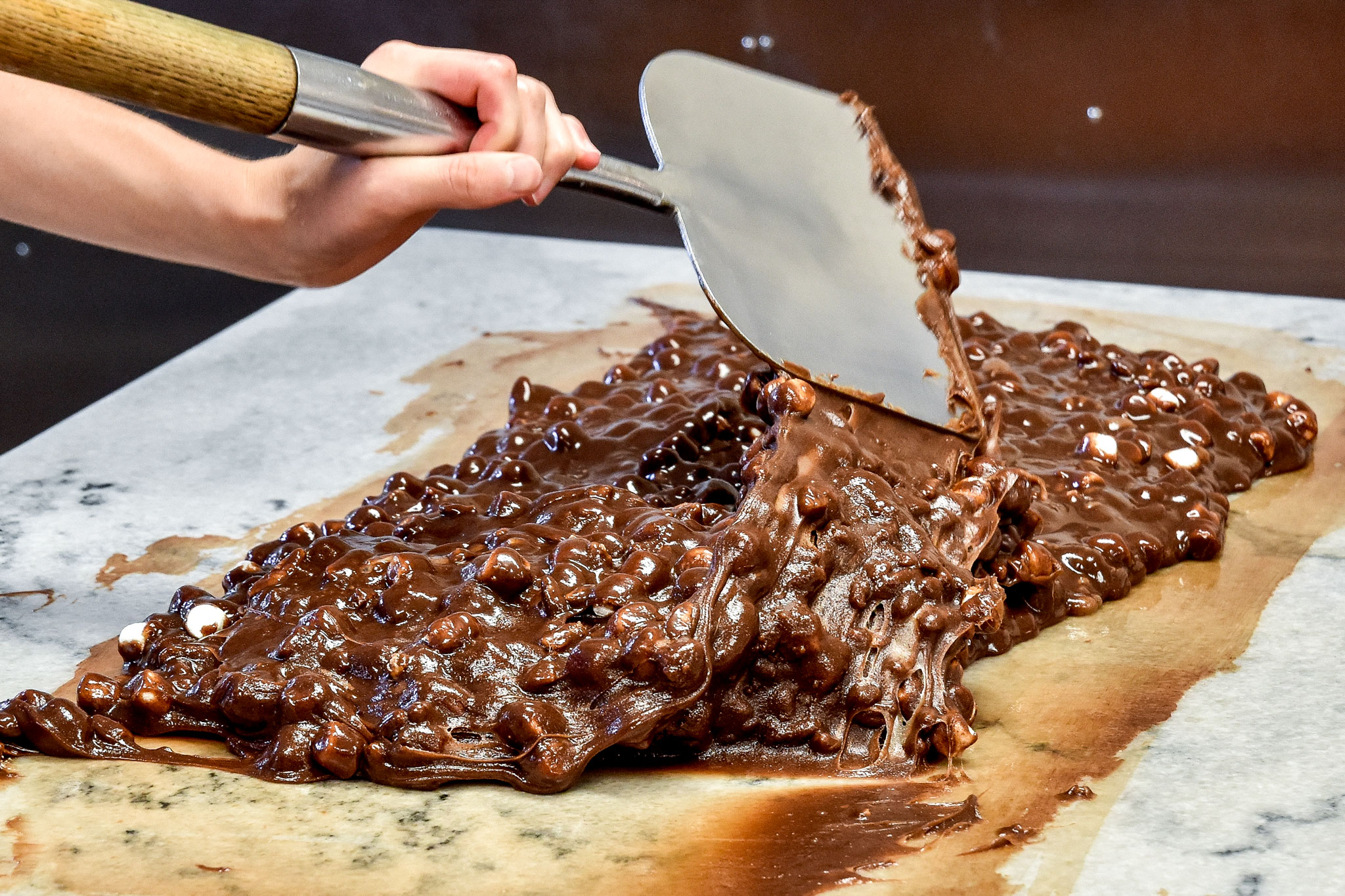 Bullwinkle's Pizza Parlor – for pizza when everything else is closed
Bullwinkle's Pizza Parlor is the HIDDEN GEM on this list.
Some conference friends told us to meet them there. I thought it was risky – we didn't hear about this place on the food tour, no one recommended it to us, it wasn't on the main road, and honestly I didn't even see it on the map when I searched 'pizza' the night before. Hmmmm.
But dayum did it deliver. Messy pizza, beer, lots of napkins. What else do you need? If you were thinking arcade, congrats, they have that too. Basically the Chuck-E-Cheese of Juneau, Alaska.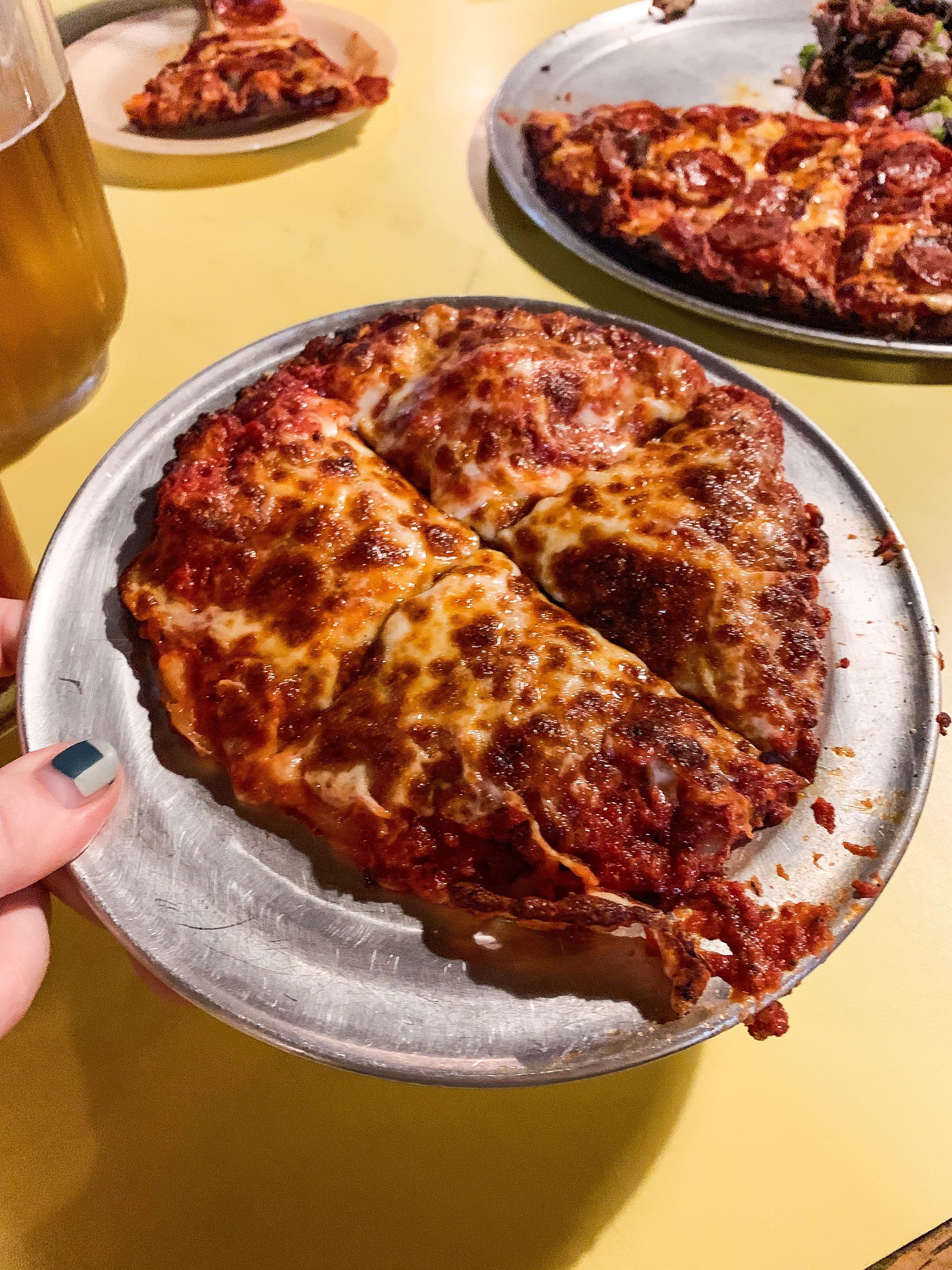 WOW. This wasn't even everything I did (or ate) in five days I was in Juneau, Alaska. I have more pictures than would comfortably fit into this post – already pushing the limit I think!
There's so much I couldn't fit in on this trip, I can't wait to go back. How about visiting a glacier? Driving to Sandy Beach on Douglas Island? Going to the distillery? Checking out the salmon hatchery? On the to-do list for next time!!
Thank you to everyone at the International Food Blogger Conference that made this trip possible! I wouldn't have made it here if not for this conference. Juneau was nothing like I expected!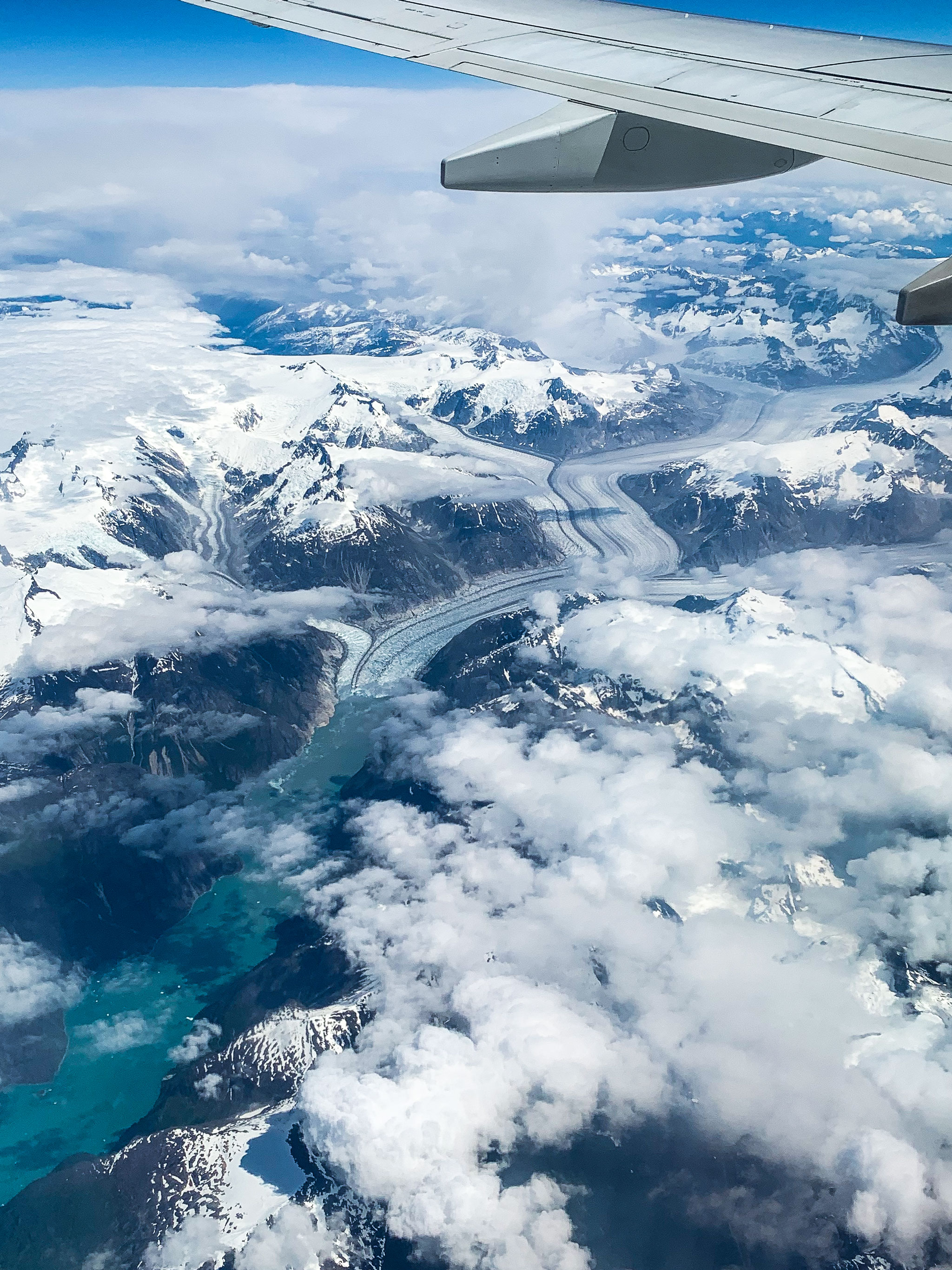 Most of all, thank you to the town of Juneau for welcoming all of us food bloggers to your little city. I'm still shocked to know that it's the second largest city in the United States by land area (Ask me about my Juneau facts, please!!).
That's it for this edition of PMP Travels: Juneau! If you're interested in more of my trips and travel related photography, good news! I've got two amazing posts from earlier this year sharing all of our pictures from Hawaii – one post for our time on Oahu, and one post for our time on Maui.
The best news of all is that next month, I'm headed to Brazil! I'm taking my camera farther than it's ever been and I'll be sharing everything from the Amazon to Rio here on the blog. Stay tuned!