New favorite side dish – right here. Maybe just until Thanksgiving when I try all the new potato dishes (why are potatoes so good?!), but still. Black beans, sweet potatoes, and spicy BBQ sauce brewed to perfection in the slow cooker. A match made in side dish heaven. It's the BBQ Black Bean Slow Cooker Sweet Potatoes
Jump to Recipe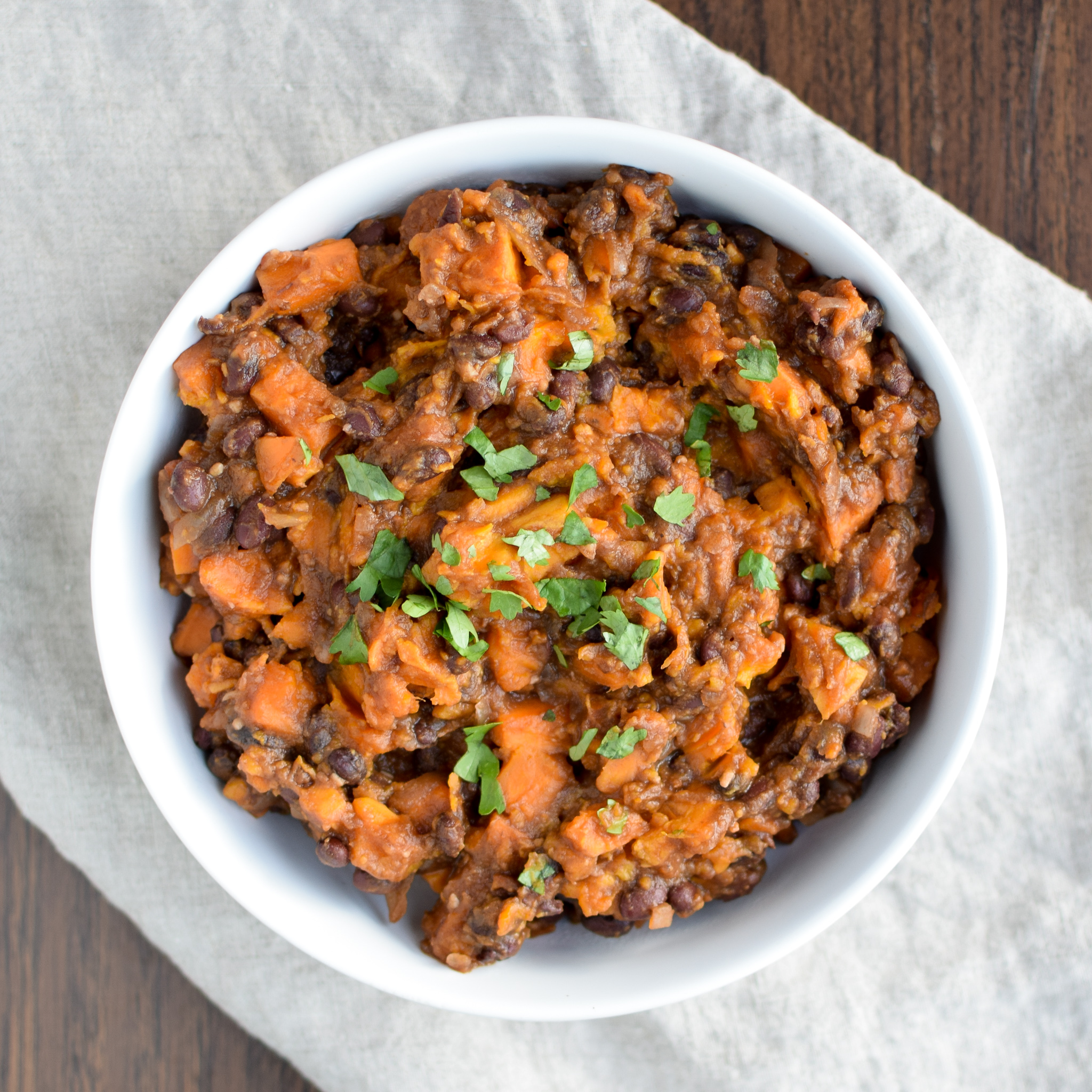 Once again, inspiration for these sweet and spicy beans/potatoes came from the cookbook Fix-it and Forget-it 5-Ingredient Favorites: Comforting Slow Cooker Recipes by Phyllis Good. While some of the recipes in the book are incredibly simplified (Chicken + carrots + lima beans + water = Chicken Pot Roast??), I have found the book to have a ton of inspiration. With three recipes per side of each page, there's no running out of ideas anytime soon. I just love experimenting with a few extra ingredients and spices 🙂

To tell you the truth, I wouldn't mind trying any of Phyllis Good's other slow cooker cookbooks as well – particularly the Fix-It and Forget-It Lightly. Some of the 5-Ingredient Favorites recipes have things like "processed cheese sauce", sugars, and various cream of whatevers, which I try to avoid, so it might be a better option. There's no possible way to have too many slow-cooker recipes, and I hope everyone else feels the same way.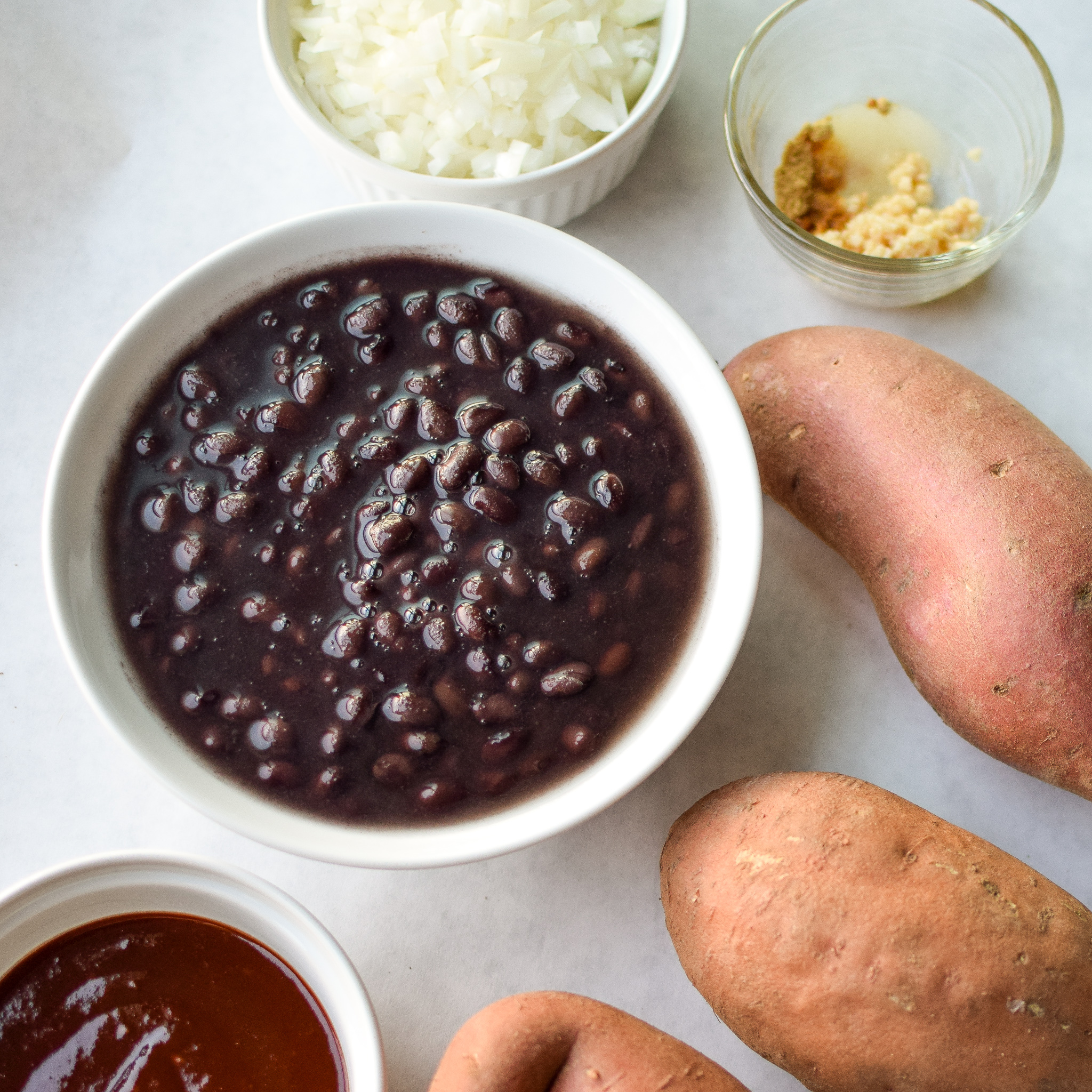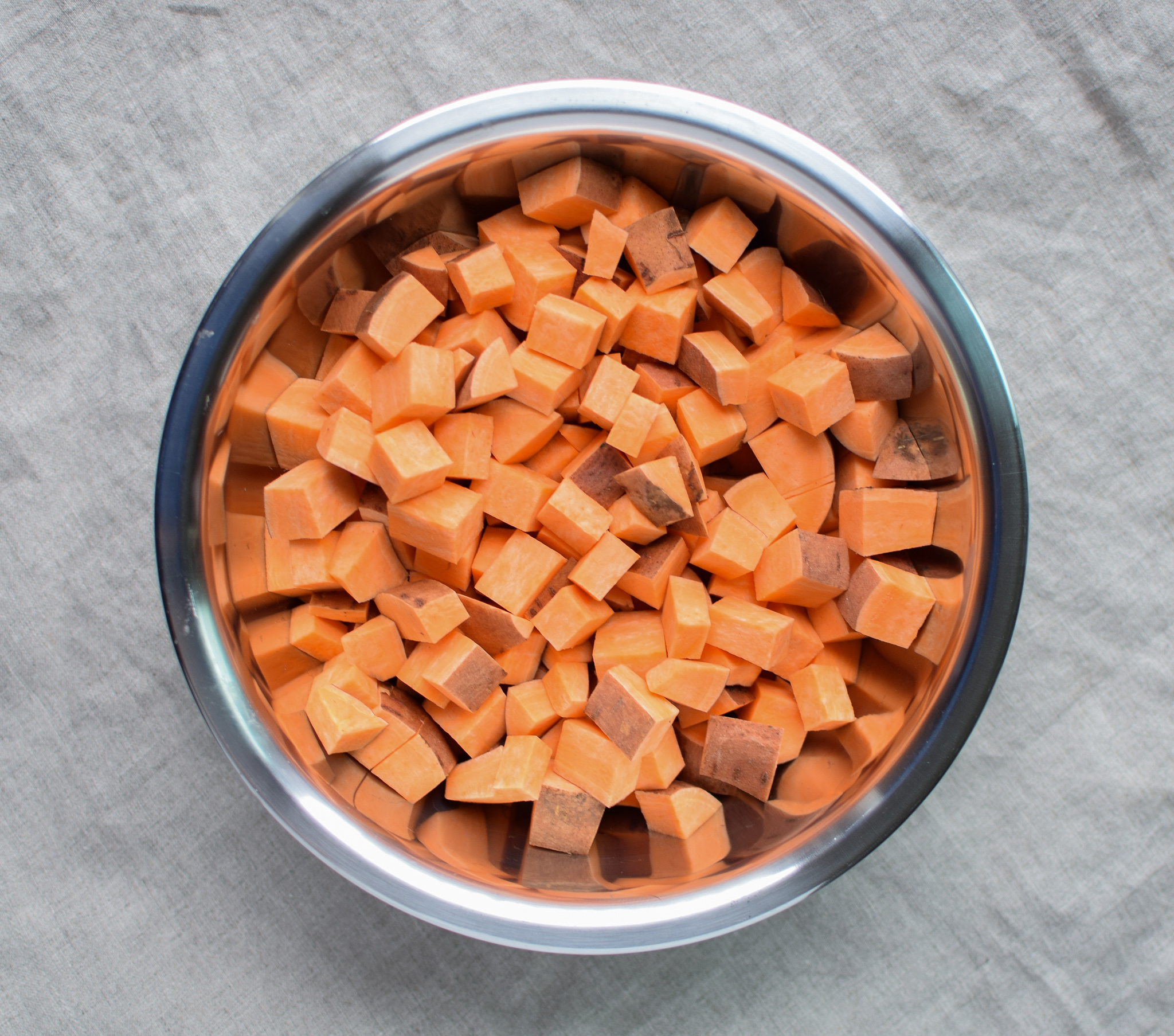 While I like these beans and potatoes spicy, I know there are a ton of barbecue sauce varieties out there, so feel free to try it with your own. I don't think the Trader Joe's sauce will make or break the recipe. The original recipe from the slow cooker book calls for Sweet Baby Ray's. That's probably another good idea, though I haven't tried it.
I have also prepared this with a couple stalks of celery. If you're trying to add some bulk or extra veggies to the side dish, that's a good option. I have found that I prefer the dish without the celery because it doesn't had much value or taste for me.
For slightly softer potatoes that mash just a tad, cook for an additional 15 minutes. For a chunky version, remove from heat immediately after 2 hours and 30 minutes. You can also meal prep the BBQ Black Bean Slow Cooker Sweet Potatoes. Portion out with the remainder of the meal and store in an airtight container.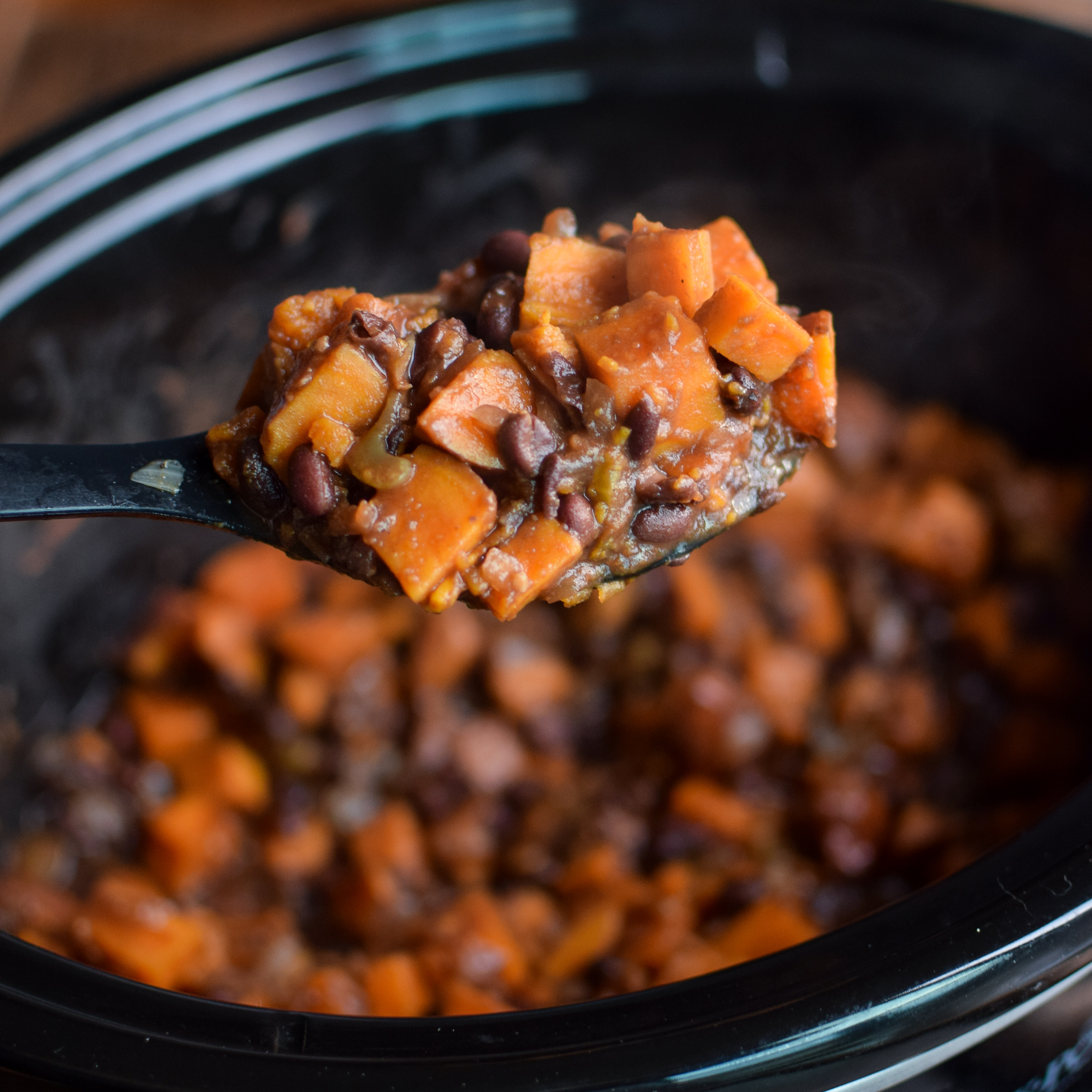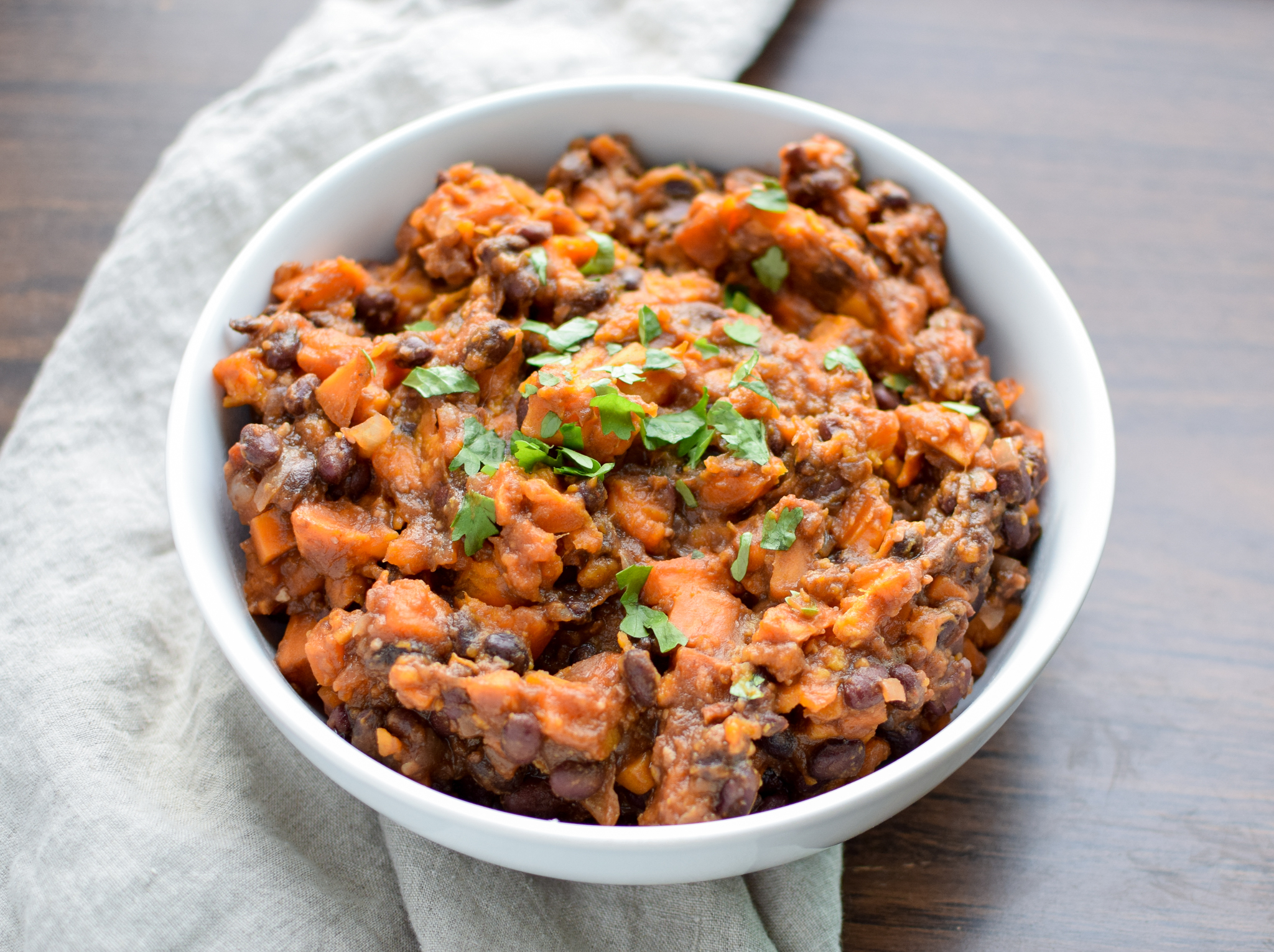 More side dish ideas from Project Meal Plan:
Recipe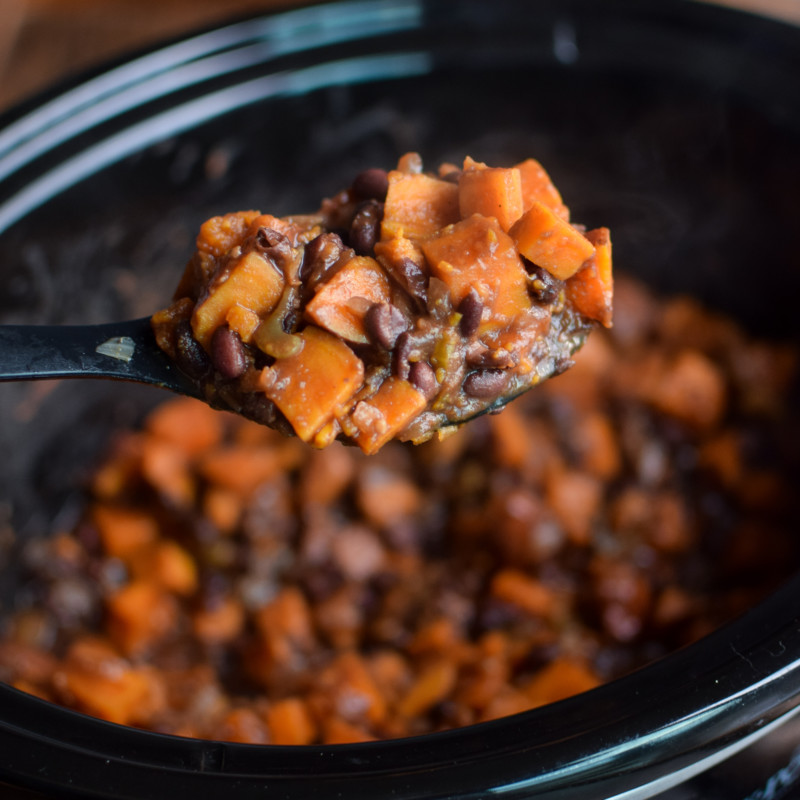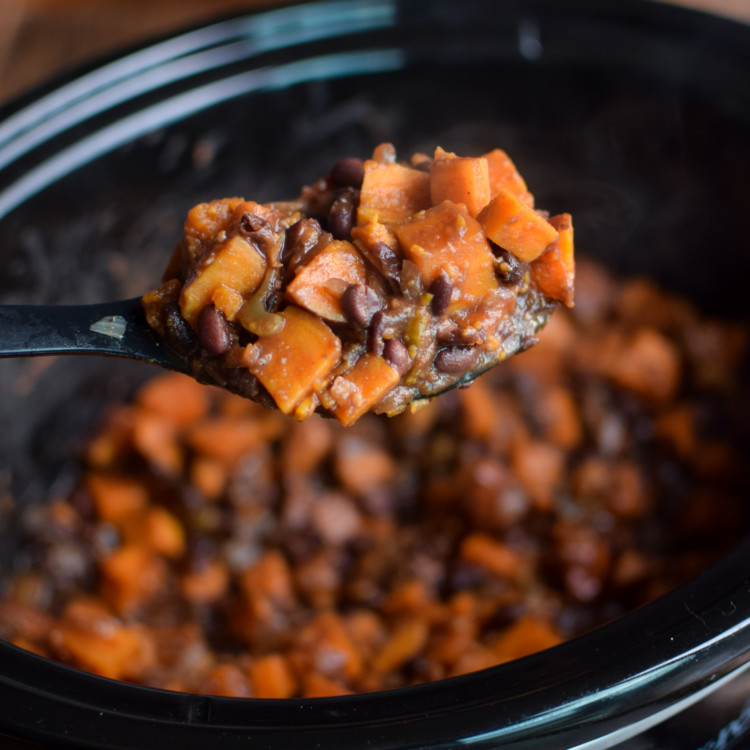 BBQ Black Bean Slow Cooker Sweet Potatoes
Prep:
10 minutes
Cook:
2 hours 30 minutes
Total:
2 hours 40 minutes
Black beans, sweet potatoes, and spicy BBQ sauce. A match made in side dish heaven!
Ingredients
3

medium sweet potatoes, cut into small bite sized cubes

1/2

yellow onion, finely diced

1

14.5 ounce can black beans with liquid

1/2 cup

spicy barbecue sauce (we like Trader Joe's Sriracha Garlic BBQ Sauce)

1/2 tablespoon

minced garlic

1/4 teaspoon

ground ginger

1/2 teaspoon

salt
Instructions
Add all ingredients to crockpot and stir to evenly disperse ingredients.
Cook in crock pot on HIGH for 2 hours and 30 minutes. For softer potatoes, cook for an additional 15 minutes.
Equipment
Nutrition Information
Serving Size:

about 3/4 cup

Calories:

187

Sugar:

13.7g

Fat:

.1g

Carbohydrates:

40.9g

Fiber:

6.3g

Protein:

6.4g
Recipe Card powered by
Thank you so much for checking out the BBQ Black Bean Slow Cooker Sweet Potatoes! Tag @projectmealplan on social media if you make this yummy side dish! What do you like to eat it with? Follow me on Pinterest for meal inspiration every single day!