Banana Chocolate Oatmeal Cookie Mounds are a simple two-bite sized dessert, made with only 5-ingredients and no flour, eggs, or oil. Use up your ripe bananas and satisfy your chocolate cravings at the same time!
Jump to Recipe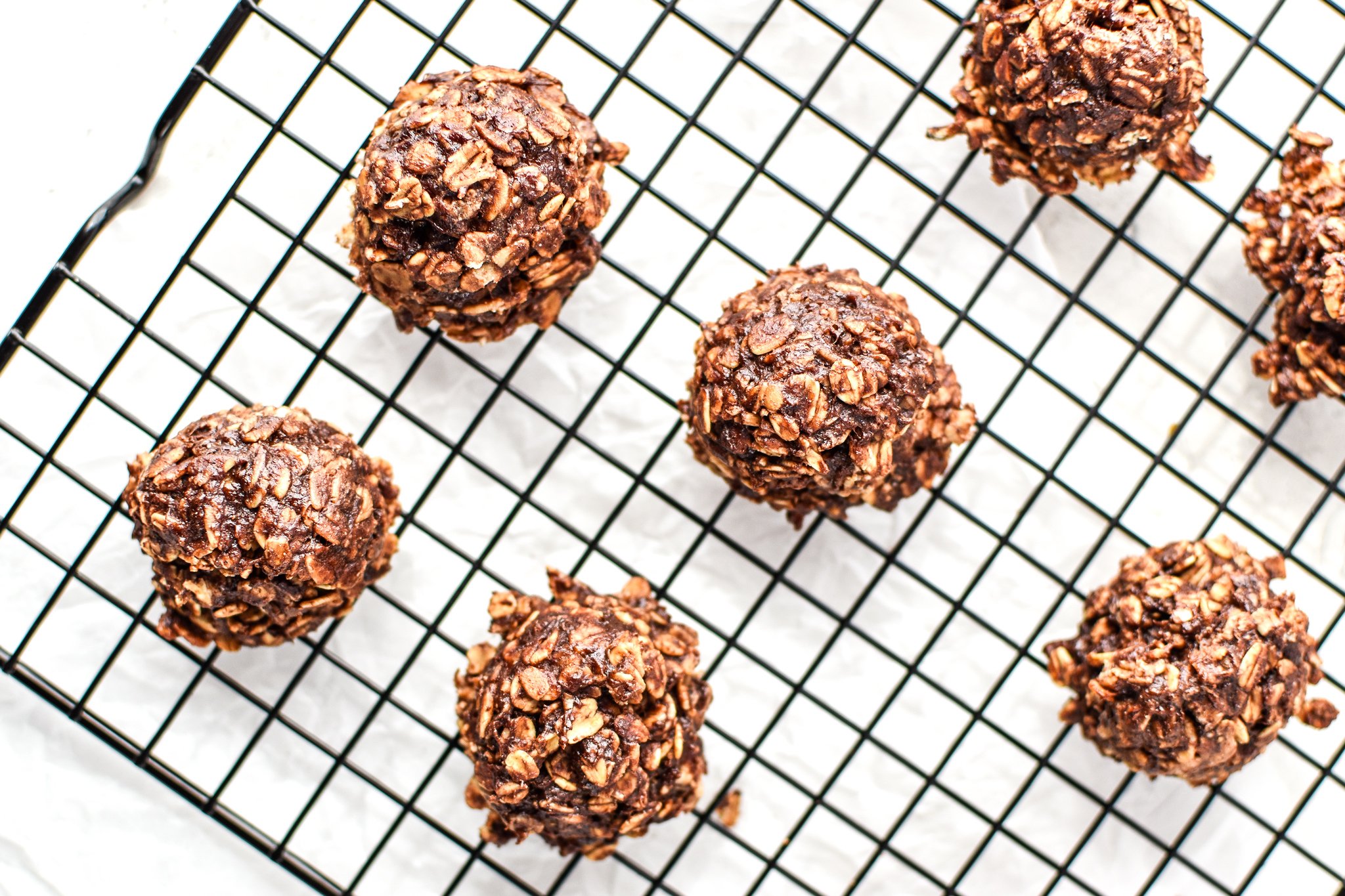 Developing this recipe was simple. Low on ingredients and high on deliciousness. When every single one is devoured after three or four recipe tests (spread out over a few weeks), you know it's gonna be good.
But uhm, what the heck am I supposed to name these? They aren't really cookies, because cookies are flat, break-in-half-able, and usually have some kind of outer crispness to them. These are none of those things, but does that mean they aren't cookies?
Mounds on the other hand – they are definitely mounds (not the candy bar, I mean the rounded pile shape). But usually people do not buy mounds to have with their afternoon coffee, or bring a plate of mounds to someone's house. FEELING CONFLICTED OVER HERE.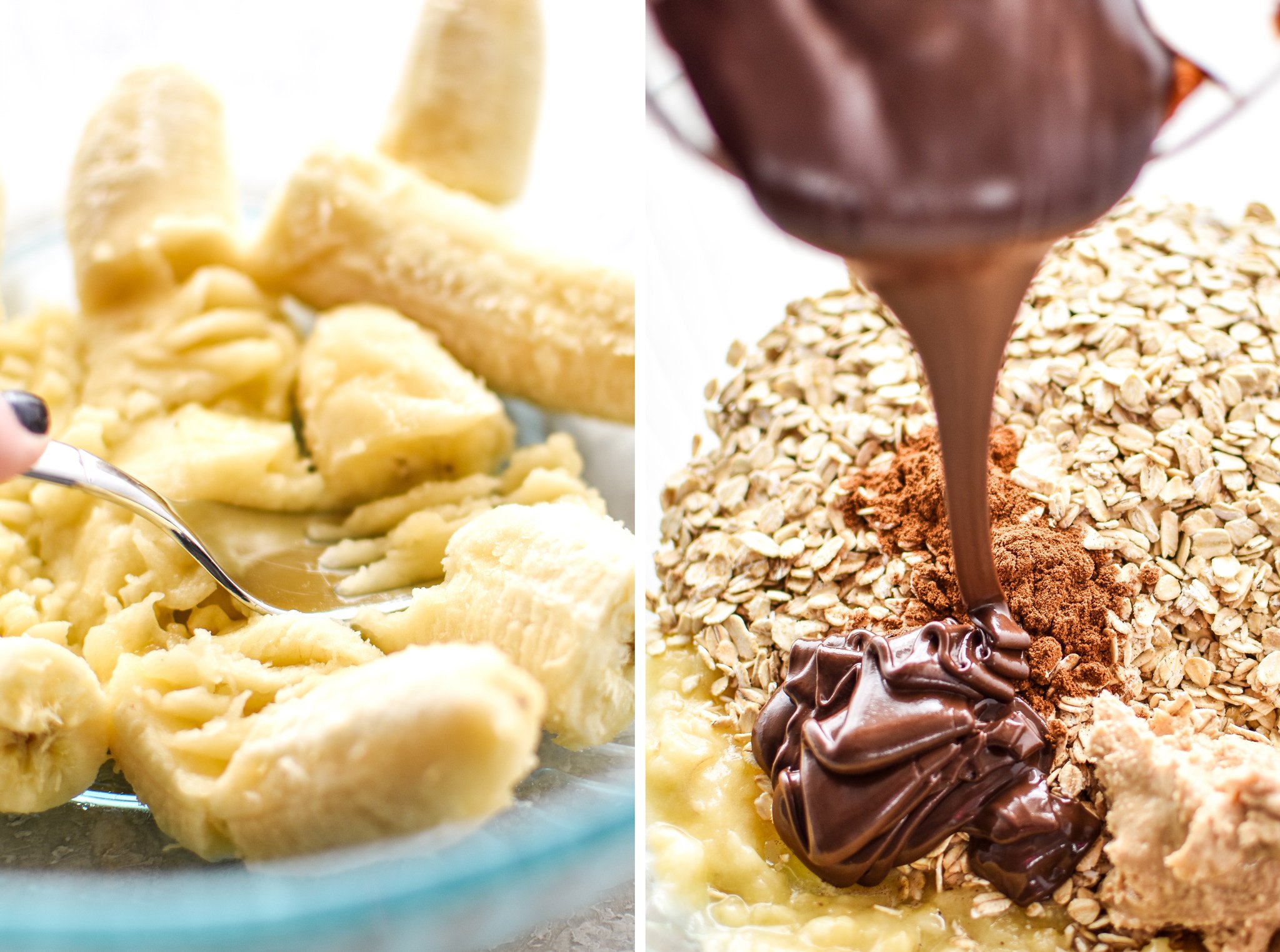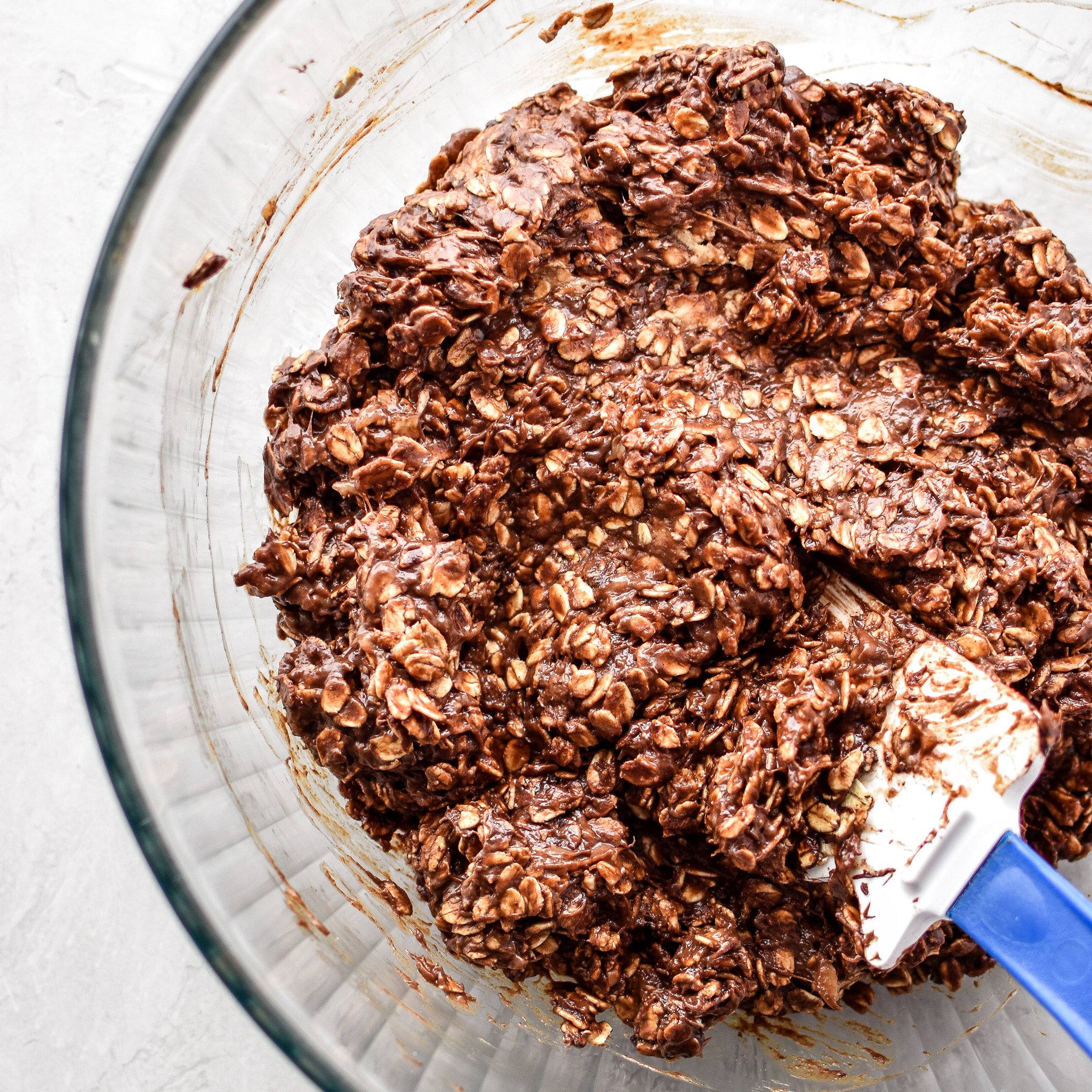 As you can see in the recipe title, I decided to go with both. They're just going to be their own new thing. The cookie mound. Trend starts now.
NOTE: If you don't want mounds, flatten them with a spoon or your fingers. I just love the quick and easy process of scooping and moving on.
FYI, this recipe does not have an acidic ingredient which would activate baking soda for spreading (learned about this from the best – Sally's Baking Addiction Baking Basics, Baking Powder vs Baking Soda). So that's why you're getting a mound shape instead of a cookie that flattens and spreads when it bakes. I kept the ingredients minimal for an easy cookie! I mean mound. I mean cookie mound!
This recipe is even easier if you use a cookie scoop – I use a Zeroll #40 Scooper (affiliate link – the purple one!) so all the cookie mounds are evenly portioned. This scooper is just over 1.5 inches wide (40 mm) and makes perfect sized cookies AND meatballs (I also use the scooper for this meatball recipe!).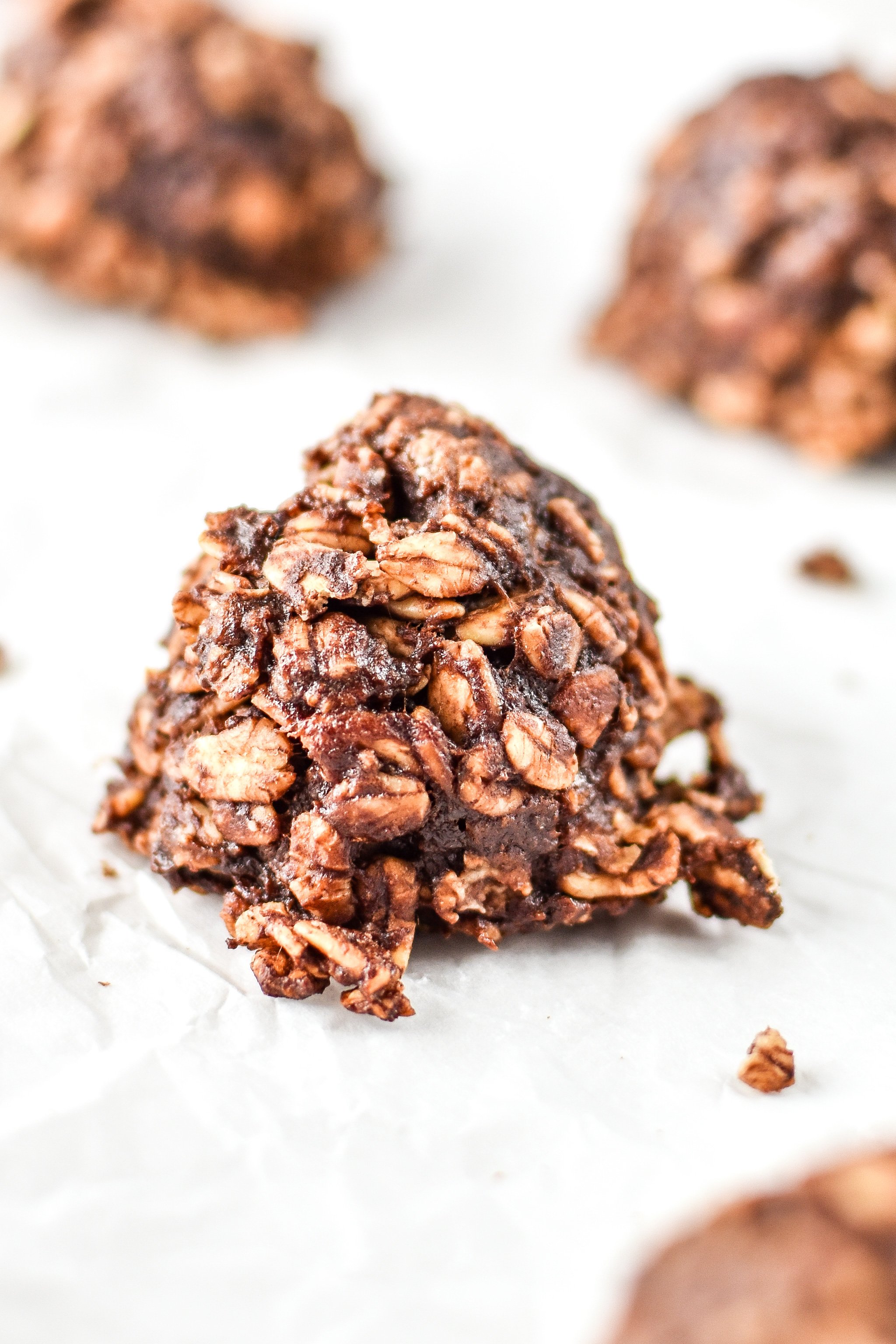 Reasons to love these Banana Chocolate Oatmeal Cookie Mounds:
Easily use up 3 or 4 super ripe bananas! These days I'm not even mad when I forget to eat bananas. There's always a baked good they can fit into.
If you've got the bananas, there are only 4 other ingredients (and you probably already have them).
Easy to make dairy-free by switching out the regular chocolate chips to Enjoy Life or dairy-free dark chocolate.
They're 2-3 bite sized, and they make the best little snack. They aren't so small that you have to grab 3, but not a huge cookie size. Snack, dessert, whatever.
Any nut butter will work – I've used cashew butter and almond butter with good results. I've never tried peanut butter in this recipe, but I'm sure it would be delicious.
No flour, no eggs, no oil. EASY.
They're called cookie mounds and you just have to appreciate the name for a second.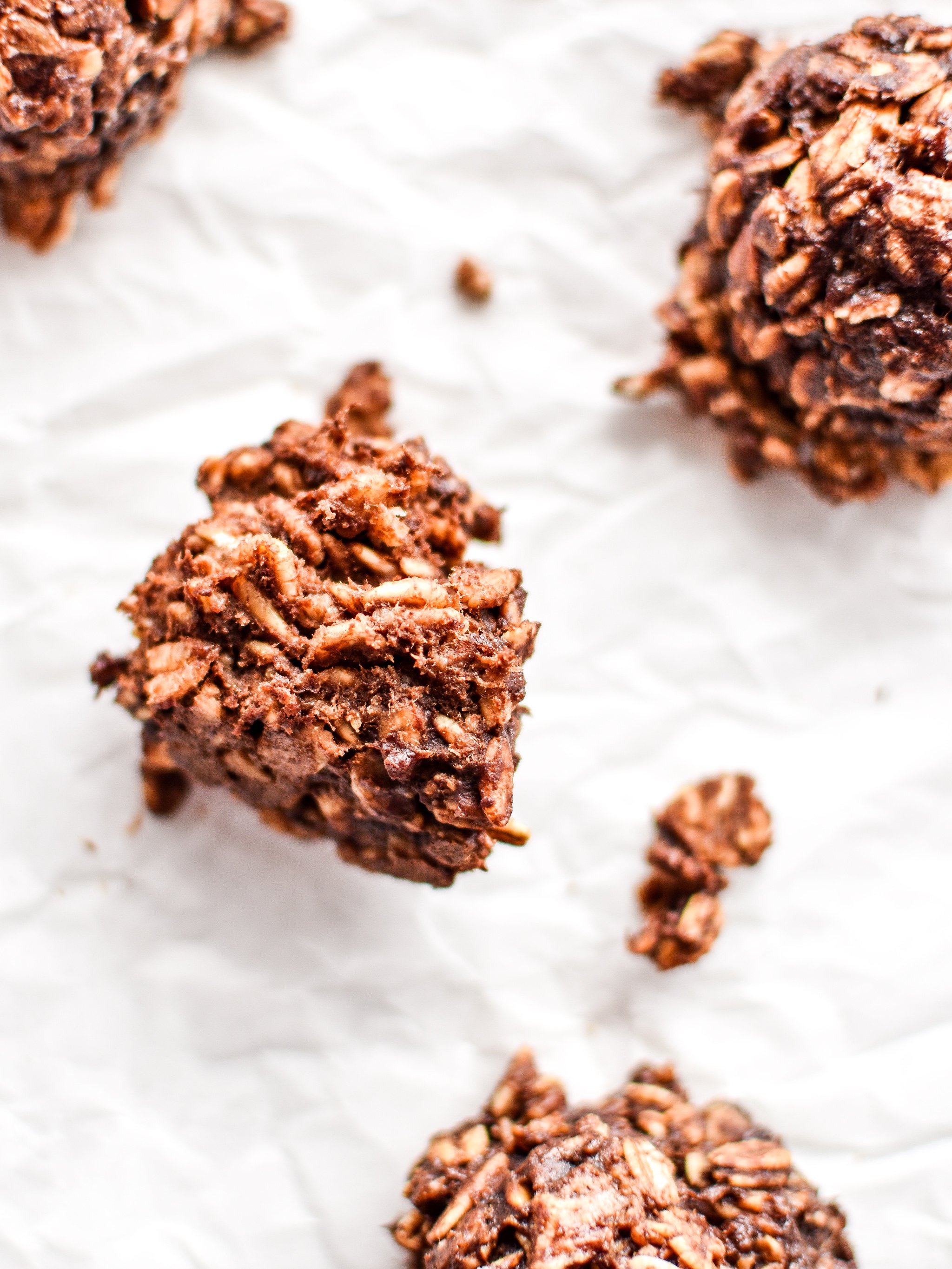 More zerts and snacks from Project Meal Plan:
Recipe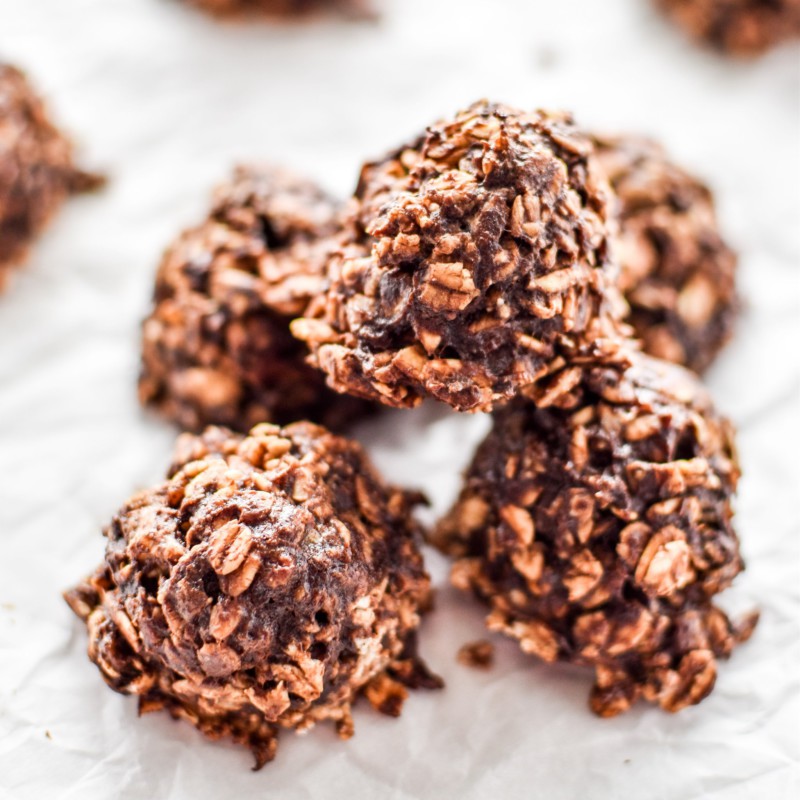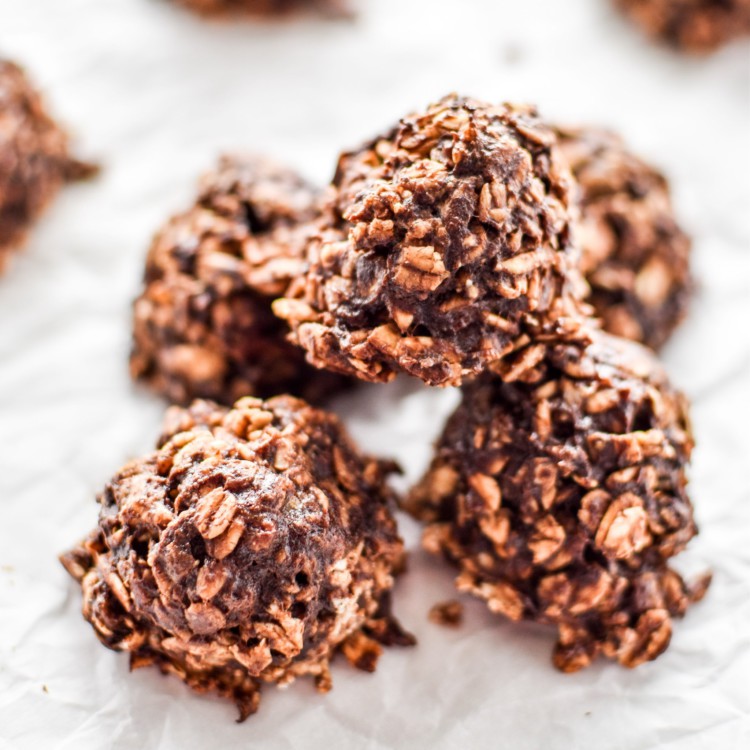 Banana Chocolate Oatmeal Cookie Mounds
Yield:
36

cookie mounds

1

x
Prep:
10 minutes
Cook:
15 minutes
Total:
25 minutes
Banana Chocolate Oatmeal Cookie Mounds are a simple two-bite sized dessert, made with only 5-ingredients and no flour, eggs, or oil. Use up your ripe bananas and satisfy your chocolate cravings at the same time!
Ingredients
3

large or 4 small ripe bananas, peeled (about

12 ounces

without peels)

1 cup

semi-sweet chocolate chips

3 cups

rolled oats (not quick cooking or steel cut)

1/3 cup

nut butter (I use cashew or almond butter)

1 teaspoon

ground cinnamon

1/4 teaspoon

salt
Instructions
Preheat the oven to 350F.
Add bananas to a large mixing bowl and use a fork to mash the bananas well.
Melt chocolate chips in a small microwave safe bowl by microwaving in 15-30 second spurts and stirring after every 30 seconds. Stir until smooth and completely melted.
Add chocolate and all remaining ingredients (oats, nut butter, cinnamon and salt) to the bananas and mix thoroughly. The mixture should be wet and scoopable.
Use a cookie scoop or spoon to place circular mounds about 1.5 inches wide on a baking sheet lined with parchment paper or a silicone baking mat. The cookie mounds will not spread or flatten and can be placed about 1 inch apart on the cookie sheet.
Bake for 15-17 minutes. Let cool for at least 5 minutes before transferring to a cooling rack. Store in a sealed container for up to 5 days.
Equipment
Notes
Nutrition information estimated with MyFitnessPal.
Nutrition Information
Serving Size:

1 cookie mound

Calories:

80

Fat:

4g

Carbohydrates:

11g

Protein:

1g
Recipe Card powered by
Thanks for checking out these Banana Chocolate Oatmeal Cookie Mounds! Tag me or use #projectmealplan on social media to share your own!