These Simple Baked Salsa Chicken Thighs make the juiciest shredded chicken that's the best for tacos, burritos, and salads. Plus, it's a perfect recipe to prep ahead for super quick dinners during the week!
Jump to Recipe · Jump to Video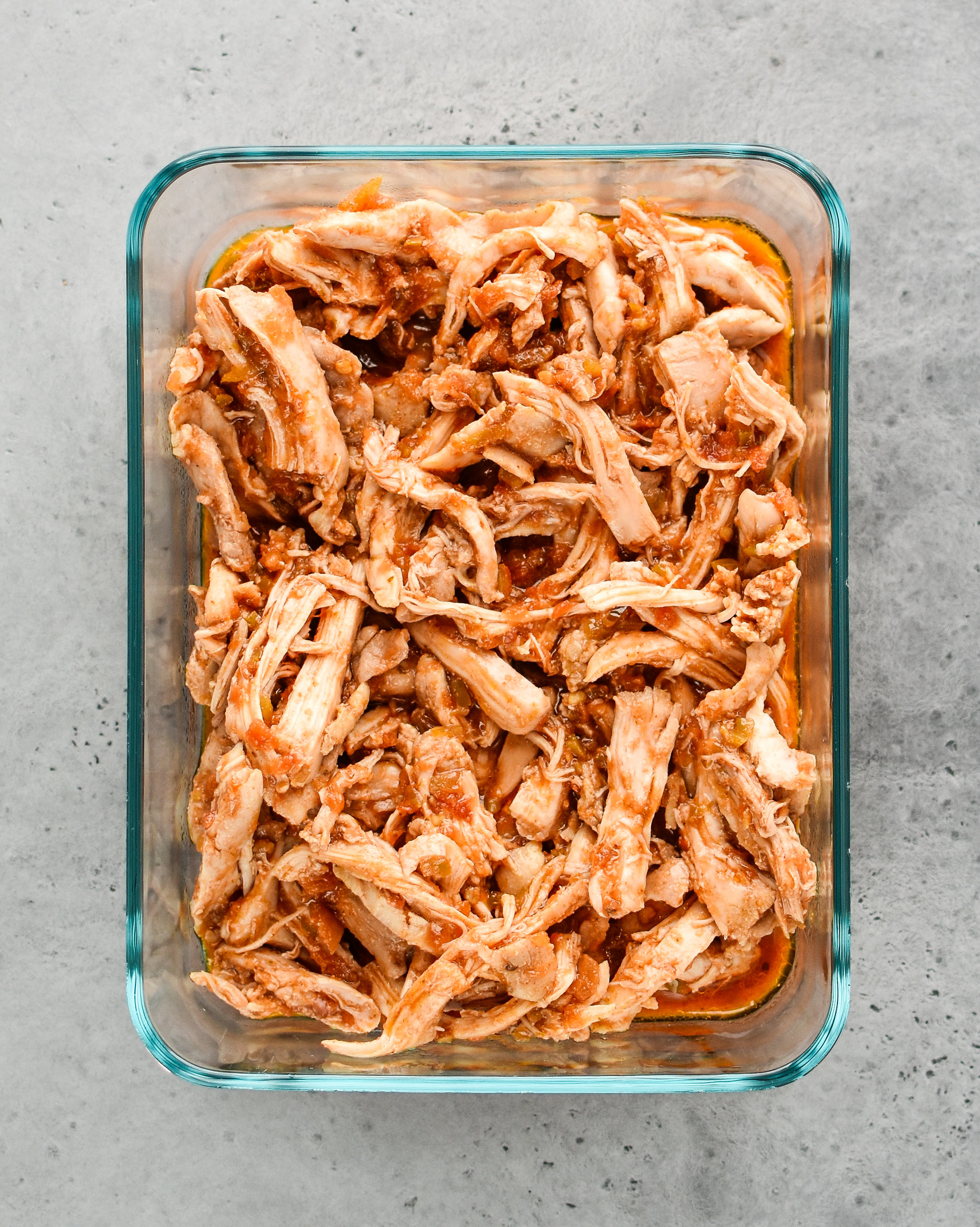 The other day, I was making burritos. I had to make this delicious chicken first, let it cool, shred it, THEN start with my burritos. It occured to me…
Danielle, why didn't you cook this chicken yesterday or on Sunday? I would have burritos in my mouth 30 minutes sooner!! I took it as a lesson to myself but also decided it was something I should share here with you.
My Instant Pot was full of yogurt, so I made a baked version and it turned out super delicious and super easy. Salsa chicken can be made in so many ways – lately I've been going with my Instant Pot – but this baked version is just as simple and almost as quick as the Instant Pot method. And I know some people don't have Instant Pots. I'm still listening to you, too!
How do you make baked chicken with salsa?
Good news! Making these baked salsa chicken thighs is super easy. I know they can be made in the slow cooker or in an Instant Pot, but I decided to go simple here. You'll need two pounds of boneless skinless chicken thighs, one cup of salsa, oil, a couple seasonings, and a 9×13 casserole dish.
First, place the chicken in your casserole dish. Drizzle the oil over the thighs, and then add the salt, cumin, and garlic powder. Mix mix mix it around with some tongs until all the chicken thighs are fully coated with oil and spices. Arrange the chicken so all the pieces are flat.
Top with one cup of salsa – you pick what kind! I like to use the regular old Costco brand organic salsa, but use whatever kind you have or like. Spoon all of the salsa over the chicken – no need to mix, just make sure as much of the chicken is covered in salsa as possible.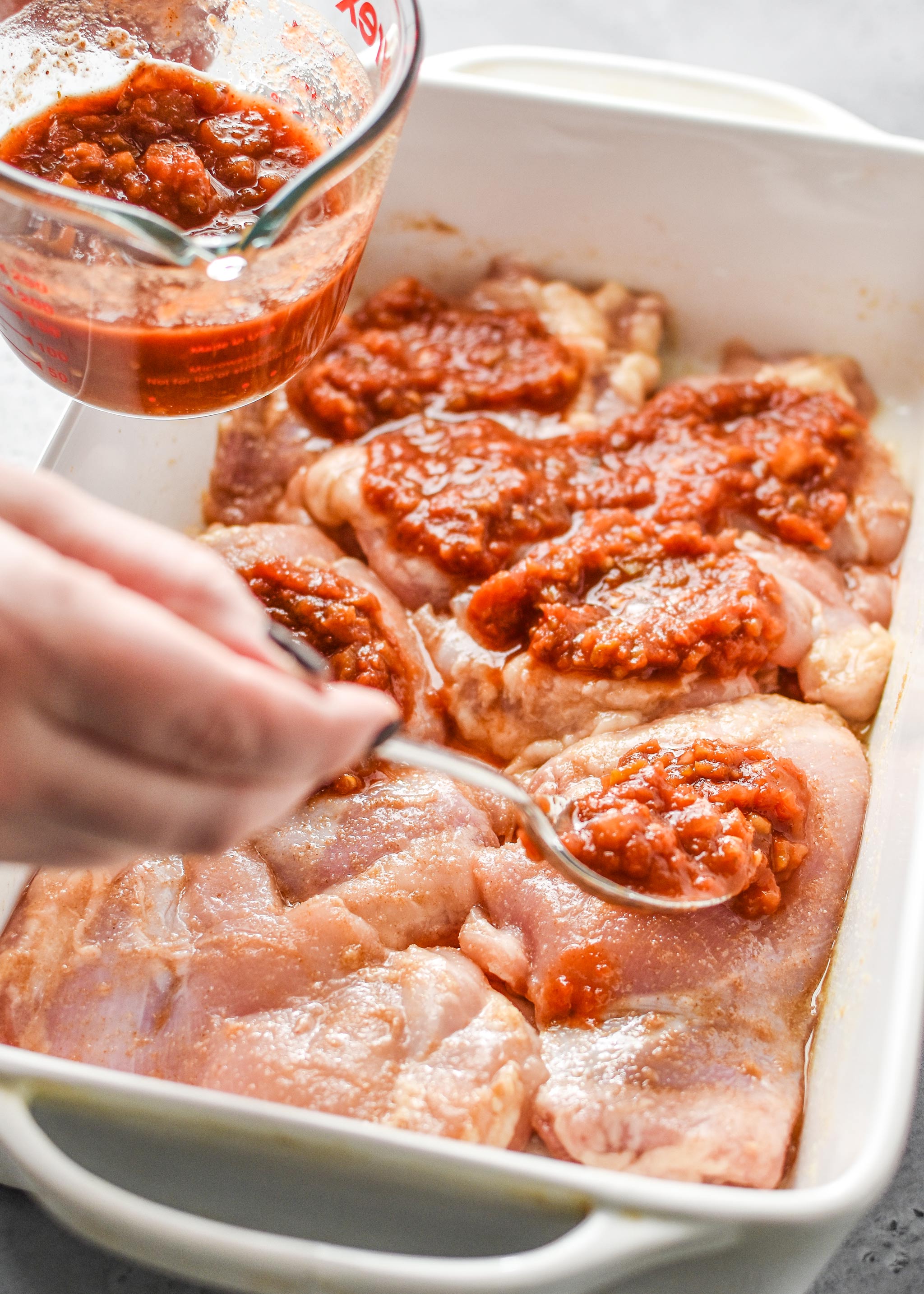 And that's it for prep! Place the dish in a 425F oven for 25-30 minutes, or until the internal temperature of the chicken reaches 165F.
When the chicken comes out of the oven, let it rest, covered, for at least 10 minutes. This will help the juices settle inside the chicken. Although we are shredding it eventually, we still want the chicken to hold as much juice as possible. Plus, it's super hot when it comes right out of the oven anyway, so it's best to let it cool a bit. Use a clean baking sheet or aluminum foil to cover the pan while the chicken rests.
Finally, use two forks to shred the chicken breasts. I do this IN the same pan with all the salsa, so the shredded chicken can continue to soak up the juices and salsa flavor.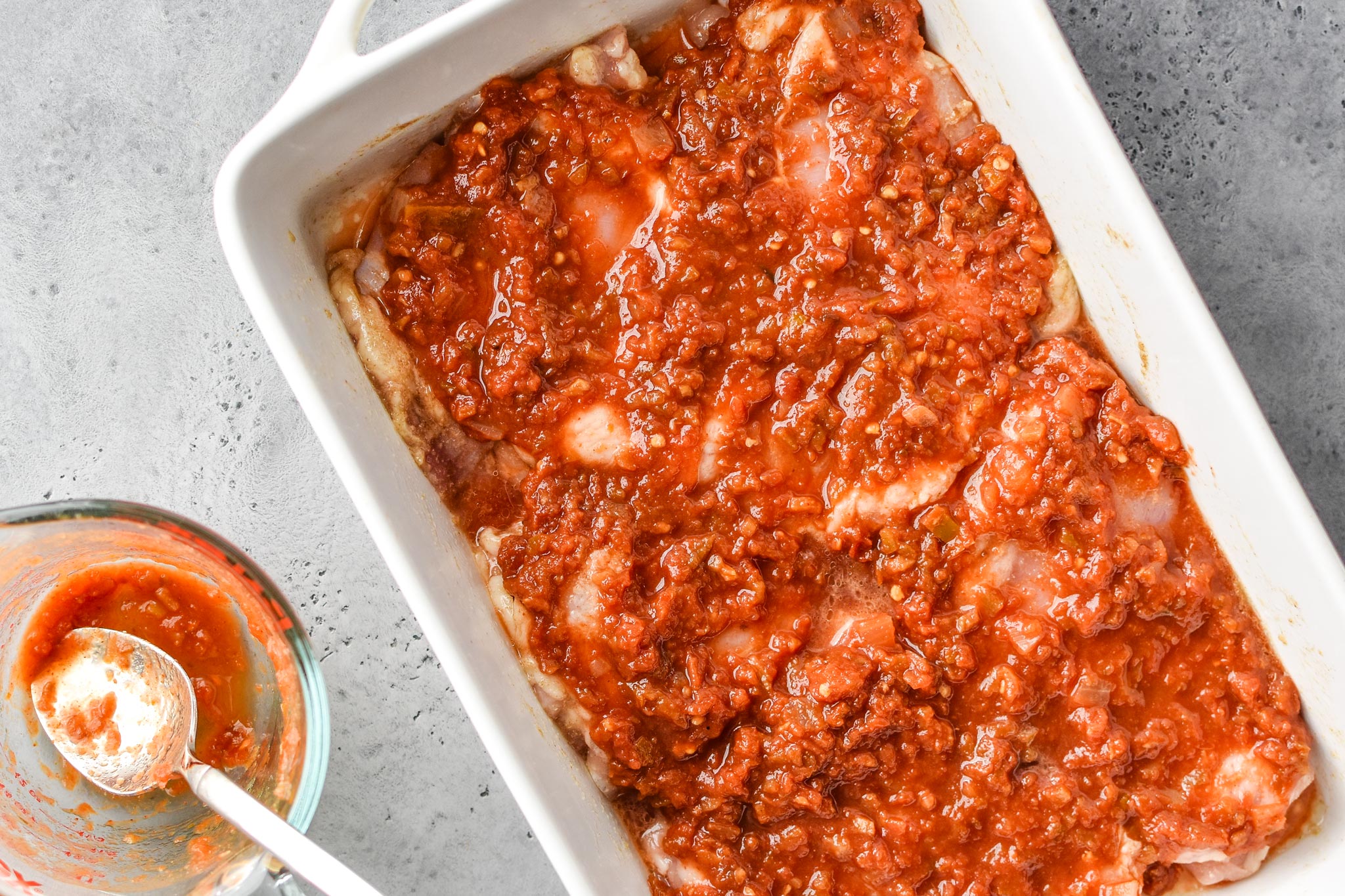 Can I use chicken breasts instead of thighs?
Sure, go for it! You may have to increase your cooking time by 5-10 minutes. Be sure to check the internal temperature of the chicken for 165F. I like thighs better so I tend to use them more often.
How do you shred the chicken?
Because I hate doing more dishes, I usually use two forks and shred the chicken by hand (seen in the picture above!). But if you're feeling super lazy and do not want to hand shred, use your KitchenAid and paddle attachment to shred your meat. Yes, it's totally possible! I've tried it and it works, but does cause more dishes.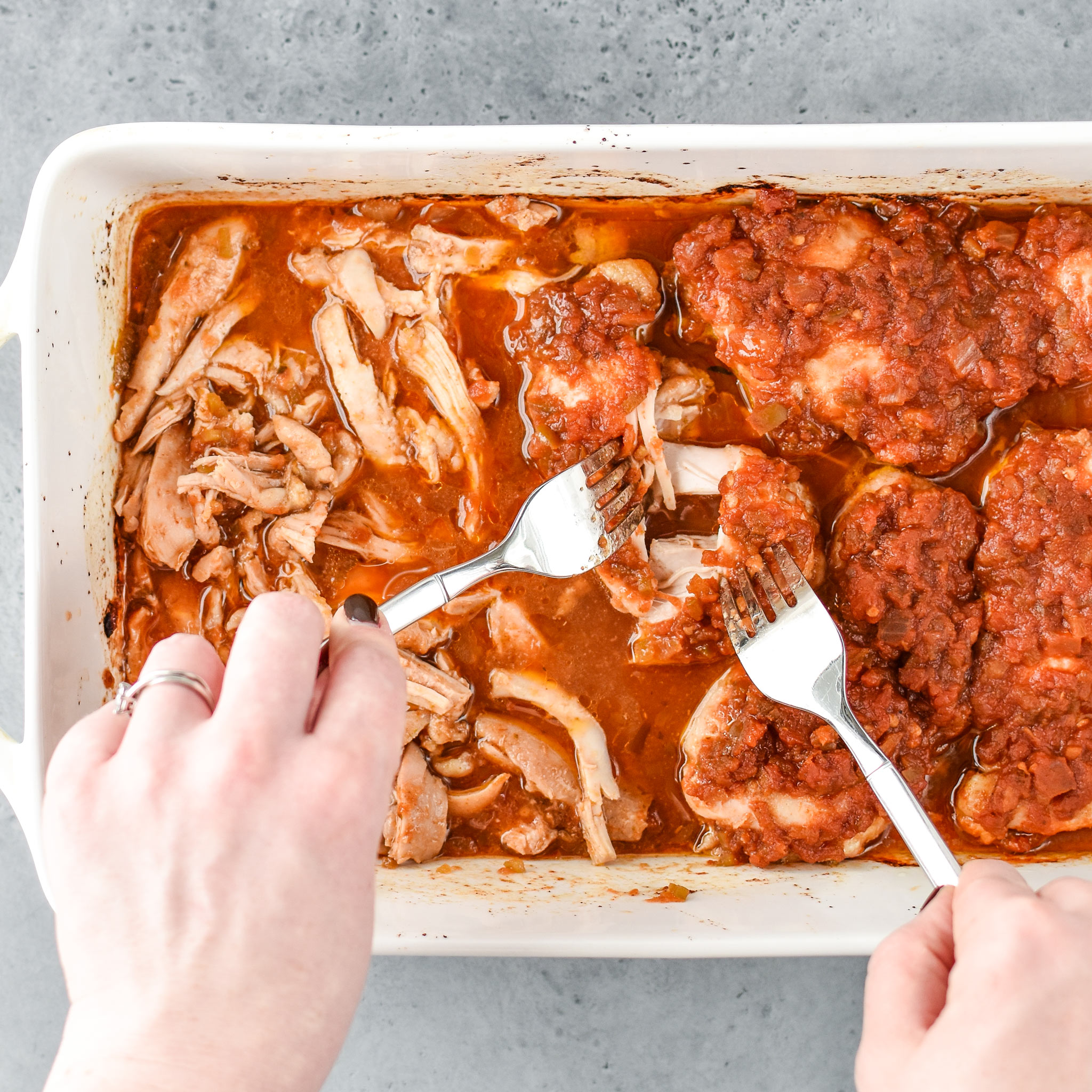 Will this recipe work for meal prep?
Yes, totally! It's perfect for meal prep. Make these chicken thighs on Sunday (or your normal prep day) and store them in your favorite airtight container. Reuse in dinner or lunch recipes all week! Store in the refrigerator for up to 4 days.
You can also use this chicken to pre-cooked freezer meals such as chicken and rice burritos bowls, or enchilada filling. Place in the fridge the night before you want to use it so it can thaw, and then you're halfway through with dinner the next day!
How should I use these baked salsa chicken thighs?
chicken salsa tacos
chicken burritos (I have a recipe coming soon!)
taco salad meat
enchilada filling
quinoa or rice burrito bowls
taco casserole or tortilla casseroles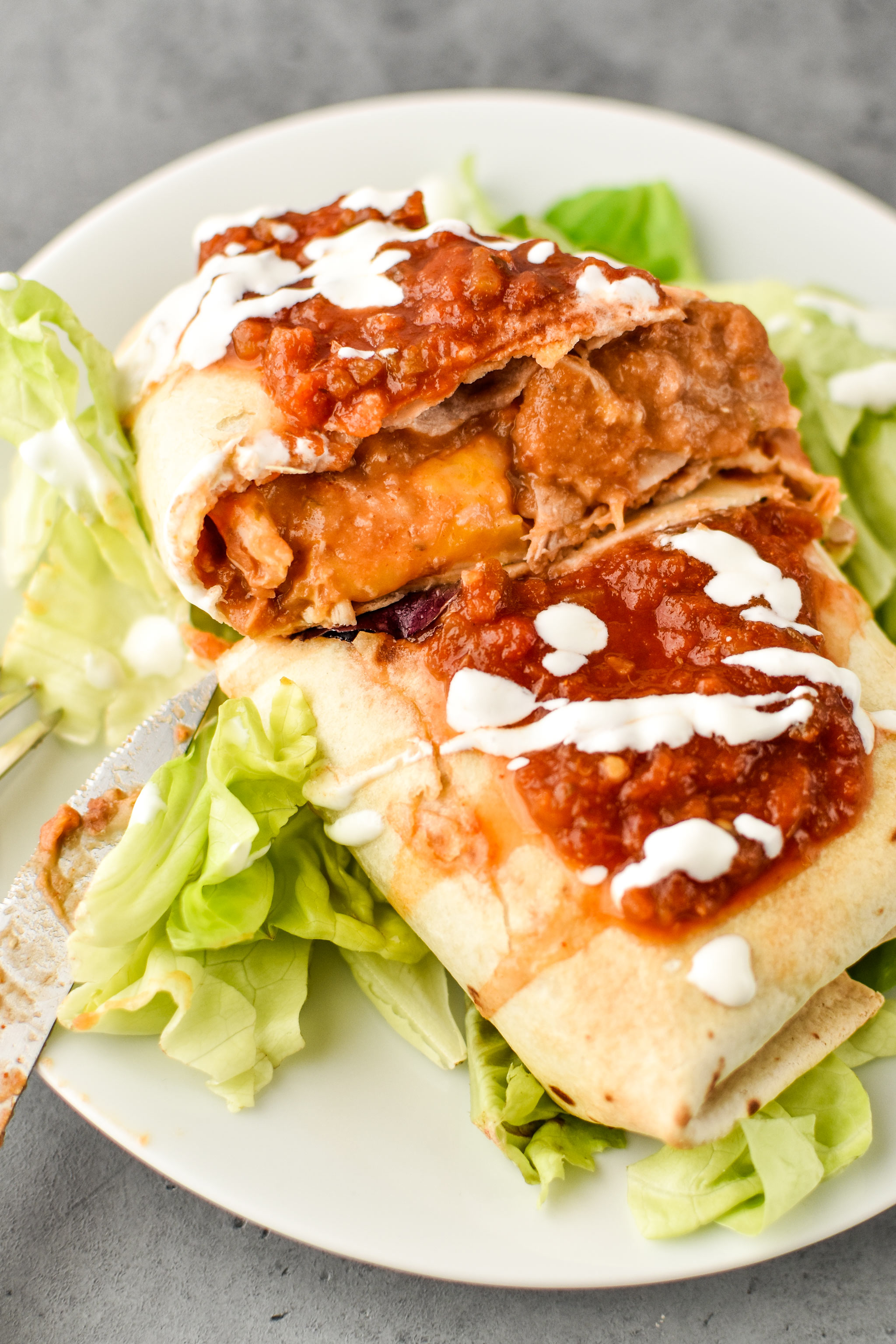 How to Make Simple Salsa Baked Chicken Thighs (1 minute):
More dinner ideas from Project Meal Plan:
Recipe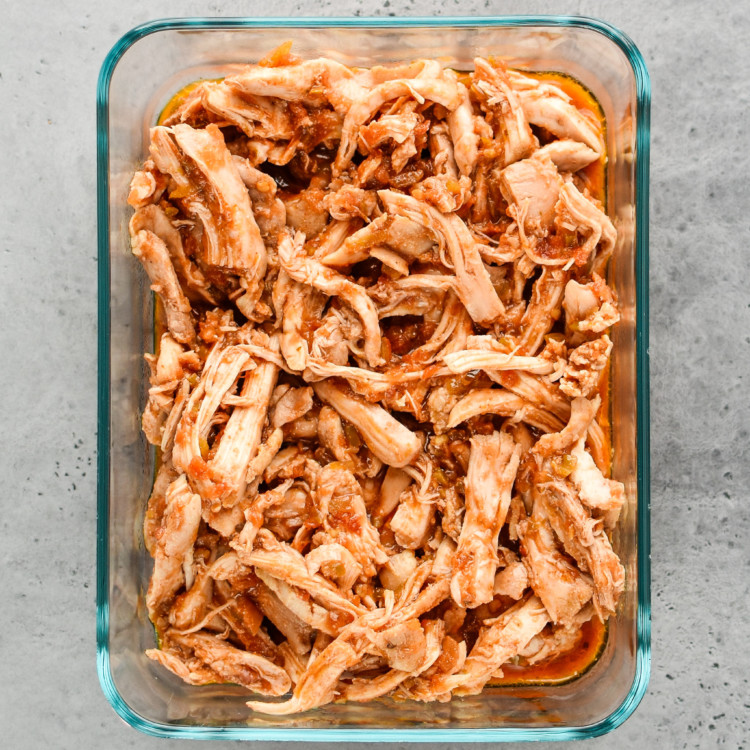 Simple Baked Salsa Chicken Thighs
Prep:
5 minutes
Cook:
25 minutes
Total:
40 minutes
These Simple Baked Salsa Chicken Thighs make the juiciest shredded chicken that's the best for tacos, burritos, and salads. It's a perfect recipe to prep ahead for super quick dinners during the week!
Ingredients
2

pounds boneless skinless chicken thighs

1 tablespoon

avocado or olive oil

1

+

1/2 teaspoons

ground cumin

1 teaspoon

garlic powder

1 teaspoon

salt

1 cup

salsa
Instructions
Preheat the oven to 425F. Place chicken thighs in a 9×13 casserole dish and drizzle with oil. Add cumin, garlic powder, and salt. Use tongs to coat all the chicken in oil and seasonings and then arrange the chicken thighs in one flat layer. Spoon salsa over the chicken and spread the salsa to cover all the chicken completely.
Bake the chicken for 25-30 minutes, or until the internal temperature of the chicken reaches 165F.
Remove from the oven and let the chicken rest for about 5 minutes, and then shred the chicken using two forks. Use in tacos, burritos, salads, and more. Store in an airtight container for up to 4 days.
Notes
Nutrition information estimated with My Fitness Pal.
Nutrition Information
Serving Size:

about 4 ounces

Calories:

158

Fat:

6g

Carbohydrates:

1g

Protein:

22g
Recipe Card powered by
To make this recipe, I used:
Show me how you use these Simple Baked Salsa Chicken Thighs in your meals! Tag me on Instagram or use #projectmealplan to share with me!