The Thai restaurant down the street (shoutout to Bangbar!) has the most incredible Crispy Basil Chicken. All the stars please. It's my second favorite dish, only to their Pad Thai. I just had to aim for those flavors when I braised some thighs a couple months ago, which lead to this. Hot Basil Coconut Braised Chicken Thighs. My next task will be to perfect the 'crispy' basil like they do… But in the meantime, I will continue to eat these thighs and thoroughly enjoy (jump to recipe).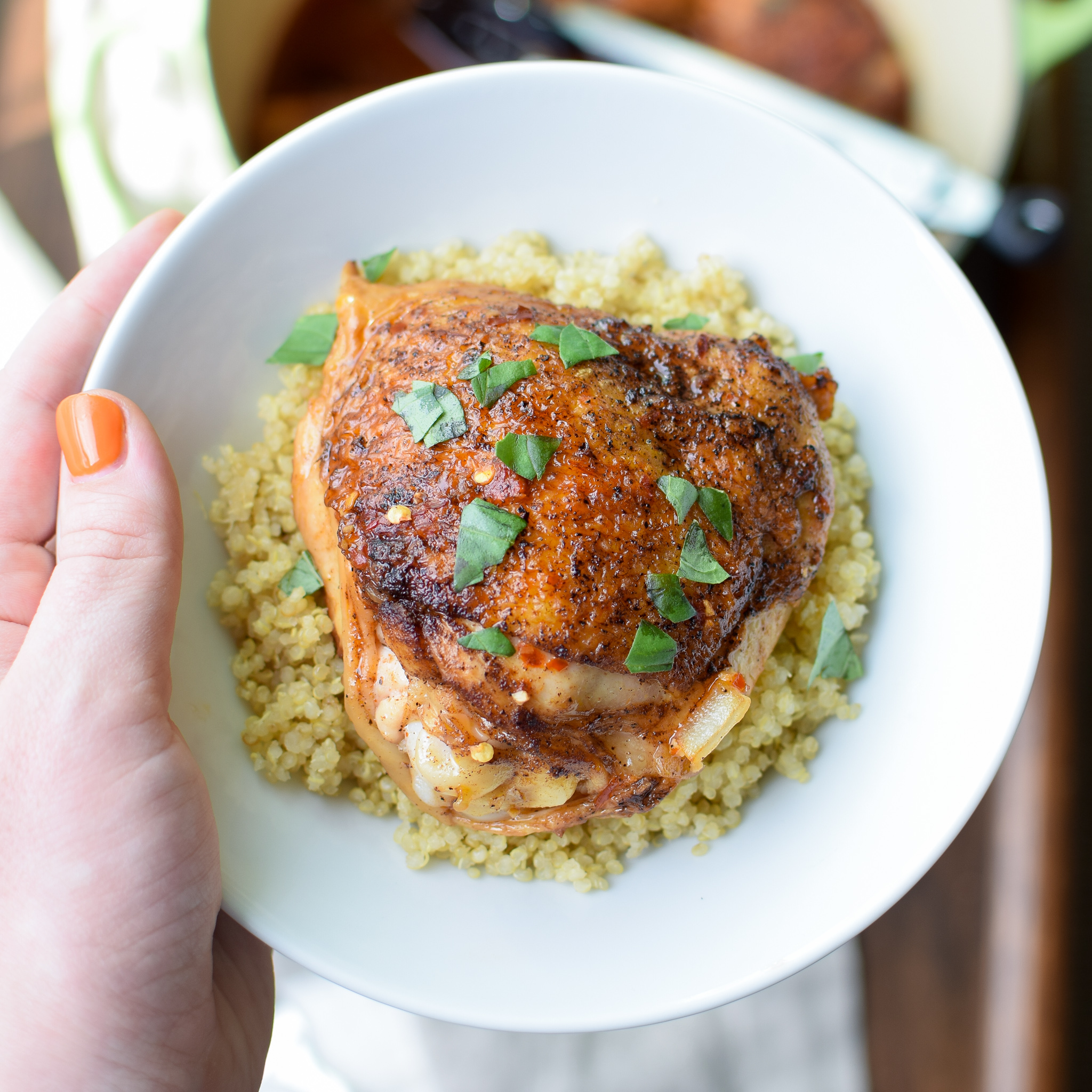 To be completely honest, the first time I braised chicken was not that all that long ago. And to be even more honest, it seemed like a ton of work. Brown them in batches?? Won't that take forever? You have to take the chicken out of the pan and put them back in later?? What?
But they tasted so good. It was completely worth trying again. And with anything, it got easier after more attempts. I developed a system. I saw the benefits of this versatile method. And sometimes, one pan is all you need for a delicious braised chicken dinner. And did I mention, it tastes SO good.
Yeah. It does.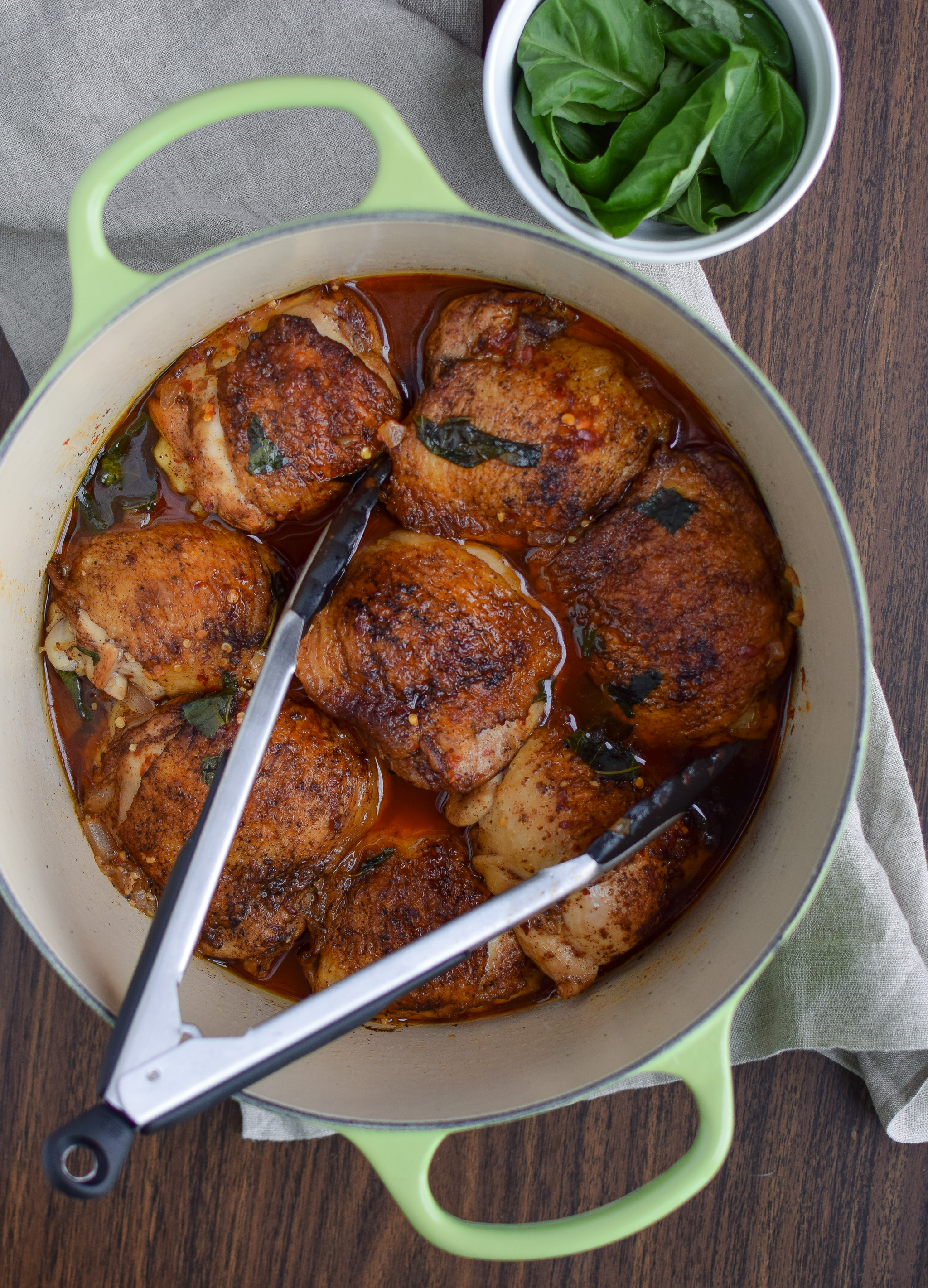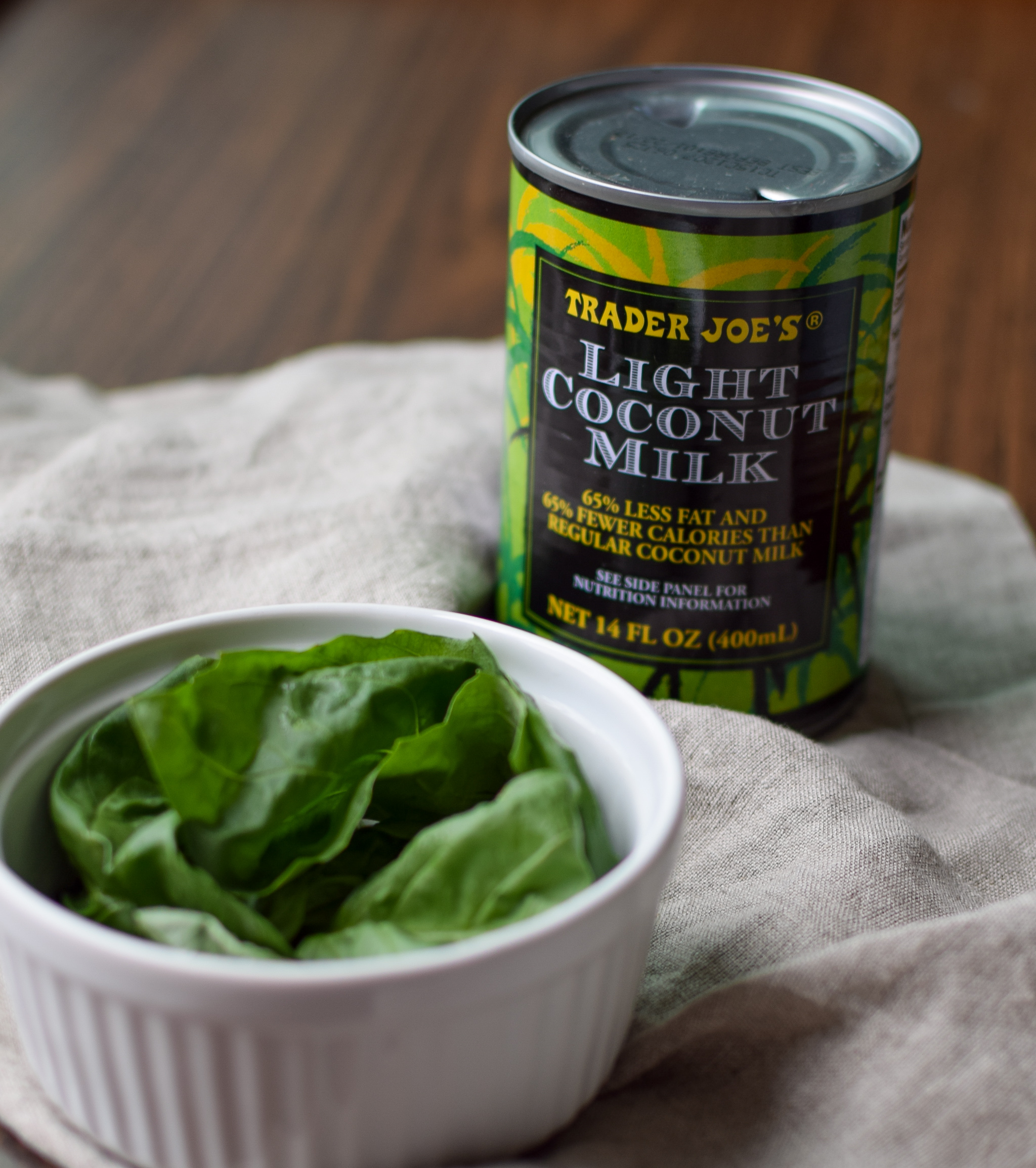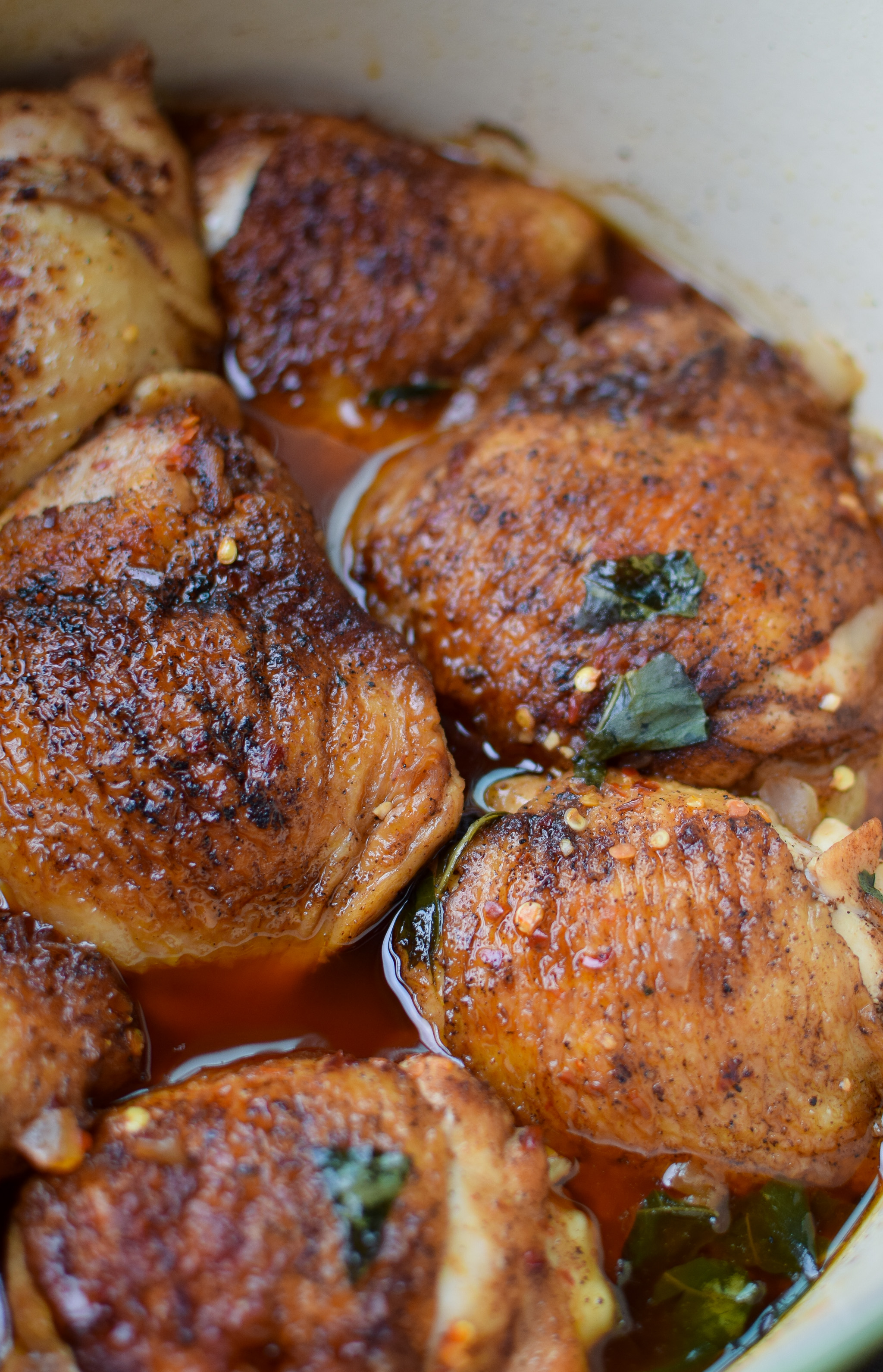 Spicy is definitely our jam around here. If you're trying to tone down the heat, I would suggest omitting the chili pepper flakes, or even cutting half the chili paste. If you take out any more spice than that, I don't think they would be "Hot" Basil Coconut Braised Chicken Thighs anymore (but still delicious!).
Cinnamon, for some spice that's not so spicy. Paprika, for some smokiness. Chili powder, obviously. And definitely the coconut milk. Don't forget the coconut milk! It calms the spice and gives it hint of creamy texture, without the cream. Shout out to Joyful Healthy Eats blog for the inspiration behind these thighs. I changed up the flavors but was in love with the coconut braising idea. So, that plus the Thai restaurant inspiration from down the street… Hot Basil Coconut Braised Chicken Thighs 🙂
Consider it your next main dish with some heat!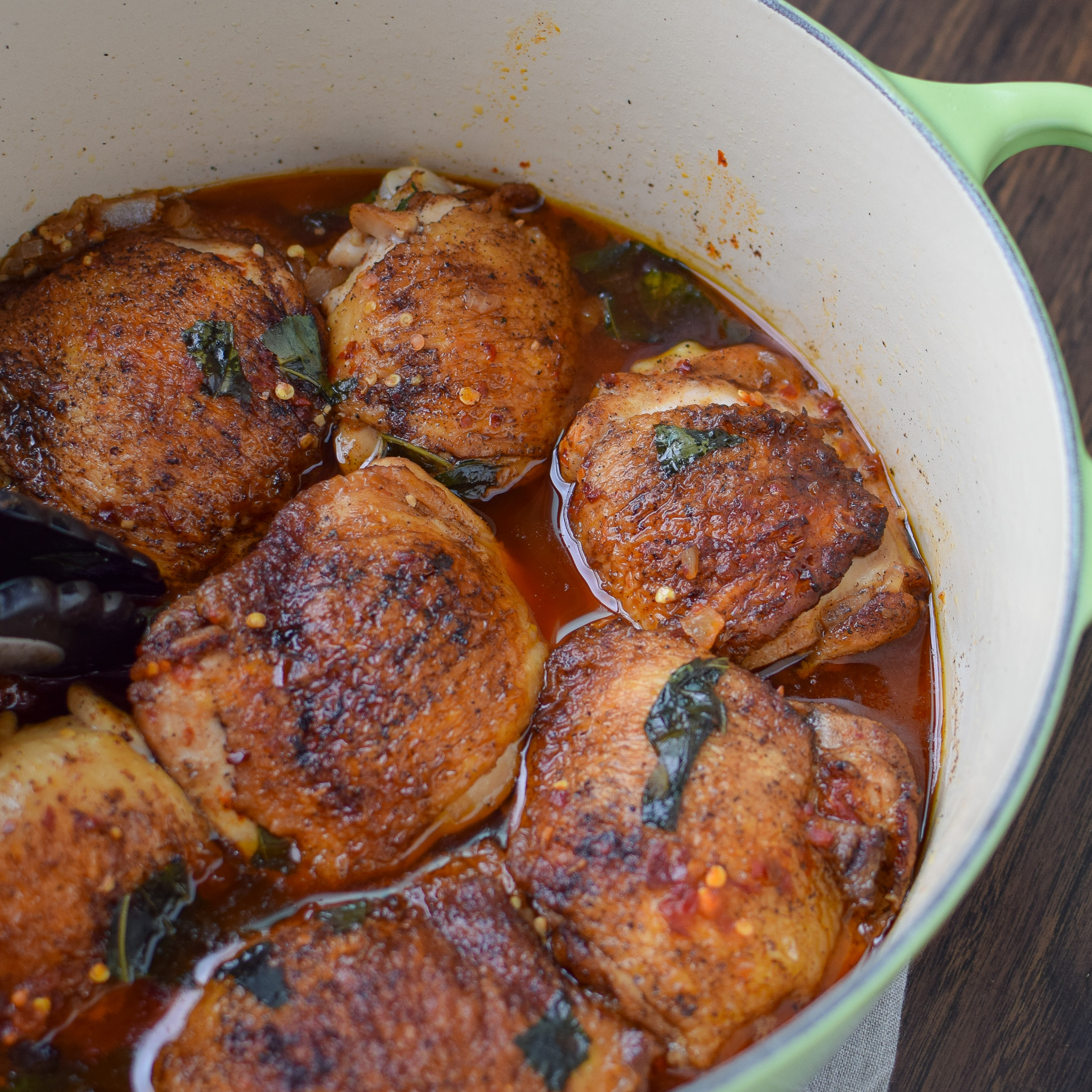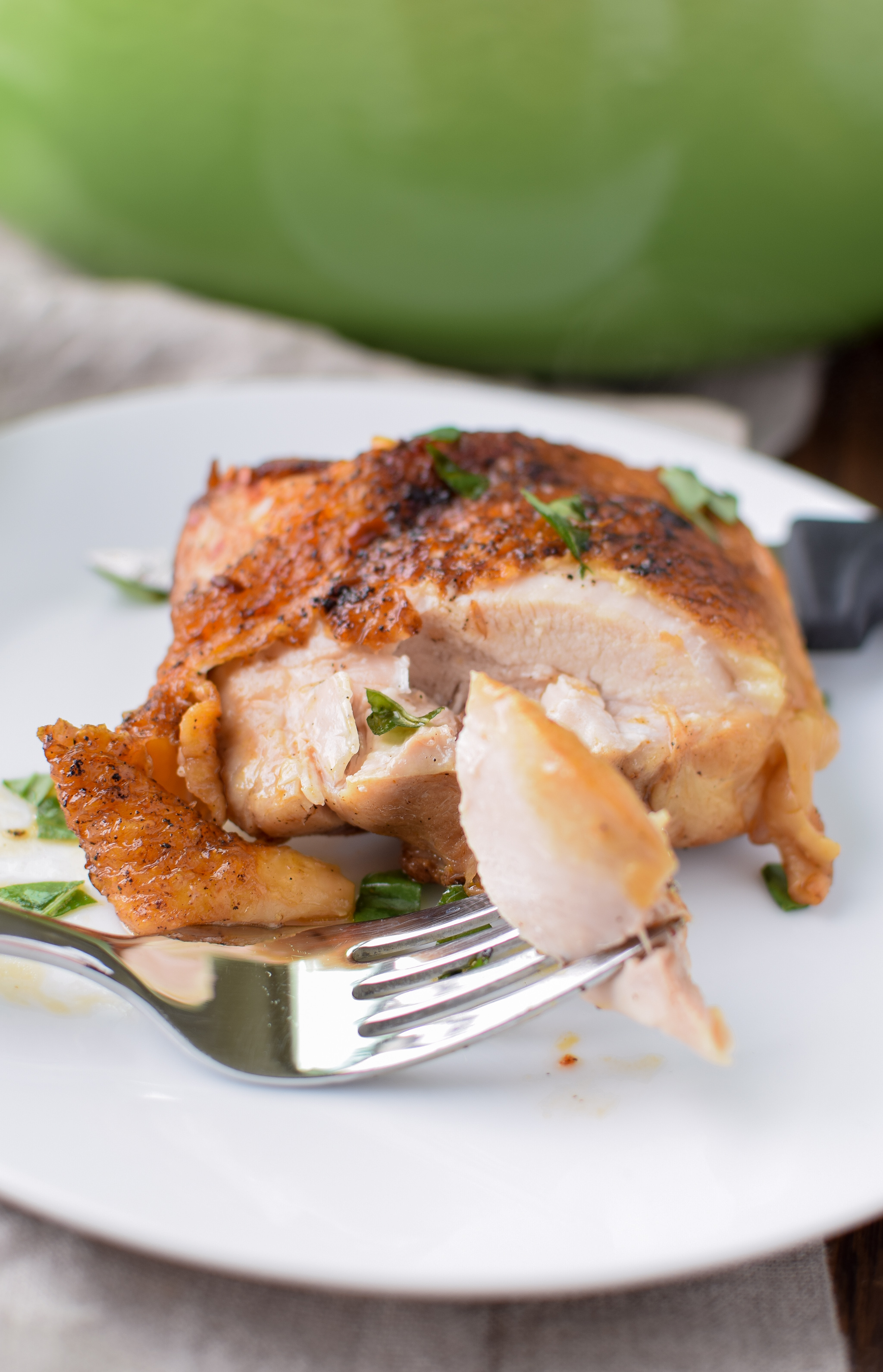 Print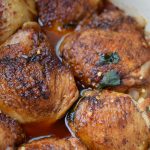 Hot Basil Coconut Braised Chicken Thighs
---
Author:

Danielle

Prep Time:

5 minutes

Cook Time:

40 minutes

Total Time:

45 minutes

Yield:

8 chicken thighs
Description
Incredibly delicious braised chicken thighs packing some heat with coconut and basil! YUM!
---
Ingredients
8 chicken thighs, bone-in with skin (about 4 pounds total)
2 tablespoons olive oil
1 teaspoon paprika
1/4 teaspoon cinnamon
1 teaspoon salt
1/2 teaspoon ground black pepper
1/2 teaspoon chili powder
1/4 cup shallots, finely chopped
1 1/2 teaspoons minced garlic
2 tablespoons chili paste
1/2 cup light coconut milk
juice from 1/2 lime
1/4 cup regular basil, shredded and loosely packed
pinch of chili pepper flakes, more for extra heat
---
Instructions
Pat dry the chicken thighs with a paper towel. In a large, deep skillet or dutch oven, heat 2 tablespoons of olive oil over medium-high heat.
Mix paprika, cinnamon, salt, black pepper, and chili powder in a small bowl.
I perform the following steps in two batches of 4 thighs each. Sprinkle both sides of each thigh with the spice mixture. When the oil is hot, place chicken thighs skin side down into the oil. Let each side brown for 4-5 minutes, 8-10 minutes total for each batch of thighs. Remove from heat when both sides are browned and repeat with remaining thighs.
After the chicken thighs have been removed from the pan and set aside, remove most of the oil from the pan, leaving about 1 tablespoon. Reduce heat to low-medium. Add shallots and sauté for about 2 minutes. Add minced garlic and chili paste, mix and cook for 1 additional minute, stirring frequently.
Add coconut milk, lime juice, and shredded basil to the pan. Stir and let it come to a small boil, then return the chicken thighs to the pan. Cover and cook on low for approximately 20 minutes until the internal temperature reaches 165 degrees.
Garnish with additional shredded basil, if desired.
Notes
This recipe is meant for meal prepping! Can also be halved. Serve with quinoa or rice and a vegetable. Create 4 lunches each for two people or lunch and dinner for you for the rest of the week! Eat within 4 days.
Recipe adapted from Smoky Coconut Braised Chicken by Joyful Healthy Eats.
Nutrition
Serving Size:

1 chicken thigh

Calories:

272

Fat:

19.4g

Carbohydrates:

2.7g

Protein:

19.2g
Thank you so much for reading! Tag @projectmealplan on social media if you make this yummy recipe! I'd love to see what others meal prep for themselves. Follow me on Pinterest for meal inspiration every single day!
P.S.: What's your favorite braised chicken recipe? I'd love to try a new one!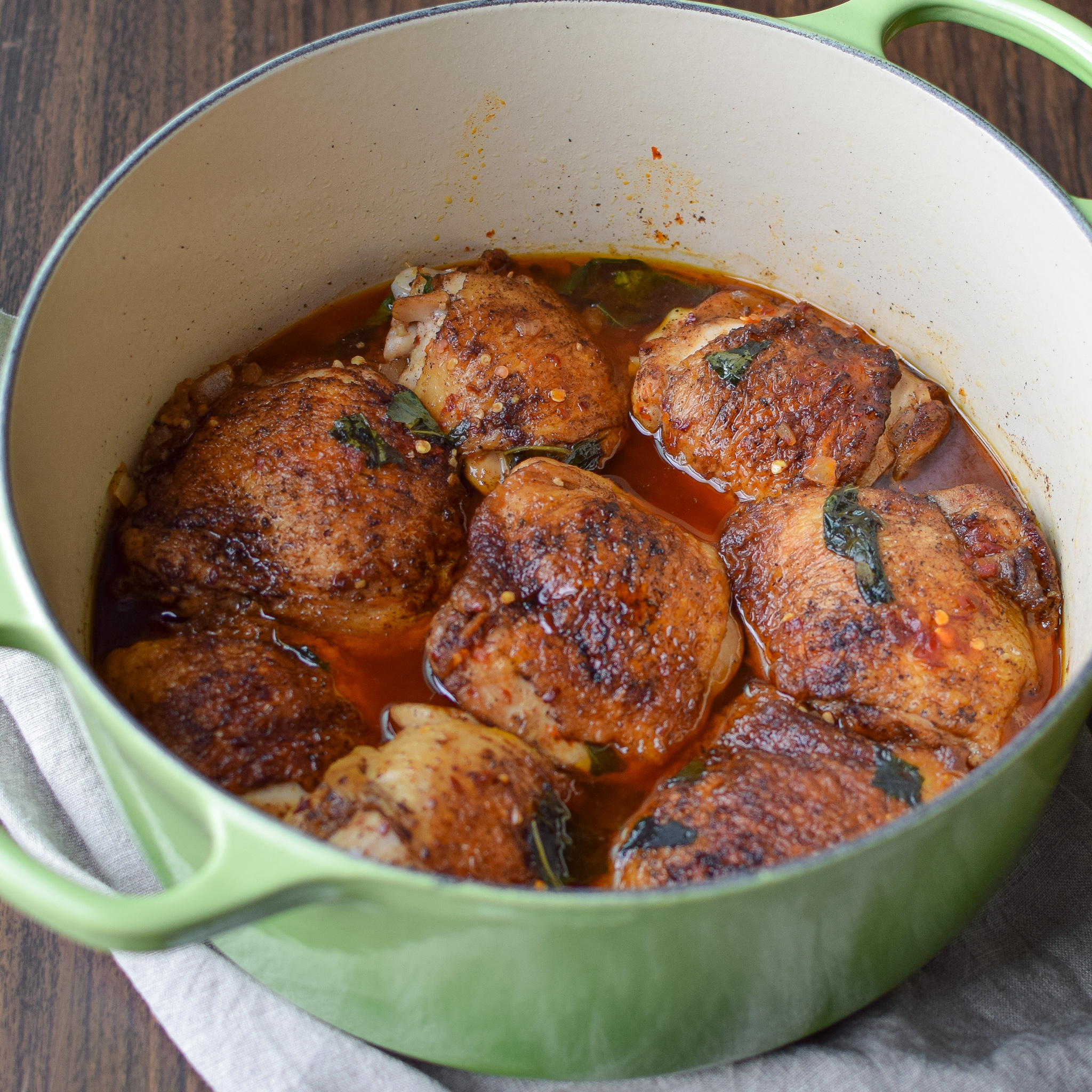 Disclaimer: Some of the links on this page are for affiliated products on Amazon. If you are planning to make any purchases, please start your Amazon shopping here on Project Meal Plan! We'll get a small commission at no extra cost to you. I truly appreciate your support! For more information, please see our Full Disclosure & Privacy Policy.
Support and Share Project Meal Plan -