I picked some of my favorite Trader Joe's foods (hello orange chicken!) and threw them in the air fryer! Here are 10 Trader Joe's Foods That Are Perfect for Your Air Fryer! Plus I've included my recommended temperature and time settings for everything I tried!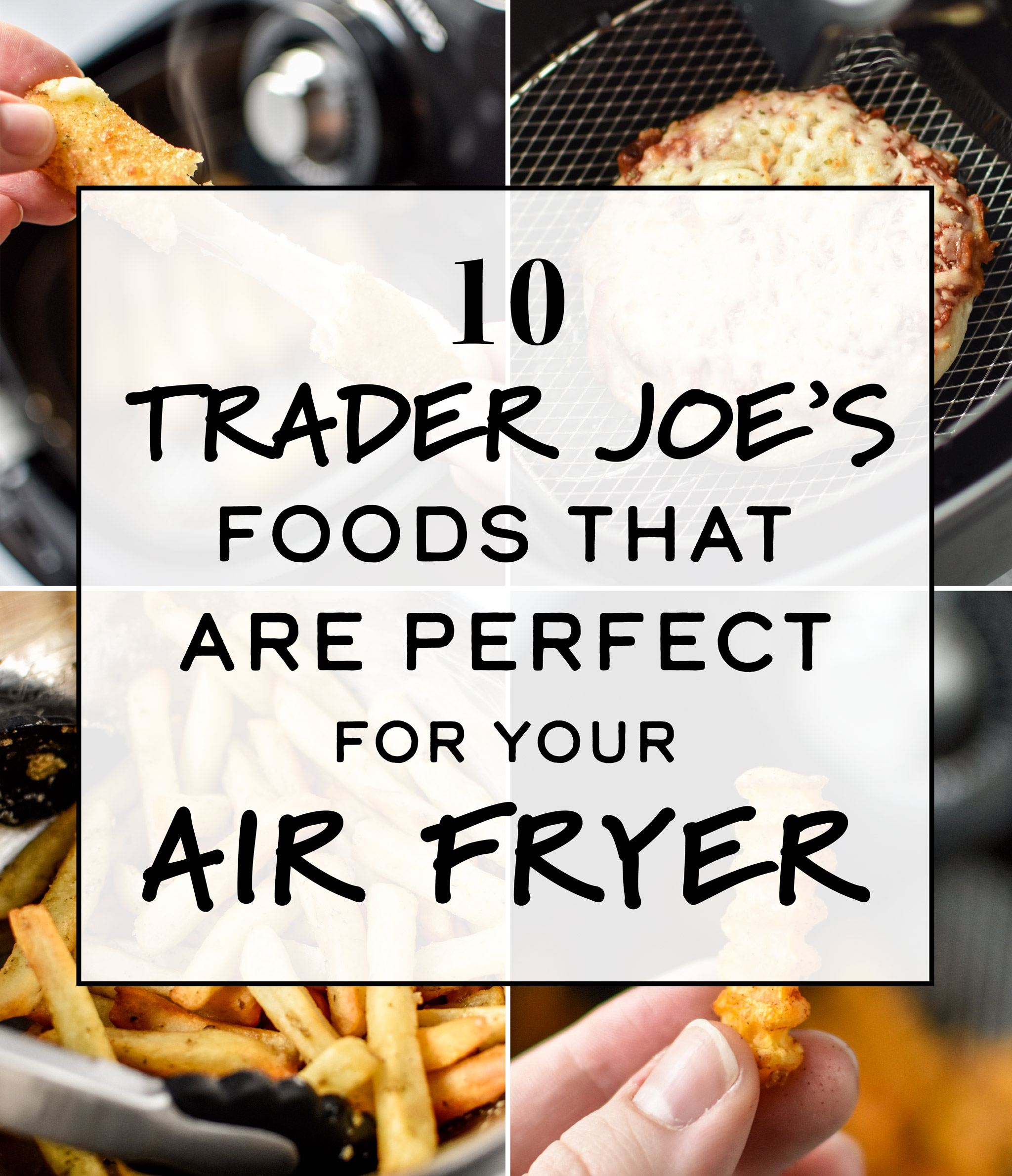 Move over slow cooker, this is the year of the air fryer! We snagged one a few months ago and we're absolutely loving it. I didn't think this level of crispness was possible without A LOT of hot oil. But *spoiler alert* – it SO is.
Just because I love to cook meals from scratch does not mean I have the ability to resist mozzarella sticks or hash brown patties.
Did you know that your air fryer is an absolute pro at cooking things like this? Having these normally restaurant foods at home on special occasions is such a treat!
What can you cook in an air fryer?
Our two favorite things to cook in the air fryer are my chimichangas and the hash brown patties from Trader Joe's. I swear to all the food gods, these guys are crispier and fresher than anything the McDonald's drive through could ever produce! You'll just have to try it if you don't believe me.
You can cook almost anything in the air fryer, but I like it most for these kinds of recipes:
Foods that are usually deep fried, which can be air fried with just a small amount of spray oil (usually foods prepared at home like chimichangas, egg rolls, or french fries).
Foods that are usually cooked in the oven, but take much less time to cook in the air fryer (usually prepared foods from the store, such as chicken nuggets, hash browns or sometimes raw veggies). The air fryer needs 1-2 minutes to preheat, while the oven usually requires 8-10 minutes.
I think it's important to try new cooking methods at home, even if you didn't fully prepare the food from scratch, to help keep food the boredom away. And it's probably still cheaper than eating out, right?
The food doesn't have to be from Trader Joe's – any brand of frozen foods that are similar to the ones I've found at my local TJ's should substitute just fine with the temps and times I've noted. But it's also important to remember that all brands of air fryers are different and you may need to adjust for your specific air fryer.
The air fryer isn't just for "usually fried" foods – think about trying some air-fried broccoli with nutritional yeast, or homemade crispy sweet potato fries!
Which kind of air fryer do you have?
I own the Philips 2.75 qt Viva Air Fryer (affiliate link!), and I absolutely love it! Frozen things that are normally baked or fried come out crispier than I've ever tasted. Plus you almost always save time by not having to heat up the oven, so that's definitely a win.
UPDATE 2020: I upgraded my air fryer to the Cosori XL 5.8 qt Air Fryer (affiliate link!) – it's bigger and allows me to air fryer more food at one time!
If you're air frying for more than 2 or 3 people, I would suggest going with the bigger size air fryer. It looks large, but most foods require air frying only a single layer of food at a time.
10 Trader Joe's Foods That Are
Perfect for Your Air Fryer
Below are 10 Trader Joe's foods that are perfect for your air fryer! Now, of course you could cook these items in your oven or the microwave, but then they wouldn't be crispy AF and incredibly impressive.
I've tested all of these foods in the air fryer personally, and included my preferences on time and temperature!
All instructions are assuming the air fryer is preheated for about 2 minutes, and none of the frozen foods were thawed. My air fryer is analog, and the temperatures noted are approximate.
You'll see 'spray oil' referenced a lot – I like to use Chosen Foods Avocado Spray Oil (affiliate link!), but any spray oil will work. Avocado oil has a high smoke point which is good for frying (especially air frying!).
1. Hash Brown Patties
LOVE these from the air fryer more than McDonald's, which is totally why I put them at #1. Most of this list is in no particular order, but these hash brown patties are here for a reason. They're crispy, golden brown, and NOT dripping oil all over your fingers. An added bonus, they're quicker to cook in the air fryer than the oven. SOLD.
Temp: 390F
Time: 9-10 minutes
Amount: 2 or 3 at a time max fit into my air fryer in one layer.
Note: Spray one side lightly with spray avocado oil. No need to flip.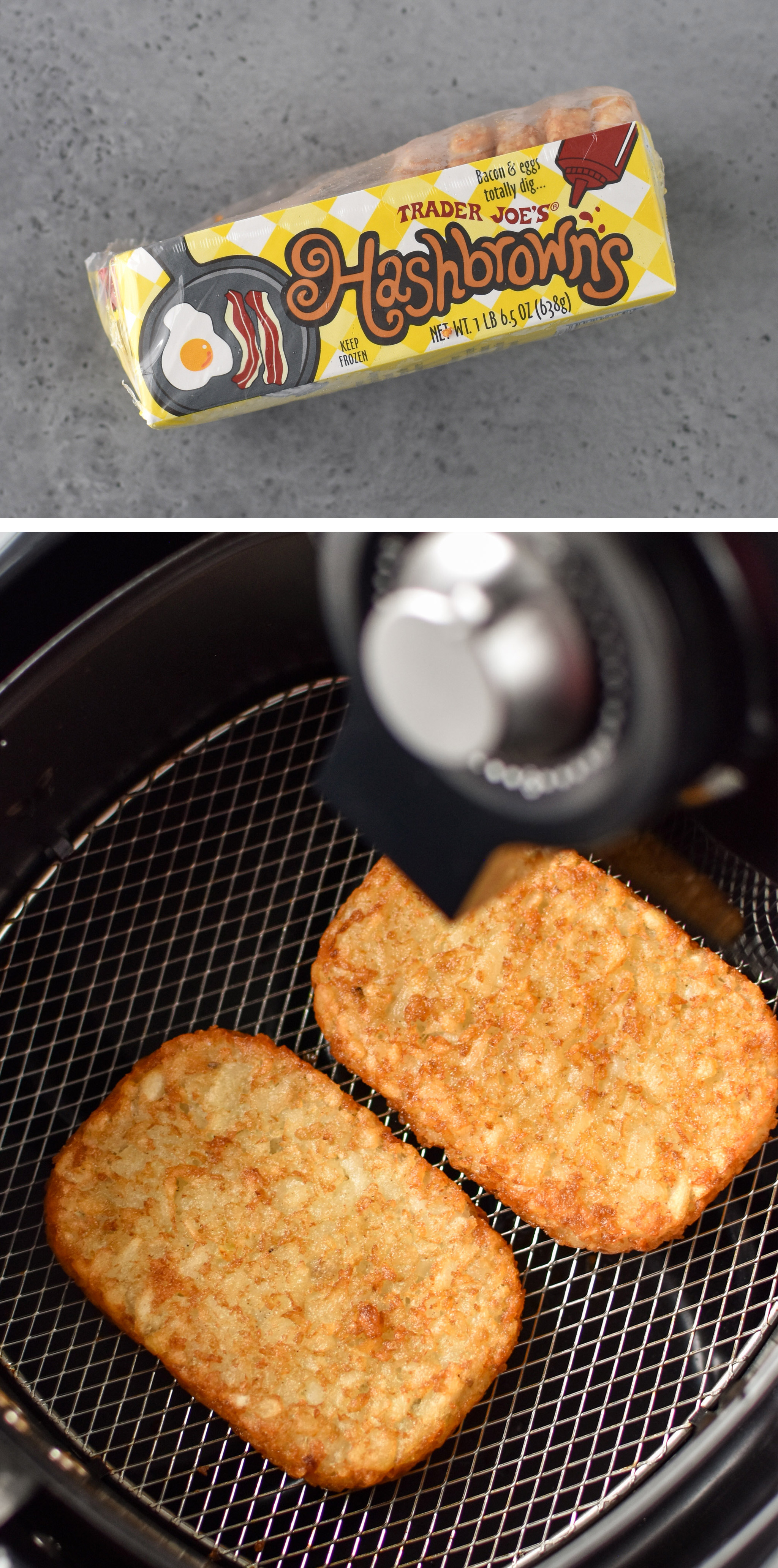 2. Chicken Spring Rolls
Chicken spring rolls are a deep fried favorite of mine. I refuse to cook these in the microwave because it ruins the texture. Oven takes a while, and in that case I would rather just make my own. Making my own requires deep frying… so I usually just avoid. But air fryer spring rolls are somehow (magic, I think) just as crispy from the air fryer, if not, crispier. Just try it. You'll love it.
Temp: 330F
Time: 12-14 minutes
Amount: The whole package of 5 would fit, but do as many as you want to eat.
Note: Sprayed with a tiny spritz of avocado oil. I jostled the basket once while cooking to turn the spring rolls a bit.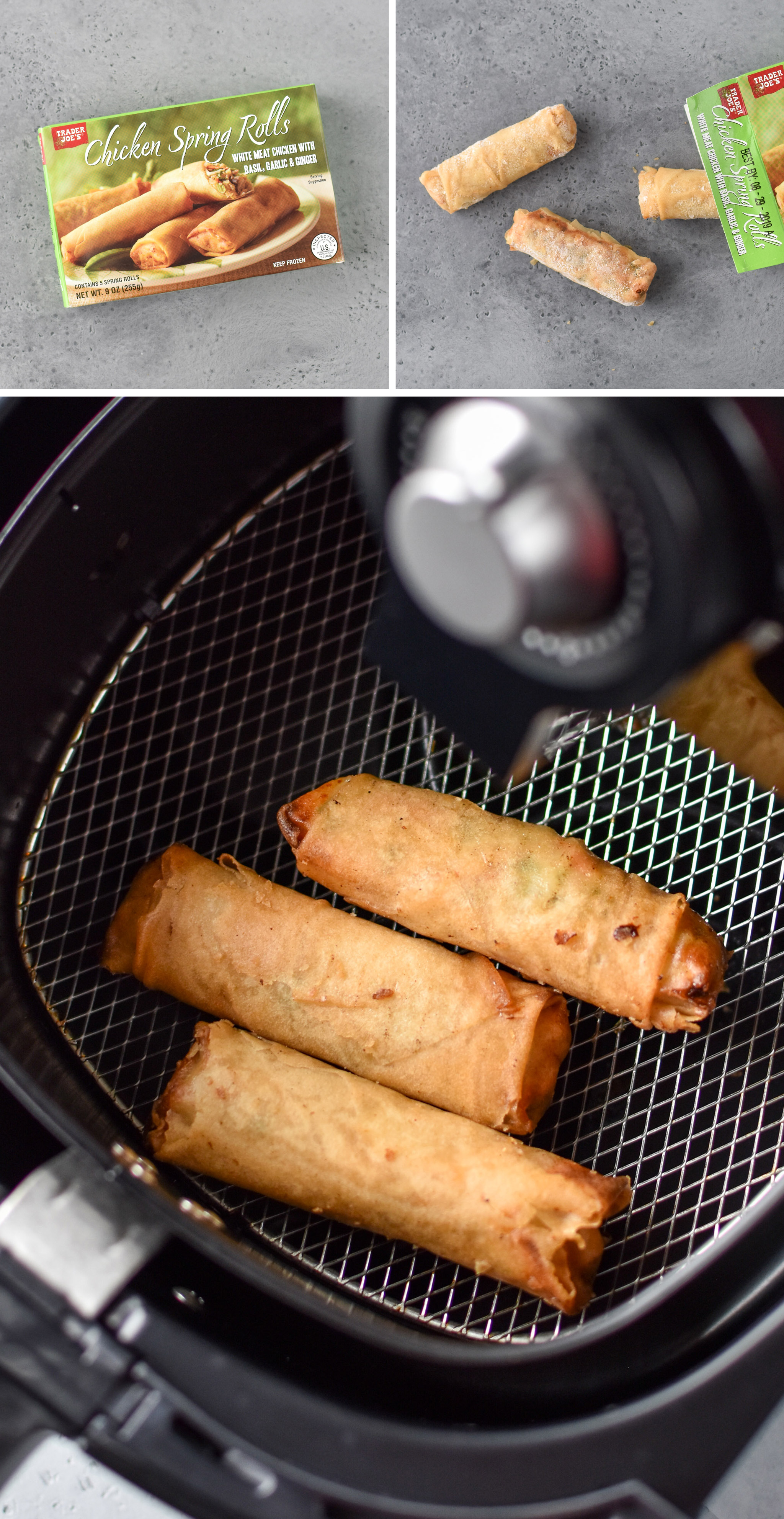 3. Turkey Meatballs
A slightly odd thing to air fry, but still delicious and easy. If you're over soggy meatballs with zero texture, try air frying them. They get a crispy, crunchy outside while maintaining that delicious tender and juicy center we like. If only the air fryer could boil us some noodles at the same time.
Temp: 330F
Time: 15-16 minutes
Amount: Max one layer in the basket.
Note: No oil spray or flipping.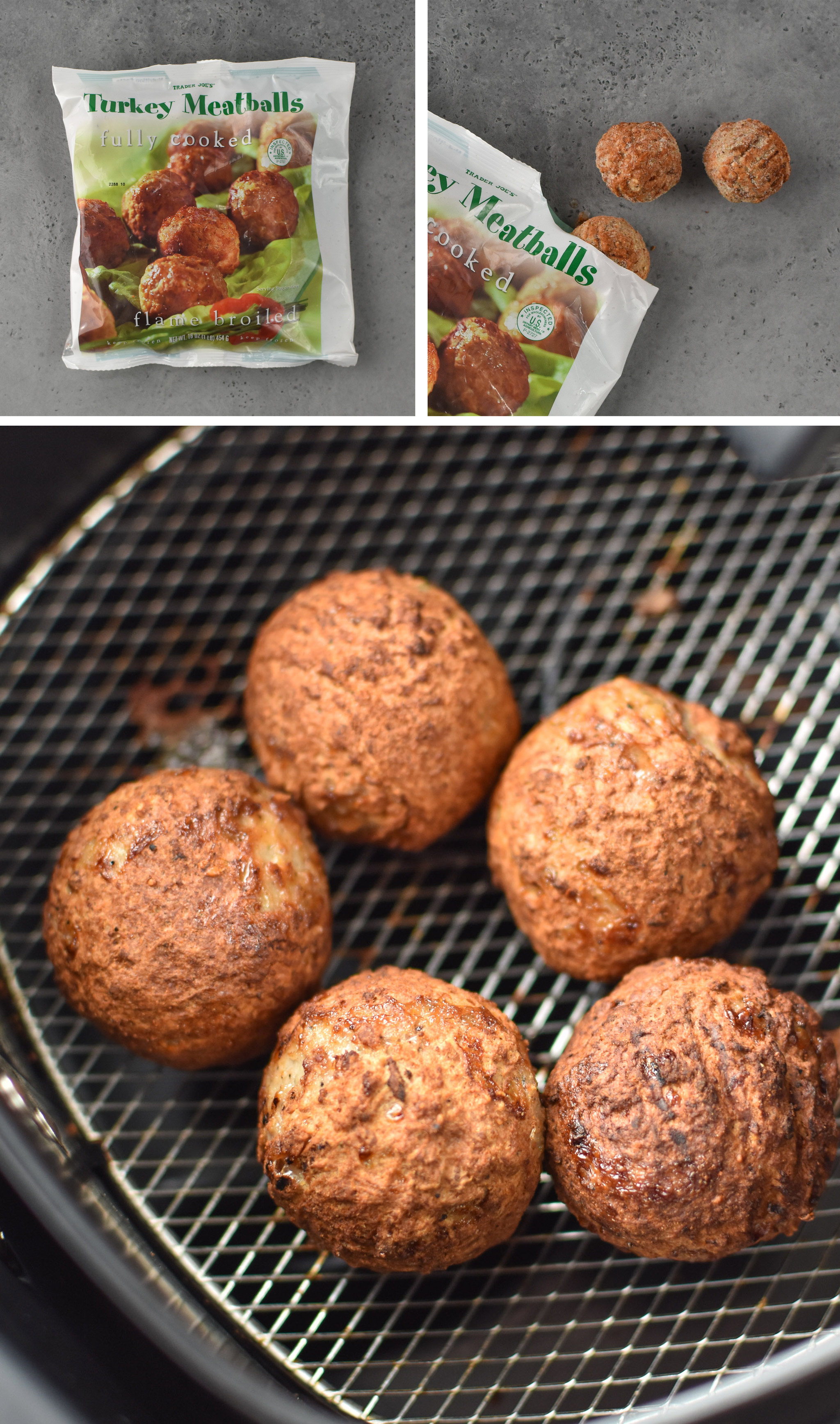 4. Bambino Mini Pizza Formaggio
Did I know what would happen when I put a pizza into my air fryer? Not in the slightest. But it worked, and I was very impressed. Crispy, crunch outside with soft crust on the inside. I mean, it's pizza, so it's going to be amazing. Air fryer pizza is quicker than the oven and much less soggy than the microwave. I recommend!
Temp: 360F
Time: 8-10 minutes
Amount: 1 mini pizza at a time
Note: No oil spray or flipping.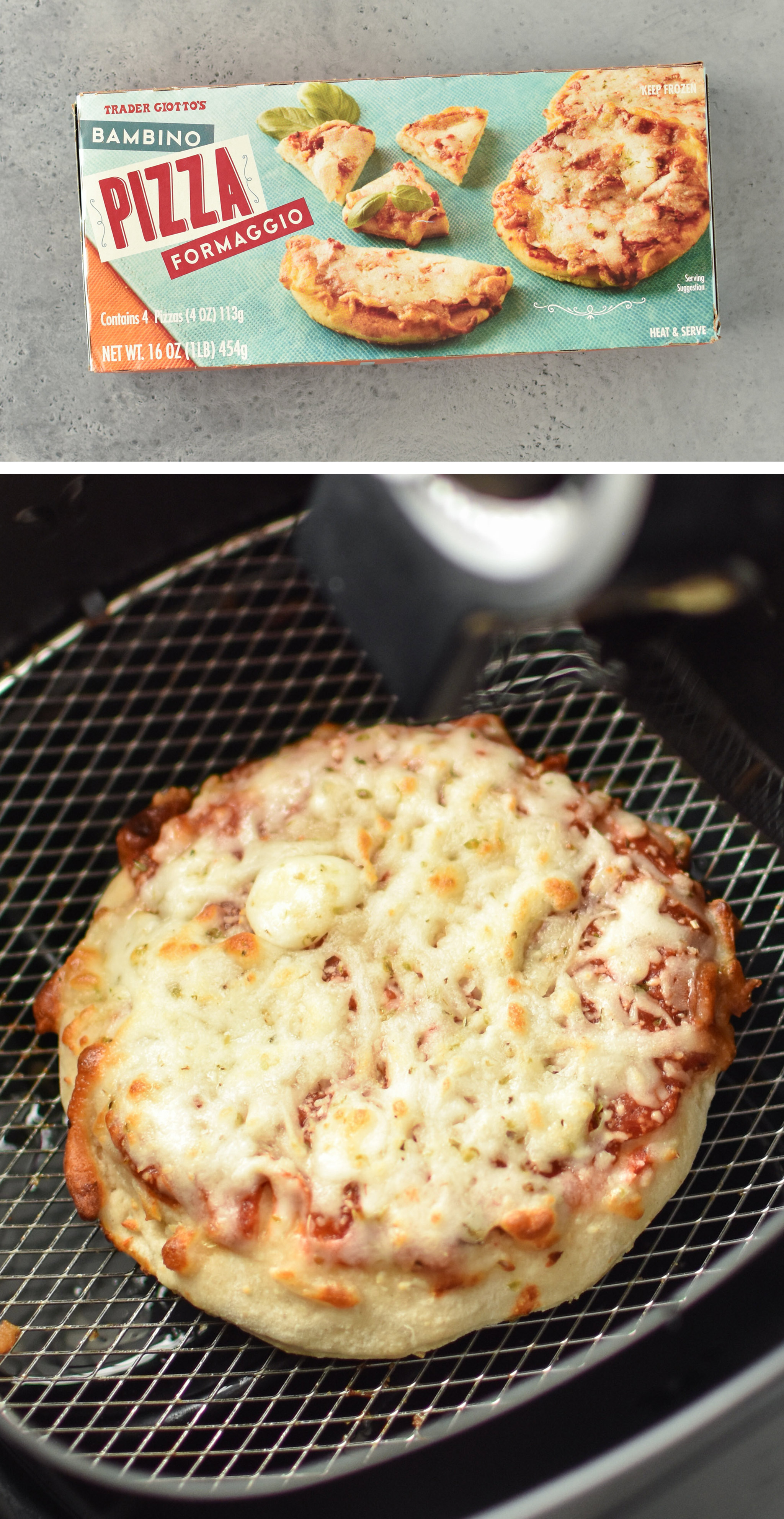 5. Breaded Chicken Nuggets
This is one of those foods than comes out of the air fryer in nearly the same condition as from the oven, but just a few minutes quicker! Plus, if you only want one serving, you don't need to heat up the whole oven! Did I mention – super crispy?! But still juicy and tender on the inside. Yeah, I may have mentioned that.
Temp: 330F
Time: 14-16 minutes
Amount: Half bag, max one layer in the basket.
Note: No spray oil, but do shake the basket once in the middle of cooking.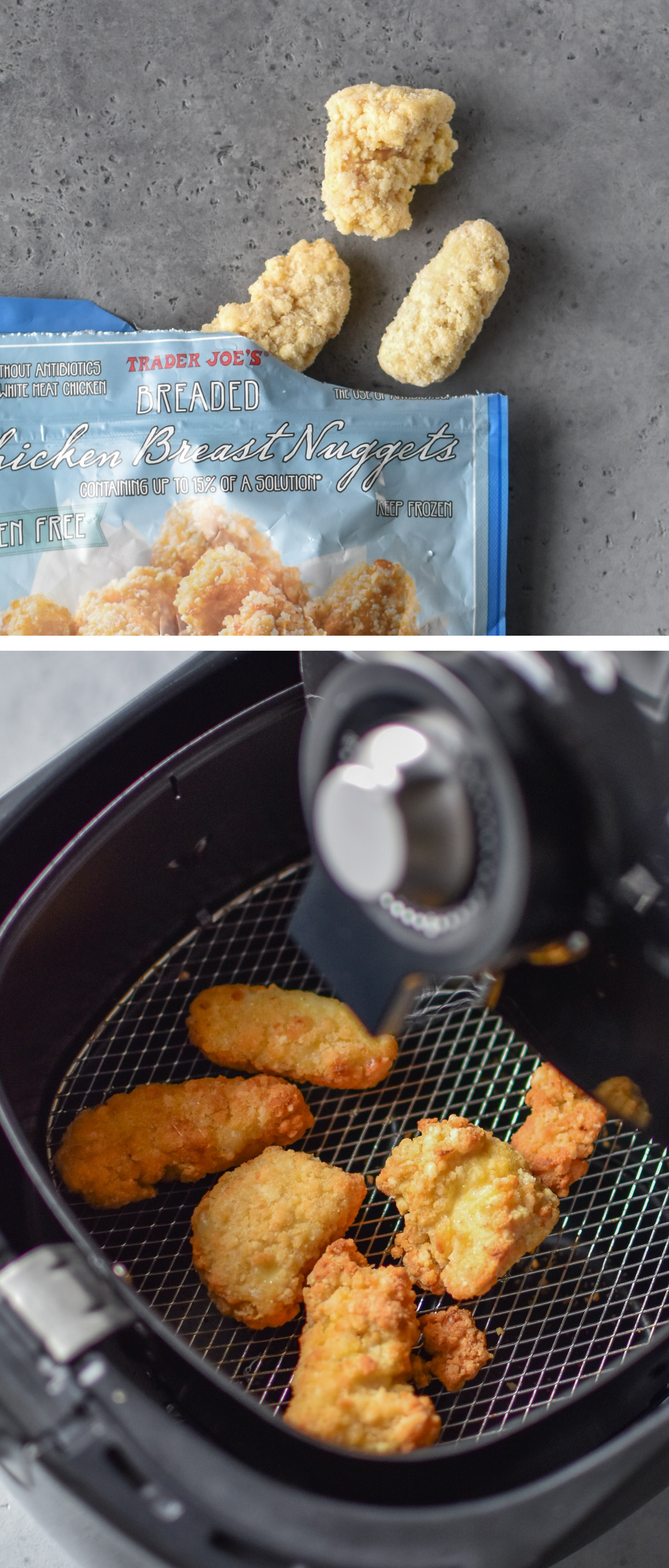 6. Garlic Fries
Fries haven't been near my oven in a while now. From the store or homemade, I use my air fryer for all fries, sweet potato or regular. They're crispier and I love not heating up the entire house just for a few fries. And just LOOK at that golden brown!!
Update 11/23/19: My understanding is that Trader Joe's no longer sells these Garlic Fries, but the instructions would work just as well for their frozen "Handsome Cut Fries".
Temp: 390F
Time: 18 minutes
Amount: Half bag, max 1-2 layers in the basket.
Note: No oil spray, but shake the basket every 3 minutes or so for even cooking.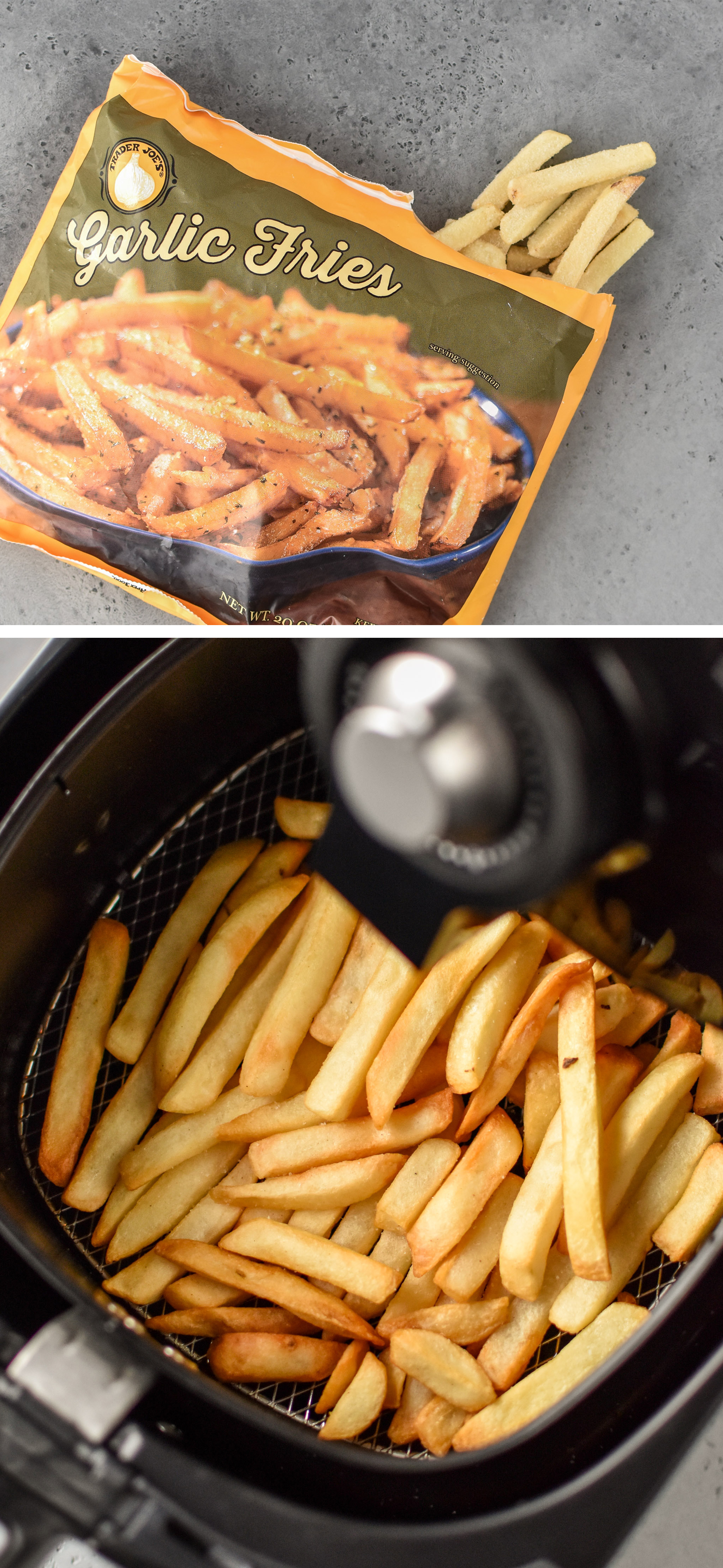 7. Mandarin Orange Chicken
The Mandarin Orange Chicken from Trader Joe's is life-changing and an emergency dinner we always keep on hand. After all, it's better than ordering take out, and sometimes life happens. But what I'm loving recently is making the chicken extra crunchy in the air fryer. It's quicker than the oven, and the same or possibly even more delicious on the deliciousness scale. Smother that mandarin orange sauce over the crunch goodness and OMG.
Temp: 330F
Time: 10-11 minutes
Amount: Half bag, one layer in the basket. [UPDATE 6/12/19: A whole bag of TJ's Orange Chicken will work in this size of air fryer – add 3-4 minutes and shake 2-3 times while cooking.]
Note: No oil spray, but do shake the basket once in the middle of cooking.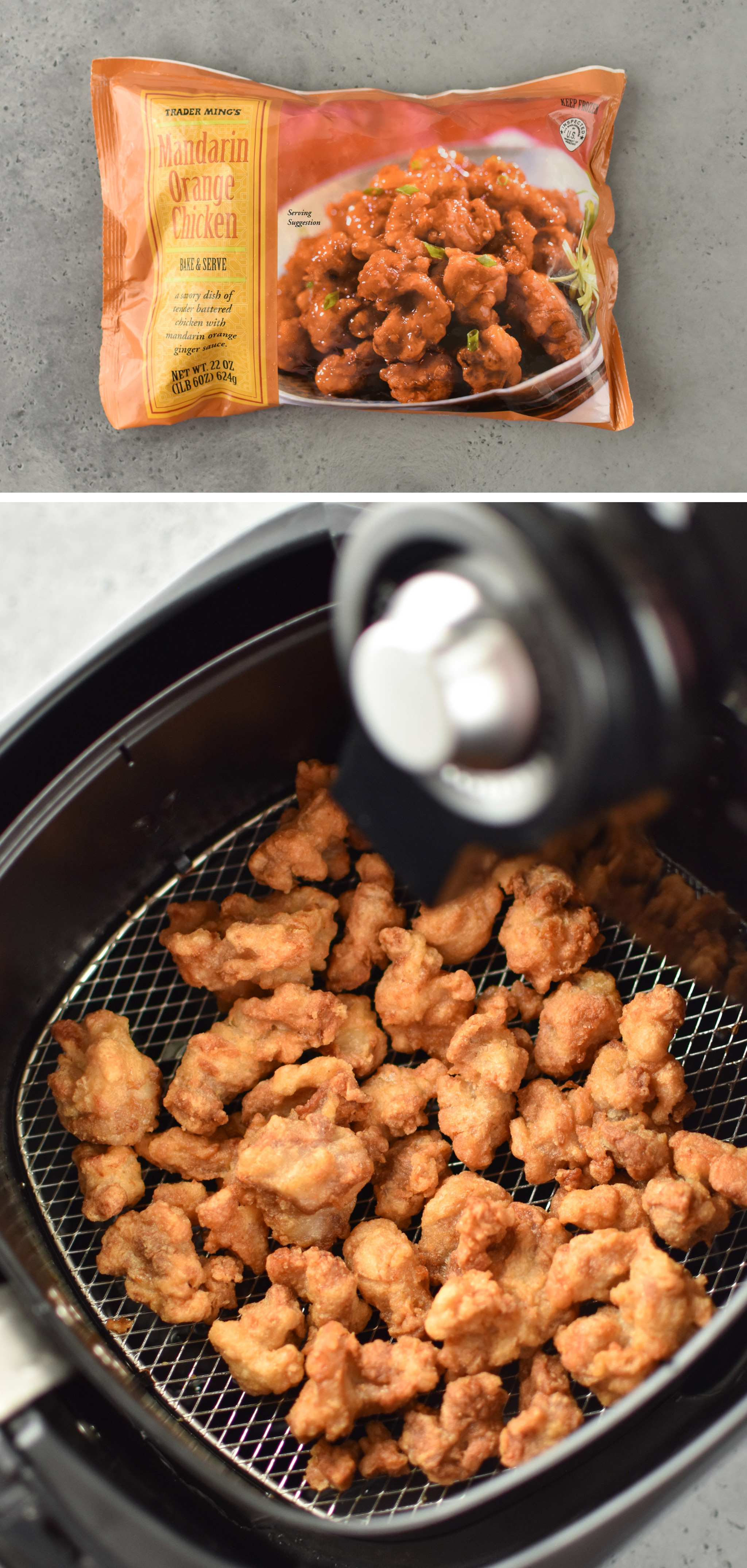 8. Butternut Squash Fries
Yay, a healthy option! Yes, you can also air fry vegetables. In this case, I've chosen the butternut squash zig zags, because A) they're so cute; and B) they fit perfectly into your air fryer. I'm liberal with the oil spray, but it's still SO much less oil than if you actually deep fried these things. Season to your tastes for a quick and easy dinner side dish!
Temp: 390F
Time: 13-15 minutes
Amount: 1/2 container, one layer max in the basket.
Note: Toss the zig zags in a bowl with spray oil and seasonings – I like salt and cinnamon, but you can also go with savory – garlic and onion powder work too. Shake the basket every 3 minutes or so while cooking.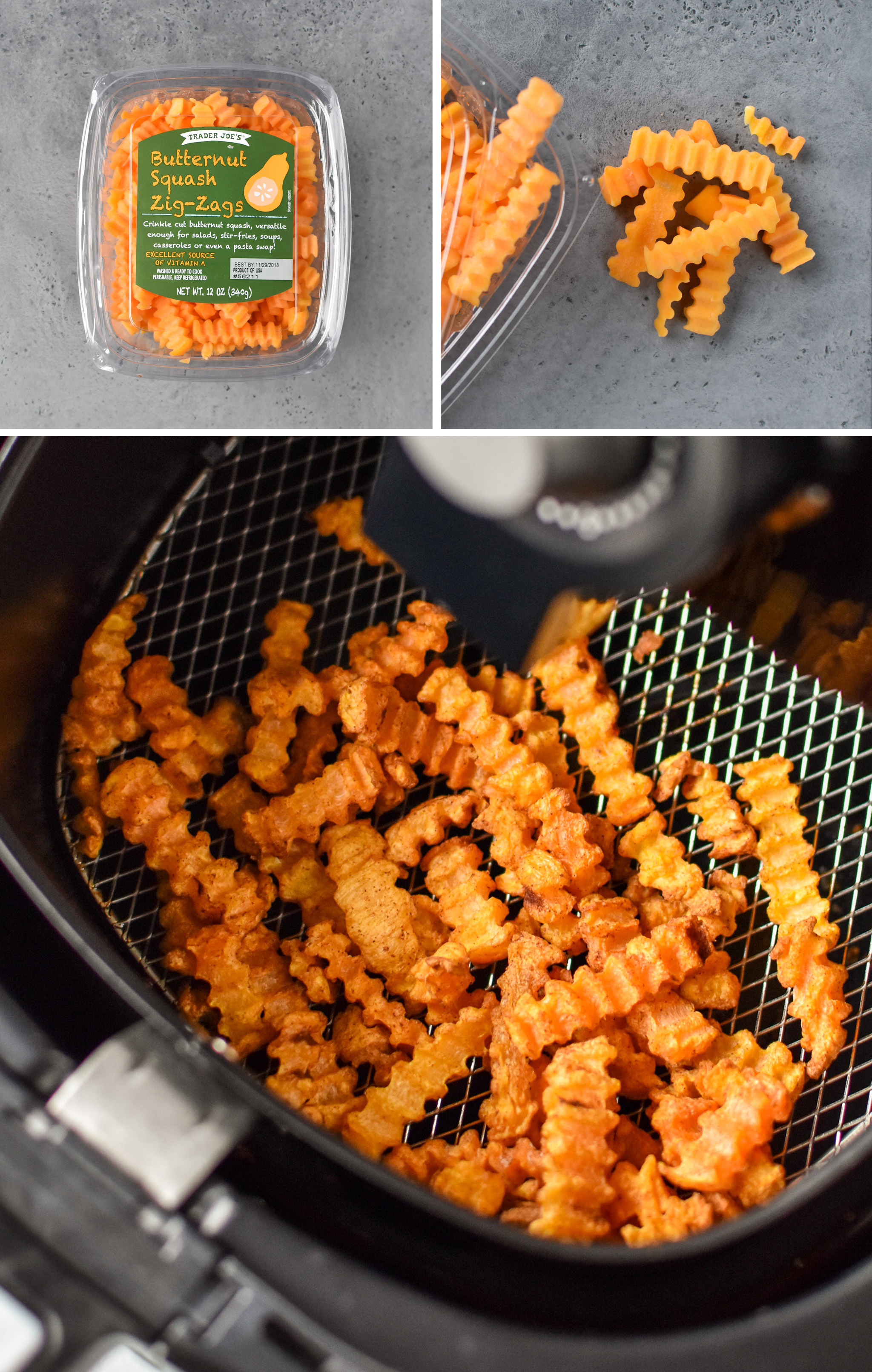 9. Mozzarella Sticks
A classic fried food that I bet you never even thought about air frying. If this is a treat you like to buy on occasion, consider air frying them for maximum crunch! I'm pretty sure the picture of cheese spilling out of the mozzarella sticks after being air fried speaks for itself, so you should definitely keep scrolling and check that out.
Temp: 390F
Time: 8 minutes
Amount: Max one layer in the basket.
Note: No oil spray, but do shake the basket once to rotate the mozzarella sticks.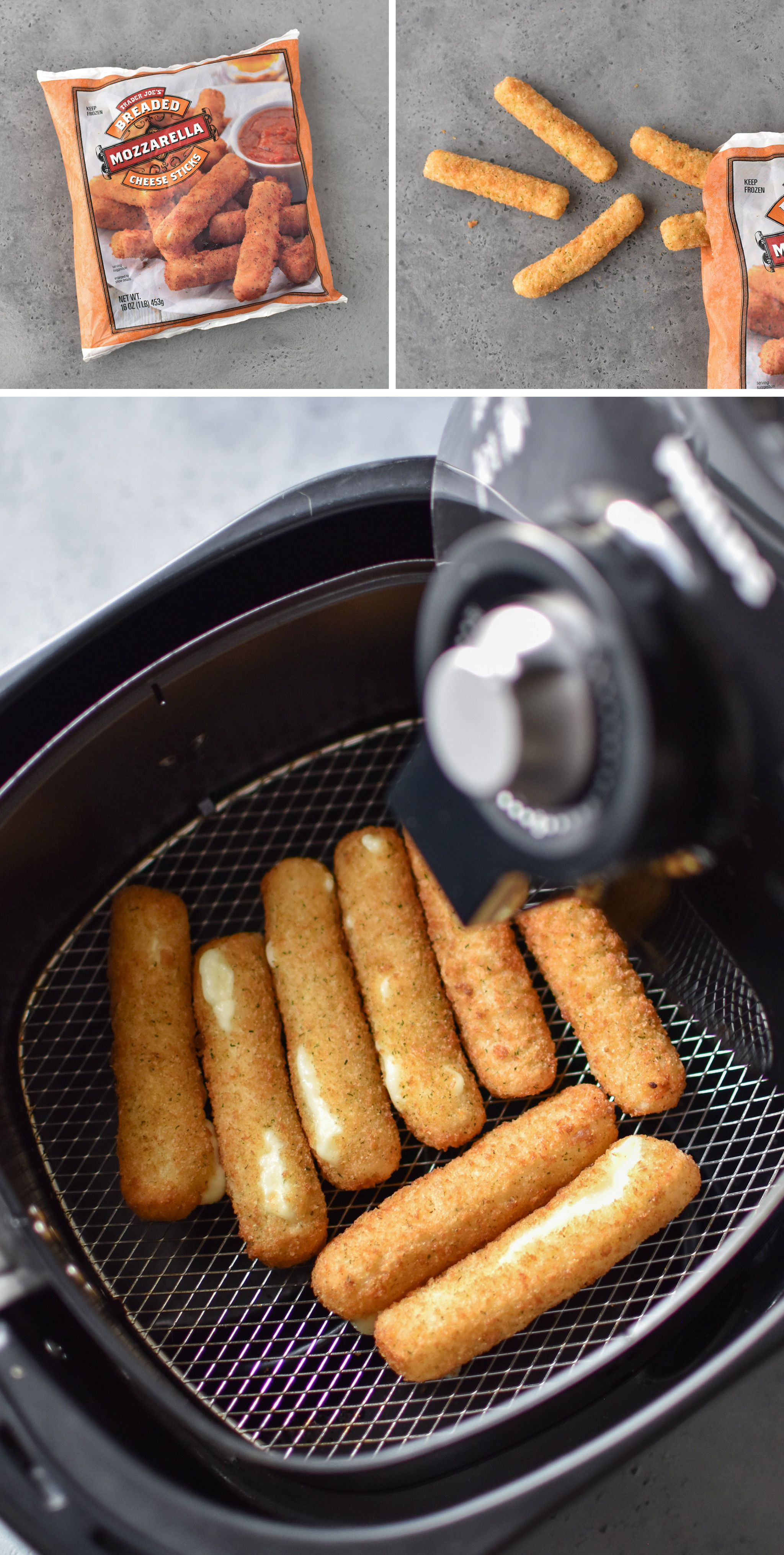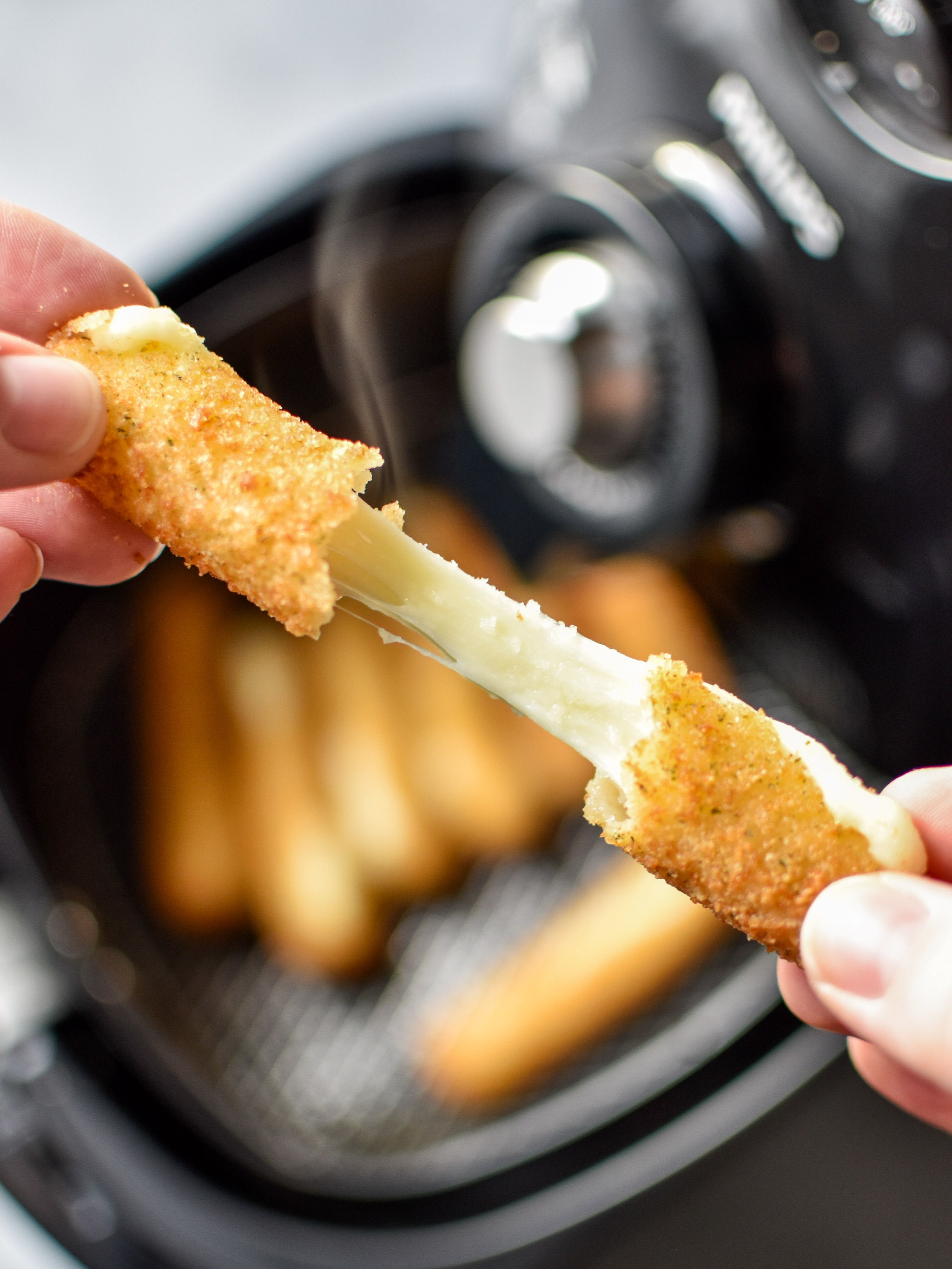 10. Blueberry Waffles
Another item you never would have thought to throw into your air fryer! If you don't have a toaster, but you somehow have an air fryer, this one's for you. These waffles come out of the air fryer super crispy and ready for syrup. No more soggy waffles for you!
Temp: 270F
Time: 4 minutes
Amount: 1 or 2 waffles at a time
Note: No oil spray and no need to shake, but check often until they're crisp to your liking.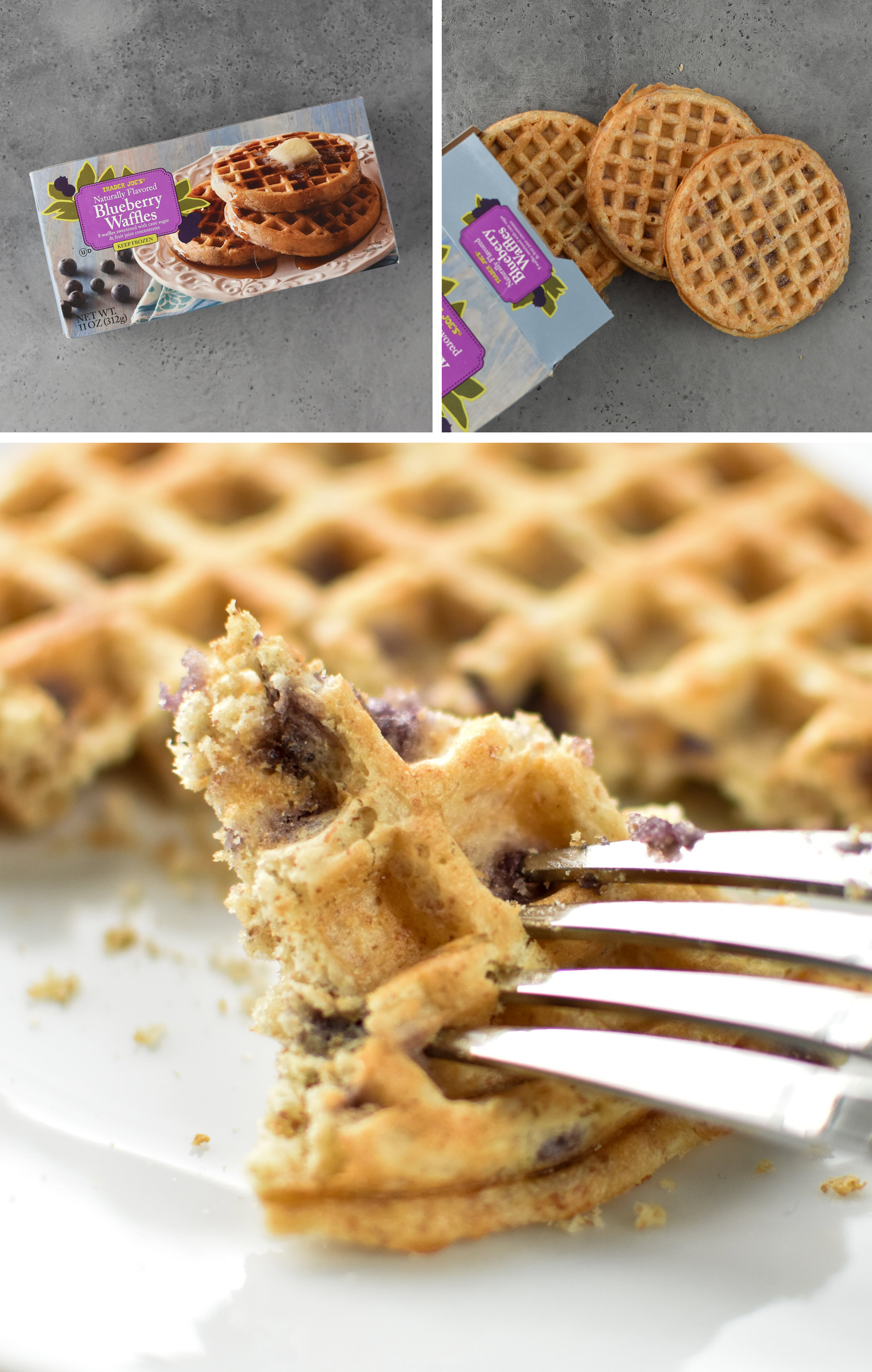 Reader recommendations for Trader Joe's Foods to put into your air fryer:
Cilantro chicken mini wontons are also excellent in the air fryer! – Susan

Vegetable Birds Nests are awesome. 400' for about 8 mins. Crunchy and delicious! – Deb

The fried cod fish filets are also perfect for the AF. – Brian
If you're looking for air fryer recipes, here are some of my favorites!
Share your Trader Joe's air fryer meals with me!! I'm always down to put foods from my favorite store into one of my favorite appliances. I'd love to see what you come up with! Hope you enjoyed 10 Trader Joe's Foods That are Perfect for Your Air Fryer!