Power greens, peaches, and bananas plus protein! An easy smoothie recipe especially if you have extra peaches on hand! Check out the Peaches and Green Protein Smoothie
Jump to Recipe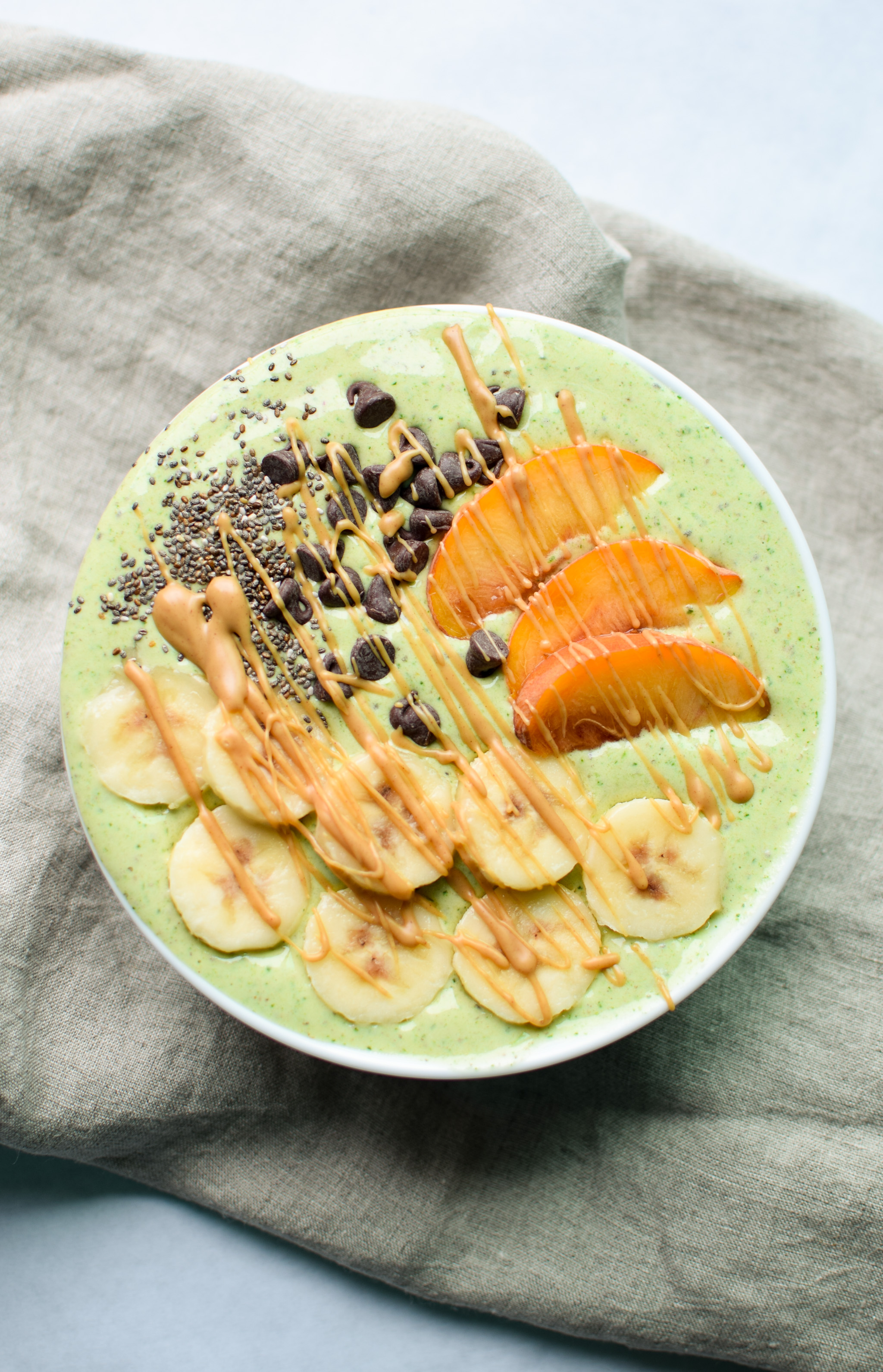 Get your last rounds of peaches from the local market, grocery store, or tree, and freeze them immediately for continued peach smoothies into fall and winter time. I decided to go for sharing this smoothie recipe on it's own page for a couple reasons. First, it's simple/easy/quick (one multi-faceted reason).
Second, I had all the ingredients on hand (frozen peaches!! plus spinach that needed a purpose).
And finally, I just really love some of these pictures, and I wanted to share them with you. Smoothies are always great for on-the-go mornings, so I want to add a few more to the Project Meal Plan Recipe Index.
Let's talk about smoothie bowls for a second. Maybe I'm using my super detective skills, but I've caught on to these smoothie bowls. I know what they are. An excuse to pour your smoothie in a bowl, dump a whole bunch of extra yummy stuff on it, and make super pretty artwork. UHM, count me in. Finally, they are no longer just the stuff of my Instagram dreams. Why didn't anyone teach me this sooner? Thanks guys.
Hopefully it's okay for me to assume that any thick smoothie base can make your smoothie bowl… But I have to admit, I want to try all those random smoothie add-ins that make it turn turquoise. Spirulina for smoothie experiments please!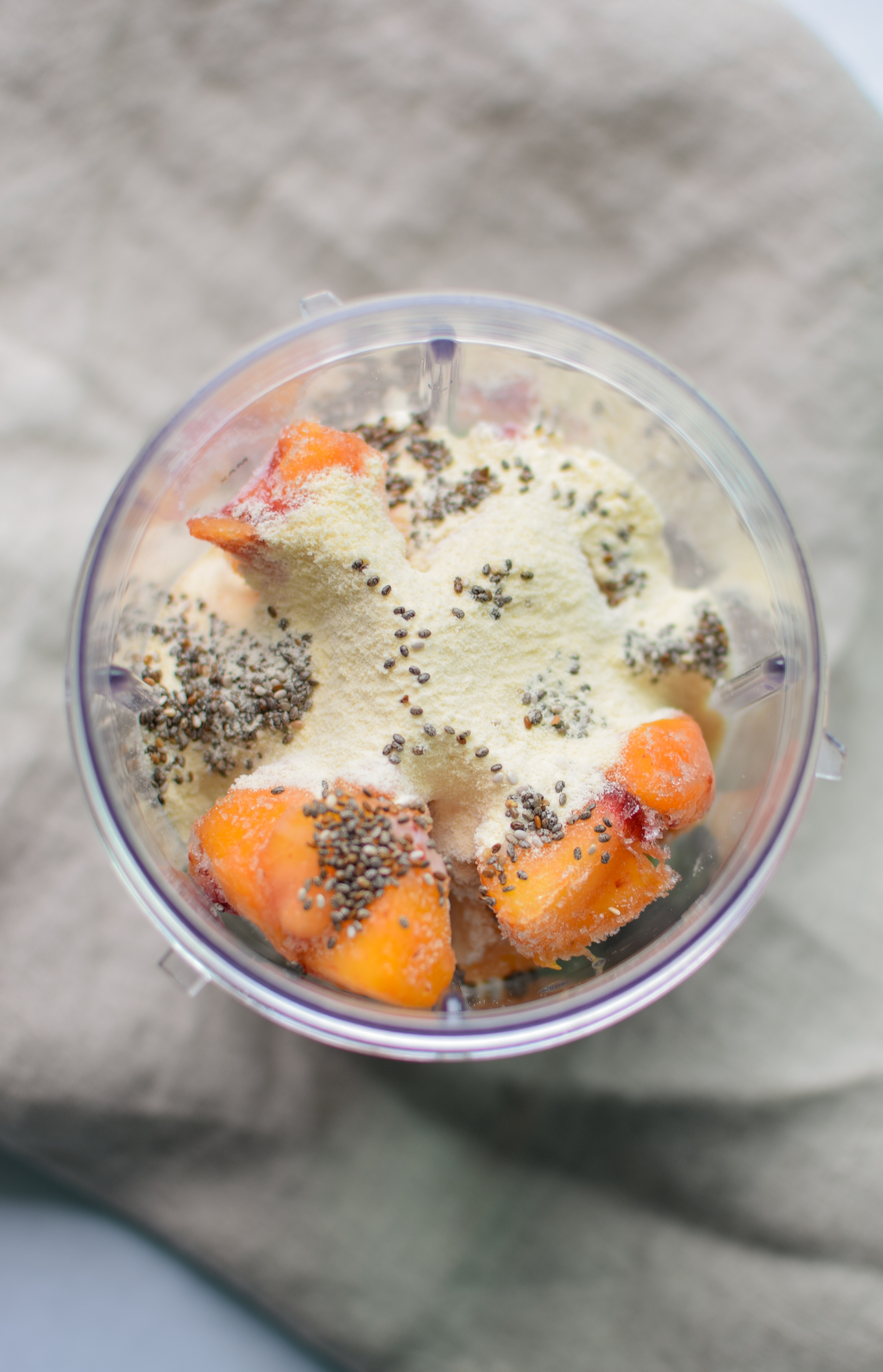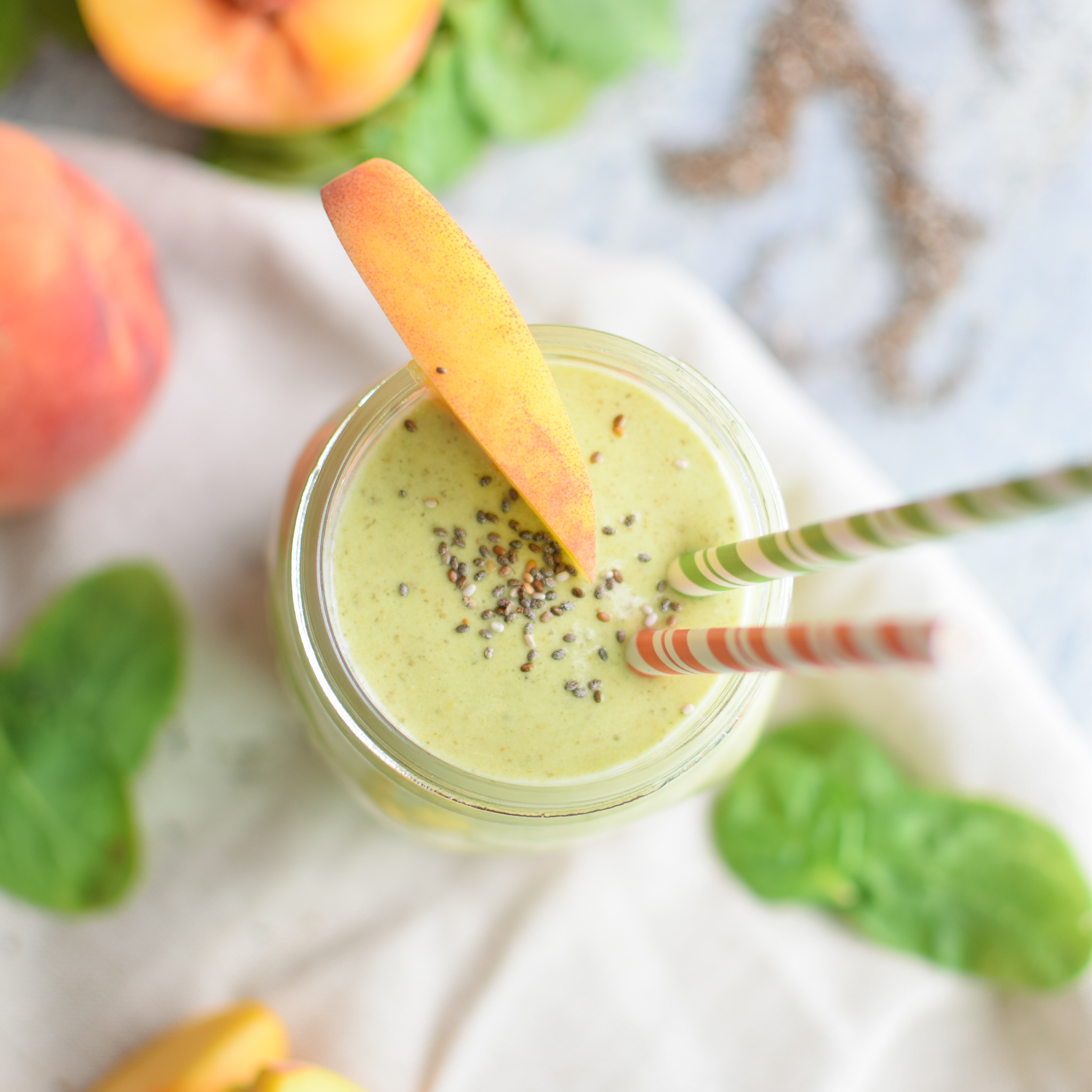 I'm very much a believer of smoothies all year round. Smoothies for any season. Smoothies for any weather. They're just too easy to not keep as a backup whenever you can. Sit and sip, or drink quickly on-the-go. Or, my new personal favorite, fashion a smoothie bowl with any random smoothie add-ins you've got around. I'm sure you know the options. I'm preaching to the choir.
So, I feel like if you've read this far, you either already love smoothies, or you are related to me. Which means I don't need to convince you how versatile/delicious they are. But maybe you didn't know how pretty they could be!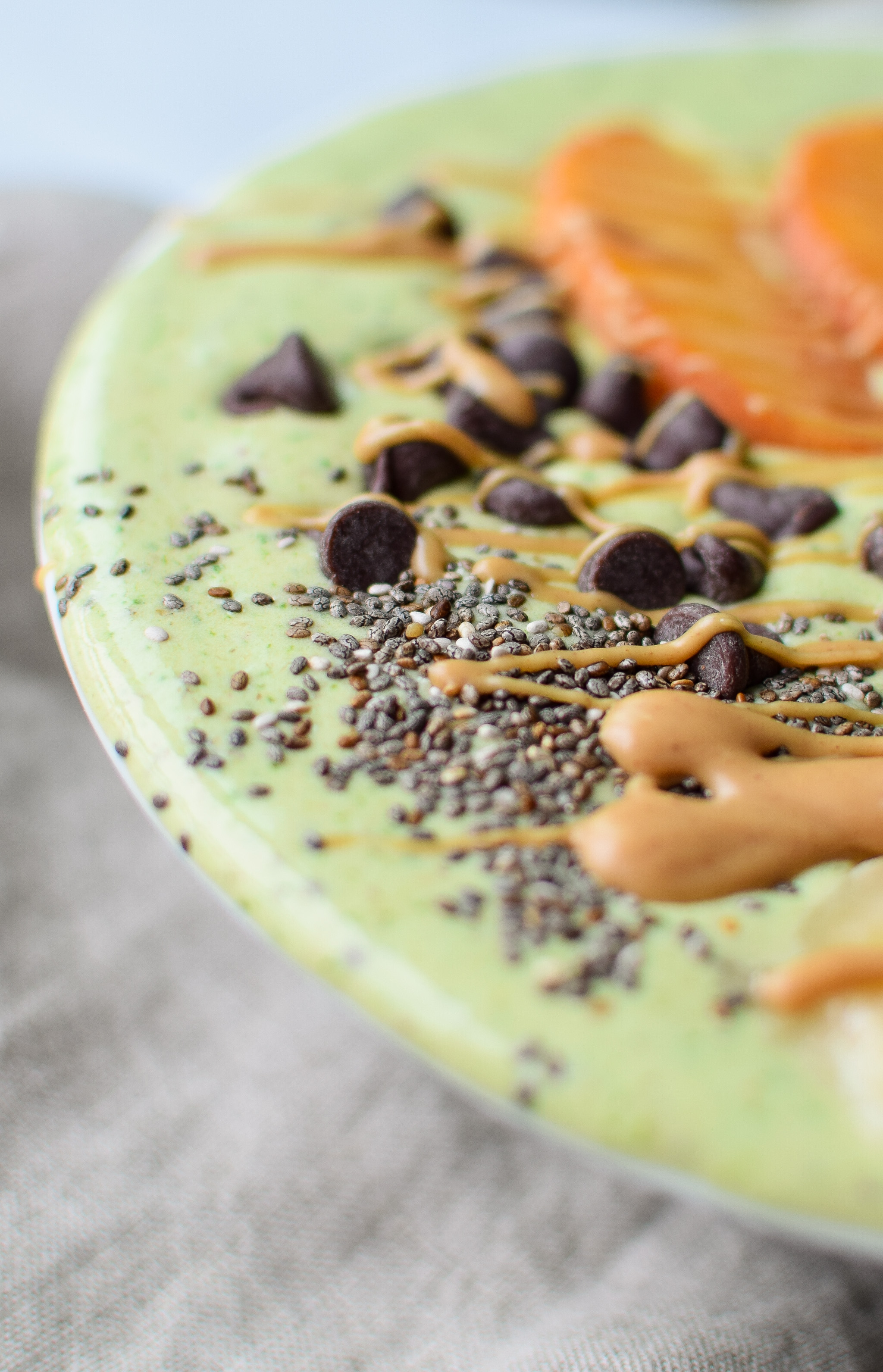 HINT: I used a Nutribullet to make this recipe!
More breakfast ideas from Project Meal Plan:
Recipe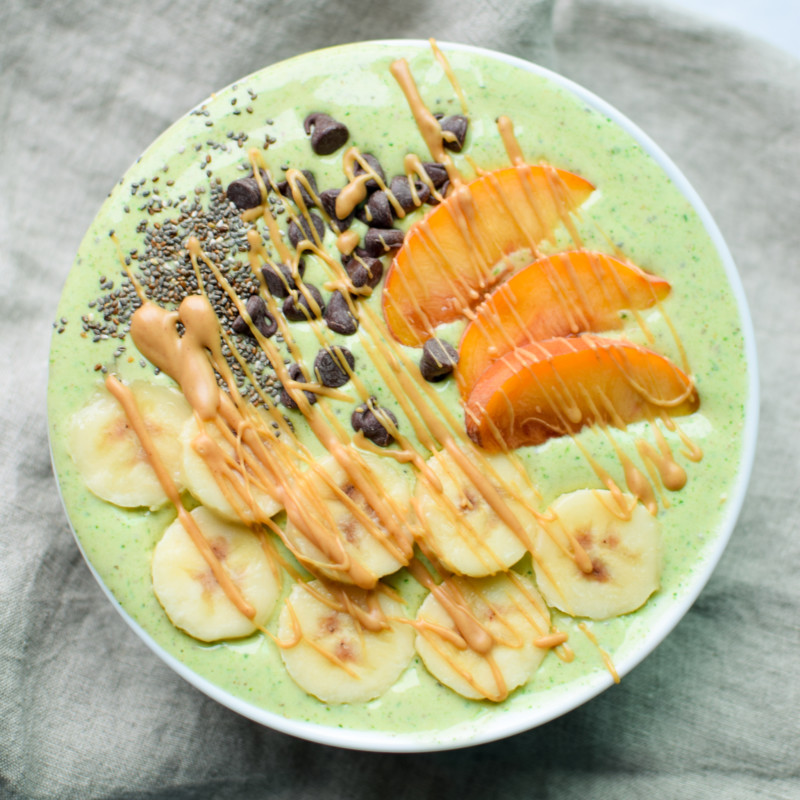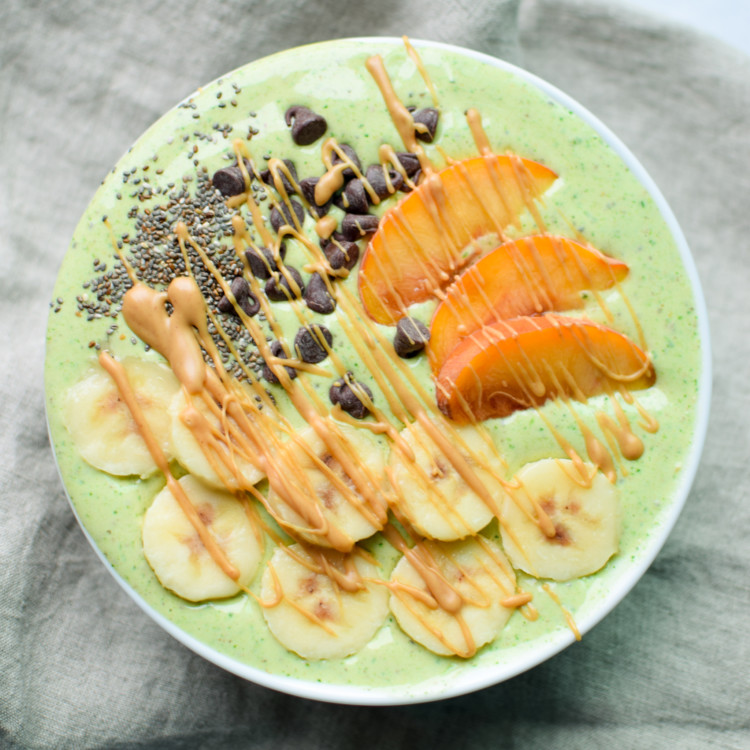 Peaches and Green Protein Smoothie
Prep:
5 minutes
Cook:
0 minutes
Total:
5 minutes
Power greens, peaches, and bananas plus protein! An easy smoothie recipe especially if you have extra peaches on hand!
Ingredients
1

peach, diced & frozen

1

banana, frozen

1 cup

baby spinach leaves (or your preferred power greens)

1 tablespoon

chia seeds

1

scoop vanilla protein powder

1/2 cup

vanilla almond milk (or any milk)
honey (if you want it sweeter)
Instructions
Add greens, frozen fruit, and almond milk to blender or Nutribullet.
Add powder and chia seeds. Blend until smooth.
Equipment
Notes
I add liquid to smoothies before adding powders or chia seeds so there are no clumps at the bottom. Nutrition information estimated with My Fitness Pal.
Nutrition Information
Serving Size:

1 smoothie

Calories:

344

Fat:

4.7g

Carbohydrates:

48.1g

Protein:

30.6g
Recipe Card powered by
Follow me on Instagram to see future smoothie bowl creations as soon as they happen, because I'm just getting started!!