This Creamy Avocado Mint Green Smoothie is a loaded with avocado and spinach for a real green hue! Plus mango, honey, and banana to balance and sweeten this one of a kind green smoothie. Perfect for St. Patrick's Day!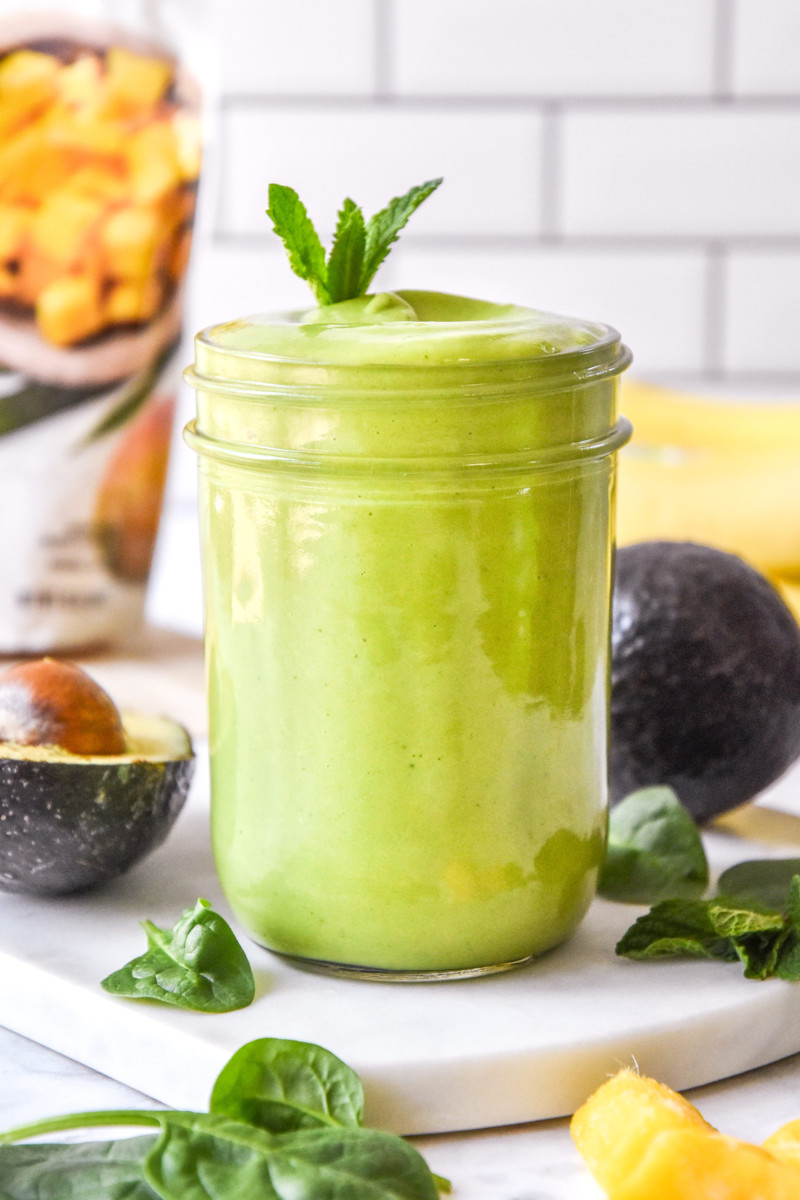 If you haven't heard me talk about my garden… then we must not be hanging out enough. So far we've got greens (romaine + iceberg), sugar snap peas, and amazing fresh herbs. It's been a personal goal to make recipes with all of these items – so today, the spotlight lands on – MINT.
I've been learning the fine balance of using fresh mint in recipes… The mint level needed to hit the delicious factor I search for is surprisingly touchy. Too many leaves = toothpaste smoothie. Not enough leaves = "there's supposed to be mint in this??".
An avocado smoothie might sound odd, but when it's all blended together with the spinach, frozen mango and banana, some honey… you'll understand. I hope you enjoy this green smoothie as much as I do!!
Recipe Overview
Total Time: 5 minutes
Difficulty: Easy
Method: No Heat Required
Prep: Make-Ahead Friendly
What are the ingredients in the Creamy Avocado Mint Green Smoothie?
This smoothie flavor combo probably does seem a bit odd, but I promise it has everything a normal smoothie should have! Frozen fruit, greens, protein powder… If you love experimenting with smoothies, you should definitely give this one a try!
spinach leaves – I did not think it was possible to achieve this color of bright green without some added food coloring. Isn't it beautiful? You've got the spinach, mint, and avocado to thank!
mint leaves – Mint might sound weird here, but I promise it works. If you don't like minty foods, you can leave it out and still get the same vibrant green smoothie.
avocado – This is my first time experimenting with avocado in a smoothie. It definitely creates a creamy consistency that only avocado could bring. My disclaimer – I wouldn't just go adding it to any smoothie. Check your flavors first!
greek yogurt – Please don't hate on the spoonful of greek yogurt in this recipe. It seriously takes the smoothie from 5 to 10 on the creamy scale. You can't taste the greek yogurt after it's blended!
honey – I don't usually add honey to my smoothies (I try to let the fruit do the sweetening), but here, it's necessary to balance the mild bitterness from the spinach and avocado. A little honey goes a long way!
vanilla protein powder – To compliment all the fruits and veg, I like to add some vanilla protein powder to my smoothies for some extra protein.
mango – The mango adds a perfect sweet flavor that I love, while not throwing off the colors of the green smoothie vibe. You can buy already chopped and frozen mango from the store.
banana – Same for the banana. It helps with flavor, sweetness, and creaminess.
almond milk – If you have to sub an ingredient, I suppose it could be this one (regular milk, other nut milk, or water would work). But I love the almond milk's natural smoothness adding to the final consistency.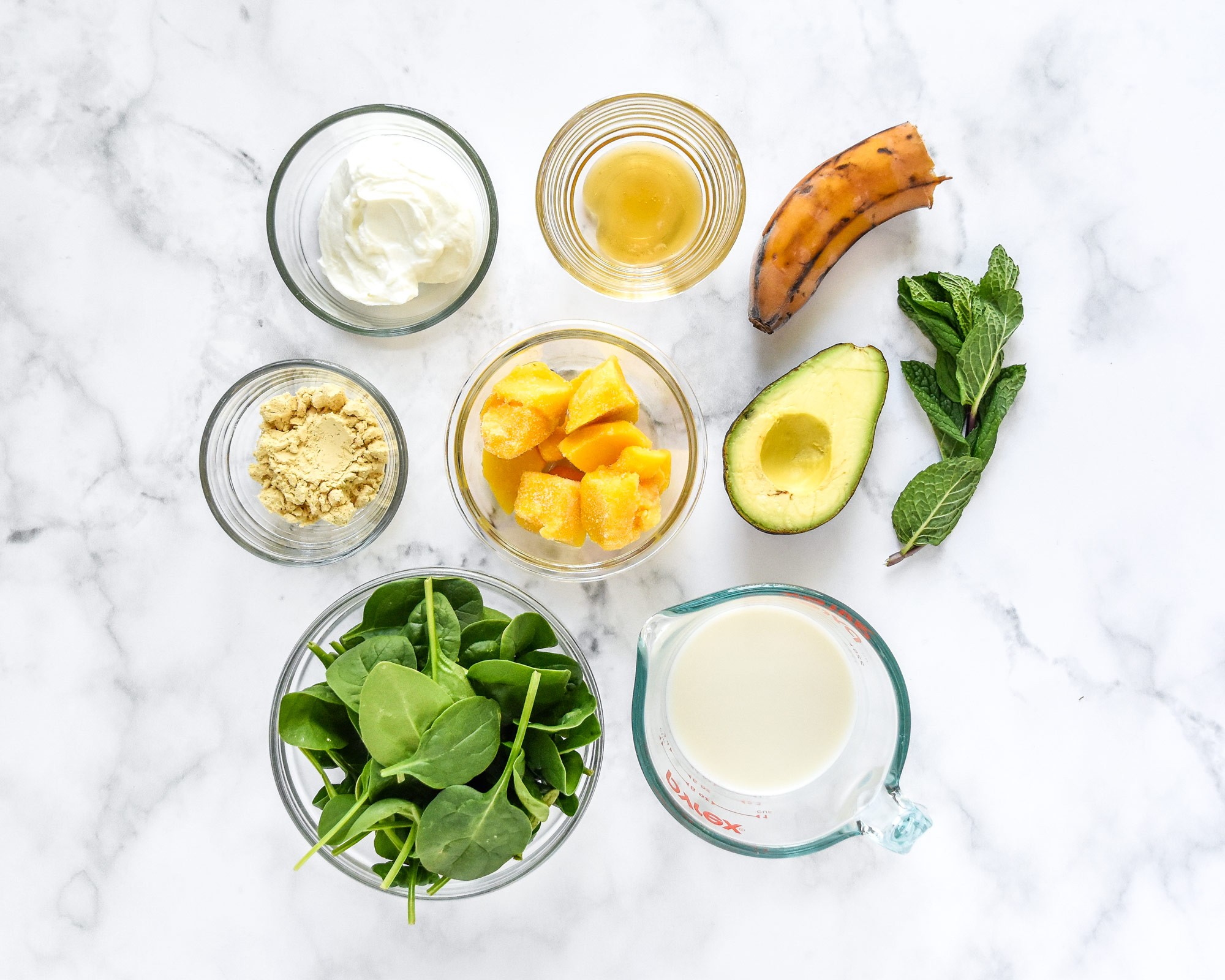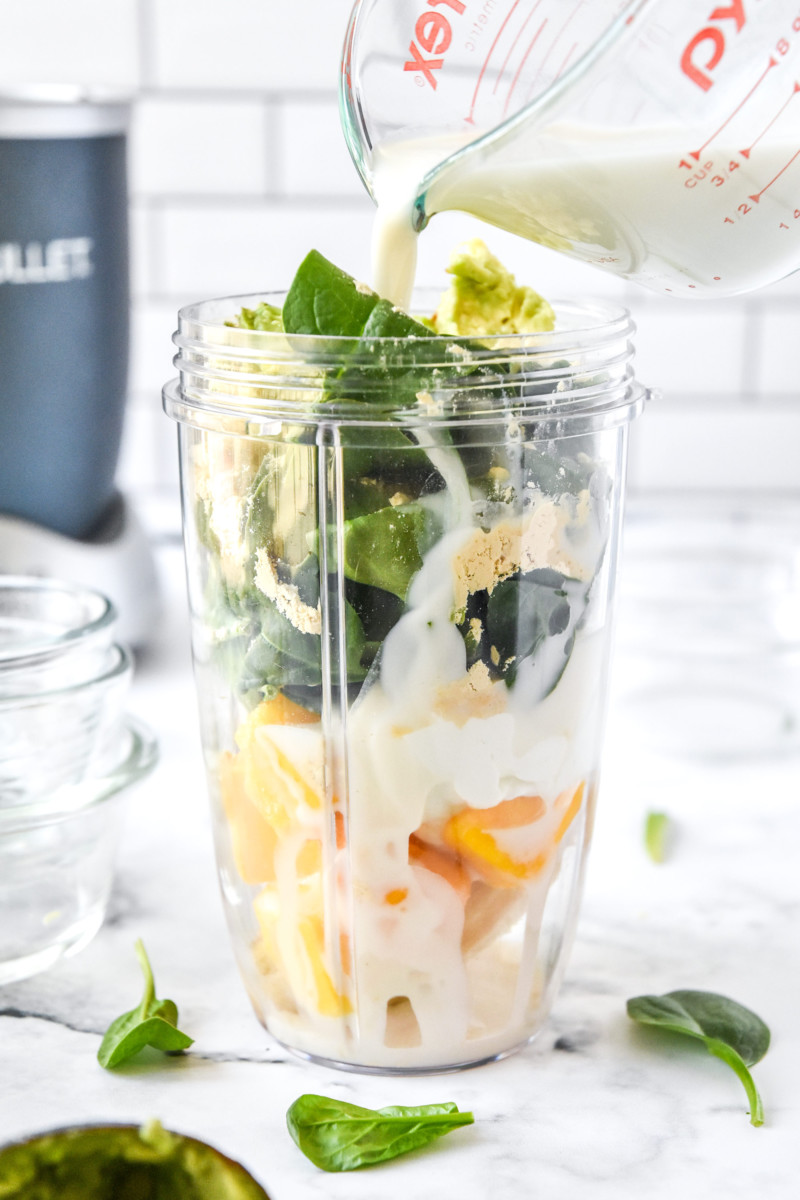 How do you make this Creamy Avocado Mint Green Smoothie?
If you're a pro at smoothies, I probably don't need to tell you how to make this smoothie. It goes the same as any other you've made before. But if you want a few tips, here's what I recommend.
Here's how you should make this smoothie, according to me:
Grab all your ingredients, cut your avocado, and peel the banana if needed.
Add ingredients to your blender in this order to make sure everything blends properly (if you are using a Nutribullet, reverse the order since it flips upside down!):

Start with greens and leafy ingredients. You want the greens closest to the blades so the other ingredients push them down and they can completely pulverize.
Next, add the softer ingredients, in this case the avocado, Greek yogurt, protein powder, and honey. This is super easy for the blades to blend and will add a some liquid to the smoothie, which will then help blend the more frozen ingredients.
Next, add the harder/frozen fruits, including the frozen mango and banana. Having plenty of liquid already blended up will help blend the frozen fruits easily.
Finally, add any extra liquid needed to blend. Usually the recipe will indicate how much, and if not, start with 1/4 cup and then go from there.

Blend and add any more liquid you need as you go. Enjoy it immediately!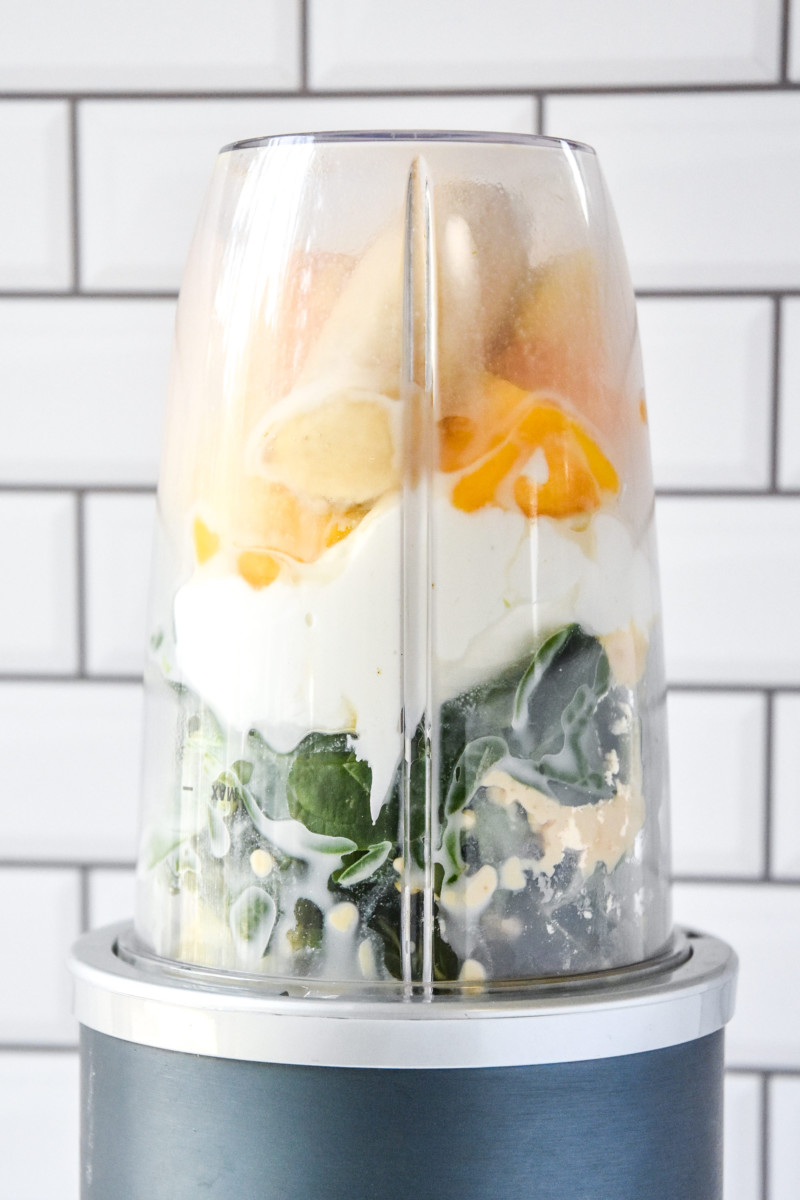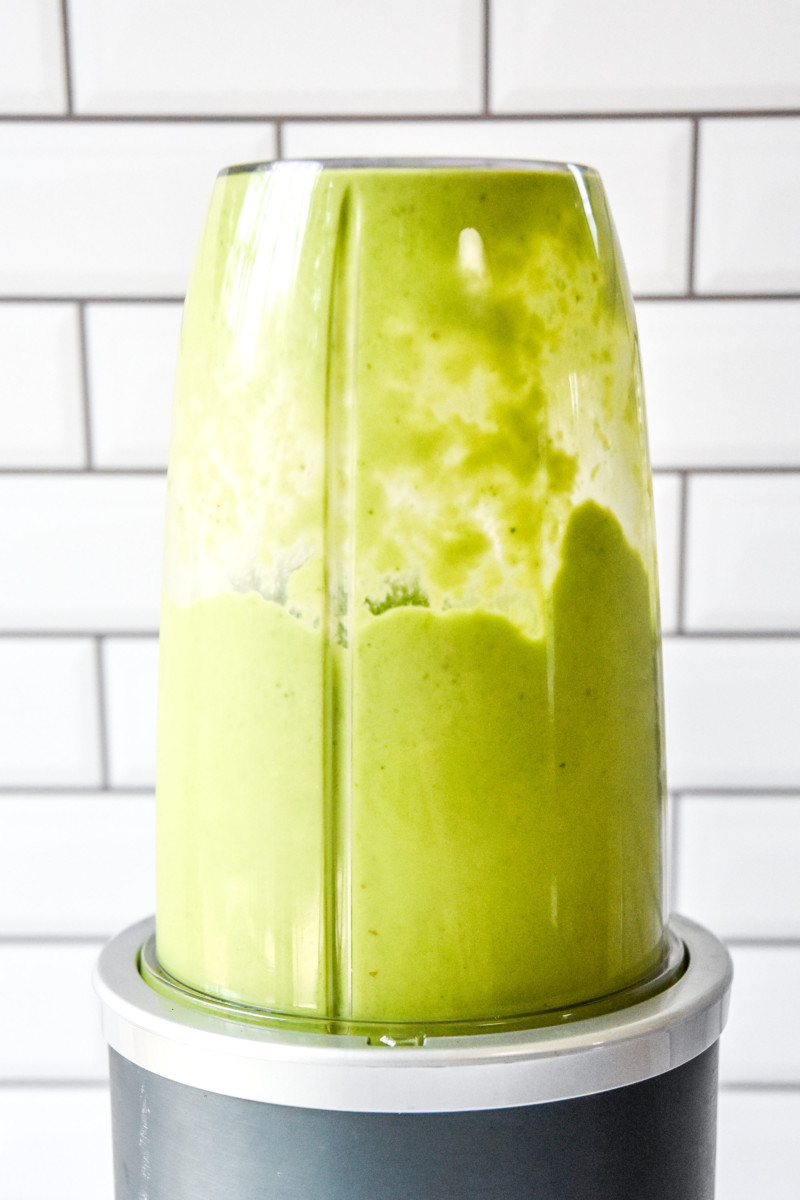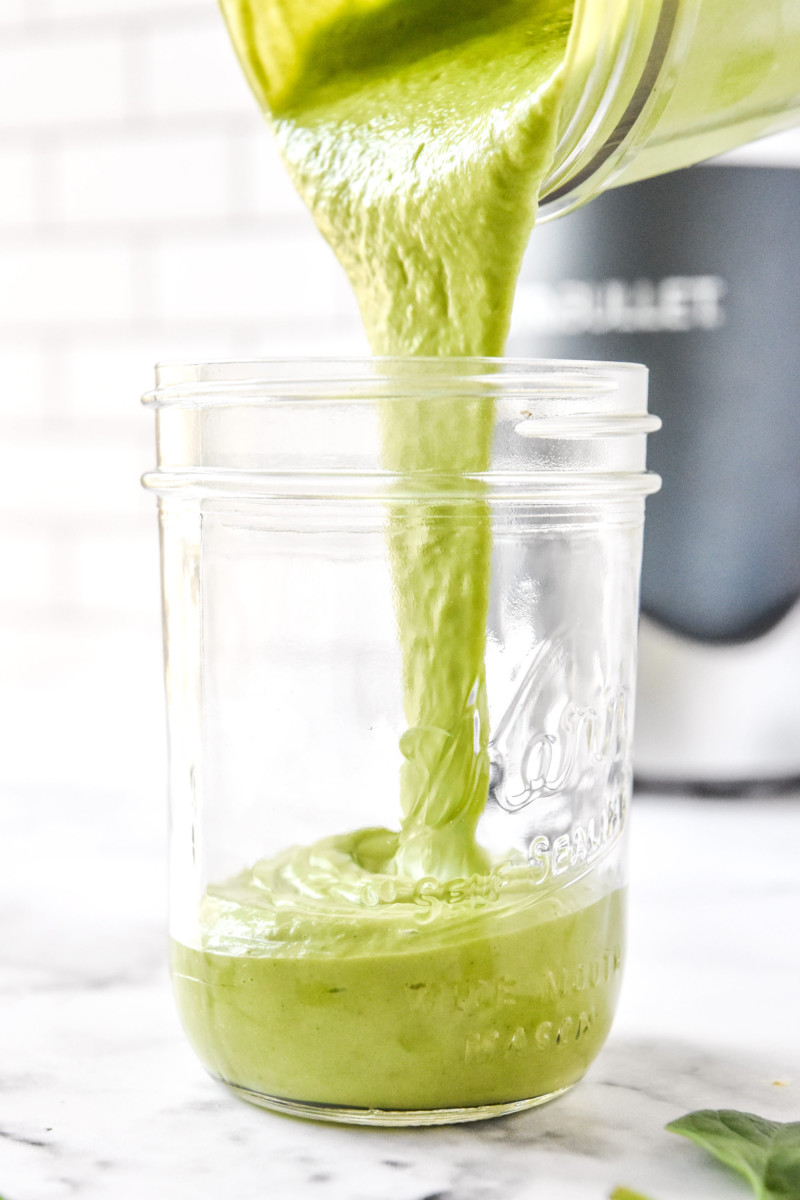 Can I use a different milk instead of unsweetened almond milk?
Yes, feel free to use whatever type of milk you like and have on hand. I would recommend any unsweetened milk, including dairy milk or oat milk. I have always used unsweetened almond milk that I get at Costco, so that's my preference.
Tips for making this smoothie:
Here are some tips for making this smoothie as delicious as can be:
Make sure the mango you're using is ripe and sweet. This will help flavor and sweeten the whole smoothie. Using cut and frozen mango from the grocery store helps make this part super easy.
Make sure your banana and the mango are frozen to get a perfectly cold smoothie. You can also chill the avocado in the fridge.
Add less liquid than you think you need at first, and then add more only as needed to blend.
Add ingredients in the right order to help blend properly and get the smoothest texture.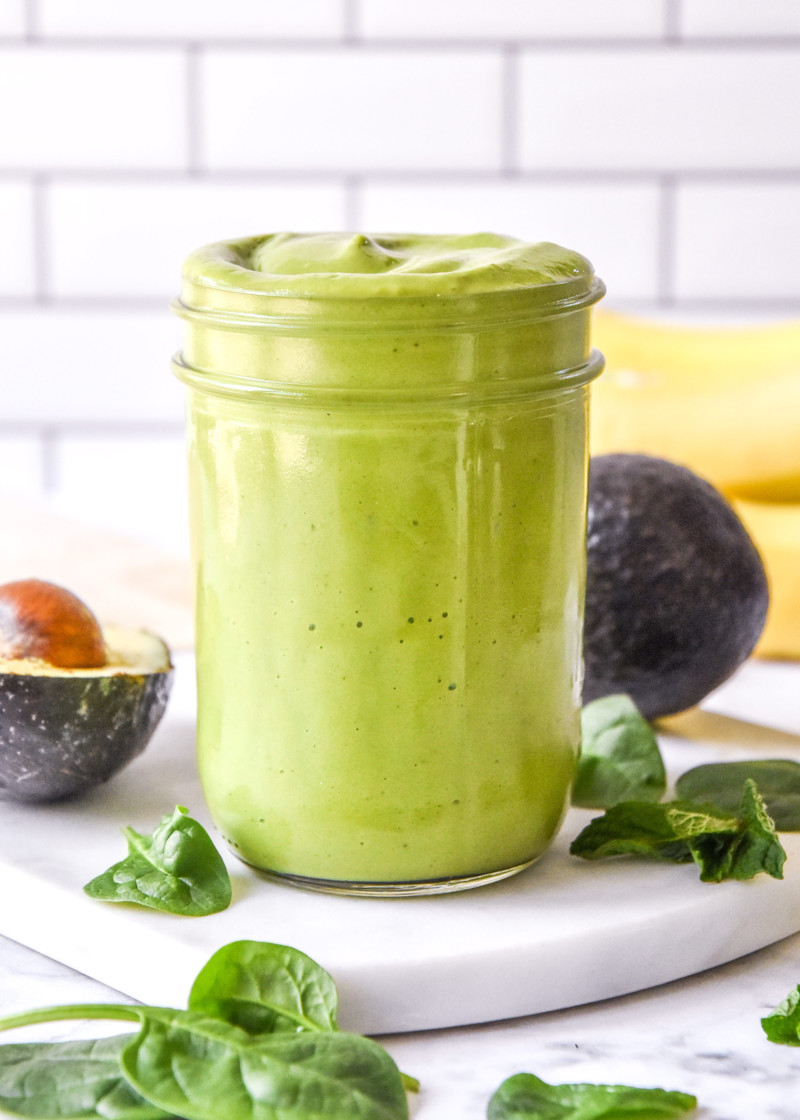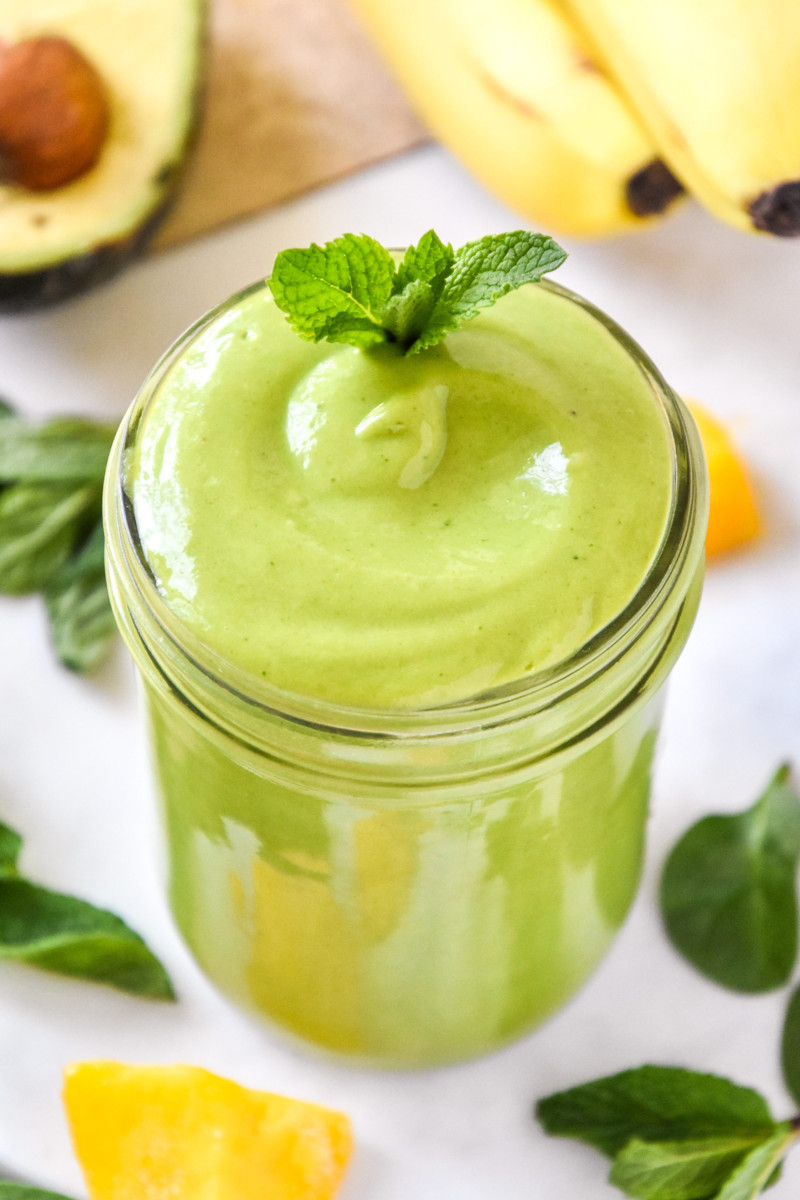 What kind of blender do you use?
I own both a Nutribullet and a Vitamix, and both work very well for smoothies. Pictured here is the smoothie being made in the Nutribullet.
If I'm making one single smoothie, I do like to use my Nutribullet. For thicker smoothies or double batches, I tend to use my Vitamix.
How do you meal prep this Creamy Avocado Mint Green Smoothie?
Prep smoothie packs in Stasher Silicone Food Storage Bags (affiliate link!) or other freezer safe containers by adding all ingredients to the bag except the liquid. Remove air, seal and label with the date and type of smoothie. To make, dump everything in your blender and add liquid as needed.
How to store leftover Creamy Avocado Mint Green Smoothie:
While this smoothie is intended to be a one serving meal without leftovers, if you do end up with leftovers, no worries. You can freeze them into cubes using a Souper Cubes 2 Tablespoon Freezing Tray (affiliate link!) and then reblend in the future.
Recipe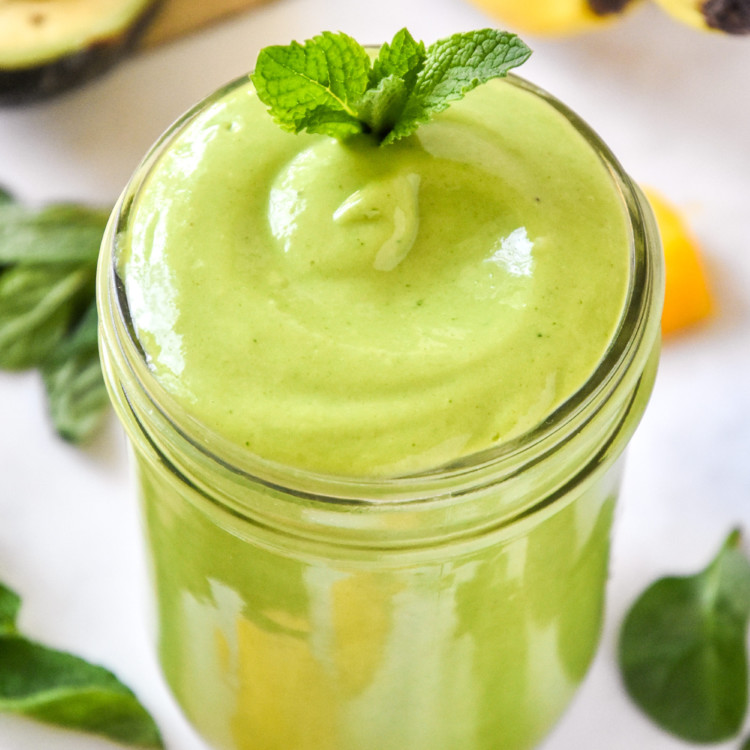 Creamy Avocado Mint Green Smoothie
Prep:
5 minutes
Cook:
0 minutes
Total:
5 minutes
This Creamy Avocado Mint Green Smoothie is a loaded with avocado and spinach for a real green hue! Plus mango, honey, and banana to balance and sweeten this one of a kind green smoothie. Perfect for St. Patrick's Day!
Ingredients
1

handful of baby spinach leaves

6

fresh mint leaves

1/2

medium avocado (about

2 ounces

)

1/4

cup

plain 2% greek yogurt

1

–

2

teaspoons honey

1

scoop vanilla protein powder

1

heaping

cup

chopped mango, frozen

1/2

banana, frozen

1/2

cup

unsweetened almond milk
Instructions
Add ingredients: To your blender, add the smoothie ingredients in order as follows: spinach greens (closest to blades to blend properly), mint leaves, avocado, Greek yogurt, honey, protein powder, frozen mango and frozen banana. Reverse the order if you have a Nutribullet, adding greens last (which flips upside down to blend). Finally, add your liquid, starting with 1/2 cup almond milk.
Blend & enjoy: Blend the smoothie until completely smooth, adding a little more liquid if needed. Serve immediately. Leftovers can be frozen and reblended in the future with extra almond milk if needed.
Equipment
Notes
Inspiration for this recipe is from the peppermint in my garden and The Flavor Bible. Nutrition information estimated with My Fitness Pal.
Nutrition Information
Serving Size:

1 smoothie

Calories:

502

Sugar:

41g

Fat:

17g

Carbohydrates:

59g

Protein:

37g
Recipe Card powered by