Steer clear of meal prep burnout and boredom by looking to some fresh sources for make-ahead recipes! No matter what kind of meal prepper you are, you'll find a brand new idea on this list. Here are 20 Places to Look for Meal Prep Ideas and Inspiration!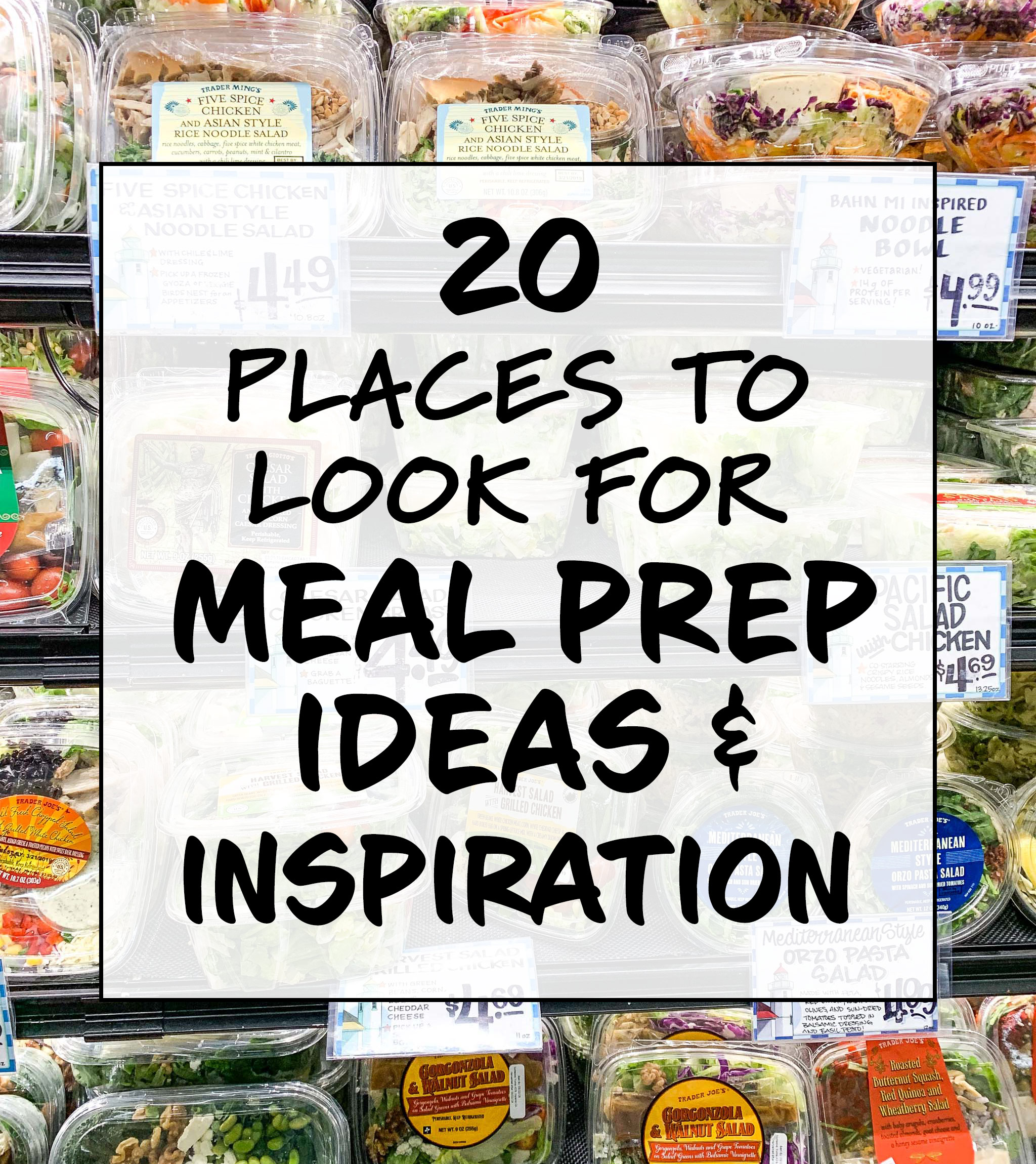 One of the top questions I receive about meal prep, besides where did I get my meal prep containers, is some version of, 'where do I find meal prep recipes and ideas'.
Do any of these questions sound familiar?
Where do I find new recipes for meal prep?
What foods work best for meal prepping?
What are good meal prep ideas?
What are some healthy meal prep ideas?
Good news! I have answers to all of those questions, and more. Over the course of this list, you'll find WAY MORE than 20 new places to look for meal prep recipes.
You'll easily see what kinds of foods work for meal prepping (HINT: most foods can be prepared ahead in some way). And, you'll find TONS of meal prep ideas, both healthy and not so healthy!
A note on healthy meal prep: In my opinion, most foods prepared at home rather than at a restaurant will be "healthier" in some way, whether it's less calories, less sodium, or just less food total. I don't label things as healthy because that's not for me to decide.
However, I do provide estimated nutrition information and generally try to label if the recipe follows any specific diet. This way, you have more information to decide if something is healthy for you!
This list is for everyone, whether you're just starting your meal prep journey, or you've been meal prepping for years. These are some of the best, most resourceful, and sometimes just plain creative meal prep ideas out there.
20 Places to Look for Meal Prep Ideas and Inspiration
Here's my list of 20 Places to Look for Meal Prep Ideas and Inspiration! Some might be obvious to you, but maybe not so much for others. Any more ideas you'd add to the list? Let me know in the comments below!
1. Ready to Eat lunch section of the grocery store
Take a stroll through the premade lunch section of your favorite grocery store. Honestly, they've done all the work here for you on ideas. Snap a photo of the choices to study at home later if you don't want to stand there for a while.
Here's what I'm talking about:
the salad and sandwich section – Just look at all those salad flavor ideas!! So easy to recreate at home. Check the ingredients list of your favorites and do it yourself! (there are at least eight different make-ahead salad ideas in the photo below!)
the hot food bar at Whole Foods, Metropolitan Market, etc. – Most of the time, they even list every ingredient used! You can use this info to search for a similar recipe online OR ask at the store if they can give you the recipe!
the soup options at any store – Browse the soup selection for ideas of what to make at home. Make a huge batch, freeze into individual portions in your 1-Cup Souper Cubes Trays

(affiliate link!)

, then shop from your freezer instead of the store.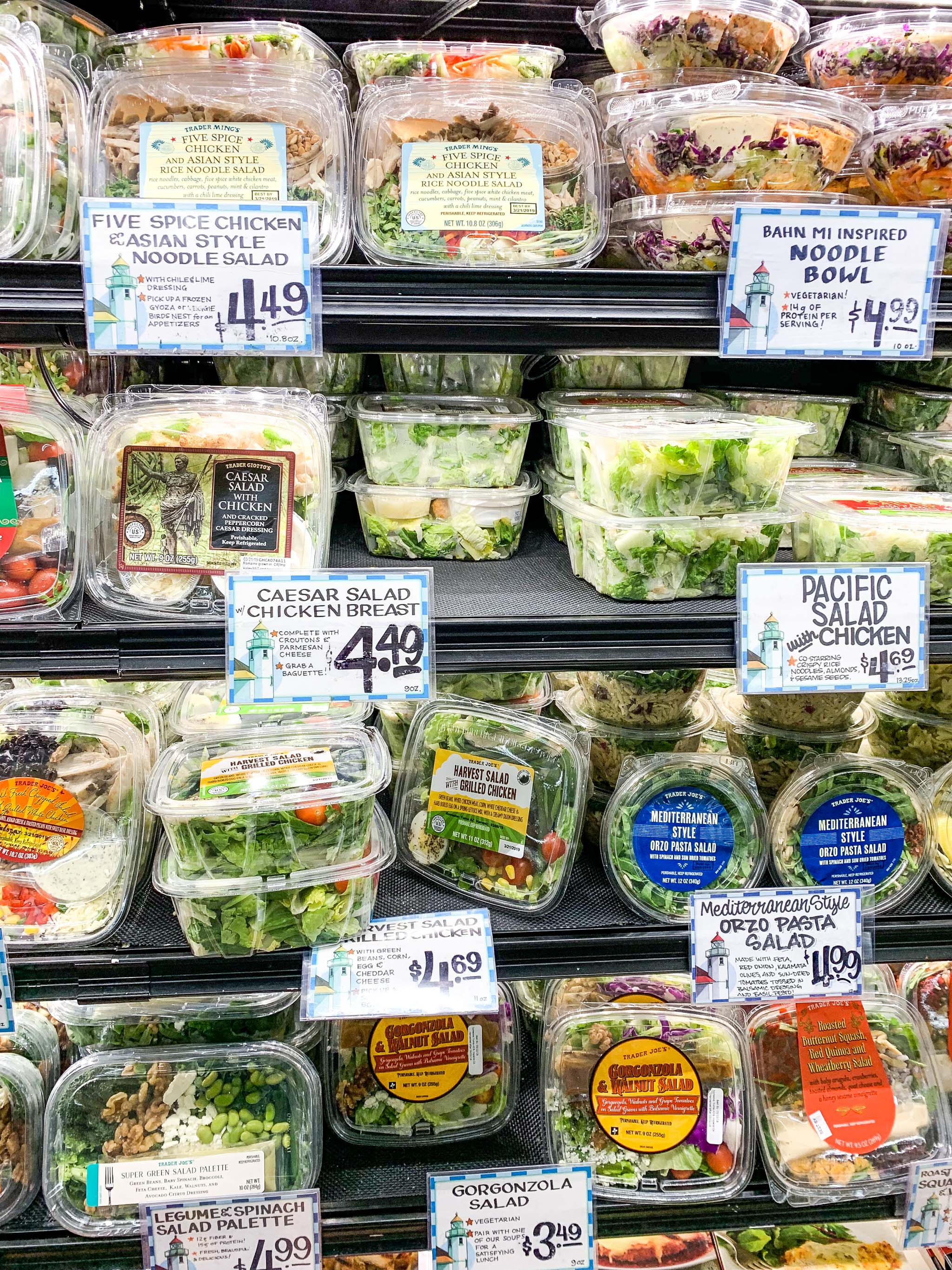 2. YouTube
If you're more into watching videos than reading recipes on websites, you can still find LOTS of meal prep ideas! There are entire YouTube channels specifically devoted to meal prepping. You'll find wonderful meal prep ideas that are video based – great if you're a visual person and you want to SEE how it's done first.
Here are some meal prep focused YouTube channels to follow:
Fit Couple Cooks – Steph and Adam are the champions, and I mean expert-level, of video based meal prep ideas and inspiration. They have over 500k subscribers and meal prep recipes for all diets and cooking skill levels. The best place to start for meal prep on YouTube!
Mind Over Munch – Alyssia creates beautiful food with various meal prep goals in mind, all while keeping it positive and realistic. I'm particularly obsessed with her Bento Box series!
Fit Men Cook – Kevin Curry has tons and tons of recipes (for men and women!) dedicated to cooking in bulk. I love Kevin's approach to making meal prep accessible for all!
3. Co-workers
Talk to your coworkers about lunch. Someone you always see with a really delicious homemade meal. Have some genuine interest.
Ask them what kind of recipes they enjoy making, and if they would share them with you. Chances are, someone you know will give you a few of their favorite recipes, along with some insider tips!
Food is for sharing and bonding, and that includes meal prep recipes!
4. Instagram
There are a couple easy ways to make use of Instagram for your meal prep inspiration needs. I do them both, all. the. time. Here's how you can too:
By hashtag: Hop on to the IG app and go to the 'Search' page. Switch over to 'Tags', so you're searching only for hashtags. For meal prep specifically, I would recommend searching for hashtags like, #mealprepsunday, #easylunch, #worklunch, #mealpreplife, #mealprepping, #coldlunchideas, and more. If you're meal planning, switch it up and search for things like #whatsfordinner, #dinnerideas, or #quickdinners. Narrow it down by diet or lifestyle by searching for things like #paleoapproved, #whole30recipes, or #lowcarbfoods.
By user: Find awesome meal prep accounts and follow them! This could be food bloggers, tv shows, famous chefs, anything that gives you cooking inspiration. Some of my favorites are @workweeklunch, @mealplanaddict, @mealpreponfleek, and @primaverakitchen.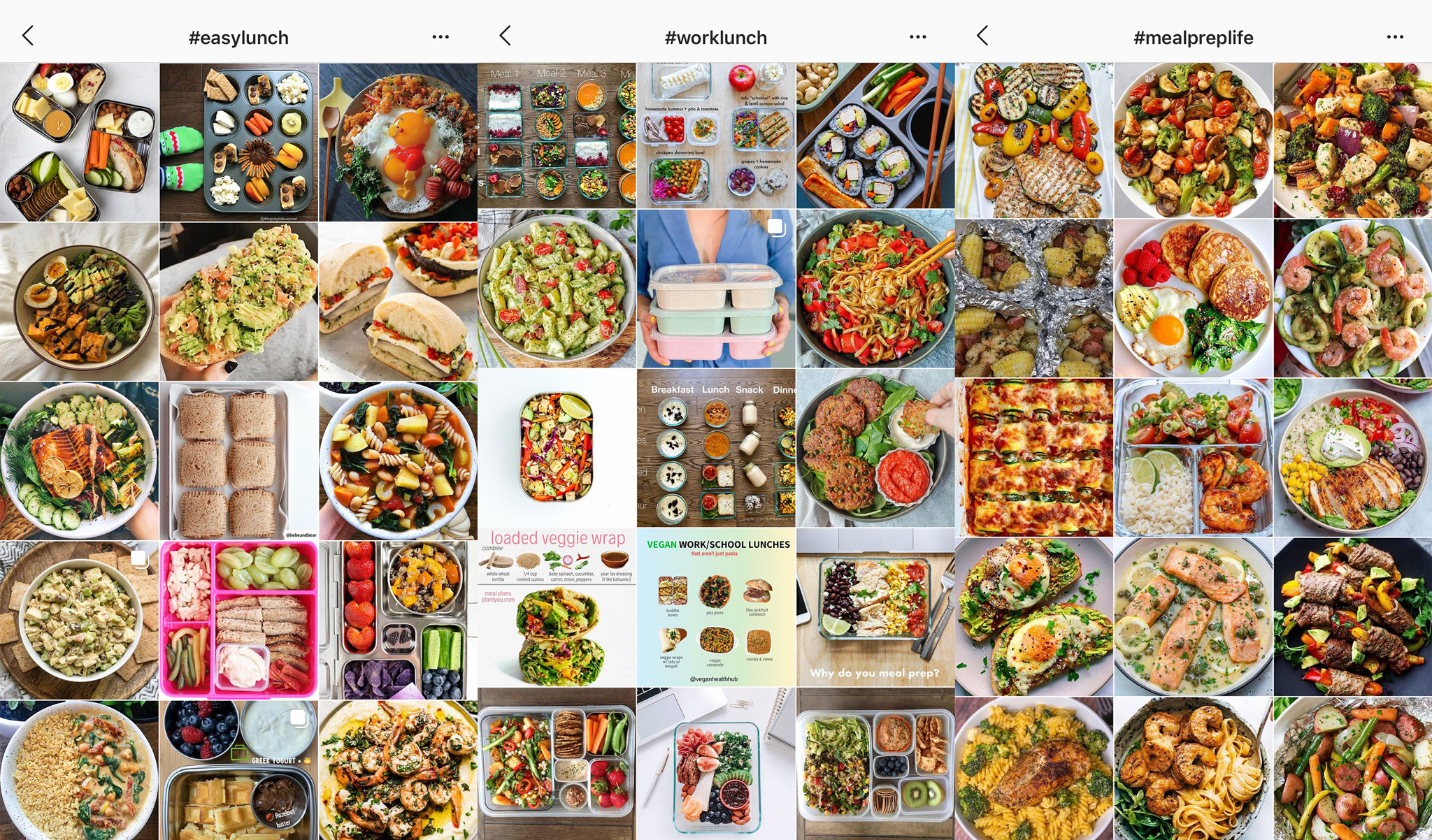 5. Your freezer
Take an inventory of your freezer. If you haven't organized recently, I bet there's something down there you forgot about! Prioritize what needs to be used up first, and look for recipe ideas to use up that ingredient. Search Google or Pinterest for recipe ideas including that ingredient ("ingredient you need to use" + "meal you want" + recipe ideas).
Be sure to always follow proper food thawing and defrosting techniques. There are three safe ways to thaw food – in the refrigerator, in cold water, and in the microwave. Check this guide for more information on safely defrosting food.
P.S.: Visit my friend Steph at Meal Plan Addict for some superior freezer organization advice!
6. The freezer section of the grocery store
Now, if your freezer is running a little low, maybe there's no inspiration there. Most of the time I recommend hitting the grocery store with a plan, but there's nothing wrong with going shopping for ideas if you're running low!
Walk the freezer section. Look for sales. Look for a new product you've never tried. Look for a really delicious picture on a product and check the package for a recipe. You never know when inspiration can strike!
7. Meal prep cookbooks
Did you know there are cookbooks specifically devoted to meal prep and make-ahead food? Generally, these recipes are going to be well-tested, and they should include photos so you can see exactly what's going on.
Here are some of my favorite cookbooks that are great for meal prep (with affiliate links):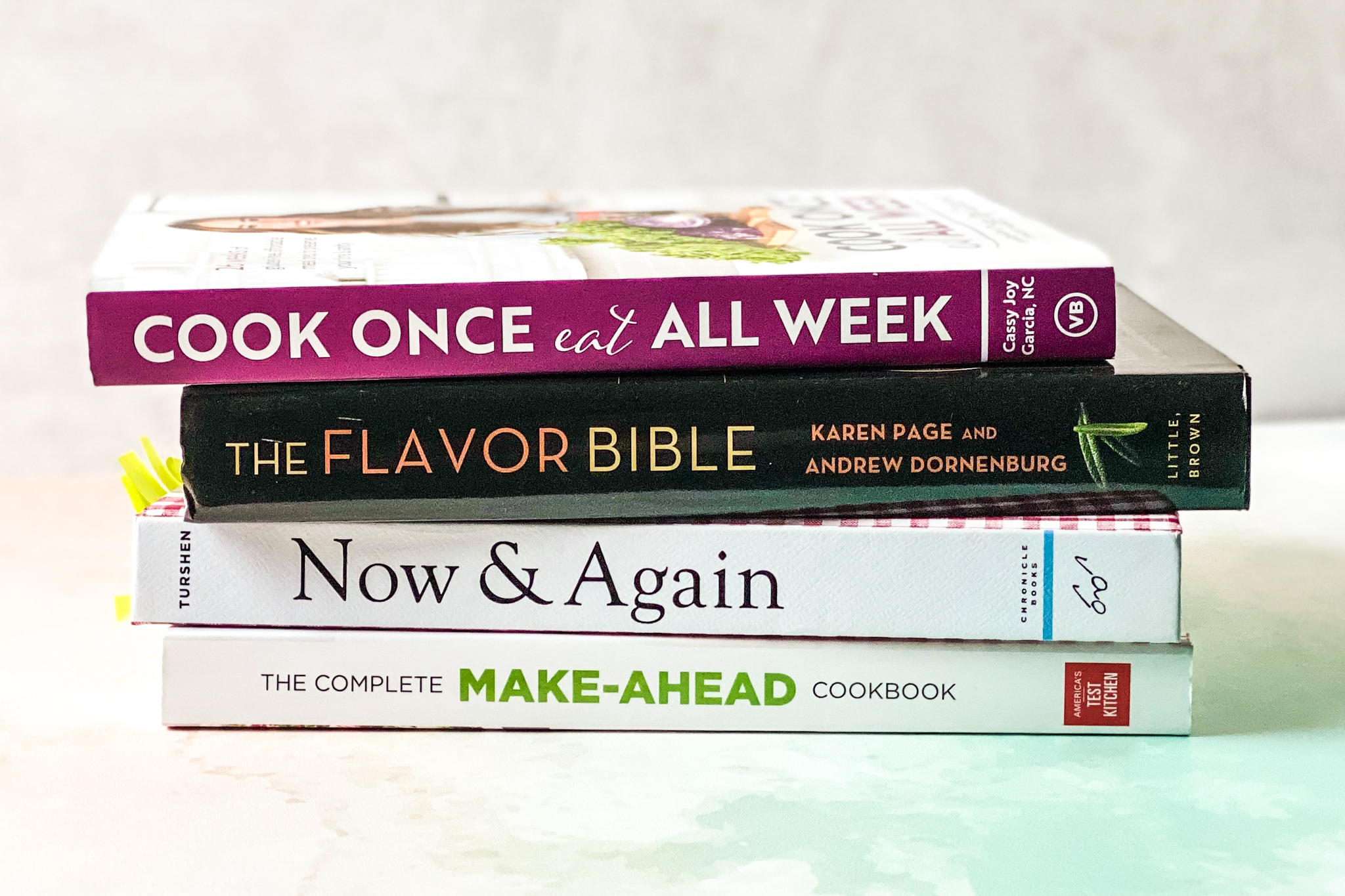 8. Facebook groups
Facebook has something for every niche out there, and meal prep is huge! There are dozens on groups dedicated to all things meal prep recipes, ideas, and motivation. Beware, some groups are better than others, but overall, they can provide a wealth of ideas and recipes to try, all from real people also just trying to make their meal prep work.
I'm a little biased, but I would recommend joining my Facebook group, Project Meal Plan Meal Prep Motivation and Ideas. You can ask for meal prep ideas, share your meal plan, and get inspiration from others. Over 500 members and counting!
Here are some other meal prep related Facebook groups I find inspirational for meal prep:
Meal Plan Addict Community – My friend Steph's Facebook group is booming with meal prep, Instant Pot, air fryer, and freezer meal ideas!! Tons of kind and active members who are always willing to answer your questions.
Healthy Meal Prep – This group has real people asking real questions about meal prep – anything from how to prep for specific diets to how to reheat meals without a microwave!
Mom's Meal Ideas – Lots of sharing homemade food and where the recipe is from! This group is full of tried and tested recipes by home cooks like you. Use this recipes as starting places or inspiration for your next meal.
9. Reddit communities
Reddit is a network of communities based on people's interest. And A LOT of people are interested in meal prep, let me tell you. There are broad groups for Cooking, or super niche groups for Keto Meal Prep. And you don't have to be a member of Reddit or a community to see most of the stuff posted.
Here are the best Reddit communities for meal prep and cooking inspiration:
r/Cooking – With over 1.5 million members, this is a huge community of people who are into cooking. Get the best tips, tricks, and recipes ideas from here!
r/MealPrepSunday – A little more specific, this community focuses specifically on batch meal prep. Users share their own photos of meal prep and what recipes they used. So many ideas in one place!
r/EatCheapAndHealthy – Not specifically for meal prep, but it falls in the same category of wanting to eat better while also saving money. Over 1.5 million members who are ready to help answer questions and share ideas.
10. Steph's fridge
Not kidding about this one. Find someone who's good at what they do and wants to share it with the world. Steph is good at so many things, but one of them is her weekly meal prepped fridge, complete with make-ahead meals, snack bins, and beautiful produce. Steph's fridge is a wonderful place to find simple prep ahead ideas you can use in your home.
Read about how Steph makes this meal prep fridge magic happen every week here! And of course, follow her on Instagram to see the weekly fridge update.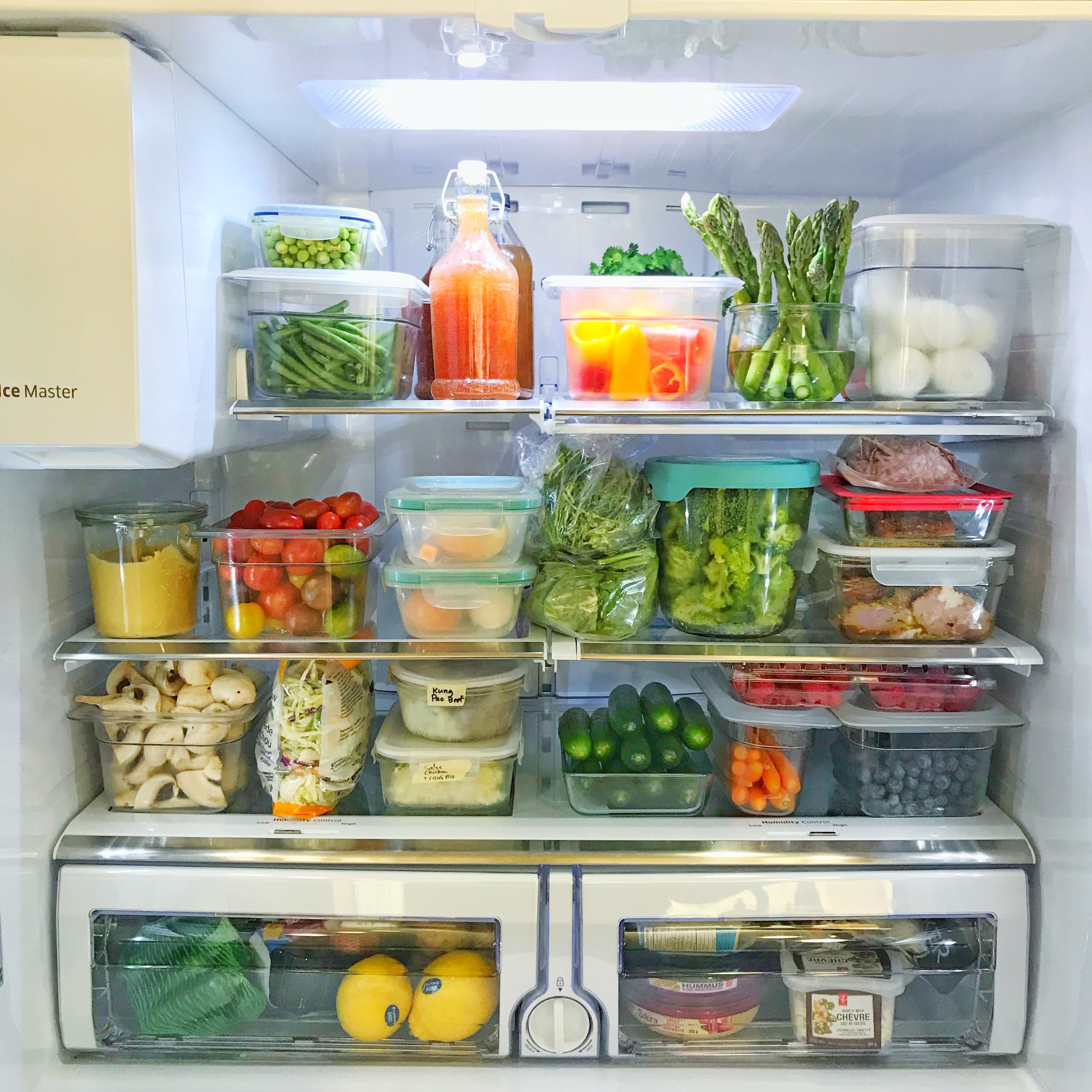 11. Pinterest
I think Pinterest is highly misunderstood by some, but if you know how to use it right, you can access thousands of meal prep ideas all in one place.
Pinterest is a visual search engine – a place to find new ideas for anything at all, but food in particular. I've seen confusion from some about how Pinterest works. Pinterest does not 'have' recipes – in contrast, Pinterest directs you to the source of recipes, from tons and tons of websites all over the Internet.
For example, you may start your search on Pinterest by typing in "meal prep recipes". You can then narrow down your search by clicking one of the colored keyword boxes, such as "for beginners" or, "crockpot". This is how you fine tune your search and discover more recipes on Pinterest, by being more specific in your search.
If you find a recipe on Pinterest that looks good, you may click through to the source of the recipes, usually a food blog or food website of some kind. If you like the recipe, stay on the site itself for more inspiration before returning to Pinterest and starting over.
Pin recipes that look good or that you want to remember. Providing feedback on pins you've tried is also a good idea! This is just one way to use Pinterest – there are plenty of ways to make it work for you.
12. Cooking shows
Do you ever watch the Food Network? Did you know that most of the time, you can find the recipes from the shows on the Food Network website? You *usually* can!
From The Pioneer Woman to Alton Brown to Molly Yeh, you can recreate the foods you watch get prepared on television, at home! These recipes are perfected by experts so you can have confidence cooking them up at home.
Sometimes, the chefs will share tips and tricks on their shows that you may not find in the basic recipe instructions. This could be preparation techniques, make-ahead ideas, or storage tips.
13. Magazines
There are dozens of food magazines out there, some better than others, and they all have recipes in them! Just like with cookbooks, you can keep your eyes peeled for niche issues of the good magazines.
My favorite magazines tend to be the more expensive ones without advertisements (if I'm paying for my content, I want zero advertisements!!). But there are a couple more normal priced ones with ads that have tons of recipes too.
Here are my favorite magazines for recipe and meal prep inspiration:
America's Test Kitchen – While they have cookbooks too, I like the magazines for cheaper, more niche options. Sitting on my coffee table is the "Best Ever Recipes for Two" issue, and I also have a "Make-Ahead Dinners" issue. These magazines are top notch and worth every dollar in my opinion!
Food Network Magazine – Tons of tested recipes from trusted chefs. If you like the Food Network on television, pretty sure you'd like the magazine too. A few ads, but it's not unreasonable for the price.
Cook's Illustrated – Like the ATK magazines, these are quality, but worth the investment. Consider them paperback books. Currently visible in my kitchen is a "Soups from Around the World" Issue, and a "All-Time Best Chocolate Desserts" issue. Maybe that second one isn't good for meal prepping but you get the idea.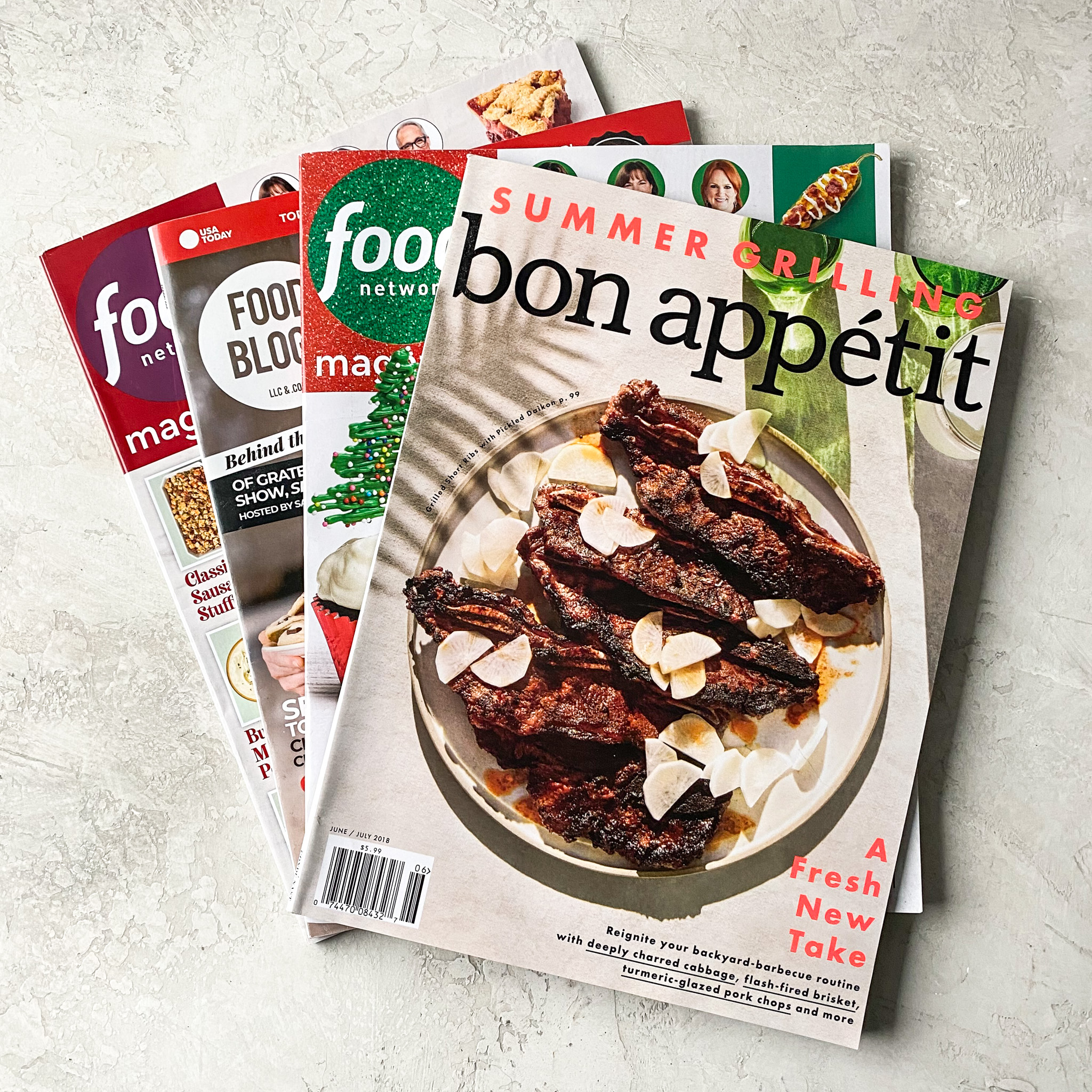 14. Restaurants
If you go out to eat (talking to you, everyone), you definitely have some favorites. Have you ever tried recreating them at home?
Making your favorite take out dishes at home is a great place to start with meal prep. Try searching the name of your favorite dish, followed by the word 'recipe', on Google or Pinterest. Tons of ideas will come up! Look for food blog names or websites you know and trust.
For example, I love honey garlic chicken! So I crafted a homemade version – Instant Pot Honey Garlic Chicken Meal Prep. This recipe combines the take-out style honey garlic chicken and rice with some good old meal prep magic for a money-saving delicious recipe.
15. Family
Do you have any family recipes you could try out? Check in with the relatives and ask about Grandma's cookbook. More than likely, there are some soups, casseroles, or other delicious dinner recipes written down somewhere in your family. Try them out – eat some as leftovers. There's your meal prep.
16. Recipes on packages
Quick! Run to your pantry and check the packaging of your favorite products. I bet there's a recipe or two hiding!
I just followed my own instructions and found the following recipe ideas in about 25 seconds:
Bag of cocoa powder – recipes for hot cocoa (tried it, delicious), Cocoa-Peanut Butter Cereal Treats (OMG meal prep dessert), Chocolate Banana Energy Bars (ding ding ding! totally a meal prep recipe!) & Chocolate Banana Smoothie (not really meal prep but definitely a breakfast option)
Hidden Valley Ranch Seasoning Powder container – recipe for Ranch burgers which sound DELICIOUS and could easily be made ahead
bag of old fashioned oats – proportions for homemade oatmeal, and recipes for microwave oatmeal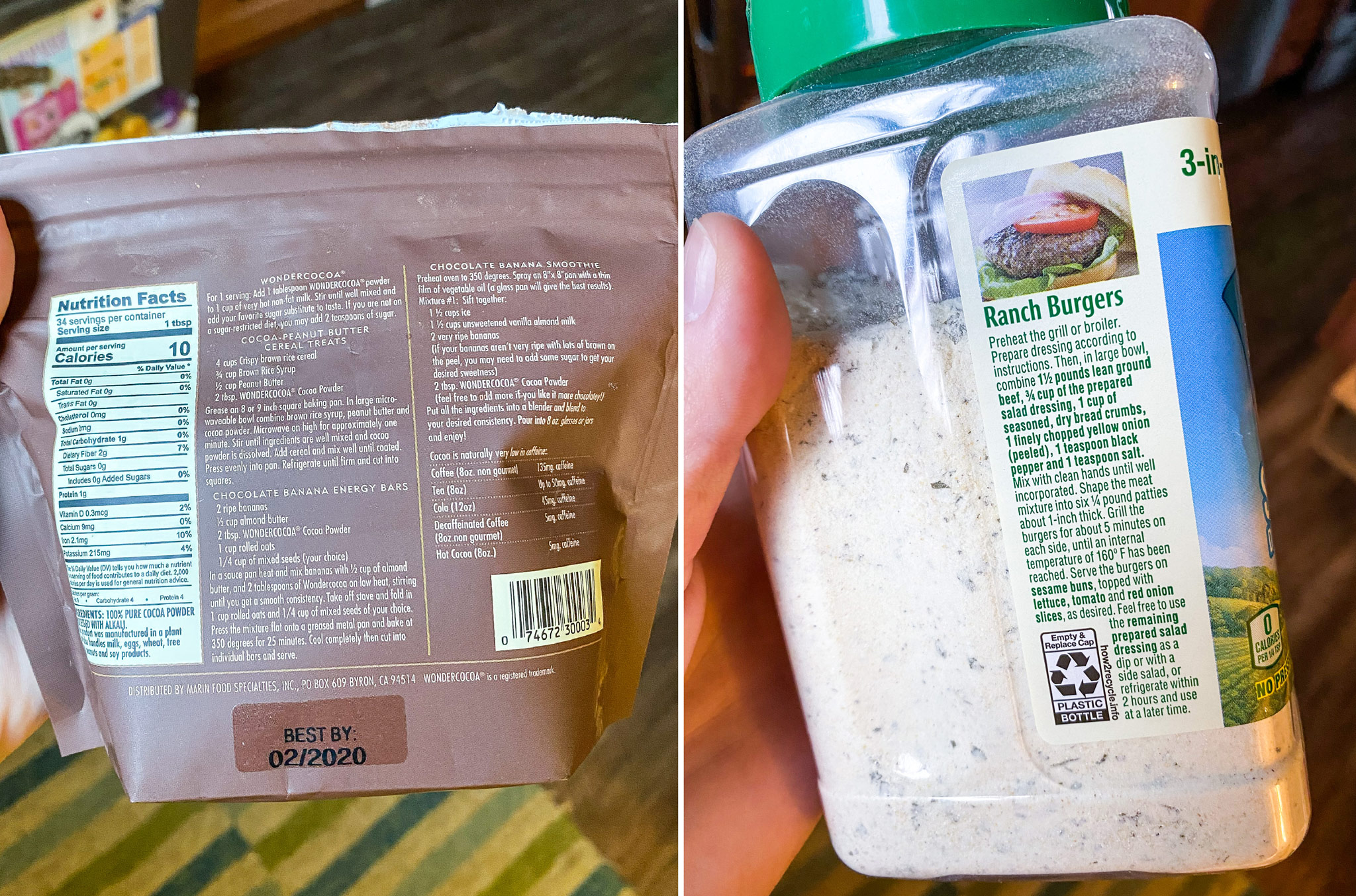 17. Your favorite food blogs
Probably my number one resource for trying out new recipes: my favorite food blogs! This will differ depending on who you talk to, but I know a good food blog when I see one!
If you try recipes from a blog and they turn out great, here's what you should do:
leave a comment with review & a 5 star rating
share a photo on social media and tag the blogger
stick around their website and look for more recipes to try!
Some of my favorite food blogs for meal prep inspiration are: Meal Plan Addict, Sweet Peas & Saffron, Fit Men Cook, Budget Bytes, Tastes Lovely, and Fit Foodie Finds.
18. Sales & coupons
Similar to browsing the grocery store aisles shopping for ideas, you can "shop" for ideas in the coupons and sales of your local markets.
If there's a certain protein on sale, bulk prep it and freeze! Sometimes the best way to save money is to go rogue when you see a sale!! Whether you batch prep the ingredient or use it for recipes little by little, sales are a great place to look for meal prep inspiration and save money.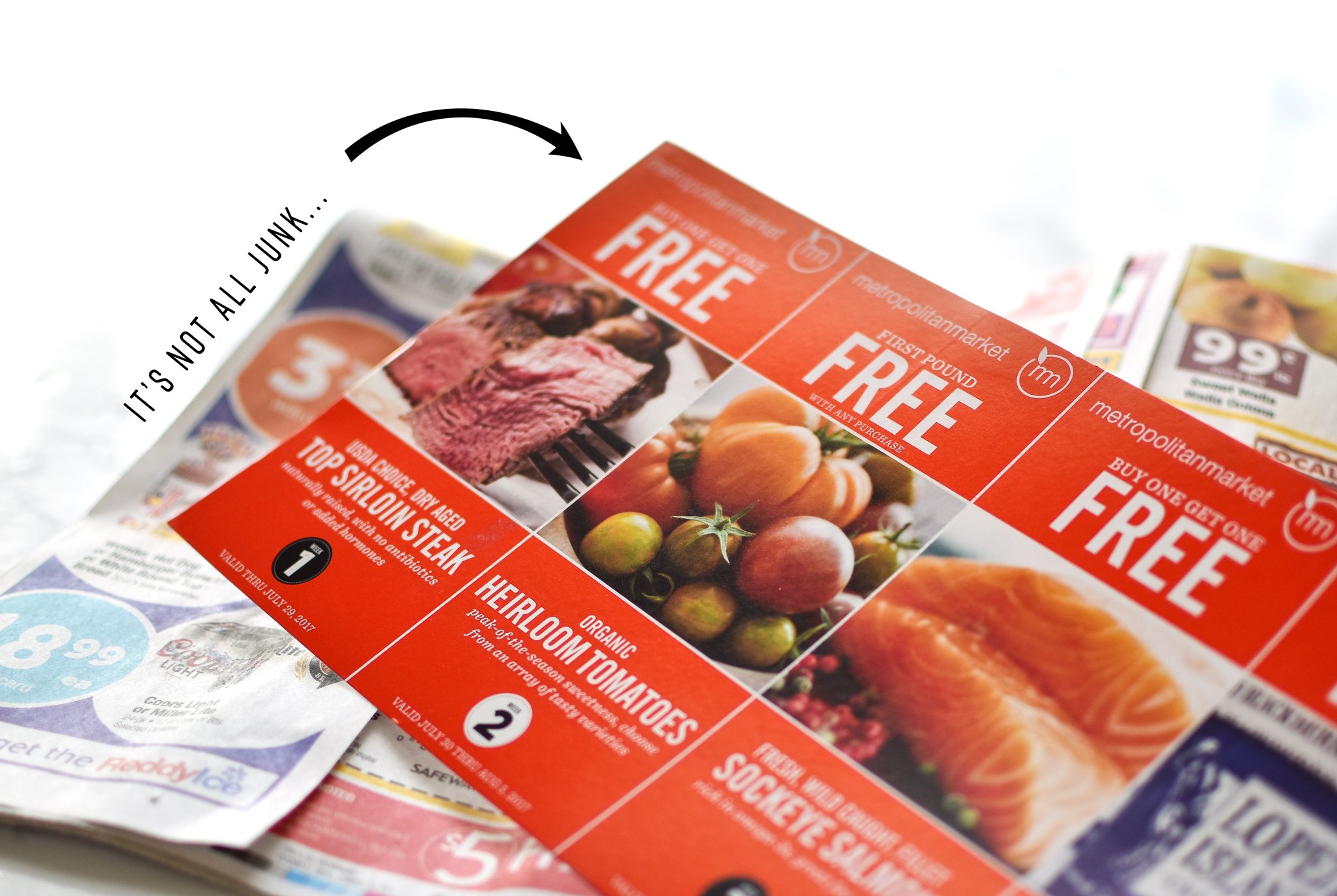 19. Meal delivery services
If you don't know what to cook, where to start, or how to buy the ingredients, start with a meal prep delivery service.
While I would not recommend these services for long term eating, giving it a try (especially if you have a coupon), is a wonderful idea. (I tried Blue Apron back in 2016 and here's what I thought)
Here's how trying a meal delivery service can give you meal prep inspiration:
the recipe may involve a new method of cooking you haven't tried
the recipe may use new ingredients you've never had
you get to keep the recipes, and you could recreate them if you want
everything is handed right to you, so it's a great place to start
20. Your pantry
Just like with your freezer, take a full stock of your pantry (you could even have yourself a little pantry challenge if you want!). Find things that need to be used up, and search for recipes with those ingredients. Search Google or Pinterest for recipe ideas including that ingredient ("ingredient you need to use" + "meal you want" + recipe ideas). Related: 10 Staple Meal Prep Foods Always in My Kitchen
Pictured below: A before and after of my pantry after I cooked meals with pantry staples and only spent $100 on produce and dairy for 30 days!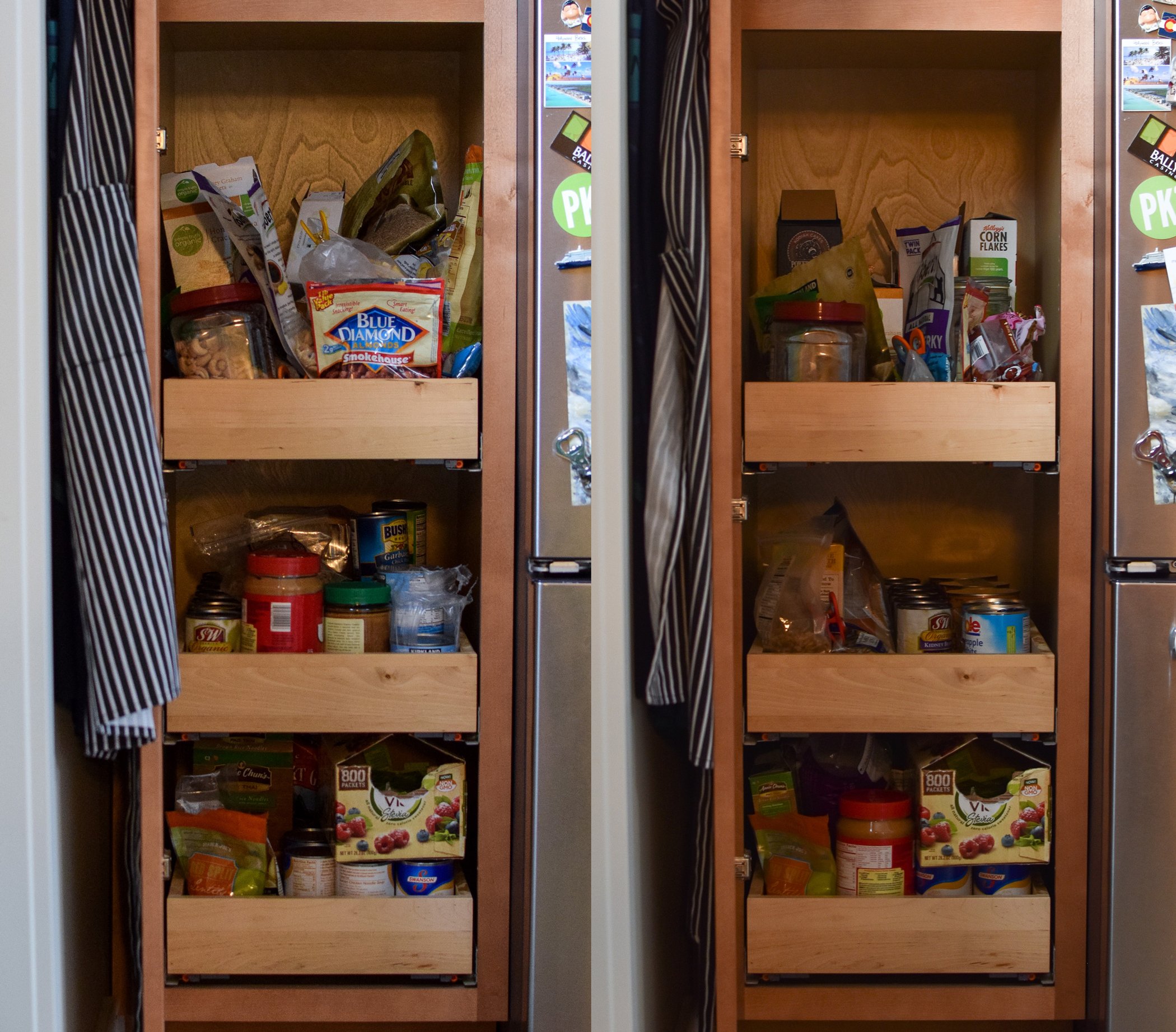 Feeling inspired?! I'm positive you will never run out of meal prep ideas and inspiration if you have this list on hand! Are there any other places you look for meal prep inspo? Let me know in the comments below!
More helpful info on meal prepping:
Happy Meal Prepping!