Note: I am not affiliated with Blue Apron, and I have not been compensated in any way to write this review. I purchased a one week order of Blue Apron Meal Planning Service with a coupon, and wrote my review based on my own experience with the service. All opinions are my own.
Blue Apron Meal Delivery Service Review
I've been thinking about trying Blue Apron for a while, but kept ignoring all the $30 off coupons because I cook a lot – and I'm never short of ideas. But, Blue Apron definitely fits within the realm of meal planning – even though someone else is doing it for you. So when they emailed me a $40 off the first week coupon, I took the plunge. Here's my Blue Apron Meal Delivery Service Review.
Blue Apron is a meal-delivery service which provides all the ingredients required for three two-serving meals per week, straight to your doorstep (they also have a family plan). They post all recipes a couple weeks or so in advance and give you the option to choose three of their six dinner recipes in your weekly delivery. The normal price of one week's service (three meals for two) is $59.94, which includes delivery costs. Blue Apron works directly with "artisanal purveyors and hundreds of family-run farms", and delivers seasonal ingredients with sustainable practices. I followed the recipe instructions precisely for every meal.
Our Meals:
Spicy Shrimp & Bucatini Pasta with Kale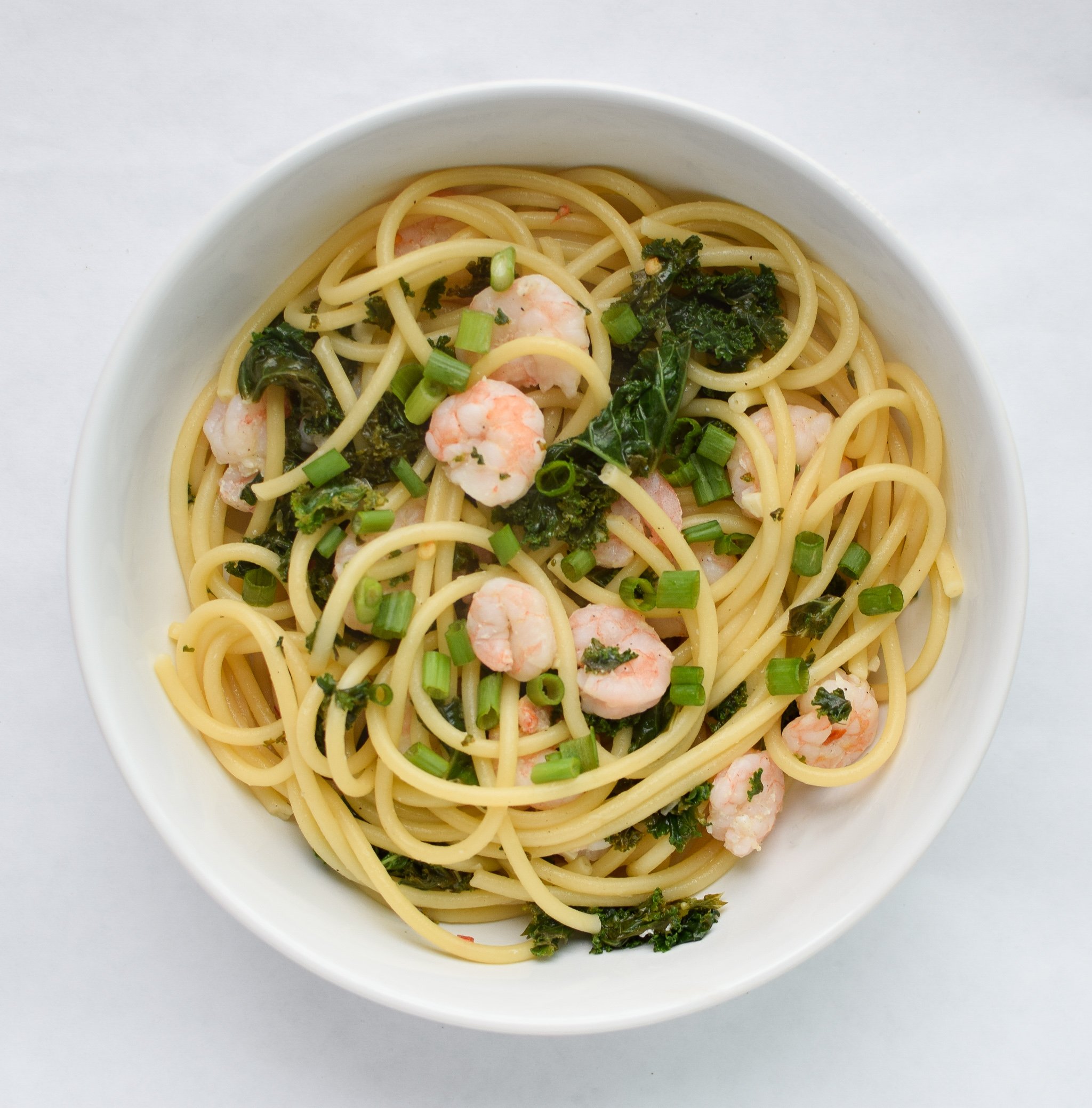 This meal was delicious (uhmm, pasta!) and very easy to make. As long as you're okay at following directions, the pasta should come out perfectly al-dente. I've never had bucatini pasta before. Is it just a fancy thick style of spaghetti? (I googled it, and pretty much yes – thick spaghetti-like pasta with a hole running through the middle.) The kale was seasoned just right, and I actually ate *most* of it. However, even though the pasta was super yummy, it was very… pasta-ful. Neither of us actually finished our serving, and I had the remainder for lunch the next day.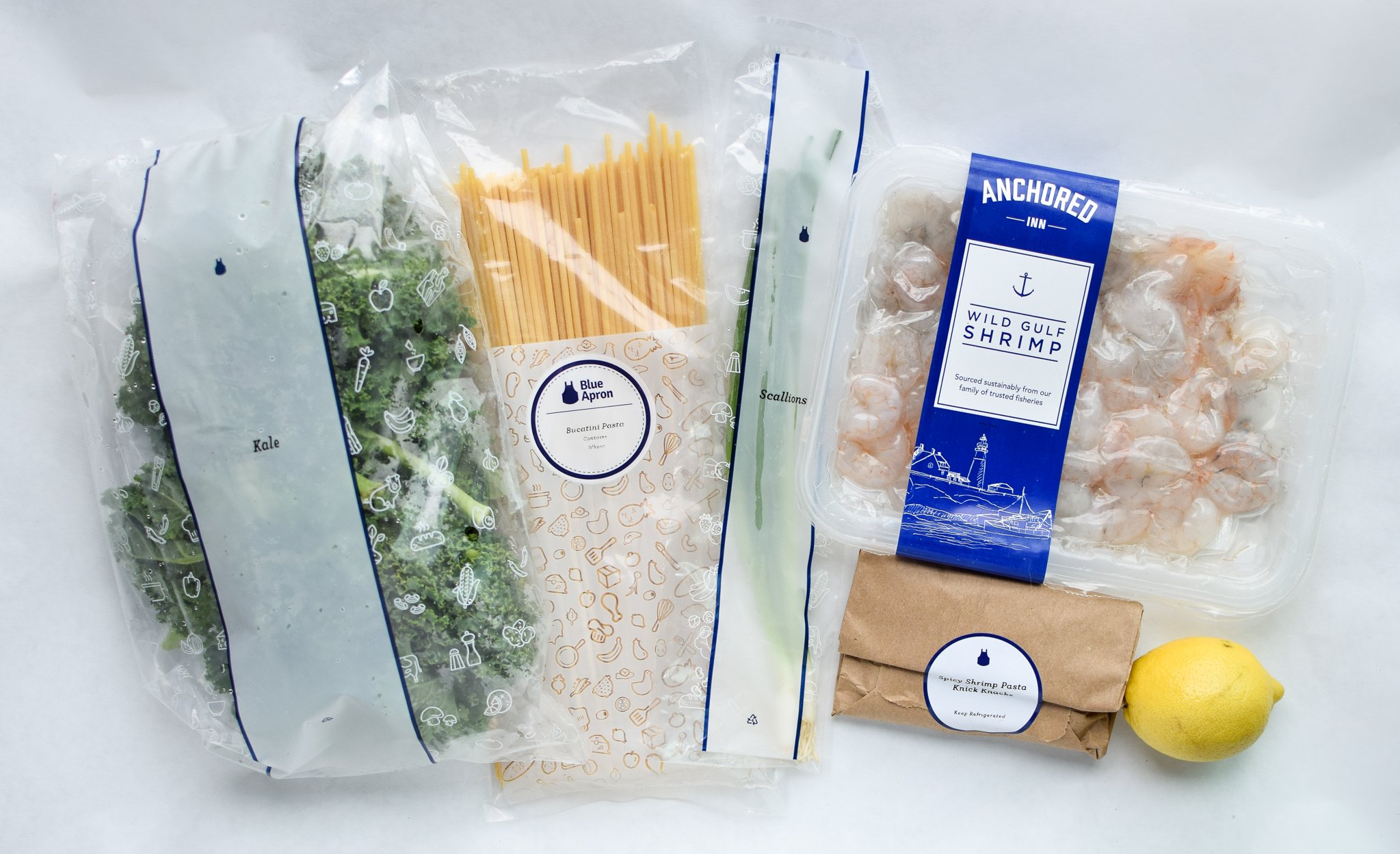 I have only good things to say about the shrimp. It was already peeled, deveined, and the tails were removed. Plus, I felt pretty good knowing the shrimp was sustainably sourced. The serving size of the shrimp was decent. Really, they could have sent less pasta and we would have been perfectly happy (they give you a 1/2 pound for the recipe). The lemon was fresh, and the kale was crisp.
The knick-knacks included some butter and red pepper flakes. I only needed to provide salt, pepper, and oil for all of these recipes.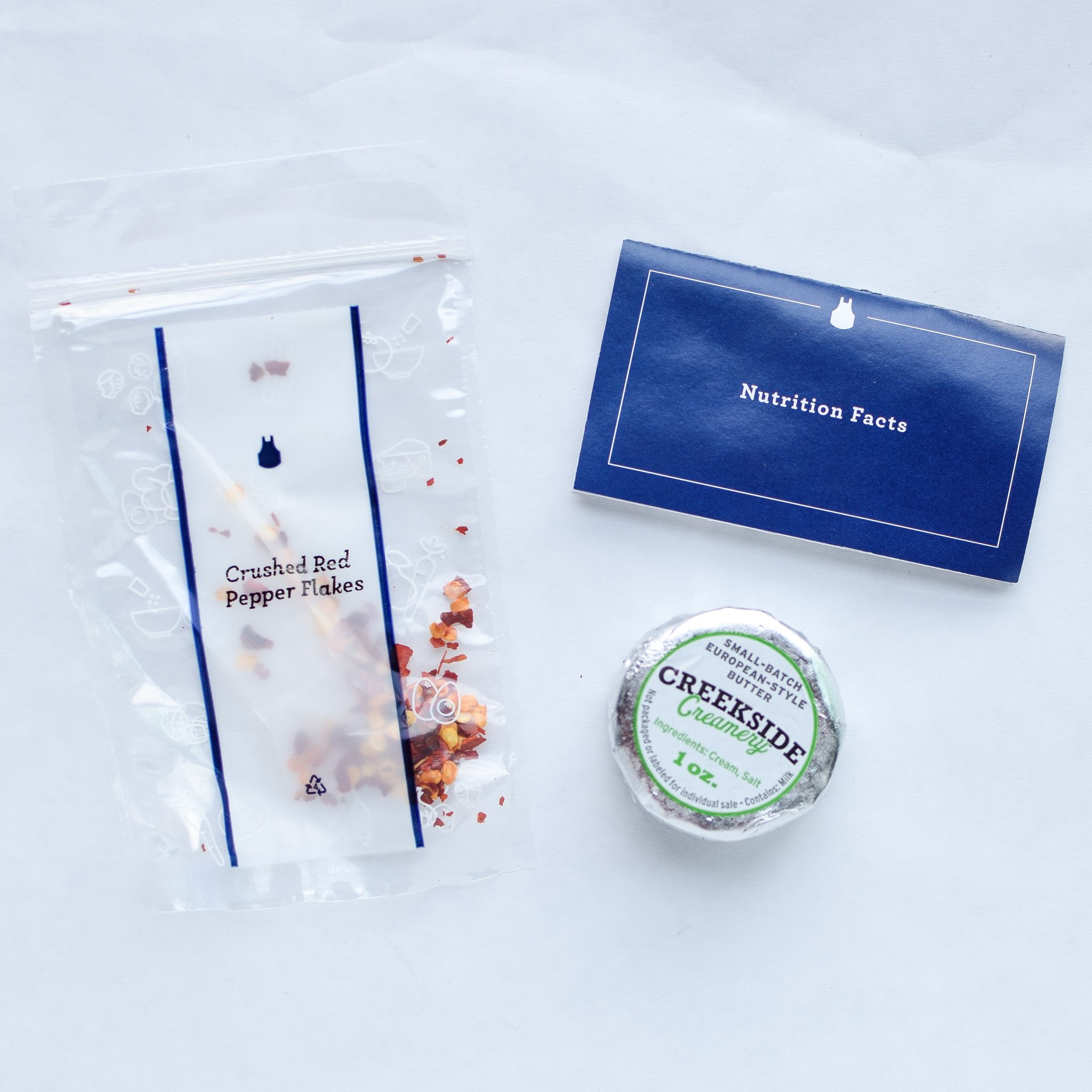 Sautéed Beef & Potato Latkes with Roasted Beets & Carrots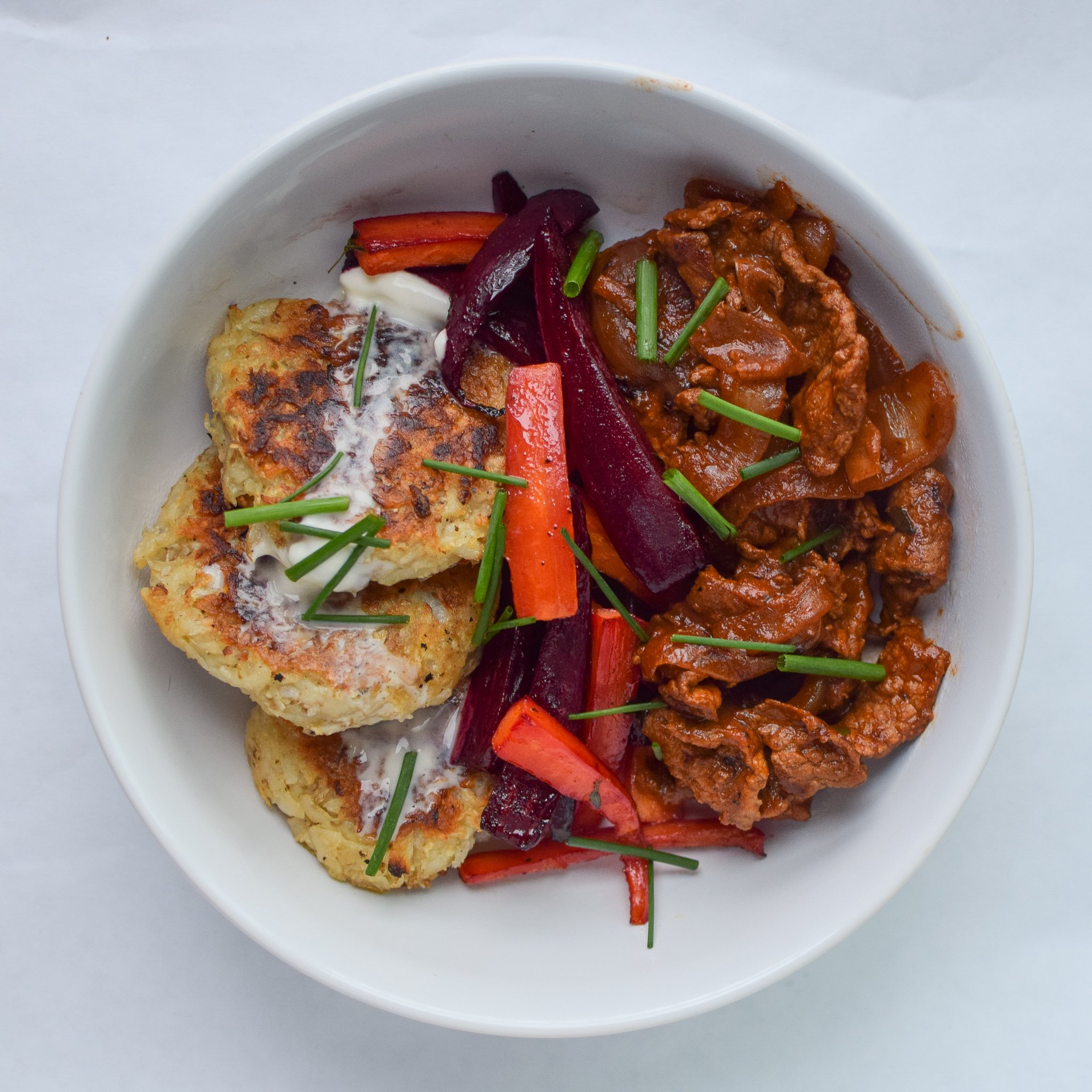 I prepared this meal on a Monday, and Sean took it for lunch on Tuesday and Wednesday. He said it was enjoyable, and specifically mentioned the excellent quality of the beef. When preparing the beef, I could tell it was not at all fatty. It was pre-cut into the sizes pictured, and was pretty simple to cook with the other provided ingredients.
The latkes were a little more difficult to make, and I actually was surprised at how much work it took (for a seemingly simple delivery service meal). In exchange for time saved cutting the beef, I shredded two potatoes and half an onion, and got pretty messy while forming the latkes. It was worth it though, and I'm definitely saving that recipe for another time. The cage-free farm raised egg had it's own protective packaging. I thought it was pretty cute.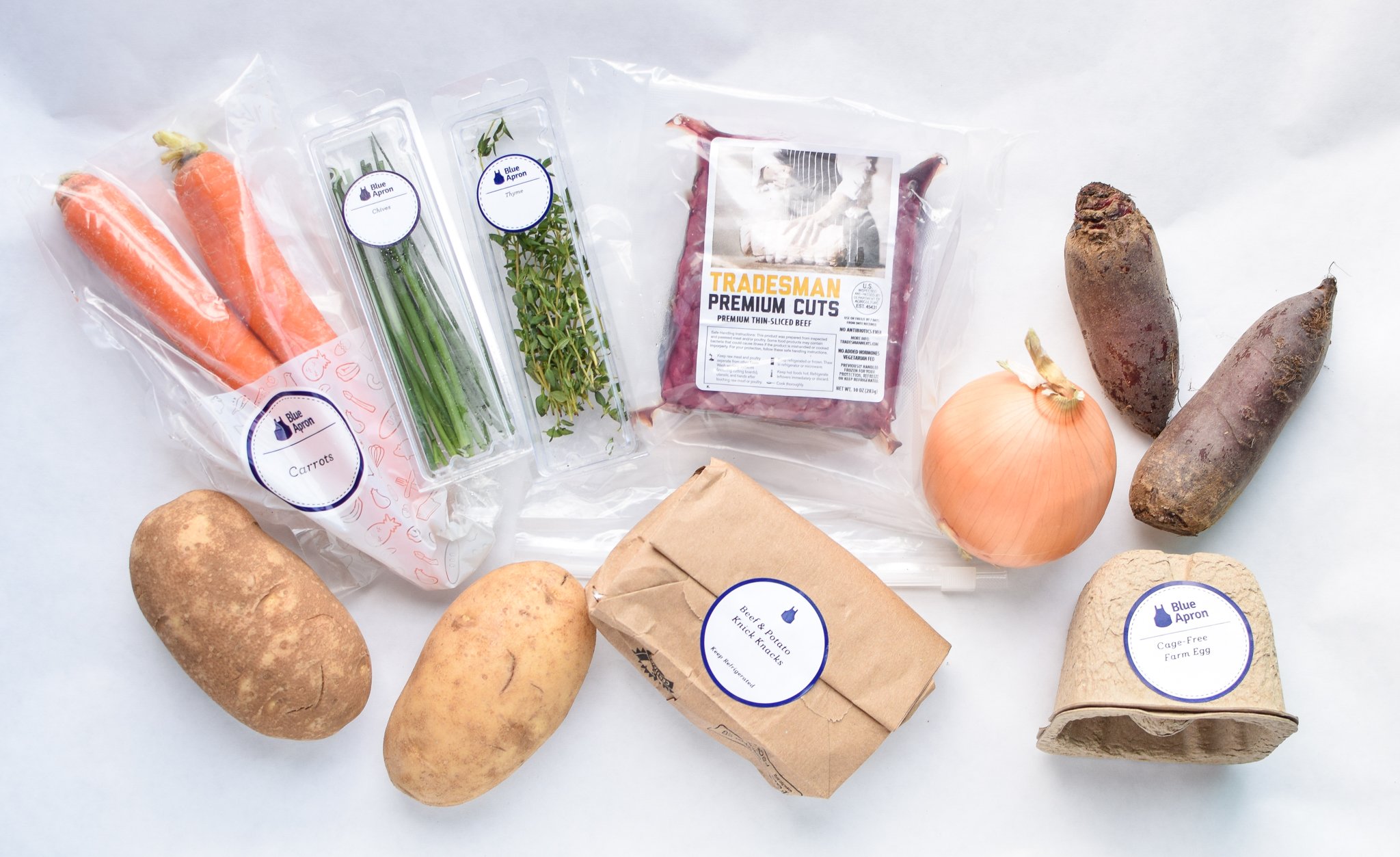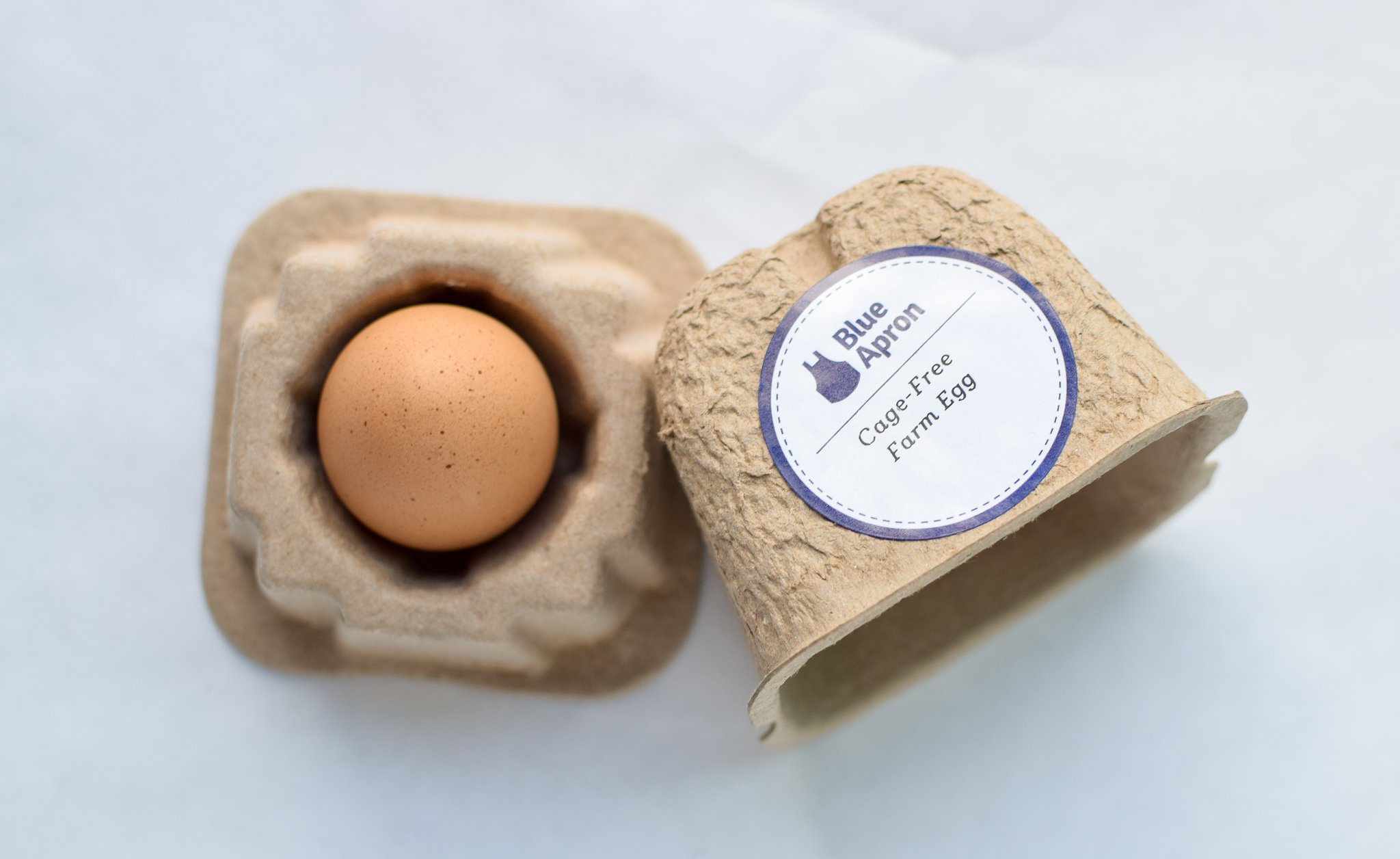 The provided herbs (thyme and chives) were incredibly fresh. I think they could only be fresher from my own garden (which is nonexistent – sad face).
The knick-knacks had more of a presence in this recipe, and included tomato paste, cream, matzo meal, white wine vinegar, and the nutrition facts.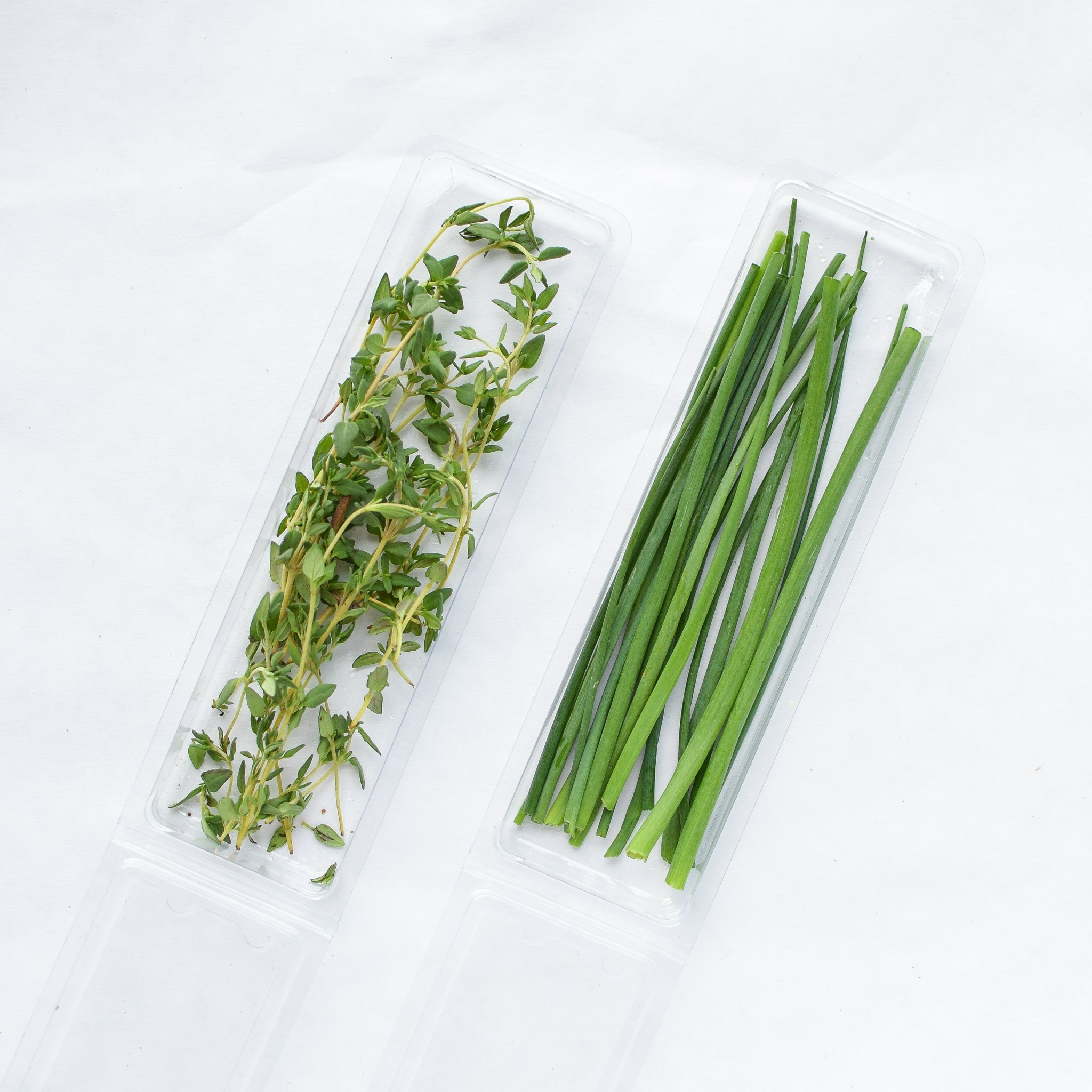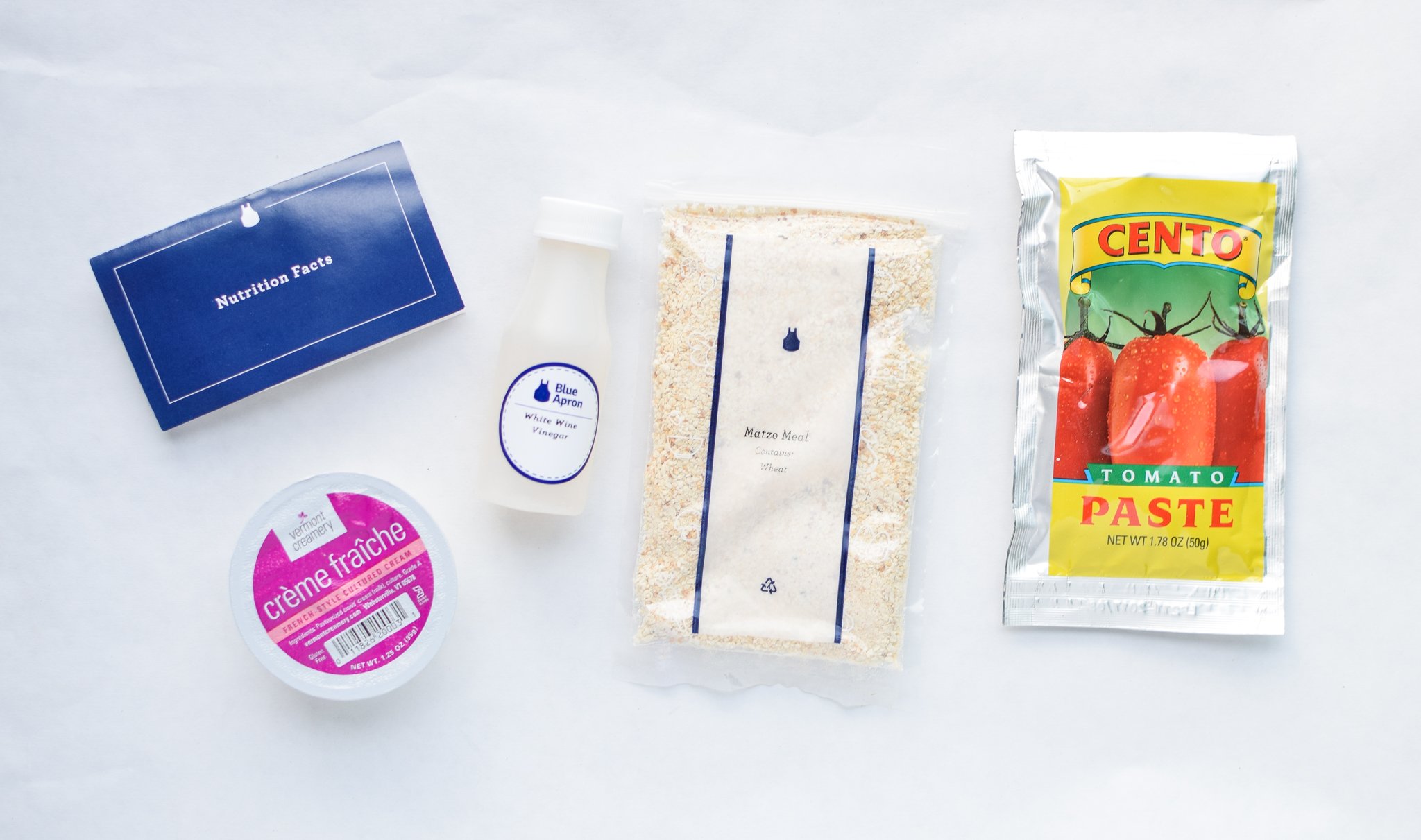 Harissa Chicken Skewers with Khorasan Wheat & Persimmon Salad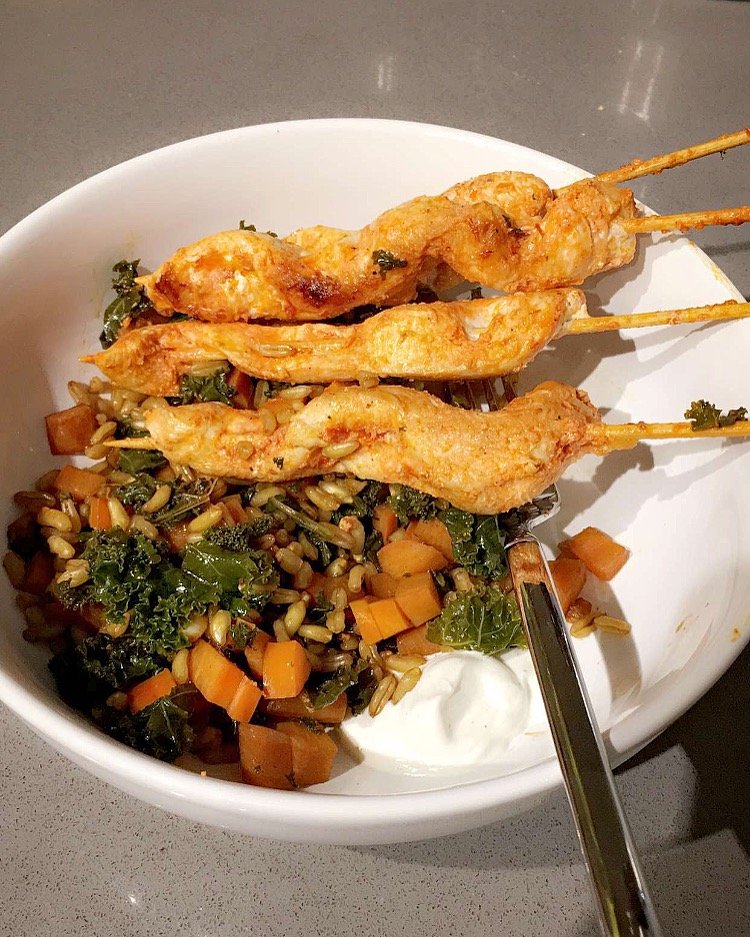 This was by far my favorite meal. I was just the right amount full after finishing, and I wanted more. Not only more skewers, but more of this salad. Kale, Khorasan wheat grain, and persimmon salad. I never would have guessed these ingredients would go well together. In fact, as I was cooking it, I wasn't very excited to eat it. Because… kale. But it was *shockingly* good. Like, "hit salad of the party" good.
In this meal, the meat was not pre-cut, but was just as good of quality as the beef. I could have eaten 10 skewers. Sean felt the same. We had a few moments with this meal.
Knick-knacks included a cream/labne cheese, red wine vinegar, and red harissa paste. The recipe said to add as much paste as your spicy preference. I used it all! And it was seriously delicious.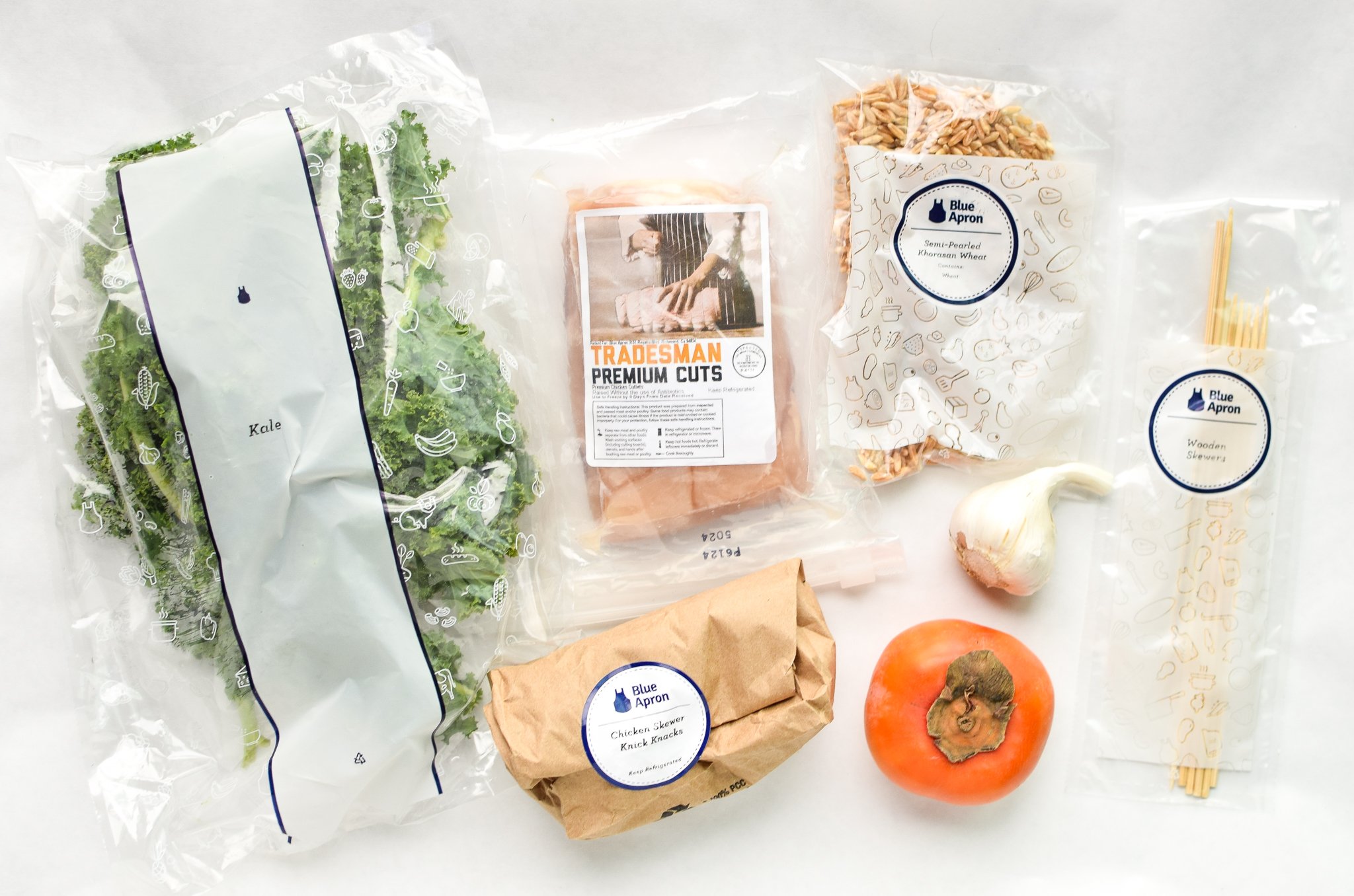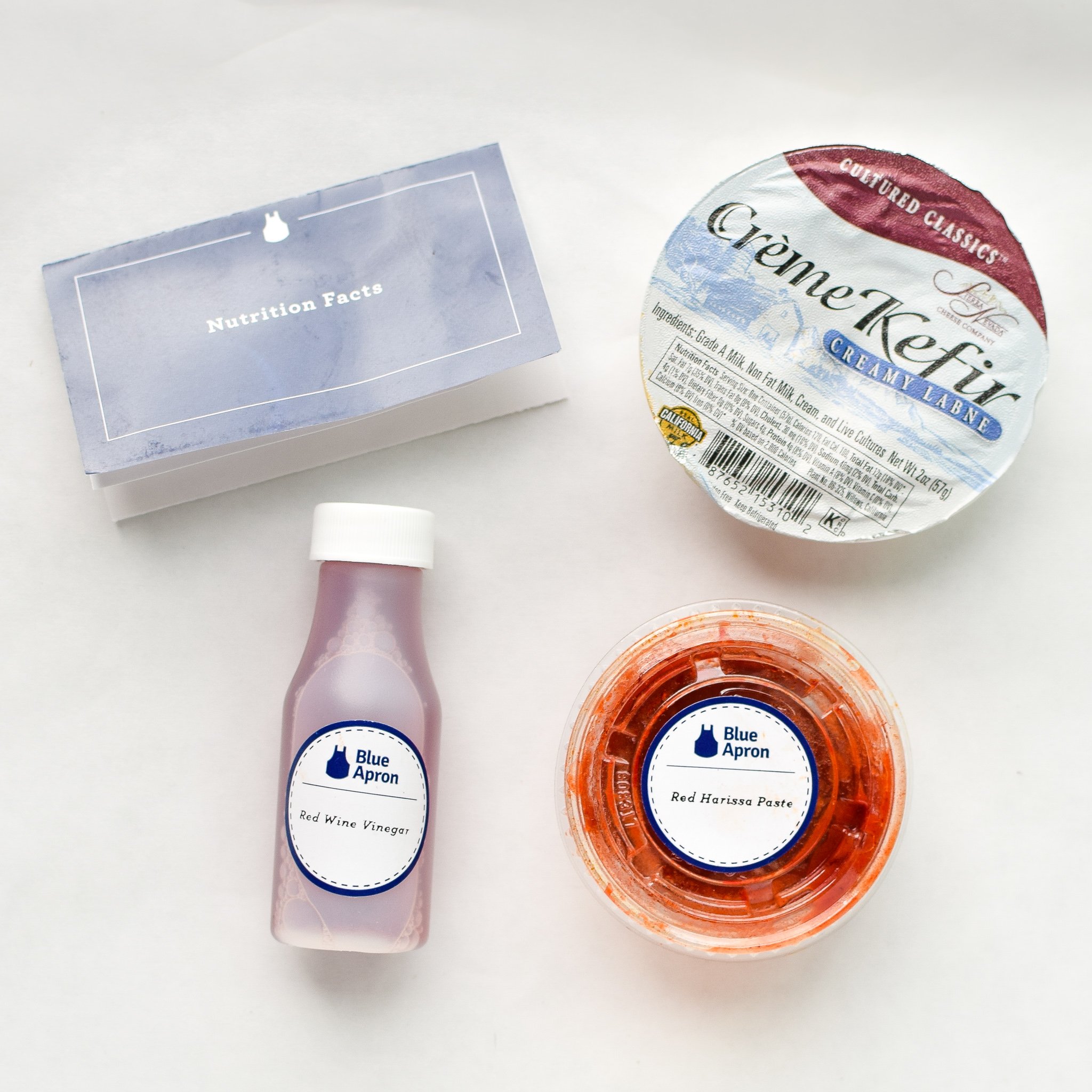 Claims:
Make incredible home cooking accessible to anyone

: YES, overall. Blue Apron sends you pretty much all you need to cook three dinners a week, short of the pots, pans and utensils required. They also provide detailed recipe cards with about seven pictures each. In most cases, it seems like you only have to provide the salt, pepper and oil. My only hesitation here is that some basic cooking skills are required. For example, some of the recipes say, "Season with salt and pepper." I would imagine that's a simple request for someone who knows how to properly season with salt and pepper. But there's no quantity designated (not even the often used but vague term of "a pinch"). Though overall, yes, anyone should be able to cook these meals, and they were all delicious.

No shopping, no planning

: YES, and YES. Totally 100% true. I didn't have to shop at all. The only thing I did have to plan was what night to cook each meal.

Incredible ingredients, incredible meals

: YES, because the answer isn't no. They seem to really like the word "incredible" but, it does seem to be true. As I mentioned previously, I love that Blue Apron makes the effort to work directly with family farms and focus on sustainability. Since it seems like everything is always available at the store, I think sometimes we forget to eat within the season. Blue Apron helps you accomplish just that. Every meal was tasty and we consumed everything we received.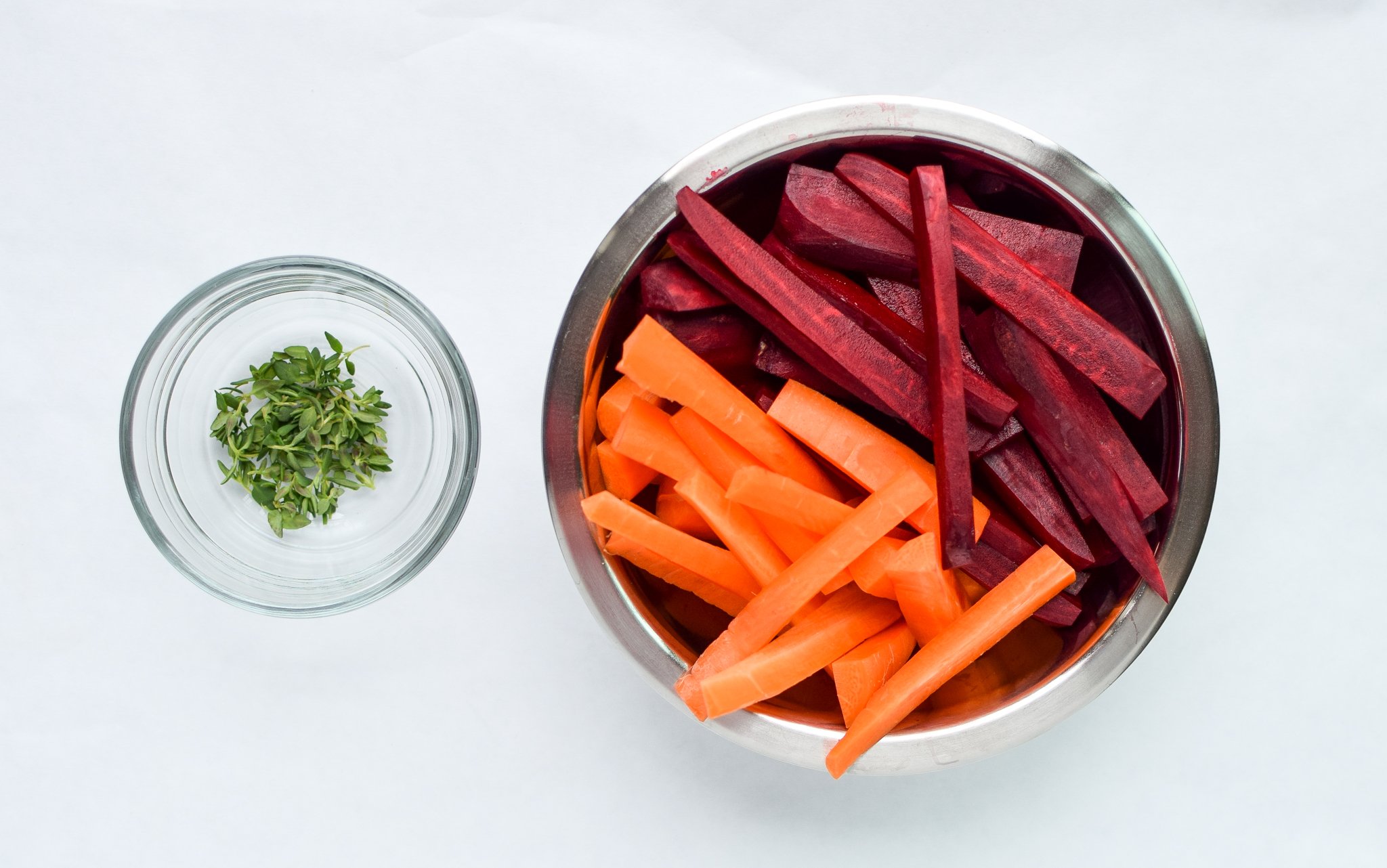 Pros:
Time vs. cost

: At $9.99 per serving, I can see why some say it's a bit spendy. Technically, you can buy much cheaper stuff at the store. But is it as good of quality? Is it sustainably sourced? Is the purchase supporting family farms in your region? Probably not. And, if you're more of a "time is money" kind of person, it's absolutely worth your money, and then some. Think about the gas money you're saving. The "what's for dinner" headache. The stupidly long lines at the store the two weeks before Christmas (still upset about the Costco line at 10:25 am today).

Food waste

: With Blue Apron, I found there was virtually no food waste, if you don't include the stems of the produce. We had no leftover food. A couple examples: Instead of buying an entire bunch of scallions, they send you only the two stalks you need. Instead of buying a can of tomato paste and only using two tablespoons, they only send you the amount you need. This makes me very happy.

Planning ahead

: Even though you aren't planning it, three of your meals are still planned. And it's done pretty well. This should make planning the rest of your week a little easier, am I right?

Quality ingredients

: I've already discussed this, so I won't go into detail. But, every ingredient we received was high quality. Everything was packaged well. Some items were wrapped in plastic, but a majority of these were items that would already come from the store wrapped in plastic. Other items weren't wrapped in plastic though (potatoes, carrots, beets; hard vegetables were all free within the delivery bag). I personally thought the ingredients were as fresh or fresher than you could find at the store.

Delivery

: I panicked when our delivery didn't come on the day it was supposed to. Would everything be spoiled? Would it all be a disaster?!? No, none of that happened. The delivery was one day late due to inclement weather. Blue Apron sent a kind email explaining what happened, and they had worked with FedEx to ensure proper storage of the delivery. They were positive it would arrive the following day. And it did! Since they originally say it could arrive as late as 10pm, you probably wouldn't plan to eat one of the meals the first night anyway. The packaging was pretty ingenious, and the frozen packs were still rock hard. No problems at all.

Everything is online

: Every recipe is online, along with helpful prep videos. You can even review Blue Apron's entire cookbook.

Ease of cancellation

: Apparently this used to be an issue with Blue Apron. Older reviews I read stated it was nearly impossible to figure out how to cancel online. These days, it was as simple as "account deactivation". You can also skip a week's delivery if you don't need it, and let them know at least 6 days in advance.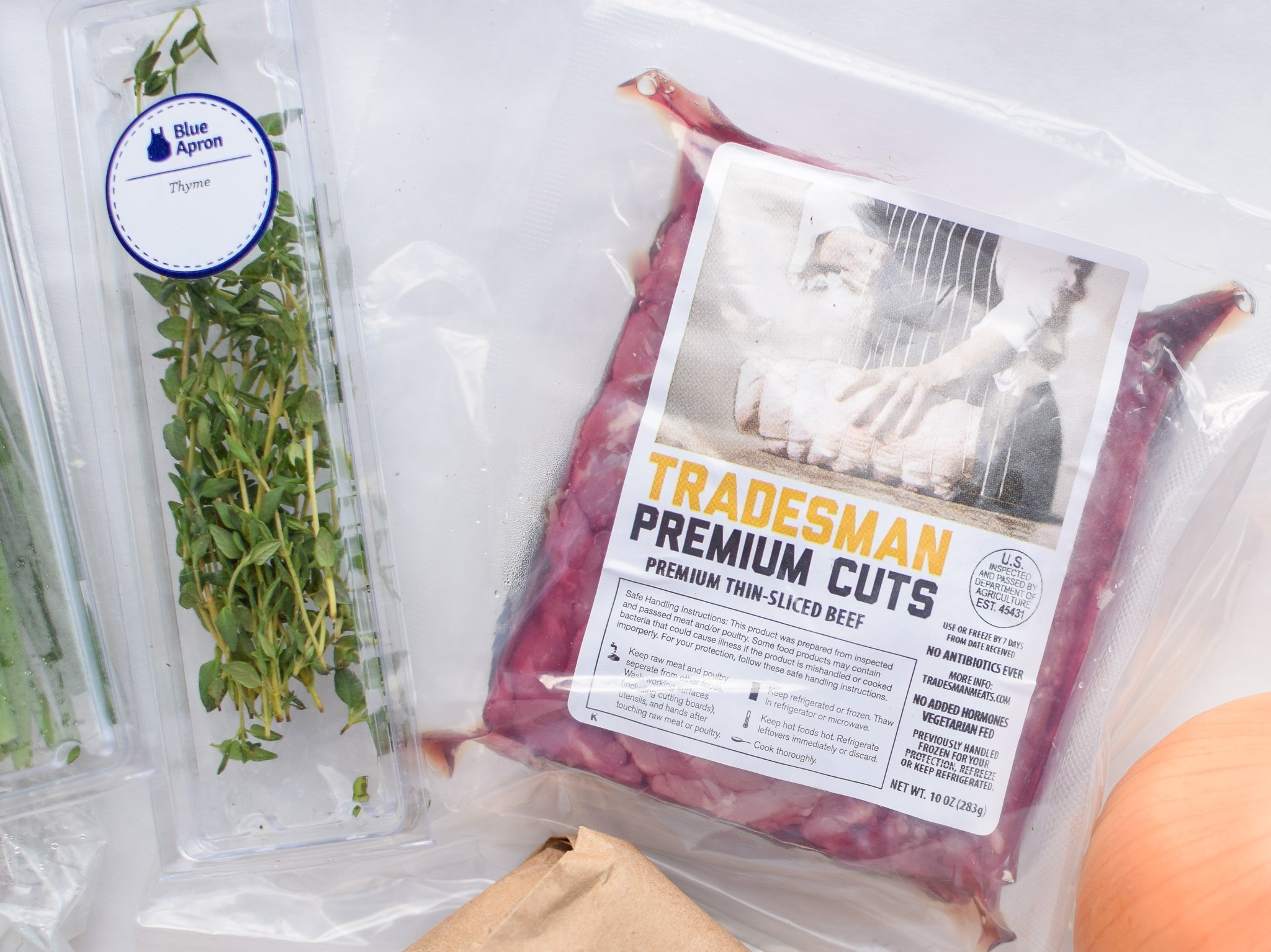 Cons:
Choices

: I would never say Blue Apron's recipe choices are bad, but there are not a lot of them. For the two-person plan, you have six options every week (and you receive three of them). It appears there is always one seafood option, one beef option, one chicken option, and three vegetarian options. You can select your dietary preferences to automatically receive specific choices. However, if you do have limitations, you have even less than six options per week. This could be good or bad, depending on how picky you are.

Those carbs

: One of our meals was incredibly carb heavy (the bucatini pasta meal). Though the meals normally seem healthy, if you're on a specific diet, you might need to pay attention to the weekly choices and make changes.

Preparation required

: While you are sent everything you need, you still need to designate time to prepare most ingredients. Some recipes required a bit more prep than others. A good knife is required for all the veggies and meat cutting.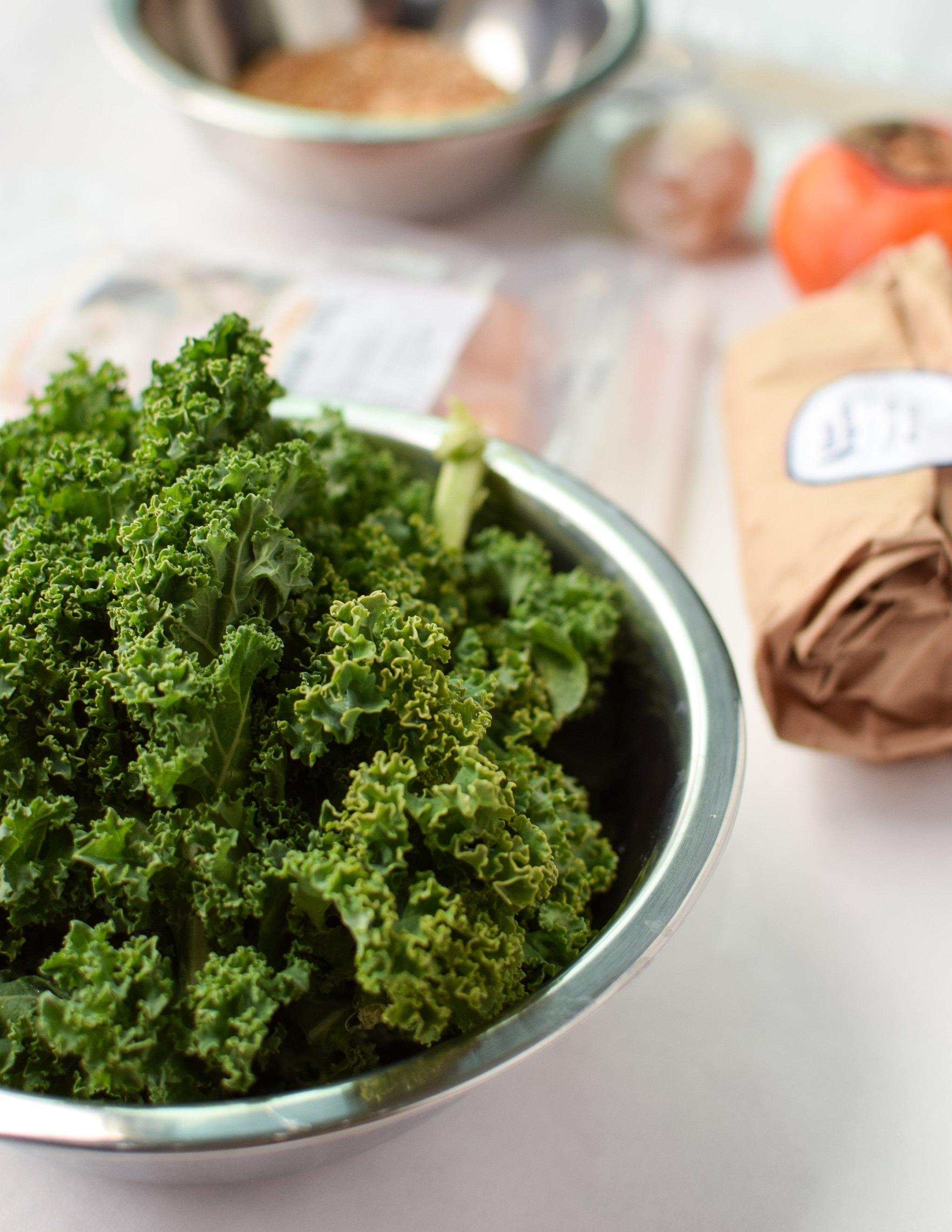 Conclusion:
Overall, our week of trying out Blue Apron was exciting, super yummy, and definitely something I would recommend. I'm so impressed with their ingredients and recipes that were a little different from things we normally cook. Personally, Blue Apron is not a service I would use on a regular basis. BUT, that's because I cook all the time, and I'm constantly recipe testing/meal prepping. However, for a couple of working individuals who are tired of thinking of dinner ideas and forgetting ingredients at the store, this is the perfect service. If you have any questions about my experience with Blue Apron, feel free to send me an email at danielle@34.211.113.157.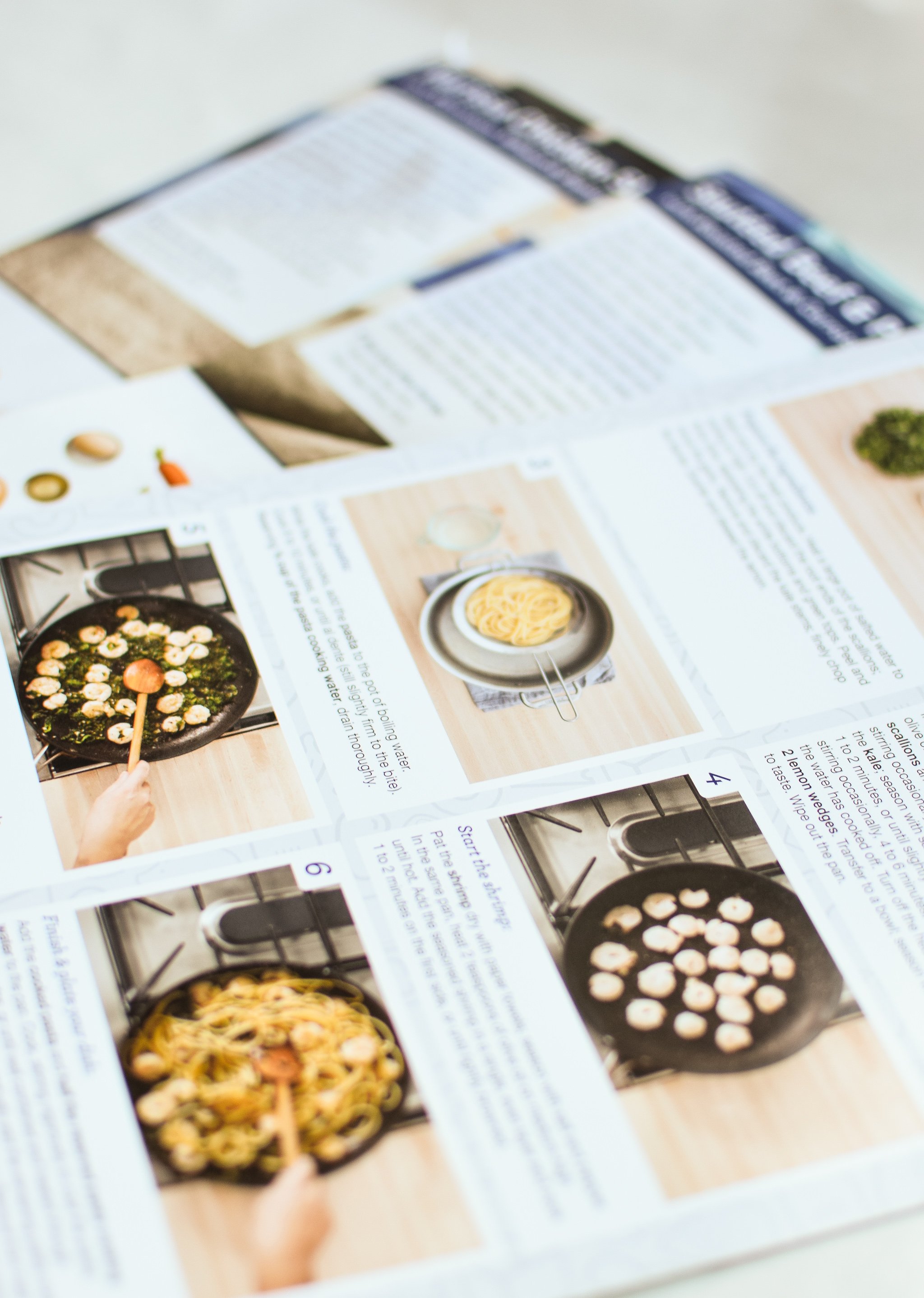 Interested in having your product reviewed? Project Meal Plan is happy to provide an honest review of any food item or kitchen product, particularly related to meal planning, cooking, and meal preparation. If you are a manufacturer or professional affiliate and would like your product reviewed, please email danielle@34.211.113.157 to arrange. Sending an item for review does not guarantee a positive review. I do not accept monetary compensation in exchange for reviews. All opinions are my own.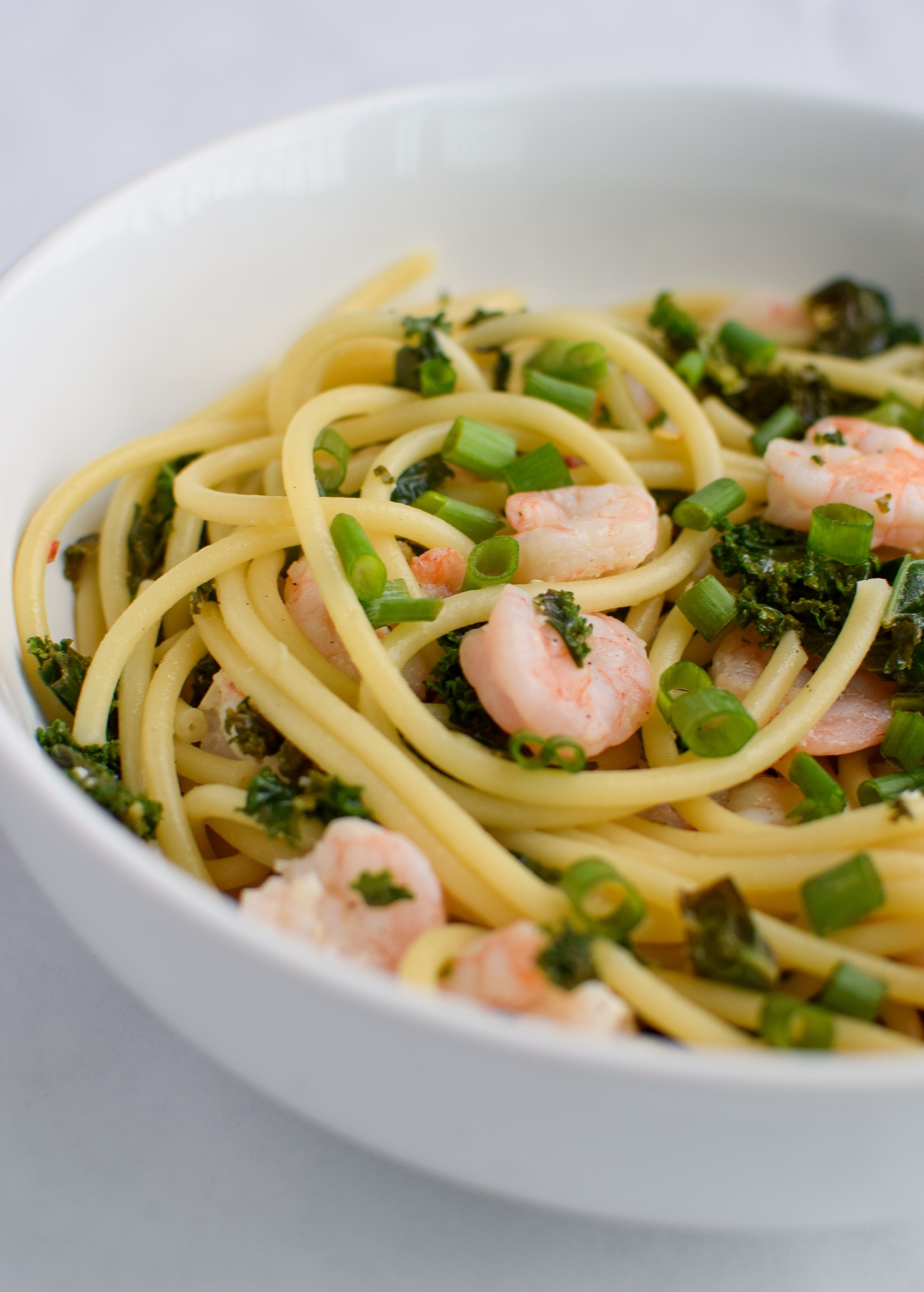 Disclaimer: I did not receive any compensation from Blue Apron in exchange for this review, and I am not affiliated with Blue Apron in any way.