Meal prep, home cooked meals, cooking recipes from scratch; all awesome and delicious – all create dishes. So. Many. Dishes. And I'm over it! For those of you Dreading the Dishes, here are 10 Tips to Make Fewer Dirty Dishes!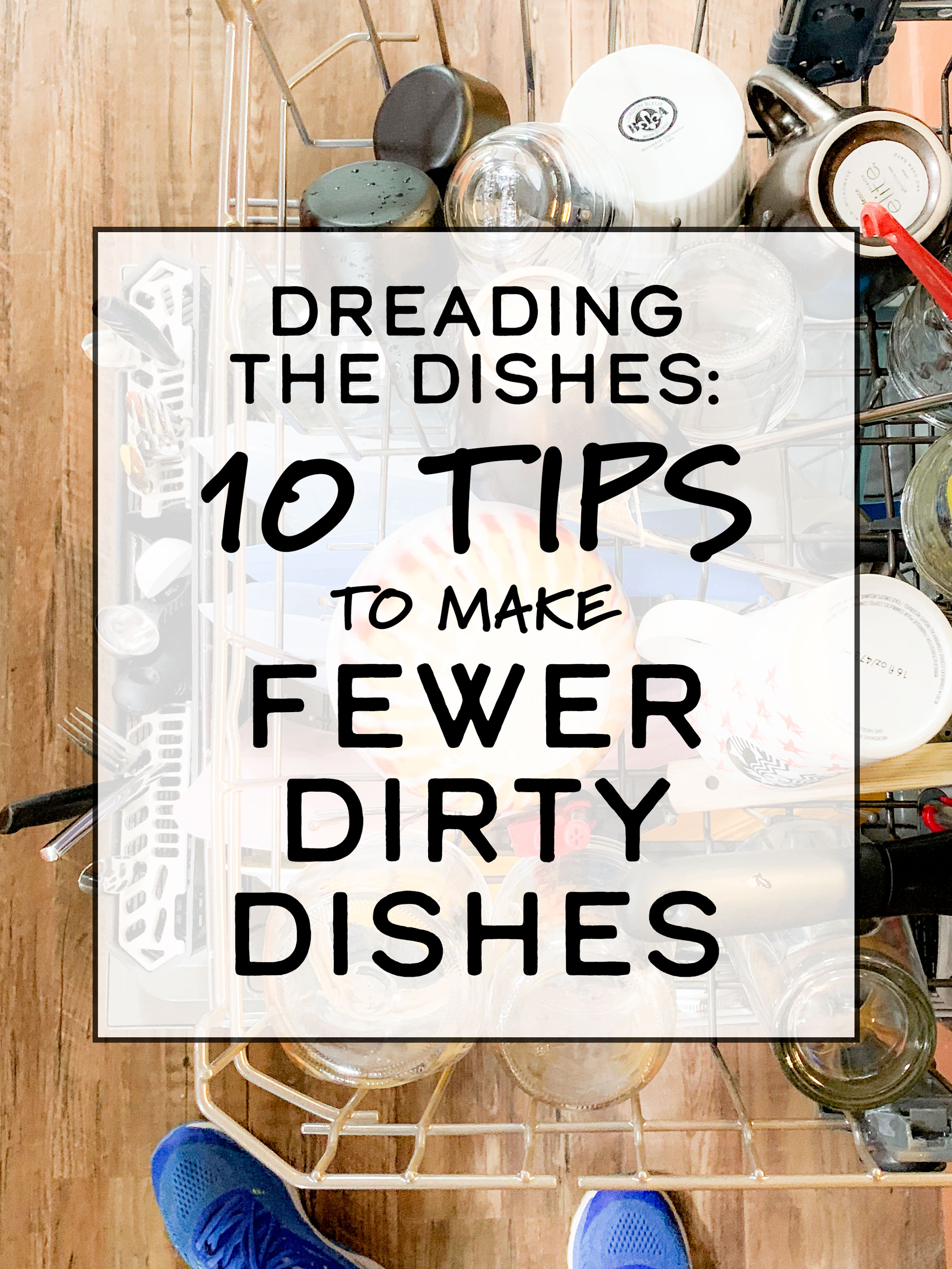 Here are two quick facts about me: I have a degree in Environmental Science, and I care passionately about the environment. Another fact: It's almost Earth Day 2019 (April 22). You can read more about the kinds of things I do in my own kitchen to go green in last year's Earth day article Go Green This Sunday: Eco-Friendly Meal Prep Tips.
This year, I thought I would share a specific problem we all deal with, and some ideas on how to help. It's one I've been struggling with and thinking about for a few months now.
I hate washing dishes.
Just like I hate doing laundry. It's an endless cycle. SO MANY DISHES. And it uses a lot of water in the process. Cooking your meals at home, usually from scratch, has so many pros. It's my hobby. It's my career. It's basically my life.
But the dishes – they add up faster than if you eat at restaurants or eat everything premade out of a box. There's just no denying it! Cooking from scratch means most ingredients get their own bowl, you'll always have pans to clean, and then containers to store leftovers. Oh, and don't forget all the utensils and tools used up during cooking.
If you meal prep, you know the struggle. I do use a dishwasher, but I wash all pots and pans by hand (even if they say dishwasher-safe, they last longer that way!). If you have to wash everything by hand, I can't even begin to feel your pain.
Solution: Make fewer dirty dishes.
Great idea! But how? I've been thinking on it for a while now. Some of these ideas I already do in my kitchen, and some of them I seriously need to work on. Let's do this together! Save water and time for yourself by trying out a few (or all!) of these tips in your kitchen.
10 Tips to Make Fewer Dirty Dishes
1. Cook more one-pot meals.
And cook fewer meals with individually prepared ingredients.
This is one of my favorite and most useful tips on the list! Cooking an entire meal using only one pot or pan not only saves you from dirtying other cooking dishes, but also saves any of the utensils used to prep, stir and serve the other meal components. I try to cook at least one one-pot meal a week, but I should do it more often to make fewer dirty dishes!
There are tons of options for pots and pans that will do all the work – I bet you already have at least one of them in your home. Here are some recipe ideas to get you started!
Sheet Pan – A classic for oven roasted meals! What's great is you can add ingredients sooner or later if they need more or less cook time than other things on the pan. There are endless recipe combos to try here!
Skillet or Dutch Oven – Love how (oven-safe) skillets and Dutch ovens can cook on the stove and transfer to the oven!
Crockpot or Instant Pot – Make the appliances do all the work! Depending on how fast you need a meal on the table, one of these appliances can do exactly what you need!
Casseroles or Bakes – Be careful, some casseroles require cooking ingredients separately before assembling. Here, we're looking for the dump and bake ones! No pre-cooking in another pan and cooked all in the casserole dish.
Of course these are all just ideas – you should search for what you like. Make sure to narrow down your search using keywords including "one pot", "one pan", and include which cooking method you want, and you'll get tons of options.
2. Use a scale to weigh out ingredients, instead of using measuring cups and spoons.
If your recipe has measurements by weight available, put your bowl on a scale and add the ingredients by weight. I find this tip is most useful for baking. Using a scale will make fewer dirty dishes and less dirty measuring cups and spoons because you can add ingredients directly from the container, sometimes without even dirtying another utensil.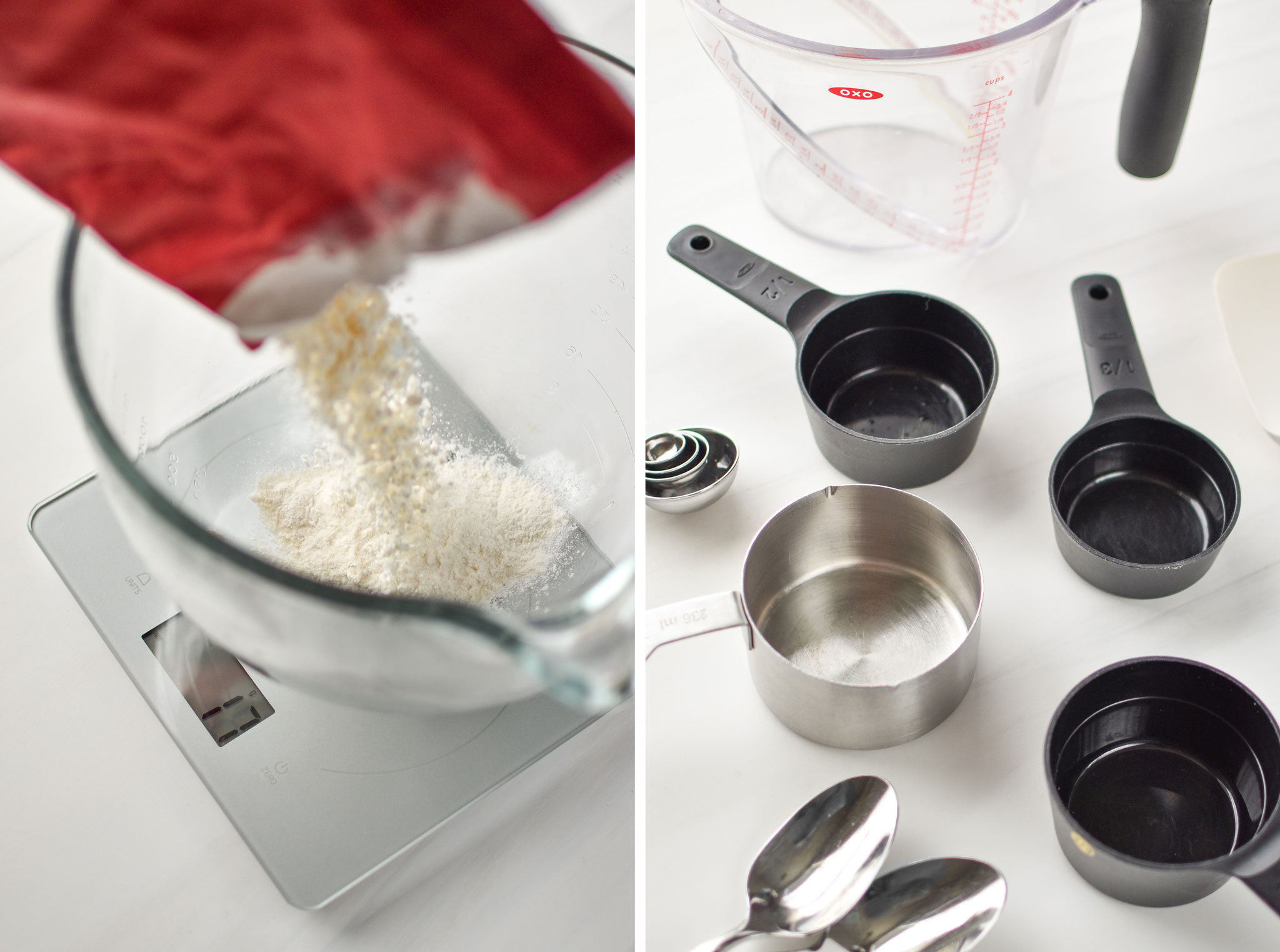 3. Use one large measuring cup instead of several small ones.
For some recipes, using one large measuring cup instead of several small ones can help cut down on dirty utensils. I use this 4-cup angled measuring cup (affiliate link!) for this purpose all the time. This is especially handy if the recipe has lots of different liquids, and you don't need *exact* measurements for the non-liquid ingredients (cheese or cut veggies, for instance). Make fewer dirty dishes by using one measuring tool instead of several.
Here's an example, in case what I'm saying sounds crazy: Let's say a recipe calls for ingredients such as 4 cups broth, 2 cups spinach, 1 1/2 cups cream, and 2/3 cup shredded cheese – it's totally okay to just use one large measuring cup to do all the work instead of using four different measuring cups.
The same can go for spices – the more cozy you get with eyeballing it, the fewer measuring spoons you'll need. Sometimes I'll just use the 1 teaspoon size, for example. I'll eyeball it for 1/2 teaspoon and 1/4 teaspoon measurements for the same recipe so I use only one measuring spoon.
4. Use one bowl for prepped ingredients added to a recipe at the same time.
Prepping ingredients before cooking is a fabulous habit, and one you should consider taking up if you want to be a better cook. But prepped ingredients usually require a bowl to hold them until needed. And if you put every ingredient in a separate bowl, the dishes can really add up.
To put this tip into practice, review the recipes you're cooking and figure out which ingredients are added at the same time. Onions and peppers go in the stir fry at the same time? Great – same bowl! All the spices go in at the same time? Great – same bowl! You get the idea! Make fewer dirty dishes by using less prep bowls when you can.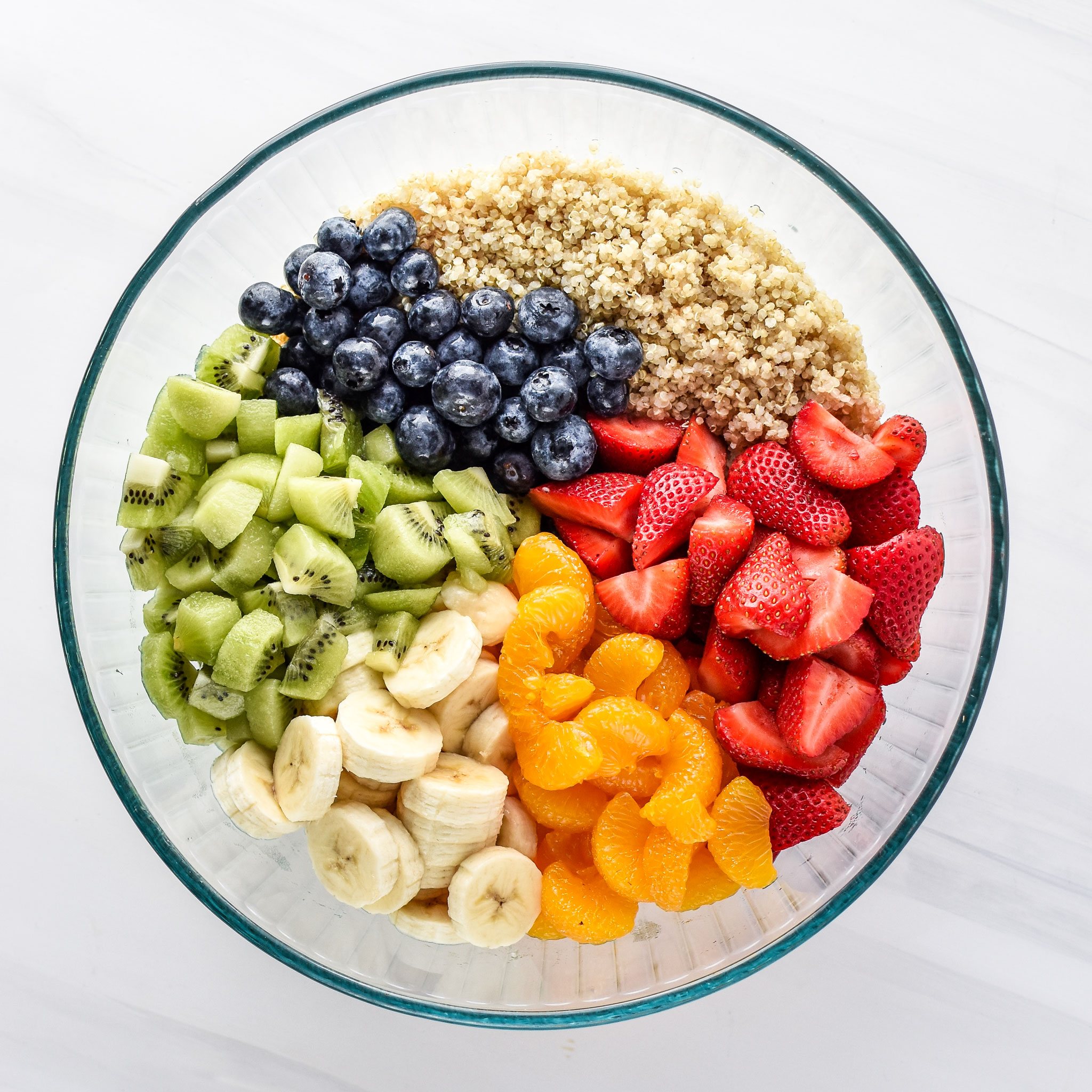 5. Use the same cutting board for everything (and cut raw meat last).
Okay, I don't mean everything, but everything within reason. Obviously I want you to use a clean cutting board when you start preparing a meal. What I'm suggesting is you use the same cutting board for preparation of the entire meal, as well as use the same cutting board as your "still using" mat while you're cooking (see #10).
NOTE: CUT RAW MEAT LAST, and do not use the cutting board for anything else after that. Always follow proper food safety guidelines.
For example, you're making tacos. *awesome* You have to cut up lettuce, onions, bell peppers, avocados, tomatoes, and limes. Maybe your cutting board needs a quick rinse after cutting the tomatoes, but there's no reason you can't keep using the same cutting board here. Even if you have a meat to cut, you can do that last on the same cutting board, and then be done with the cutting board after that.
When you're done preparing the ingredients, leave the cutting board out (as long as there is no raw meat on it). Set used utensils there so you can use them again instead of dirtying new utensils. For example, use the same spoon you used on the avocados to taste test the taco meat. Use the tongs from heating the tortillas for the chopped lettuce (see #10 about the "still using" mat).
6. Serve more finger foods, or things that don't need utensils.
The best example I can think of is to meal prep snacks like fresh produce or granola bars that don't need to be eaten with a utensil. Grab and go is always a time-saver, but also a dishes-saver!
Here are some concrete examples to take it a step further:
Set out the container of (washed) grapes and let everyone take what they want (don't serve on individual plates).
Do you normally serve a snack on a plate with a napkin? Can it be served on the napkin, instead? Not always, but maybe sometimes.
Recipe ideas: Chicken & Hummus Plate Lunch Meal Prep; Turkey Pinwheels Meal Prep; fresh veggies always, lettuce wraps, tortilla wraps, tacos, etc – no utensils needed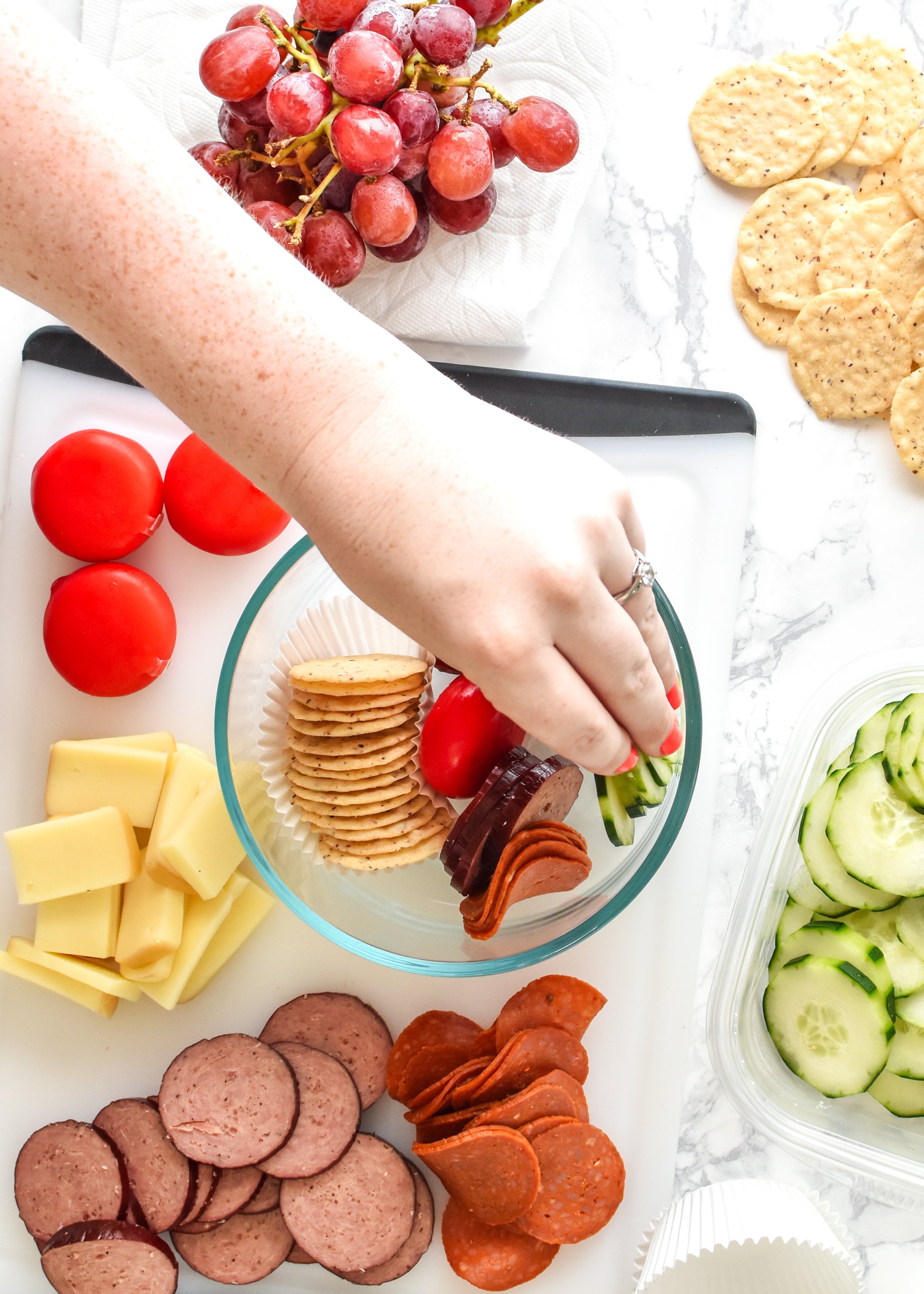 7. Bake the food in the same container you will eat the food in.
How often do you eat out of the same dish your food was cooked in? Not often enough! Because usually it would look odd to eat straight from a huge casserole dish… but this idea can be done!! One dish functioning as two. It doesn't get any better than cutting dishes IN HALF.
The best situation in which to apply this method is to use individual meal sized oven-safe dishes and bake the meals right inside. This can be done with 2 Compartment Glass Meal Prep Containers (affiliate link!), 4 cup Pyrex round glass containers, or any other oven safe dishes (read The Best Meal Prep Containers for more on which containers I use at home).
You may need to get creative and go further than some recipes instruct to make this tip work on a regular basis. Find your favorite baked recipes and create individual portions of the same thing, then bake those instead of one big dish! Check portions – if it makes 4 portions, use 4 meal prep bowls, etc 🙂
Recipe ideas for baking then eating from the same dish:
8. Serve food in the same container you will store the food in.
Going back to the tacos reference – each of those things you prepped and cut up can be put into a container that has a lid, even for serving. Then when it's time to clean up, you just slap those lids on and put everything in the fridge. No need to transfer leftovers to other containers. Make fewer dirty dishes by using the same bowl to serve the food and store leftovers.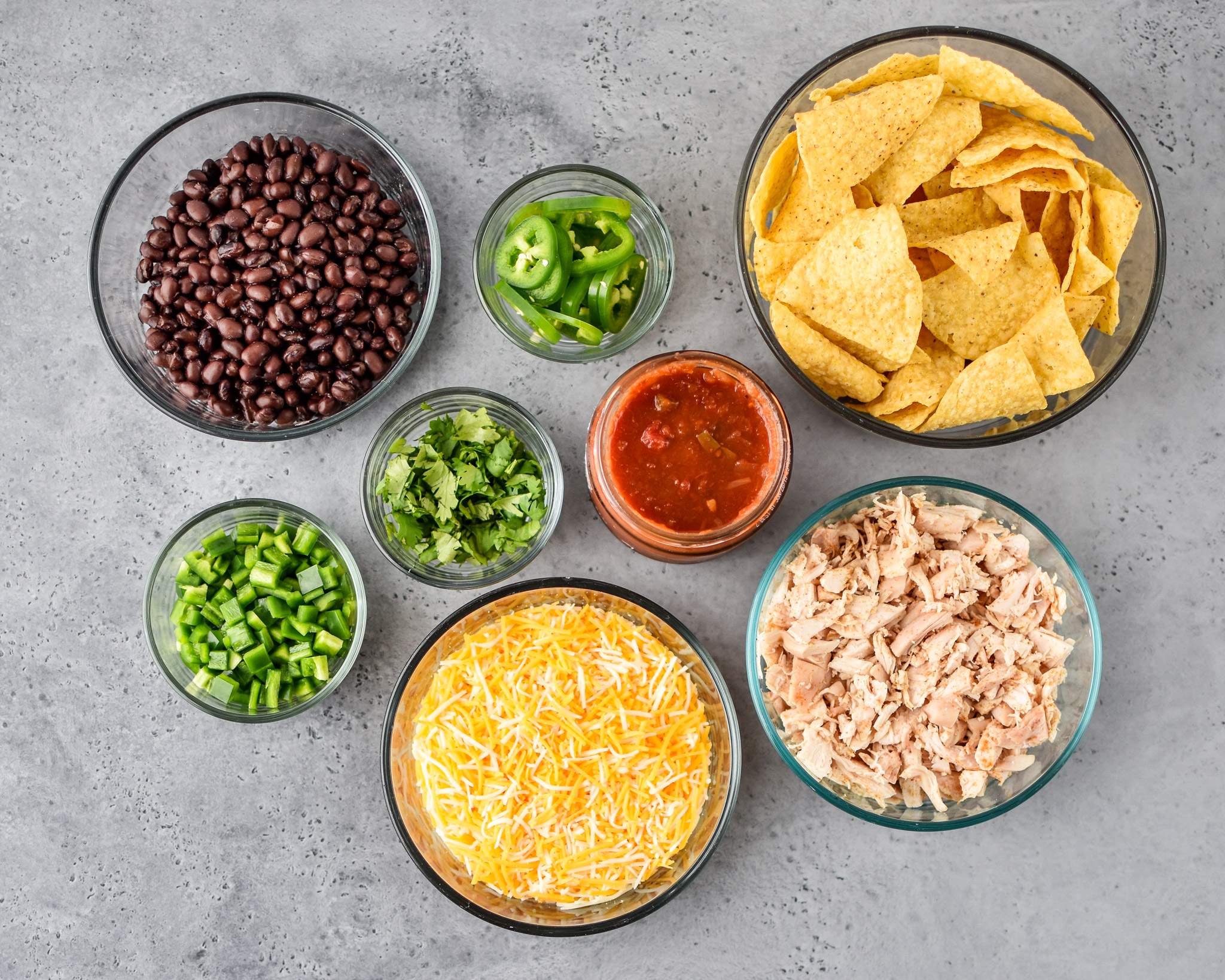 9. Use the same drinking glass all day, no matter your beverage.
Everyone in the house gets one drinking glass per day, PERIOD. They can wash it themselves if they want to drink something else. Enforce this rule with name tags, if needed. This will save you various amounts of dishes depending on how many people are in your house, and how many cups and glasses they normally use up.
You can take it one step further and create a space on the counter for the daily beverage containers so they won't head straight to the dishwasher or sink when not in use.
10. Rinse and reuse dishes and utensils during prep and cooking.
This tip is sort of two in one: 1) Clean as you go, when you can. 2) Rinse and reuse, when sanitary to do so.
I have found the best method to making this tip work is to keep a "still using" mat (or whatever nickname you want to give it) on the counter for "used but not done with" utensils. I'll often use a cutting board that was from cutting veggies, or just a clean cutting board, if I am not cooking. You can have this out all the time, or only when you're cooking – up to you.
Here are some concrete examples:
I used a spoon to stir my coffee. I left it on my "still using" mat, so I can stir my next coffee with the same spoon instead of getting a new one.
I used two forks to shred some cooked meat. Set them on my "still using" mat while I prepared the rest of dinner. Those forks can now be used for eating dinner instead of getting two new forks.
I used tongs to handle raw meat. Instead of throwing them in the sink and grabbing a new set of tongs, I used soap and hot water to wash the tongs so I could use them again for the cooked meat. This took less than a minute and saved one large utensil.
There are all very small examples, but doing all of these can make a smidge of a difference in the overall dishes load, especially if you wash everything by hand! Remember, don't wait until Earth Day to do your part! I'm doing my best every day to make fewer dirty dishes and use less water in my kitchen, along with many other eco-friendly tips.
I would absolutely love if you gave me a shout out so I can see how you're going green in the kitchen. Share with me by tagging @projectmealplan or using that hashtag #projectmealplan. Happy Earth Day!