It's jalapeño popper… in soup form! Loaded with hearty chunks of chicken breast, bacon, jalapeños, and crispy tortilla strips, this Instant Pot Jalapeño Popper Chicken Soup packs a punch of flavor! Make-ahead friendly!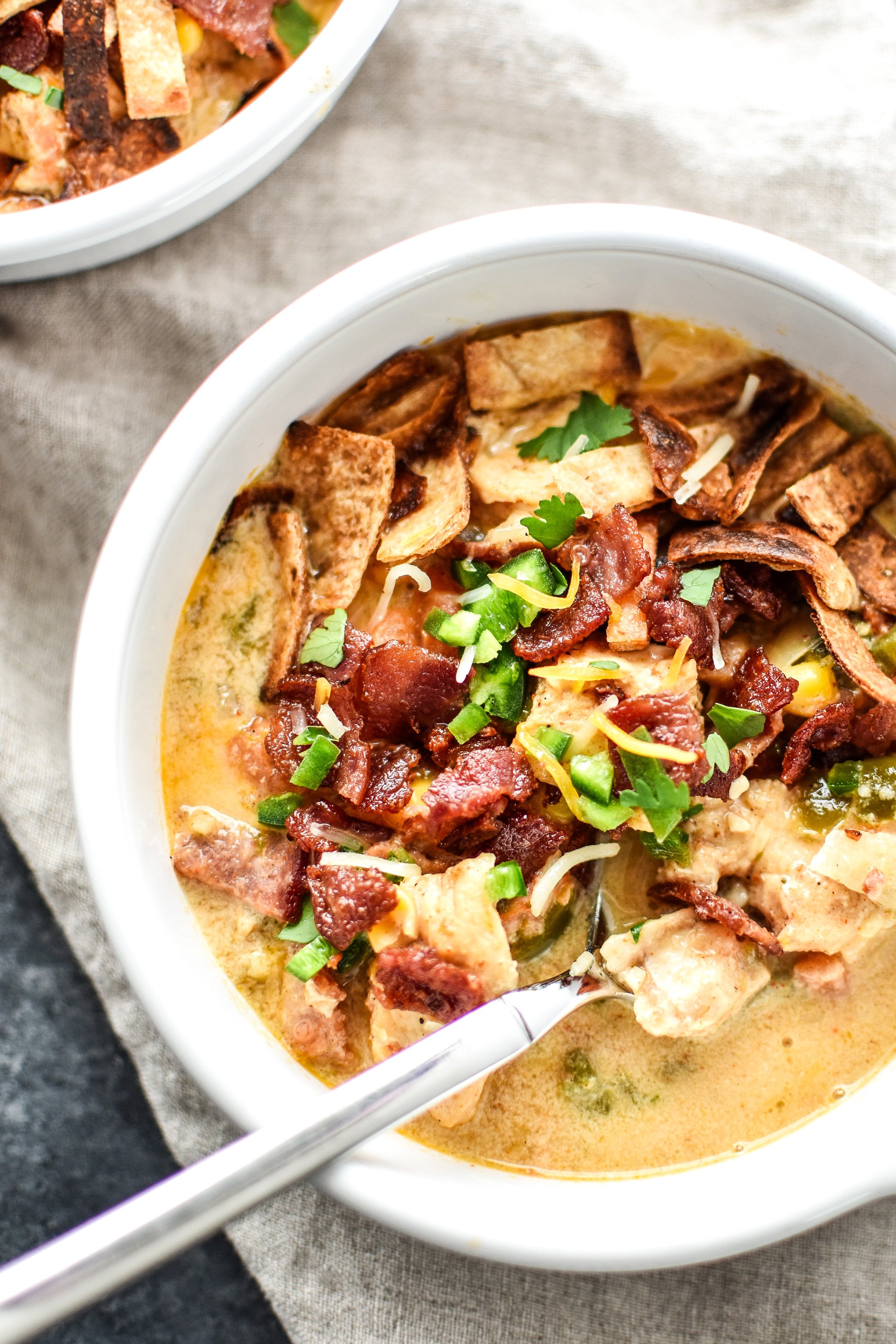 I truly did not intend to be posting another Instant Pot recipe (this is three in a row now) and I'm going to pull a classic "sorry, not sorry".
I was working real hard on some homemade granola, but I can't get it to come out just how I like it. So it's not happening just yet.
I want things I share with you to be GREAT, and worth your time. Not just mediocre recipes pumped out for pageviews that I tried and will never make again. The granola WILL be conquered. But it's just not ready yet. So for now, here's another Instant Pot recipe I'm in love with.
An unintended bonus that came with a new career in food blogging were the little associations and memories created with each recipe I post.
Having a semi-permanent record of my favorite recipes leaves room in my brain for tidbits of info that resurface when I see the photos or remake the recipes. Here are a couple examples:
Double Chocolate Peppermint Pancakes: I used a mortar and pestle to crush candy canes. SO FUN.
Chocolate Espresso Zucchini Brownies: Took these camping. Fed them to everyone at night. Forgot they were fully loaded with espresso powder. Ha!
And this soup recipe: Will never forget my husband putting a bowl of this soup into the microwave… and not all of it getting into the microwave. Soup everywhere! Not going to forget the visual of this soup inside the microwave, all over the stovetop, splashed onto the back of the stovetop PLUS the wall, ever.
It really did go everywhere. Hopefully the same thing never happens to you. Andddd that's a great transition into the soup making discussion.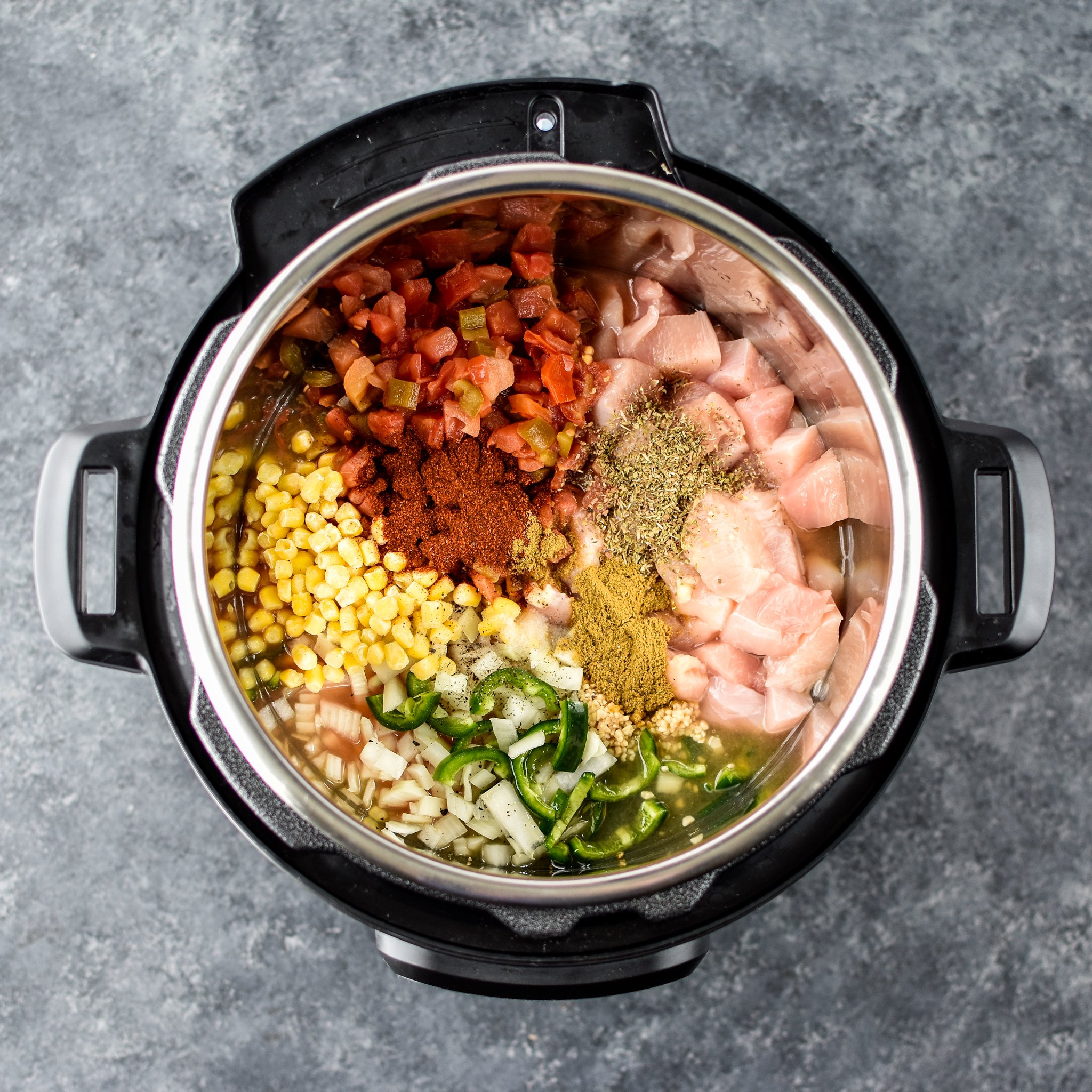 Reasons I'm digging this Instant Pot Jalapeño Popper Chicken Soup:
It tastes even better the next day. This soup is rock solid for meal prepping because the flavors mingle and develop even more overnight. When I make a batch, we'll keep eating it throughout the week and it'll keep tasting better!
Plus, it actually tastes like a jalapeño popper. REAL TALK – Bacon is NOT my favorite thing (turkey bacon is pictured). But we tried this soup without the bacon, and it simply wasn't the same. Point is – jalapeño popper taste is taken up several notches by adding bacon, cream cheese, and yeah, lots of jalapeños!
It's pretty darn easy. The original inspiration for this recipe required using pre-cooked chicken. How about, no. I'm cooking the chicken with the soup at the same time because Instant Pots are magical. The only actual semi-challenge here would be making your own bacon bits, but that's not very technical either.
No beans. Most taco style soups and chilis have beans. I first made this soup with beans and it was little too hearty. Plus, the beans and spicy food combo were not pleasant to our digestive systems. So, no beans it is. Less taco soup, more jalapeño popper.
While everything is cooking in my Instant Pot (affiliate link!), I use my Dutch Oven to cook up some bacon bits real quick.
Here's a detailed post with multiple methods on how to make homemade bacon bits!
After 10 minutes on high pressure and a quick release, you simply toss in the cream cheese and cooked bacon, stir until mixed, then you're DONE.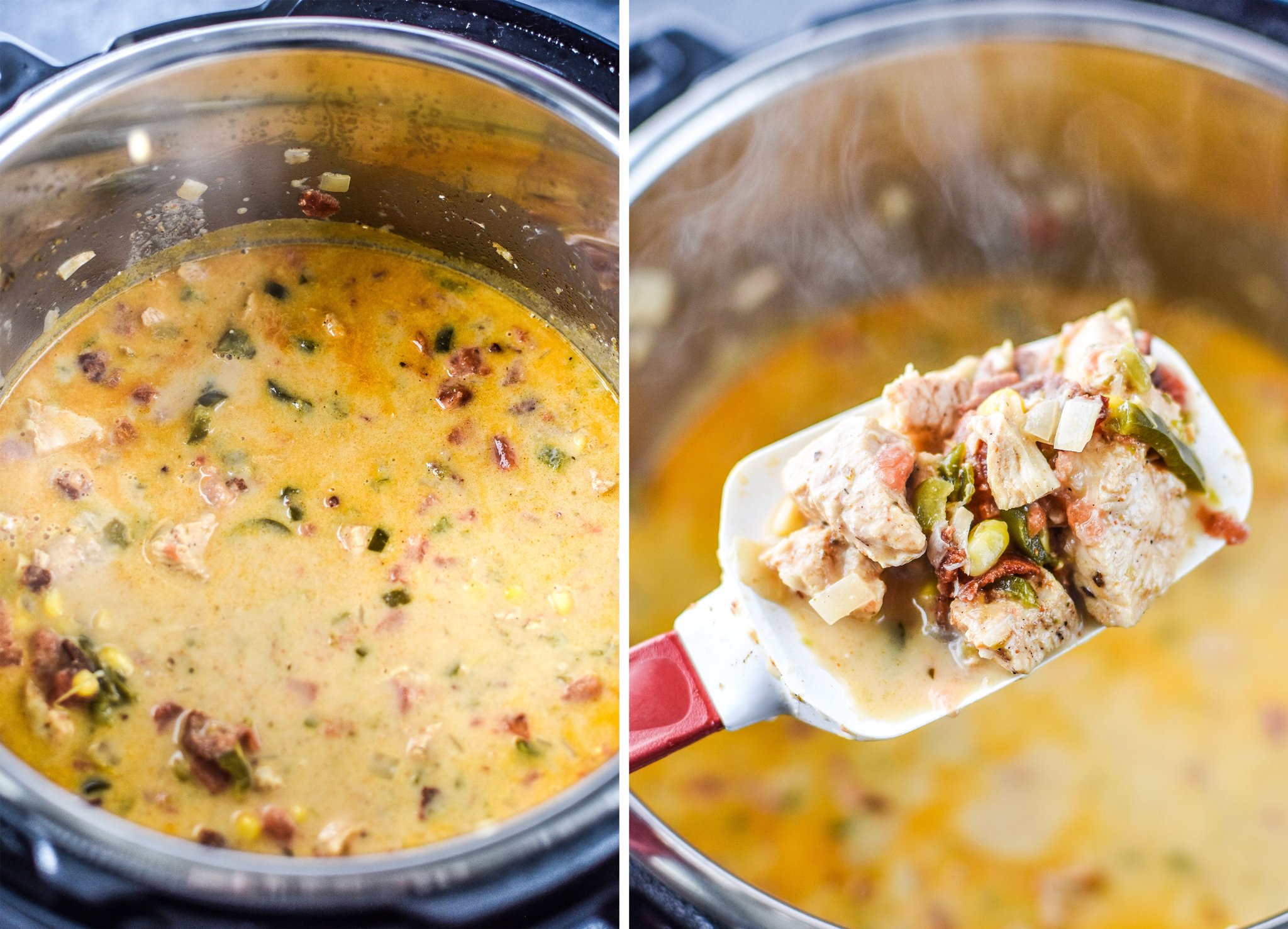 Please enjoy my very first Instant Pot soup recipe. BECAUSE WE ARE.
Here are some more deets on the soup. It's:
Great for dinner!
Perfect to make-ahead!
Not smelly or bad to reheat in small spaces!
Easy to meal prep!
Simple to customize!
YUMMY.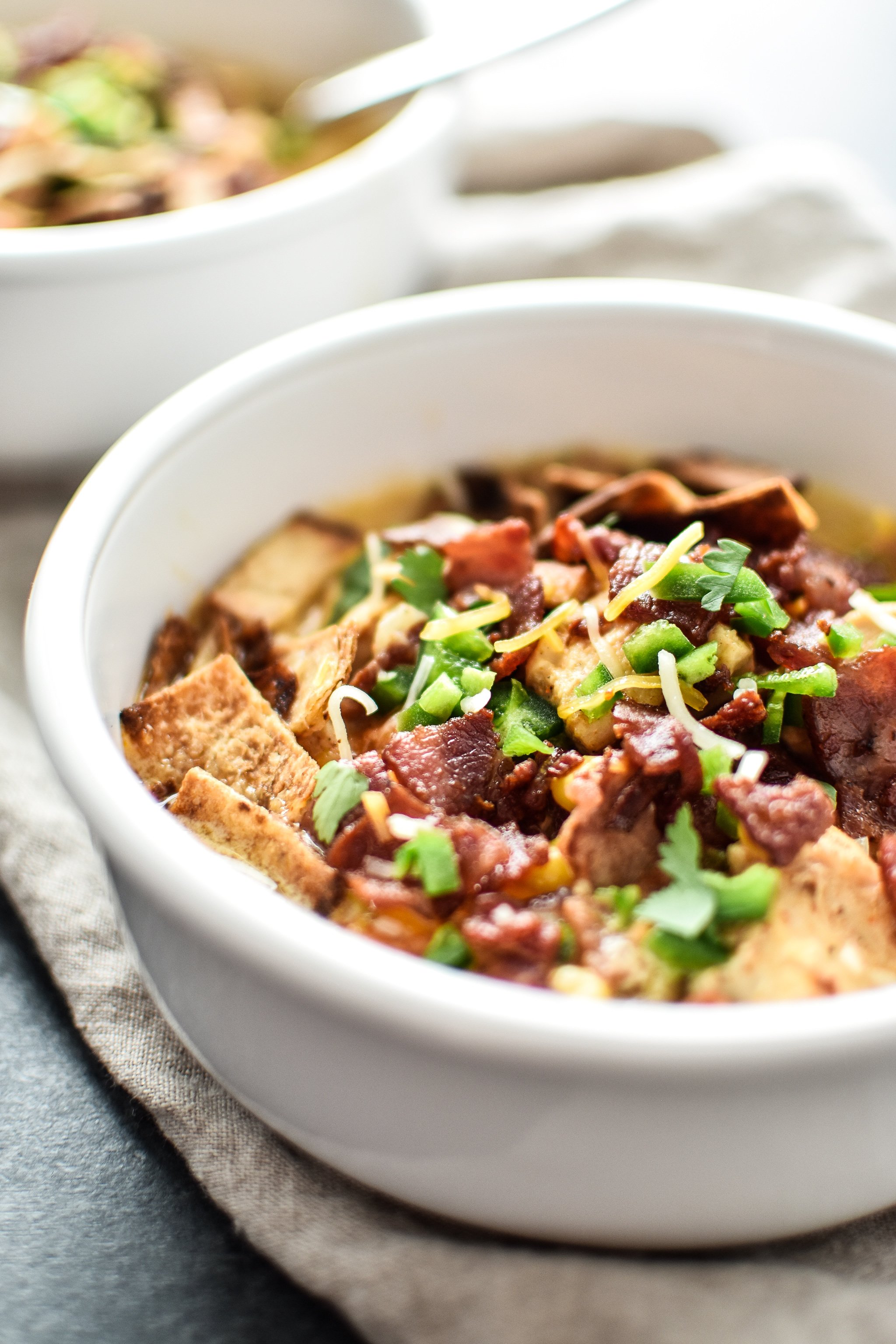 More Instant Pot recipes from Project Meal Plan:
Recipe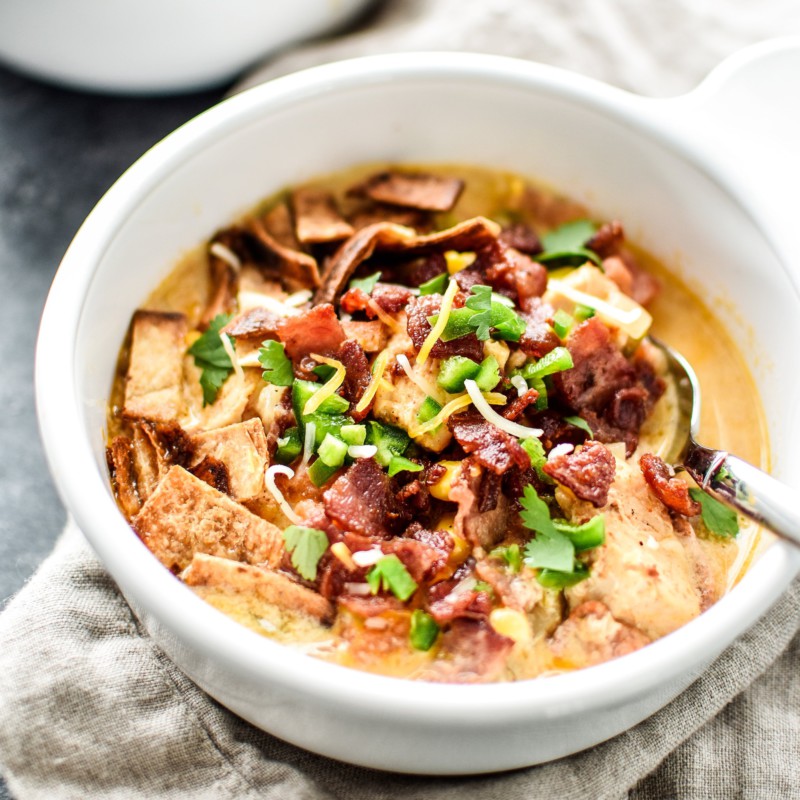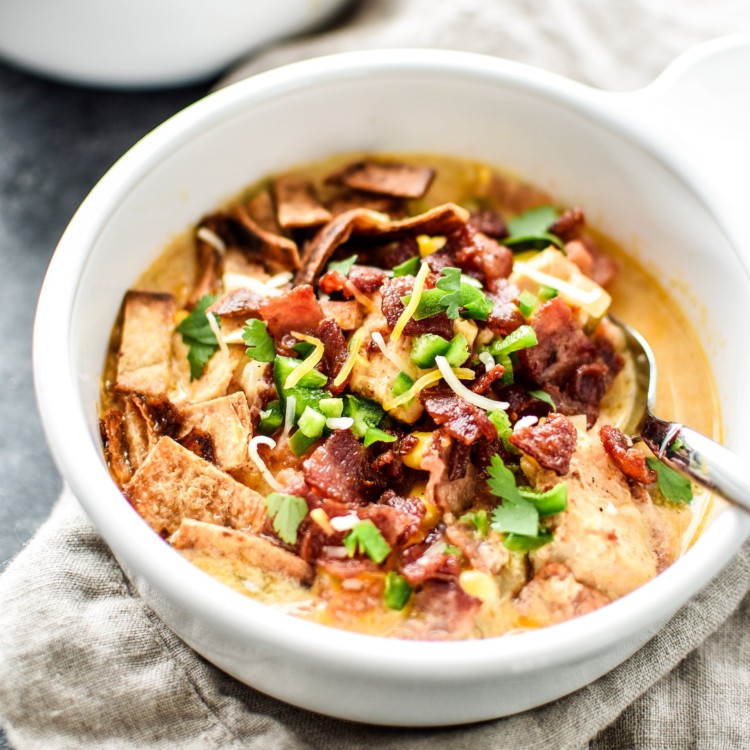 Instant Pot Jalapeño Popper Chicken Soup
Prep:
10 minutes
Cook:
30 minutes (including time to build pressure)
Total:
40 minutes
An explosion of jalapeño popper… in soup form! Loaded with hearty chunks of chicken breast, bacon and jalapeños, this Instant Pot Jalapeño Popper Chicken Soup packs a punch of flavor and heat! Great to make-ahead and eat as leftovers.
Ingredients
1/2

large yellow onion, finely diced

4

jalapeños, stem and seeds removed, cut in half and sliced into strips

2 cups

low-sodium chicken broth

1

pound raw boneless skinless chicken breasts (about

2

large or

3

small breasts), cut into bite-sized or 1 inch chunks

1

(10 ounce) can of diced tomatoes with green chilis (I use Rotel)

1 cup

frozen yellow corn kernels

1 tablespoon

minced garlic

2 teaspoons

chili powder

1 teaspoon

ground cumin

1 teaspoon

dried oregano

1/4 teaspoon

salt & pepper

8

–

10

raw strips of your favorite bacon

4 ounces

cream cheese, softened
toppings: homemade crunchy tortilla strips or crushed tortilla chips, shredded cheese, more diced jalapeño, more bacon bits
Instructions
To an Instant Pot insert, add onion, jalapeños, chicken broth, chicken , tomatoes with green chilis, corn, garlic, chili powder, cumin, oregano, salt and pepper. Stir to mix. Make sure to disperse and submerge all raw chicken in broth. Place the IP lid on, and make sure the steam release valve is sealed.
Set the IP to Manual or Pressure Cook for 10 minutes. While the IP builds pressure and cooks, take this time to cook your bacon bits on the stove. Roughly chop the raw bacon into bits and cook over medium high heat in a large skillet or Dutch Oven until crispy. Set aside when done. OPTIONAL: Cut up a tortilla into little strips and cook with 1/2 TB oil in a nonstick pan over medium until crispy! Or just use tortilla chips to top your soup instead.
When the IP is done cooking, carefully do a quick release of the pressure. Remove the lid once the pressure is fully released and the pin has dropped. Leave the "Keep Warm" setting on.
Immediately add cream cheese and bacon bits (reserve some for topping if you want) to the IP with the soup. Stir intermittently for 2-3 minutes until the cream cheese is completely dissolved and the soup looks slightly creamy.
Store in an airtight container for up to 4 days. Better as leftovers!
Notes
I used a 6 quart sized Instant Pot for this recipe. Unfortunately I have not experimented with cooking this particular soup on the stove and can't give solid instructions on that method just yet.
Adapted from Jalapeno Popper Chicken Chili from Once a Month Meals. Nutrition information estimated with My Fitness Pal (no toppings included). Please keep in mind that due to the nature of pressure cooking there may be inconsistencies from small variations in ingredients or altitude. Try it and see what works best for you!
Nutrition Information
Serving Size:

about 1 1/2 cups

Calories:

423

Fat:

19g

Carbohydrates:

18g

Protein:

44g
Recipe Card powered by