My latest fall obsession – homemade applesauce! This Unsweetened Ginger Pear Cinnamon Applesauce is made on the stovetop with gala apples, bartlett pears, and fresh ginger, with no sugar added!
Jump to Recipe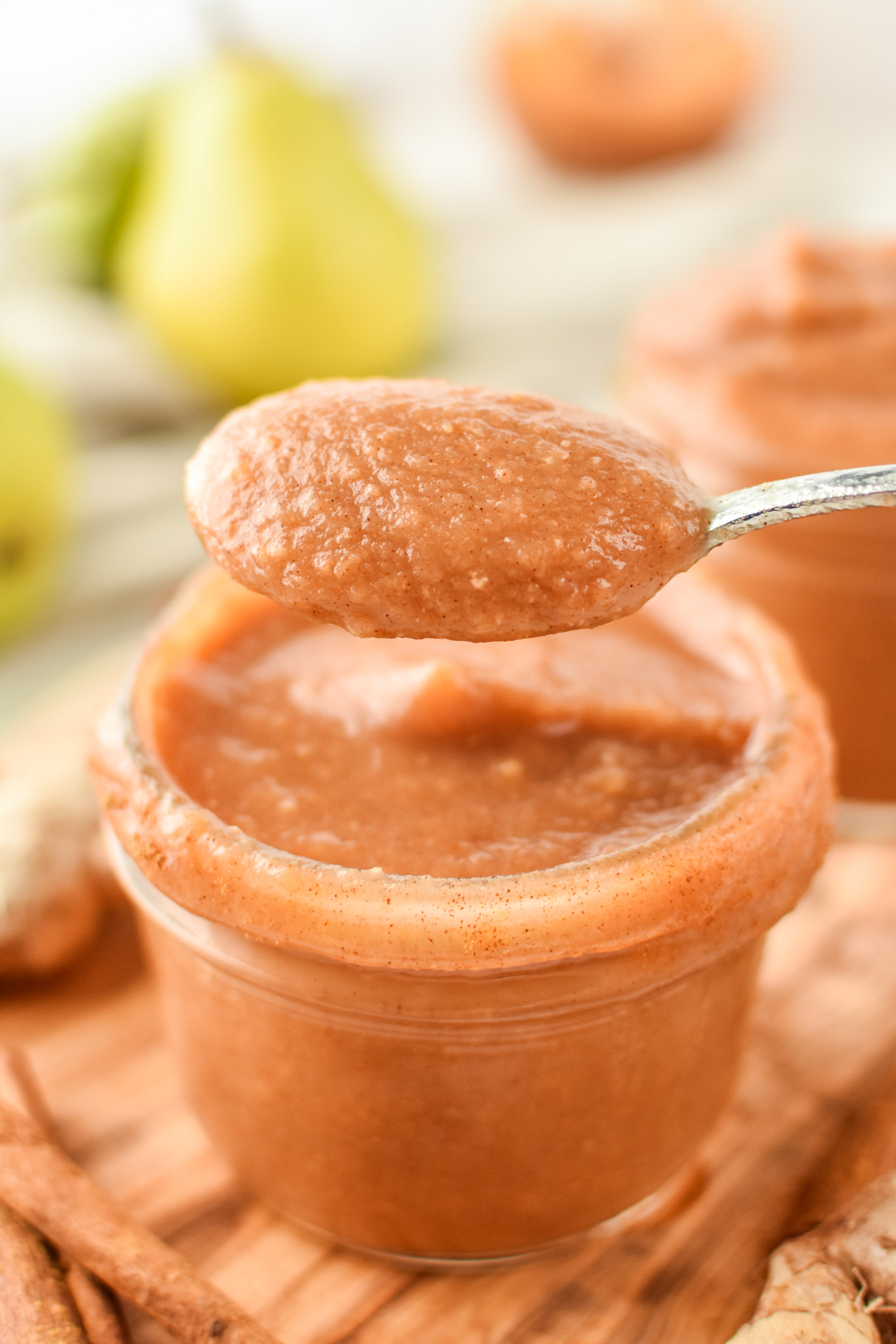 Recently, I did a little experiment to see if it's more cost efficient to purchase already made applesauce at the store, or if it's a better idea to buy apples and make your own applesauce at home. The results surprised me (read more here: Store Bought vs. Homemade Applesauce: Which is Cheaper?), but one thing was certain: homemade applesauce tastes so. much. better. than store bought. End of story.
For the price testing recipe, I kept it simple. Apples, honey, cinnamon, water, easy. But this time, I wanted all the flavor, and no added sugar. Plus… PEARS. With one random batch, I mixed in a few extra pears we had that were about to become a little too overripe, and voila! Pear applesauce. So delicious, full of flavor, and supa fresh. I retested and perfected with my favorite flavors, and here we are.
How do you make homemade applesauce?
I never truly realized how easy it was make applesauce at home, because well, I never really tried. The hardest part is cutting the apples. No joke. Here are the general instructions for stovetop applesauce:
peel the apples if you want, but it's not required (especially if you are using blender to mash)
cut up all your apples into big chunks
add all the apples to a pan with water, cinnamon, and your choice of sweetener (honey is my fave, or go sugar free)
lemon juice is not a requirement, but it can help reduce discoloration in the fruit and help balance flavors
bring the water in the pot to a slow boil, then reduce heat to low
stir frequently until the apples are super fork tender
mash or use an immersion blender
store in a well sealed container and refrigerate for at least 6 hours
For my Ginger Pear Cinnamon Applesauce version, you follow the same steps but just add pears + ginger, and do not add any sugar.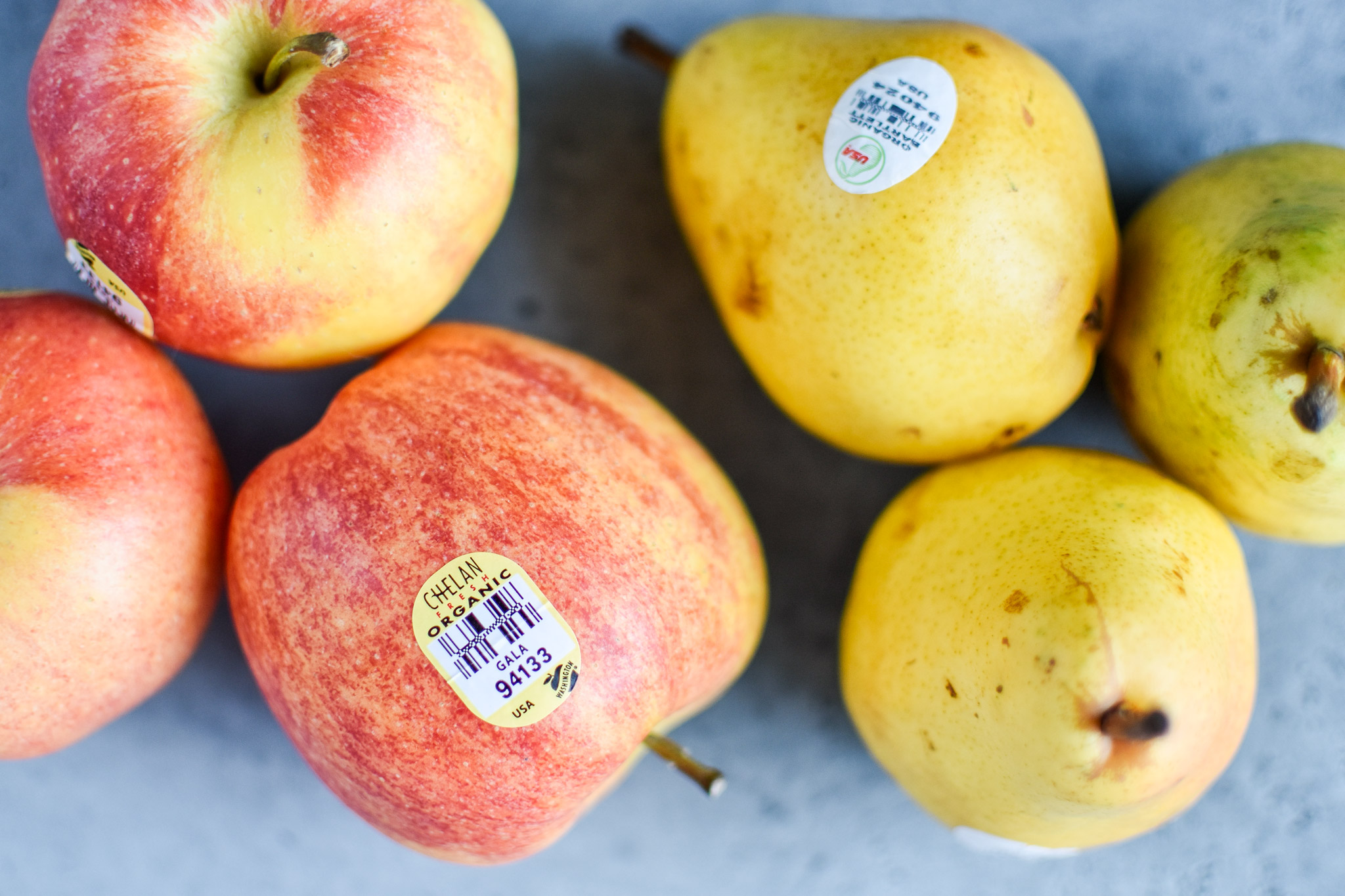 What kind of pears should I use?
The only kind of pears I've tested for pear sauce are Bartlett pears because these were the only variety available to me. Feel free to experiment and try other kinds of pears if you have them.
While creating this recipe, all the apples and pears I used were from Imperfect Produce (<– this is a referral link; if you sign up, we'll both earn $10 credit). They source produce from farms which have excess, or "ugly" produce that grocery stores won't take. Most of the time, the produce is perfectly normal, and was simply extra. I customize my produce box every week so I get exactly what I want. And yes, if you order 3 pounds of apples, they'll send you 3 pounds of apples. Or avocados. Or whatever (my box last week was apples, pears, potatoes, avocados, onions, and squash!).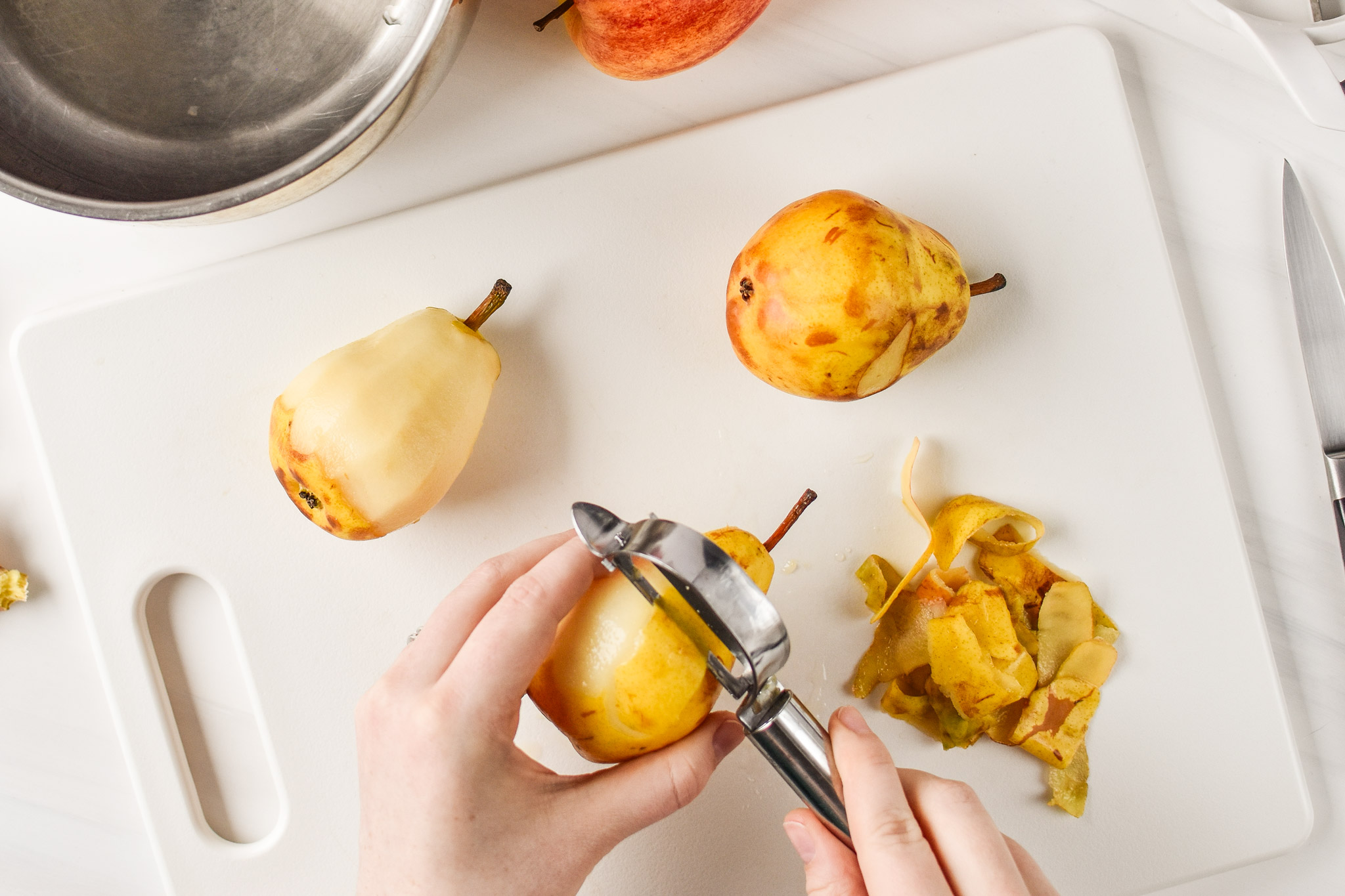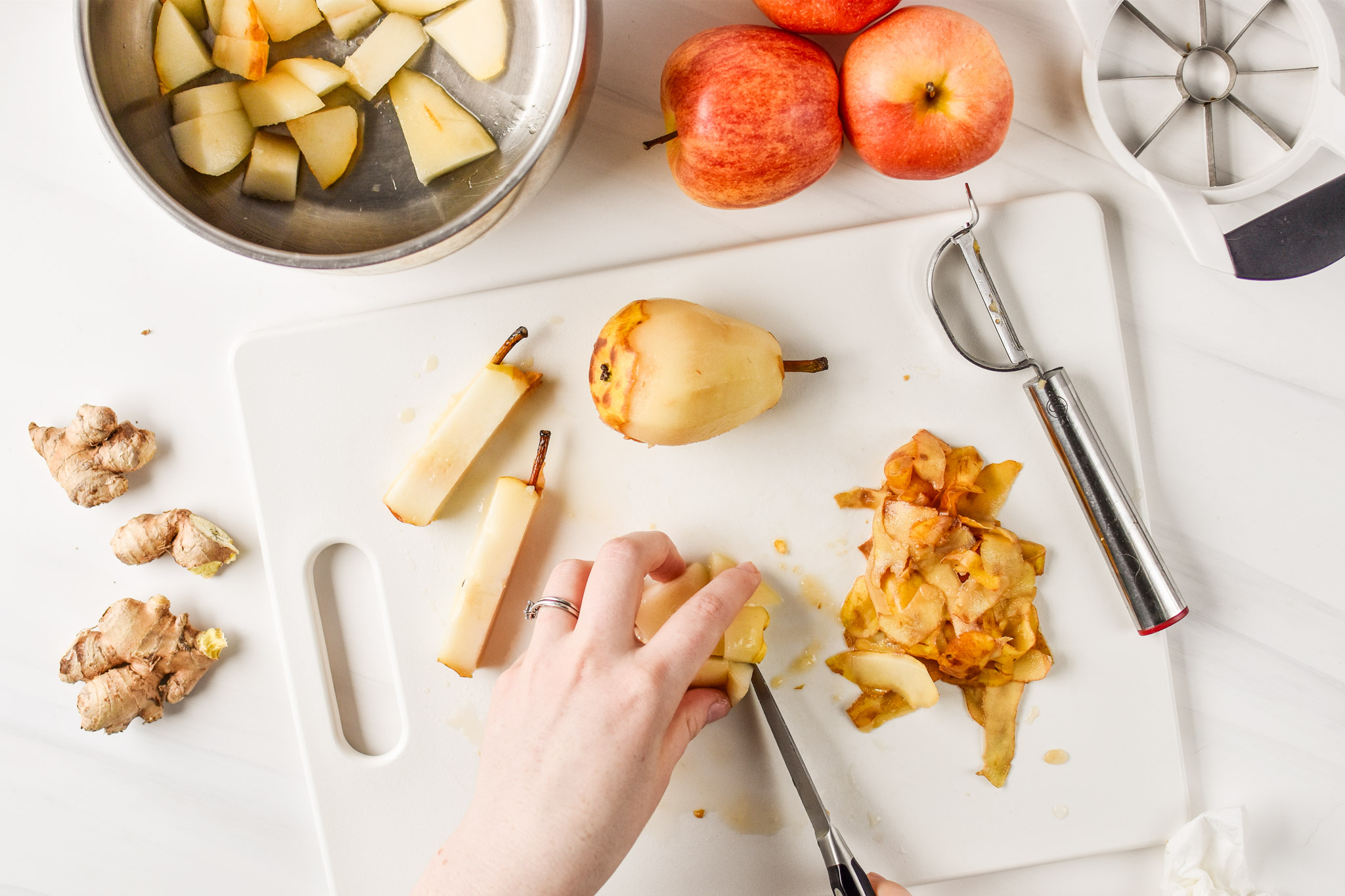 What kind of apples should I use?
In general, McIntosh or Jonathan apples are recommended for applesauce. However, since I won't be adding any sugar, I've opted to go for sweeter varieties of apples such as Gala and Fuji for this Ginger Pear Cinnamon Applesauce. Applesauce can be made from any apples however, and you might like different varieties better for the purpose.
It's worth noting here that it's more economical to make homemade applesauce with surplus, discounted, or otherwise "extra" apples. This is based on my own research which you can find here: Store Bought vs Homemade Applesauce: Which is Cheaper?
To make the process of cutting your apples go WAY faster, I would highly suggest the OXO apple slicer (affiliate link!). It's one of the few "uni-taskers" that I find imperative to own. Core and slice an apple in 2.5 seconds? YES PLEASE.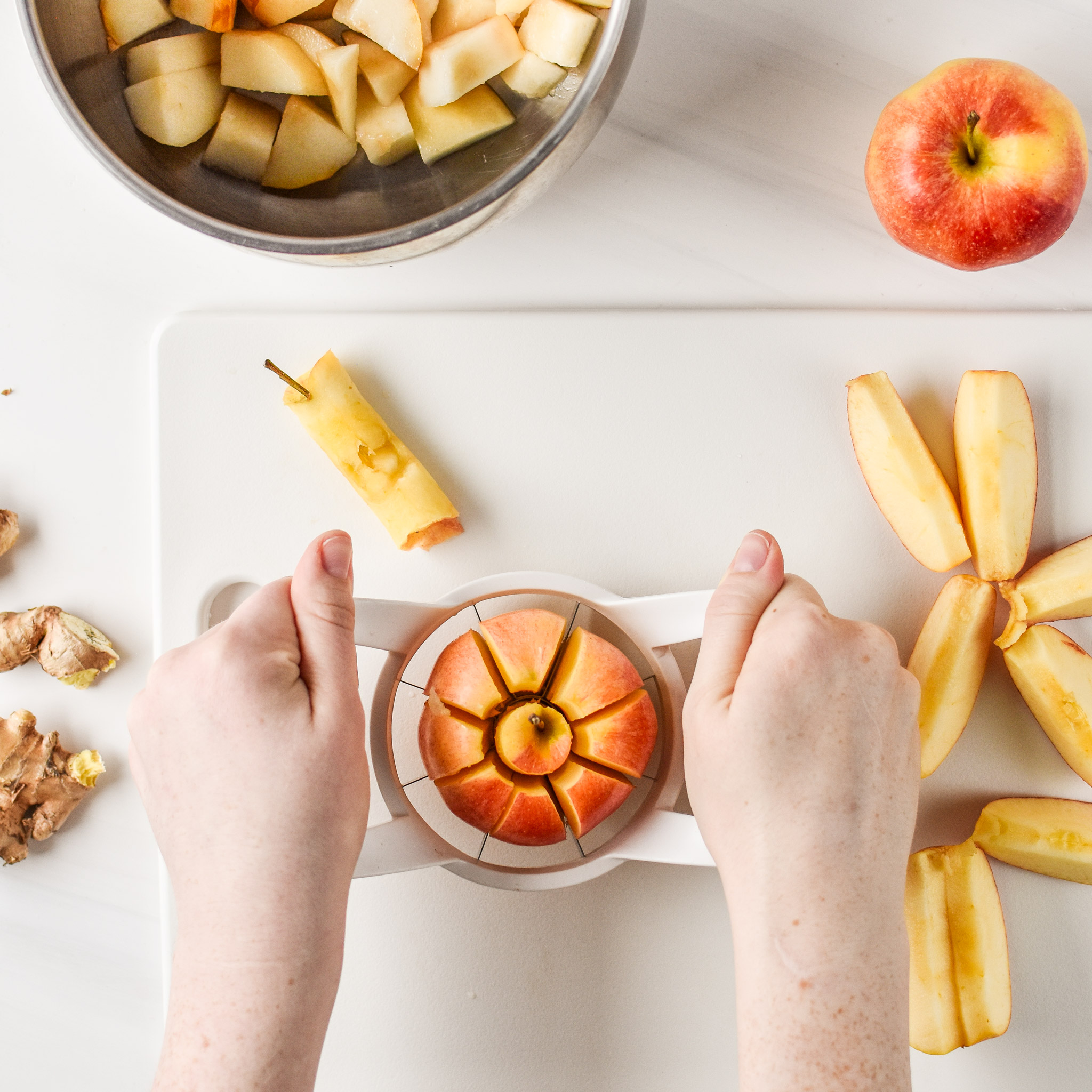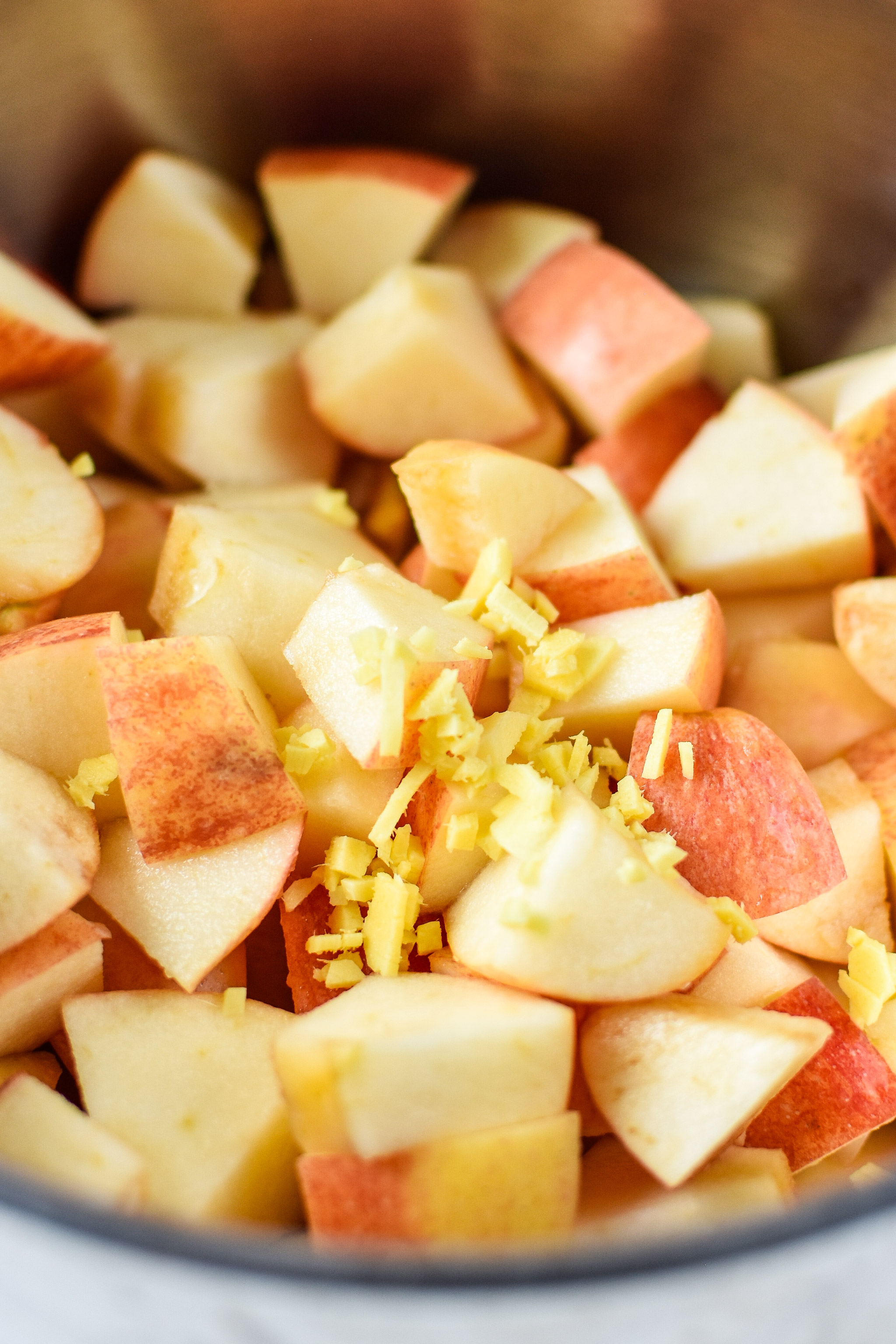 Do I need to use an immersion blender to make applesauce at home?
No! You do not need to have a fancy immersion blender to make applesauce. Simply double check that your apples are tender after cooking, then use a potato masher to mash. Of course, you may end up with slightly chunkier applesauce than pictured, but it will still be delish.
If you're asking the opposite question (WHAT'S AN IMMERSION BLENDER?) then let me just tell you real quick. I was gifted this Cuisinart Smart Stick Immersion Blender (affiliate link!) a few years ago. My favorite use? APPLESAUCE. If you don't have an immersion blender but don't want to mash by hand, try blending in one of these:
vitamix
nutribullet
food processor (okay, maybe?)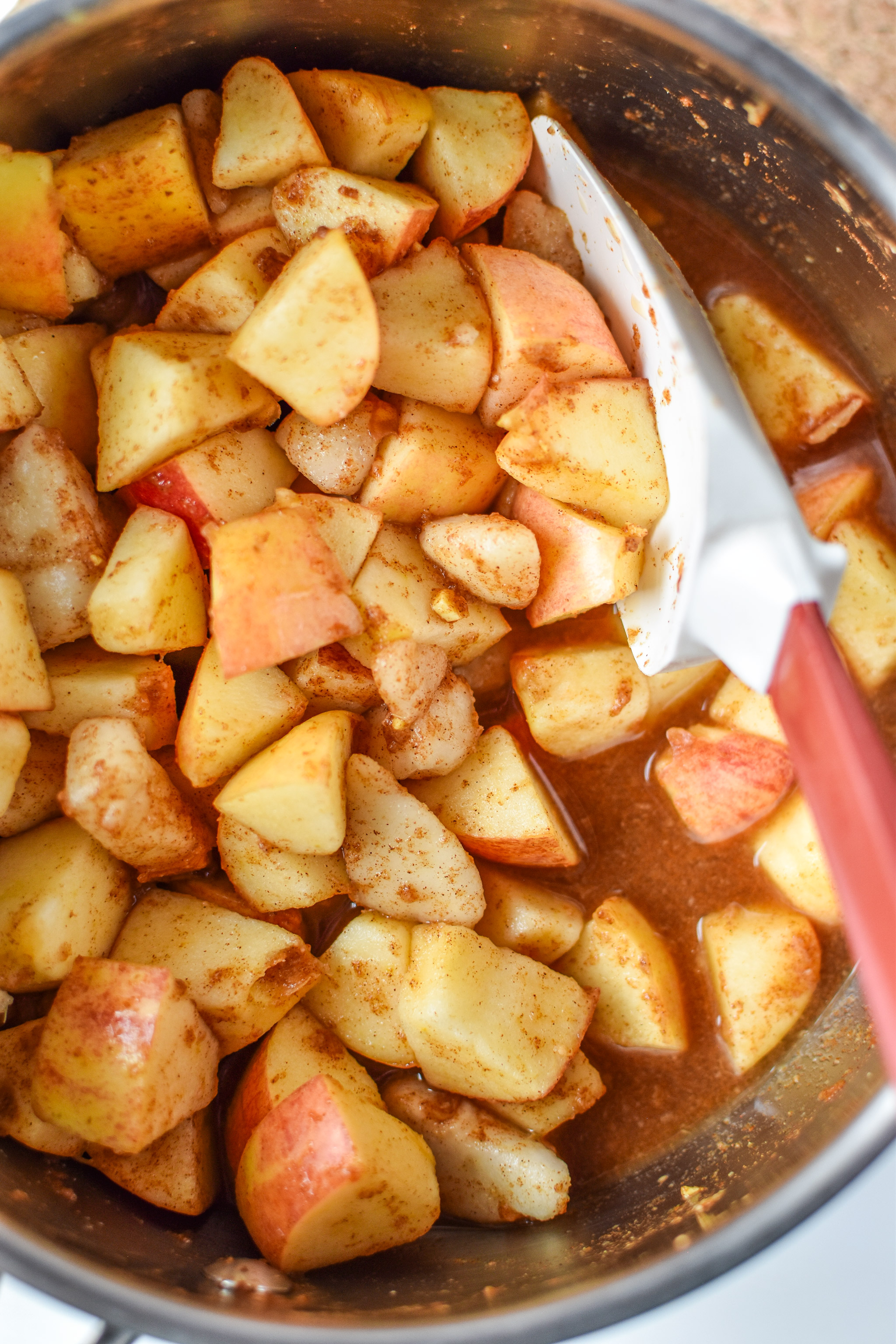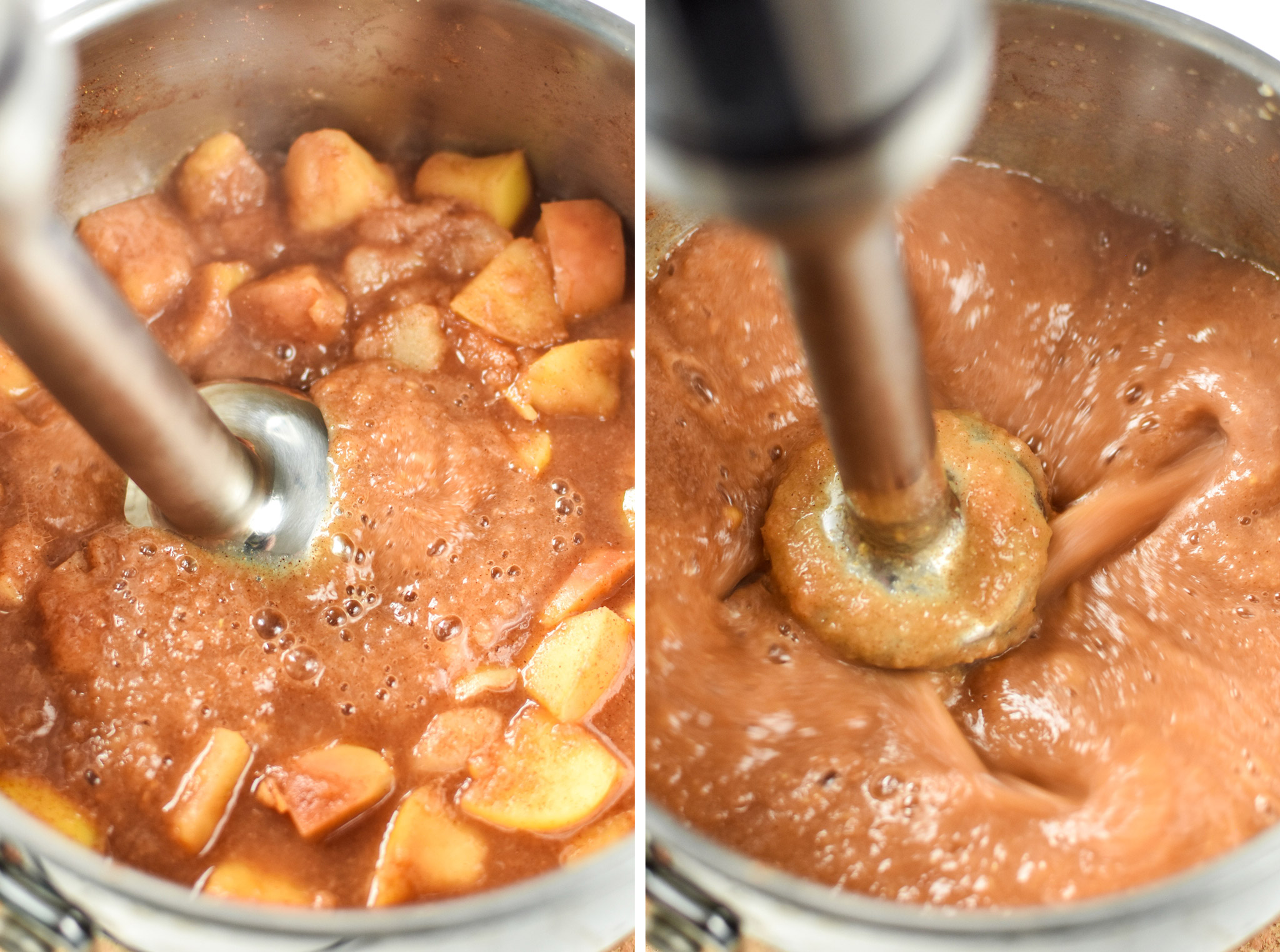 What if the applesauce isn't sweet enough for me?
First of all, let me just say, if you're using sweet apples along with ripe, delicious pears, you don't really need any sweetener. Now, if you make this amazing applesauce recipe and it just doesn't come close to sweet enough for you, my first suggestion would be to add 1 tablespoon of honey to the entire batch, adding more if you want it. It doesn't need much at all, or any, which is my favorite part about this applesauce.
Here's what makes this applesauce delicious even without any added sugar:
Fresh, SWEET apples! Using sweeter varieties of apples makes the entire batch sweeter so it needs less or no sugar added.
Ripe, soft pears! For this recipe, I use Bartlett pears which are delicious sweet by nature. They help bring added sweet flavors to the sauce, so you're getting some depth without added sugar.
Ginger, yes, ginger! Sounds weird, but for me, bringing in other delicious flavors helps me not have a care about the sweetness level. Try it!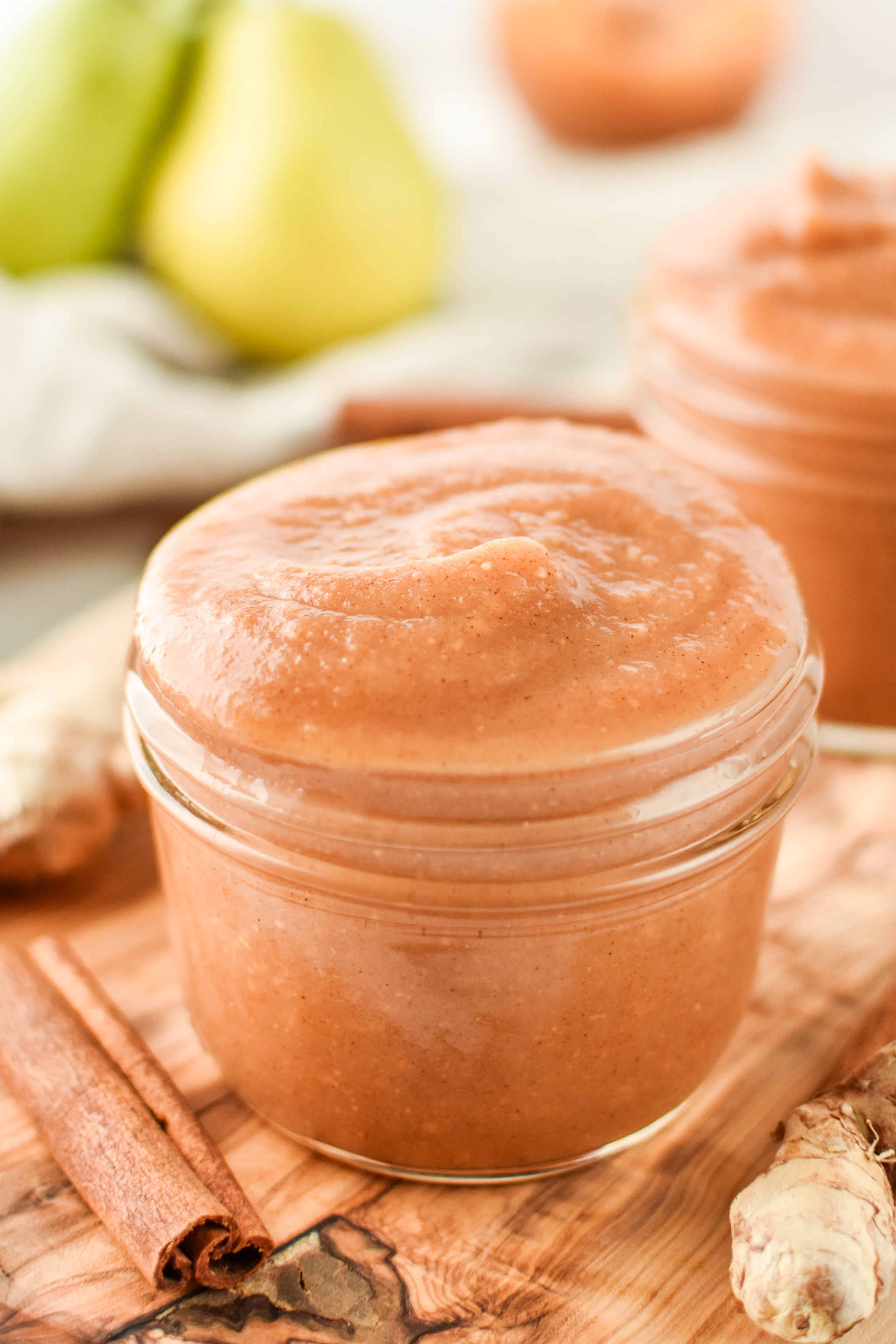 More breakfasty recipes from Project Meal Plan:
Recipe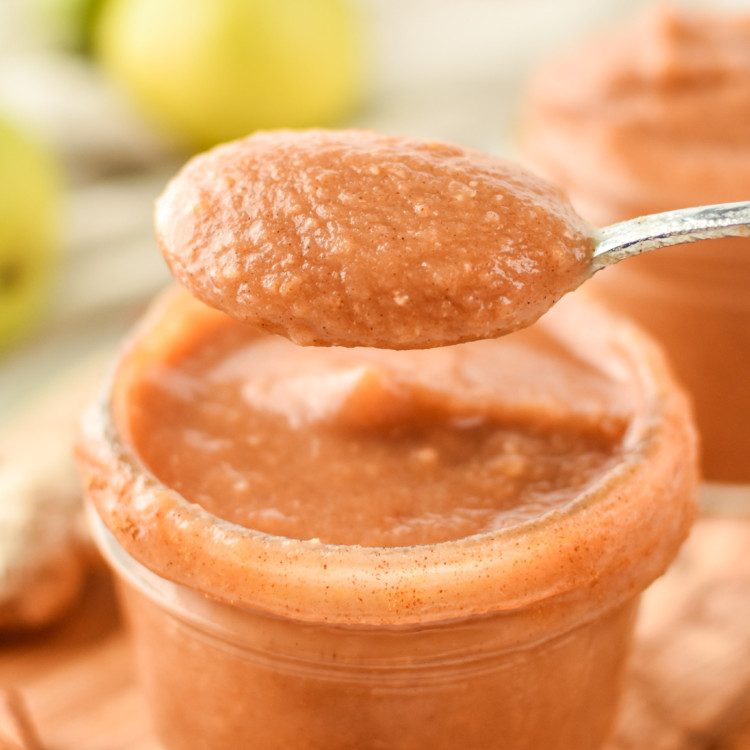 Unsweetened Ginger Pear Cinnamon Applesauce
Yield:
2 3/4 cups

(

6

servings)

1

x
Prep:
15 minutes
Cook:
20 minutes
Total:
35 minutes
This Unsweetened Ginger Pear Cinnamon Applesauce is made on the stovetop with gala apples, bartlett pears, and fresh ginger, with no sugar added!
Ingredients
3

medium Gala apples, cored and roughly chopped

3

medium Bartlett pears, peeled, cored and roughly chopped

1 teaspoon

fresh ginger, minced (mince very finely if hand mashing)

1 tablespoon

lemon juice

2 teaspoons

ground cinnamon 

3/4 cup

water
Instructions
Add all ingredients to a medium saucepan and stir until well mixed. Place the pan over medium heat until the water comes to a slow boil, then reduce heat to low. Simmer for 15-20 minutes, stirring frequently, until the apples are very tender (be sure to check an apple chunk; they take longer to cook through than pears).
Remove the pan from heat, and blend the apples and pears together in your preferred method until no chunks remain. Use a potato masher, an immersion blender, or a Vitamix on low. It's delicious when warm, but best when refrigerated overnight.
Store in an airtight container in the refrigerator for up to 4 days.
Notes
Peeling: Based on my own personal preference, I recommend peeling the pears, but leaving the apple peels on, if you are using a blender to mash the applesauce. The pear peels leave a gritty texture in the sauce based on my tests. If you are not using a blender to mash your applesauce, I recommend peeling both the apples and pears to avoid chunks of fruit skin.
Variety of Fruit: Since there is no added sugar, I recommend using a sweeter apple variety such as Gala or Fuji for this recipe. I have only used Bartlett pears, but others may works as well.
Ginger: If you are planning to hand mash your applesauce, be sure to mince your fresh ginger very well so you don't find large pieces of ginger in your sauce! If blending, a rough mince is fine.
Nutrition Information
Serving Size:

about 1/2 cup

Calories:

94

Fat:

0g

Carbohydrates:

25g

Fiber:

6g

Protein:

1g
Recipe Card powered by
Now you know how easy it is to make applesauce at home! Please tag me or use #projectmealplan on social media to share your creations! Can't get enough of this Ginger Pear Cinnamon Applesauce!