If you're like me, you're always on the hunt for new ways to prep your meals ahead of time. Keeping your meal prep routine interesting is the best way to ward off food boredom – A.K.A. getting sick of the healthy food you're prepping for yourself and resorting to less healthier and more expensive options (been there, done that!). So this year I've rounded up 18 NEW Ways To Start Meal Prepping in 2018 – try one, or all, of these meal prep ideas to keep up the good habits in 2018.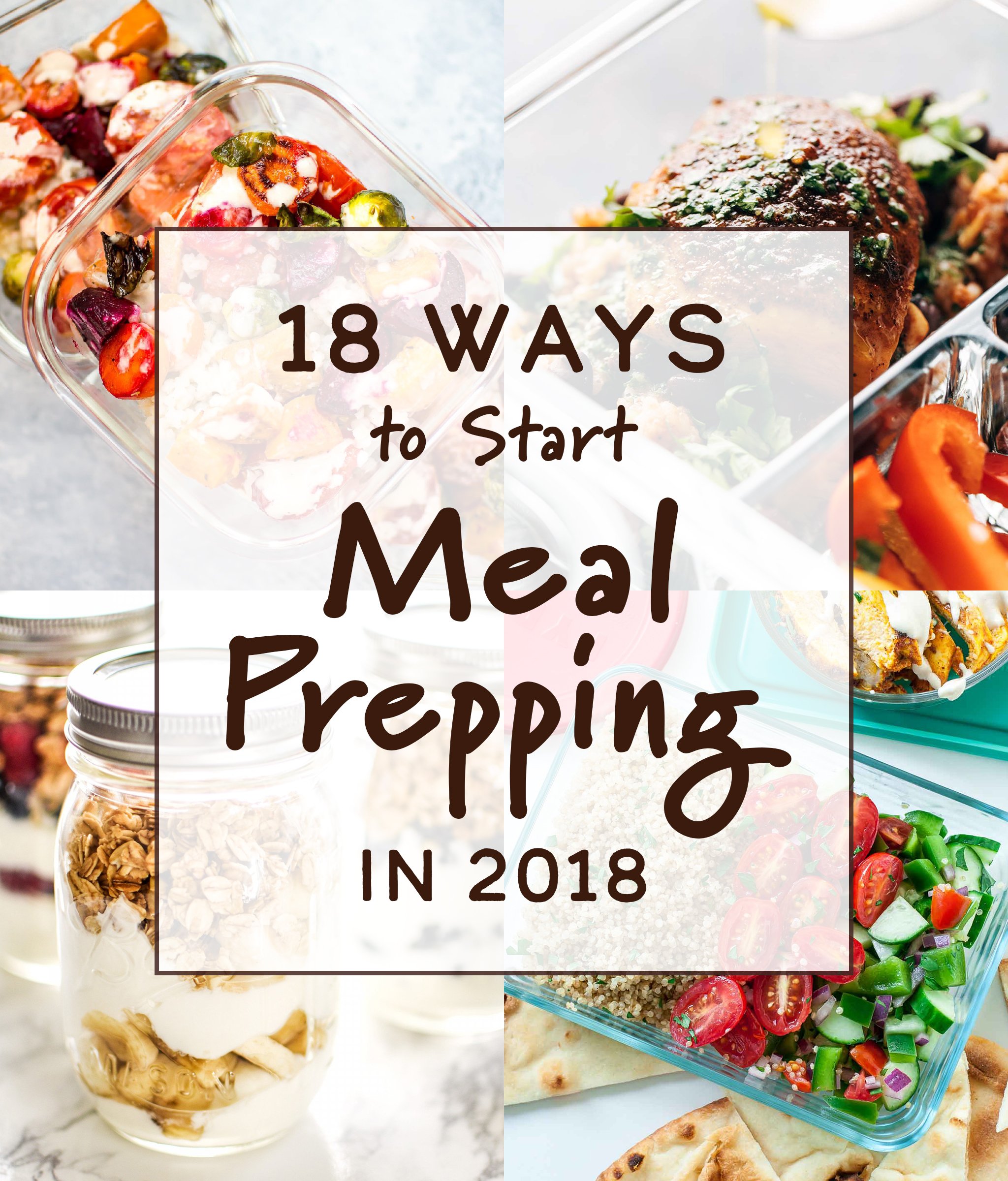 1. Prep portions of the same dish with two completely different sauces and flavors.
Here's a super simple way to avoid eating the same exact lunch two days in a row – flavor the same stir fry items with two very different sauces to keep your taste buds on their toes (what a mental image!). – Meal Prep Stir Fry 2-for-1 (Honey Sriracha & Lemon Sesame) from Sweet Peas and Saffron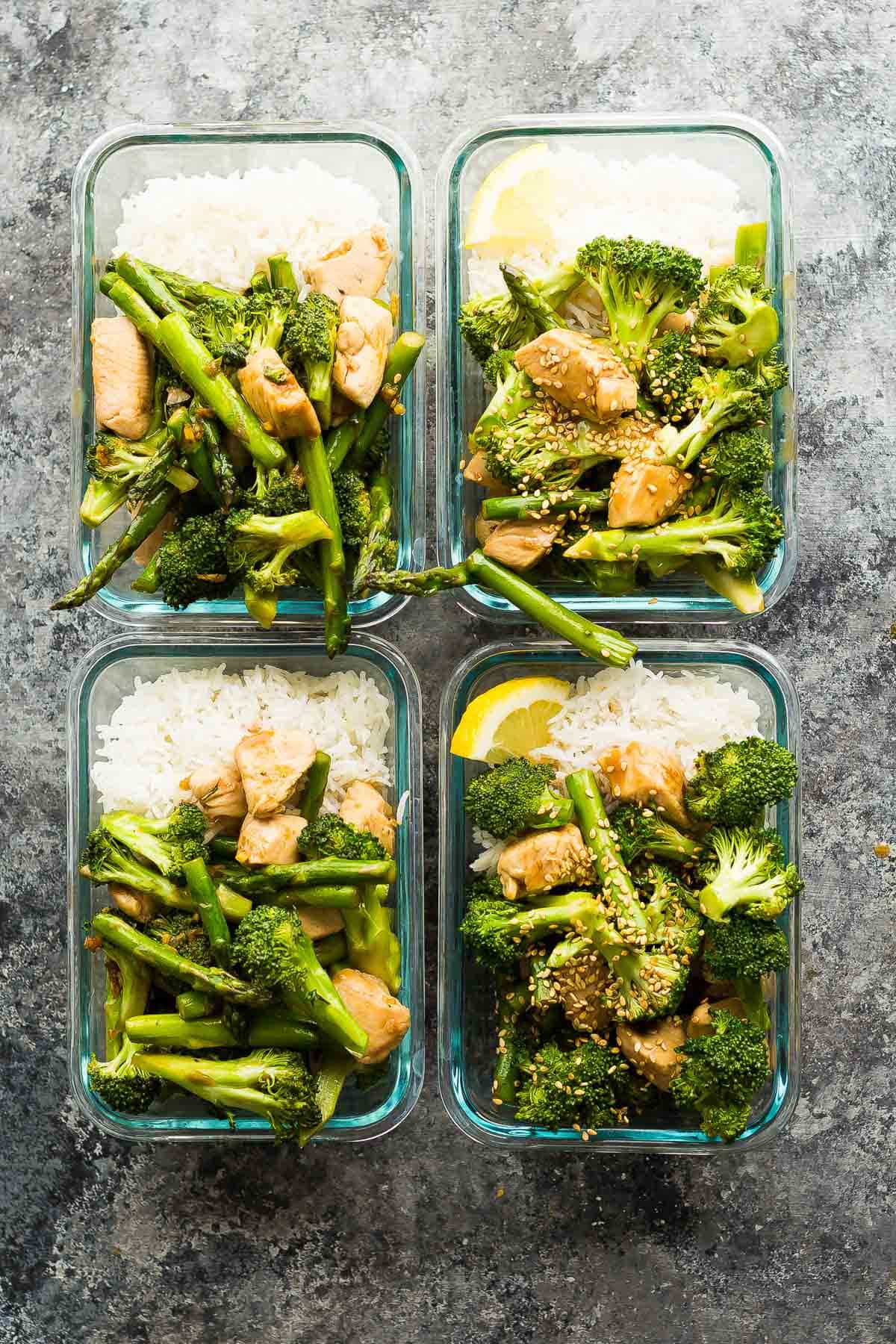 Photo: Sweet Peas and Saffron
2. Forget the idea that pancakes are always bad for you, and meal prep them!
These beauties are low carb, have no added sugar, and have way more protein than a muffin. I love stashing pancakes in the refrigerator, but you can also freeze them for a make-way-ahead approach. – Meal Prep Almond Flour Pancakes from Skinny Fitalicious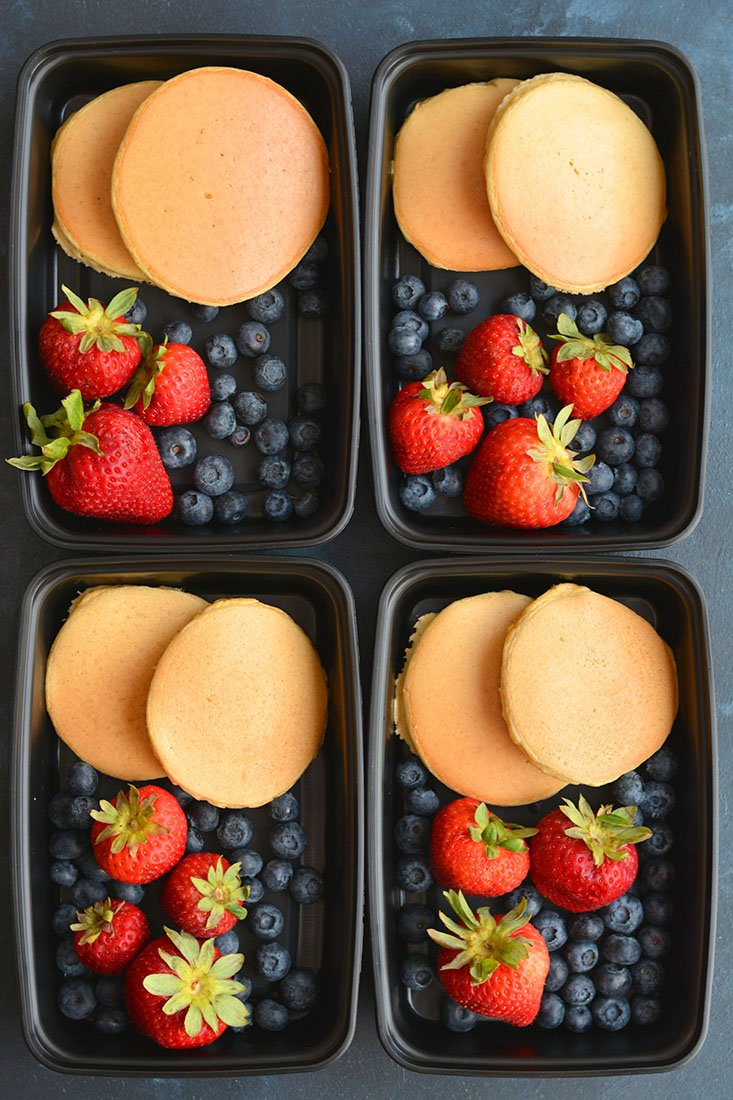 Recipe: Skinny Fitalicious
3. Try prepping things that taste great heated or straight from the fridge.
Think taco salads or fresh veggie and chicken bowls like this one. You can cook the protein first, and then make up a couple meals from there – two for heating and two to eat chilled. For example: Cook some turkey taco meat. Then make two taco salads with fresh tomatoes and avocado (chilled), and two burrito bowls with peppers and beans (heated). – Healthy Chicken Shawarma Quinoa Bowls from Peas and Crayons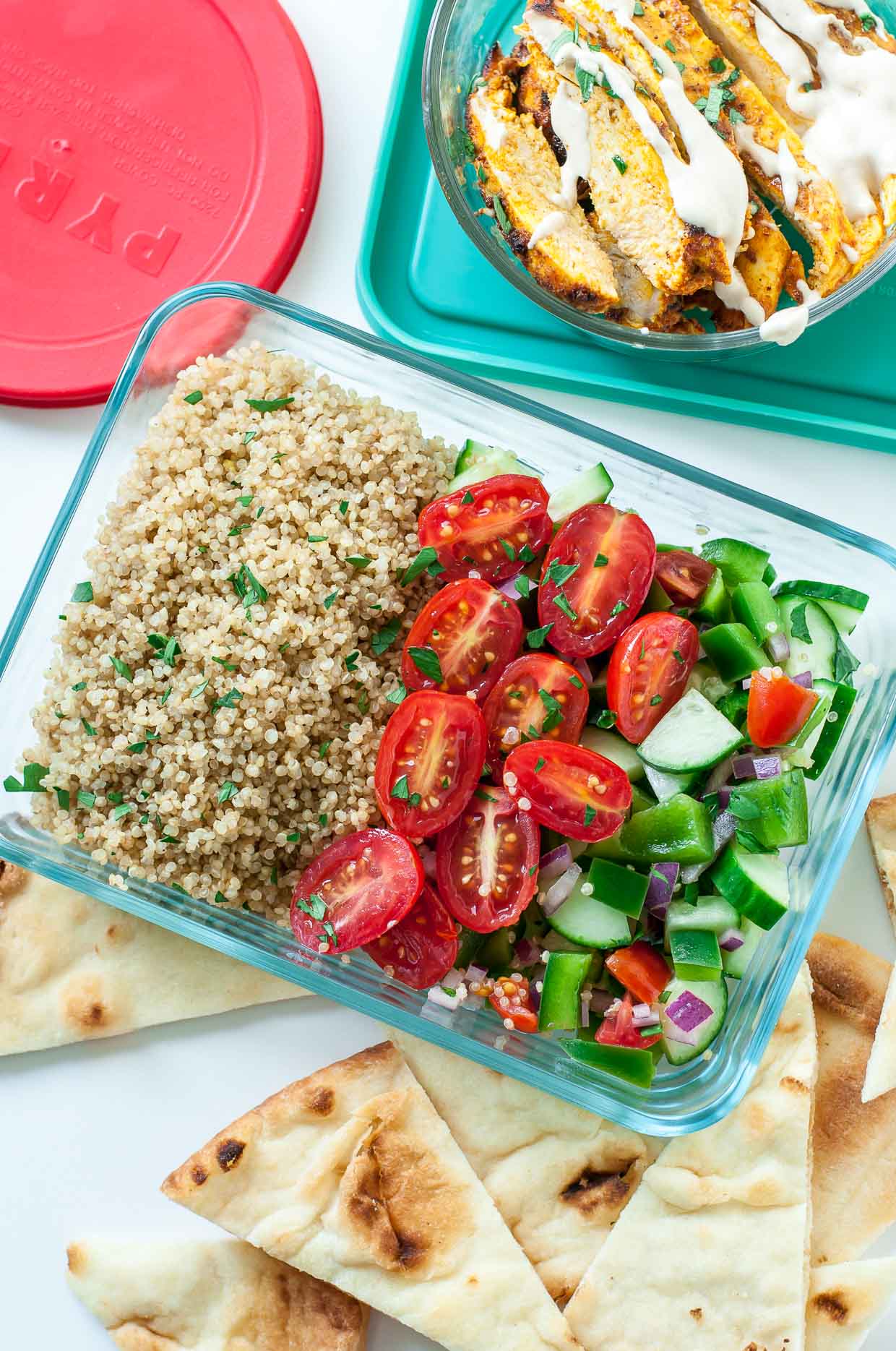 Photo: Peas and Crayons
4. Make your own fruit and yogurt parfaits instead of buying them at Starbucks.
Homemade parfaits can be pretty much any flavor you want. Pick out your fave Greek yogurt (I like plain mixed with some honey or maple syrup) and add in anything you need to use up (extra berries, chopped fruit, nuts, all fair game). Add the granola on top and you're good to go 👌 – 5 Make-Ahead Fruit & Greek Yogurt Ideas to Try for Breakfast from Project Meal Plan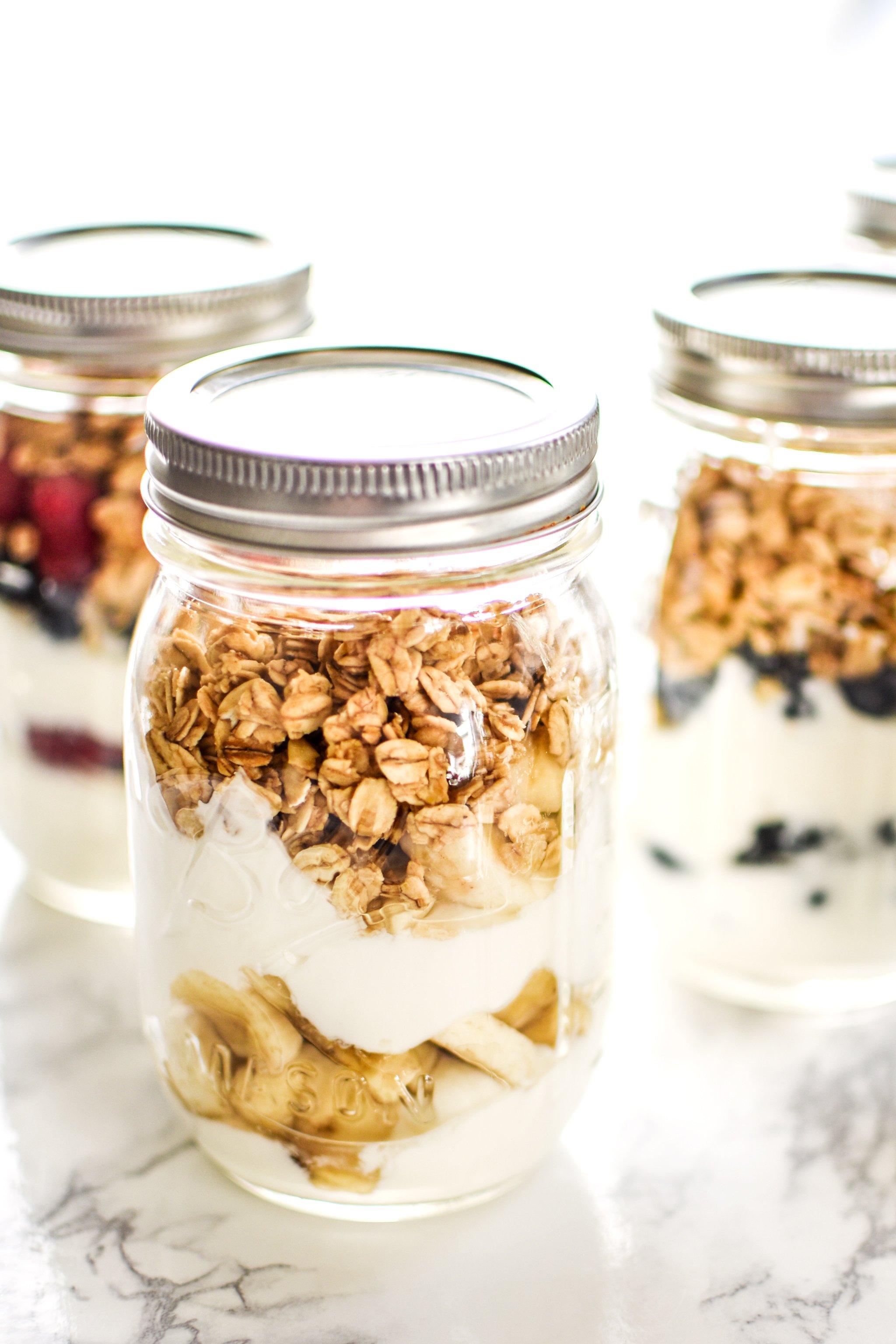 Photo: Project Meal Plan
5. Use theme nights to make choosing meals easier, then prep one thing for each dinner recipe.
Obviously before you meal prep, you have to know what you're prepping. If choosing dinner recipes for the family is something you struggle with, try narrowing it down with theme nights. Breakfast for dinner, burger night, rotisserie chicken night, take-out (in!) night, are all great ideas to help you narrow your recipe search. After you plan, prep something for each meal! You'll be surprised at how much time you can save during the week. – How to Use Theme Nights to Make Meal Planning Easy + Fun from From Pasta to Paleo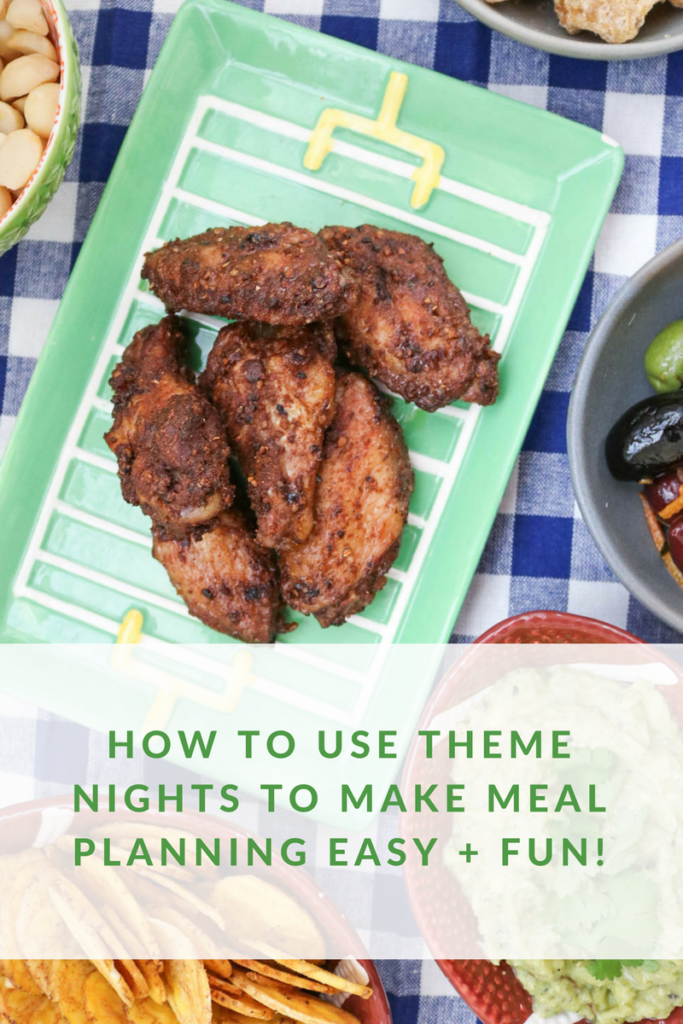 Photo: From Pasta to Paleo
6. Ditch the tortillas and start wrapping your breakfast in eggs.
Why haven't I thought of this?! It's like an omelette, but not. Fill 'em with pretty much any savory breakfast items to make it just how you like! If you're trying to skip the carbs, these are perfect to make and freeze on Sundays so you can have a healthy, filling breakfast all week. – Easy Egg Wraps from The Lean Green Bean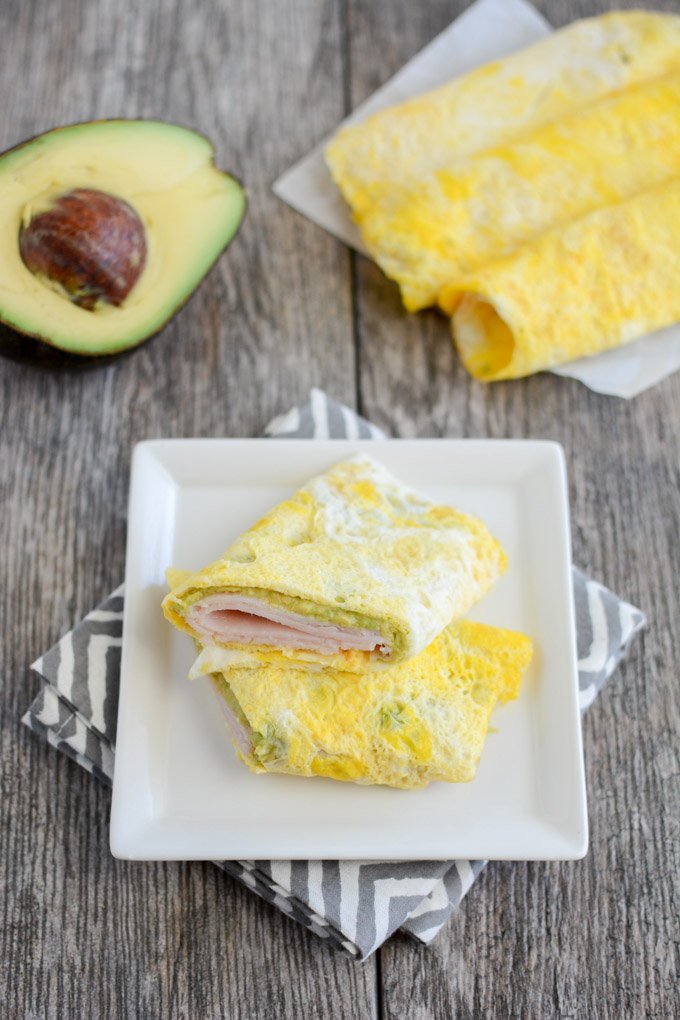 Photo: The Lean Green Bean
7. Prep a low-carb casserole and portion it over fresh greens for the ultimate healthy meal prep.
All I have to say is this casserole doesn't even look low-carb and I want it right now. Casseroles are so underrated for meal prepping! – Whole30 Baked Buffalo Chicken Casserole from Meal Prep on Fleek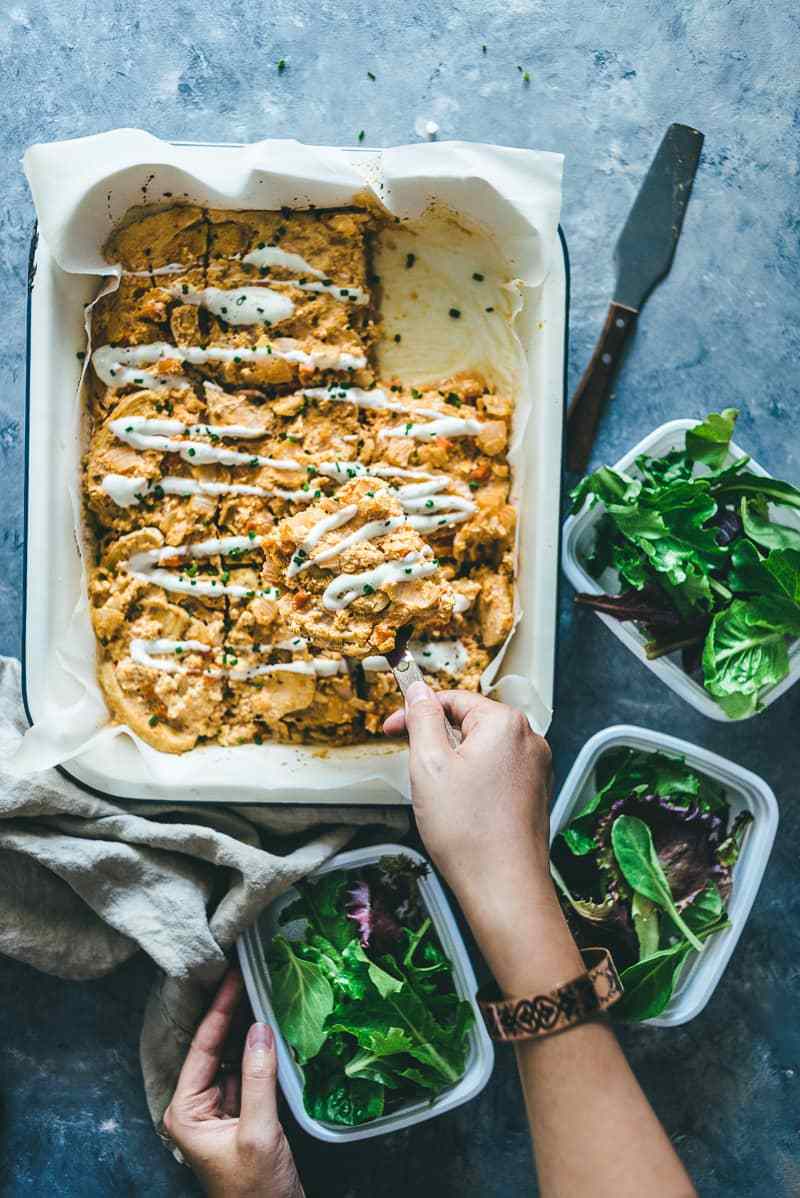 Photo: Meal Prep on Fleek
8. Meal prep grains for automatic side dishes, and stash some recipes to use up any leftovers.
Cook some quinoa on Sunday for your Monday and Tuesday dinner sides. Then if there's any leftover, turn it into this PERFECT looking breakfast quinoa bowl, or my favorite – Quinoa Fried "Rice". I'm planning on making it anytime I've got leftover quinoa! Save your favorites so you never waste any leftovers. – Cinnamon Toast Breakfast Quinoa from Cookie and Kate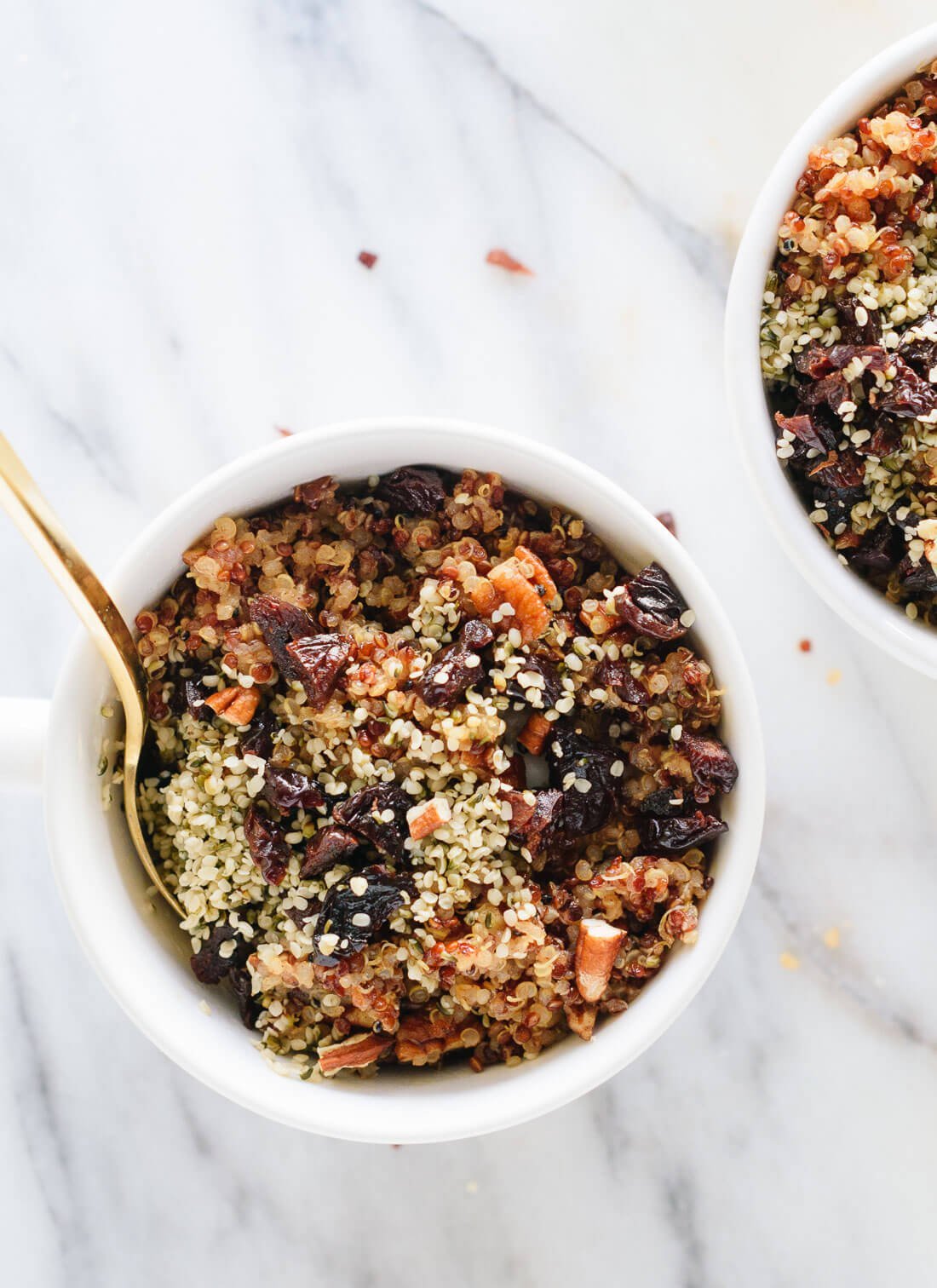 Photo: Cookie and Kate
9. Try combining one main dish with four different side combinations.
Such a creative meal prep idea! Four different meals with way less work. A little variation can keep the food boredom far, far away. – Chipotle Chicken Meal Prep Lunch Bowls 4 Ways from My Food Story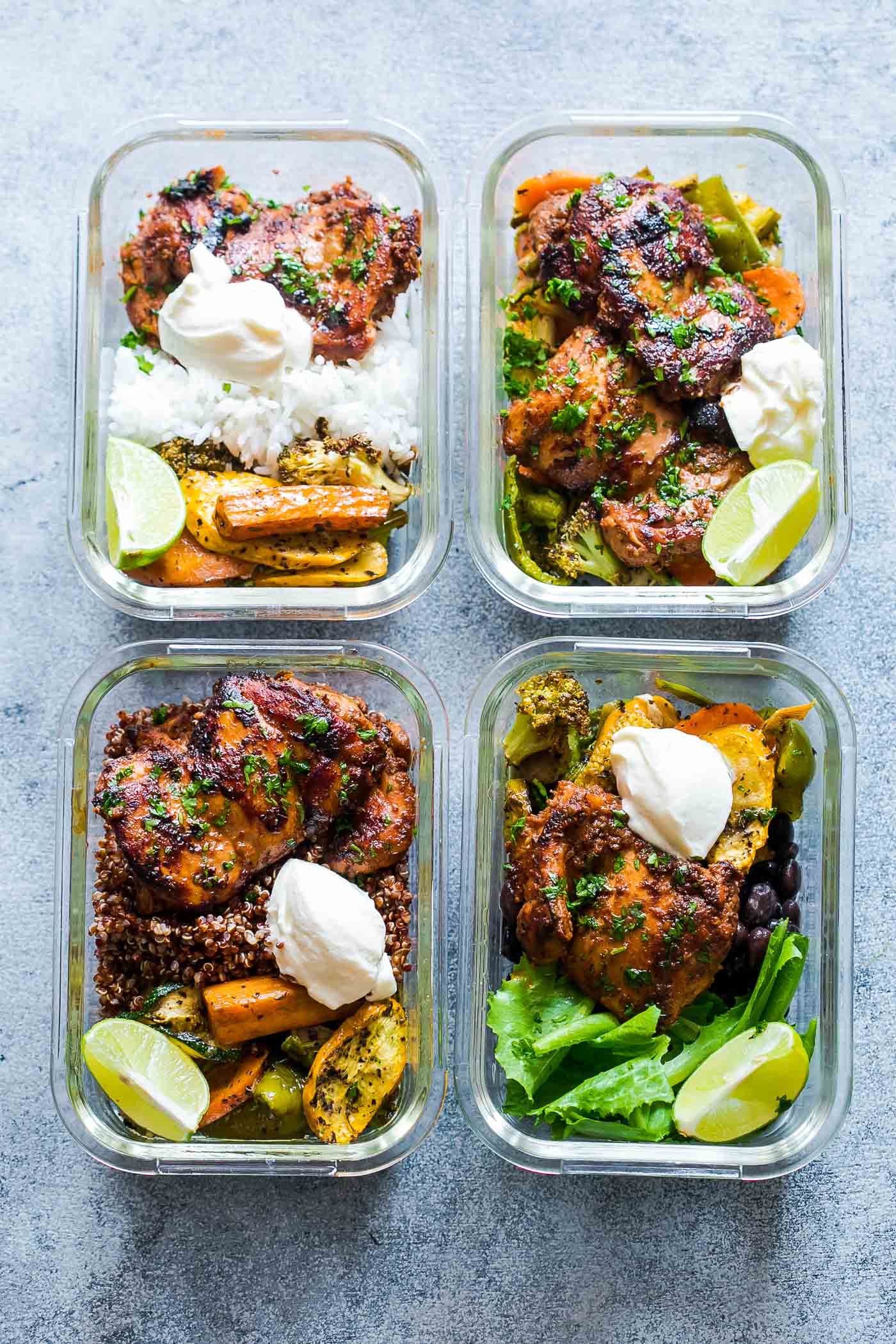 Photo: My Food Story
10. Use ice cube trays to freeze portions of stock, sauce, or any other freezable liquid you make from scratch.
This way, defrosting only a small portion isn't a total nightmare complete with chiseling and jars of frozen liquid that could totally hurt someone. I like to do this with homemade pizza sauce, and it's perfect for personal pizzas! Grab a few cubes when you need them, and none will go to waste. – How to Make and Freeze Homemade Pizza Sauce from Project Meal Plan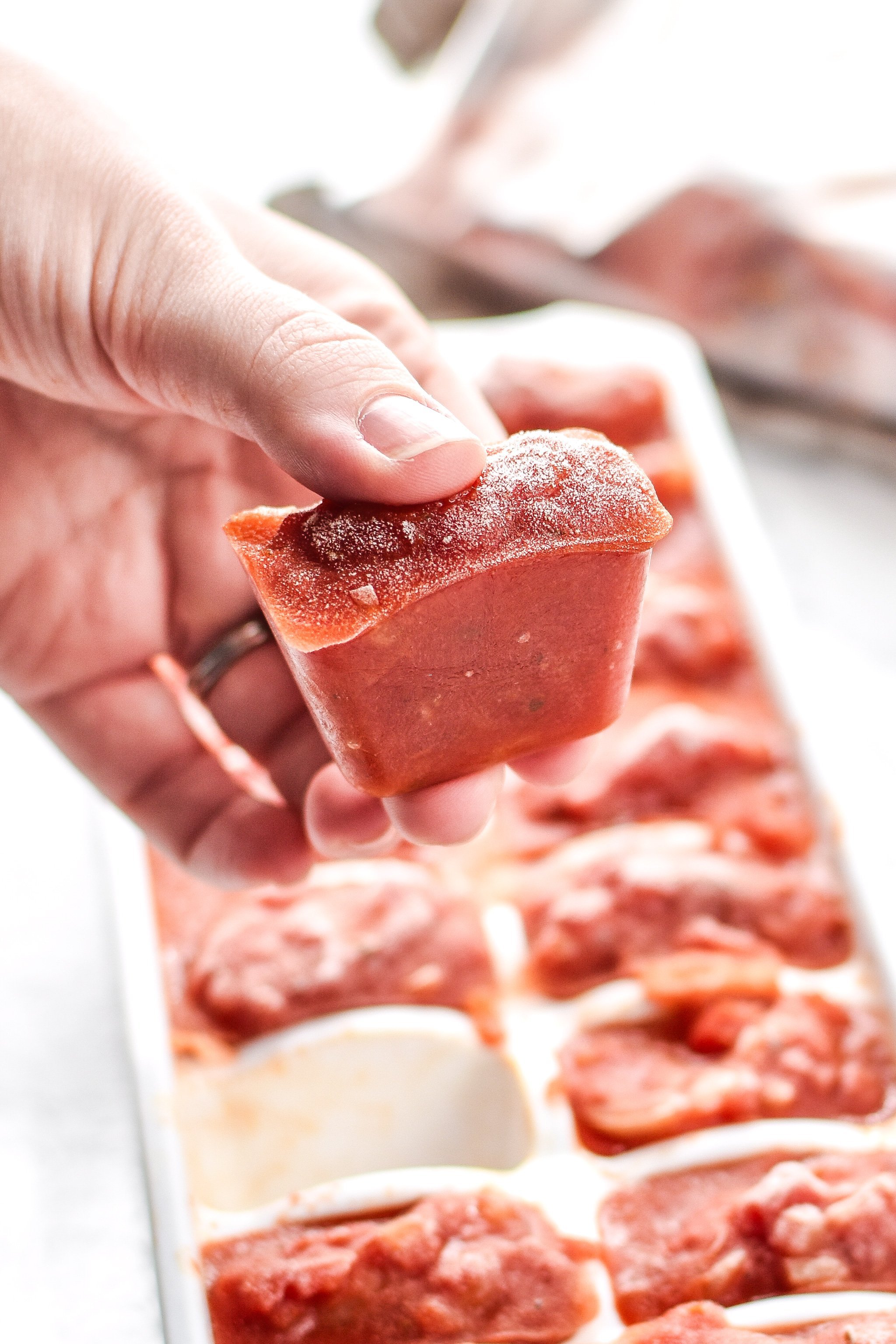 Photo: Project Meal Plan
11. Save money by making healthy snacks at home instead of buying them at the store.
Homemade snacks are often a much cheaper option, and you can customize them to your own liking. Even if you aren't prepping entire meals, save yourself from hanger pains and expensive snack breaks with ready to go homemade snacks options. – No-Bake Pumpkin Spice Date Bars from Project Meal Plan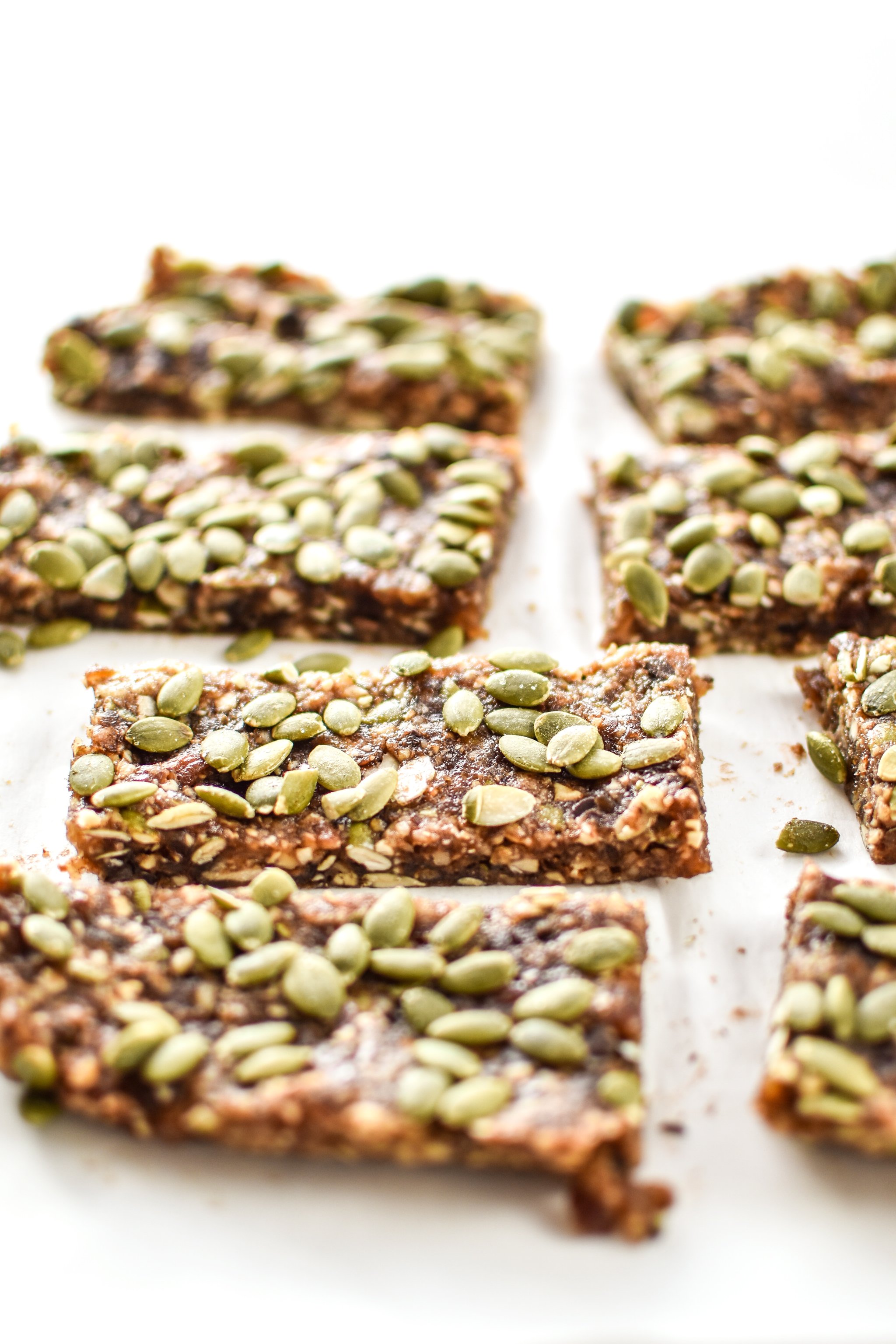 Photo: Project Meal Plan
12. Turn your leftover protein into an entirely new dish for dinner tomorrow.
Whether it's chicken breasts, salmon, or any other protein, plan out two dinners and one protein. That way the hard part is done by the time dinner on the second night arrives. – Farfalle with Salmon and Peas from White Coat Pink Apron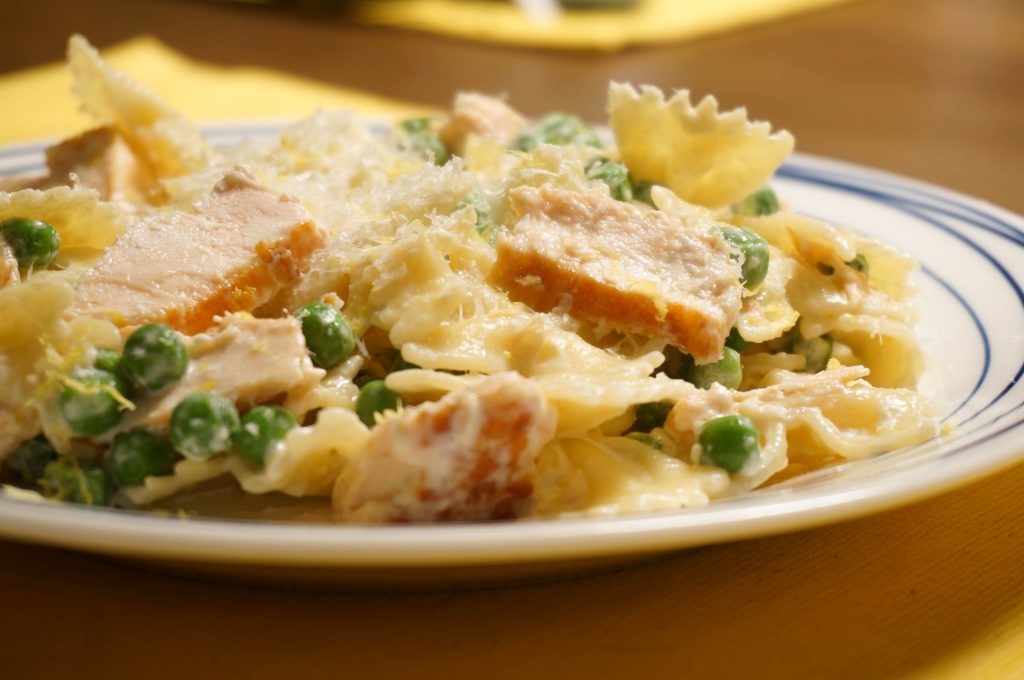 Photo: White Coat Pink Apron
13. Take a meal prep classic, and try cooking it in a completely new way.
This recipe had me salivating approximately 19 days before I received my Instant Pot, and was part of the reason I exclusively told my mother it was the only thing I wanted for Christmas. Chicken and rice meal prep is nothing new, but give yourself a change of pace and try prepping it in a new way. – (Instant Pot!) Spicy Chicken Meal Prep with Rice and Beans from Pinch of Yum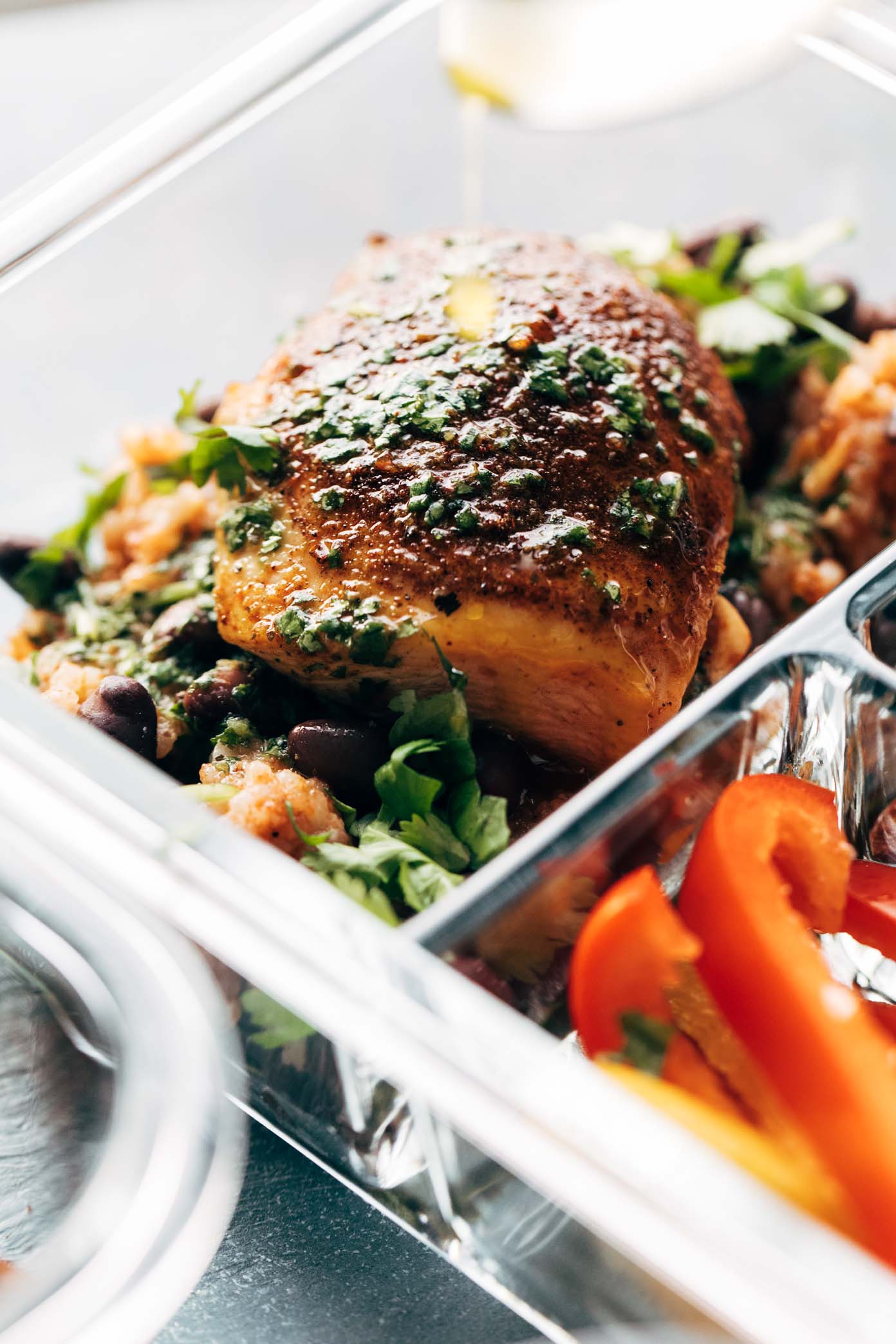 Photo: Pinch of Yum
14. Add "mise en place" to whatever you already do.
Alton Brown taught me the importance of mise en place, but Shelley does a pretty good job of explaining it too. This is the term for having the entire list of ingredients prepared before you actually start the recipe. This is totally something you can do a day or more ahead of time for most of the ingredients – chopping, dicing, measuring, etc. The best way I know of to make cooking less stressful. – What is Mis en Place? (And How It Will Change Your Life!) from Two Healthy Kitchens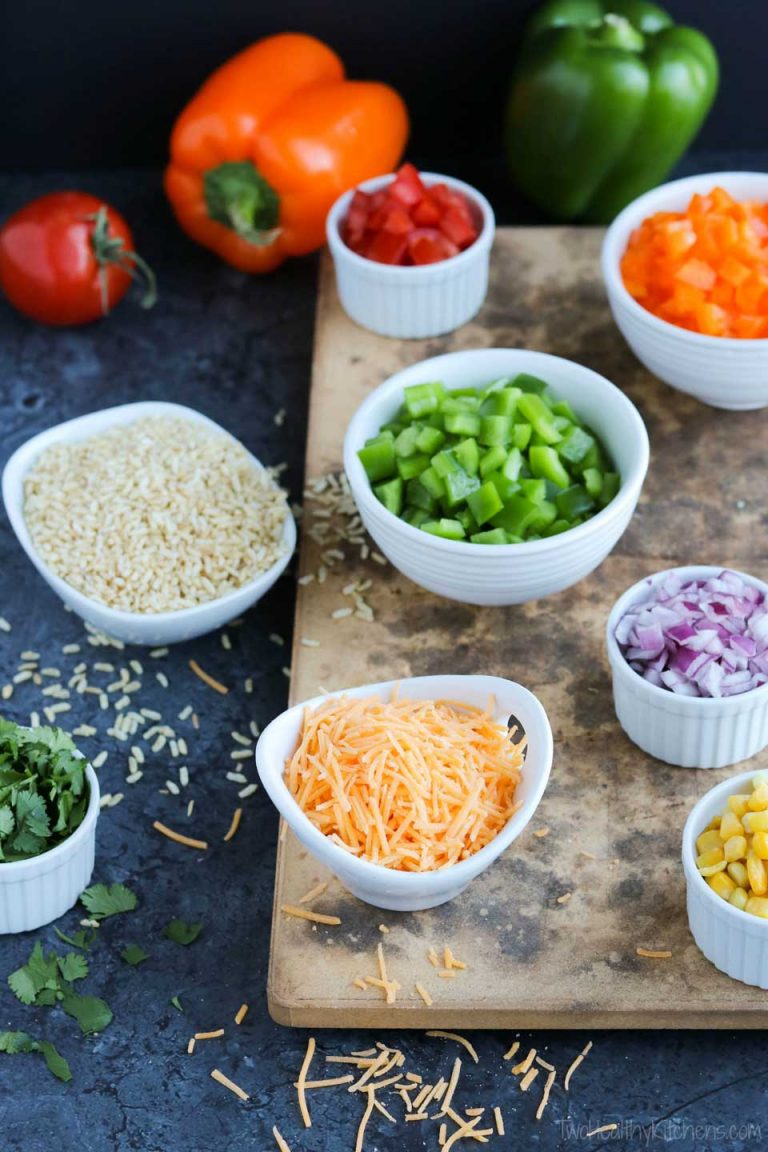 Photo: Two Healthy Kitchens
15. Bake some healthy breakfast muffins instead of grabbing [an unhealthy or expensive] one from a coffee shop.
Paleo, pretty, and perfect for your mornings on the go. These seem like a no-brainer and I should probably go make some right now. I'm sure they would also freeze well! – Paleo Maple Pecan Banana Bread Muffins from Meal Prep on Fleek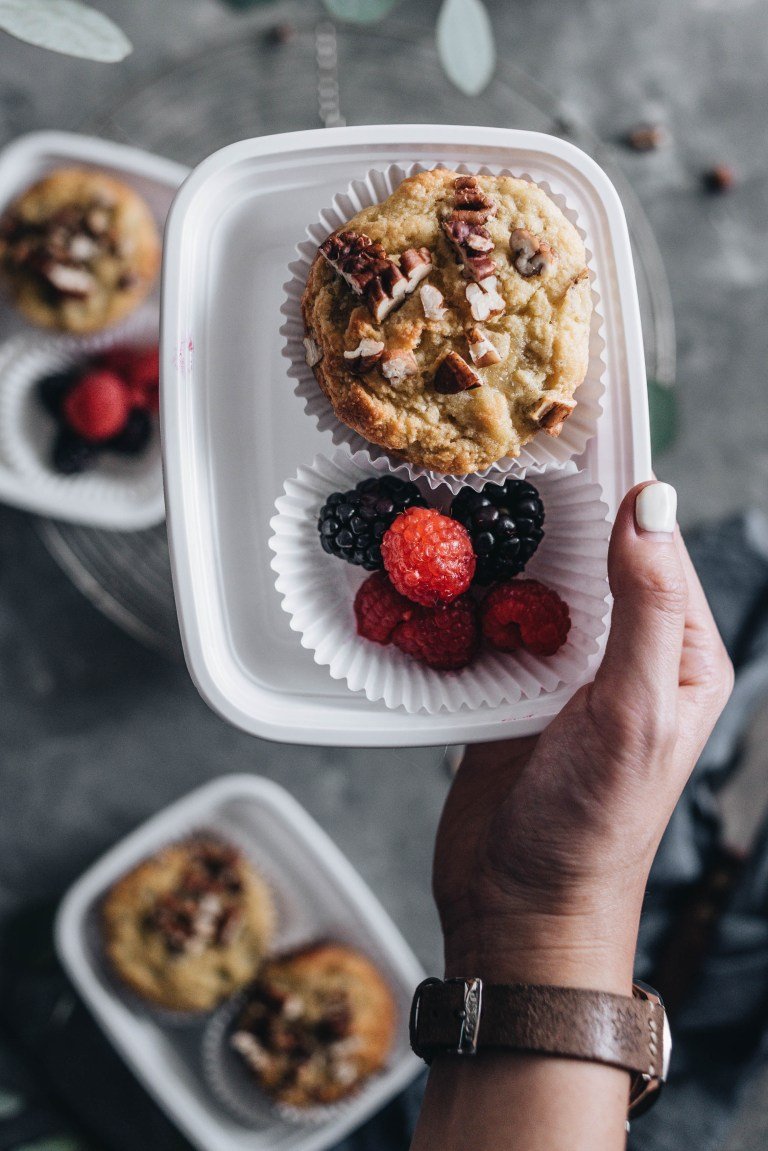 Photo: Meal Prep on Fleek
16. Make your favorite soup, then portion and freeze individually for cold days or unexpected illness.
You'll be glad you did. Soup is on my list of things to try out in my Instant Pot! We both got flu shots, but I feel like the cold weather illnesses are particularly strong this year. – Carrot, Red Lentil & Spinach Soup from Occasionally Eggs
Photo: Occasionally Eggs
17. Prep meals with a totally new grain, like barley or farro.
We do mostly brown rice and quinoa around here, but I have some pearled barley in the pantry I've been meaning to get to. Sounds like I need to take my own advice here! – Winter Roasted Vegetable Salad with Barley from Salt and Lavender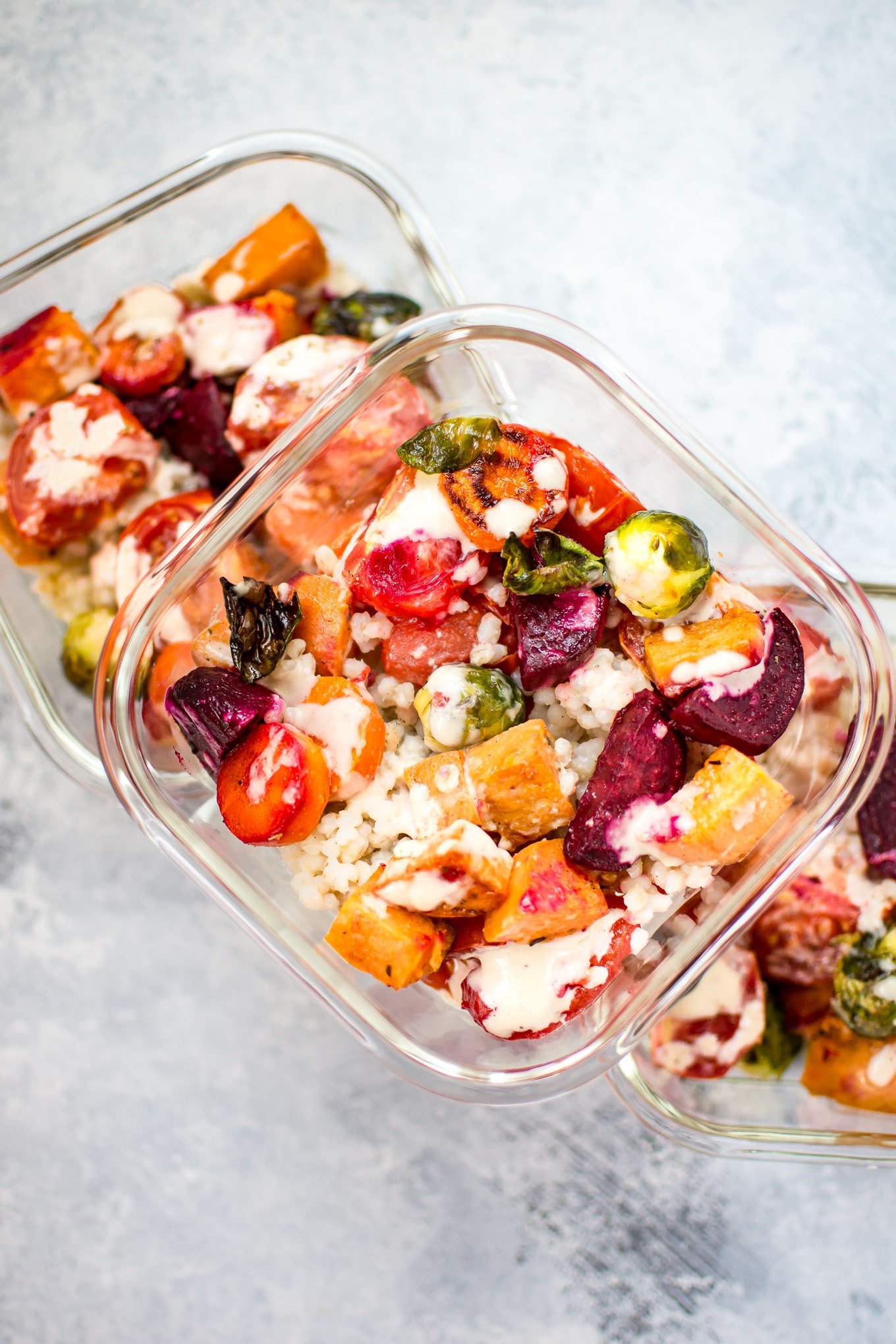 Photo: Salt and Lavender
18. Try assembling your favorite healthy snacks… but for lunch! It's the adult lunchable!
Pick a fruit, veggie, healthy crackers (I like Almond Thins), and assemble! Perfect if you're sick of the plain old meal prep formula. – How to Turn Cheese and Crackers into DIY Adult Lunchables from Project Meal Plan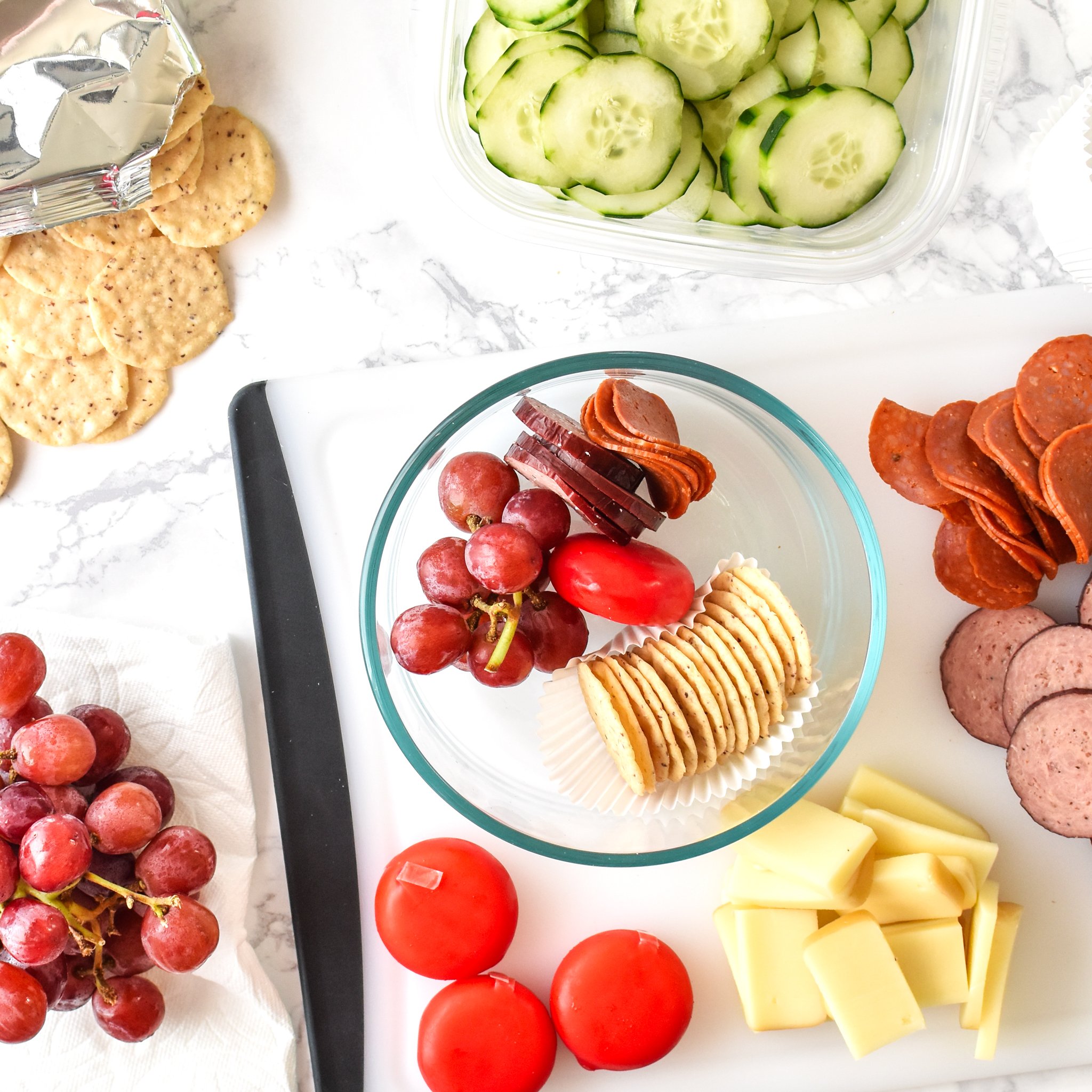 Photo: Project Meal Plan
Thanks for checking out 18 Ways to Start Meal Prepping in 2018! Share your awesome meal prep tips with me by tagging @projectmealplan on social media. Can't wait to try some of these tips in my 2018 meal prep!
For more ways to meal prep, check out last year's post, 17 Ways to Start Meal Prepping in 2017!