1 Comment
Posted: 08/30/2018
Updated: 09/23/2021
Snacks are life. Homemade snacks are all kinds of wonderful, but if you want to make life a little easier and save money on healthy snacks, I suggest heading to Costco. Here are my personal recommendations for the 10 Best Healthy(ish) Snacks to Buy at Costco!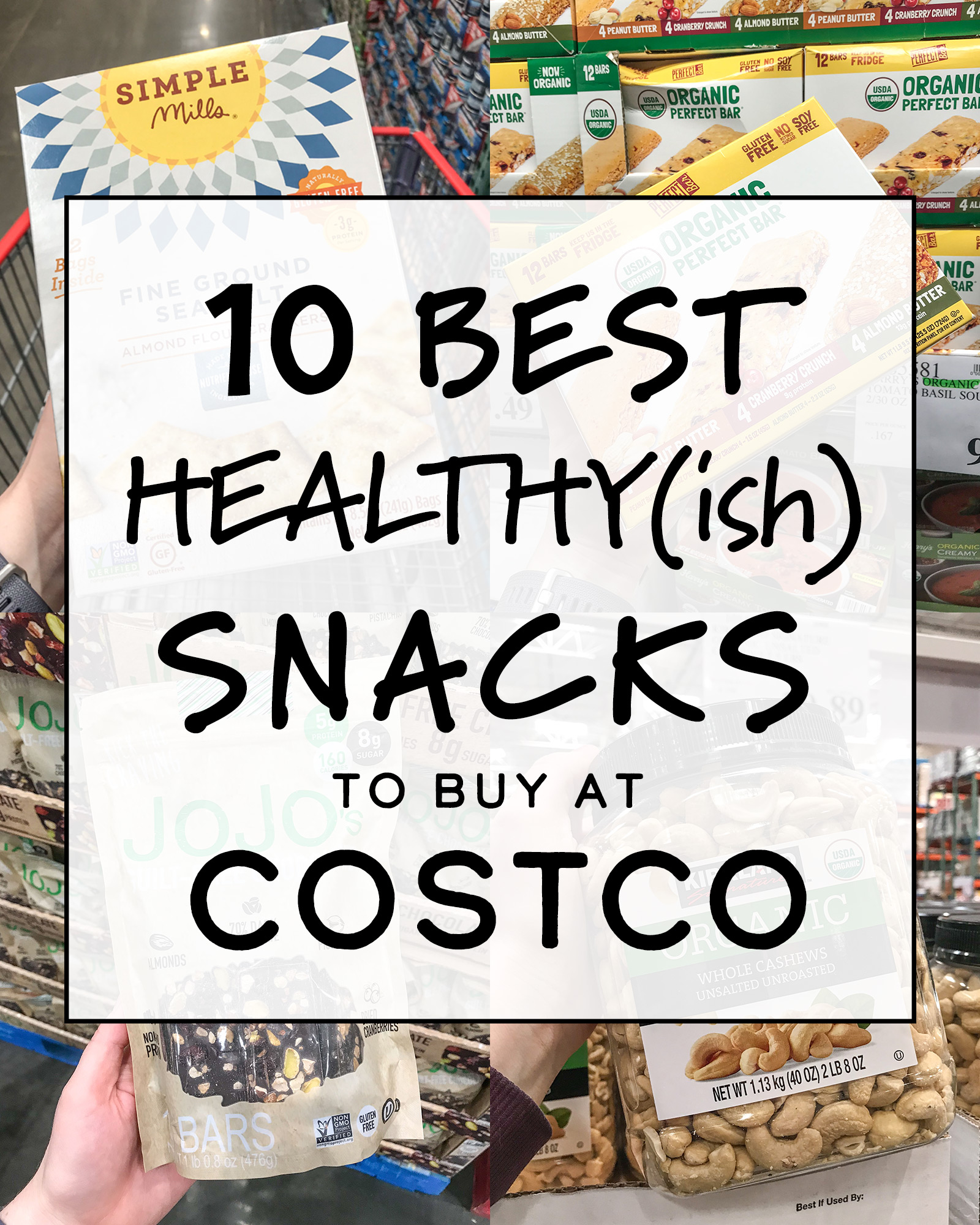 First of all, I want to establish that I am by no means an expert on what's healthy and what isn't. I'm definitely not trying to start any debates in that arena. But I buy a lot of snacks at Costco, and I would say I've done a pretty good job of avoiding the worst for you items they stock, and locating the more "healthy ish" ones.
I'm always down for homemade snacks, but there's just no way to make all the delicious snacks you could crave unless you're in the kitchen for 22 hours a day. No one has time for that. To supplement some of my favorite homemade snacks, I turn to Costco. Always low-prices and an ever evolving selection of snacks that you couldn't possibly eat them all before they're gone for good (have you heard the phrase "costco snack"?).
How I Decide What Snacks to Buy at Costco:
I love to snack and shop at Costco. Both separately AND together. Due to my love of both of these things, I had to set some snack purchasing boundaries for myself.
Here are some things I keep in mind when buying "healthy-ish" snacks at Costco (not hard fast rules, just goals):
Processed sugars: I always check ingredient labels and try to avoid processed sugars in my purchased snacks. Natural sugars like honey, maple syrup, date sugar etc. are totally cool with me.
Organic or not: Organic is good, but it's not the end game. Just because something is organic does not mean I'll buy it. Just because something is not organic does not mean I won't buy it. Example: I always buy organic berries but I do not always buy organic nuts.
Plastic waste: I usually try to avoid items that are overly packaged. There are some exceptions such as protein bars, but if something is individually portion wrapped, I'll avoid it. I can portion foods myself at home without using extra packaging. Honestly I've wanted to buy the individual guacamole cups but the amount of plastic used for each one just kills me.
Shelf life: I'll always consider how fast we can eat something so it won't go to waste. Some items are just not meant to be purchased at Costco for a family of two. Snacks like dessert hummus say they should be eaten within 7 days of opening (we DID eat it all by that time FYI).
Snacks as ingredients: I've never really considered this before, but I tend to buy snacks that always can function as ingredients in other recipes/meals. Dates, nuts, berries, are all things I eat and use for recipes.
10 Best Healthy(ish) Snacks to Buy at Costco
Here are the 10 Best Healthy(ish) Snacks to Buy at Costco according to my now multiple years of experience buying snacks (and all groceries in general) at Costco.
I've chosen not to share prices because they are constantly changing, plus I live in Seattle, WA where things tend to be a little more expensive. If you're thinking of heading to your local Costco to find some of these snacks, be sure to give them a call first, as not all Costcos carry the same items at the same time.
1. Simple Mills Almond Flour Crackers
Chips and crackers are snacks I usually try to avoid. But ever since Simple Mills hit Costco, I'm always okay with having crackers around. These ones are made with clean and simple ingredients, plus they don't even taste like almond flour at all.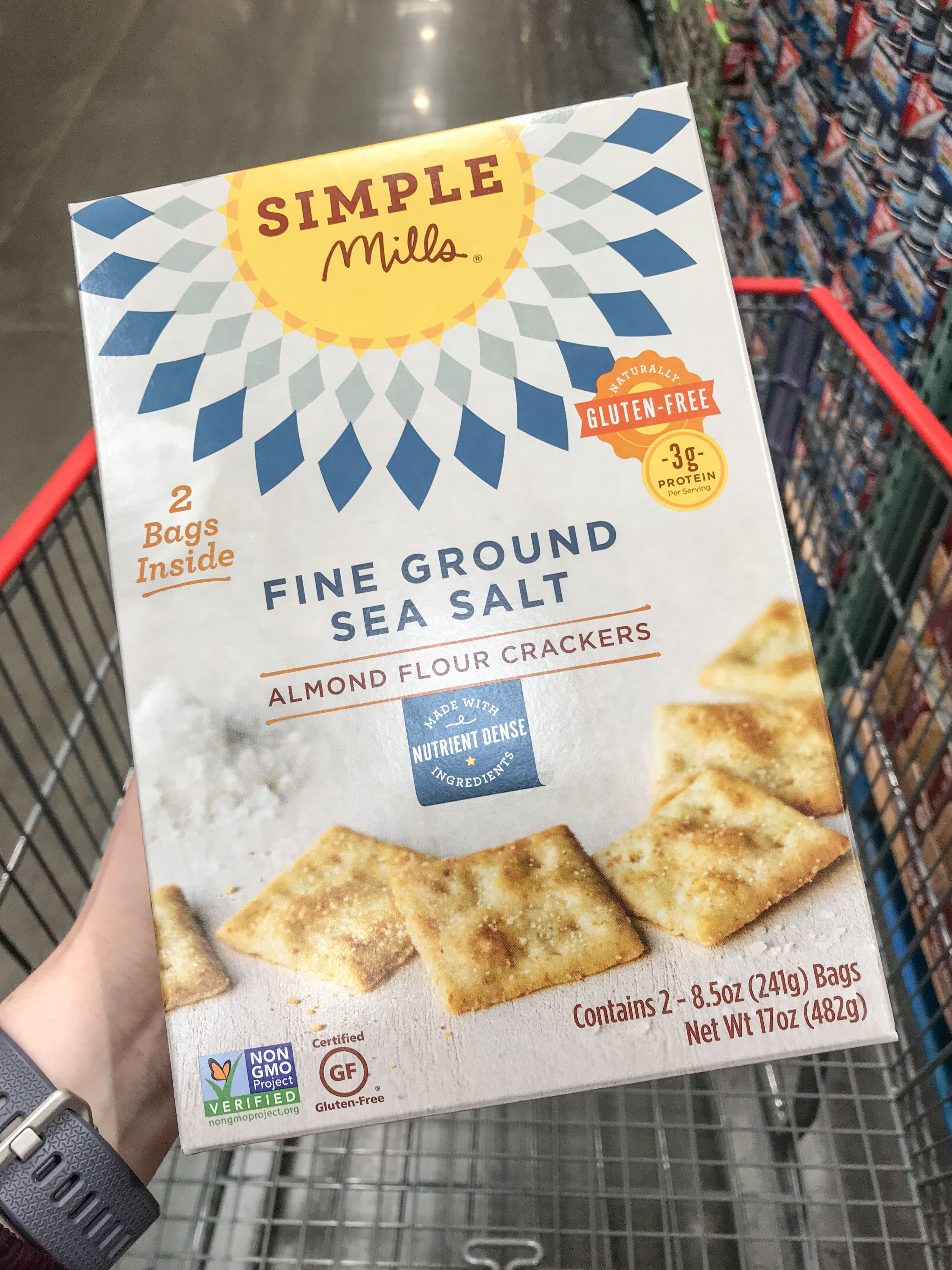 2. All Organic Berries
Year after year, strawberries are #1 on the "Dirty Dozen" List, which ranks produce based on tested pesticide contamination. This means strawberries are found to have the highest levels of pesticide contamination… of ANY fruit or vegetable. Scary!
For this reason, I strictly buy organic strawberries. And since not a single berry even makes the "Clean Fifteen" list, I just prefer to buy all berries organic (fresh or frozen). Costco has the right price, and berries are THE BEST snack. Prove me wrong.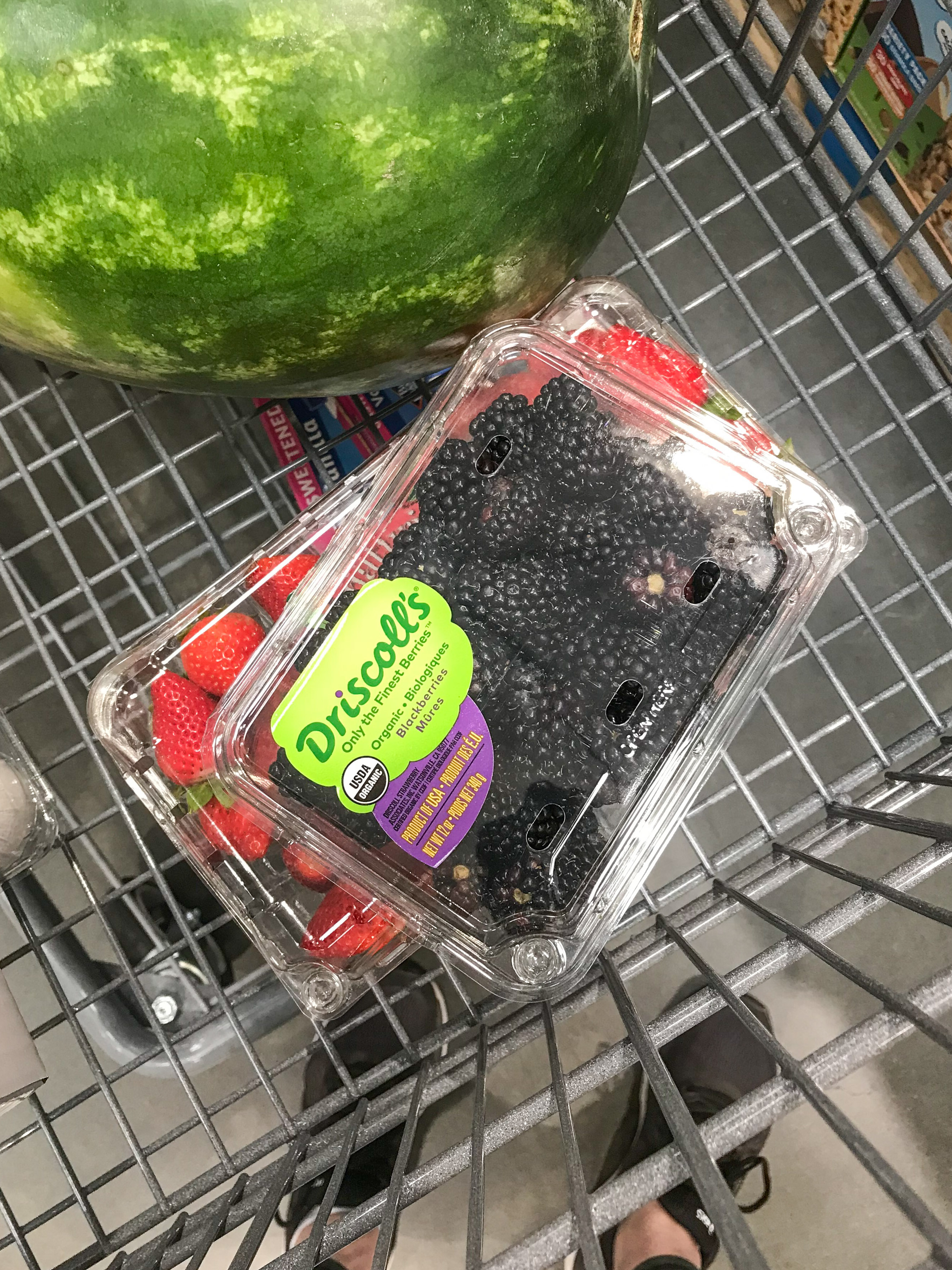 3. Delighted By Dessert Hummus
Quite possibly my favorite item on this list, it's dessert hummus. I'm calling it a snack, and you can't stop me. I've never come across a more amazing hummus related snack EVER. Best with strawberries, graham crackers, or right off the spoon. Ingredients are clean, vegan and gluten free. My Costco recently started stocking the brownie batter flavor of this amazingness, but there are more I must try!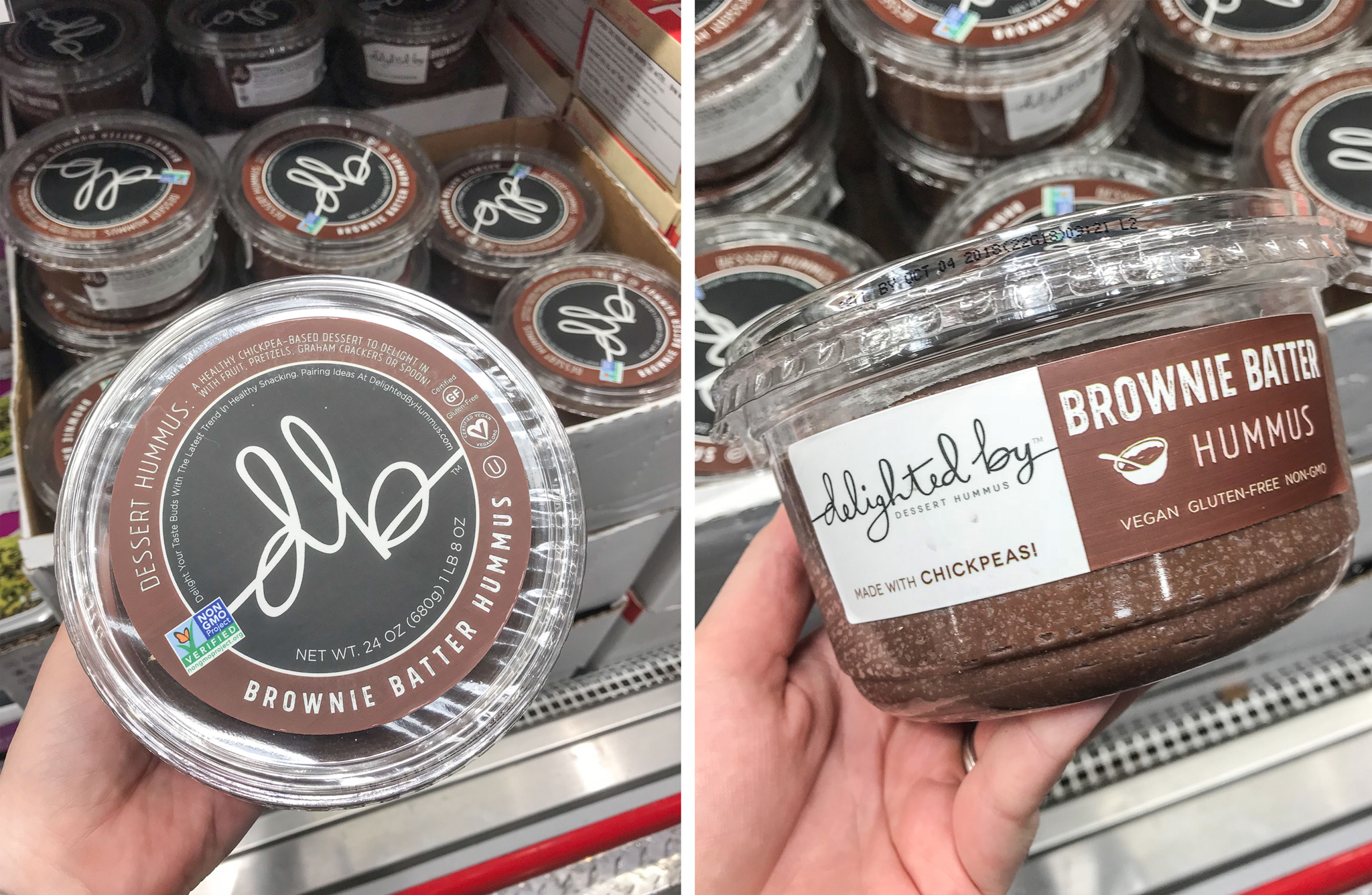 4. JoJo's Dark Chocolate Bars
I don't know about you but when my chocolate bar has 5g of protein and I can't even tell, it's a great day. These bars are stocked in our house constantly, and probably the only "candy" type item we keep in the pantry that isn't strictly for baking. These bars are 70% dark chocolate (which means much less sugar than a regular chocolate bar) and topped with nuts, dried cranberries, and hemp protein.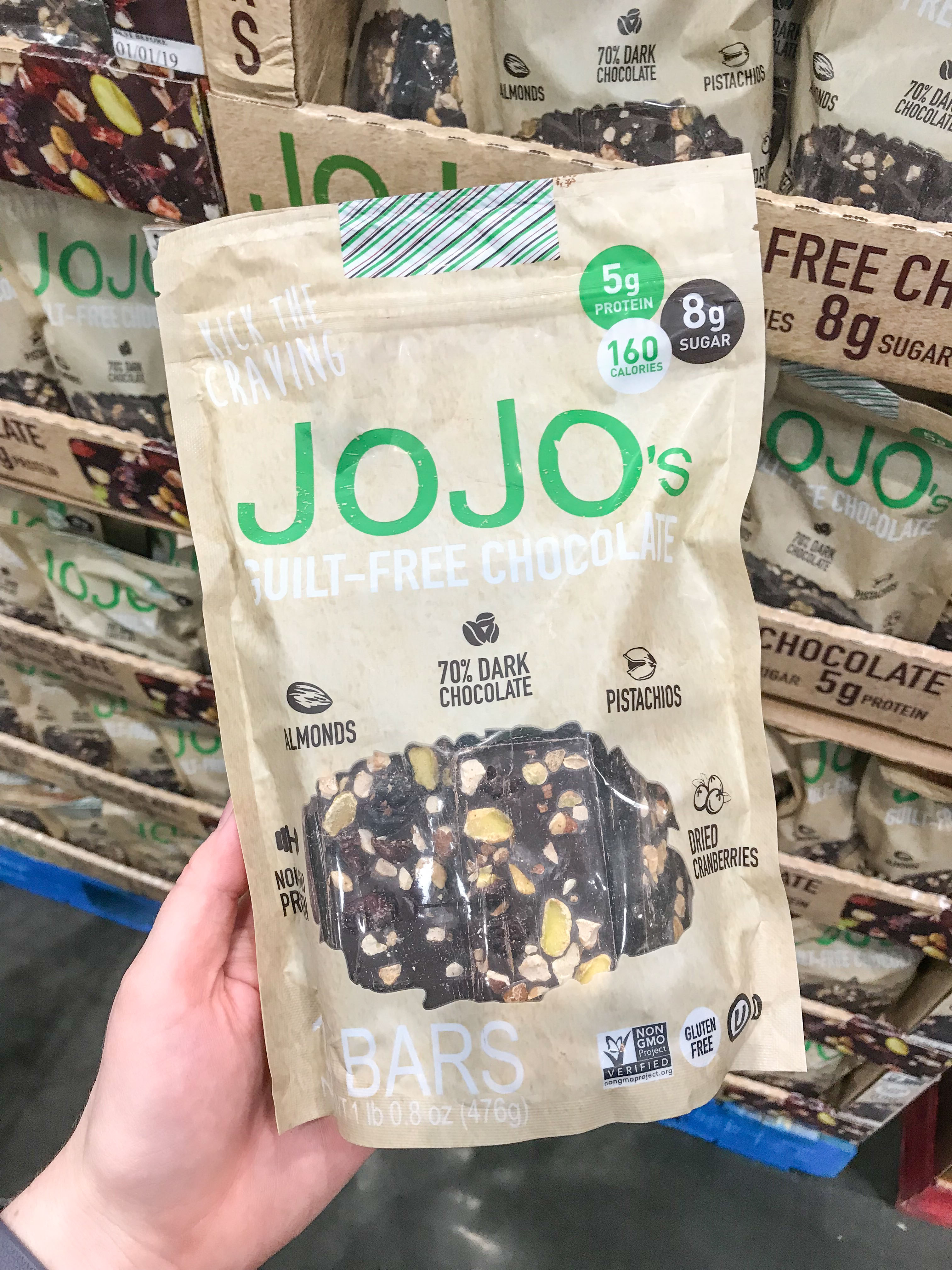 5. Skinny Pop Sea Salt Popcorn
Confession: This giant bag of popcorn has never actually graced my home because my husband doesn't like popcorn and I don't think I could finish a bag by myself. BUT. Popcorn is a low calorie no sugar added snack that can really satisfy hunger pangs. If you like pre-popped popcorn, Skinny Pop from Costco is your best bet. Anytime you can eat over 3 cups of something in one actual serving is amazing.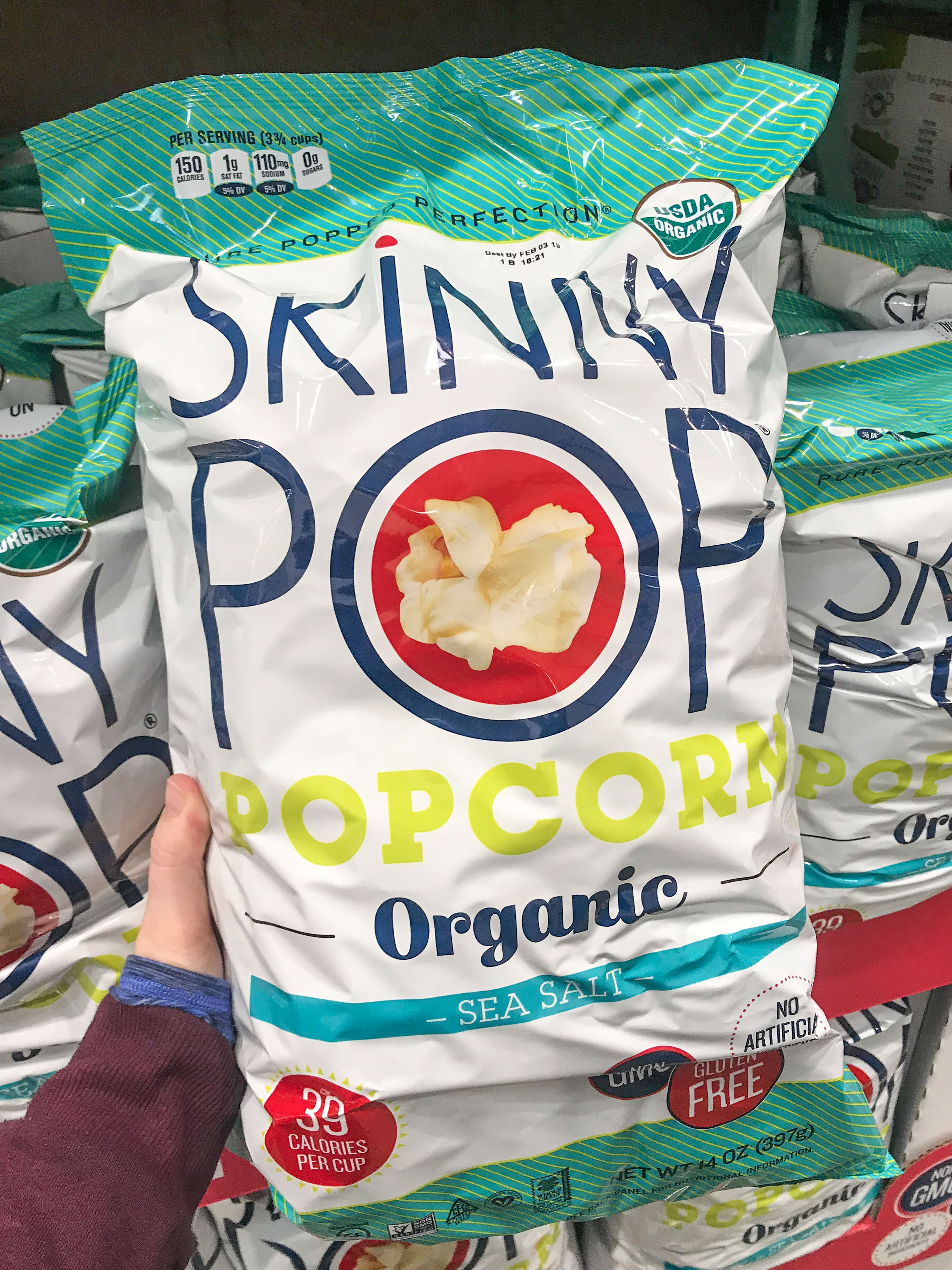 6. Ancient Grains Granola
Granola is a staple in our home. While I love homemade versions because you can 100% customize, I've decided this Costco granola is more time and cost efficient. This stuff is made with all organic ingredients including amaranth, quinoa, spelt, and has HUGE chunks. I mean huge, chunks of granola in there. The price is right, and we just love the ingredients.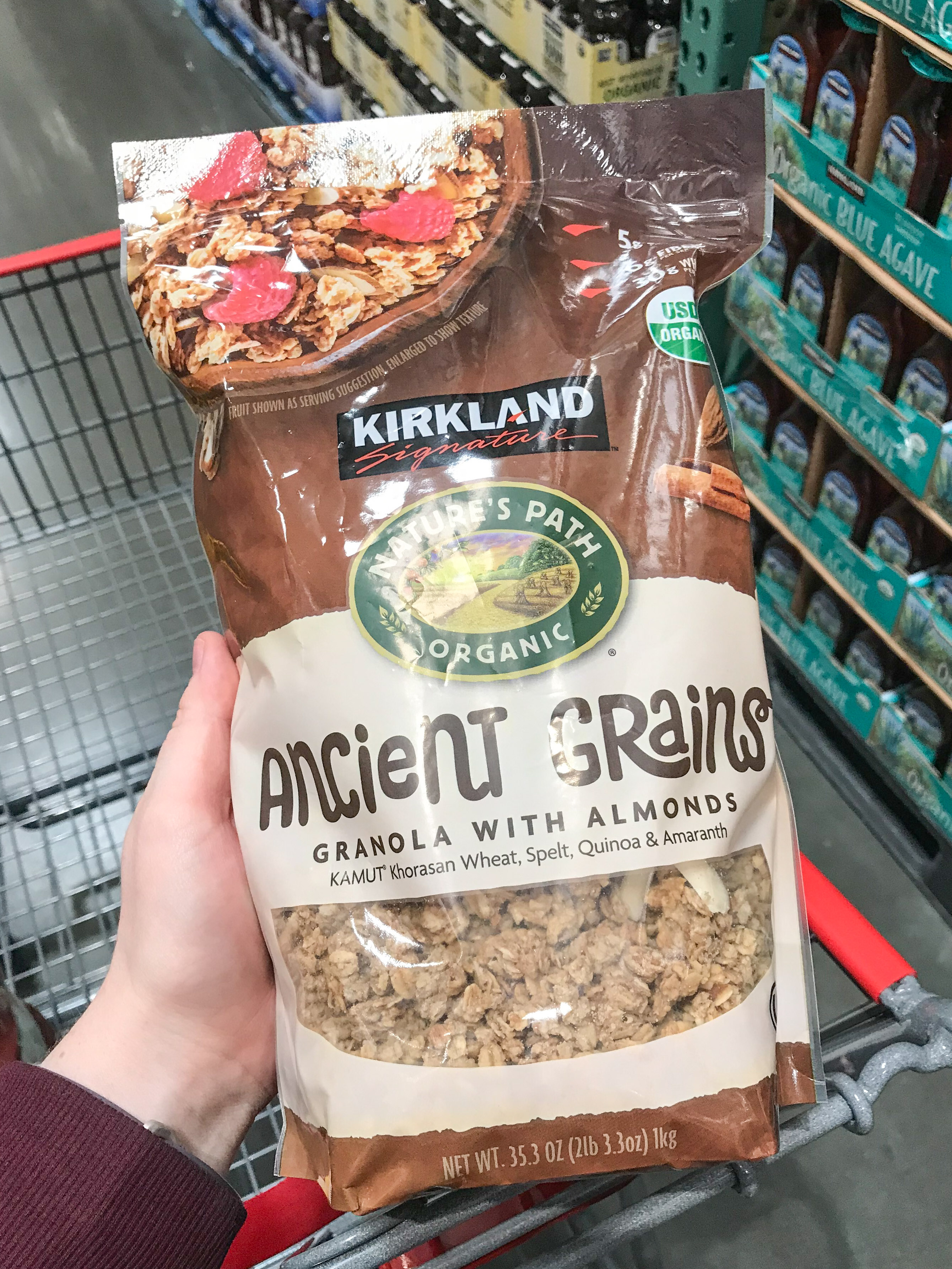 7. Nuts of Any Kind
No matter your favorite nut, you'll be able to find it in bulk at Costco. Cashews, walnuts, organic, salted, unsalted, smokehouse, pistachios, with shells, without, it's ALL there. Nuts are expensive, but they have a decent shelf life. Buying your favorite nuts at Costco is a great money-saver. We usually keep almonds, cashews, and walnuts on hand.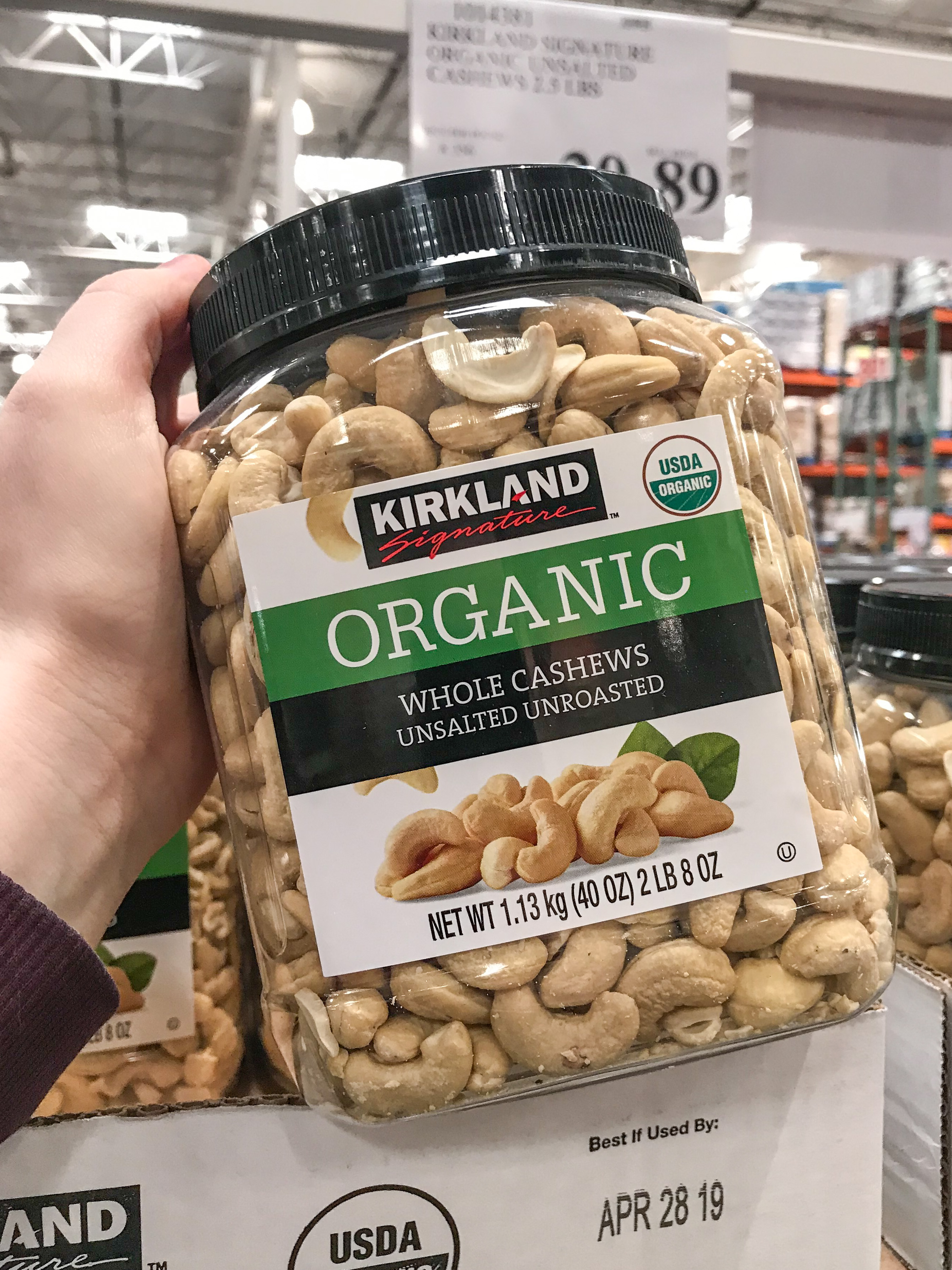 8. Dried Fruit
Costco is constantly rotating their selection of dried fruits. I'm pretty selective about what dried fruit I buy, especially in such large quantities, but Costco does carry healthy(ish) dried fruit snacks. I'm always sure to check the labels to see that there's no added sugar. Recently I've seen dried mango, dried blueberries, dried figs, and more.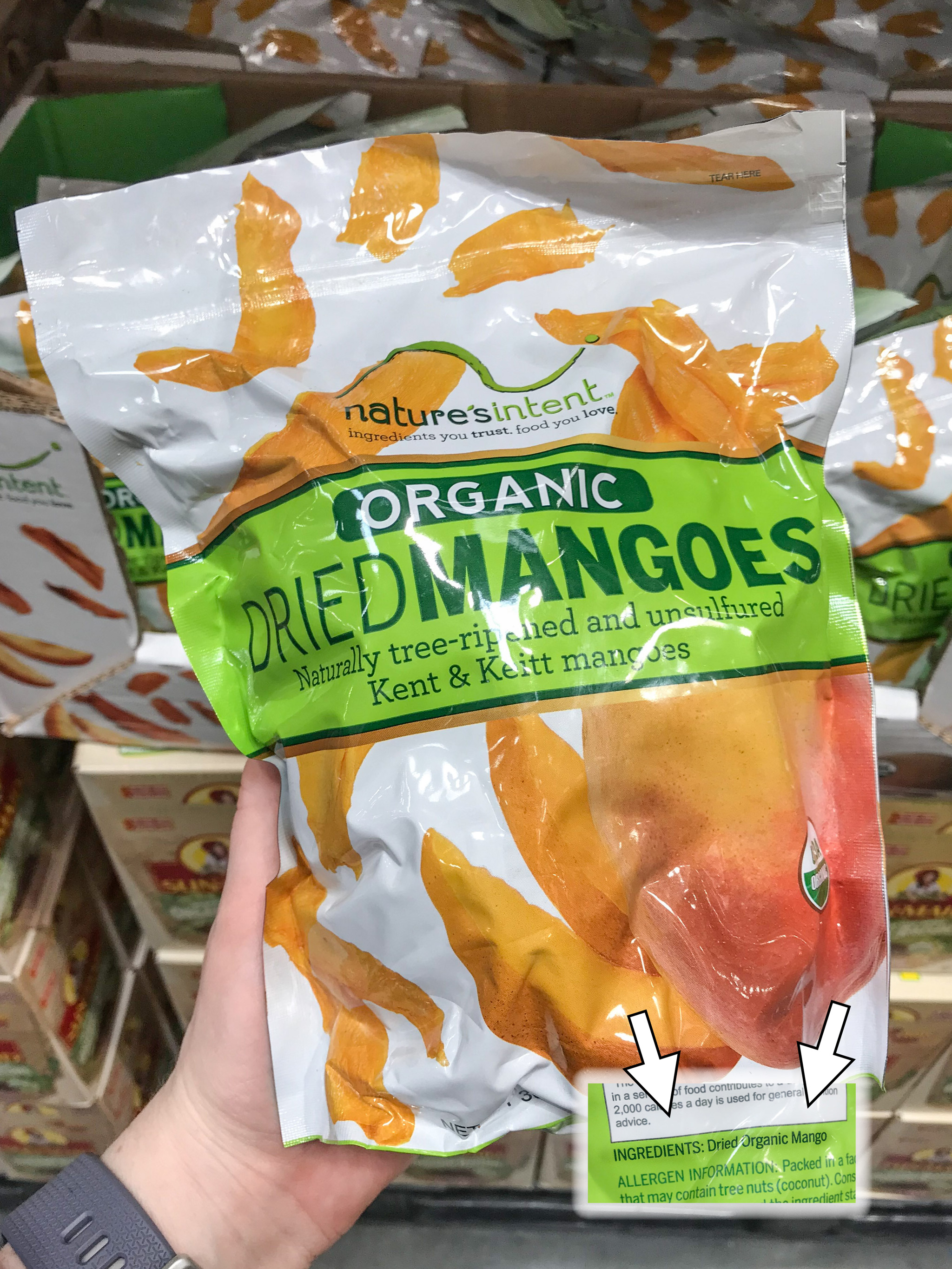 9. Bars, Bars, Bars
Any kind of snack or protein bar you want, Costco probably has it, and for way cheaper than you normally pay. I like to get Rx Bars, and sometimes we'll try out other protein bars as well. I know that a lot of people really enjoy Perfect Bars (too expensive for me), and if I was into those, I'd for sure get them at Costco to save $$$.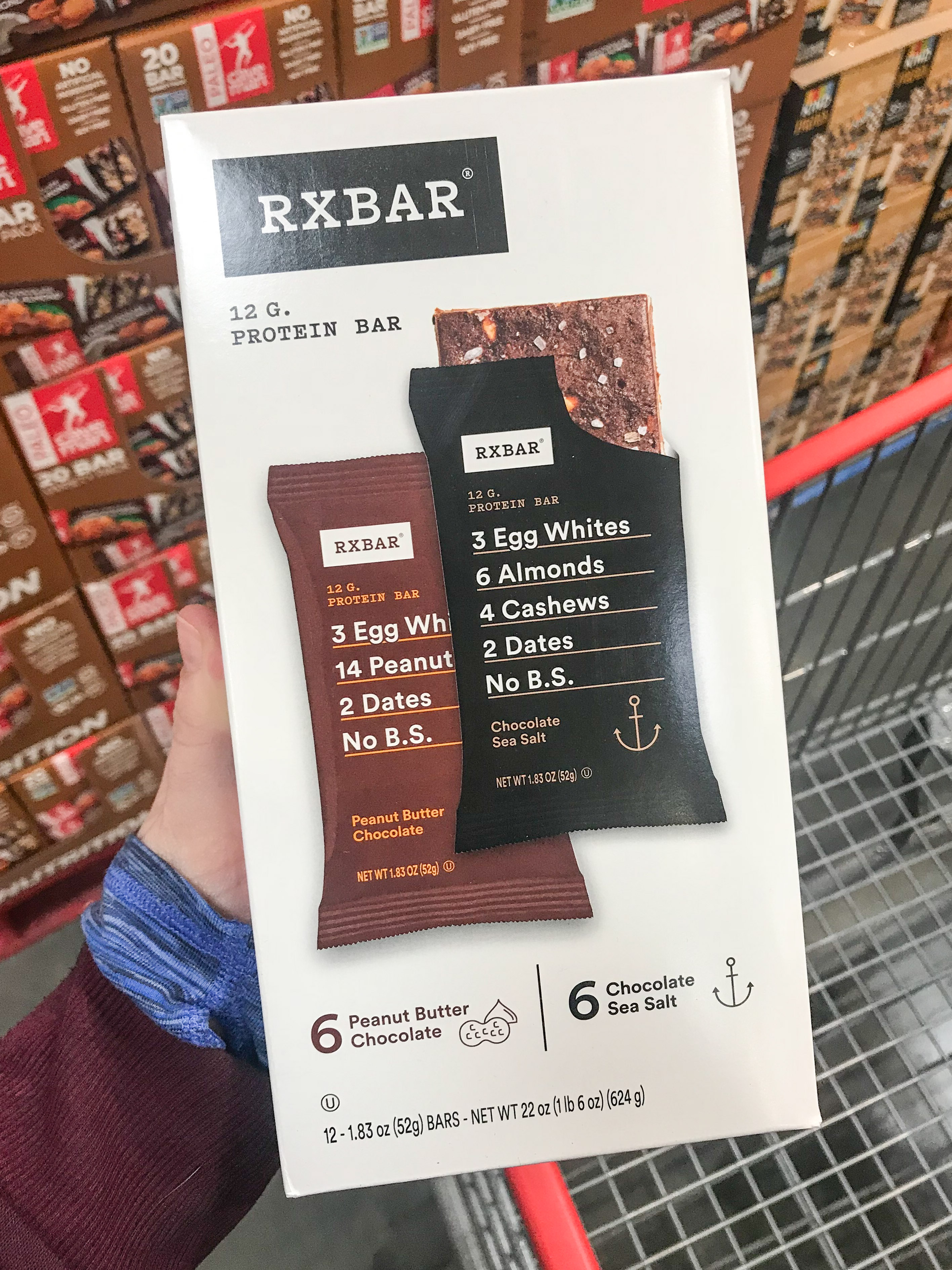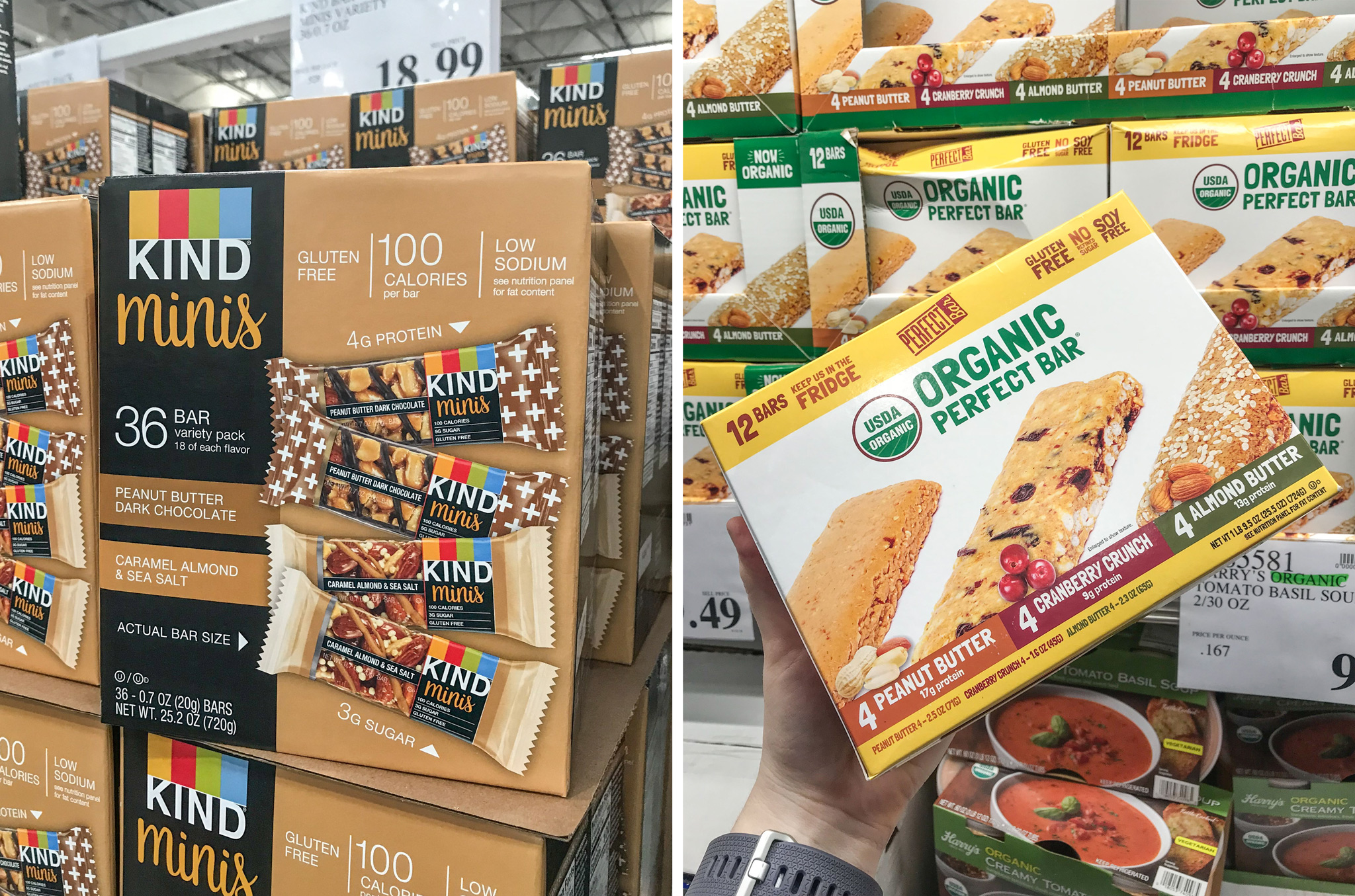 10. Dates
Where's that dessert/snack line again? Not sure but dates, especially the way I like to eat them, fall right there on that line. I used to purchase the bagged, pitted dates until I was informed these Natural Delights are so fresh, moist and sweet that you don't even mind pitting them yourself. Dates are a super sweet natural fruit you have to try.
Here's how to make the ultimate date snack: Slice open, remove pit, stuff with nut butter, and then shovel the entire thing into your mouth.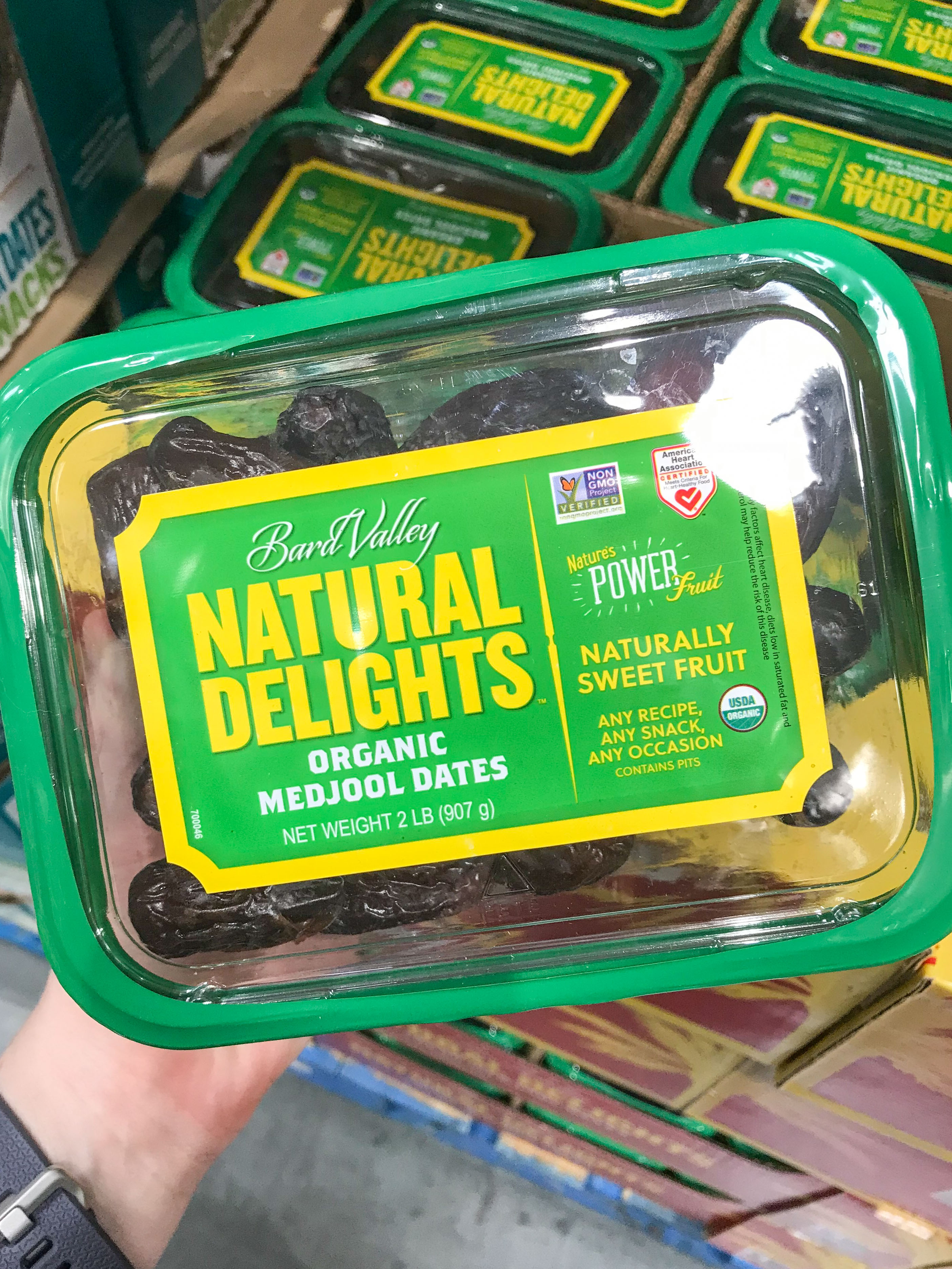 That's all of recommendations for the 10 Best Healthy(ish) Snacks to Buy at Costco! There are always so many items at Costco and they're always changing – and so many things I have yet to try! Hopefully you're able to find some of these delicious snacks at your local Costco. What are your favorites??
Not sponsored by Costco, just love the store and shop there all the time!
More shopping related articles to enjoy: