Pantry Cleanout Bingo is 1 of 7 family-friendly PDF activities in my "What's For Dinner?" Printables Activity Pack. This post will walk you through How to Play Pantry Cleanout Bingo to make this classic chore more exciting!
What is Pantry Cleanout Bingo?
Pantry Cleanout Bingo is a printable PDF activity made up of two pages. The first page includes some basic instructions to get you started, while the second page features a 4×4 bingo card with a pantry cleanout theme.
This activity is one of seven different printable dinner decision games in Project Meal Plan's "What's For Dinner?" Printables Activity Pack!
Print the activity and recruit the household to help (or keep it a solo task!), and make an otherwise boring household chore a little more exciting. Follow the instructions and cross out squares as you go!
You can also get ideas from the bingo card on ways to organize, clean, and come up with dinner ideas as you progress. You can make it more or less involved depending on your goals.
Where can I get the "What's For Dinner?" Printables Activity Pack?
The "What's For Dinner?" Printables Activity Pack is available here on Project Meal Plan. Read more about everything included in the Activity Pack here, or go directly to the purchase page to grab yours!!
Can I purchase only Pantry Cleanout Bingo instead of the whole pack?
Currently, Pantry Cleanout Bingo is only available as part of the complete Activity Pack bundle. I promise you'll enjoy the other activities as well!
Materials needed for Pantry Cleanout Bingo:
To print and play Pantry Cleanout Bingo, you will need:
a printer
1-2 pieces of paper
a pen or marker
Note: You do not need color ink to do this activity. Feel free to print in black and white.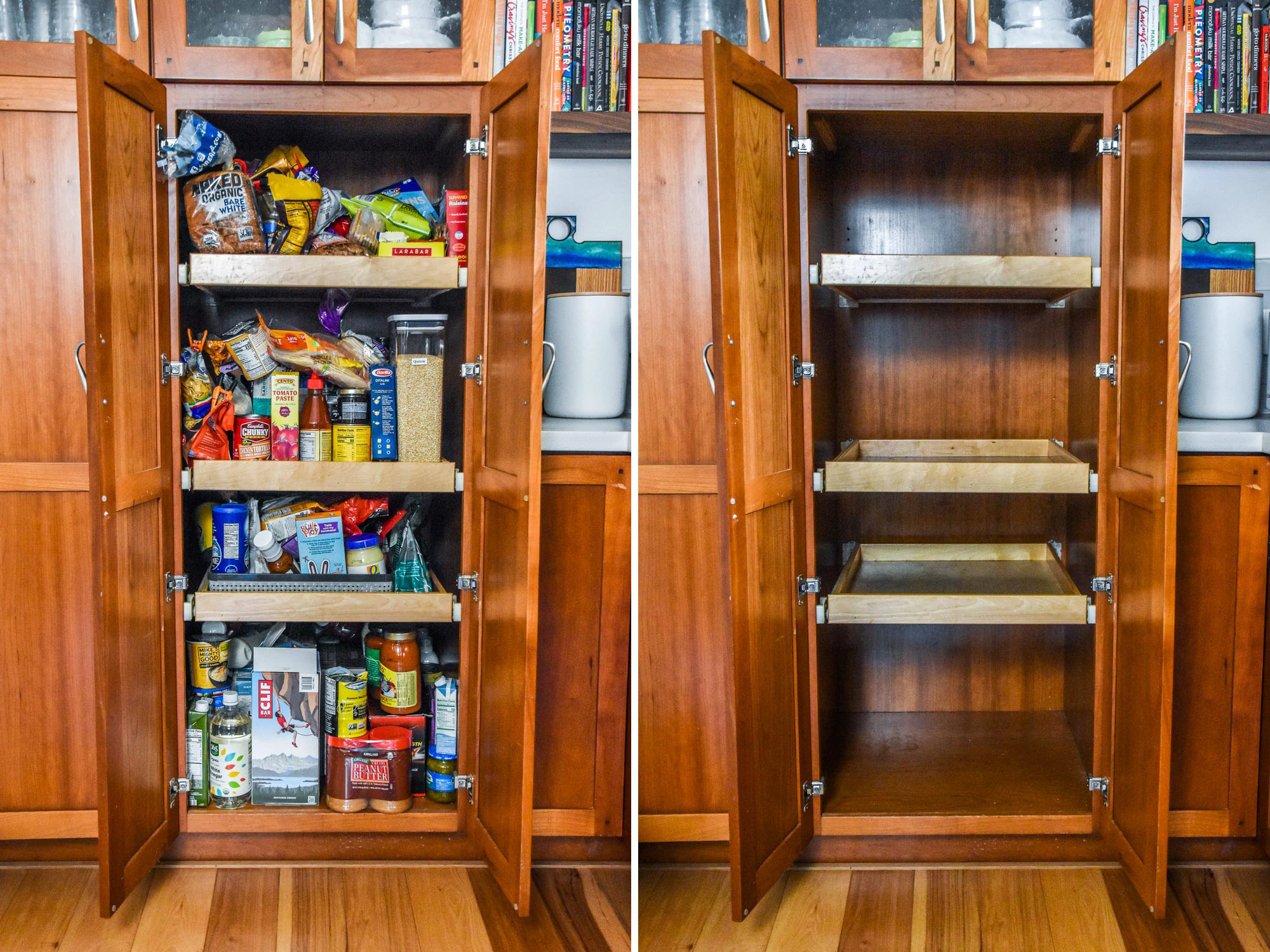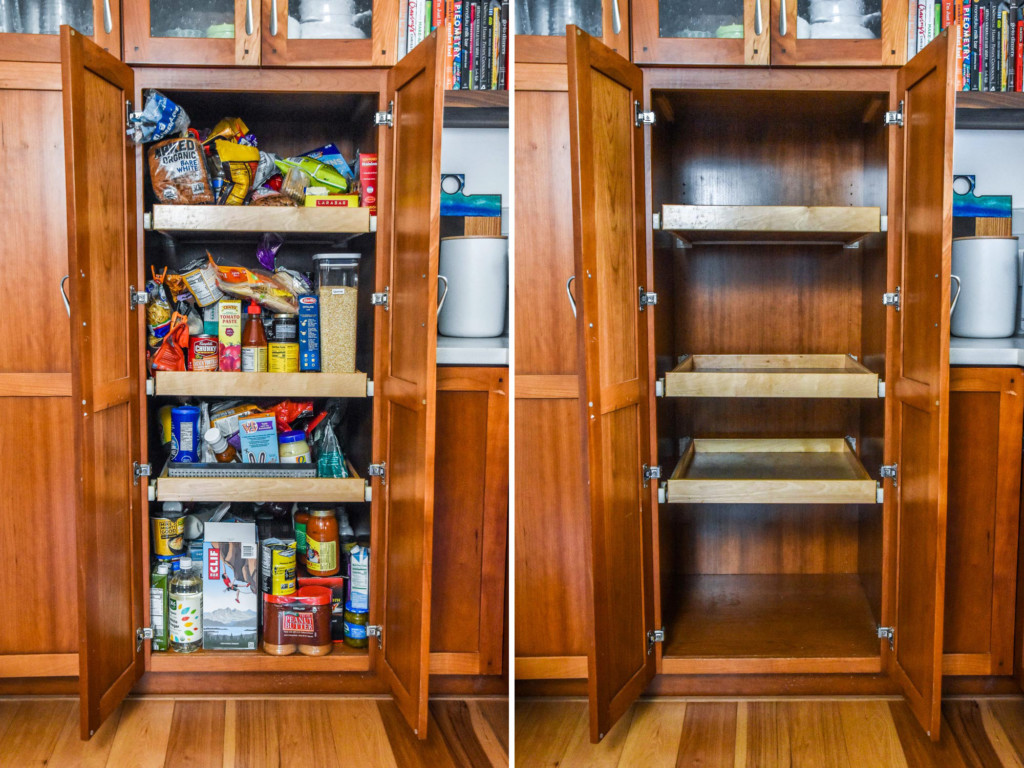 Goals for a pantry cleanout:
To help give some direction with your pantry cleanout, I recommend picking 1-2 goals or intentions for the task. Here are some ideas:
Minimize – If your goal is to clean up and minimize the size of the pantry, you should focus on removing every single item, cleaning the shelves, and composting or disposing of anything expired. If you can, make a donate pile of anything you would like to give to someone who might need it or enjoy it more (but nothing expired!).
Organize – If your goal is to organize, you should still give everything a good wipe down, but think about bringing in some containers, lazy susans, bins, or labels to help organize. I would still get rid of anything expired, but the goal is focused on making things easier to find.
Meal plan – If your goal is to take inventory and come up with meal ideas, you'll still want to wipe things down and get rid of anything expired. But this time, focus on writing down items you need to use, and think about how those items could be used in meals. It's great to have a notepad and writing utensil handy if this is your plan.
How to Play Pantry Cleanout Bingo:
The first page of this activity includes a brief set of instructions to help get you started with your pantry cleanout, but here's a slightly expanded version of the instructions, just in case:
The first thing to do is print the PDF activity. Make sure you've got about 1-2 hours set aside for your cleanout, depending on the size of your pantry.
Review the Pantry Cleanout Bingo card and locate the 'start here' box! Hint: It's the middle top left square. Browse the other squares on the card to see how to get a bingo and or even blackout the card.
Optional: Pick a 4-square in a row line (vertical, horizontal or diagonal) on the Bingo card based on your goal, and aim to cross out those squares! This can help guide your pantry cleanout.
Remove everything from the pantry. I mean everything! As you go, keep an inventory list, if that is helpful for you. Write meal ideas down as you think of them and keep the list for meal planning later!
As you go, compost or toss anything expired. If you can, make a pile for donation – but don't donate anything expired!
Clean off and wipe down the shelves or surfaces of your pantry. I used a damp paper towel to pick up any larger crumbs, then applied some all-purpose cleaner and wiped the surfaces down with a sponge.
Optional: Now is also a great time to add any bins or labels to help with organization.
Follow the sheet and mark off squares as you go. Or, do a bit of work and review once everything is out of the pantry, and then again at the end.
Finally, put everything you want to keep back into the pantry. Start with large items or things that have a specific place. Continue until everything is put away!
Aim for either a blackout of the bingo card, or a 4 square line! Either way, you'll end up with a more organized and clean pantry than you had before. That's a win to me!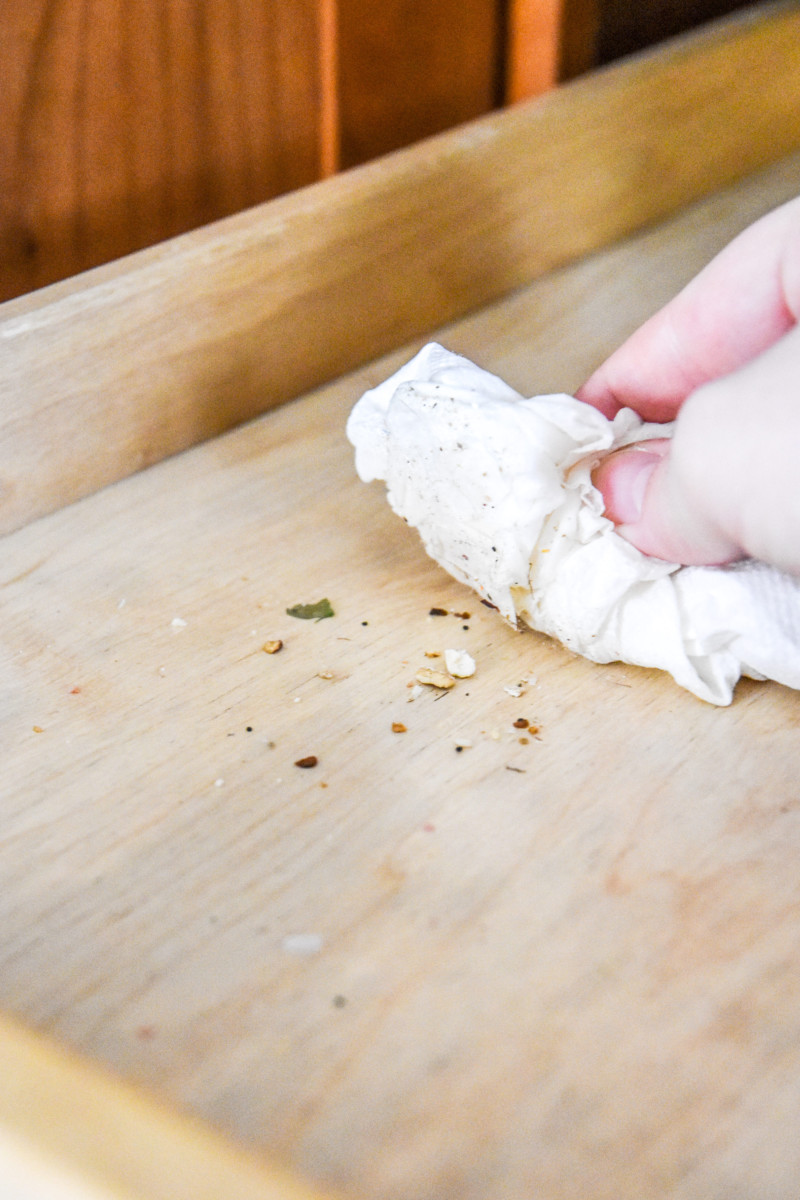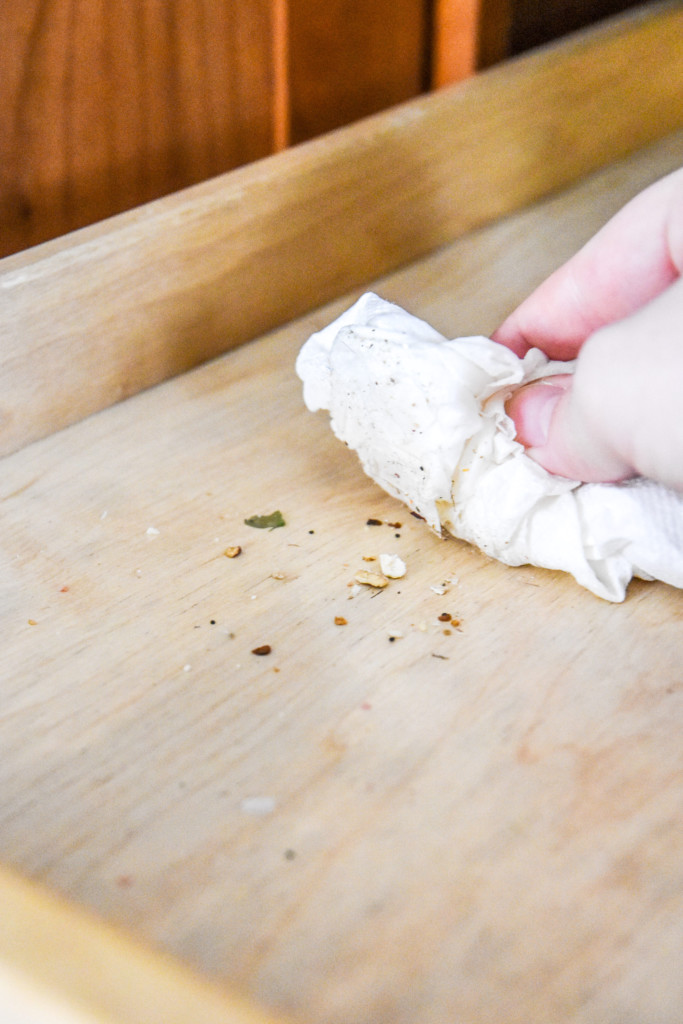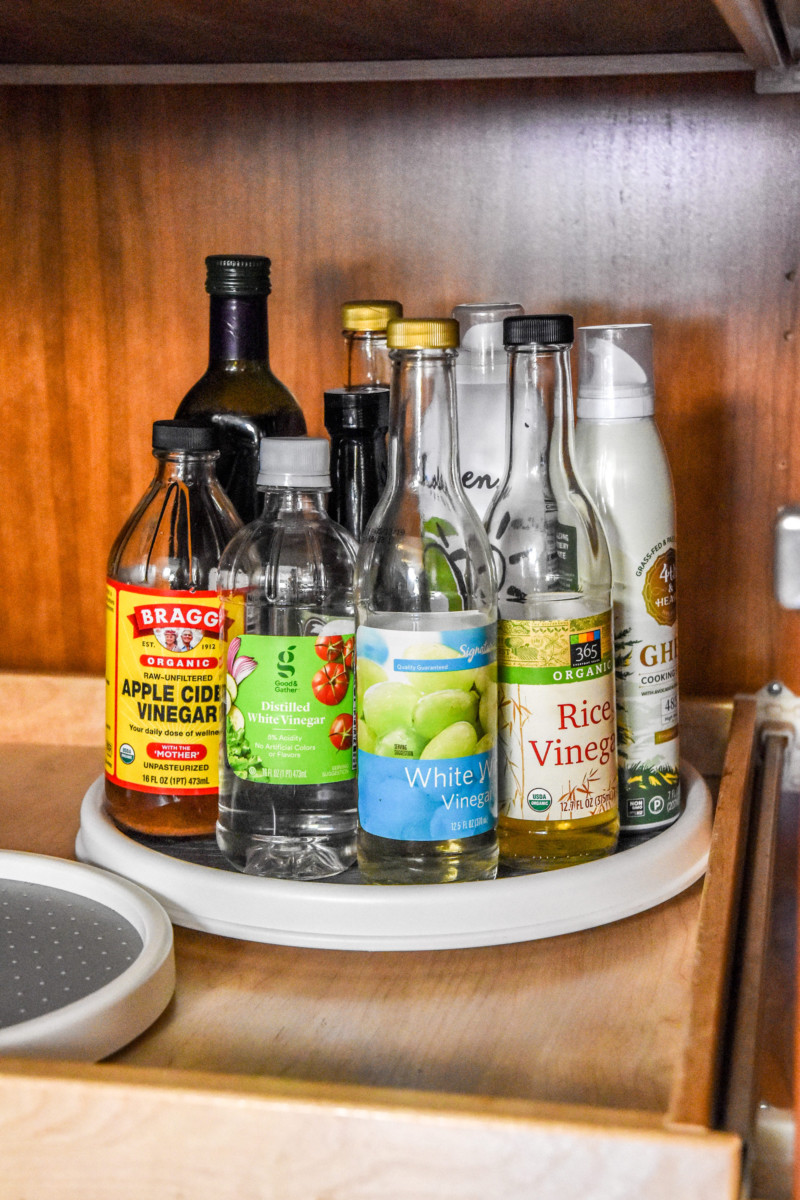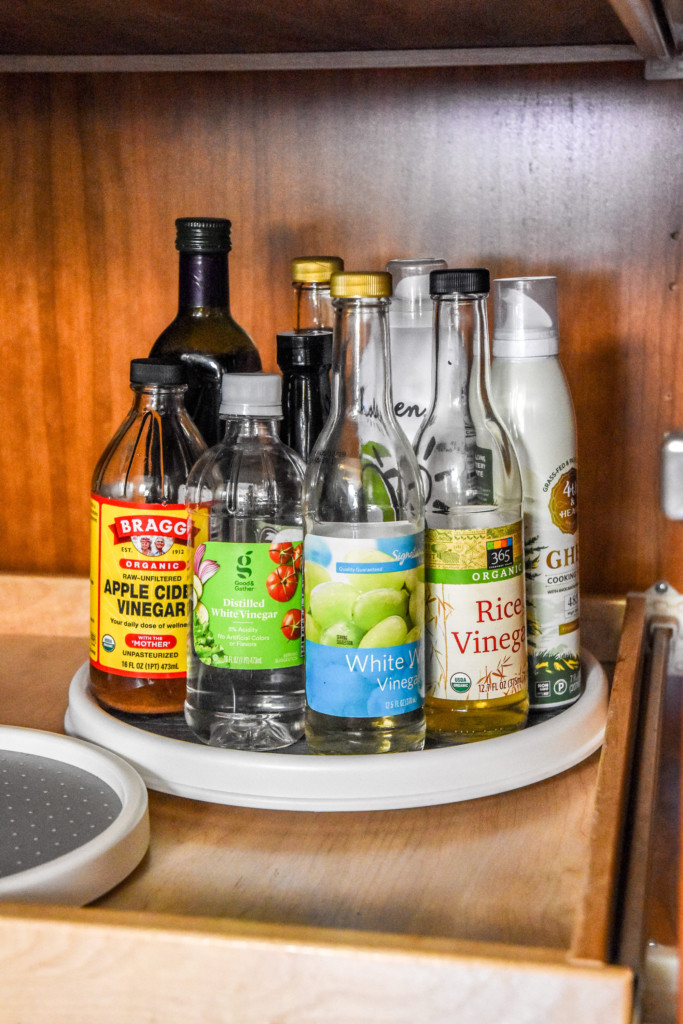 Tips for a successful Pantry Cleanout Bingo game:
Here are a few tips to keep this activity fun and helpful:
Review the instructions and bingo card before you start. This will help give you some direction for the task and you'll know a little more about which squares you're trying to cross off.
Keep a pen and notepad handy as you go. You don't have to write down every single item in your pantry, but you should write down anything helpful for you. For example, I wrote down dinner ideas and what ingredient from the pantry was needed for the corresponding idea.
Don't take it too seriously. This activity is meant to give you some basic instructions on how do a pantry clean out, and add a little fun to a classic household chore. Go as little or as big as you want!
You don't have to do everything all at once. And you don't have to go buy anything at all in order to clean your pantry. Cleaning it out and taking an inventory is job enough! If you can't donate anything or implement any new labels, that's totally okay. You can still win!!
So… what's the prize??
I will be real with you – there's no physical 'prize' for getting a bingo here. But if you follow the instructions, make it fun, and end up with a cleaner pantry, that's a win to me.
Another option is to reward yourself with a new bin or organization tool! Now that you've done one pantry cleanout, you might have a better idea of what you need for your pantry.
If I could only pick one thing for pantry organization, it would be a lazy susan! They make super simple ones that can fit right into the pantry.
I've gotten them from Target and The Container Store, and of course they sell them on Amazon. Here's an example for a basic non-skid turntable (affiliate link!) like mine.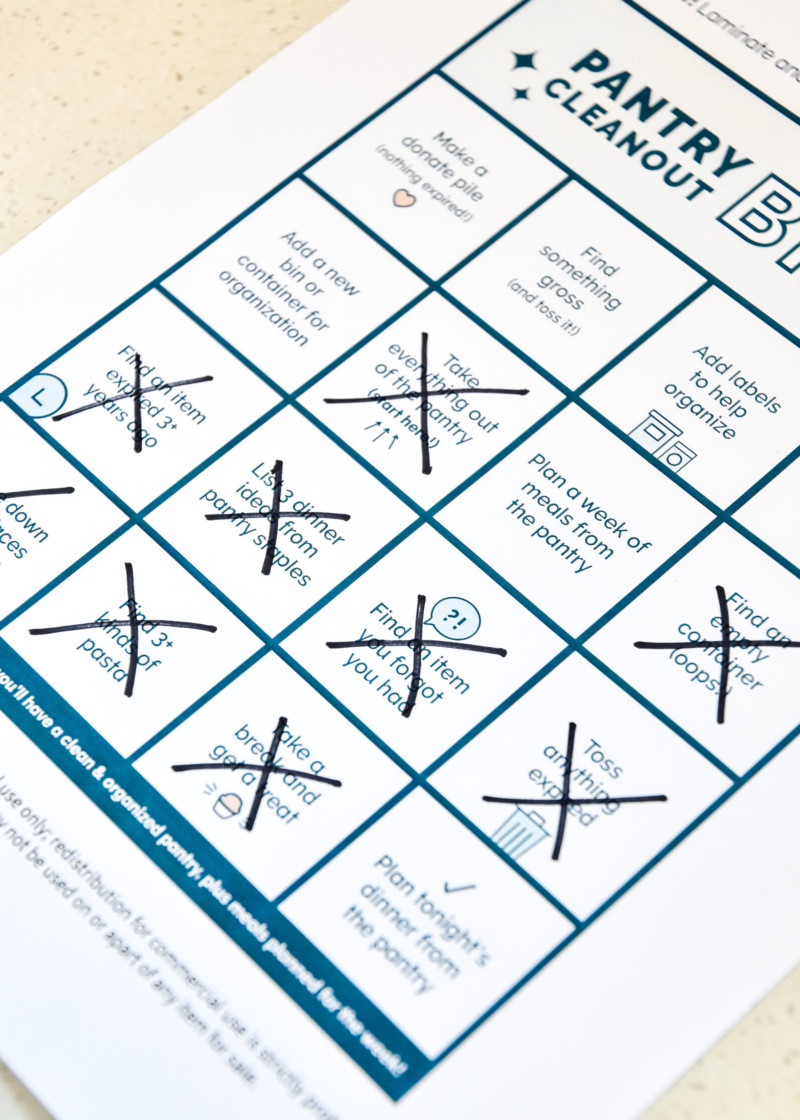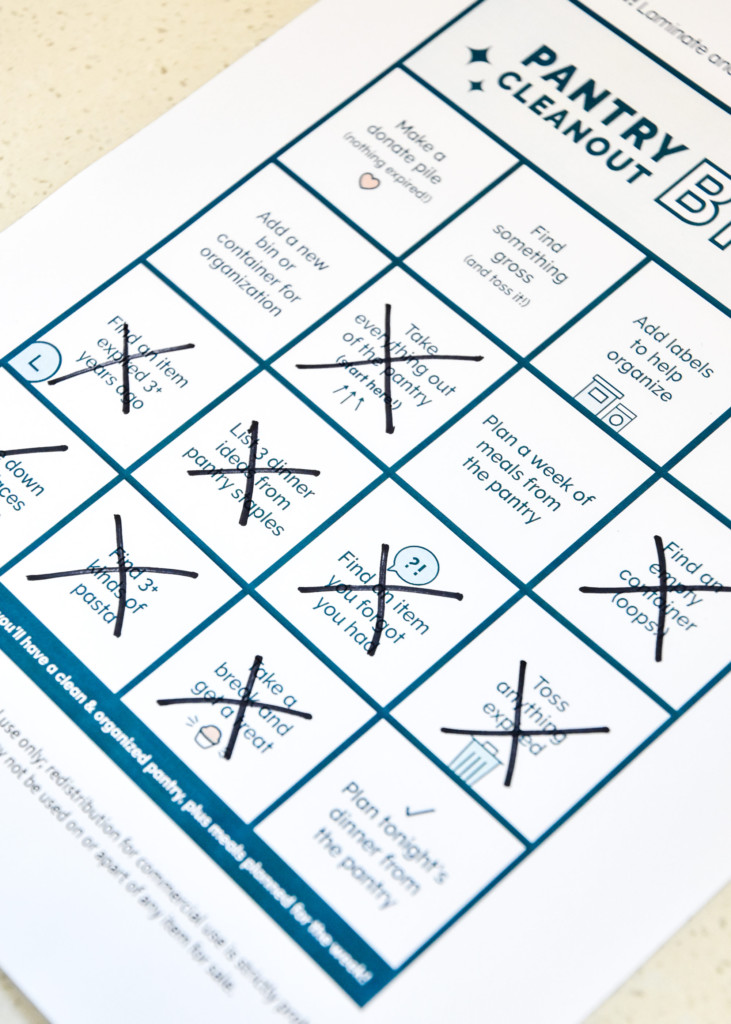 Here are some benefits I noticed after I recently played Pantry Cleanout Bingo:
a significantly cleaner pantry
better knowledge of what I have in the pantry and what needs to be eaten
three dinner ideas from pantry items that need to be used
everything is much easier to find than it was before
I found 5 bag clips I was looking for!
What if I don't get a bingo?
If you're done cleaning out your pantry but you didn't get a bingo, double check to make sure there are no squares you missed!
Otherwise, make a goal for next time based on a square you couldn't fill in, such as finding a new container for organization or planning out some dinner ideas.
Remember, this activity is just a game. If you end up with a cleaner pantry than when you started, that's a win to me!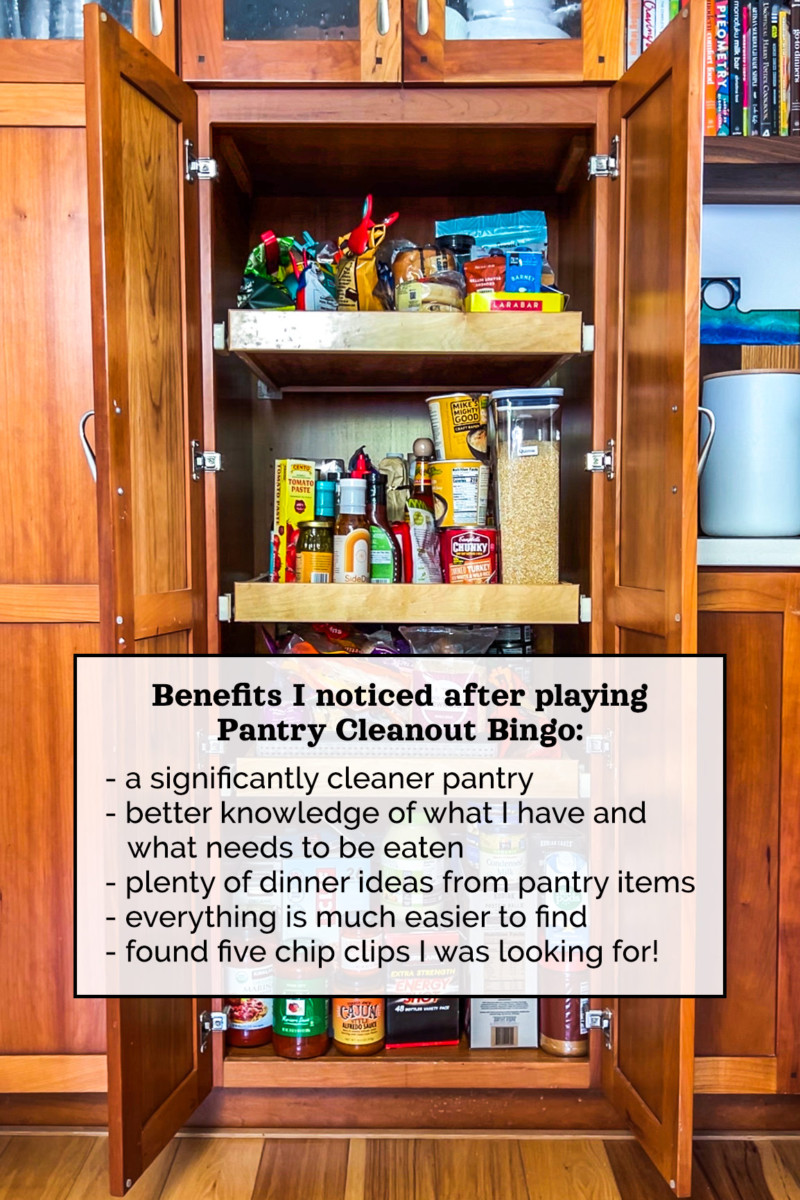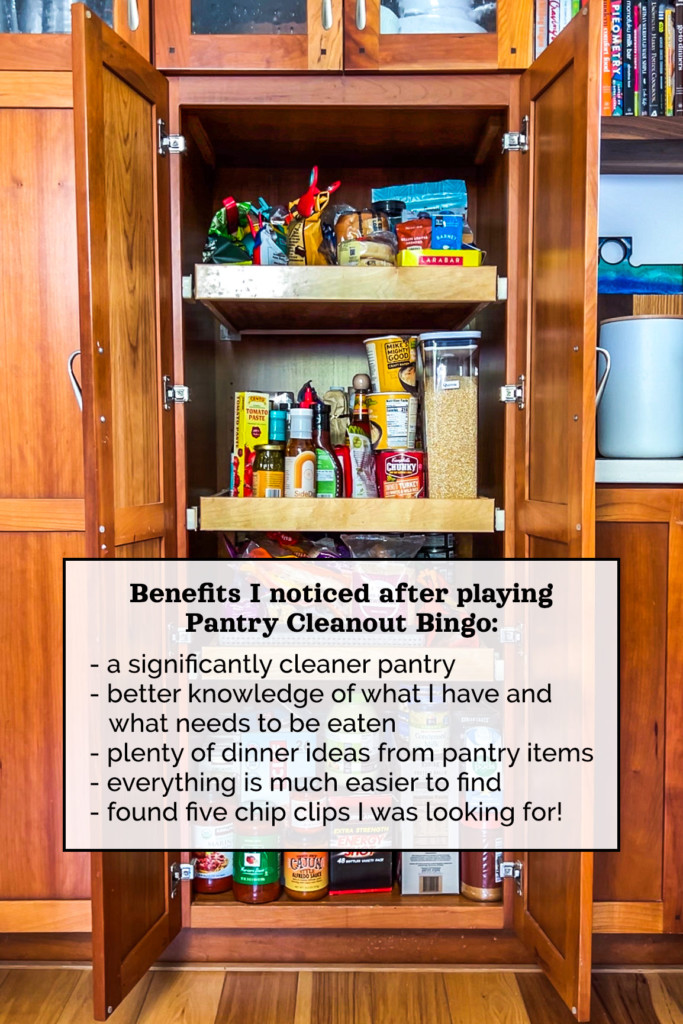 Another way to use Pantry Cleanout Bingo:
Another great way to use the Pantry Cleanout Bingo PDF is by laminating the bingo card and using a dry erase marker to mark off squares.
This way, you can reuse the sheet every time you do a quick cleanup of the pantry, every few months or so. It's also a great way to inspire kids to get involved with a household chore!
I hope this post gives you all the inspiration you need to get going on a pantry cleanout!! Use this little activity to make it happen 🙂
Got a question about Pantry Cleanout Bingo or any of the other activities in the pack? Simply leave a comment below and ask!