The Dinner Dice are just 1 of 7 family-friendly PDF activities in the "What's For Dinner?" Printables Activity Pack. This post will walk you through assembly and How to Use the Dinner Dice to come up with 200+ dinner ideas!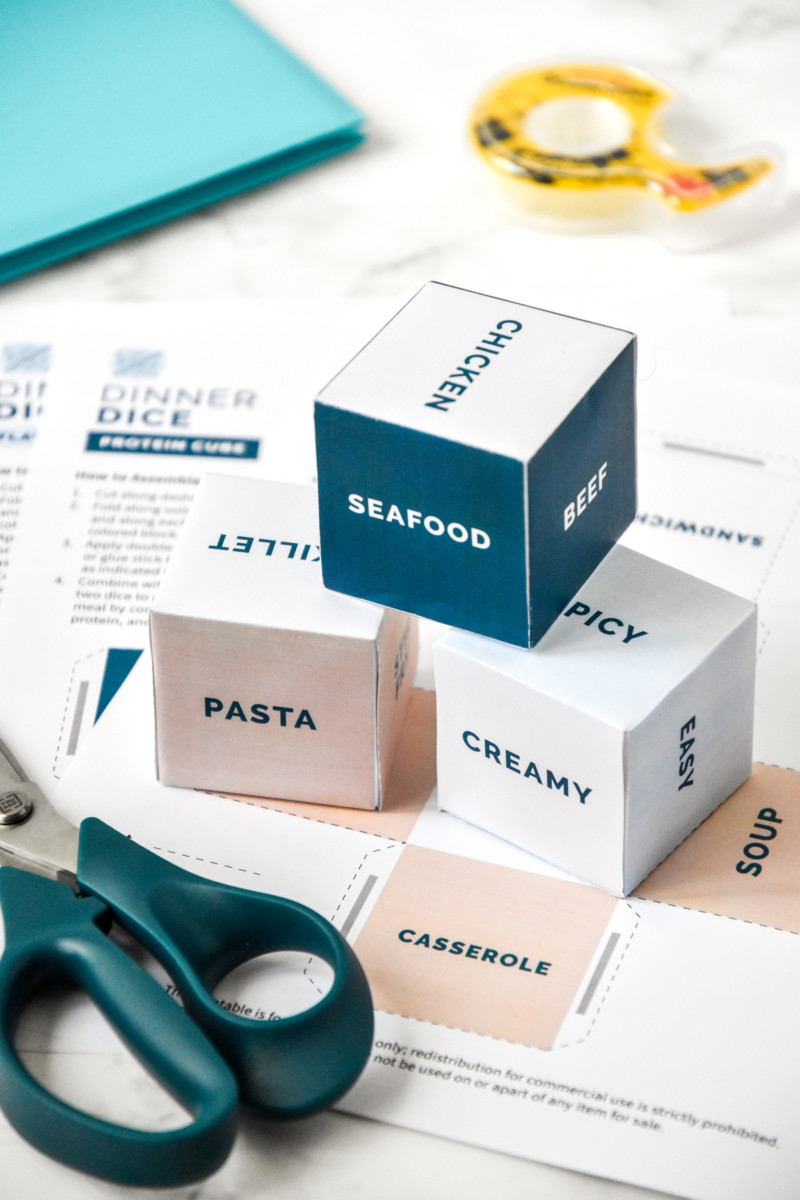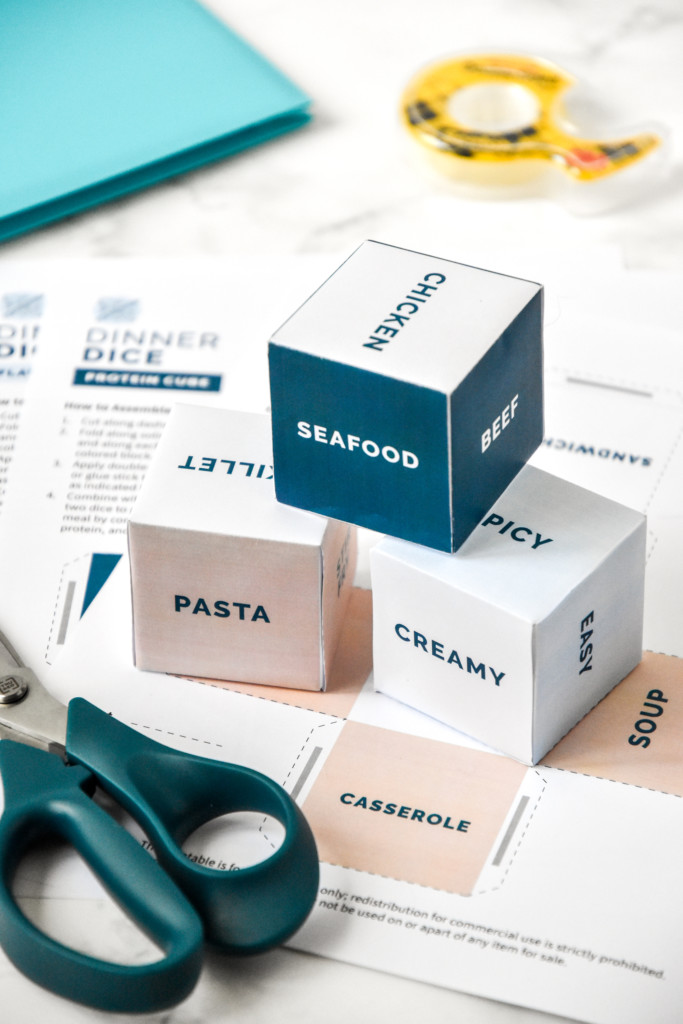 What are The Dinner Dice?
The Dinner Dice activity is made up of three PDF pages which are printed and assembled into three different 6-sided dice. This activity is one of seven different printable dinner decision games in Project Meal Plan's "What's For Dinner?" Printables Activity Pack!
When you roll the dice, you'll get a combination of a flavor, protein, and dish type. From there, follow the roll exactly to make dinner, or use it as an inspirational starting point to plan your next dinner idea. I've got strategies for getting from roll to dinner below!
Exactly how you use The Dinner Dice is up to you. The goal is to create dinner ideas and combinations you may not have thought up or remembered on your own. This one activity can create up to 216 different dinner idea starting points!
Where can I get the "What's For Dinner?" Printables Activity Pack?
The "What's For Dinner?" Printables Activity Pack is available here on Project Meal Plan. Read more about everything included in the Activity Pack here, or go directly to the purchase page to grab yours!!
Can I purchase only The Dinner Dice instead of the whole pack?
Currently, The Dinner Dice are only available as part of the complete Activity Pack bundle. I promise you'll enjoy the other activities as well!
Materials needed for The Dinner Dice:
To print and assemble The Dinner Dice, you will need:
a printer
3 pieces of paper
scissors
double-sided tape or glue
Note: You do not need color ink to do this activity. Feel free to print in black and white.
How to assemble The Dinner Dice:
Each page of The Dinner Dice PDF includes a copy of instructions on how to assemble the activity. In this section, I'll share a slightly expanded version of the instructions, just in case you need it!
Cut out the three dice templates by cutting along the dashed lines. Try to follow the lines precisely for neater finished cubes!
Fold along solid gray lines and along each solid colored block and flap edge. Folding every edge of the dice helps make the next step easier.
Apply double-sided tape or glue stick to each flap, as indicated by the gray boxes, then fold and attach the sides together to create the cube.
I find it easiest to attach around the center of the cube first, then fold over and attach the top last. Double-sided tape cut or folded in half fits perfectly on to each flap.
What's on each of The Dinner Dice?
There are three different six-sided dice that when rolled, can give you any one of 216 possible combinations for a dinner recipe idea. There's the Flavor Cube, the Meal Type Cube, and the Protein Cube.
Here are some suggestions on what each roll can mean in terms of what foods you can make!
The Flavor Cube
The Flavor Cube will give you a rough idea of the flavors and style of the dish. Here are examples of what each flavor idea can incorporate:
Spicy: Add anything hot and spicy to give the dish a kick. This includes chili powder, sriracha, red chili paste or flakes, hot peppers like jalapeno or habanero, Tabasco, wasabi, or peppercorns. You could also include ginger and cloves in this category!
Creamy: Add something to the dish to make it creamy. This could be anything from a jar of alfredo sauce to a homemade creamy pesto sauce to a soaked cashew mixture added to a soup. Anything that says 'creamy' to you, counts!
Hearty: For some, hearty can mean to make a large or substantial amount of food that will keep them full for longer. This could include adding beans or lentils to a dish to help make it more satisfying. For others, hearty can indicate warm and cozy comfort food.
Zesty: This term indicates food that is something that is very appealing to the senses, and generally has a pungent taste or aroma. Think Zesty Italian Dressing, anything pickled, or including citrus flavors in the dish. You could also consider sweet & spicy flavor profiles to be zesty!
Easy: When I say easy, I mean minimal ingredients, minimal time, or something you've made twenty times before. Whatever you consider to be easy, that's what you should do when this one comes up! That could be a PB&J, or it could be a simple noodle dish; totally up to you.
Cheesy: Make your dish cheesy. You could sprinkle cheese on top, make it the star of the recipe, create a cheesy sauce, or do vegan style cheesy flavors with nutritional yeast. Tons of options here!
The Meal Type Cube
The Meal Type Cube will tell you what type of meal to turn your flavors and protein into. Here are examples of what each meal type could be:
Sandwiches: If you can put it on bread, or some type of bread-like ingredient, it's a sandwich! For the purposes of The Dinner Dice activity, you could also consider things like burgers and hot dogs to be sandwiches, since this is the most fitting category.
Pasta: Love this category! Any pasta you want can qualify: macaroni, spaghetti, rotini, spirals, making fresh pasta! Don't forget things like gnocchi, tortellini, and ravioli too!
Stir Fry: This is a cooking technique where the ingredients are cut into small pieces and fried in a wok or pan with very hot oil. It can work with any protein and lots of different flavor profiles. Ground meat can work too!
Skillet: This term refers to a pan of food cooked all together, often combining meat and vegetables. The cooking heat is usually lower than a stir fry, and it is cooked with a lid in a skillet, hence the name!
Soup: You know what a soup is! For this activity, you can also include chili and chowders in this category if you want.
Casserole: This type of dish is usually cooked in a large pan in the oven. Sometimes the ingredients are precooked and sometimes they all cook together. Casseroles can have layers, and you could definitely include lasagna here.
The Protein Cube
The Protein Cube will tell you what kind of protein to use in your meal. Some are pretty straight-forward, while others have a few options you can choose from. Here are each of the possible rolls on The Protein Cube and lots more specific ideas for each one:
Chicken – Chicken thighs, chicken breasts, ground chicken, chicken wings, roast whole chicken, chicken tenders, lots of options here!
Pork – This section includes any cut of pork, such as pork chops or pork tenderloin. And don't forget bacon and ham!
Seafood – Any and all seafood counts here. Any kind of fish including my favorites salmon and tuna, plus shellfish, crab, shrimp, etc!
Vegetarian – Any non-meat, plant-based or vegan protein are great ideas for this category. This includes eggs, beans, tofu, tempeh, or just going heavy on veggies for the meal!
Turkey – Ground turkey is my usual go-to for this category, but you can also do turkey breast, turkey legs, or even a whole turkey!
Beef – There are so many cuts and options for beef, you probably already have a favorite! Don't forget ground beef for a great weeknight dinner option.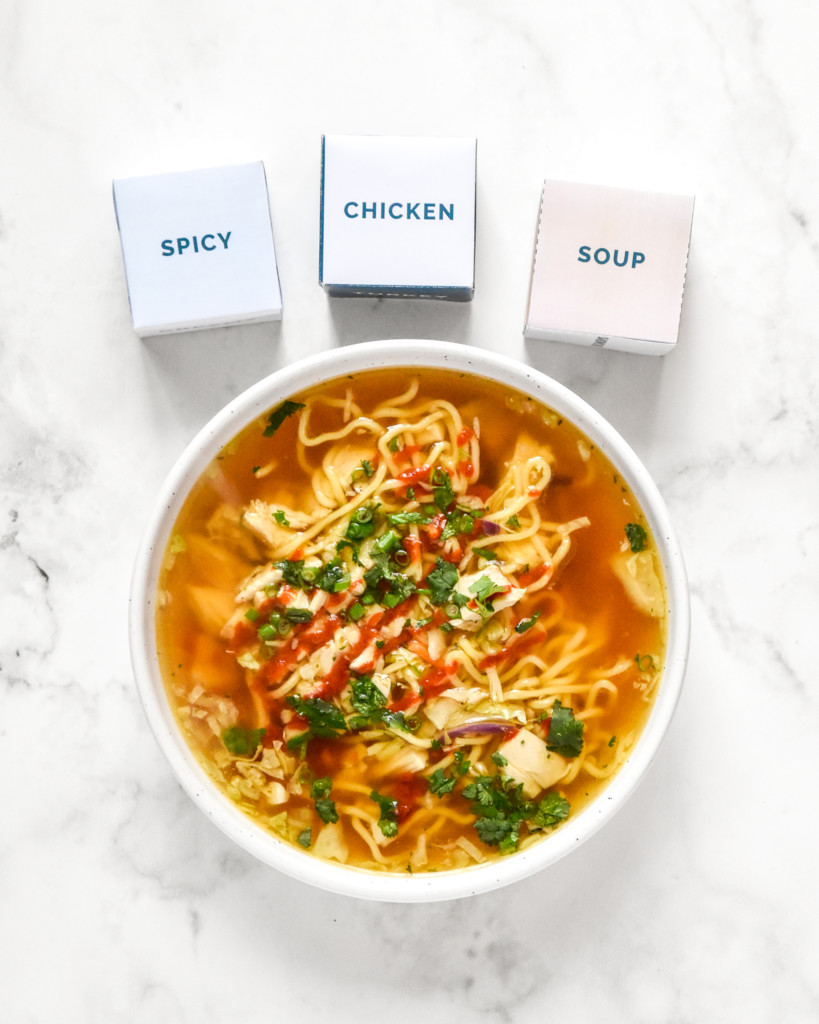 How to roll The Dinner Dice:
Here's the funnest part! You can roll The Dinner Dice in whatever way you want! Throw them up in the air, toss them like dice, give one to each person to roll, drop kick them (gently!), seriously, however you want.
If you want to get serious about it, stick with the roll you say you're gonna make. If you just want to have fun and see what you get, roll until you a perfect dinner ideas pops into your head!
How to turn your roll into dinner:
Here are three different strategies for how to go from rolling the dice to cooking dinner.
Think of a meal idea from the roll if it comes to mind easily. For some rolls, you might immediately think of something you made before or could easily make from pantry staples. For example, a roll of 'Cheesy Turkey Skillet' brings this turkey taco skillet dish to my mind!
Browse the Internet using your roll words. Type your roll words into Google or Pinterest and see what recipes come up. Pick one that looks delicious or stands out to you! I've found some awesome recipes this way.
Ask family or housemates what comes to mind from the roll words. Combine their ideas or go with the best one! Someone else could always have an idea you didn't think of.
What if I can't think of anything to cook from my roll?
If you can't think of any recipes to cook from your roll and you've tried all my strategies for dinner ideas listed above, just go ahead and roll again! I won't tell anyone 🙂
Roll examples:
Here are three different examples of possible rolls you could get with The Dinner Dice, and how I would come up with my corresponding dinner idea.
Creamy Vegetarian Pasta – At first this one seemed difficult, but then I realized I could do sautéed or roasted veggies with some cooked pasta in a cheesy or creamy sauce. Sounds delicious!
Spicy Chicken Soup – This one is easy for me! I've got homemade chicken broth and some leftover cooked chicken ready to go. Heat up some broth, add some chopped chicken and cabbage, then add some sesame oil and sriracha for flavor and heat!
Cheesy Seafood Sandwiches – This is another one that at first seemed difficult, but then I realized I already have the perfect recipe on my website: Tuna Melt Pita Sandwiches! You could also make a cheesy crab cake sandwich or salmon sandwich!
What if I don't like my roll?
I have to be honest: there's a chance you could get a roll you don't really like! Here's what I would do in this situation:
Google the roll words anyway and browse the recipes. You might see something you didn't expect! For example, I rolled Creamy Seafood Soup, and my immediate reaction was not positive. I googled it anyway and found several recipes for seafood chowder or creamy soups that looked delicious! And I never would have thought to try them without The Dinner Dice!
Roll again. I won't tell anyone!
Worst case scenario: If there's something on one of The Dinner Dice you will never enjoy, simply cross it out and write a corresponding item you like better. For example, if you will never enjoy seafood, cross it out and put another protein like beans instead!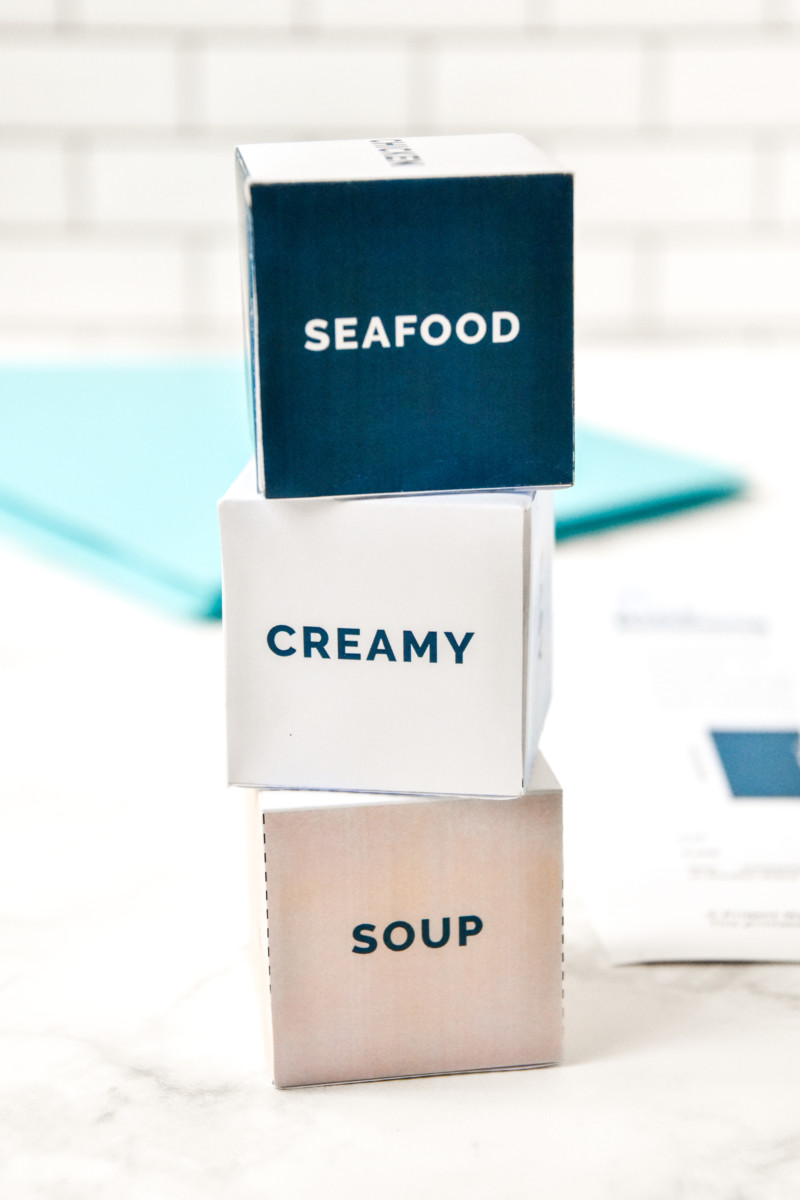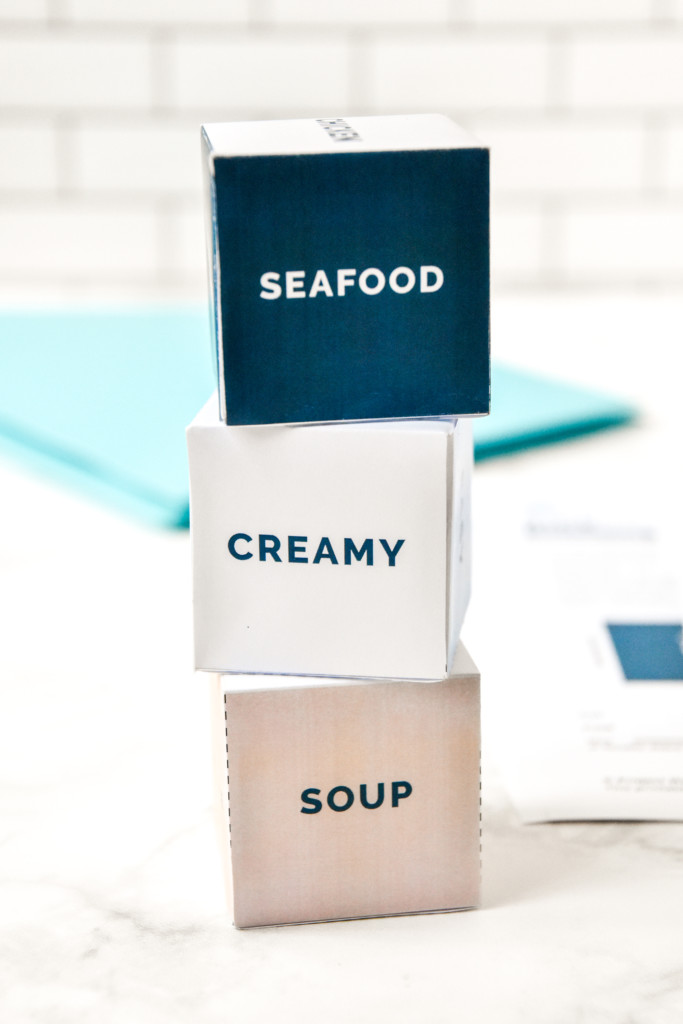 Another way to use The Dinner Dice:
Here's another way to use The Dinner Dice to help make dinner decisions: If you already have a protein you need to use up, roll only the Flavor Cube and the Meal Type Cube.
For example, maybe you have chicken breasts you need to use. Roll two dice and get ideas for flavor and what kind of dish to make. You might get Cheesy Chicken Skillet or Hearty Chicken Soup!
I hope this post gives you all the inspiration you need to use The Dinner Dice and come up with tons of dinner ideas!
Got a question about The Dinner Dice or any of the other activities in the pack? Simply leave a comment below and ask!