1 Comment
Posted: 07/18/2019
Updated: 09/23/2021
Trying to incorporate more kale into your salads but just don't like the taste? Me either! But I've eaten a lot of salad lately and successfully snuck kale into almost every one. How did I do it? Simple!! Here are my 3 Easy Ways to Hide Kale in Your Salad!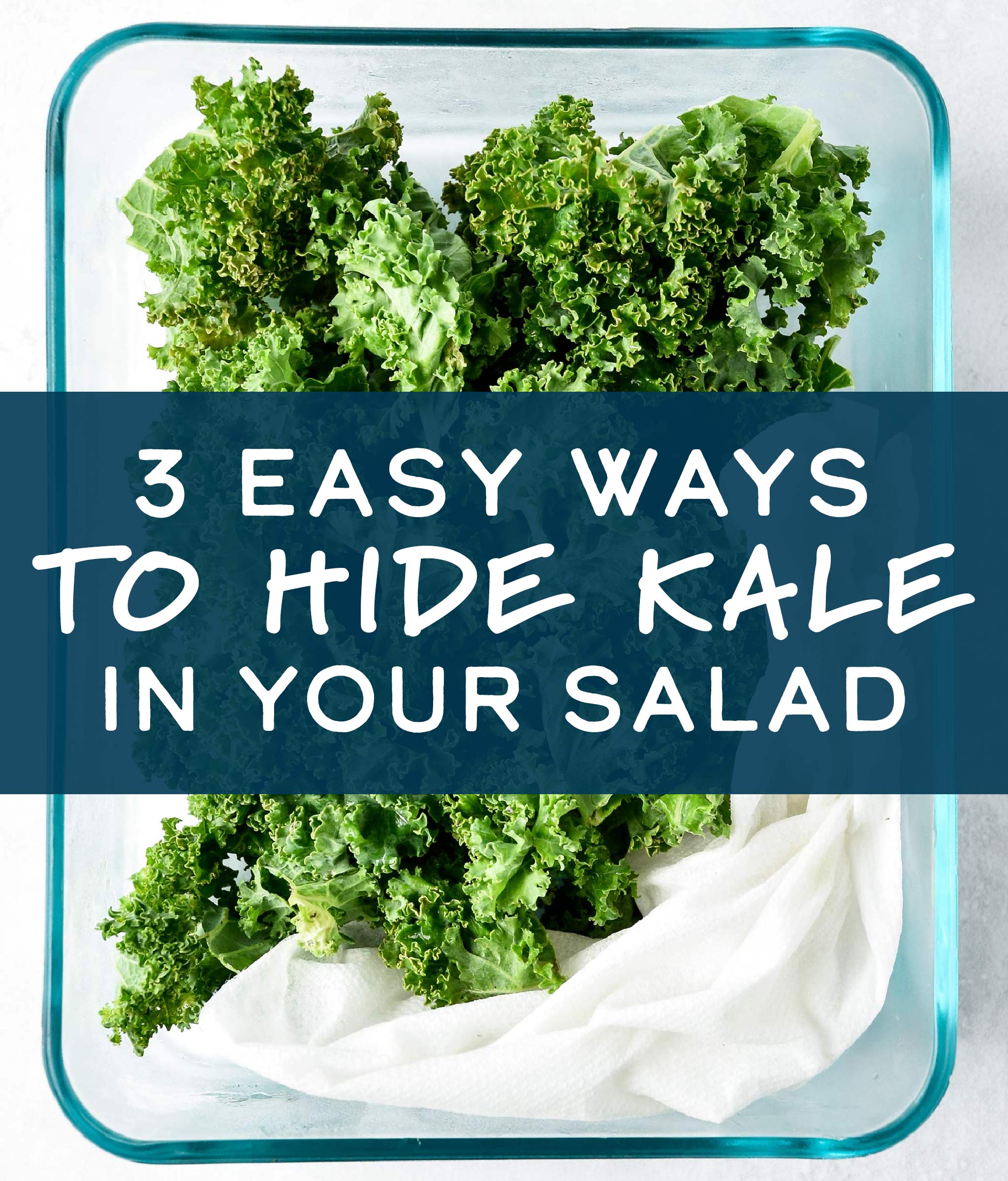 As a person who genuinely dislikes kale, you may be surprised that I would write about how to hide kale in your salad. It's not that I've started liking it – I've started getting good at hiding it!!
How I've Started Incorporating More Salads into My Dinners
I've been eating a lot of salads lately because it's summer and we're doing a round of Whole30 at the moment. By a lot, I mean 5-6 salads a week!! I just ate back to back salads for dinner two nights in a row. That's a lot for me because I love bread, casseroles, and pasta very much. Maybe this is what becoming an adult feels like?!
Here are a couple salad pictures to prove it: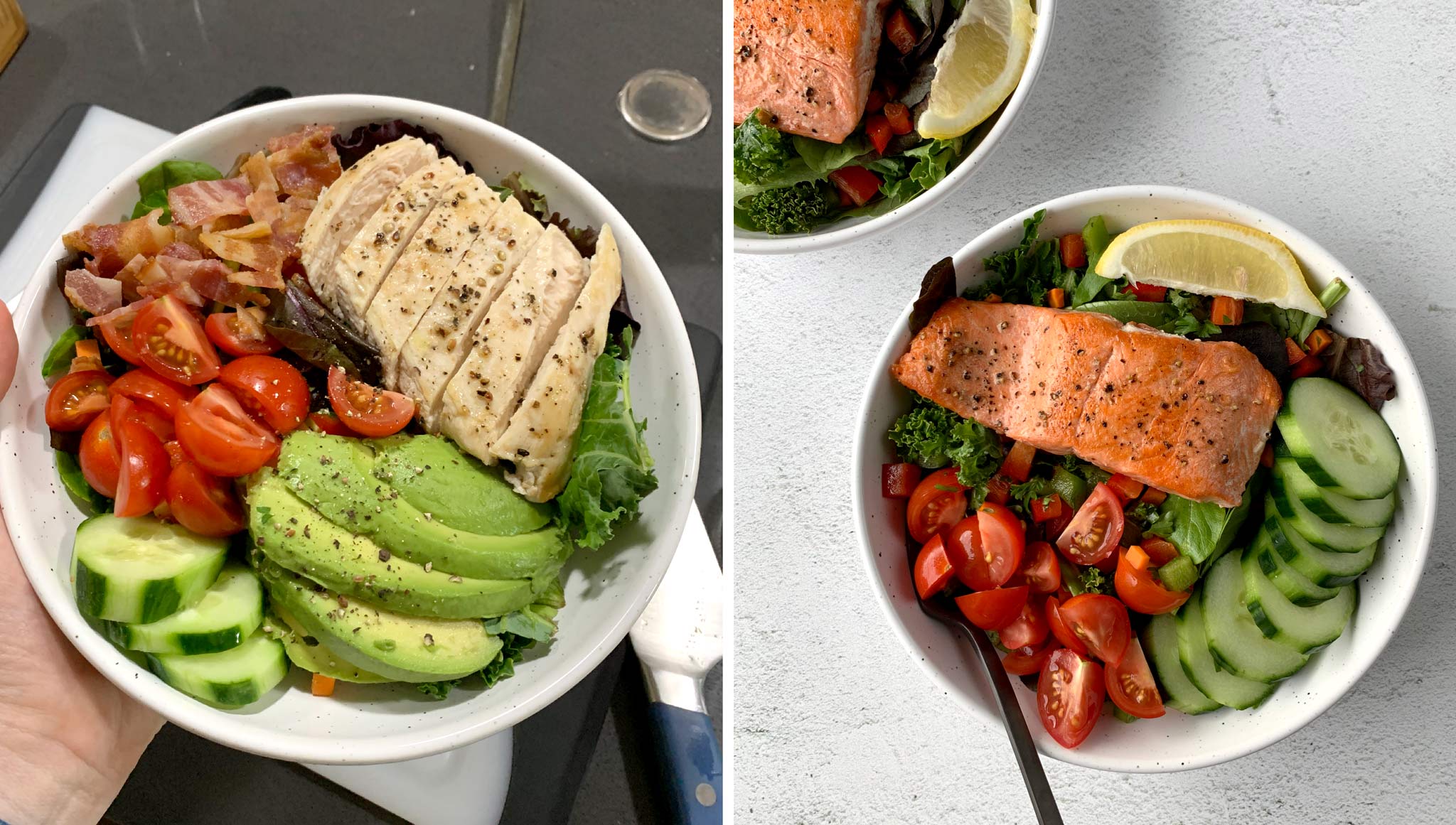 Before this month: Add some greens if there's any room on my plate (rare).
After this month: Eat a bowl of salad before dinner even starts. Room on plate is irrelevant. OR stack everything on top of the salad!
Takeaways:
Don't worry about needing "room on your plate" to have a salad.
You can eat a pre-dinner salad!! Just like at a restaurant.
Salad can be good!! Add lots of stuff, get a dressing you like, and BAM. Dinner salad.
What kind of kale works in salads?
If you try hard enough, any kind of kale can work in your salad. But my recommendations are to use either common curly kale, or lacinato kale because I'm fairly sure those are the easiest to find.
The common curly kale is what I have pictured. It's been arriving in our Imperfect Produce box and it works great for salads! It's super easy to remove the leaves from the ribs.
Another option is lacinato kale, which is the long kind that's more of a fan blade or wing shape. Try them both and see which one hides in your salads better!
More Kale Questions???
The more questions you ask about kale, the more you inch towards the 'health' side of things, which I want to stay away from.
Look, I'm not here to tell you when, why, where, or how much, kale to eat. All I know is that eating some kale is better than not eating any kale at all (which was me before a month ago). Here are some articles I personally enjoyed on kale and the health benefits:
My goal here is to give you a couple ideas for adding an extra, nutritious veggie into you meal routine every once in a while! I DO NOT like kale, but I found it tolerable by combining these three tricks in all my salads. Here are thoughts on how to hide kale in your salad!
3 Easy Ways to Hide Kale in Your Salad
1. Go half kale & half your favorite lettuce.
It's cool we're incorporating kale into our salads, but we don't have to go all kale crazy now do we? A long time ago, I tried to eat a 100% kale salad. Guess what? Didn't have a kale salad again for years.
Why don't we go slow, start with a quarter and then up it to half kale salad, half something else.
If you combine the kale with another green you actually like, they'll cancel each other out a bit and make it so you can actually enjoy a salad that's half kale. Trust me! It will help. This is half romaine, half kale.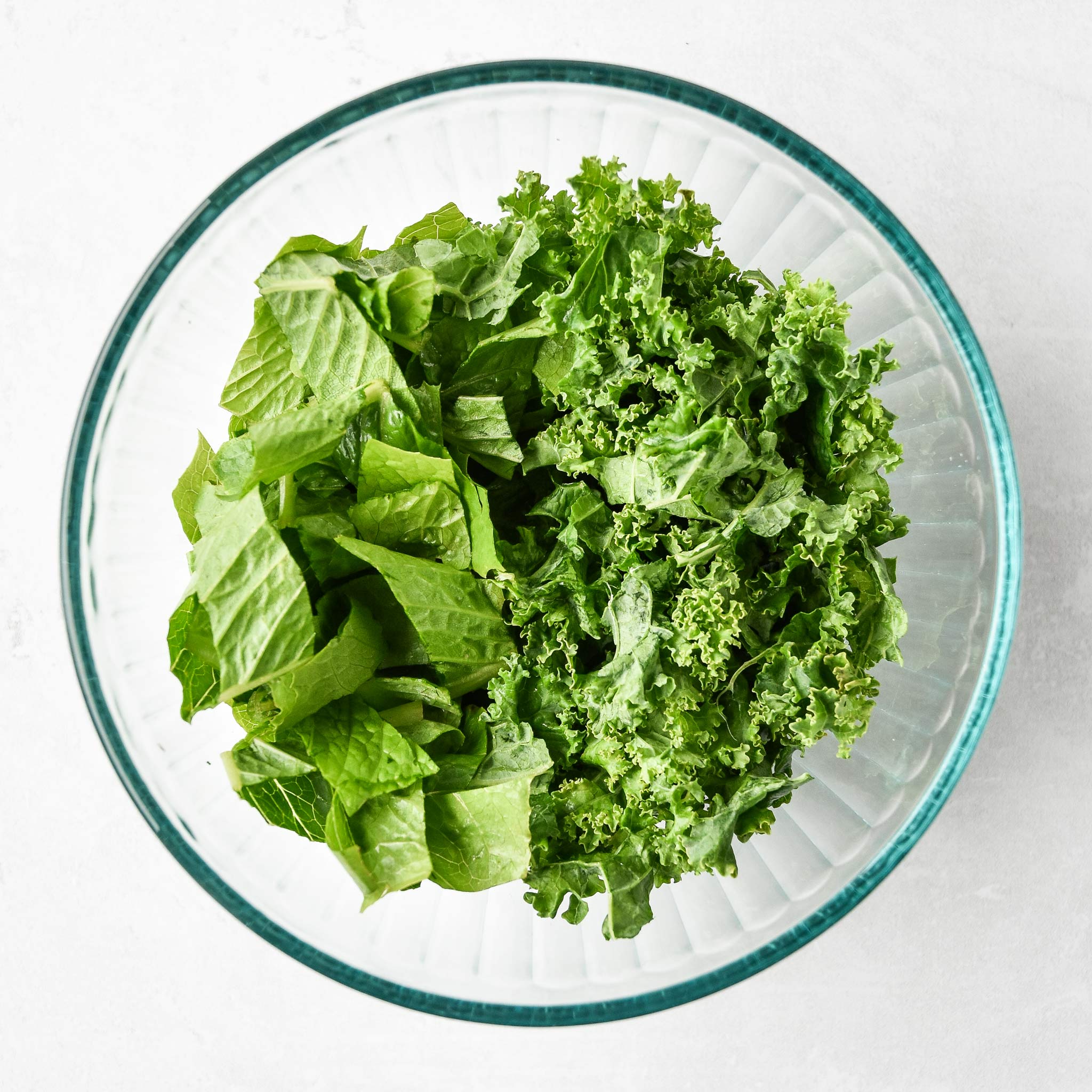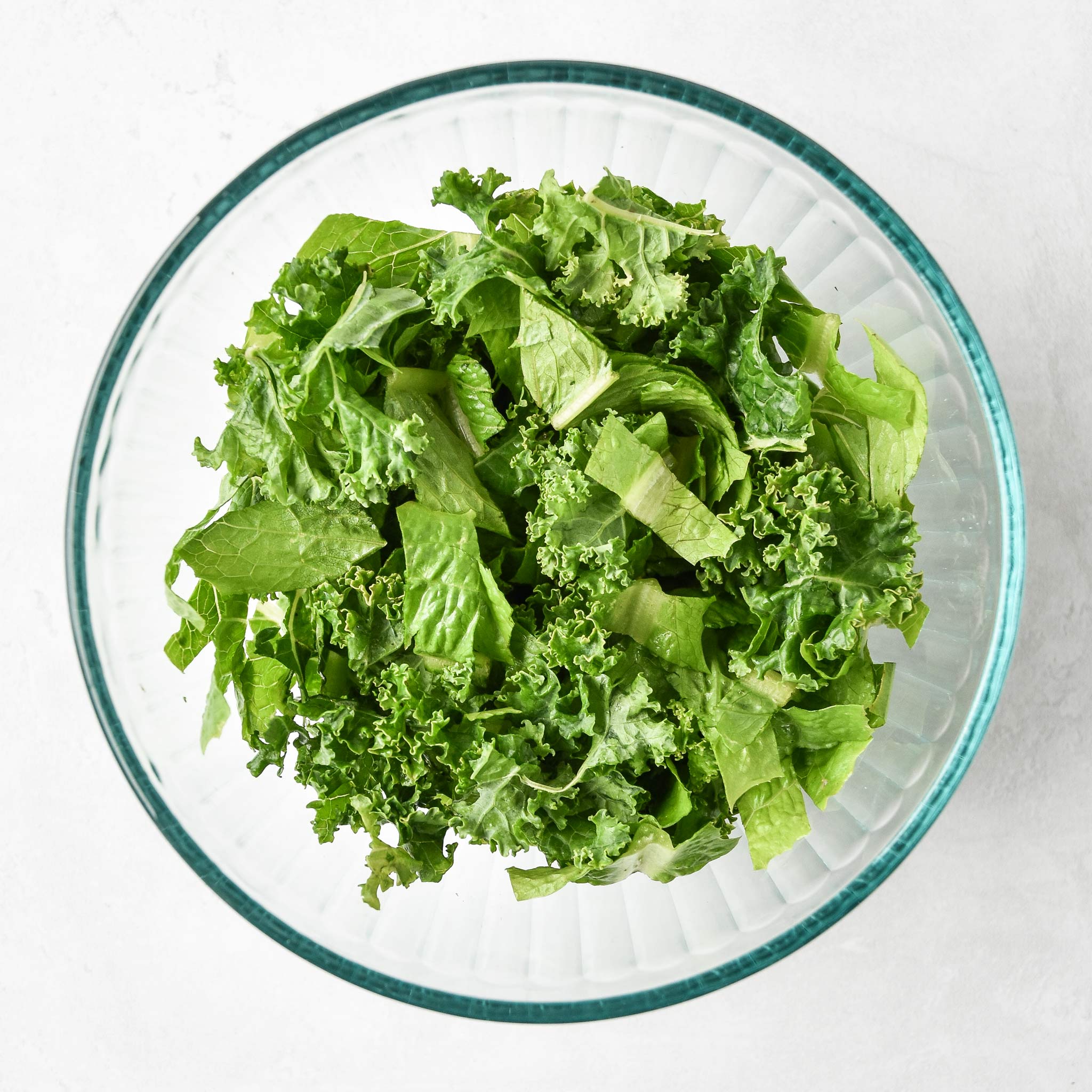 2. Prep the kale with your mouth in mind.
Do you want to suffer through the kale? Or maybe try to actually enjoy it (by disguising it completely)? By doing a couple particular things when you prepare the kale, you can make it at least 19% more enjoyable (approximate number).
Massage the kale: You've heard it before. Massage the kale. Break down the tough fibers. Personally, I'm not sure if it changes the flavor, but it certainly makes the kale easier to chew and have in your mouth, overall. The tough, chewy fibers don't stick out so much among the other salad greens in your bowl! I use my hands and squish the kale a few times in my fists and between my fingers.
Rip up the kale: Ideally, you want the pieces of kale to be smaller than or equal in size to the other lettuce greens in your salad. Bigger pieces are more obvious, right? Make them smaller! I use my hands and rip up the pieces for a few seconds until they are the size I want.
Pictured below: Unprepared kale vs prepared kale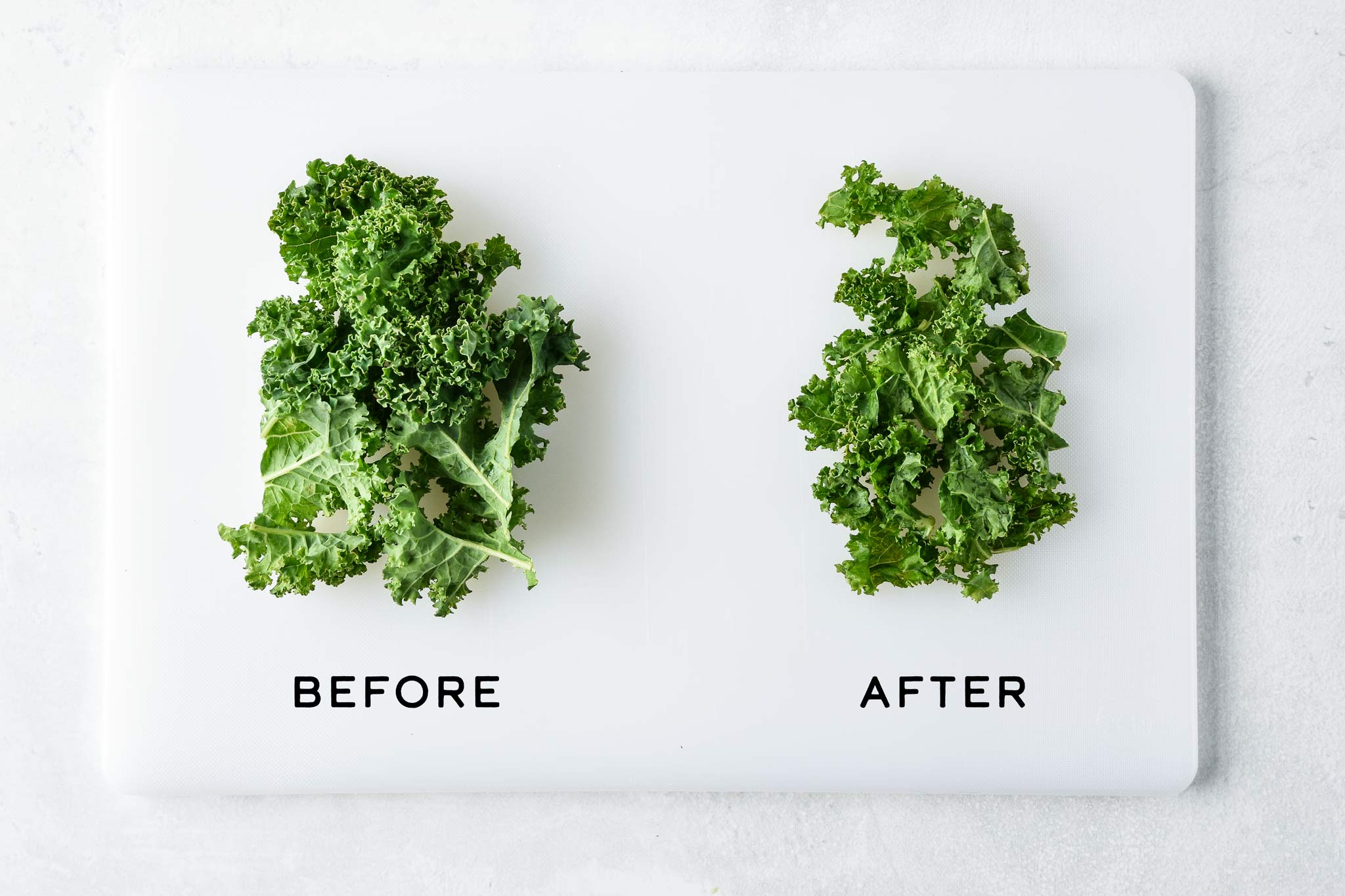 Left (before): big leaves, deep green color, looks intimidating, needs a massage
Right (after): Smaller pieces, slightly different color from massage, thick fibers broken down
3. Add various textures and flavors!
Add your favorite veggies to the salad to literally cover up the taste and sight of the kale. This is not a drill people!! I love this step because it's totally customizable. Here are some ideas:
Add a handful of bagged coleslaw with veggies to the salad. I like the kind with broccoli or brussel sprouts. This will take lots of attention off of the kale.
Add small diced veggies for a totally different texture! I'm talking something like my vegetable confetti (great to make ahead and toss on kale salads)!
Add big veggies such as sliced cucumber, cherry tomatoes, snap peas, avocado, anything with a new texture!
Add lots and lots of (healthy) dressing. I like using the various kinds of Primal Palate dressing to change it up during Whole30. Ranch and Thousand Island were my favorites!!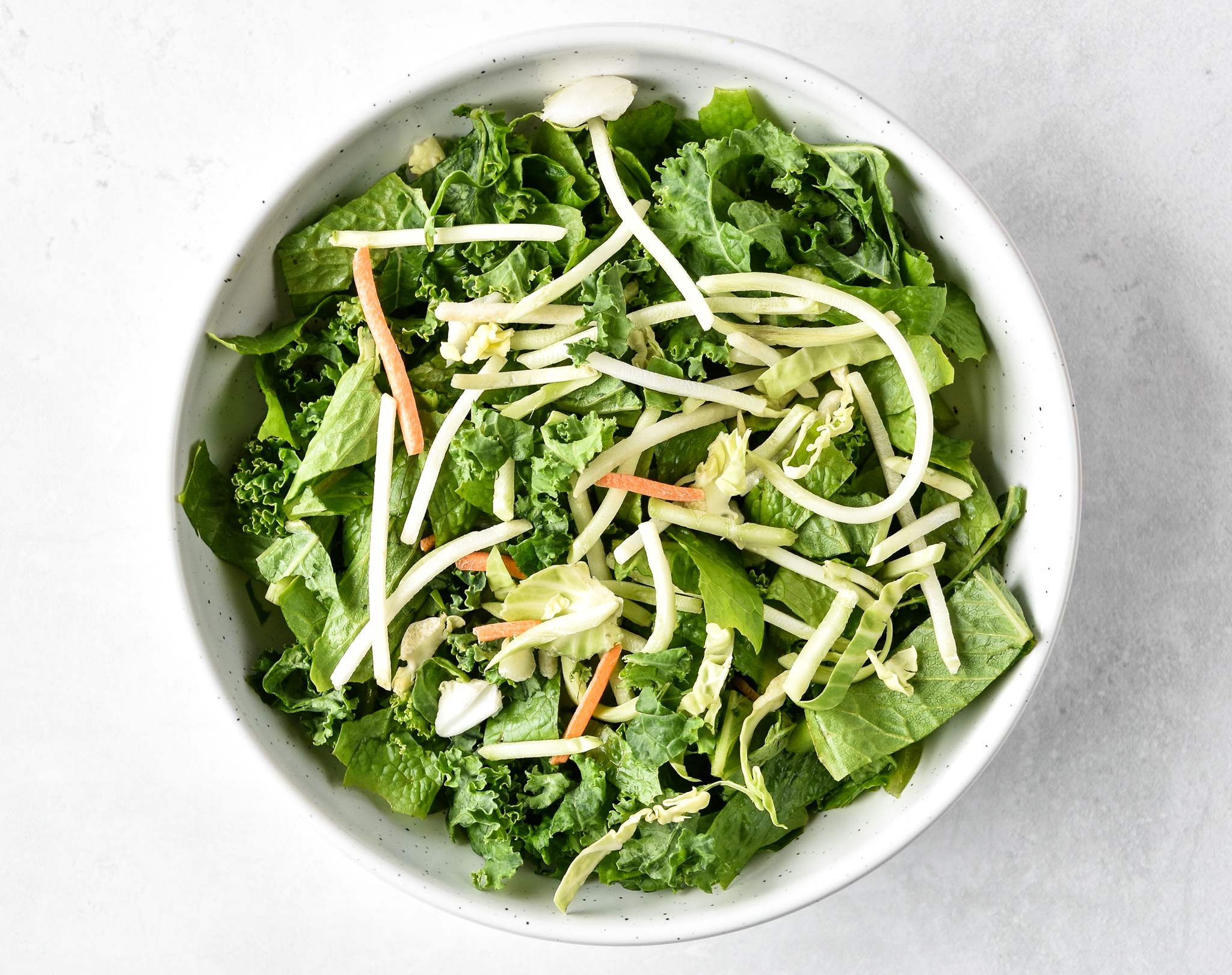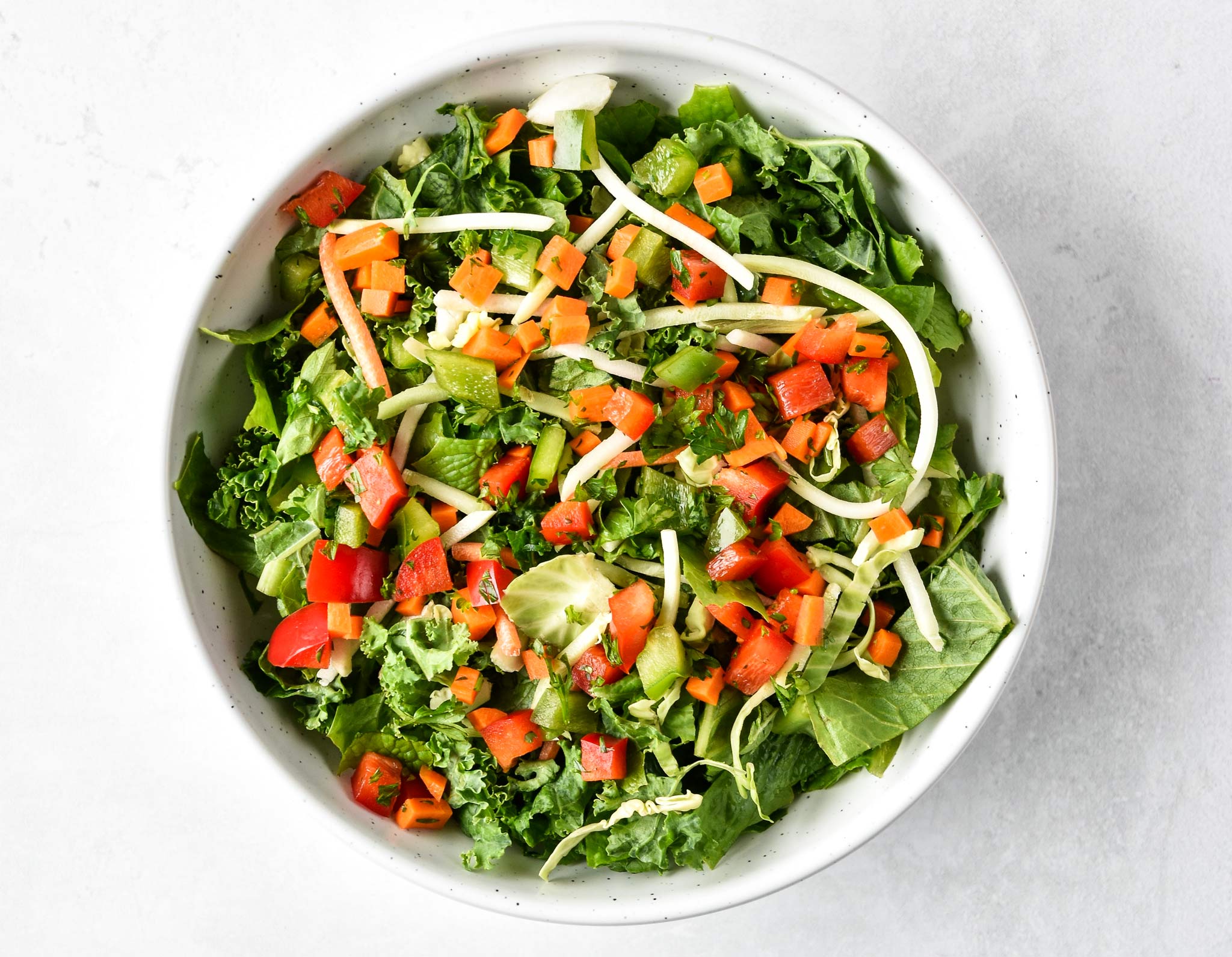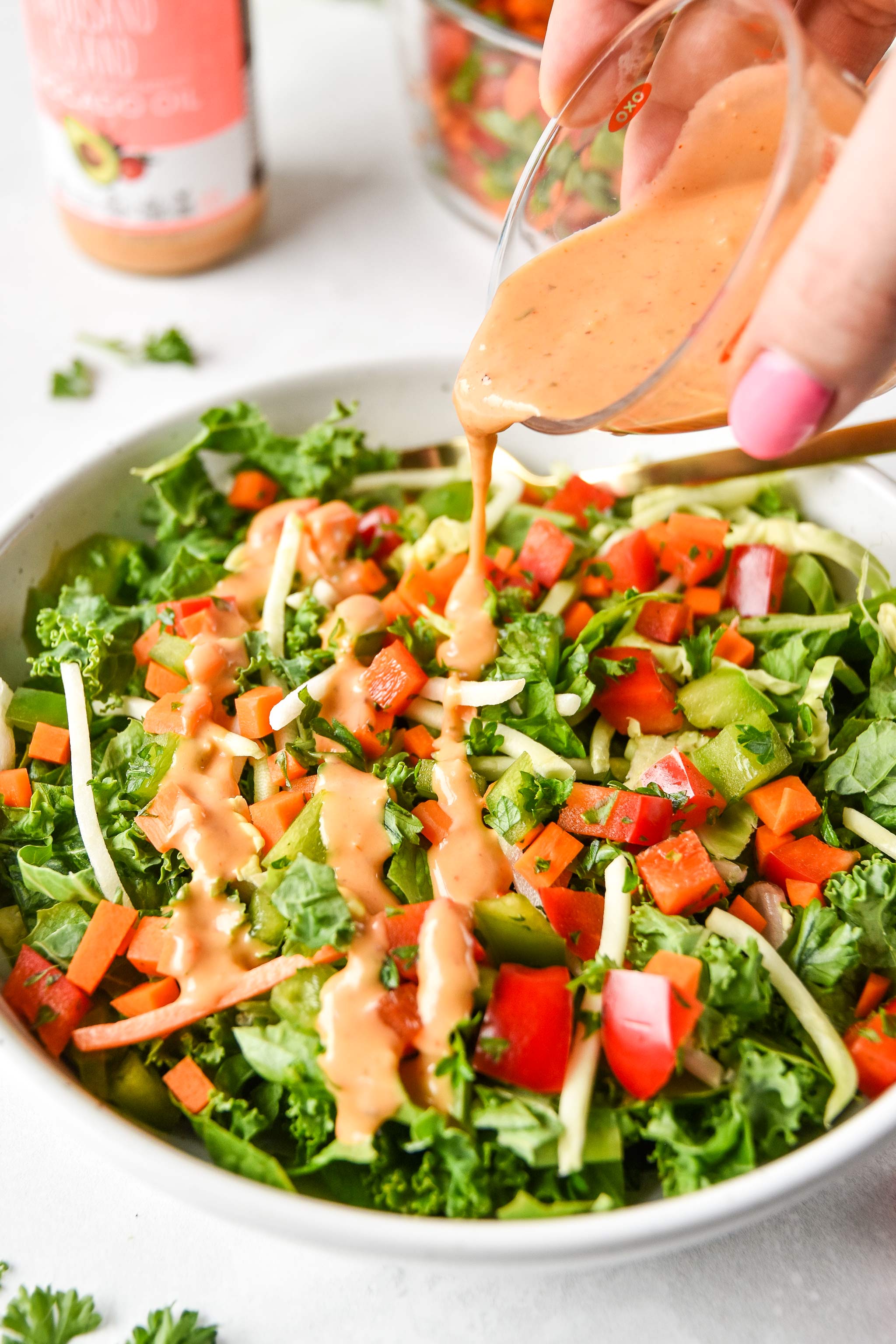 Combine all three for maximum hidden kale levels!!
So, how do you feel about hiding kale in your salad? Are you a kale lover? A kale hater? I think you should try it either way and let me know how it turned out! Tag me in your post so I can see it, or use #projectmealplan to share with me!