The easiest prep-ahead breakfast, now in carrot cake form! Carrot Cake Overnight Oats are loaded with shredded carrots, walnuts, chia seeds, cinnamon, nutmeg – PLUS my not-so-secret ingredient for perfect carrot cake tasting oats: applesauce!
Jump to Recipe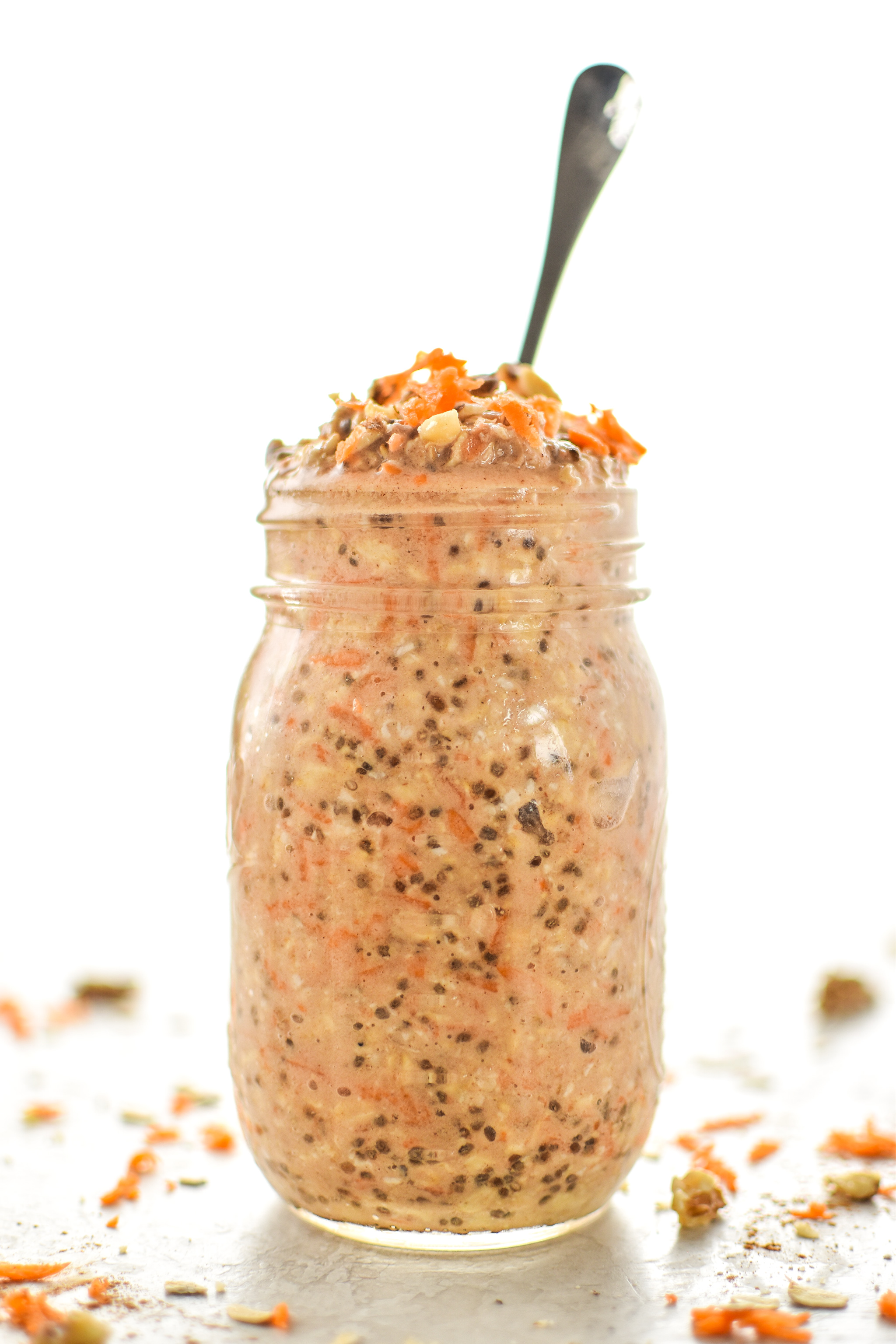 Overnight oats are nothing new to the Internet – but I've decided that they need to keep on coming because they're just that delicious and versatile. They're a meal preppers dream.
A short list of great qualities about overnight oats:
100% prep ahead friendly! – Actually, they aren't even good unless prepped ahead. MEAL PREP JACKPOT.
Healthier than other options – not a bagel or pastry. Also not real cake (sadly).
Uber customizable – if you don't like nuts then skip 'em. Add more sweetener, or less. It's all about what you want!
Mason jar friendly – I like to put things in mason jars because they don't leak and they are not plastic.
No heat required – usually making oats requires cooking them. Not today!!
Overnight Oatmeal Trends
Have you noticed the evolution of overnight oats on the Internet in the past few years? I swear at first, it was just oats.
Then people started adding chia seeds. I'm 100% on board with that one.
Currently, it's Greek yogurt. I haven't tried that yet, but I'm seeing more and more recipes that either call for it as a topping, or mix it right into the recipe.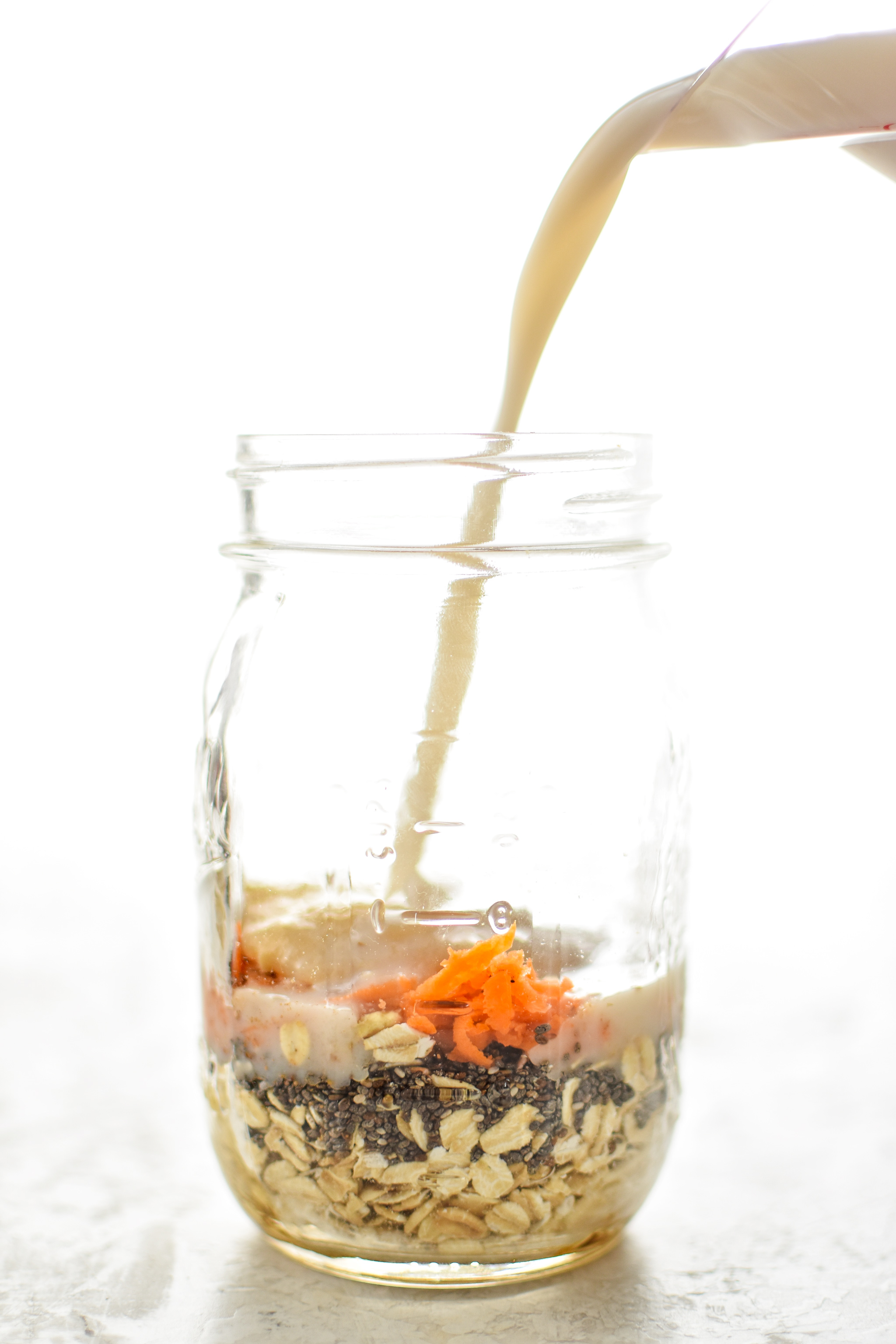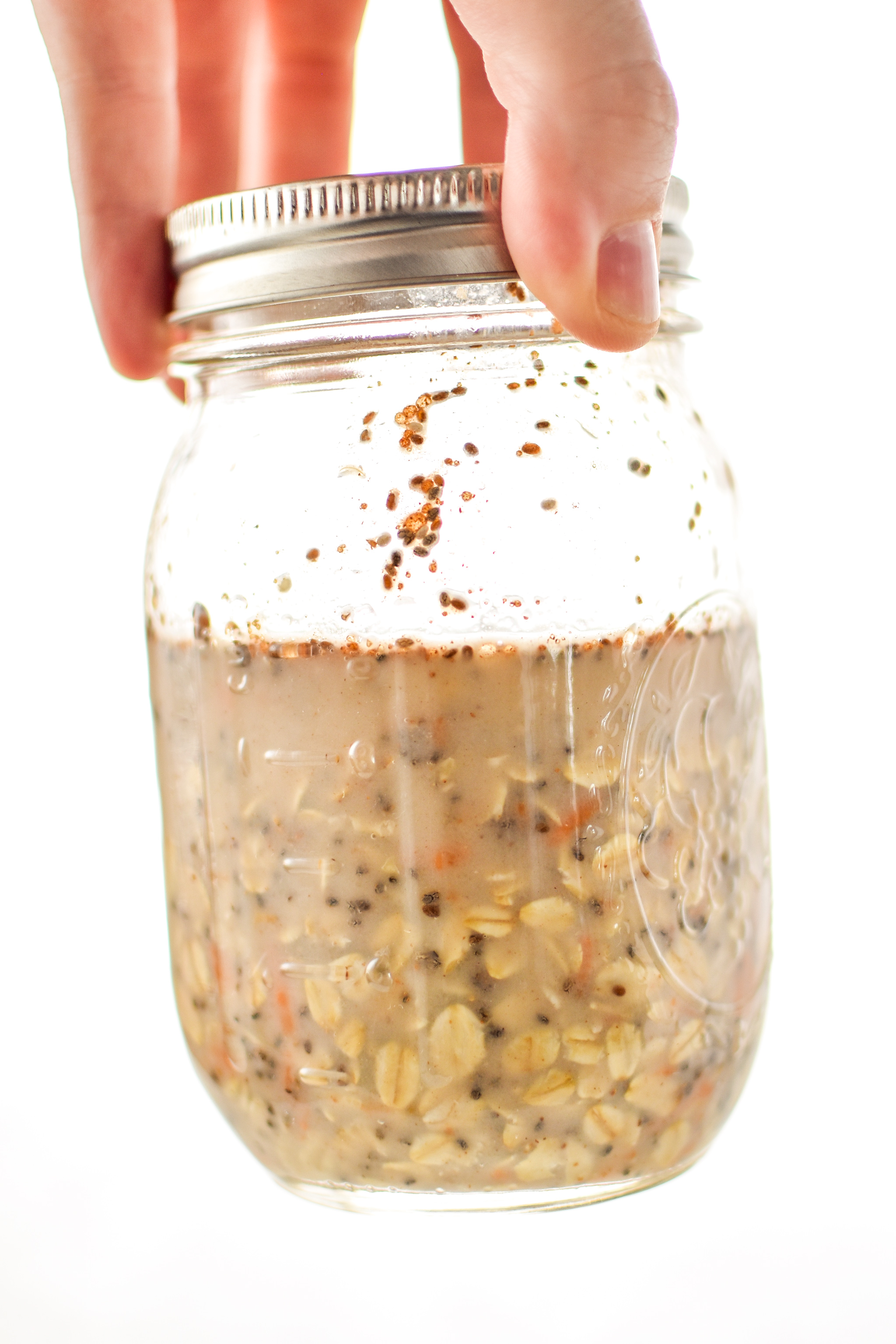 The next trend will be: APPLESAUCE. Okay, no it probably won't. But it's really good in this recipe. I noticed that some carrot cake recipes call for applesauce.
Indeed, any baked good I've ever made calling for applesauce was a total hit, so why not try it in my oats?
Verdict: It's a YES. The applesauce made the carrot cake overnight oats a tad sweeter, without adding more maple syrup.
They also provided some additional moisture for the chia seeds to soak into. It was an all around good decision.
I also tried this recipe without chia seeds to check if they were a necessary ingredient. I'm going to have to say that's also a yes. They absorb extra moisture and give the oats a creamy component that you just can't understand until you try it (I was skeptical at first too).
What you need to make carrot cake overnight oats:
old fashioned rolled oats – necessary for the overnight oats
carrot – 1 carrot will make about 4 servings
chia seeds – makes the oats creamier AND good for you
vanilla, cinnamon & nutmeg – adds to the carrot cake flavor
unsweetened applesauce – adds sweetness without more maple syrup
unsweetened vanilla almond milk – low in calories and adds yummy flavor
chopped walnuts – a carrot cake-y topping that adds a nice crunch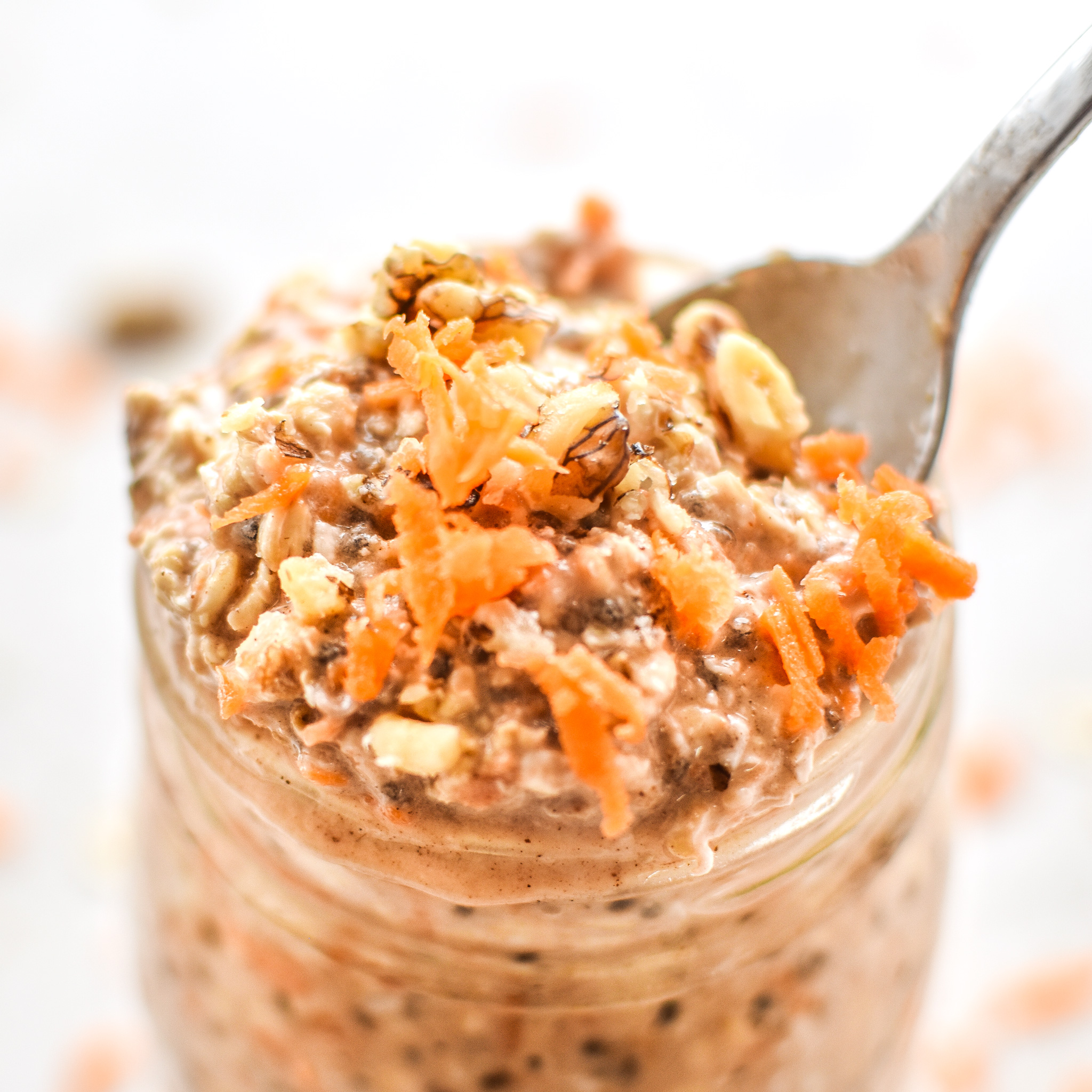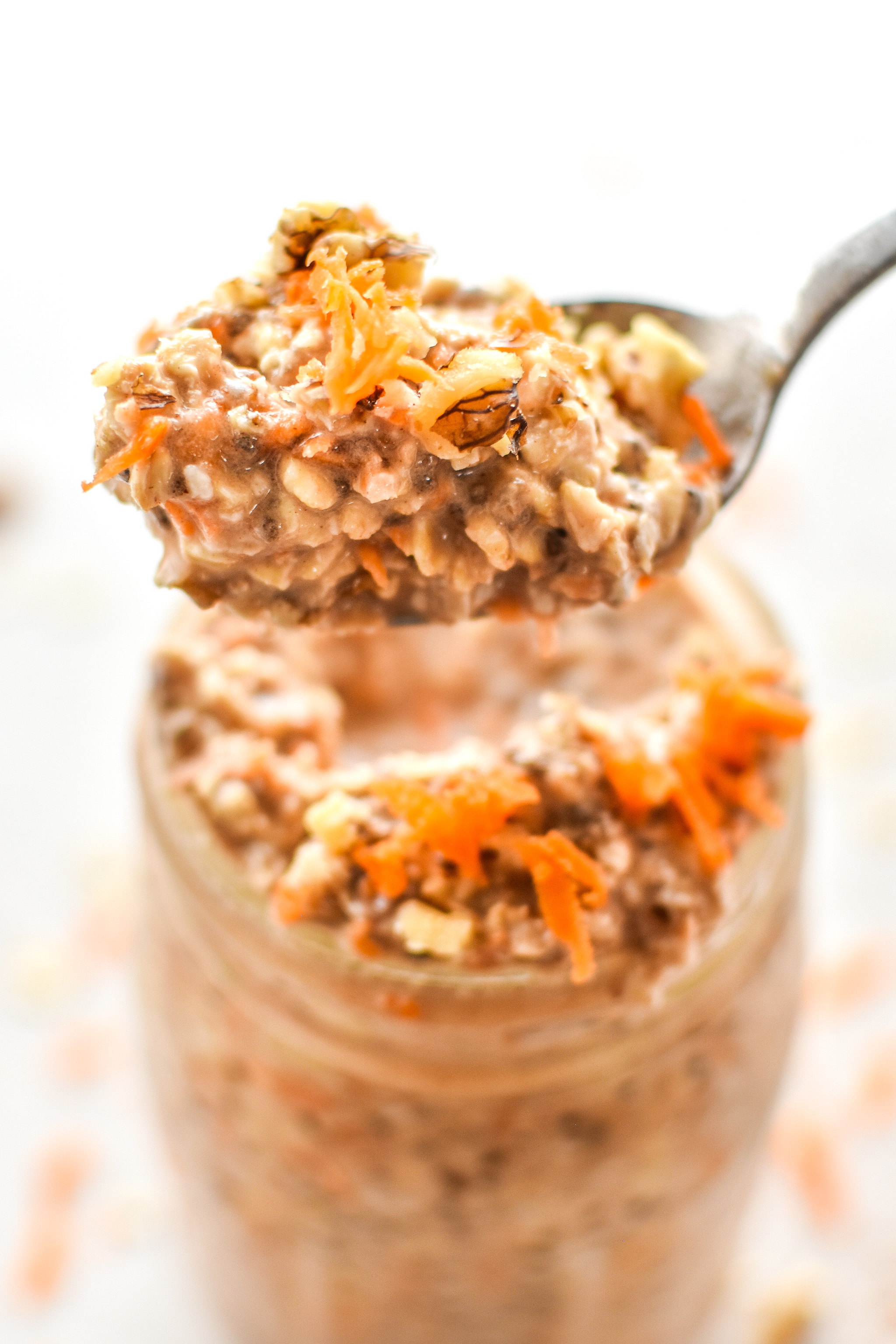 If you've got extra carrots or applesauce hanging around, you simply must give this recipe a try. I had everything else in my pantry already.
Mason jars not required! Lasts up to 5 days in the fridge.
More prep ahead breakfast ideas from Project Meal Plan:
Recipe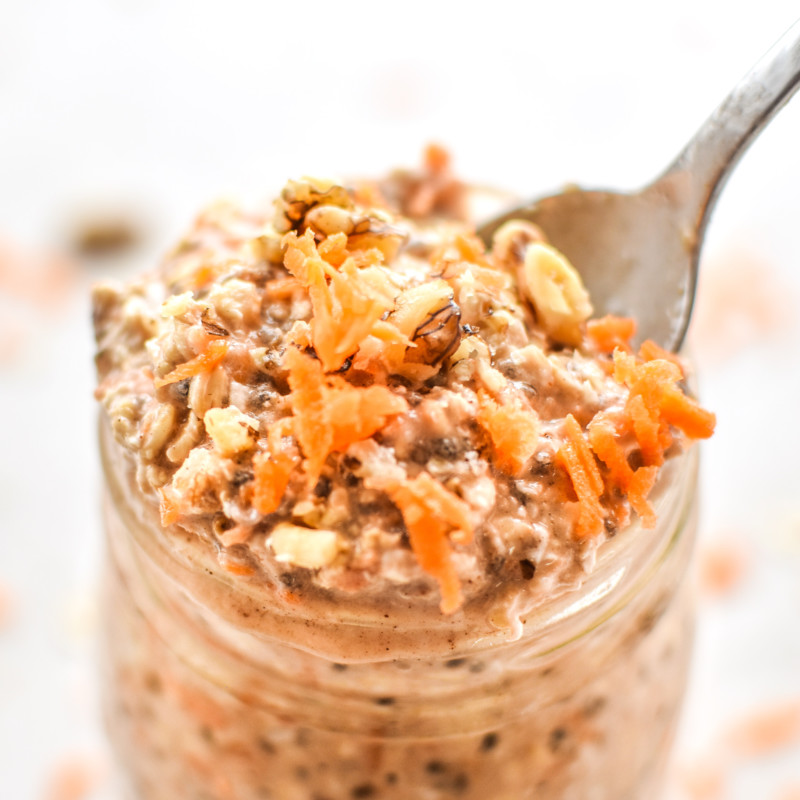 Carrot Cake Overnight Oats
Prep:
5 minutes
Total:
4 hours 5 minutes
The easiest prep-ahead breakfast, now in carrot cake form! Carrot Cake Overnight Oats are loaded with shredded carrots, walnuts, chia seeds, cinnamon, nutmeg – PLUS my not-so-secret ingredient: applesauce!
Ingredients
1/2 cup

old fashioned rolled oats

1 tablespoon

chia seeds

1 tablespoon

chopped walnuts

1/4 teaspoon

ground nutmeg

1/2 teaspoon

ground cinnamon

3 tablespoons

freshly grated carrot

1/4 teaspoon

vanilla extract

1 tablespoon

maple syrup

1/4 cup

unsweetened applesauce

3/4 cup

unsweetened vanilla almond milk
Instructions
Add all ingredients to a mason jar or other container with lid and stir until well mixed.
Cover and refrigerate for at least 4 hours, but preferably overnight. Store in the fridge and enjoy within 5 days.
Notes
Add more or less maple syrup depending on how sweet you like your oats. Add more almond milk if you like a thinner consistency of oats. Make additional batches of the recipe to prep breakfast for the next few days.
Nutrition information estimated with MyFitnessPal.
Nutrition Information
Serving Size:

1

Calories:

379

Fat:

13g

Carbohydrates:

57g

Protein:

10g
Recipe Card powered by
Thanks for checking out the Carrot Cake Overnight Oats! Please tag me or use #projectmealplan on social media to share your overnight oats creations!