I can't imagine a better way to use up leftover Thanksgiving or Christmas turkey than the Ultimate Leftover Turkey Breakfast Sandwich. Holiday turkey layered over a patty of mashed potatoes and stuffing, melted provolone, and topped with a fried egg.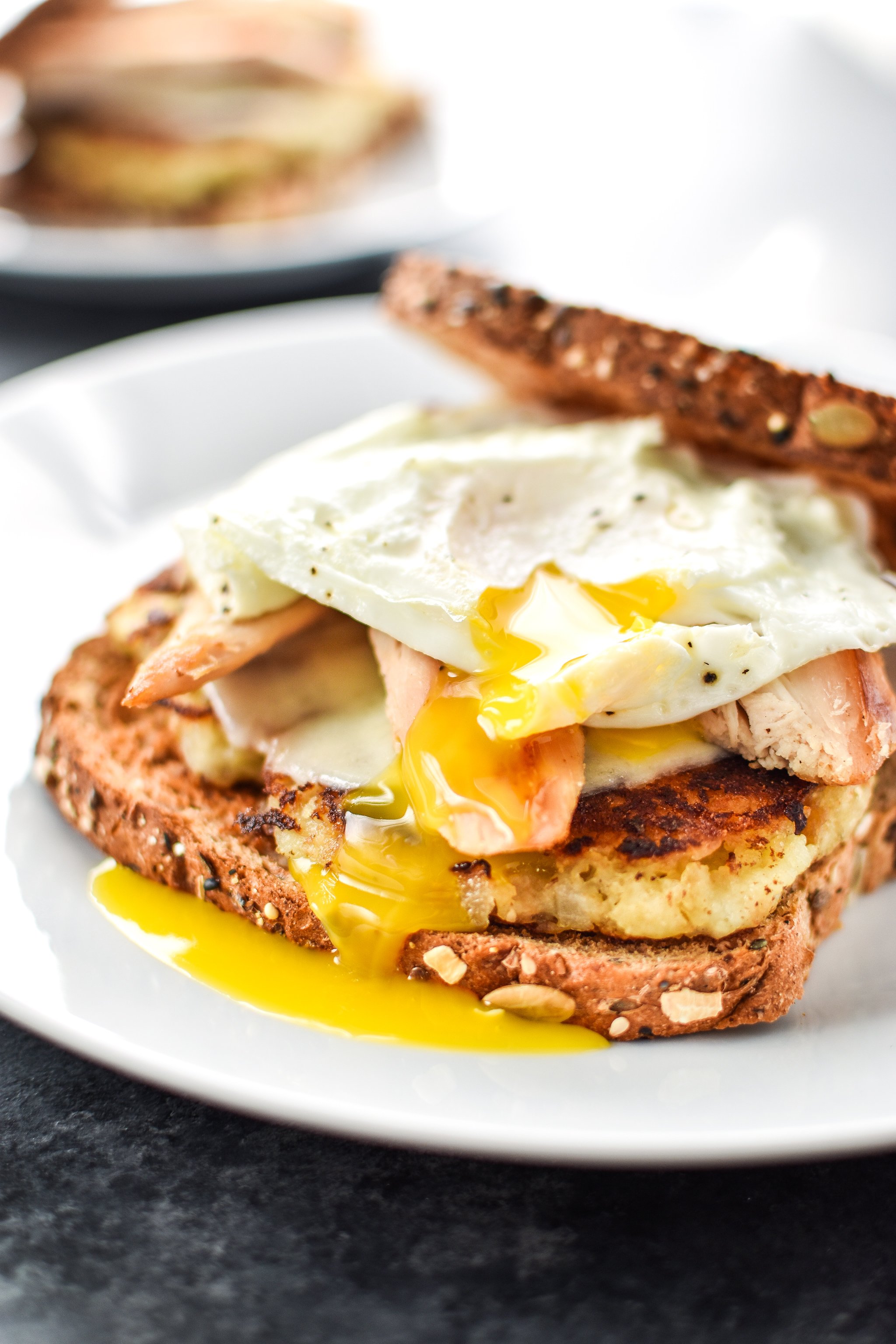 Let's get real here. Sandwiches are hands down the best way to use up your holiday dinner leftovers. And there are a zillion ways to put leftover turkey on bread. But, leftover turkey turned breakfast sandwich ideas are a little bit harder to find. So I made one myself!
Reasons I love this idea:
Breakfast
Sandwiches
Leftover Holiday Food
Put 'em together
Pro-tip: Best with SMOKED turkey.
Here's our post-Thanksgiving Black Friday holiday food shopping turkey (aka our cheap turkey). We used our ceramic charcoal grill and loosely followed this Smoked Whole Turkey Recipe from Blackberry Babe. I don't think we'll be cooking a turkey any other way in the future. It's that good.
Recipe Overview
Total Time: 15 minutes
Difficulty: Easy
Method: Stovetop
Prep: Use Up Leftovers
What are the ingredients in these Leftover Turkey Breakfast Sandwiches?
This sandwich is a great way to use whatever leftovers you have on hand. I found that this combo is perfect for a savory breakfast along with a fried egg.
Here's what I put in my Leftover Turkey Breakfast Sandwich:
leftover mashed potatoes & stuffing – These ingredients are what makes up the mashed potato stuffing pancake! OMG so good.
provolone cheese – Use your favorite kind of cheese here! We like provolone, cheddar, or even fresh mozzarella.
leftover turkey meat – My absolute favorite kind of turkey is smoked turkey!! It is the best and it makes all other turkeys feel inferior. Good turkey equals great leftovers!
large egg – Feel free to go fried egg, cooked however you like! Any kind of egg on this sandwich will taste good.
whole wheat bread – You can also use whatever kind of bread you have on hand. This is just what was in my pantry.
avocado or olive oil – I use avocado oil to fry the mashed potato stuffing pancake.
non-stick cooking spray – These days I'm more likely to use leftover bacon grease or avocado oil for frying eggs, but non-stick cooking spray is also a great option.
What about cranberry sauce?
If you want a touch of sweetness in this sandwich, feel free to slather a thin layer of cranberry sauce on your toasted bread!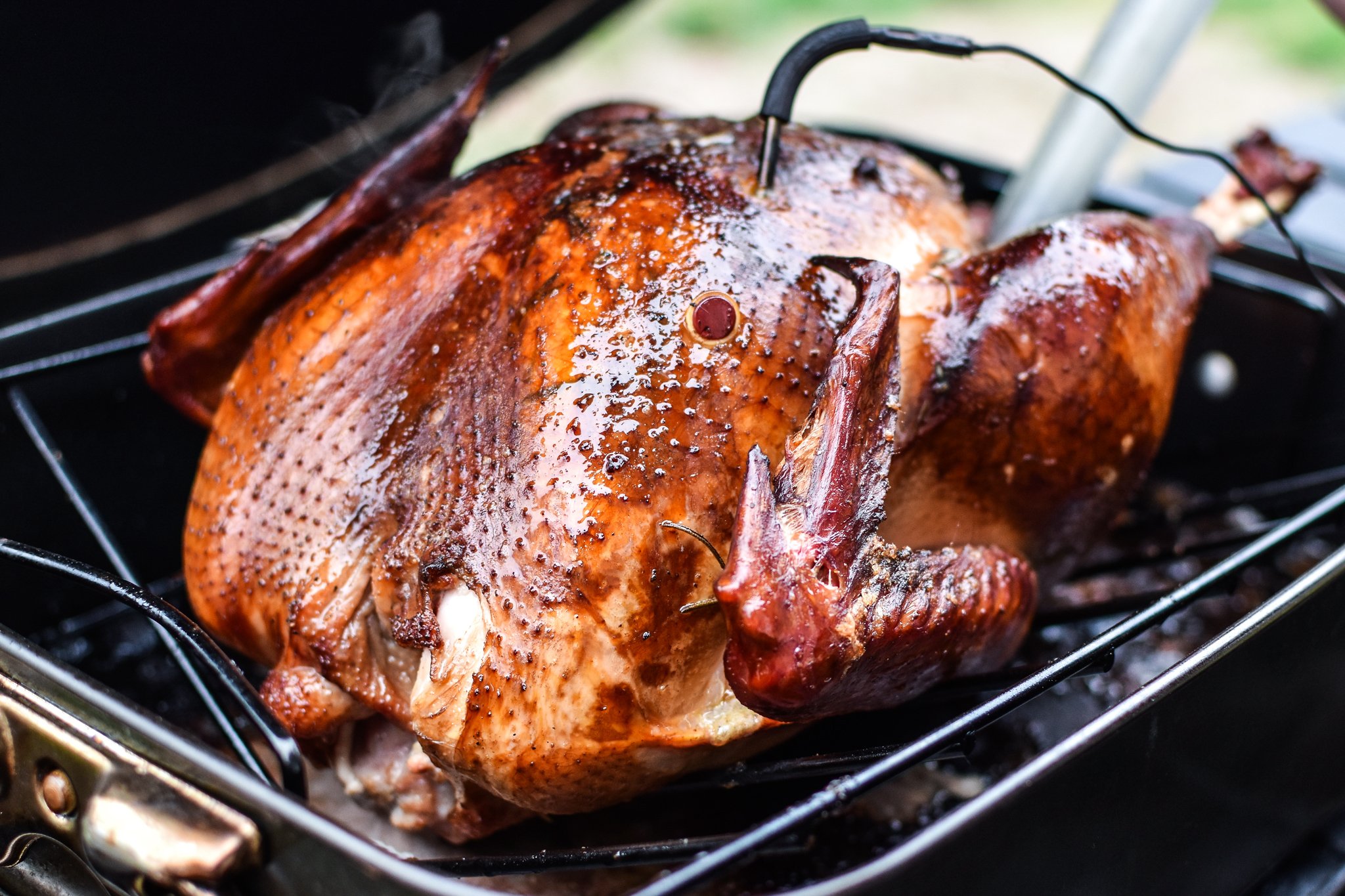 The All-Important Mashed Potato Stuffing Pancake
Stuffing is my favorite Thanksgiving leftover. Mashed potatoes are a close second. I can't even count the number of times I've put them together with turkey and cranberry sauce to make a super classic leftover lunch sandwich.
But there's always been one problem. The stuffing FALLS OUT LIKE MAD. I've tried pressing the layer of stuffing into the layer of mashed potatoes (sort of like… glue?), but it wasn't a perfect solution.
So for my holiday leftover breakfast masterpiece, I decided to pre-mix the two, and fry them in a pancake (see below ⬇️).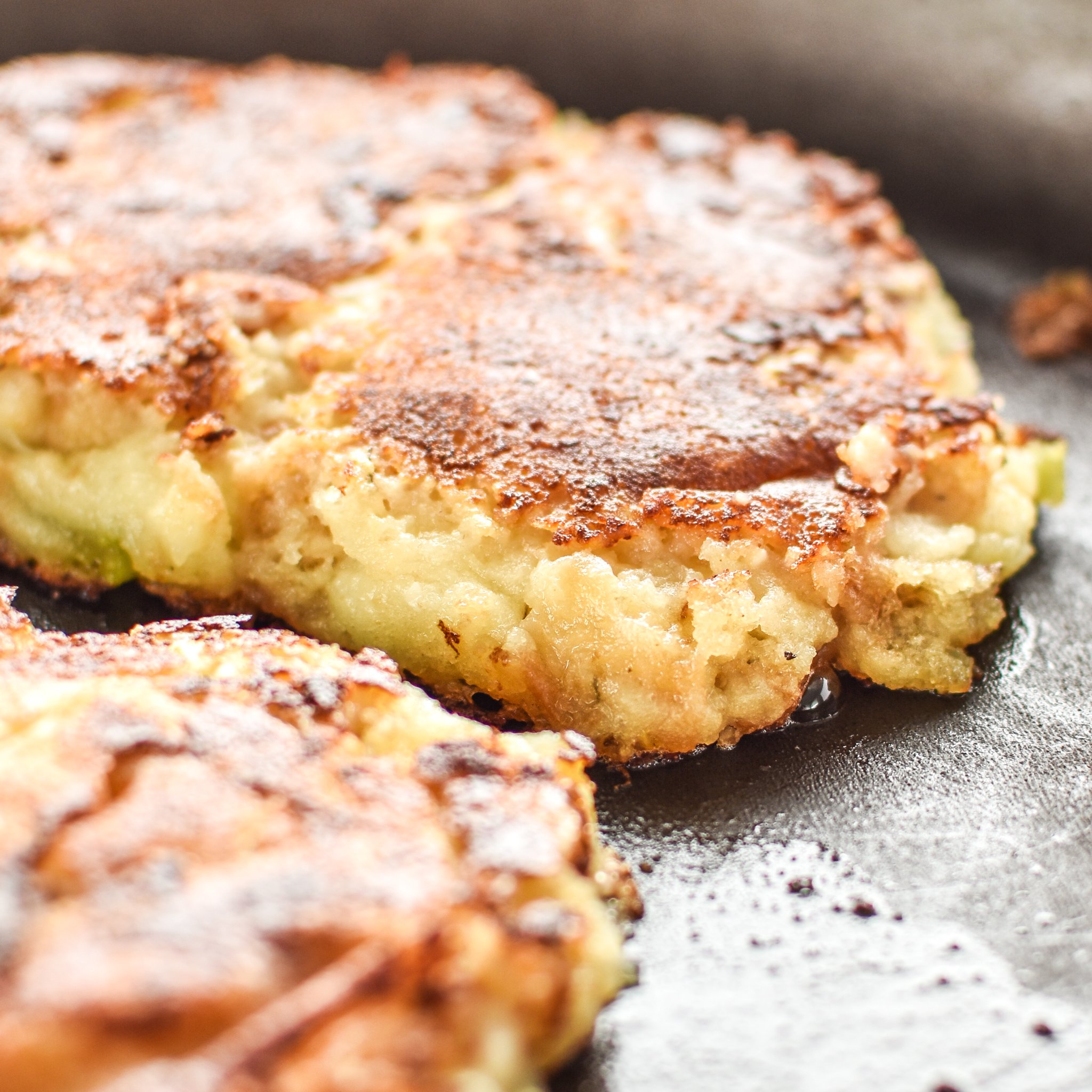 How to make the Leftover Turkey Breakfast Sandwich:
To start, simply mix up the leftover stuffing and the leftover mashed potatoes in a bowl, then use your hands to create two patties.
The stuffing mashed potato pancake gets fried up in the pan. After flipping, add the turkey to the pan to heat it up as well.
Place cheese on top of your special pancake. Toast that bread, then layer the turkey, and top with that fried egg just how you like it.
Success! 95% of my sandwich stayed on the bread. Hold from the bottom people!!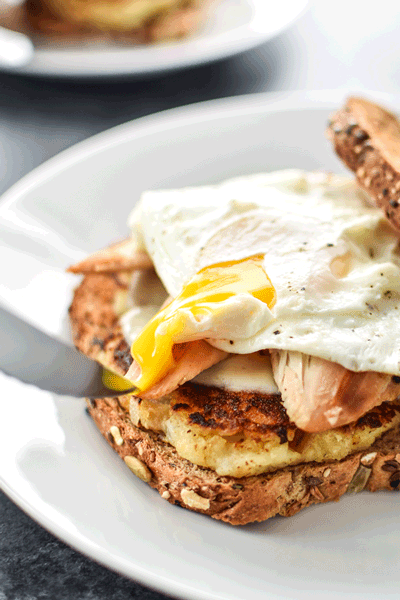 Now, I know Thanksgiving is over (thank you for alerting me, dear old checker who was very concerned about my post-Thanksgiving stuffing purchase), but maybe you make a big turkey for Christmas too.
In that case, good news! This leftover turkey breakfast sandwich idea is totally applicable in both November AND December. No one will judge you. I approve of leftovers being consumed in any fashion. Cheers to holiday leftovers!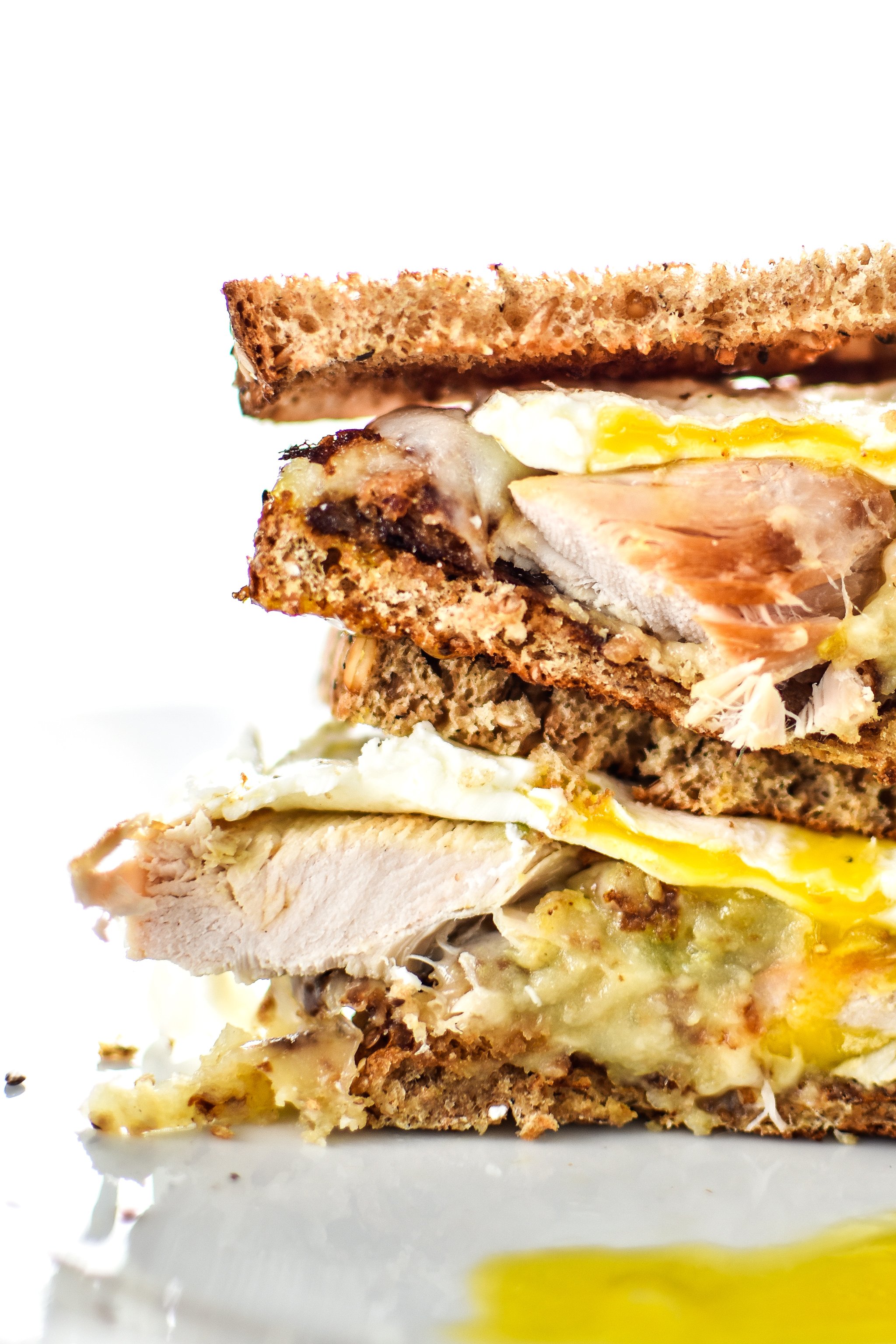 Recipe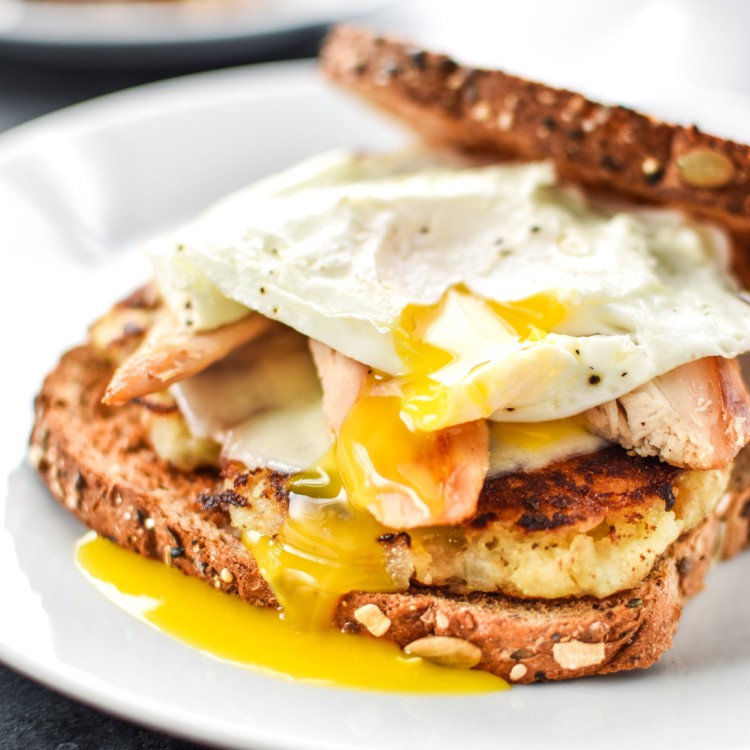 Ultimate Leftover Turkey Breakfast Sandwich
Prep:
5 minutes
Cook:
10 minutes
Total:
15 minutes
The best use of your holiday leftovers! A stuffing and mashed potato pancake, turkey, and provolone cheese topped with a fried egg!
Ingredients
1 cup

leftover mashed potatoes

1 cup

leftover stuffing/dressing

2

slices provolone cheese

8 ounces

leftover turkey meat (my favorite is smoked turkey!)

2

large eggs

4

slices whole wheat bread

1 tablespoon

avocado or olive oil
non-stick cooking spray
salt/pepper to taste
Instructions
In a medium bowl, combine leftover stuffing and mashed potatoes until well mixed.
Heat oil in a large nonstick skillet over medium heat.
Divide the potato stuffing mixture in half, and use your hands to form each half into a large oval shape, around half an inch thick. The patties should be similar to the shape and size of your bread. Place patties directly onto the hot skillet. Cook for 4-5 minutes, or until golden brown and crisp on the outside, then flip and cook for another 3-4 minutes until browned. Add cheese after flipping.
While the patties continue to cook, place your leftover turkey in the pan around your patties. Flip turkey pieces after 2 minutes and cook until completely warmed.
Use your toaster to toast the bread to your preferred color of toastiness.
Assemble the sandwich to this point. A lot of the previous steps can be multitasked, but give the eggs your full attention! Coat a nonstick pan with cooking spray and place over low heat. Crack eggs gently into the pan and sprinkle with salt and pepper. Let them cook for 2-3 minutes or until the whites are cooked through. Egg options: 1) Remove from pan for soft yolks (like the pictures!). 2) Flip eggs and cook for another minute for less soft yolk. 3) Flip, cut yolks and cook for another minute for loosely scrambled eggs.
Place cooked eggs on top of assembled sandwiches, add the last piece of bread and enjoy!
Notes
Nutrition information estimated with My Fitness Pal and is highly variable based on cooking methods of all leftovers used in the recipe.
Nutrition Information
Serving Size:

1 sandwich

Calories:

650

Sugar:

6g

Fat:

20g

Carbohydrates:

56g

Protein:

64g
Recipe Card powered by