Turkey Pesto Tortilla Pinwheels – My favorite deli cold lunch in a homemade version, PLUS pesto!! Perfect to meal prep as a make-ahead work lunch option!
Jump to Recipe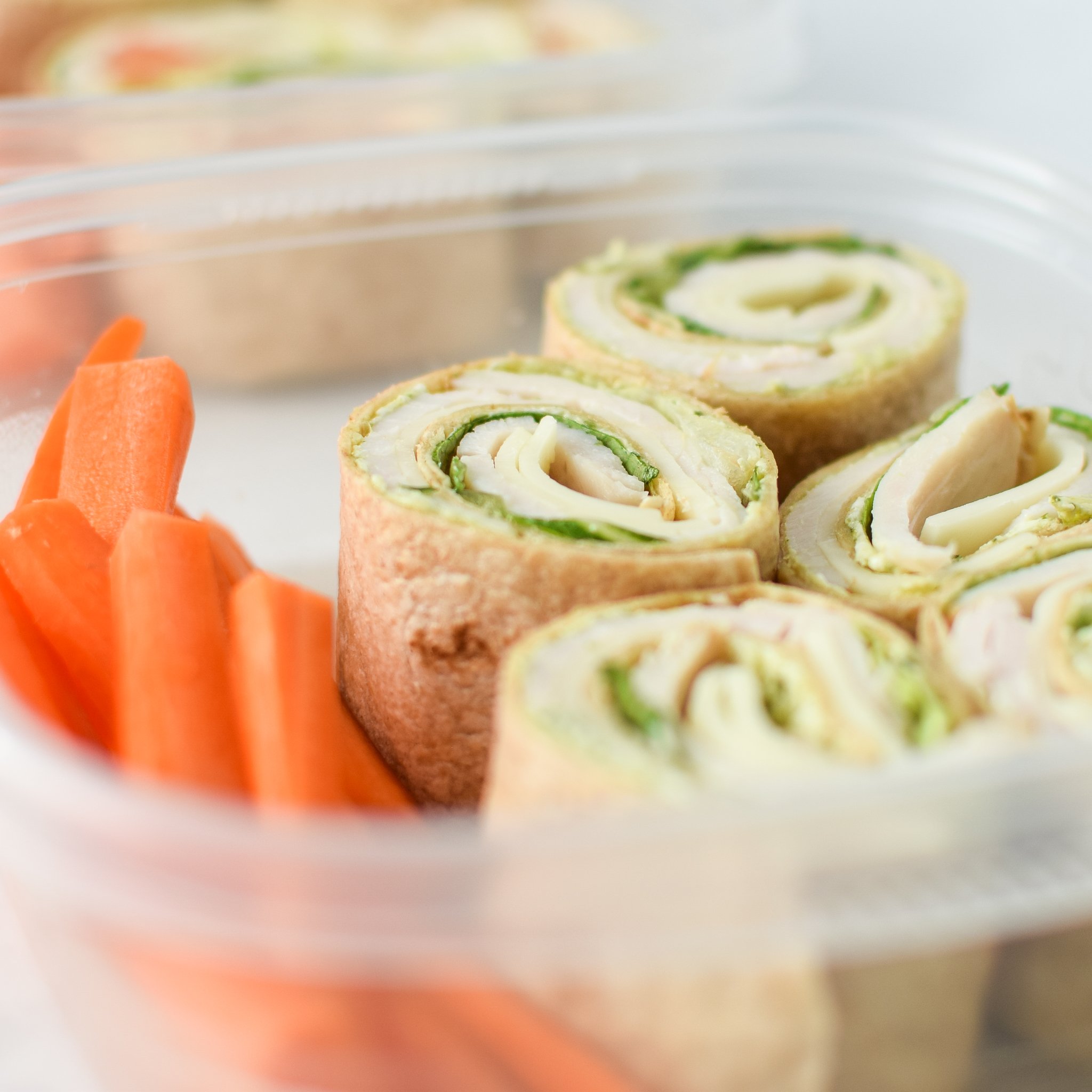 Personalize Your Pinwheel
Tortilla
Obviously you've got the main two choices – white or wheat. Low carb is totally an option too. But you simply must get the large burrito size ones! Another option – I found these near the wraps and flatbreads. Flatouts Pinwheels are made in a square shape, which totally solves the pinwheel scraps problem. I haven't tried them but they look good!
Meat & Cheese
I first tried this with fresh sliced turkey breast from Costco. It was SO tasty, and the Costco version is definitely my favorite sliced meat. But it's a tiny bit thick for these purposes, so getting fresh sliced meat from the grocery deli is also a great idea. Provolone is my choice here, but pesto and mozzarella work well together too.
Greens (& Tomatoes?)
Take this opportunity to use up whatever random leafy greens you have around. I've had the pinwheels with romaine, as well as leafy greens. I think spinach would work well too. Tomatoes – if you love 'em, have 'em. I like 'em, so I tried 'em (okay I'll stop that). But seriously, the pinwheels roll better without the extra layers, though it was still pretty tasty.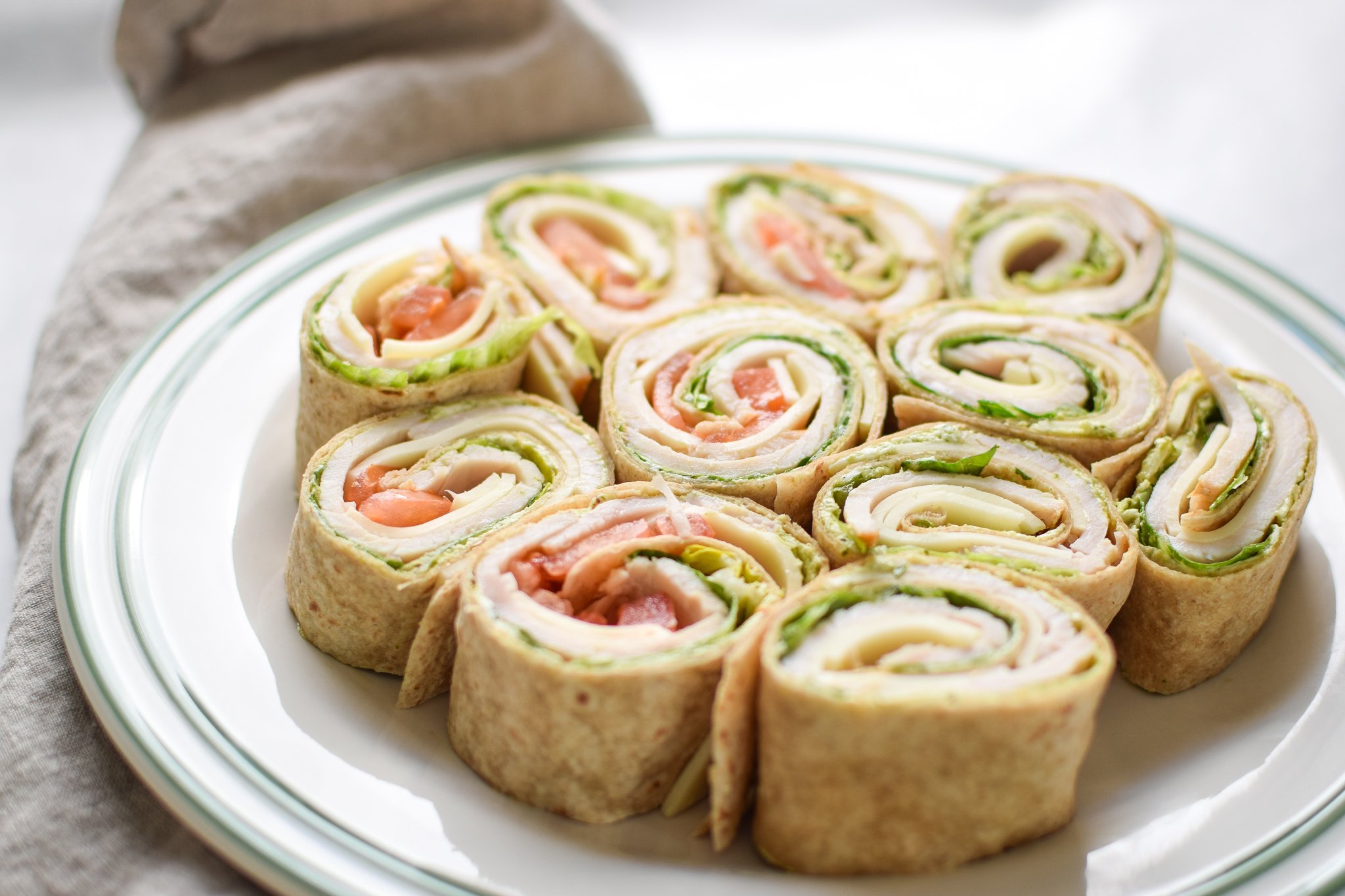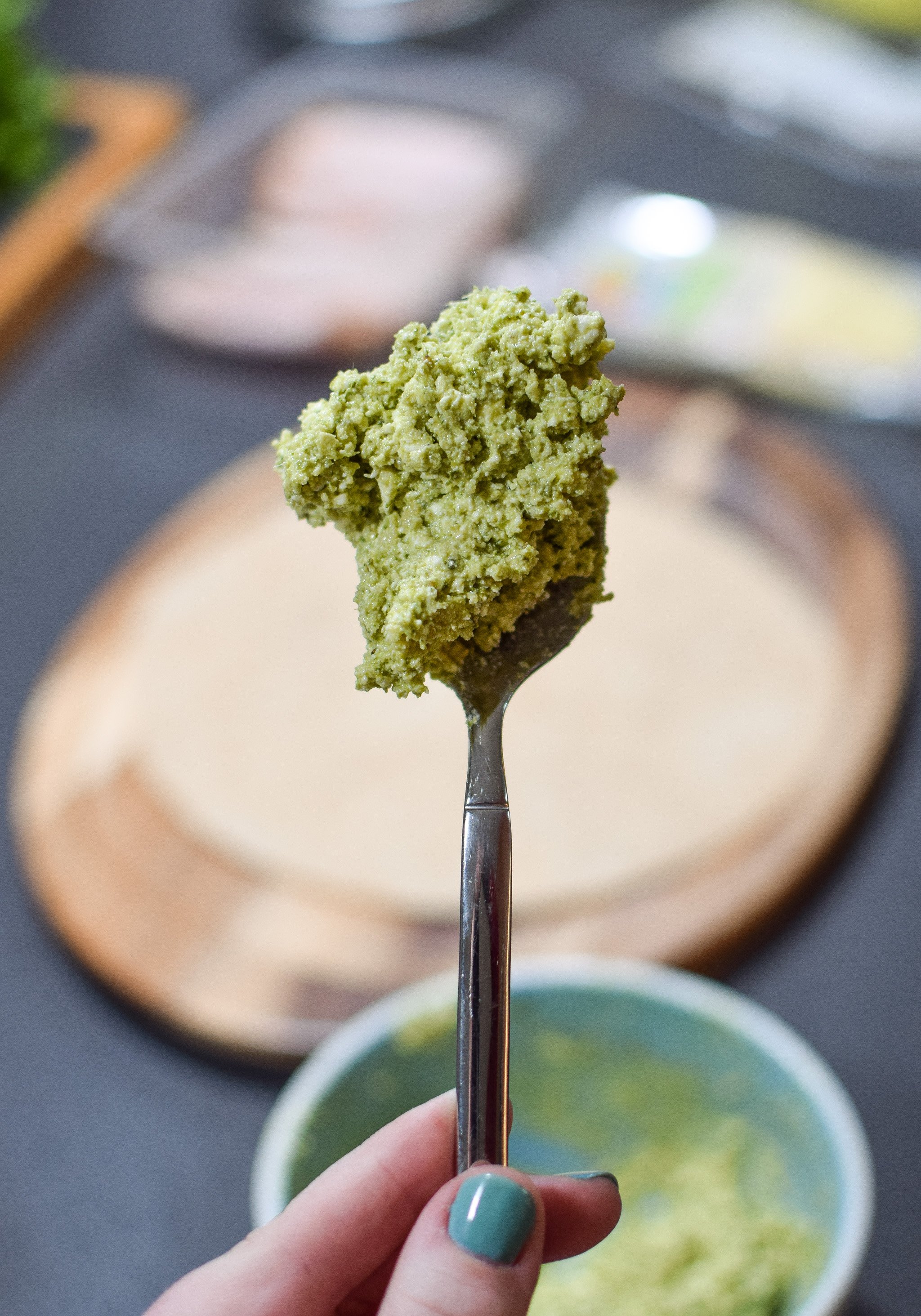 This concept is explained in the recipe below, but just for good measure, make sure you do the following: Leave about a quarter of the tortilla space with only the cream cheese mixture, and no other toppings. That way, a small space will remain empty after you roll, and the cream cheese is sort of a "glue" to hold the pinwheel wrapped (check out the picture below).
Additionally, feel free to adjust the amount of pesto to your liking. I personally love pesto (it's besto), so I packed it into the recipe. Meal prep these Turkey Pesto Tortilla Pinwheels and eat within 3 days!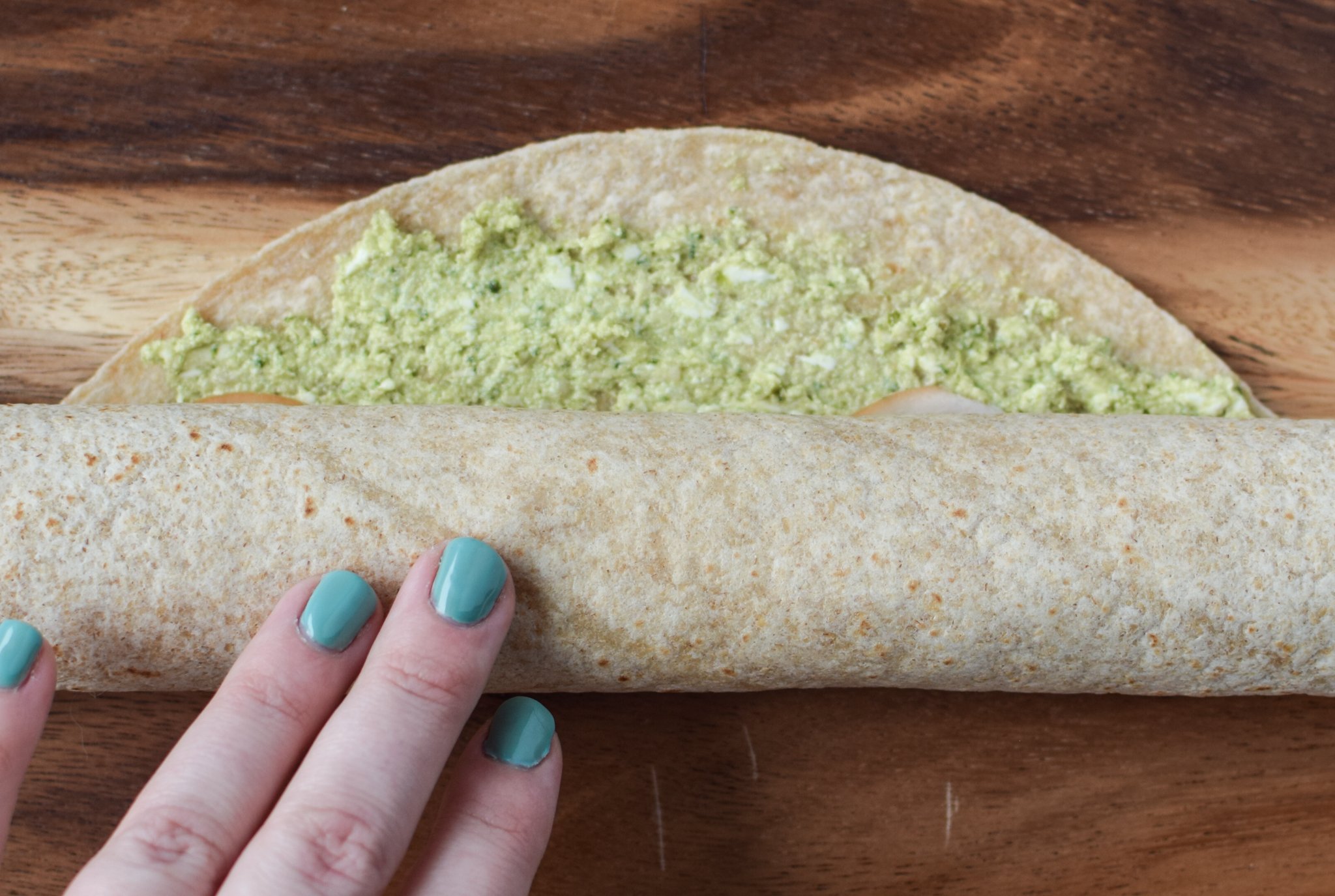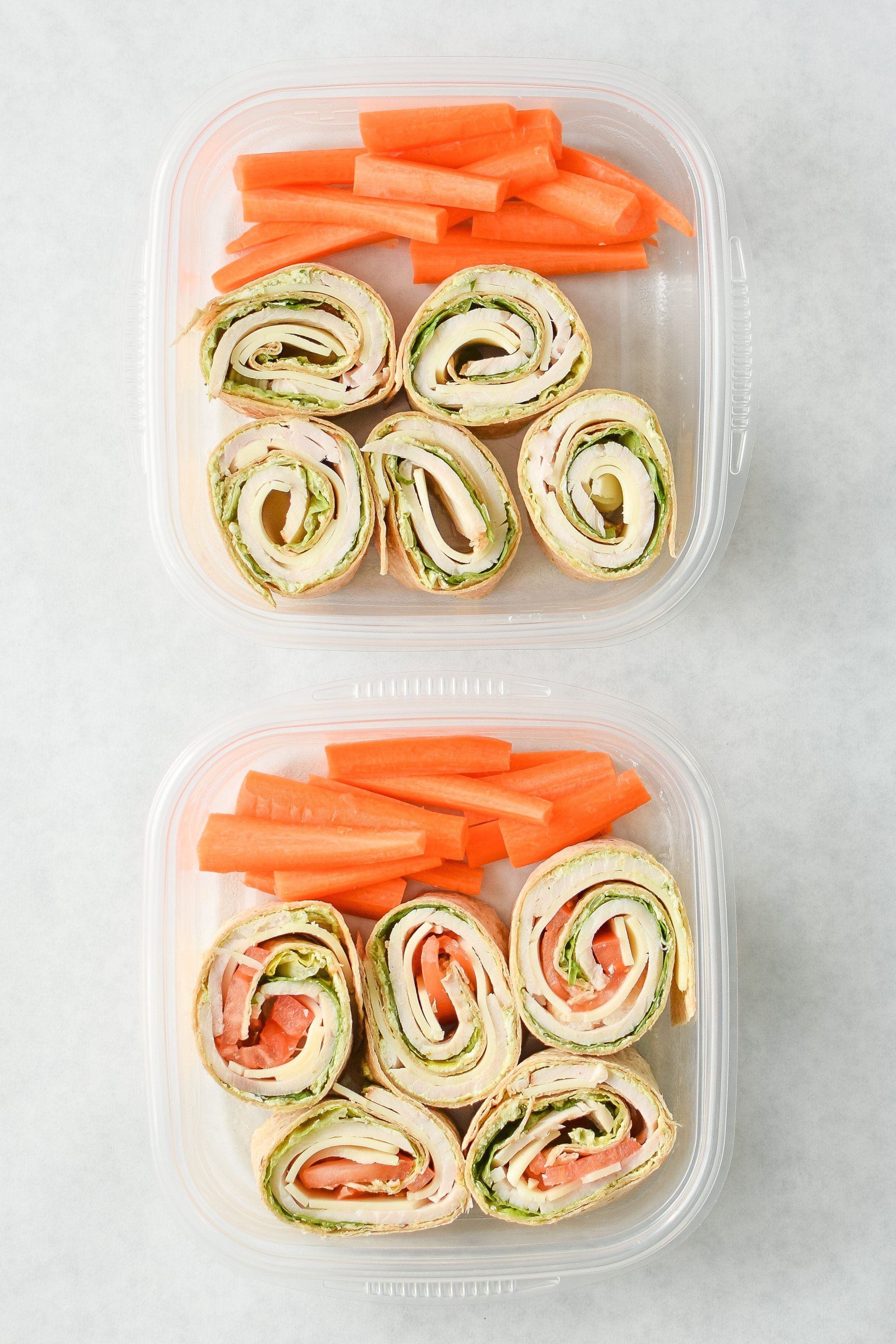 Other lunch ideas from Project Meal Plan:
Recipe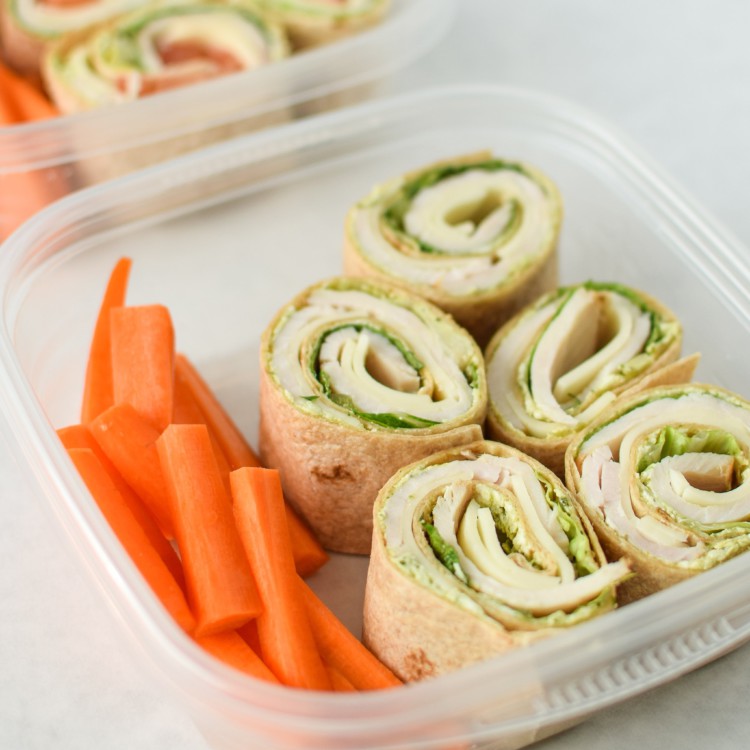 Turkey Pesto Tortilla Pinwheels
Prep:
10 minutes
Cook:
0 minutes
Total:
10 minutes
Turkey Pesto Tortilla Pinwheels are a super handy appetizer or lunch for the on-the-go! These never last long at my house 🙂 Pesto lovers rejoice!
Ingredients
2 ounces

cream cheese, softened

2 tablespoons

prepared pesto

2

large or burrito size flour tortillas (I used whole wheat), room temperature

2 cups

chopped romaine lettuce with ribs removed, or any lettuce

6

–

8

slices fresh deli turkey

3

slices of provolone cheese, thin sliced
Instructions
In a small bowl, mix cream cheese and pesto until well-mixed.
Spread half of the pesto cream cheese mixture on one side of the tortilla, completely covering the entire tortilla.
Layer individual lettuce leaves flatly over the cream cheese mixture to cover one half of the tortilla. Follow this with half of the turkey slices, placing in a single layer over the lettuce. The turkey should be evenly spread in one layer over about 3/4 of the tortilla (farther out than the lettuce).
Next, arrange 1 1/2 cheese slices in a single layer over the turkey (you may need to cut the slices in half or smaller to fit them around the tortilla in a single layer). You should continue to leave about 1/4 of the tortilla without additional toppings. This way, when the tortilla is rolled, toppings won't spill out and prevent the pinwheel from staying rolled up.
Starting with the edge loaded with toppings, roll the tortilla towards the empty side. Keep the roll tight without ripping the tortilla. The edge left with only cream cheese will sort of 'glue' itself to the tortilla to keep the pinwheel from unraveling.
Optional: Refrigerate the pinwheel rolls for 1 hours before cutting so they stay together better.
First, cut and remove about 1.5 inches from each end of the roll. Note: The ends of the roll have less filling due to the circular shape of the tortilla and rolling procedure. I like to refer to those as "pinwheel scraps". Still tasty, but not so pretty. All four ends (from two tortillas) plus about one more pinwheel is one serving.
Cut the remaining rolls into 1 inch or 1.5 inch sections.
Store in a tupperware or Pyrex container and eat within 3 days.
Notes
Tomato is optional, however they don't stayed rolled as well with the thick slices.
You can grab these Flatout Pinwheel square wraps at the grocery store to avoid pinwheel scraps – these are the perfect shape! Nutrition information estimated with MyFitnessPal.
Nutrition Information
Serving Size:

5-6 pinwheels

Calories:

366

Fat:

20g

Carbohydrates:

27g

Protein:

20g
Recipe Card powered by
Thank you so much for checking out the Turkey Pesto Tortilla Pinwheels! Be sure to use #projectmealplan on social media if you make this yummy recipe! And follow me on Pinterest for meal inspiration every single day.