Prep this filling ahead for a SUPER quick quesadilla dinner perfect for weeknights! I'm talking chicken breast, sauteed onions and peppers, and your favorite BBQ sauce, pre-made. Skillet. Tortilla. Cheese. Here's how I do some Quick BBQ Chicken Quesadillas (Make-Ahead Filling Recipe).
Jump to Recipe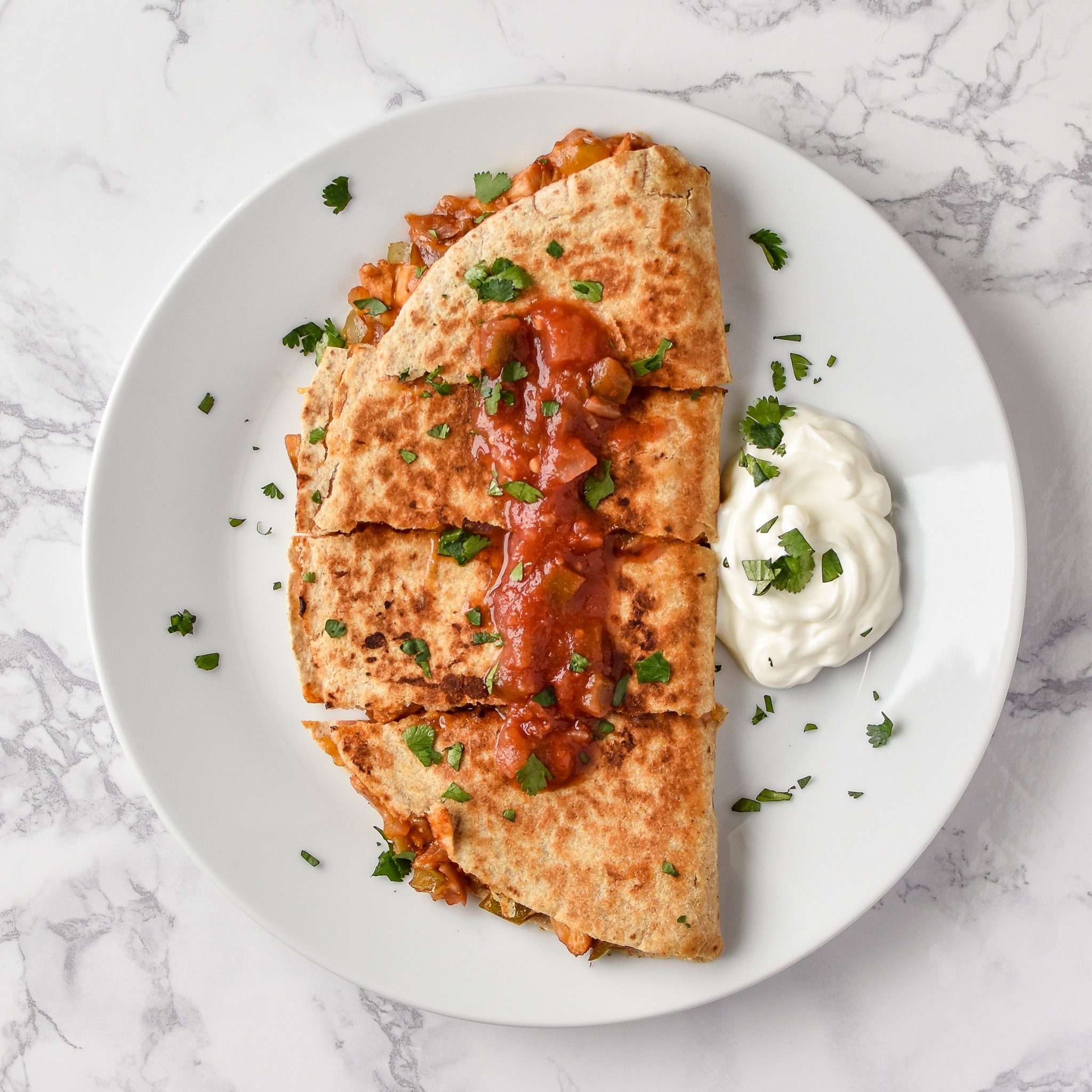 I've really upped my quesadilla game since like 5 or 6 years. College me: cheese, cream cheese, and Tapatío (I was going for a Taco Bell sort of thing…). Now me: sautéed veggies, proteins, healthy(ish) tortillas, homegrown cilantro, and obviously, cheese. It's better this way.
I get that these post college ways take more time. Tasty veggies in there is a completely additional cooking step, oh AND chopping. Not to mention having some meat cooked and ready to go inside the quesadillas… The actual quesadilla on the stove cooking part takes less than 10 minutes.
So here's my solution: Make a big batch of filling all at one time. Then have amazing quesadillas every time. Bake some chicken. Sauté some veggies. Mix it together with sauce. Then when you're craving, just get out the filling, cheese, tortilla, etc. And it's go-time.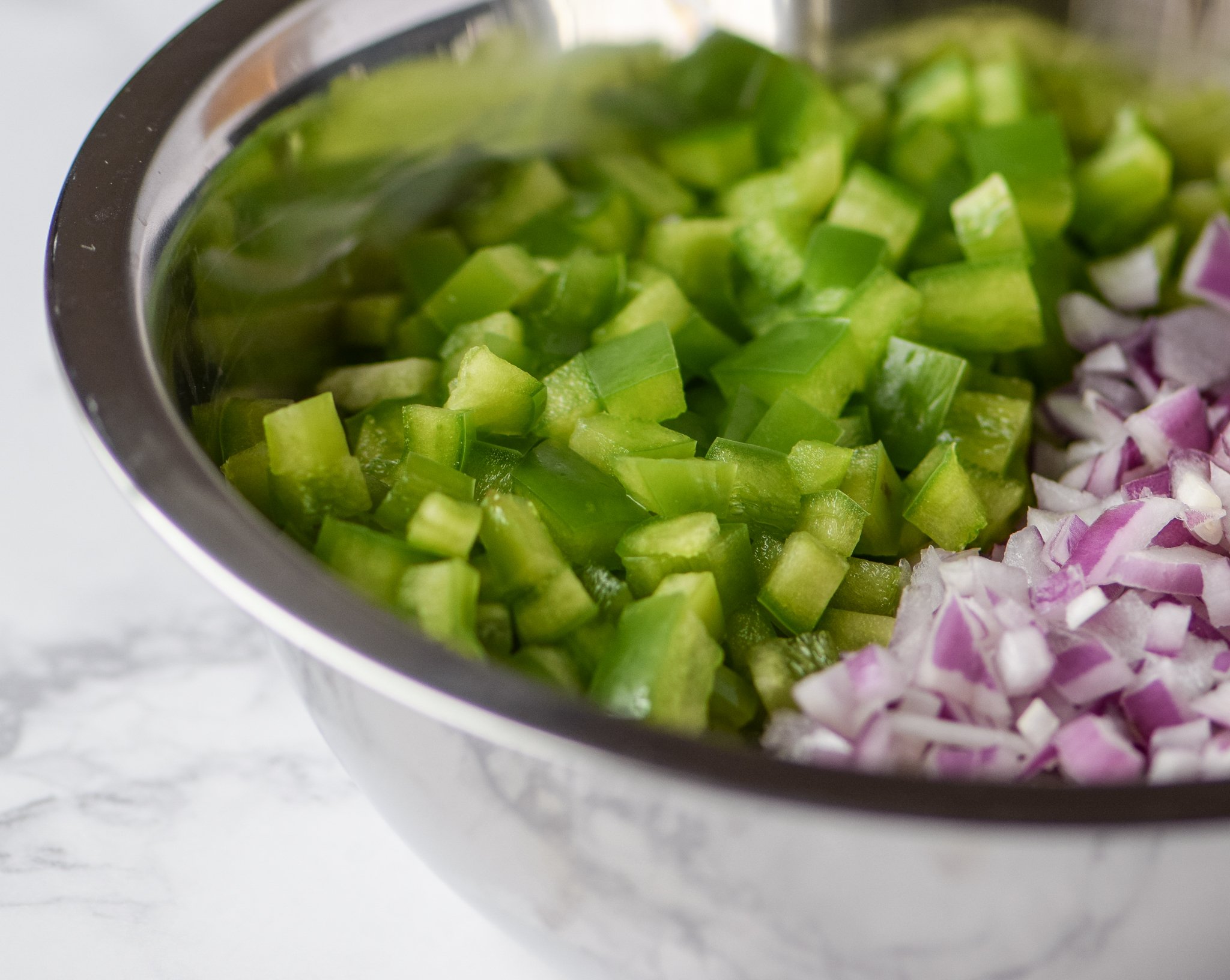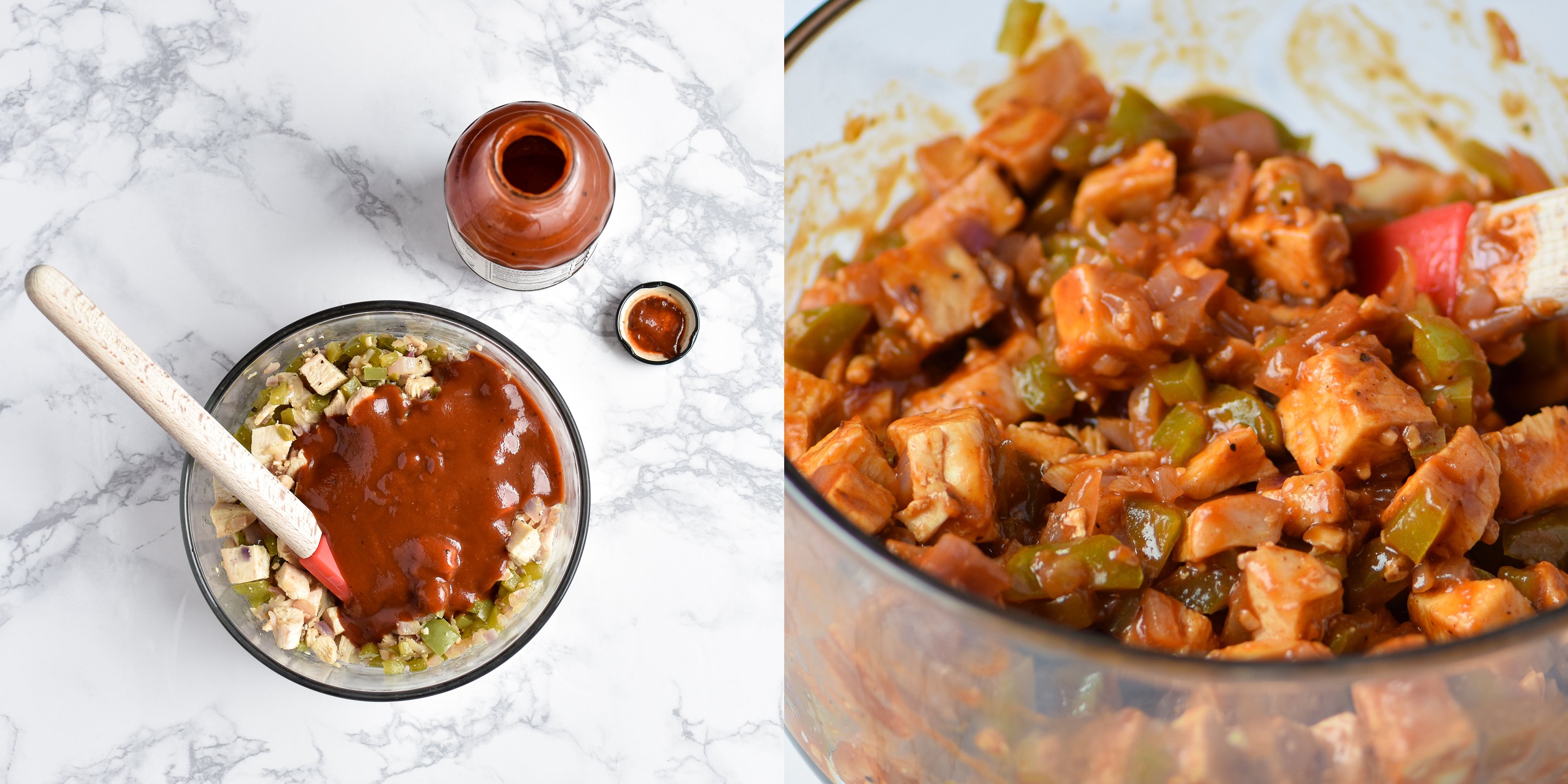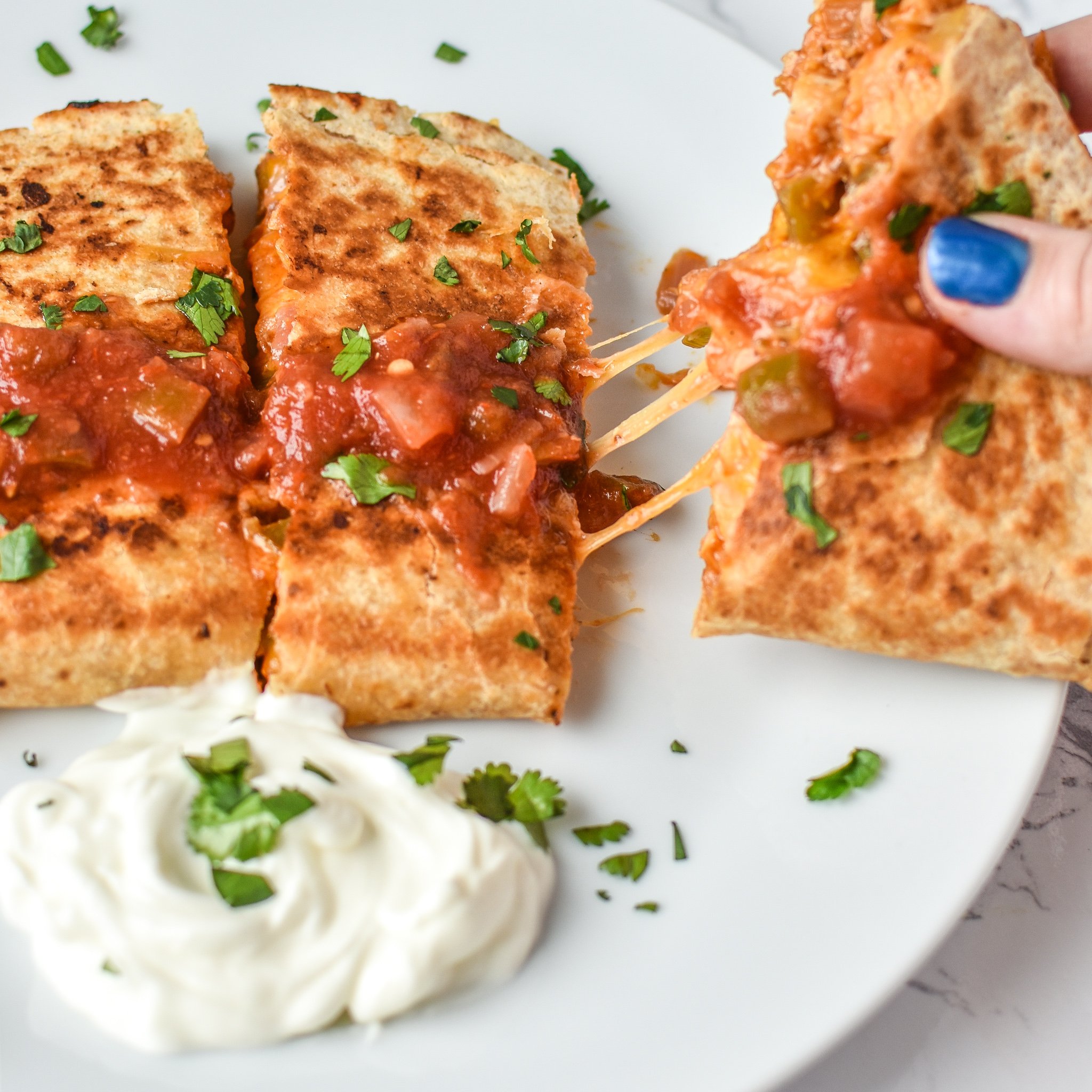 How to Prep Delicious Quesadilla Filling Ahead:
Bake a couple chicken breasts in the oven. Or use leftover chicken. Chop it into little cubes (or however you want it really).
While the chicken is in the oven, cook up some of your favorite BBQ veggies. I always think of green peppers and red onions 😀
Combine 1 and 2! Then add 1/2 cup of your fave BBQ sauce.
Store in the fridge, then grab it + cheese/tortillas for 10 minutes quesadillas anytime!!
I store one batch (by recipe below) of quesadilla filling in a 7-Cup Pyrex container. Two medium sized chicken breasts with a couples veggies + sauce works out to approximately 4 large quesadillas (like the ones pictured). This stuff does not last long at our house. Enjoy!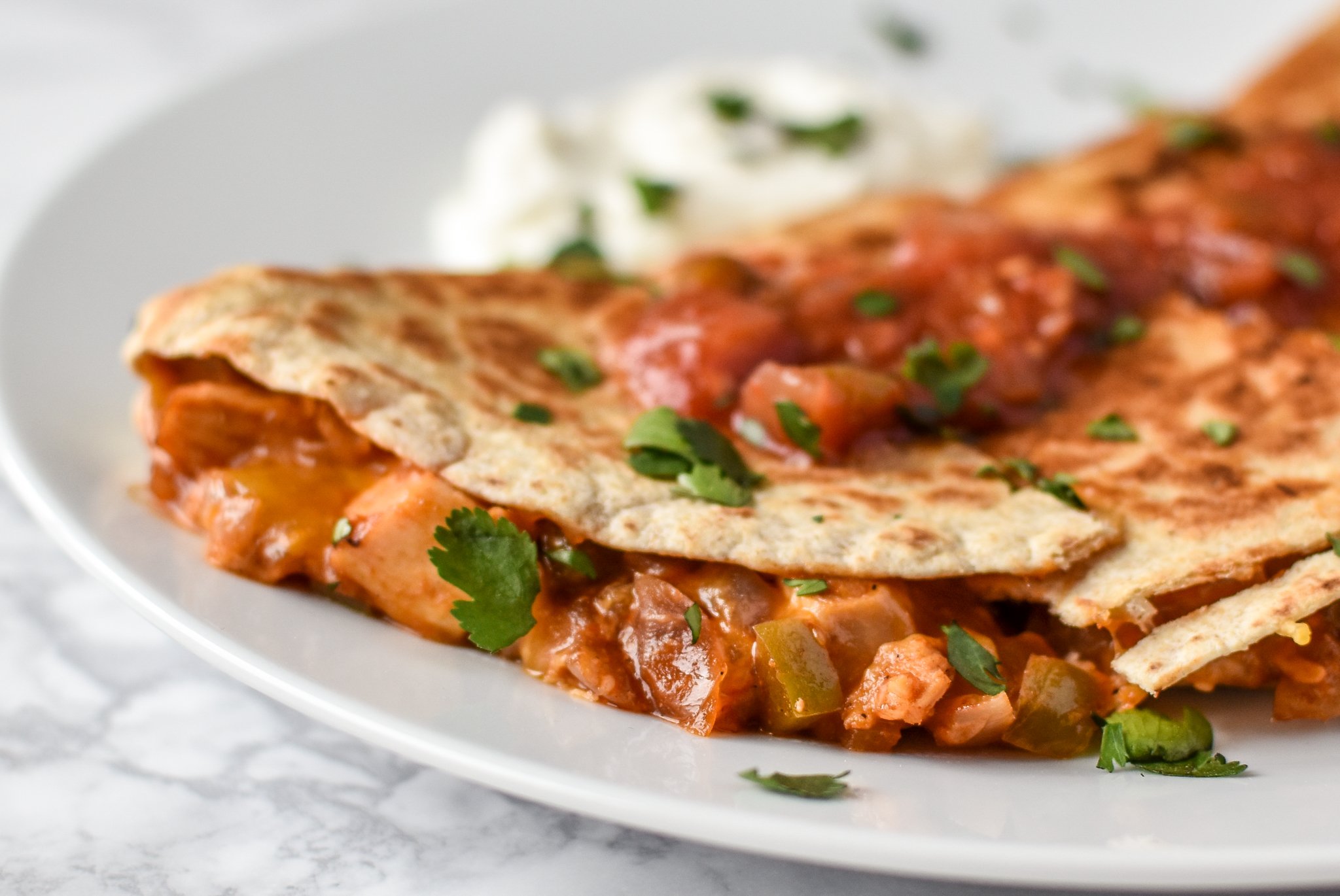 Other make-ahead recipes from Project Meal Plan:
Recipe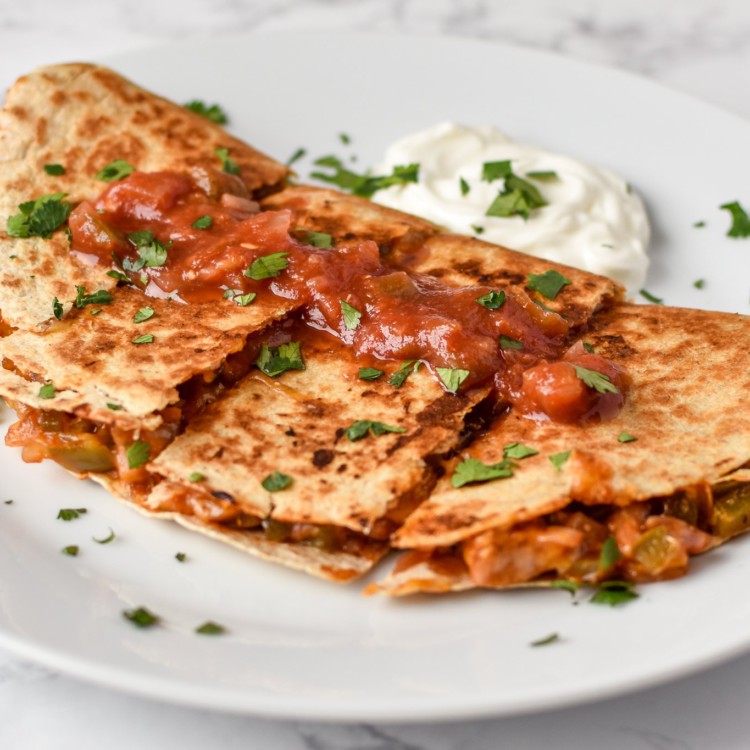 Quick BBQ Chicken Quesadillas (Make-Ahead Filling Recipe)
Prep:
30 minutes
Cook:
10 minutes
Total:
40 minutes
Delicious BBQ chicken quesadillas made in 10 minutes with pre-made filling! – ProjectMealPlan.com
Ingredients
Filling:
2

boneless skinless chicken breasts (around

3/4

pound) (any leftover chicken will work!)

1 tablespoon

oil (I use avocado oil but EVOO will work)

1/2

red onion, finely chopped

1

green bell pepper, finely chopped

1/2 tablespoon

minced garlic

1/4 teaspoon

salt/pepper

1/2 cup

your favorite BBQ sauce (I like Stubb's All Natural –

4g

sugar carbs)
Quesadilla (filling makes about 4 of these):
1 teaspoon

butter, ghee or coconut oil

1

large burrito size tortilla

1/3 cup

cheddar cheese
Instructions
To make the filling:
(If you're using leftover chicken, skip this step!) Preheat oven to 425 degrees F. Line a baking pan with foil. Add a pinch of salt and pepper to each side of the chicken breasts (using tongs to handle them makes it easier/cleaner). Place the chicken breasts on the lined pan and cook for 22-27 minutes. Begin checking the temperature at 22 minutes, and cook until the chicken reaches 165 degrees F inside. When done and cooled, chop the chicken into small pieces and set aside.
Heat 1 tablespoon of oil in a sauté pan over medium heat. When hot, add red onion, bell pepper and about 1/4 teaspoon of salt. Cook for 5 minutes, stirring occasionally. Add garlic, and cook for another 5 minutes, stirring occasionally.
Add the cooked chicken to the peppers and onion pan. Stir and cook for one minute, then remove from heat and let cool for 5 minutes.
Transfer your filling mixture to a large food storage safe bowl with a lid. Add the barbecue sauce and stir until mixed. Cover and store in the fridge for up to 4 days.
To make a quesadilla:
Heat butter over low-medium heat in a large non-stick skillet. When melted and spread around the pan, place your tortilla in the pan. Immediately spread 1/2 the cheese onto only one half of the tortilla.
Add about 1 cup of pre made filling onto the same side of the tortilla as the cheese. Spread the filling around so it covers the entire half of the tortilla. Spread the remaining cheese over the filling.
Use a spatula (and your fingers) to pull the empty half of the tortilla over the other half, covering all toppings. Let the quesadilla cook for about 3-4 minutes on each side, checking for a golden brown doneness before flipping.
Flip and repeat for the other side. Quesadilla is done when the inside cheese is completely melty.
Cut into 4 pieces and serve immediately with toppings (cilantro, salsa and sour cream are my favorite).
Notes
For a no-meat version, sub roasted chickpeas for chicken!
Note: Nutrition information does not include tortilla, cheese, or toppings. Only the filling!
Nutrition Information
Serving Size:

about 1 cup

Calories:

223

Sugar:

11g

Fat:

5g

Carbohydrates:

19g

Protein:

24g
Recipe Card powered by
To make this recipe, I used:
Thanks for reading the Quick BBQ Chicken Quesadillas (Make-Ahead Filling Recipe) – and making it to the bottom! Be sure to use #projectmealplan on social media if you make this recipe! And follow me on Pinterest for meal inspiration every single day.
– Danielle