Alaska Home Pack is a seafood delivery service that brings wild, sustainable, seasonal Alaskan seafood right to your doorstep. Here's my full Alaska Home Pack Seafood Delivery Review including what I got in a month's box, how I liked the service overall, and an Easy Halibut Burger recipe!
NOTE: I was provided product at no charge in exchange for writing about Alaska Home Pack, however, all of these opinions are my own!
My first encounter with the folks at Alaska Home Pack was during my trip to Juneau for the International Food Blogger's Conference in 2019.
I chatted with Robin about the family run business, their focus on sustainability, and how they connect seafood lovers all around the country with the best seafood straight from Juneau.
Long story short, I was hooked on the idea of a wild seafood delivery service! I knew I had to get this seafood into my freezer ASAP.
I returned from Alaska, immediately got in touch with the company, and soon after, received my Alaska Home Pack box!
What is Alaska Home Pack?
Alaska Home Pack is a family run commercial fishing business that operates out of Juneau, Alaska. They connect seafood lovers all over the country with fresh, seasonal, flash frozen seafood from the most sustainable sources on the planet.
When I was in Alaska, I learned a lot about the seafood scene. Here's the main takeaway – it's the best seafood in the world. It's the cleanest, wildest, and most consistently high quality seafood there is.
I tried it in Alaska, and then I tried it in my home. I'm so excited to recommend it to you!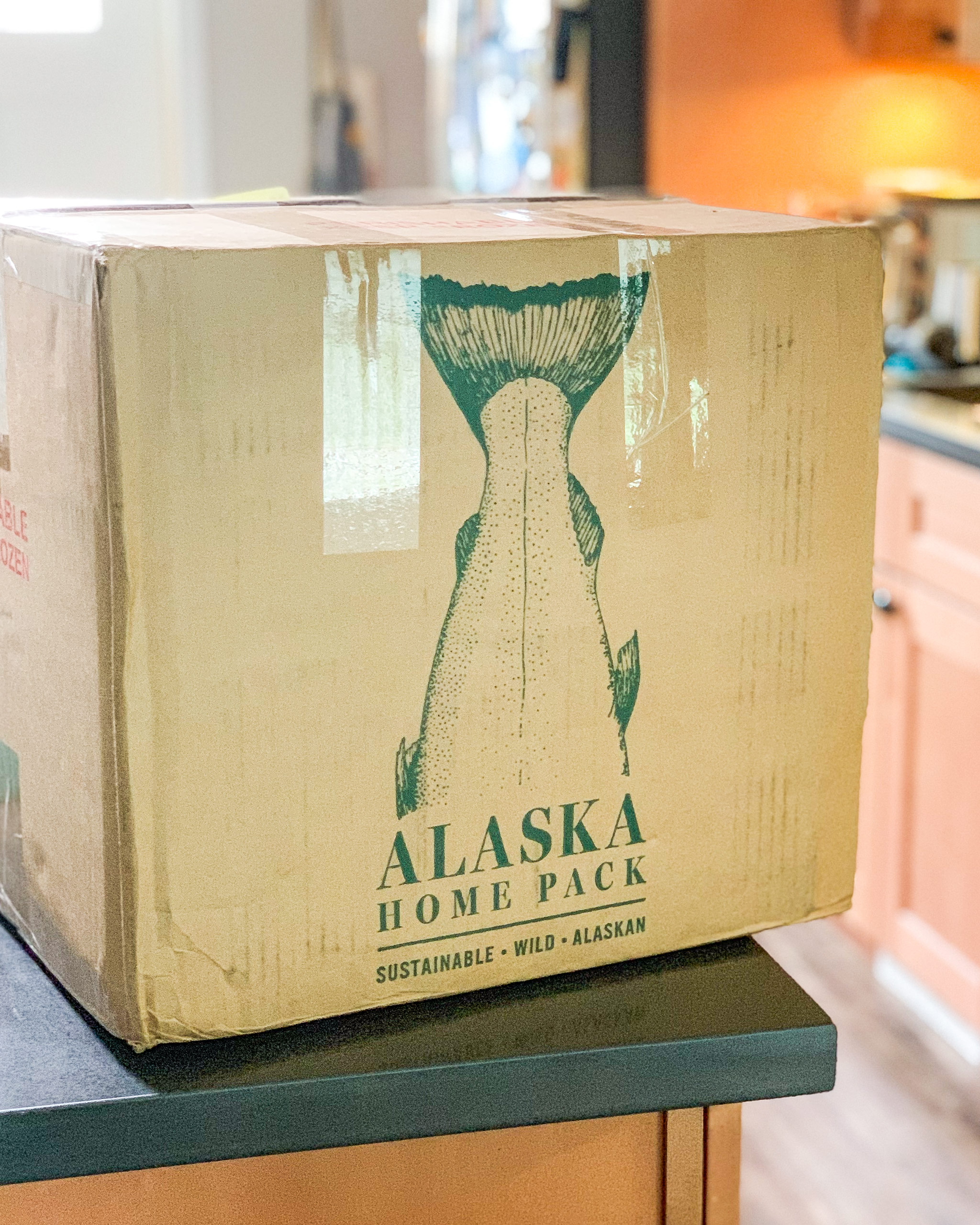 How does Alaska Home Pack work?
The service includes a subscription box full of seasonal seafood which arrives on your doorstep. All Alaska Home Pack seafood is wild caught in Alaska waters, flash frozen, and cleanly processed in Juneau, Alaska.
You can choose to receive a box every month, every three months, or one-time only. Each month's box includes a selection of frozen, vacuum sealed seafood (except the prawns). The selection depends on the month and time of year.
All box contents information is available on the Alaska Home Pack website. There are also specialty boxes available with certain types of seafood. However, there is no self selection in the variety box.
As of the time I'm writing this review, the March 2020 box includes 2-3 Wild Dungeness Crab (about 4 pounds), 1 pound Wild Smoked King Salmon, 2 pounds Wild King Salmon, 2 pounds Wild Coho Salmon and 1 pound Wild Halibut Bits.
What did you get in your Alaska Home Pack box?
I received my box all the way back in July 2019. That might seem like a while ago, but all this seafood is flash frozen and completely vacuum sealed, so it can last for 6 months to a year in the freezer.
We had a lot going on over the last few months (I went to Brazil! We bought a house!) but we finally made our way through the delicious seafood we received from Alaska Home Pack.
Here's what I received in my Alaska Home Pack box:
4.4 pounds of Wild Spot Prawns
3 pounds Wild Sockeye Salmon Fillets
1 pound Wild Halibut Fillets
2 pounds Wild Pacific Cod
2 pounds Wild Halibut Burger Meat
This is approximately 12.4 pounds of seafood. The box costs $230, meaning this wild seafood costs about $18.50 per pound. Of course the price per pound will vary based on the type and quantity of seafood included in the box.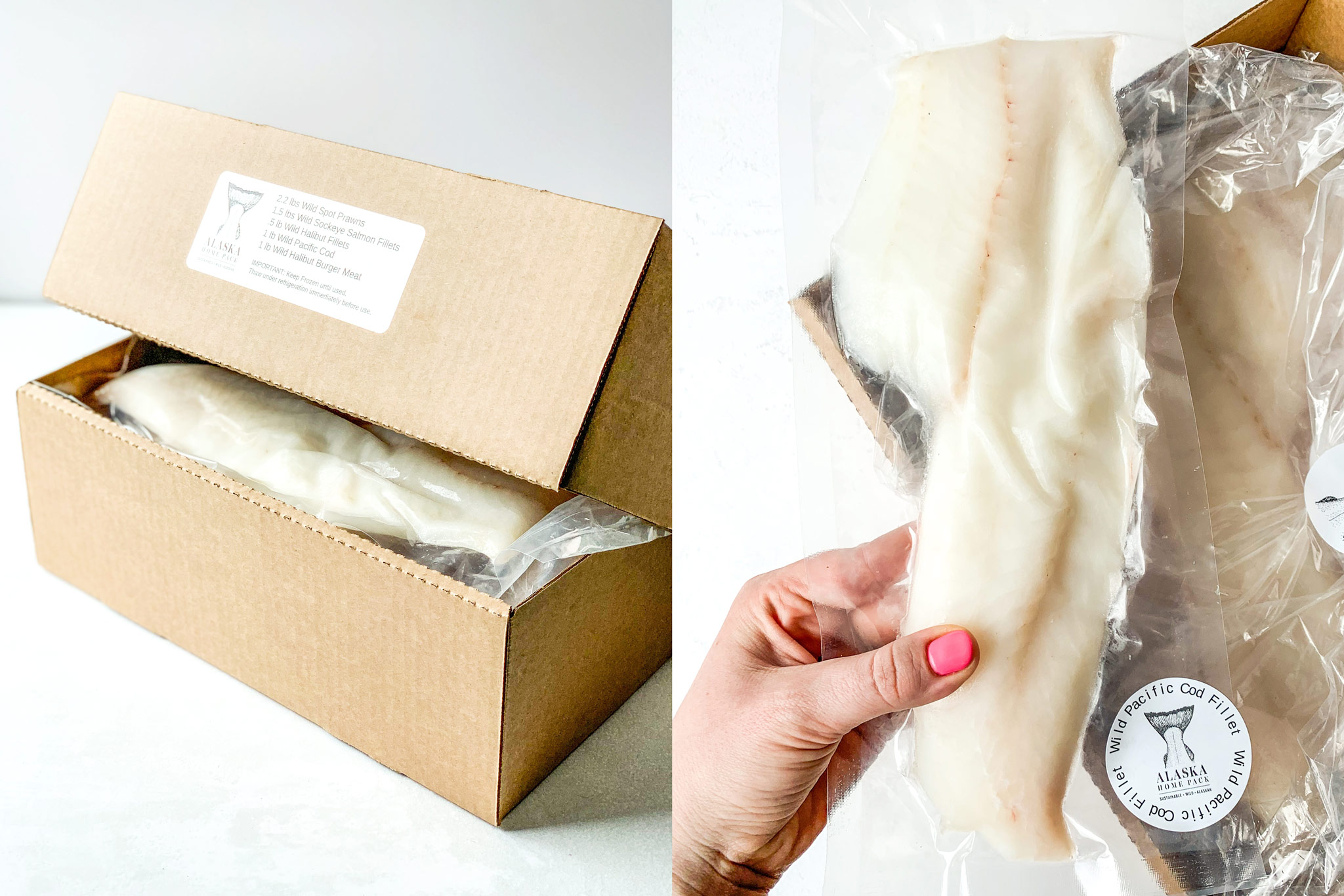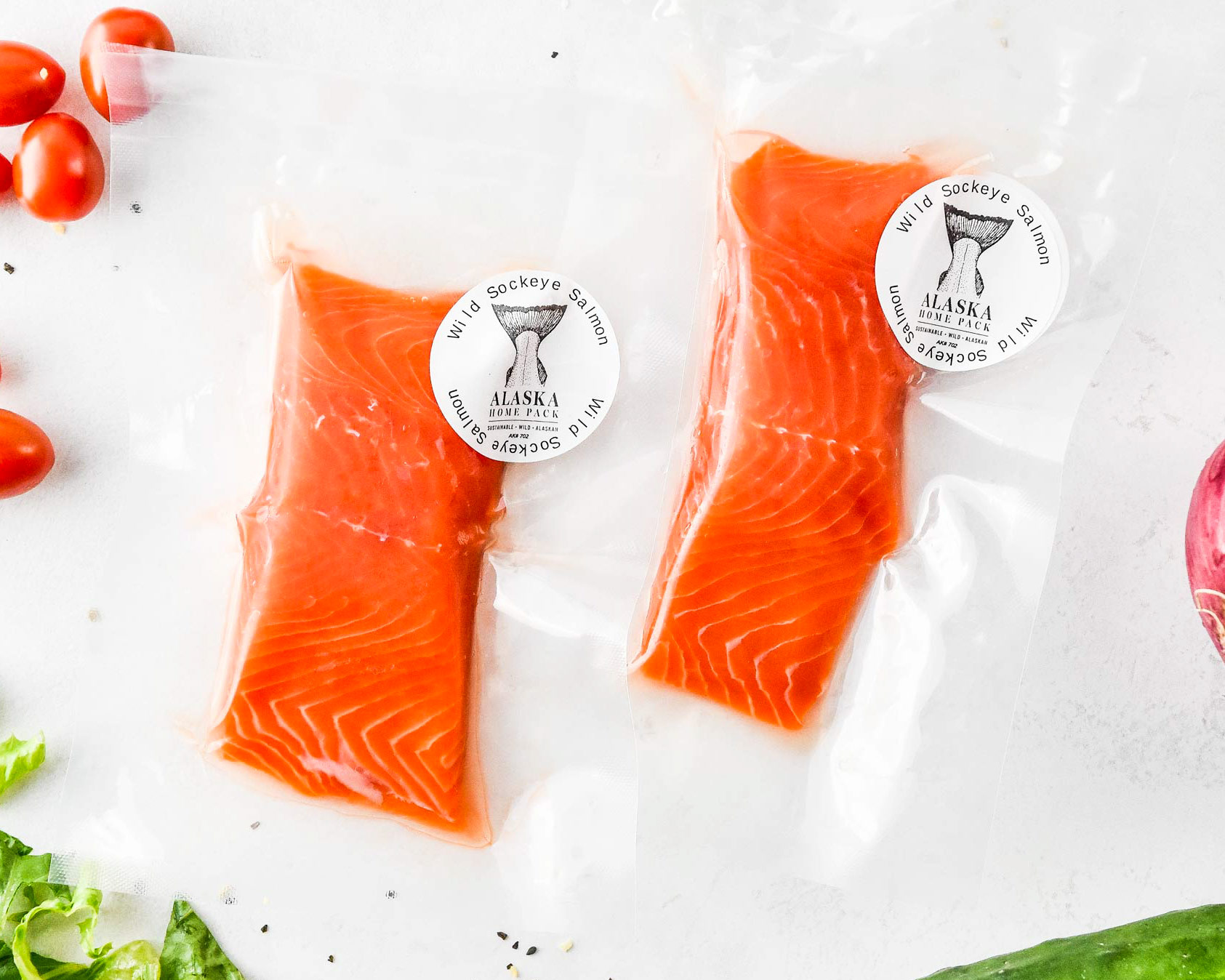 What did you make with your wild Alaskan seafood?
Overall, we were incredibly pleased with the quality of the seafood we received. The quality is on par with dishes I would order in fine dining restaurants here in Seattle, or ones I visited while in Alaska.
Generally, I searched for recipes online when I wanted to cook some seafood, but I also created a couple recipes myself! Below you'll find a recipe for Easy Halibut Burgers!
Here are a few recipes I made with my wild seafood:
Air Fryer Breaded Prawns with dipping sauce (sort of like these air fryer shrimp!)
Halibut Burgers (recipe below!)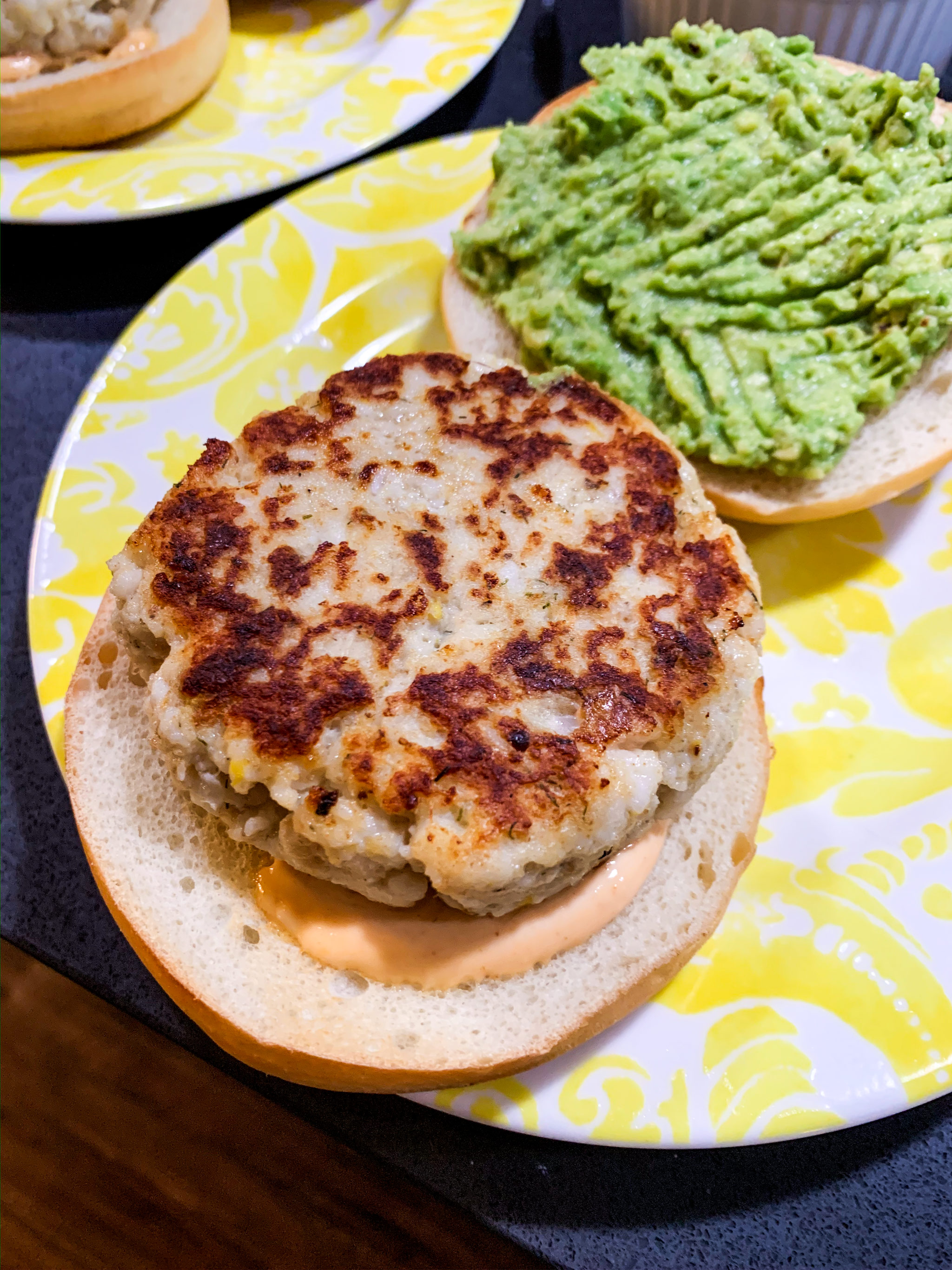 Recipe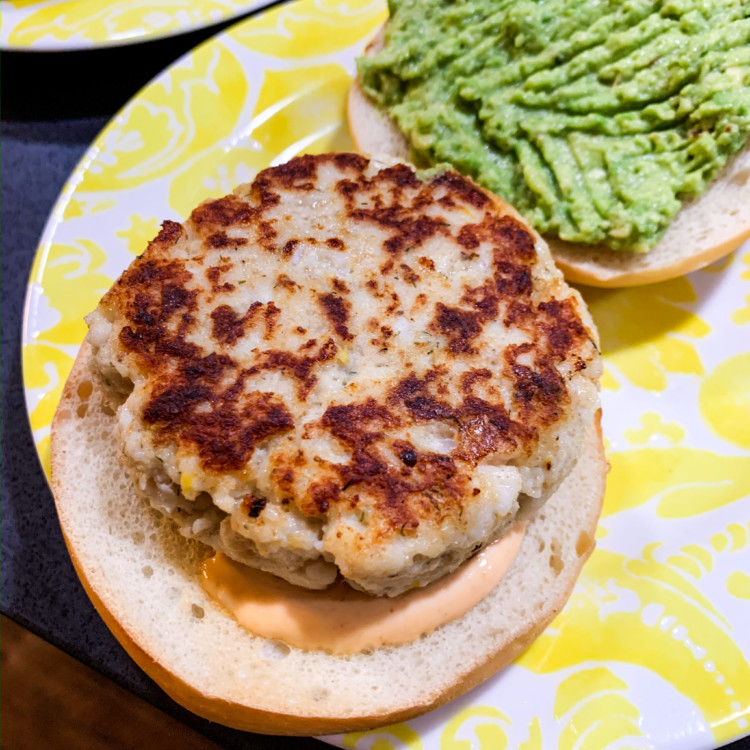 Easy Halibut Burgers
Prep:
25 minutes
Cook:
10 minutes
Total:
35 minutes
Easy Halibut Burgers made from a pound of halibut burger meat from Alaska Home Pack. Serve these Halibut burgers with avocado and spicy mayo on a toasted bun!
Ingredients
1

pound Wild Halibut Burger Meat (ground halibut)

1 teaspoon

garlic powder

1/2 teaspoon

onion powder

1/2 teaspoon

smoked paprika

1/2 teaspoon

dried parsley

1/4 teaspoon

salt

1/4 teaspoon

fresh ground black pepper

1

egg, whisked

2/3 cup

plain breadcrumbs

1 tablespoon

olive or avocado oil 
serve with: toasted bun, avocado, spicy mayo sauce, lettuce, tomato, etc
Instructions
In a large bowl, mix all ingredients together using gloved hands until just barely mixed. Refrigerate the mixture for 20 minutes. After 20 minutes, remove the mixture from the fridge and form 6 burger patties, placing them on a plate to rest.
Heat a large non stick skillet over medium heat. When hot, add oil. Add the burgers to the skillet and let them cook for 4-6 minutes until golden brown. Flip and cook for another 4-5 minutes until golden brown. Serve immediately on a toasted bun with avocado slices, spicy mayo, lettuce and tomato.
Notes
Nutrition information estimated with MyFitnessPal and includes no bun or toppings.
Nutrition Information
Serving Size:

1 burger

Calories:

154

Fat:

5g

Carbohydrates:

8g

Fiber:

1g

Protein:

19g
Recipe Card powered by
All of the seafood was just SO delicious. I enjoyed that some of the items were individually portioned, while some, such as the cod fillets, were packaged as 3-4 servings together.
I never once found any bones in my fish fillets. Each one was expertly cut and generally, they were all the same size with very consistent quality.
Sometimes, getting the best quality seafood from the butcher can be intimidating. Seafood delivery from Alaska Home Pack makes it super simple to get quality seafood directly to my door.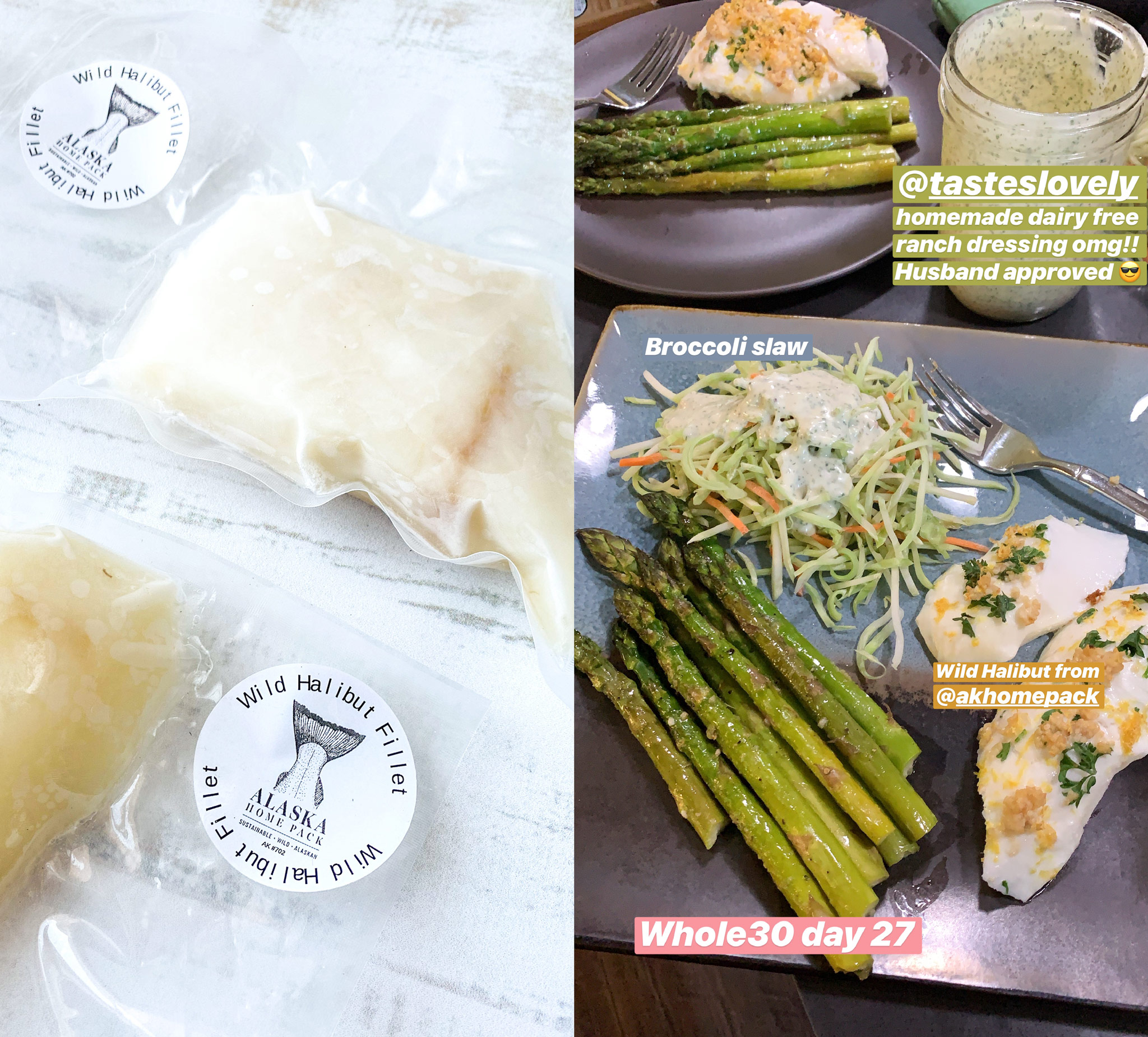 Pros of the service
Superior sustainable quality – This seafood is WILD, and is of the highest quality! This is the kind of seafood I had generally only ordered at restaurants because I didn't really know how to buy it. But it comes from Alaska Home Pack ready to cook. They make it so easy!
Completely frozen when delivered – There was no shortage of ice in the package and all the seafood was completely frozen when it arrived.
Right to my house – This was always a convenience, but in these current times, having quality food options that can be delivered to your home is even more important. With Alaska Home Pack, you can skip a trip to the grocery store and still get quality seafood into your freezer.
Supporting small business & well managed fisheries – Purchasing seafood from a company like Alaska Home Pack is a great way to support sustainable fisheries in the USA, instead of farmed fish.
Cons of the service
Lots of packaging involved – Nearly every item was vacuum sealed in plastic. I'm really not sure how else they could do it at this point. This is how other delivery services package things as well. My shipment also included a styrofoam container that all the fish was held in. It was large, but I was actually able to reuse it as a temporary cooler when we moved.
Can't exactly choose your own – If you select the monthly box service, you will receive a shipment of seasonally caught seafood. If you love all seafood, this is great. If you only love select seafood, this may be a little more difficult. They do offer certain specialty boxes, but there is no make your own option.
Need a large freezer – As I have a small freezer, I did have to plan ahead to receive this shipment along with my other meats such as chicken and beef. Receiving large quantities of frozen meat at a time can require some planning!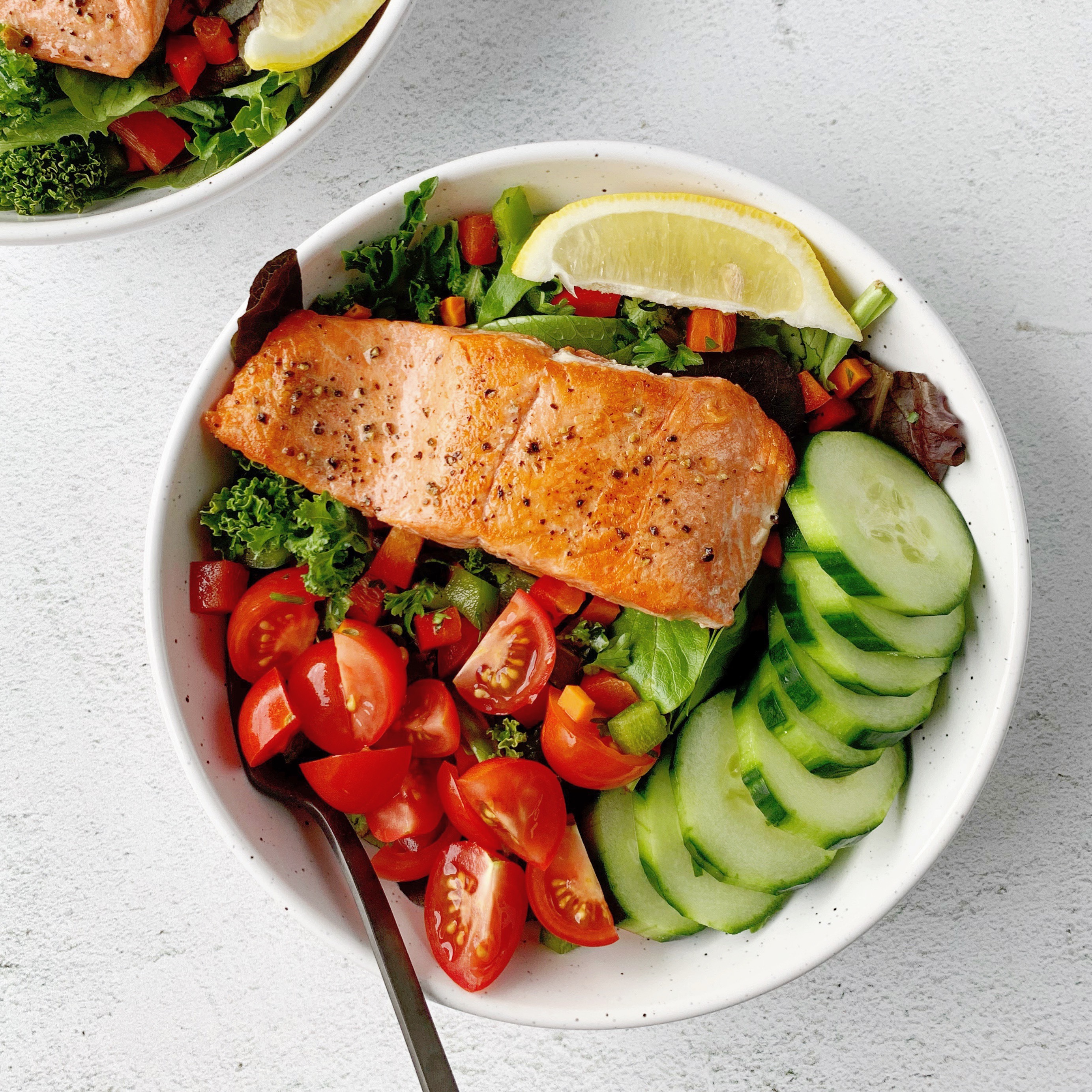 Summary of my Alaska Home Pack Seafood Delivery Review
Overall, my impression of Alaska Home Pack is very positive. I would recommend this service to my seafood loving family and friends. I would especially recommend this service to people who don't live right on the coast and who may not have access to quality wild seafood at the store.
While this service can be seen as expensive, it is still a more reasonable price than order the same options at a restaurant. Personally, I would probably purchase 2 or 3 boxes per year, based on our consumption of seafood. If you like seafood, this is the best quality out there, so the price is worth it.
The seafood was amazing quality. It arrived completely frozen, and it was easy to prepare as I wanted. I found zero bones in my fish fillets, and all were consistently top quality.
Supporting Alaska Home Pack is supporting a small business with the right values – sustainability, wild harvest, and well-managed fisheries.
All the seafood from Alaska Home Pack is wild caught. Wild seafood is generally better for the environment, healthier (depending on sources), and more sustainable for the long term.
To order your Alaska Home Pack, visit their website and select the box you want. Alaska Home Pack currently ships within the USA only.
Thank you to Alaska Home Pack for letting me try your service! I truly care about sustainably sourced meat and seafood. It was a pleasure to work with a small business who shares the same values.