This Easy Chef Salad Meal Prep is a make-ahead spin on the classic American dish. It's a tasty cold lunch full of crunchy veggies, hard-boiled eggs, deli meat and cheese, and topped with homemade Thousand Island style dressing!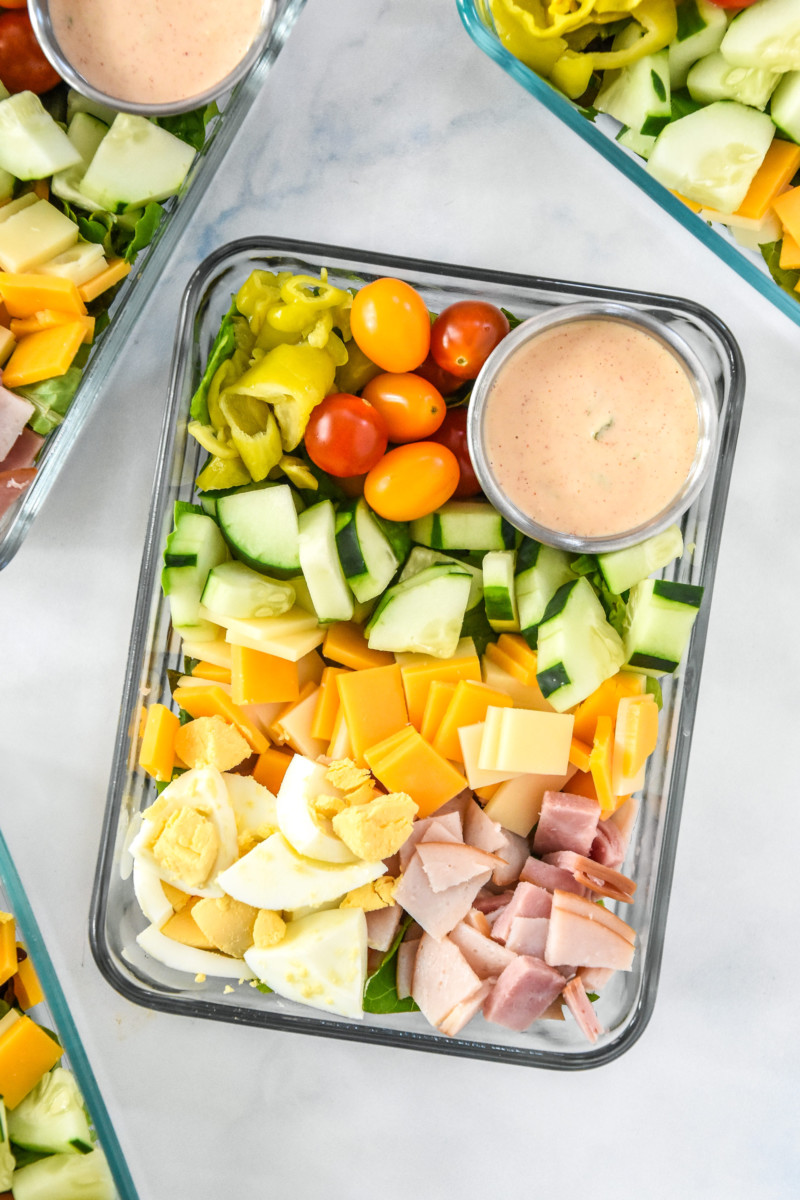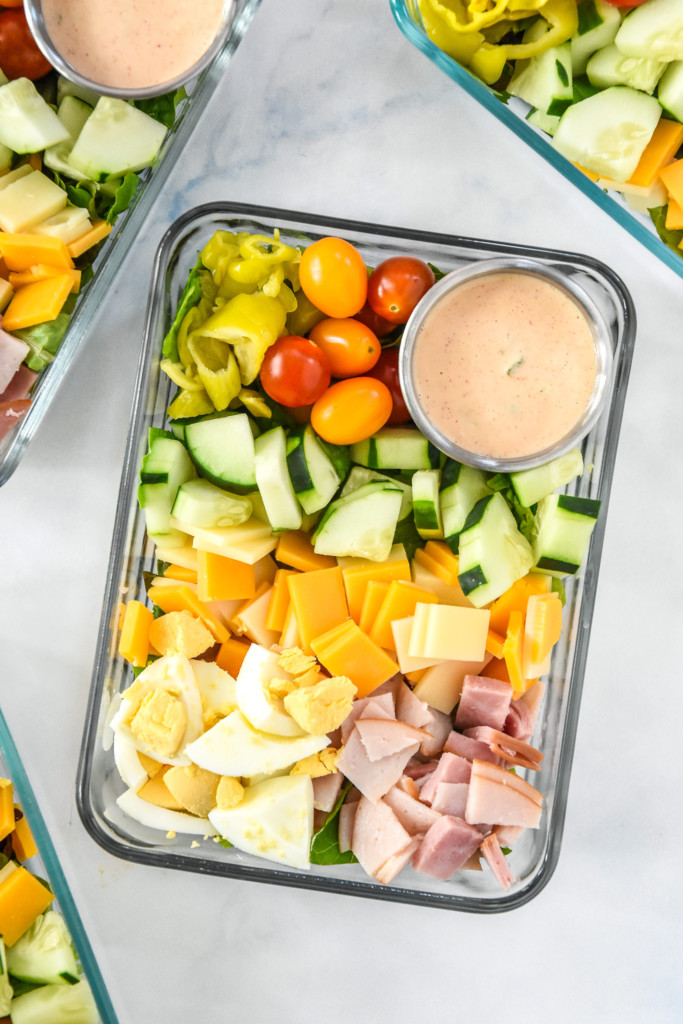 I remember ordering this salad as a kid because it was full of meat, cheese, and those tiny baby cooked shrimps. Don't even remember if I ate the actual salad. But all those toppings were my jam! And I just never got that kind of ingredient variation on one plate at home, you know?
These days, I do eat the whole salad, homegrown lettuce and all. But prep is a lot of chopping all those random ingredients, which is something I love to turn into meal prep. Get it all done at once and enjoy effortless meals for the next couple of days!
What is a chef salad?
The chef salad is a classic American salad consisting of sliced meat and cheese, hard-boiled eggs, and a variety of vegetables including cucumbers and tomatoes. Dressing to go with the salad varies depending on where you are, and can be anything from Thousand Island to Ranch to French Dressing.
The exact origins of this dish are a bit unknown, as it has always been more of a template than a specific recipe, but it started appearing in American cookbooks in the 1930's. Another version was served Ritz-Carlton New York City in the 1940s.
This salad is so easy to modify with what you already have in your kitchen! Change up the veggies, meats or cheeses. You can try my quick homemade Thousand Island, or use a bottled dressing to save even more time. I hope you enjoy this classic lunch salad that I'm sure you'll look forward to all morning!
Recipe Overview
Total Time: 30 minutes
Difficulty: Easy
Method: Stovetop
Prep: Make-Ahead Friendly
What are the ingredients in this Easy Chef Salad Meal Prep?
The salad itself is made with ingredients you can definitely find at any grocery store. And if you can't find something, I bet you can just skip it and use something else! You can also easily adjust the portion sizes by including more or less sliced meat and cheese.
You can make my homemade Thousand Island dressing to go with, or just use your favorite bottled dressing. This recipe is super flexible, which is what makes it so easy.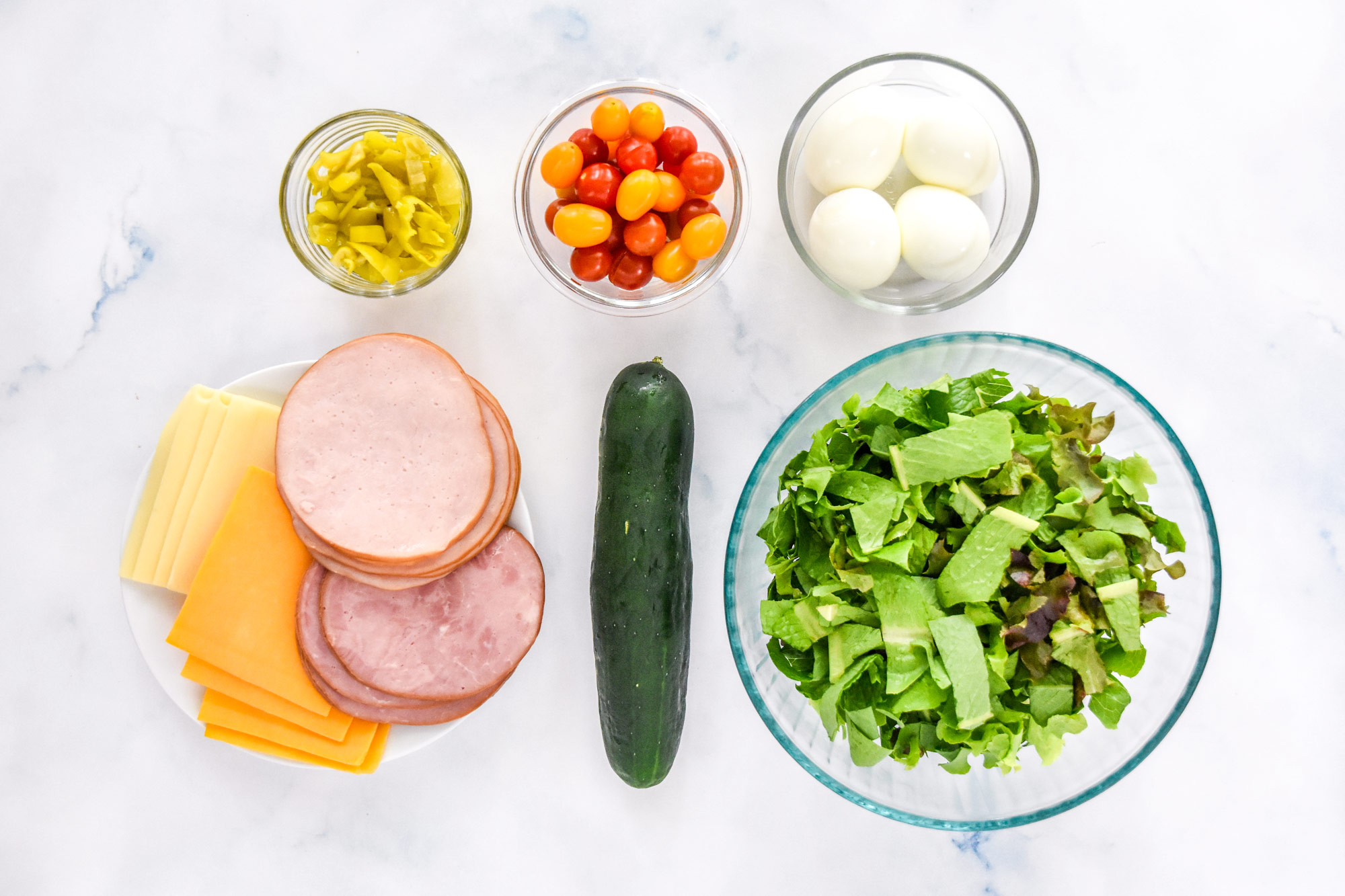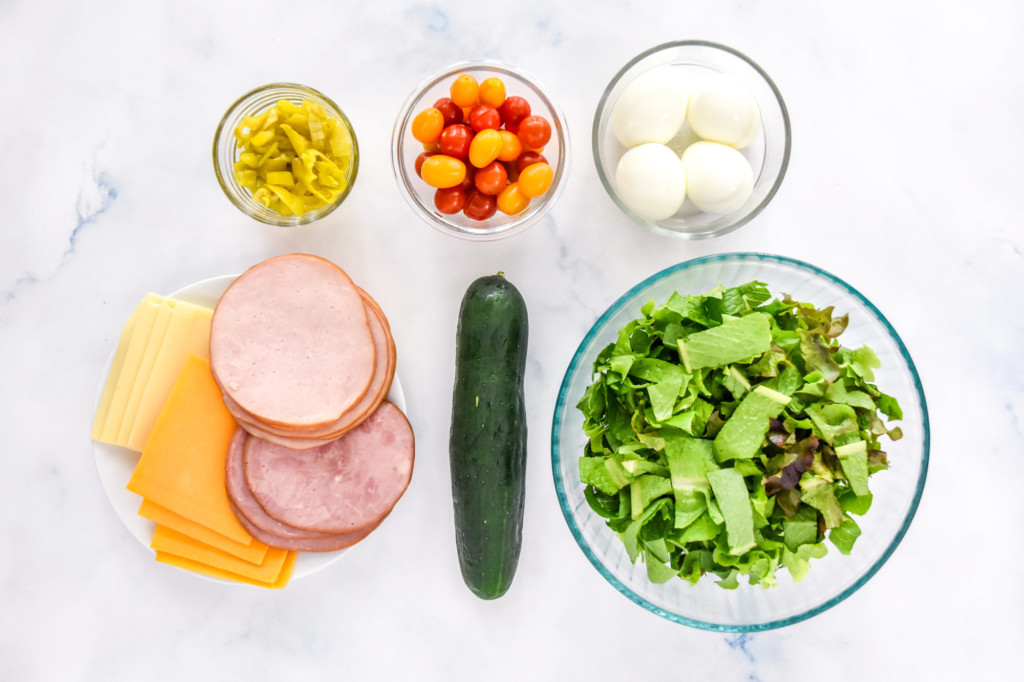 Here are the ingredients I used for the exact salad pictured here, plus a little info on each:
romaine lettuce – You can use almost any green leafy salad mix as a base for chef salad. I grow lots of romaine in my yard, so that's what I went with! Other great options are leafy green & red lettuce, Bibb lettuce, watercress and more!
eggs – Hard-boiled eggs are a classic ingredient in the chef salad, plus they add some extra protein and a creamy texture to the salad.
sliced deli ham & smoked turkey – These are the two deli meats I chose for my salad, but there are several options you can choose for a chef salad, including: sliced chicken breast, bacon, leftover diced ham, tiny cooked shrimp, or deli sliced chicken.
cheddar cheese & swiss cheese – Once again, feel free to opt for your favorite cheeses or whatever you have on hand. Nearly any sliced cheese would be delicious, or if you've got crumbly cheese like feta, that would work too!
grape or cherry tomatoes & cucumber – While it's all pretty flexible, most chef salads do have tomatoes and cucumbers involved. I love cucumbers for the crunch and tomatoes for the flavor!
pepperoncinis – My personal touch to this classic salad is some sliced pepperoncinis. I absolutely love the tangy vibe they bring to the salad, which does well in balancing the sweet dressing flavor.
The dressing ingredients are all pantry staples that come together to create a creamy & tangy delicious homemade dressing you won't believe you made yourself!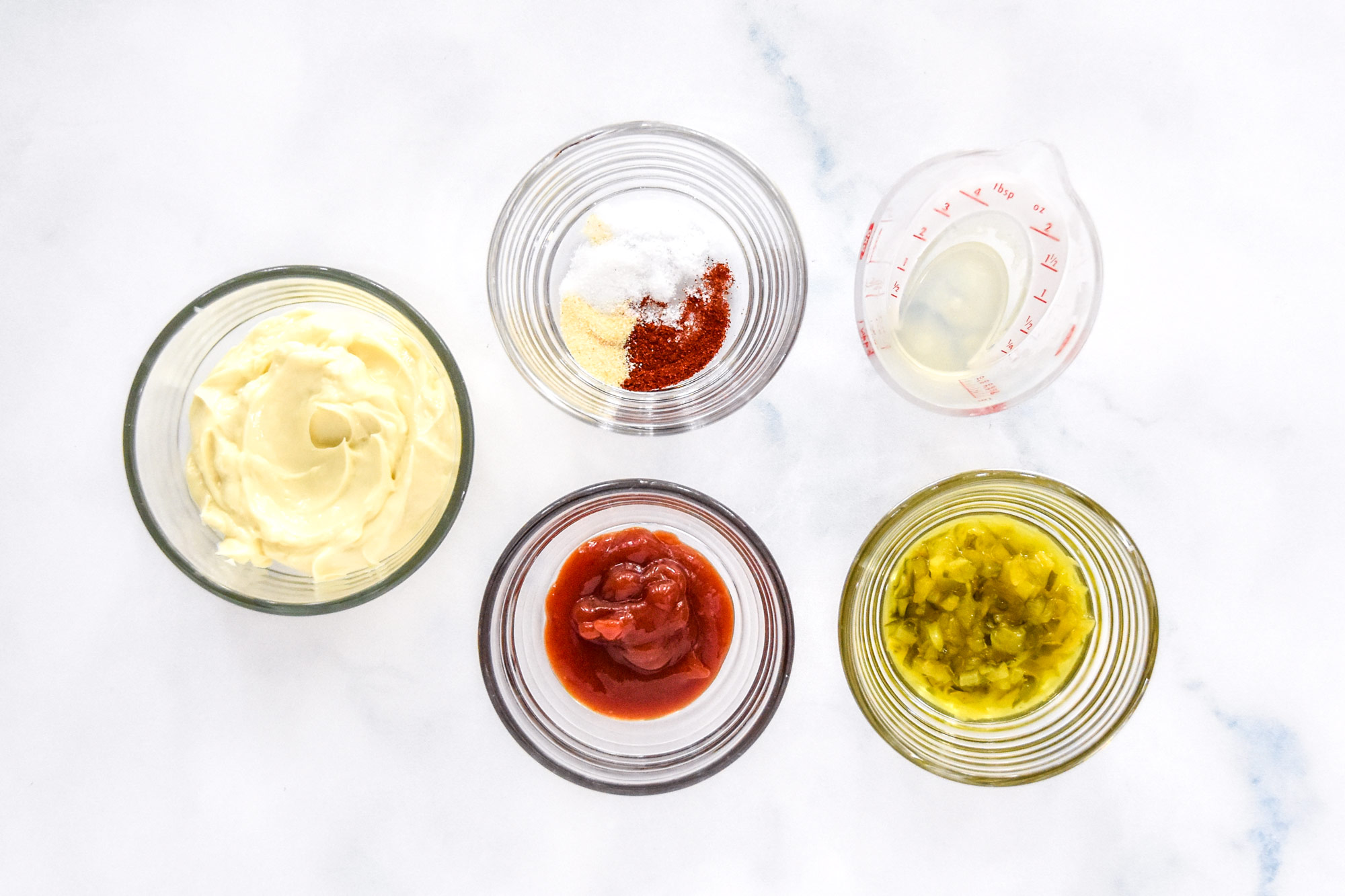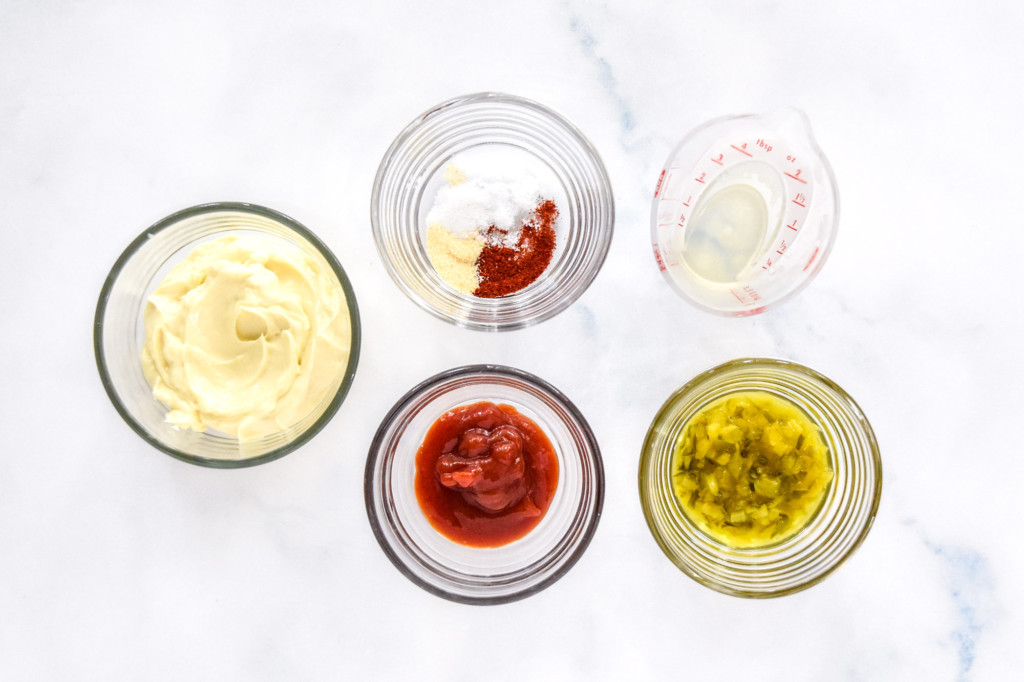 Here's what I used for the dressing:
mayonnaise – Say what you want but mayonnaise makes a superb base for creamy dressings!
ketchup – Adding a bit of ketchup brings some sweetness, flavor, and color to the dressing.
dill pickle relish – If you don't have relish, you can use finely diced dill pickles! This adds flavor and tang to the dressing.
lemon juice – A little burst of acid brightens the flavor of the dressing!
onion powder & sweet paprika – These are our seasonings that bring flavor as well as a touch of color from the paprika.
sugar & salt – The tiniest pinch of sugar to sweeten and a pinch of salt to balance it all out. If you're using sweet pickle relish, skip the extra sugar!
How do you make this Easy Chef Salad Meal Prep?
This salad is one of the easiest meal prep lunches to put together! The three main steps include: hard boil the eggs, make the dressing, and then prep and assemble the meal prep containers.
Start by cooking the eggs in your preferred method to a hard boil. You can use the Instant Pot, or the classic stovetop method. After the eggs have cooked and finished their ice bath, remove the shells and roughly chop the eggs into bite sized pieces. Set them aside in a bowl or simply on the cutting board.
Next, mix up the dressing in a small bowl. Give it a taste and see what you think. If it's too salty, add a pinch of sugar. If it's too sweet, add a pinch of salt.
You can divide the dressing into small meal prep bowls to go with each salad, or keep it stored in this mixing bowl until you need it. This dressing definitely tastes even better after 24 hours or so in the fridge to let the flavors meld together.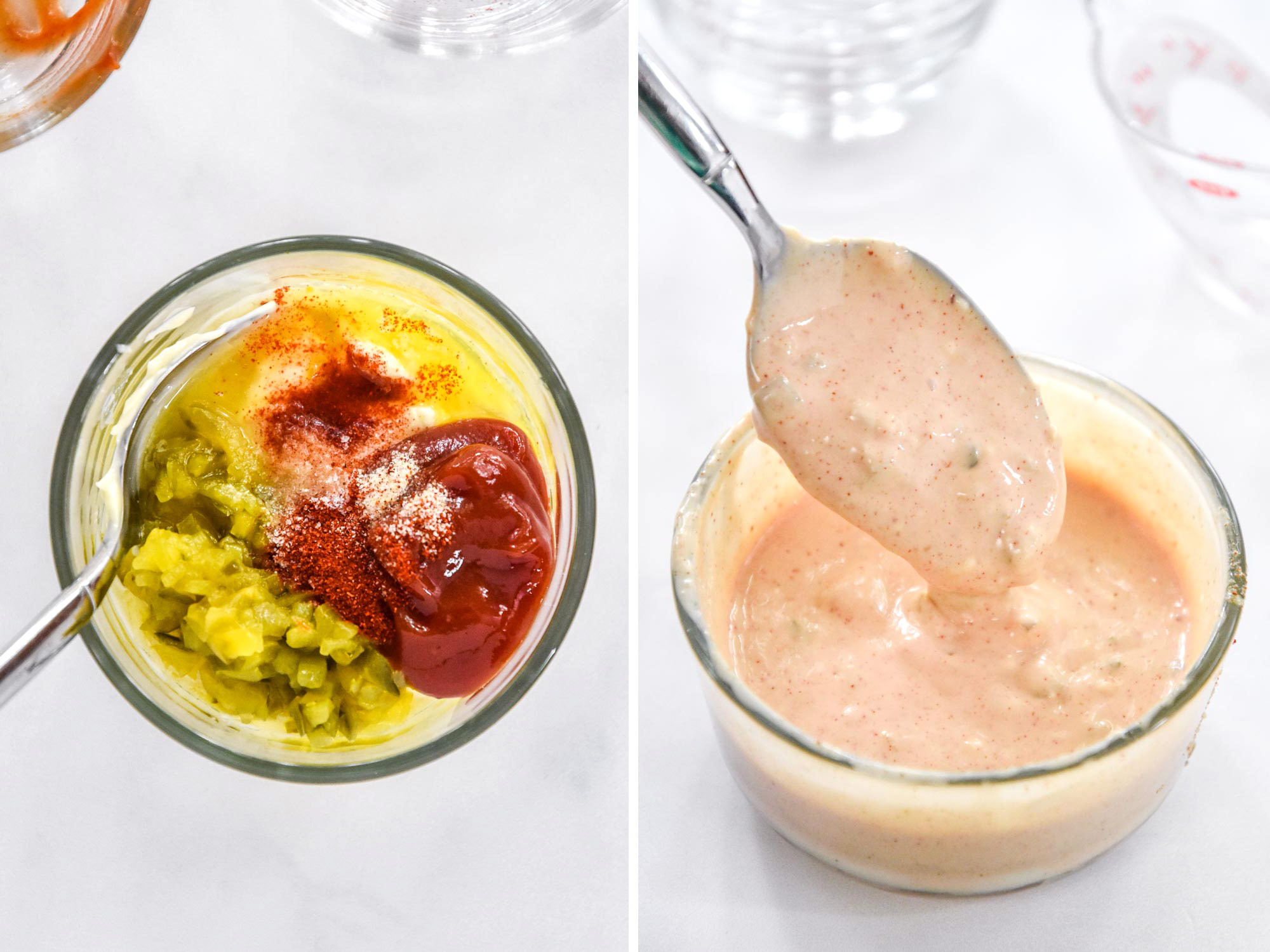 Time to prep the remaining ingredients and separate them into your individual meal prep containers. For the meats and cheeses, I like to arrange them in a stack and roughly cut into squares.
For the cucumber, peel half of the peel away to give it a striped appearance. Cut the cucumber into quarter moon pieces. Use a paper towel to pat the cucumber pieces dry. This helps to reduce moisture and keep the meal prep bowl fresher for longer.
You can also deseed the cucumber to reduce the moisture even further. After peeling, cut it in half to reveal the seeds through the entire cucumber. Use a spoon to remove the seeds.
Be sure to fully drain and pat dry the pepperoncinis so they don't add too much moisture to the salad. I also prefer to leave the cherry tomatoes whole to keep the moisture inside.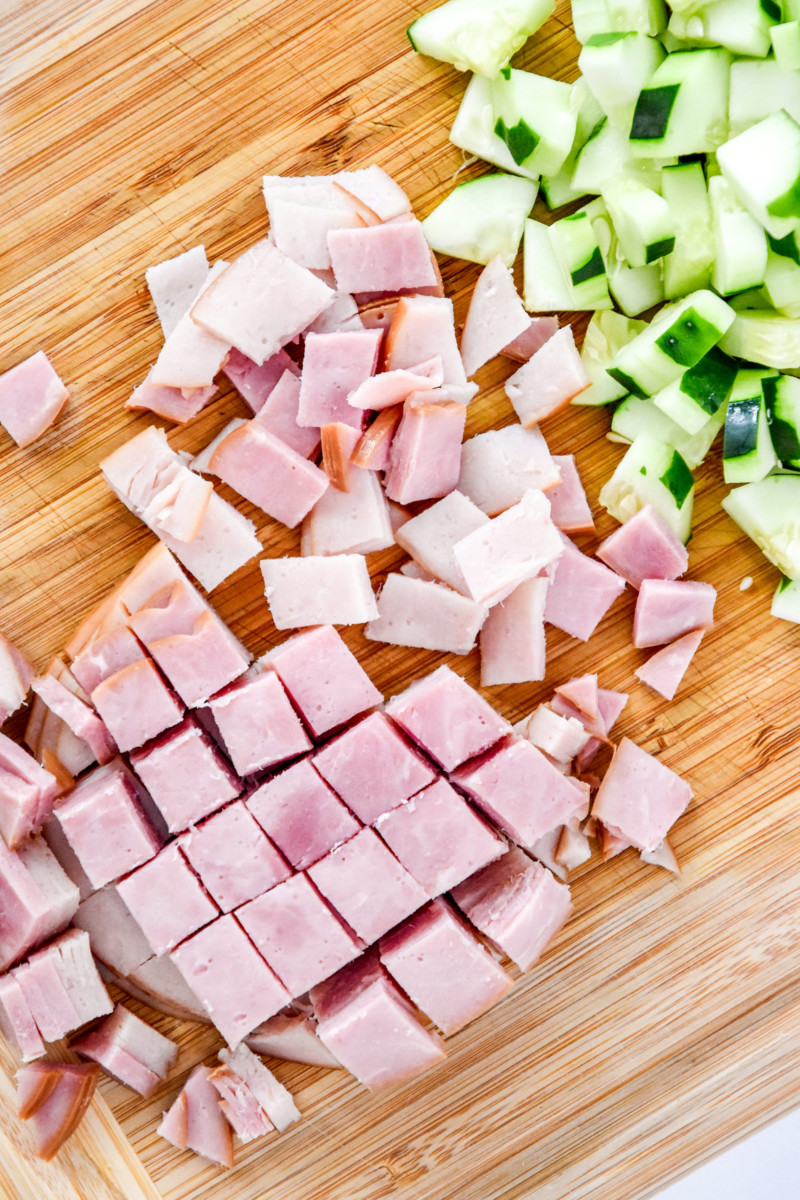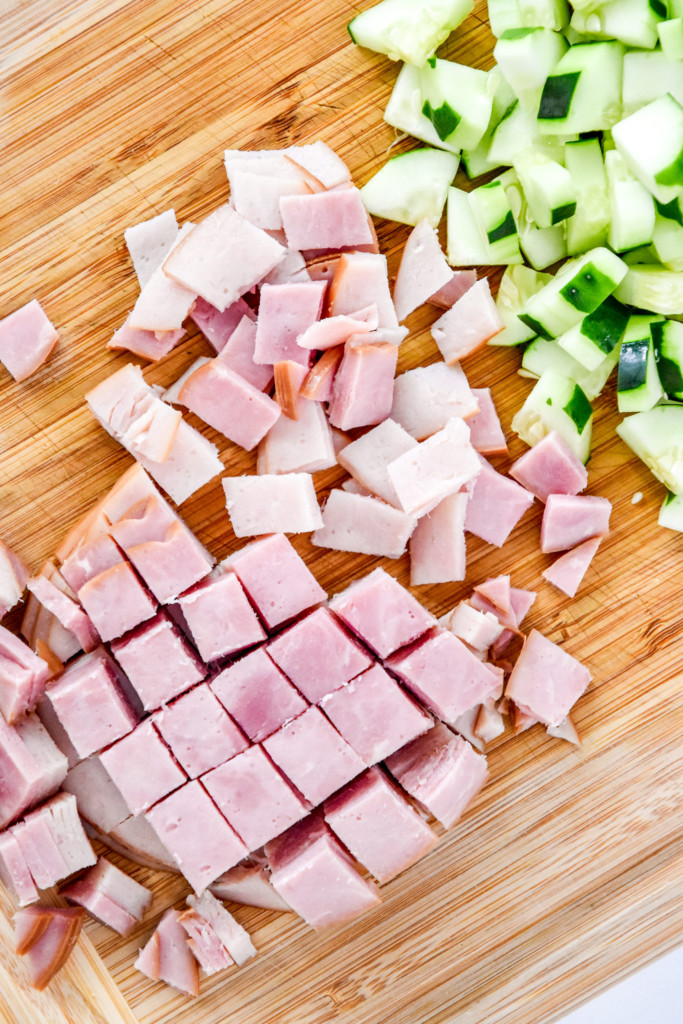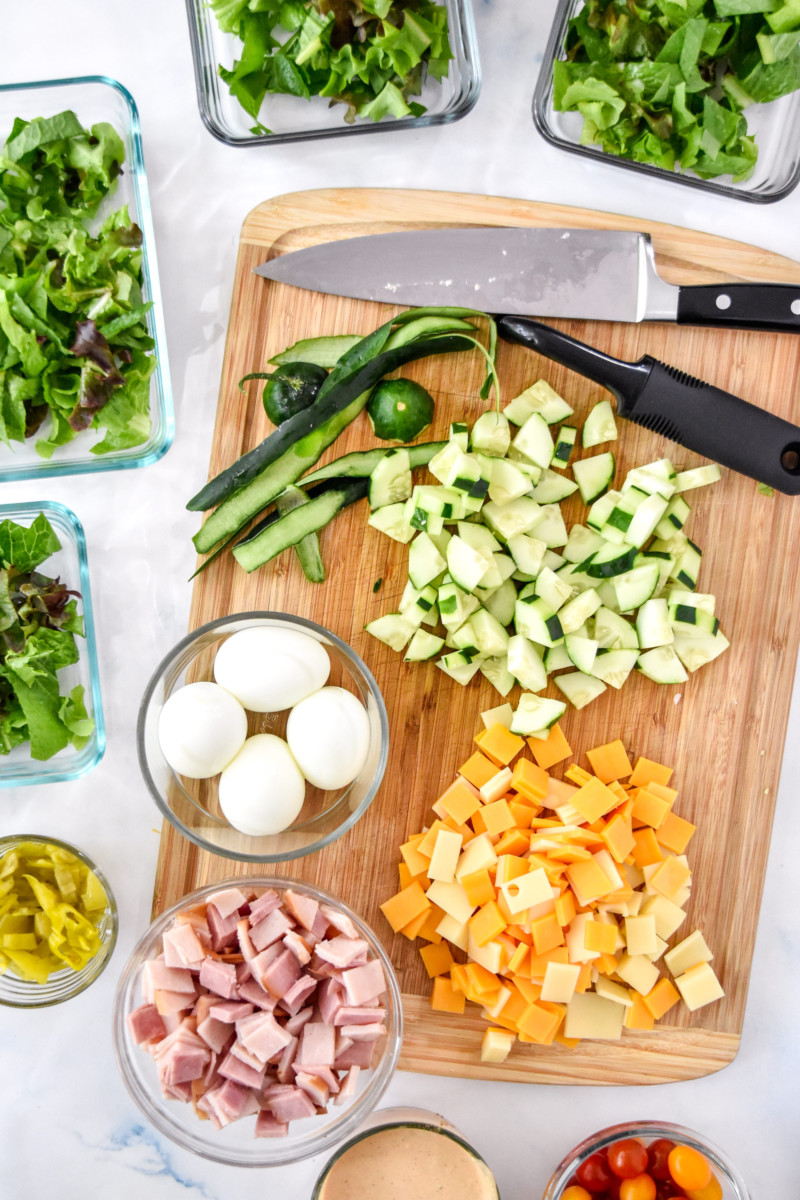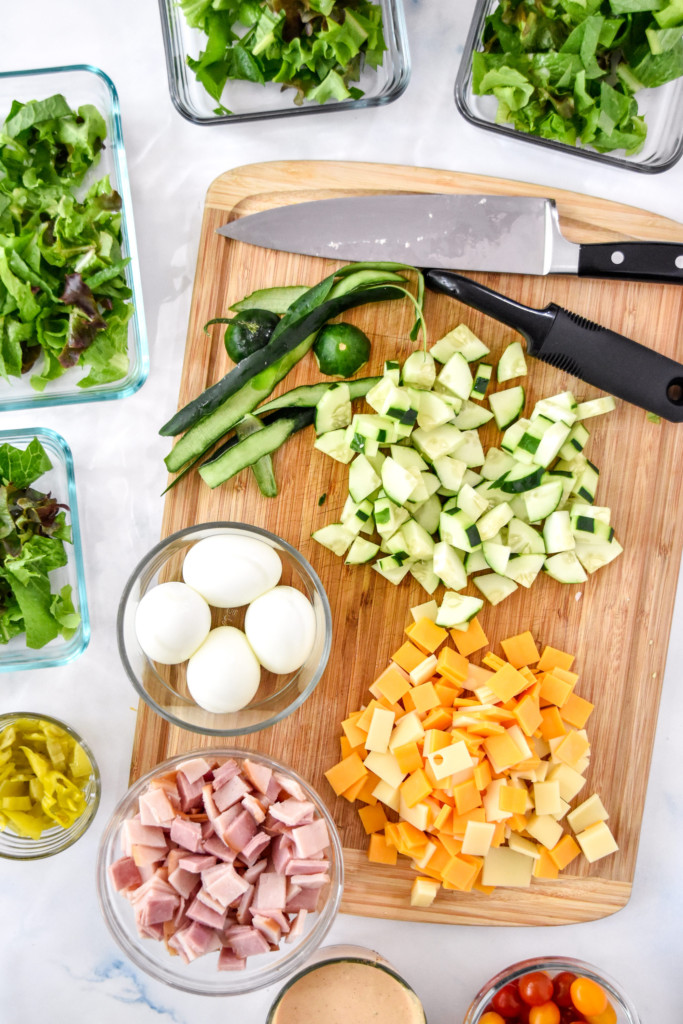 After all the ingredients are prepped, it's time to assemble the salads. You can use a glass meal prep bowl like I did in the photos, or go for the mason jar salad method with the dressing on the bottom and salad on the top.
Divide all the ingredients evenly between each container. If you want to add or change any ingredients, now is the time! My best advice is to keep the moisture low. If you're unsure, add the extra ingredients right when you're about to enjoy the salad.
Can I swap the cheese and meat for something else?
Absolutely! The beauty of this salad is you can use your favorite sliced meats, or even leftover sliced chicken or diced ham. There are also versions of this salad that include cooked shrimp.
Swap the cheese for any kind you like – sliced or cubed cheese is the classic way, but you can also go for any kind of crumbled or shredded cheese you love or already have on hand.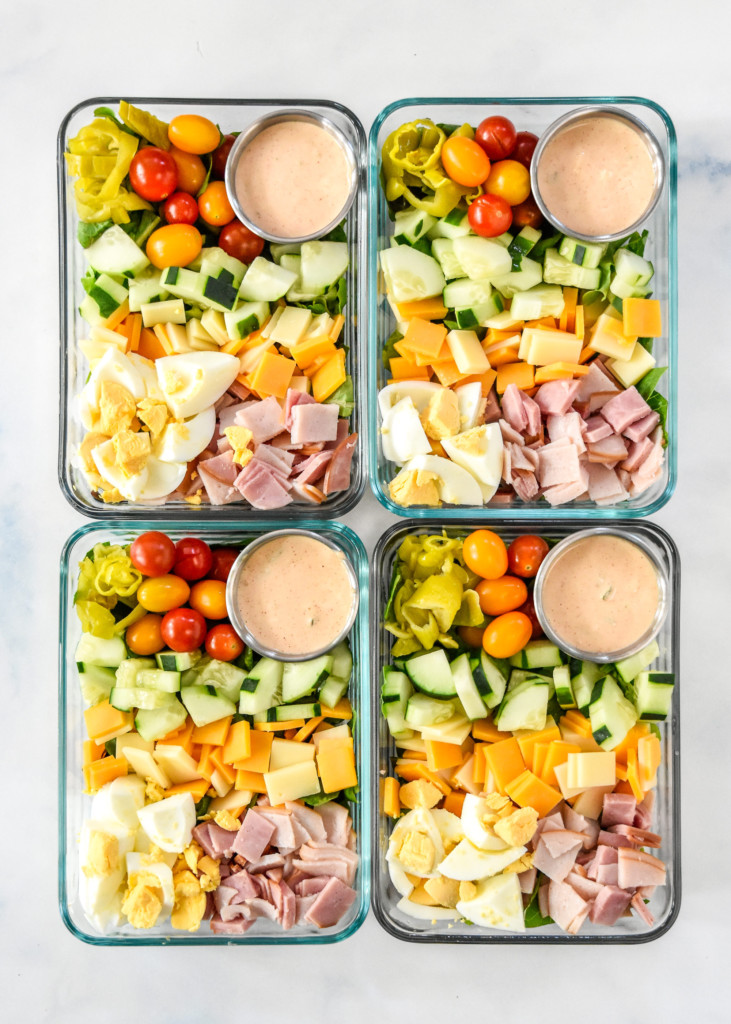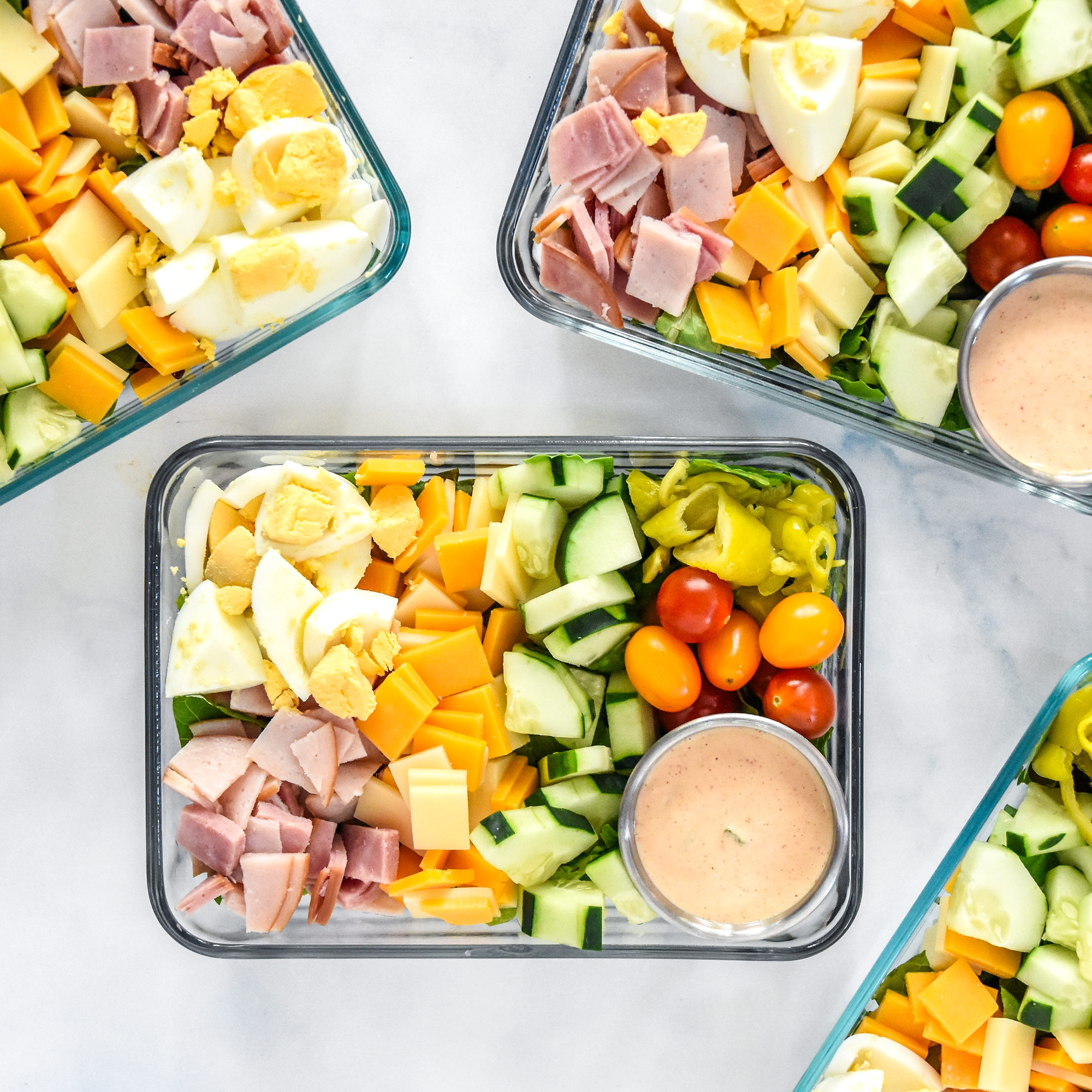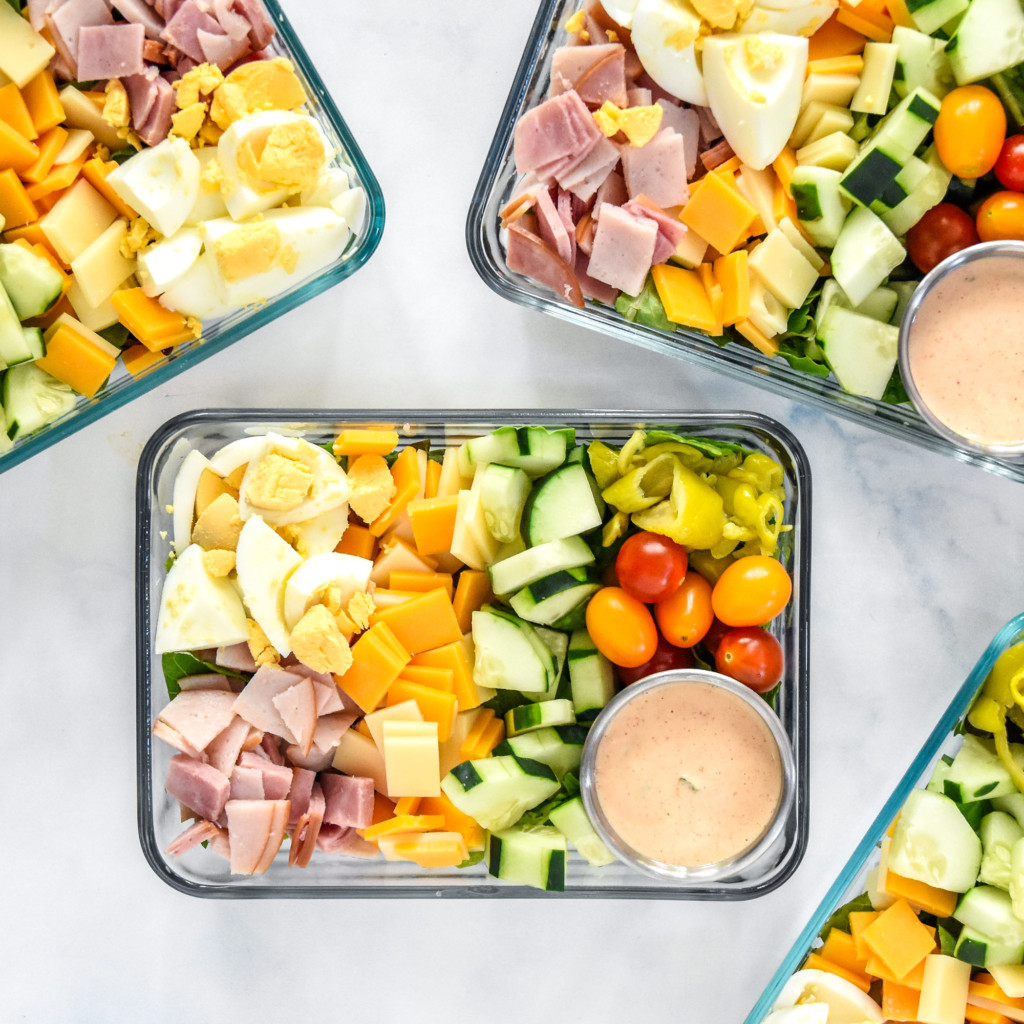 What should you serve with this meal prep salad?
My top recommendation is to serve this salad with my favorite homemade air fryer croutons! Of course you can go with store-bought, but these are WAY better, I promise.
If you need to get rid of any fresh herbs, you can definitely add those to the salad as well. I had a mix of chopped dill and parsley leftover from another recipe and it was a wonderful addition.
Best tips for meal prepping this Easy Chef Salad:
Here are my best tips for making these Easy Chef Salad Meal Prep bowls turn out as delicious as possible:
Remove as much moisture as possible from all components of the salad! Extra moisture is the number one reason this salad will start to go bad in the fridge. Make it last longer by removing moisture.
Store the dressing separately until right before serving! This can be in a totally separate container, or in a small dressing cup kept in the same meal prep container (as pictured here!).
Cucumbers: To reduce moisture from the cucumbers, you can remove the seeds from the center after slicing the cucumber in half. This is the part of the cucumber that usually gets soft first.
Tomatoes: To keep the tomatoes firm, I recommend leaving them whole in the salad.
Where do you get those meal prep containers?
It's so important to have dependable containers for your meal prepped meals (see ALL my recommendations here!). Airtight, glass, freezer safe – those are some of my requirements.
For this meal, I used 3-Cup Pyrex Rectangle Glass Containers (affiliate link!), but any container with a lid that can fit at least 3 cups of lunch will work! You could even use a large mason jar and follow the mason jar salad method!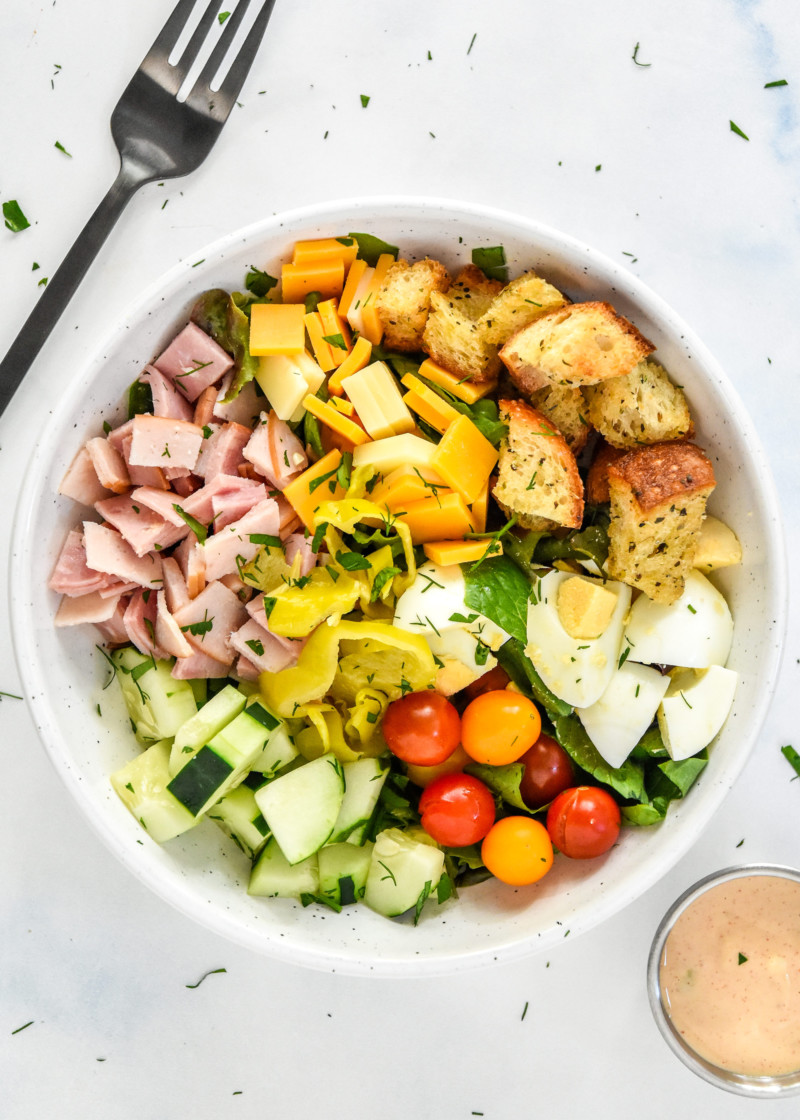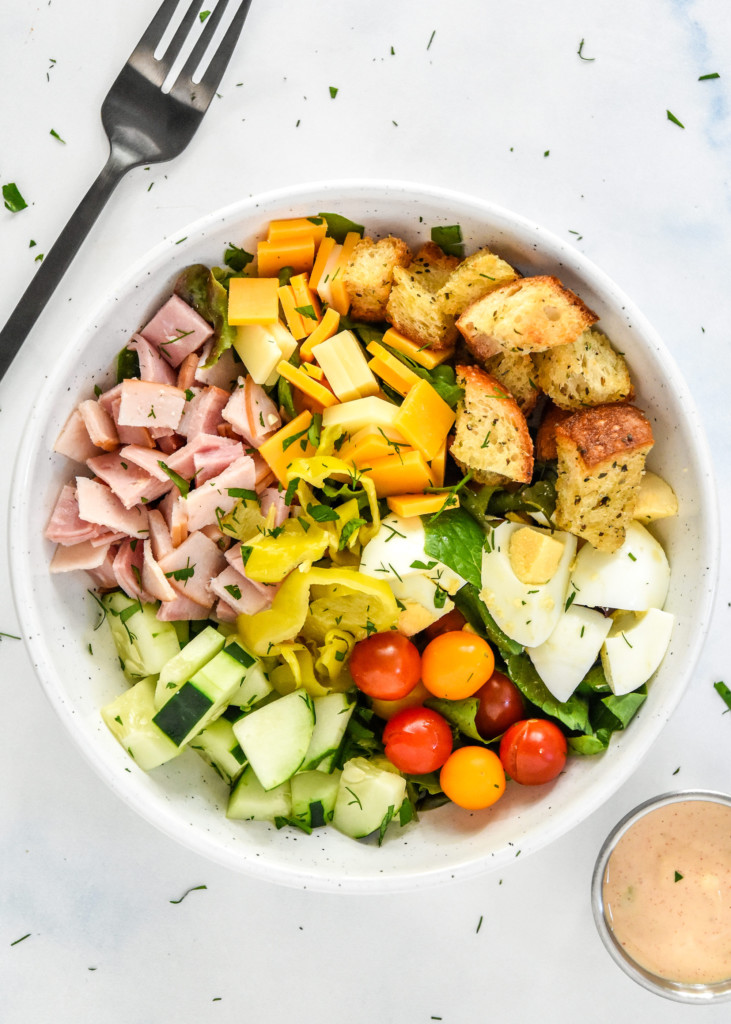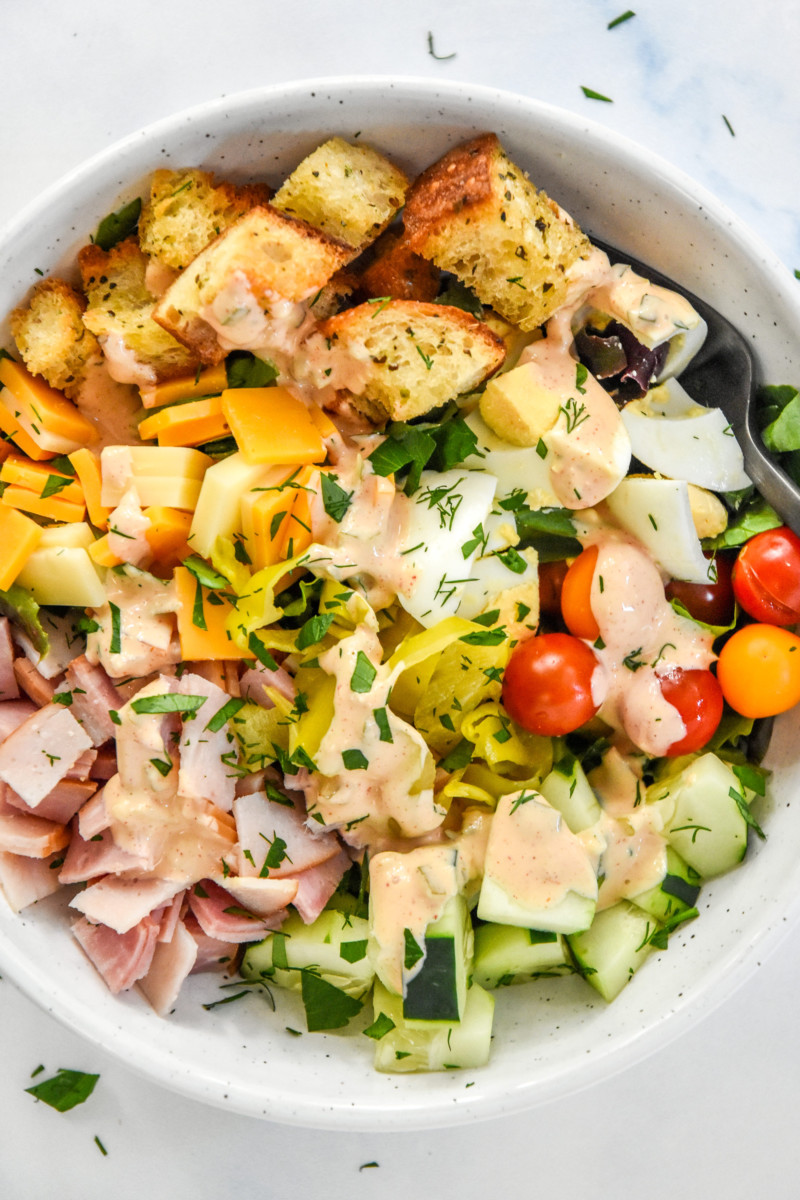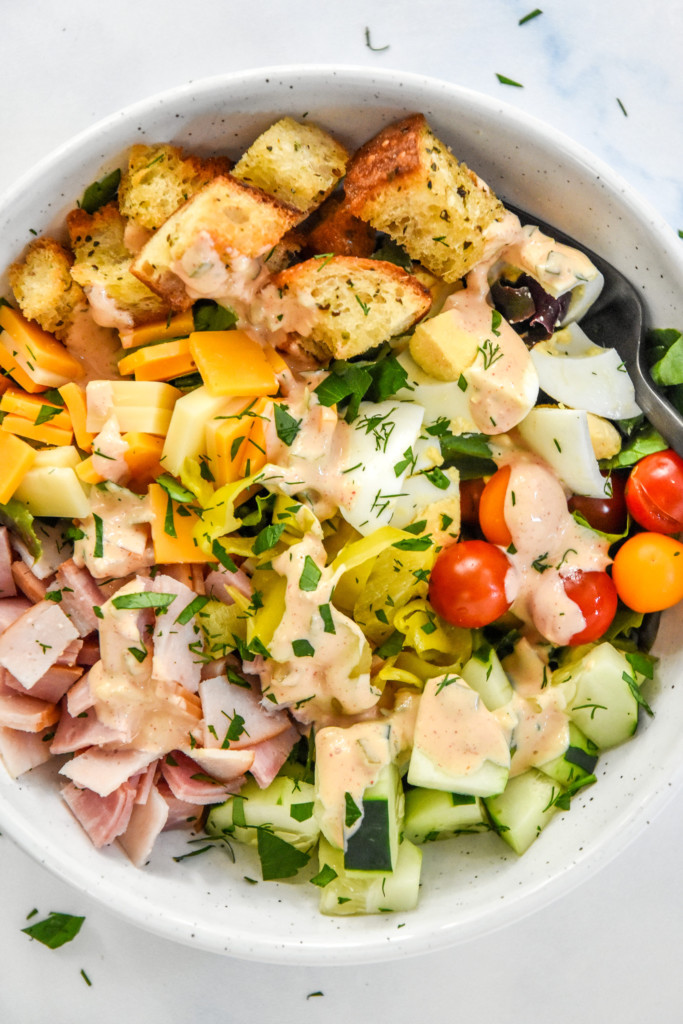 Is this recipe freezer-friendly?
I would not recommend freezing this recipe. With all the fresh ingredients, it just wouldn't work.
How to store this Easy Chef Salad Meal Prep:
Keep the dressing in a separate container ready to pour over the salad just before serving. I used small salad dressing containers (affiliate link!) with their own silicone lids which fit directly into the meal prep container. Put the lids on and store in the refrigerator for up to 3 days for best quality.
Recipe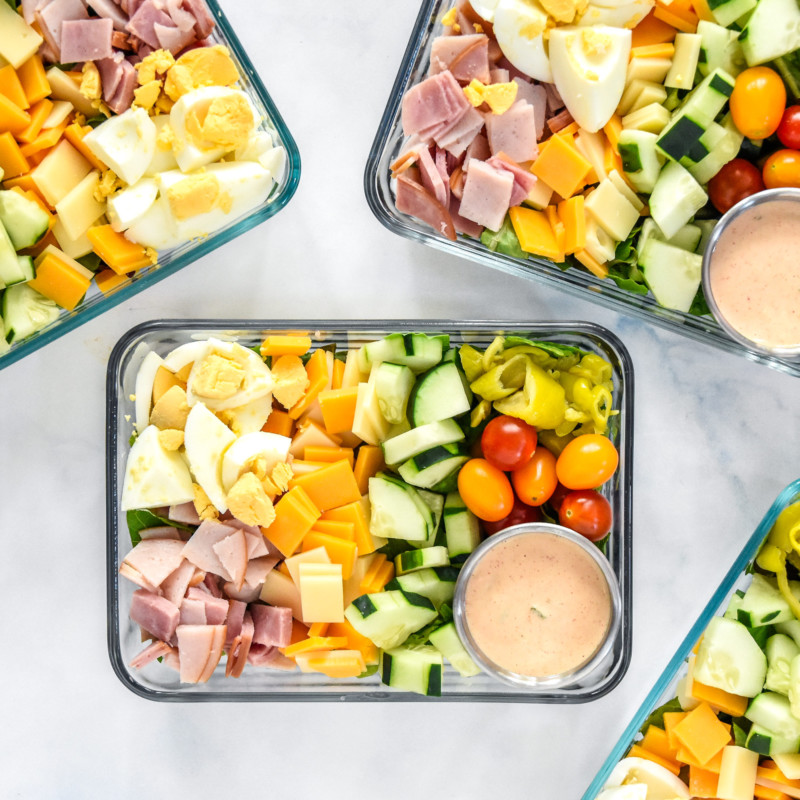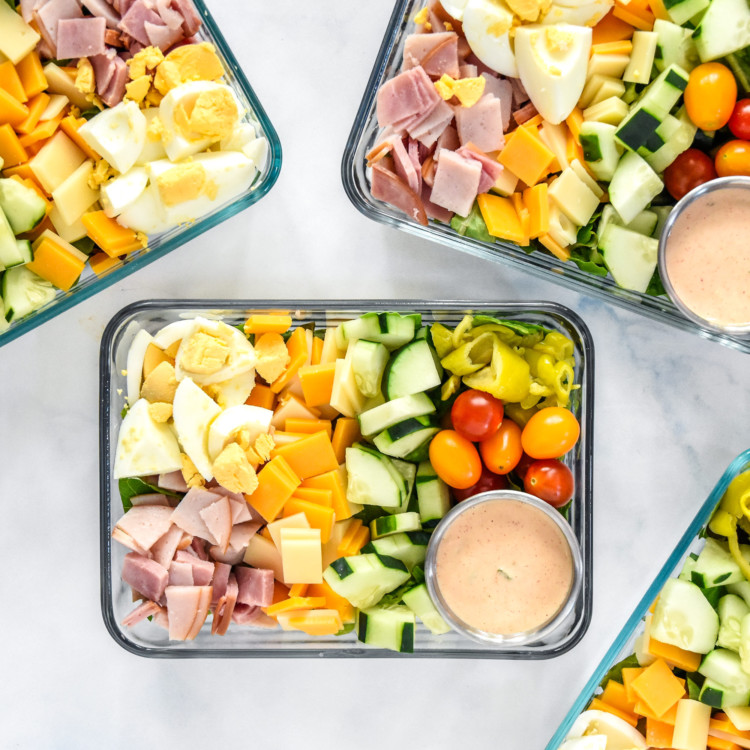 Easy Chef Salad Meal Prep
Prep:
20 minutes
Cook:
10 minutes
Total:
30 minutes
This Easy Chef Salad Meal Prep is a make-ahead spin on the classic American salad. This tasty cold lunch is full of crunchy veggies, hard-boiled eggs, deli meat and cheese, and topped with homemade Thousand Island style dressing!
Ingredients
For the dressing:
2/3

cup

mayonnaise

1 1/2 tablespoons

ketchup

1 1/2 tablespoons

dill pickle relish

1 teaspoon

lemon juice

1/4 teaspoon

onion powder

1/4 teaspoon

sweet paprika

1/8 teaspoon

granulated sugar

1/8 teaspoon

fine sea salt
For the salad:
4

cups

packed chopped romaine lettuce or green salad mix

4

large eggs

6

ounces

sliced deli ham

6

ounces

sliced deli smoked turkey

2

–

4

slices cheddar cheese

2

–

4

slices swiss cheese

1

cup

cherry or grape tomatoes

1

small cucumber

1/2

cup

jarred sliced pepperoncinis, patted dry
optional: homemade croutons, chopped herbs such as parsley and dill
Instructions
Boil the eggs: Hard-boil the eggs using your preferred method, I like to use the 5-5-5 Instant Pot method, or you can use the stovetop for a traditional method. You can make the salad dressing while the eggs are cooking. Once the eggs are finished with their ice bath, peel them, roughly chop, and set aside for later.
Make the dressing: In a small bowl, combine all dressing ingredients, then stir until the dressing is well mixed and no clumps remain. For meal prep, divide the dressing between 4 small cups and then set aside. This dressing tastes better the next day, after all the flavors have melded together for at least 24 hours or so.
Prep salad ingredients: To prep the deli meat, stack slices and cut all the pieces together at once to get roughly chopped squares of meat. Repeat the same process with the cheese, stacking the slices together and roughly chopping into squares. Leave tomatoes whole to reduce moisture. Half peel the cucumber so it appears stripey, then roughly chop into quarter moons. Finish by patting the cucumbers dry with a paper towel to reduce moisture. You can also choose to scrape out the seeds with a spoon before cutting to even further reduce moisture. Finally, ensure your lettuce is washed and dried.  
Meal prep it: Divide the chopped lettuce between 4 meal prep containers, topping each portion with a quarter of the cut deli meat and cheese, and one hard-boiled egg each. Divide the tomatoes, cucumber and pepperoncinis between each of the four containers. Keep the dressing in a separate container ready to pour over the salad just before serving. Put the lids on and store in the refrigerator for up to 3 days for best quality.
Notes
Servings: This recipe is easily adaptable for more or less than 4 servings. Each meal prep salad contains: 1 cup packed lettuce, 1 hard boiled egg, 3-4 slices deli meat, 1-2 slices cheese, 1/4 cup cherry tomatoes, 1/3 cup cucumbers, and 2 tablespoons pepperoncini peppers.
Dressing recipe adapted from Thousand Island Dressing from Simply Recipes. Nutrition information estimated with My Fitness Pal.
Nutrition Information
Serving Size:

1 salad bowl

Calories:

617

Fat:

47g

Carbohydrates:

13g

Protein:

32g
Recipe Card powered by