1 Comment
Posted: 08/28/2018
Updated: 09/23/2021
These Blackberry Bran Muffins are a delicious addition to your breakfast or snack routine, and they're freezer-friendly! Loaded with zucchini, blackberries, and wheat bran, they're a nice balance between a halfway healthy breakfast and dessert. This post is sponsored by OXO.
Jump to Recipe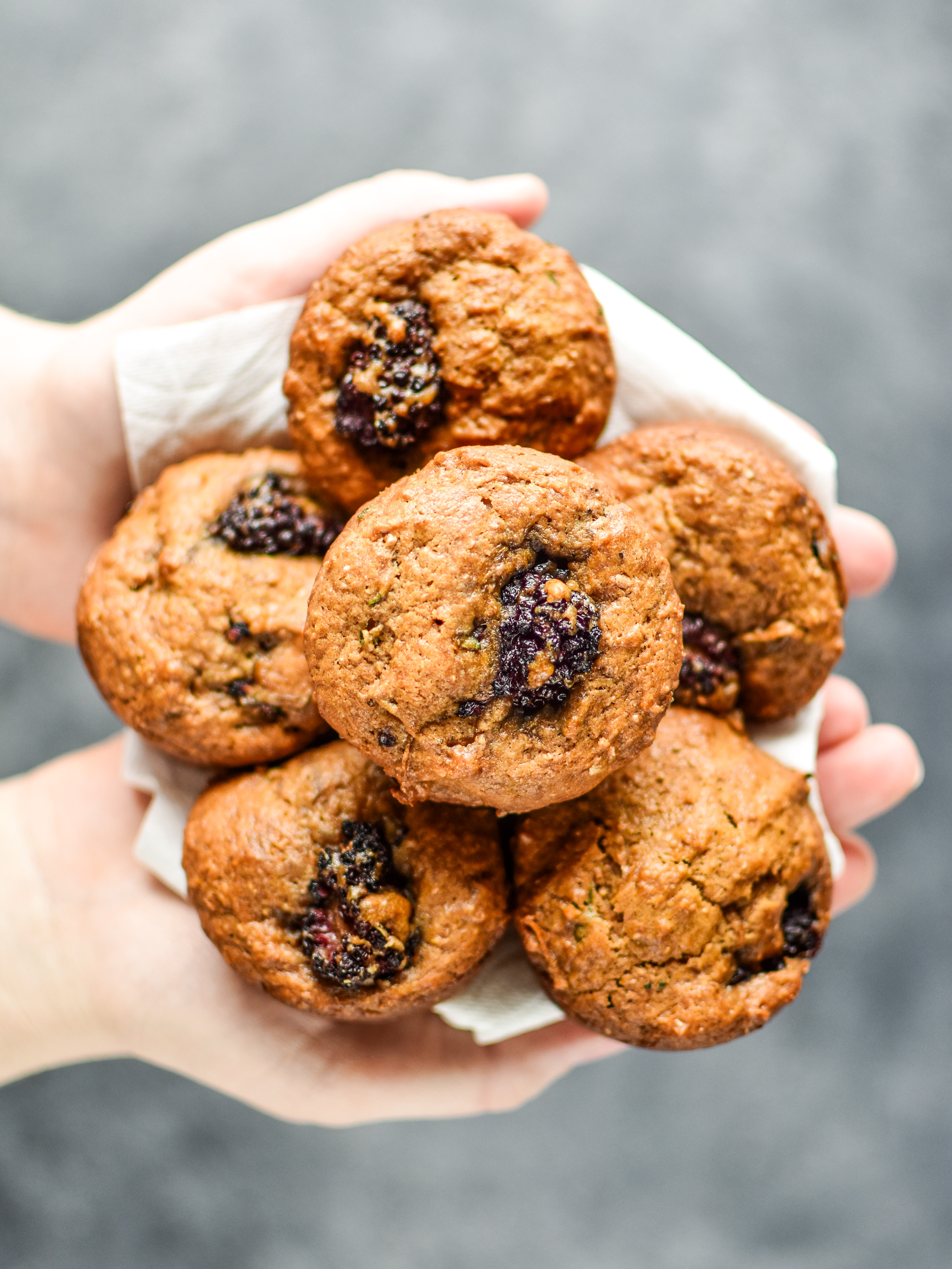 If you know me, then you know I love to cook, but I love to bake even more (Fun fact: I *almost* started a cookie blog before Project Meal Plan was born! LOL). It's been one of my goals to spend an entire day baking for a bake sale to support a great cause, but sadly the stars have never aligned for this to happen (yet!).
Next closest thing? Share a delicious baked good recipe, and spread awareness about how others can host a bake sale of their own to support a good cause.
Cookies for Kids' Cancer & How You Can Help
Cookies for Kids' Cancer is a non-profit foundation that provides annual research grants to the nation's leading pediatric cancer centers in the quest for new, improved and less toxic treatments for children battling cancer.
OXO has partnered with rockstar chefs who are sharing recipes in hopes of inspiring others to host their own Cookies for Kids' Cancer bake sales. In this post, I'm sharing Sarah Sanneh's Blackberry Bran Muffins recipe. Perfect for a bake sale, breakfast, snack, freezer friendly backup… You name it!
If you're wondering how you can get involved with this foundation, there are two options for you:
HOST AN EVENT: Join in the Cookies for Kids' Cancer challenge by hosting an event in your area. If you mark that you were inspired by OXO when you register your bake sale, they'll match proceeds from your bake sale up to their annual commitment. The Cookies for Kids' Cancer team has tons of resources to help make your event a success.
BUY SOME COOKIES: A quicker and simpler way to support the foundation, send some cookies as a gift for any occasion! 100% of the profits support childhood cancer research. Cookies are made fresh to order.
Now let's talk muffins…
We all have our preconceived notions about 'bran muffins'. Mine include that bran muffins are dry, bran muffins are mealy, and generally bran muffins are just a trend that is long gone.
Good news for everyone, I was wrong about ALL of those things. These muffins are moist AF, have the perfect crumb, and are so NOT a trend that should be gone.
Remember, this is not my recipe. What the Internet tells me about Sarah Sanneh is that she is a very successful baker and chef who opened her own restaurant called Pies 'n' Thighs. They've won awards for Best Biscuit in New York, Best Donut in New York… I could go on. She also worked as a Sous Chef at Momofuku Milk Bar and OMG if that is not a good enough resume to create a bran muffin recipe I don't know what is.
So yeah, I was a little skeptical of how there are no eggs in this recipe, and 3 cups of sour cream DOES seem like an absolute ton, etc. etc., but I decided to trust this chick. Long story short, they exceeded every single one of my expectations. And courtesy of OXO, baking them could not have been easier.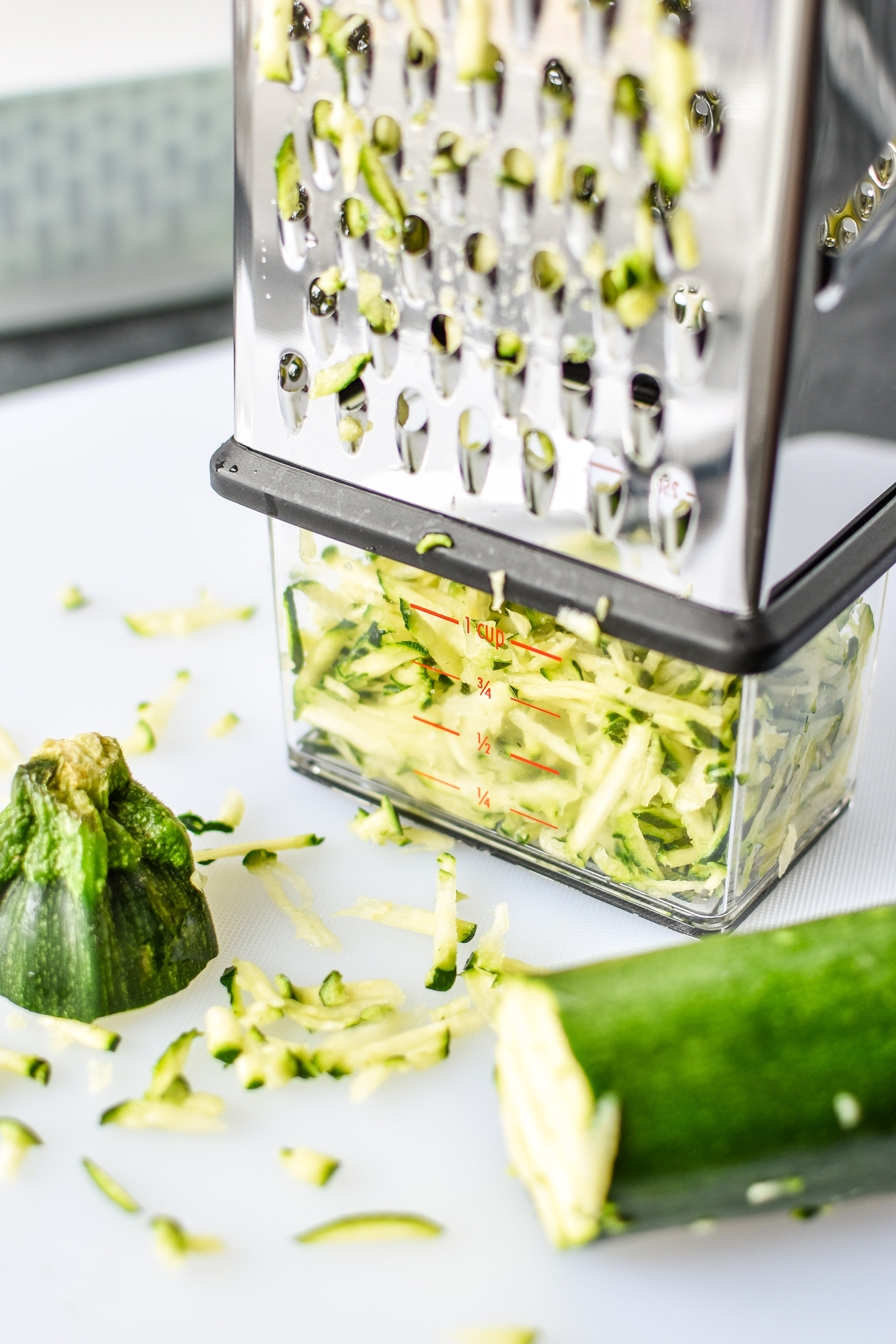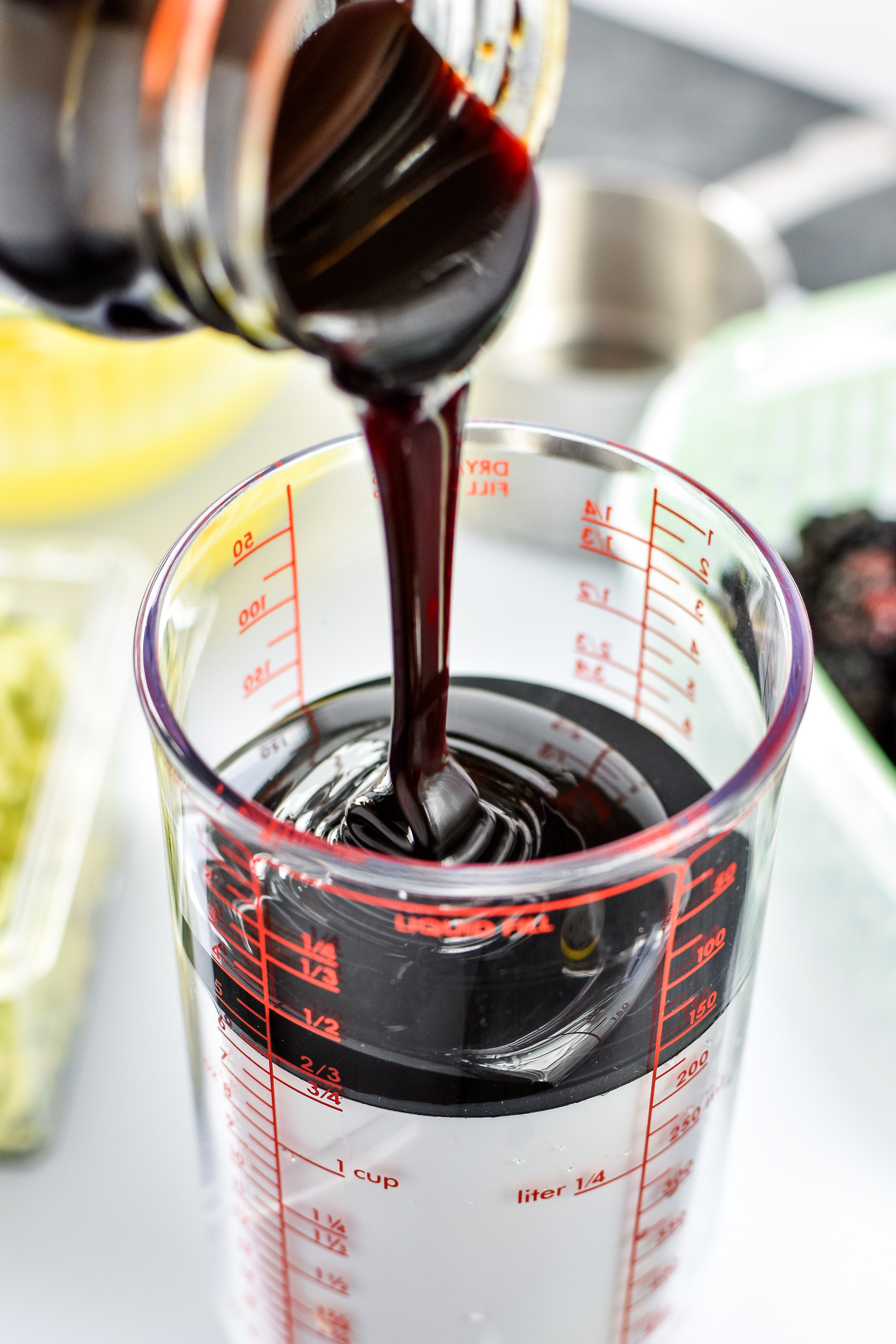 OXO Tools I Used to Make These Blackberry Bran Muffins
If you asked me what my favorite OXO product is, I'm not sure I could pick just one. I use OXO liquid measuring cups on the DAILY, so those are definitely in the running. Literally every time I want to slice an apple, the OXO apple slicer (affiliate link!) is #1. We've got one of the avocado slicers as well… I can't decide!! OXO makes it simpler and easier to bake, cook, and basically eat food in general!
To help me make these muffins, OXO provided a few new tools I didn't already have. Here are the details (with affiliate links):
Box Grater with Storage Container: I recently learned not all box graters are created equal! OXO's version has an attachable storage container (with lid!) that catches all of your grated goodness. It worked perfectly for grating and measuring the zucchini in these muffins.
Adjustable Measuring Cup: This crazy looking adjustable measuring cup was perfect for measuring molasses in this recipe. I was able to easily push all the contents out of the measuring cup and into the mixing bowl.
GreenSaver Produce Keeper: This handy little container is perfect for the fresh blackberries in this recipe – the removable basket can be used as a colander for easy rinsing too! The OXO GreenSaver keeps your produce, like the blackberries, fresh longer.
Non-Stick Pro 12 Cup Muffin Pan: By far the most professional looking muffin pan I've ever had. My muffins cooked perfectly and did not stick to the pan in the slightest. Check the pictures to see for yourself!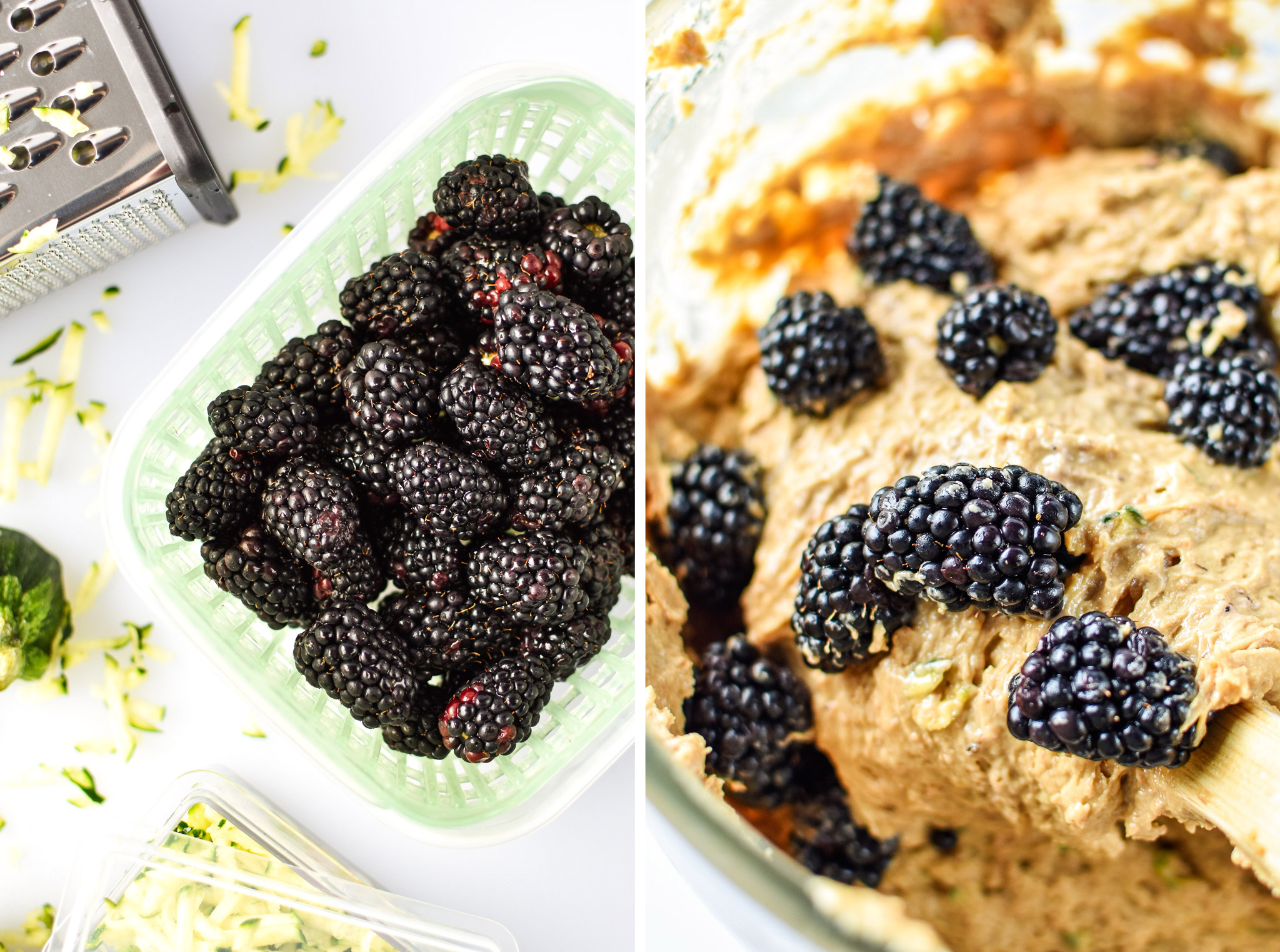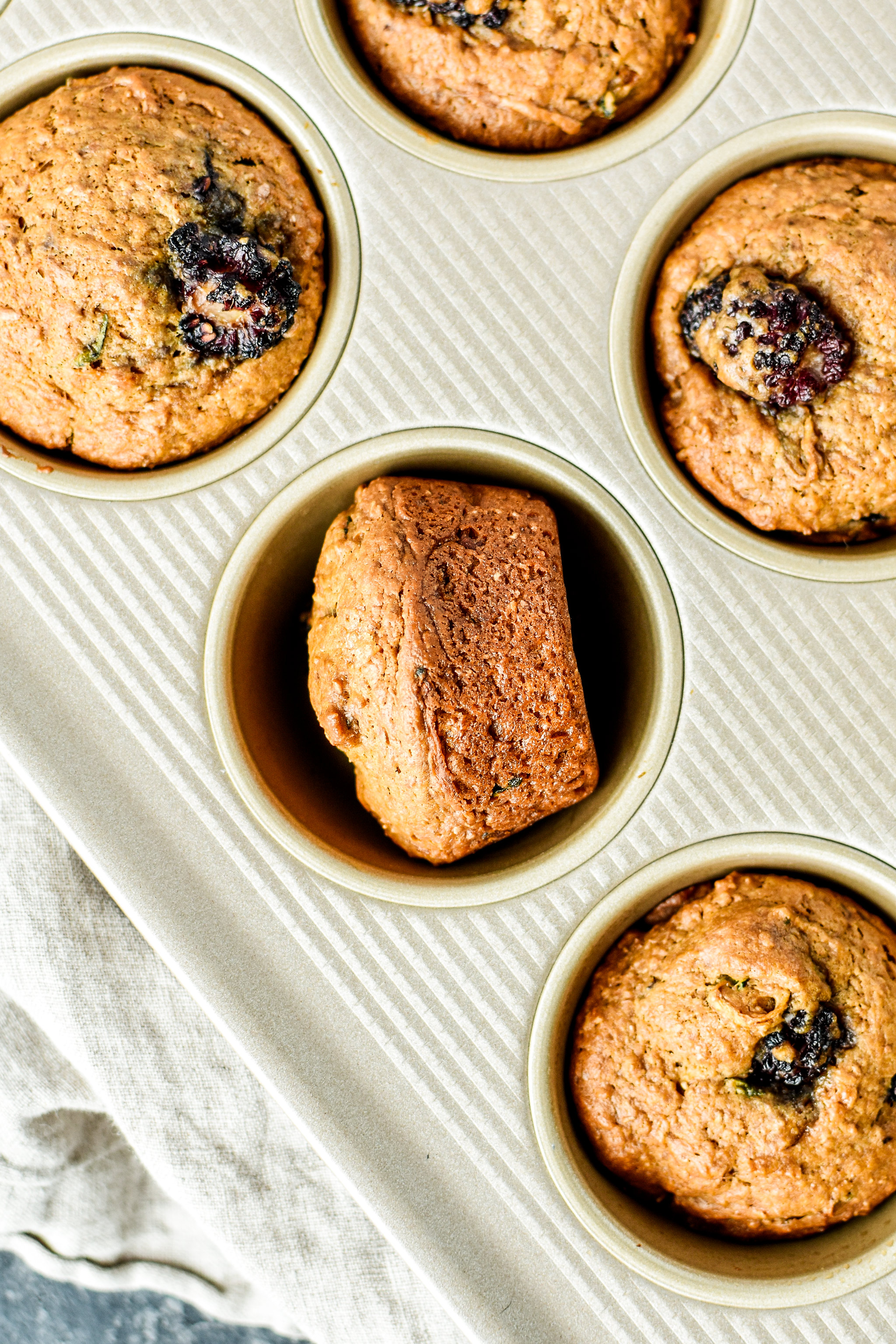 How these Blackberry Bran Muffins work for meal prep:
I know muffins are not generally considered the healthiest of breakfast foods, but I still consider them excellent options for make-ahead on-the-go breakfasts. I'm not here to tell you what's healthy and what isn't, just to give you as many ideas as possible! Wheat bran is known for being high in fiber, so at least these muffins have that going for them.
In moderation, I think these guys are completely okay for breakfast… maybe with a hard boiled egg or other breakfast protein you enjoy. If you freeze the muffins, there's no pressure to quickly eat them all before they go bad. You can enjoy one every once in a while and save them for breakfast emergencies.
Here's how I made these muffins work for us:
Make the entire batch and let them cool completely. This is important!
Fit as many cooled muffins in a gallon freezer bag as I could, then sealed and put the bag in the freezer.
Husband and I ate the muffins I couldn't fit into the freezer bag over the next few days for breakfast or snacks.
Now when we have a muffin craving, I'll pull one or two out of the freezer bag and let them defrost on the counter for 30 minutes or so. Quick and easy snack!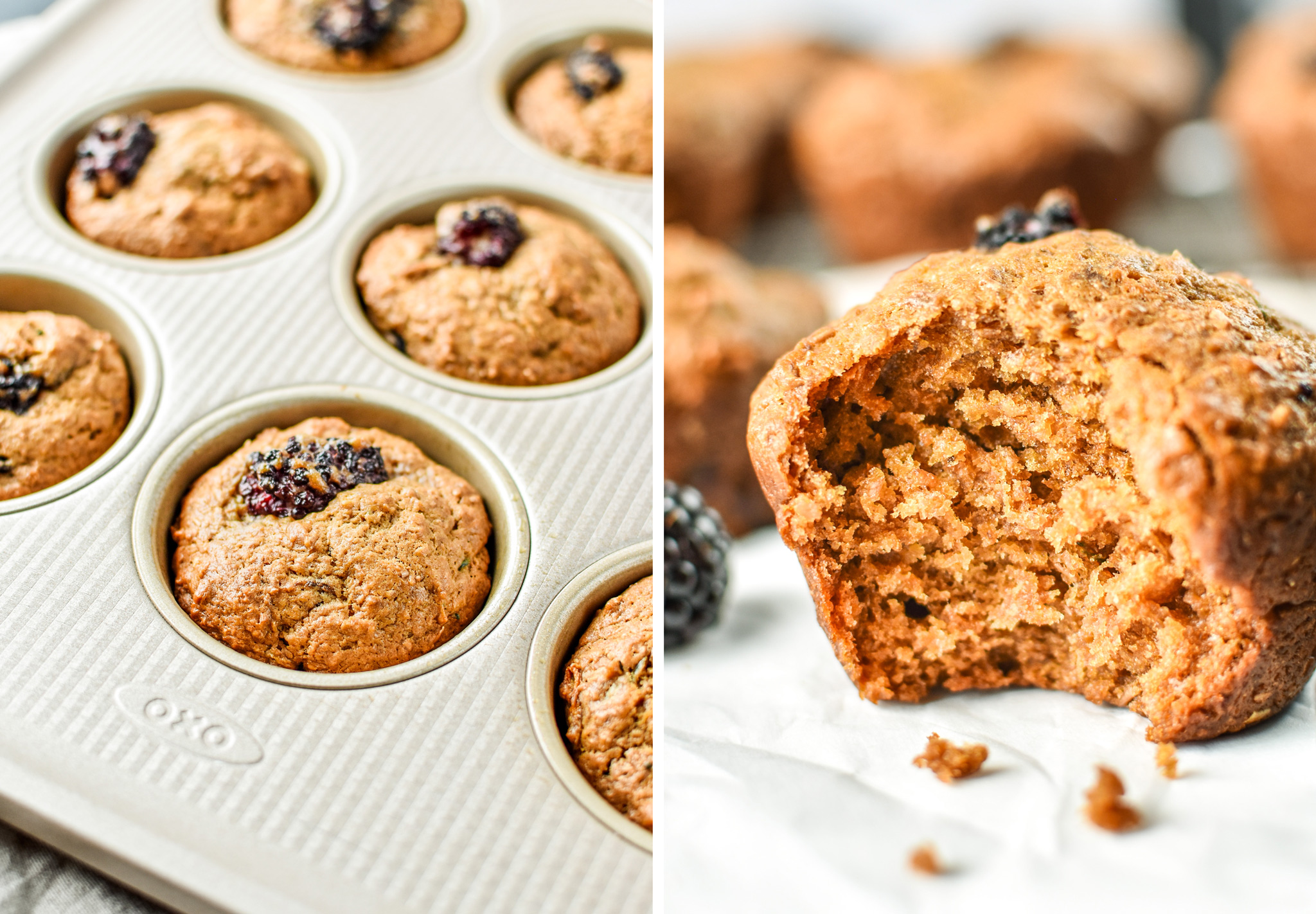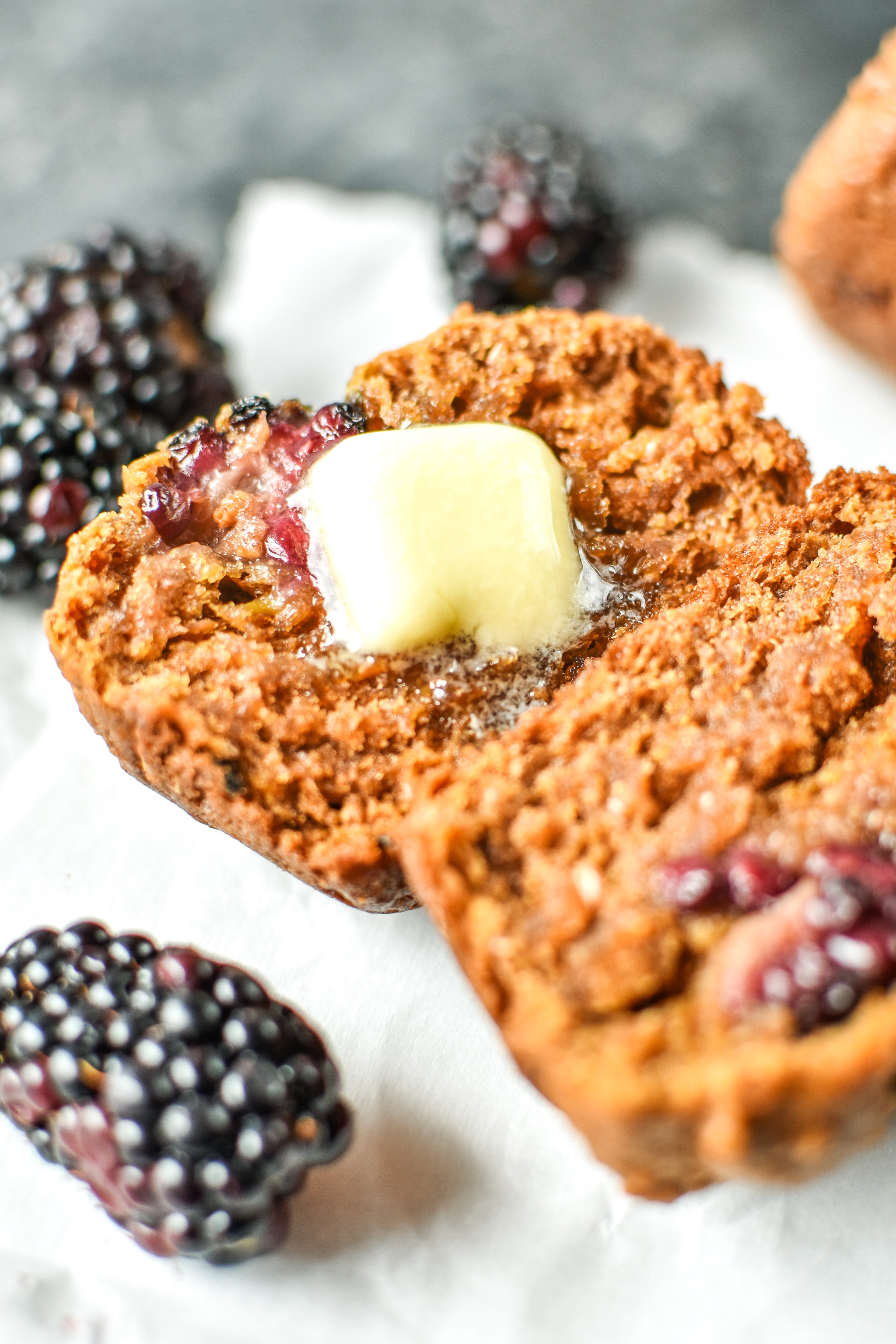 More breakfast recipes from Project Meal Plan:
Recipe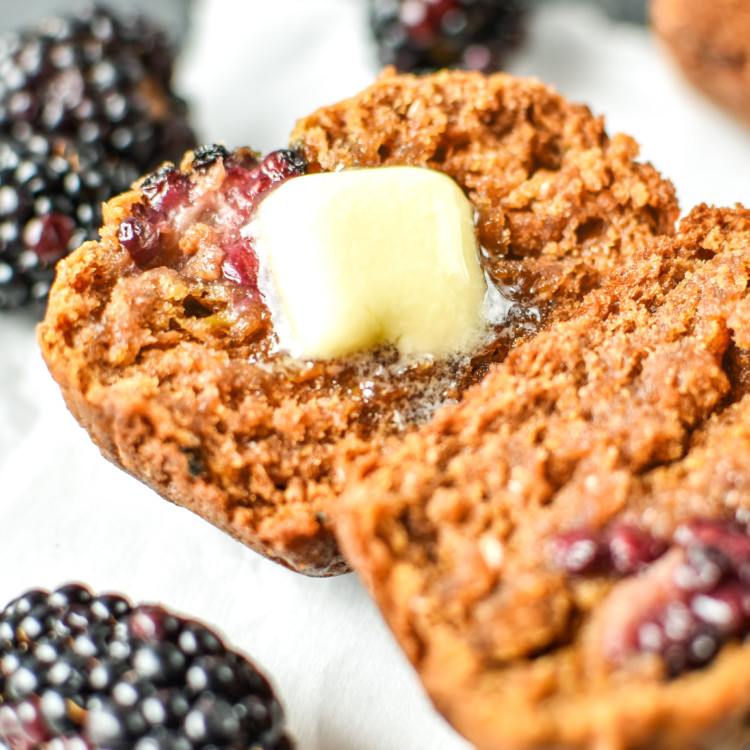 Blackberry Bran Muffins
Prep:
10 minutes
Cook:
30 minutes
Total:
40 minutes
These Blackberry Bran Muffins are a delicious addition to your breakfast or snack routine, and they're freezer-friendly! Loaded with zucchini, blackberries, and wheat bran, they're a nice balance between a halfway healthy breakfast and dessert.
Ingredients
3 2/3 cups

all-purpose flour

1 tablespoon

baking soda

1 teaspoon

salt

1 cup

wheat bran

1 1/2 cups

unsalted butter, melted and cooled to room temp

3/4 cup

light brown sugar, firmly packed

2/3 cup

molasses

1 cup

shredded zucchini

3 cups

fat free sour cream

1 1/2 cups

fresh blackberries
Instructions
Preheat oven to 350F degrees.

Whisk flour, baking soda, salt and bran together in a large mixing bowl.

Mix melted room temp butter with light brown sugar, molasses, zucchini, and sour cream in a large bowl.

Mix wet ingredients into dry, and then gently fold in blackberries (try not to burst!).

Grease and fill a muffin tin nearly to the top with batter and bake for 30 minutes, or until a toothpick inserted comes out clean. Store covered at room temperature for up to 4 days. 

To freeze: Cool muffins completely, then store in a gallon size freezer bag for up to 1 month. Leave out on the counter for 30 minutes to thaw.
Notes
Recipe by Sarah Sanneh; reproduced with permission and rewritten for clarity. Nutrition information estimated with My Fitness Pal based on 28 muffins.
Nutrition Information
Serving Size:

1 muffin

Calories:

222

Sugar:

12g

Fat:

10g

Carbohydrates:

26g

Fiber:

2g

Protein:

3g
Recipe Card powered by
This is a sponsored post written by me on behalf of OXO.
All opinions are my own.