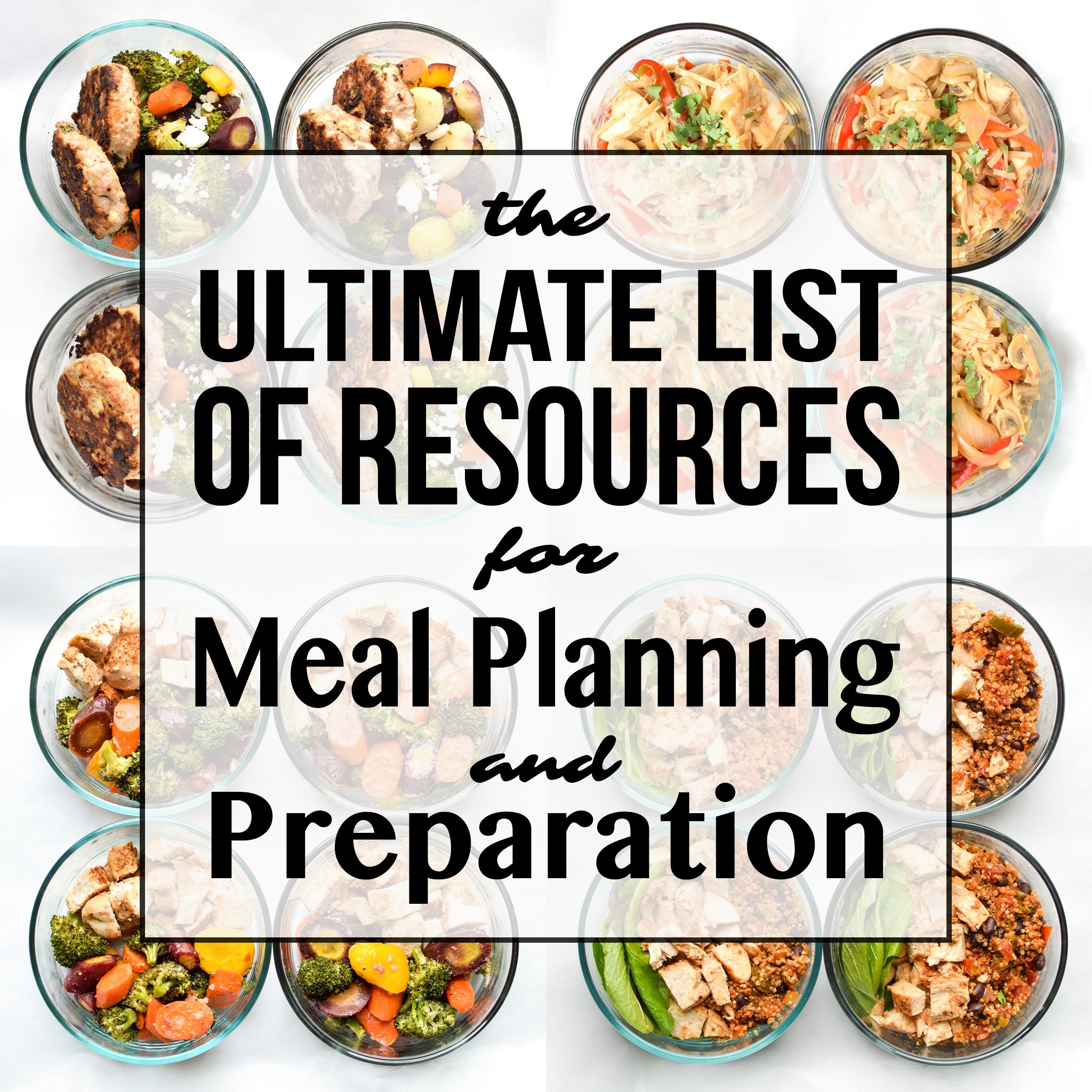 Meal prep, planning, and maybe most of all, cooking, can seem like pretty daunting tasks. But there are plenty of resources you can use to get started, find inspiration, or simply look something up (I use the vegetable roasting chart weekly!!). I've organized ones I think are useful into a few categories. Here's the Ultimate List of Resources for Meal Planning and Prep.
List of Resources for Meal Planning and Prep

Some awesome charts that are great to have one click away, including US dry and liquid volume measurements and conversions, US to metric conversions, oven temp conversions, and even pan size equivalents!
This is a weekly go to around here. I should probably print it out and stick it on the fridge. This chart has times and best veggie combos for almost all veggies at 450 degrees F (organized by roasting times – best idea ever). If you like it a little cooler, here's a chart for 425 degree veggie roasting from My Frugal Home.
Growing up working in food service meant I took the Food Handler's Safety class more than a couple times, so things like cross-contamination and food temperature safety are almost second nature to me. But if you're just starting out with cooking, you NEED to review these tips. Don't make yourself or others sick!
I have a smaller version of this taped on the inside of one of my cupboards – totally vital for at home cooks! This very comprehensive chart includes everything from Ahi Tuna to Pound Cake to any kind of roast, steak or chop you can think of.
This infographic (with sources!) is a fantastic guide to help you figure out how long something can be stored in the freezer. Keep it bookmarked for the future! And, here's some additional Freezing and Food Safety information from the USDA. Here's a handy printable Refrigerator & Freezer Storage Chart from the FDA.
What's this knife for? What condiments need to be refrigerated? What are the best non-stick pans? Any of these questions, and a ton more. Plus, Cooking Light has cookbook recommendations, a recipe finder, AND lots of "Quick & Healthy" dinner ideas.

The BEST starting place if you're tackling meal prep or you're new to cooking at home. What do all those words mean?? It's good to know what the macronutrients you're counting actually are.
I love this article because I believe that different meal prep containers are appropriate for different occasions, and of course up to personal preference. The benefits of a few different options are highlighted with some great examples!
In order to make meal prepping work on a regular basis, you have to figure out what works best for you. This article gives a couple starting points for various methods of food and meal prep (I've definitely tried out all of them). I also love all the ideas for what to prep when you don't know where to start!
Literally my favorite meal prep youtube channel. They have a ton of videos that tend to be a little longer than those classic Facebook square style videos, but that means everything is a bit more in depth. Stephanie and Adam provide all the information you could need to meal prep, including macro counts for everything, full instructions (written and video form), and super helpful videos. Did I mention they have a TON of meal prep ideas?? Check them out!
Meal prep is for ALL lifestyles! Here are some tips for my vegan readers (definitely few but I still love you). Actually, anyone can benefit from prepping nutritional food at home, so non-vegans should check this one out too. Meal prep, ingredient prep, anything works! Ideas and tips found here 👆

I think the title says it all. There are links to 6 different printables designed for different needs, including a family meal planner, freezer inventory (uhm, I might start using this one), and a monthly meal planning sheet.
Anyone can draw a little chart on a notepad or fridge whiteboard (NOTHING wrong with that – best way to start!), but I love the look of this cute little meal planning page. You would probably see a lot of arrows and scratch out marks on mine because I'm every level of indecisive UNLESS the food is already made, then I'll eat it all week (arrows from Monday all the way down!).
While maybe not the best for meal planning per se, My Fitness Pal is an extraordinary and unique tool that can be used in lots of ways. Obviously, you can track your meals on a daily basis. But, if you're super hard core, the food diary system could be used for meal planning. I use it to plan out meals and macro counts for all of Project Meal Plan's macro and calorie counts for the week. You could also plan your week outline to keep yourself on track, then make changes if you eat something different. They also have a blog with helpful articles and meal ideas.

Real people asking real questions about cooking real food! And other real people answering with their experiences. Here's a good one I just saw: "I bought crawfish. What do I do now?" Plus, plenty of easy recipes to get started if you're a beginner in the kitchen.
From simple conundrums like How to Chop an Onion and How to Mince Garlic, to complicated techniques such as Drying Fresh Herbs in the Microwave or Blind Baking a Pie Shell. Any cook could benefit from this series of videos! Plus their entire YouTube channel is a home cook's gold mine!
Ideas, how-to demos, and just some plain old kick butt videos (cookie decorating tips up close!!). Serious Eats is an awesome website, but their videos are the best. I love something a little different from the same old Facebook Tasty video style (okay but I still love those… food video addiction!). I need to watch every knife skills video!

Never short on classy weeknight favorites or dishes I've seriously never heard of, Epicurious is always a good place to start. Beautiful photographs, recipe roundups, and galleries that will give you all the help you need to decide what's for dinner.
Workout playlists, healthy home cooking ideas, BOMB breakfasts (12 Greek Yogurt Recipes You Must Try At Home!!), and so many other ideas. Look here if you need some overall wellness ideas.
Pinterest is great when you just don't know where else to go. Let me scroll through endless pictures of delicious looking food and I WILL come up with something (I hope you can too!). Make boards, save ideas, and look back and what you loved. With the new "Tried It" feature, Pinterest makes it super simple to record your thoughts on things you've tried. Hey – you should follow me on Pinterest while you're there 🙂
Meal Prep on Instagram